Back at the World Tea Expo in 2014, I was at The Tea Spot's booth and they had these Steep & Go cold brew bottle adapters that were super popular! With the Steep & Go bottle adapter, you can turn your water bottle into a cold steeping tea vessel! All you need is tea, though The Tea Spot also has cold brew teas to go with it! The bottle adapter is pretty inexpensive too.
The Steep & Go comes with a drink top, filter and two adapter rings.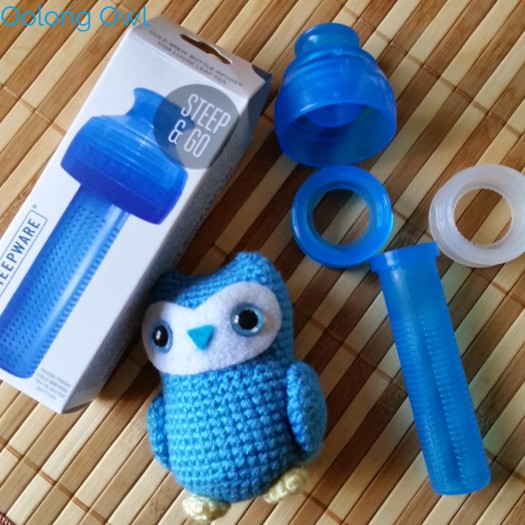 This took me awhile to get around to review as times I ended up buying water I didn't have this on hand or I'd forget and recycle my bottle. The two adapter rings are different sizes to fit various bottled water styles. In my case, the white adapter ring fits me Ito En bottled Jasmine Green. Whoops I'll just take the label off!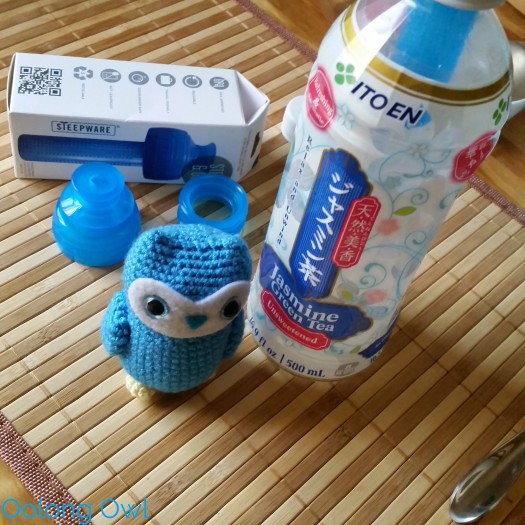 If using your own tea, add 1 Tablespoon of tea. The tea goes into the bottle and the filter stops the leaf going through the drink lid. For The Tea Spot's teas you then cold brew for 10 minutes. Regular tea will vary, my experience is usually takes at least 1 hour of cold brewing.
Testing of The Tea Spot's Steep & Go
Let's sample the tea that I got with my Steep & Go, as well as test out the device.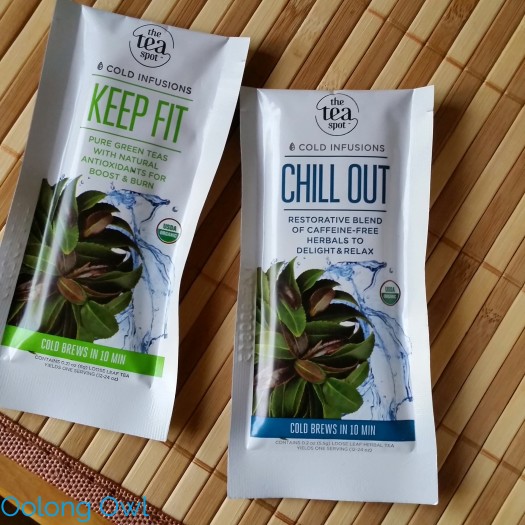 Keep Fit
Keep Fit is an organic tea with green tea, green rooibos and lemon myrtle. The dry leaf smells zesty lemon – very refreshing! The tea is looks pretty diced up which is probably why this is a 10 minute cold brew.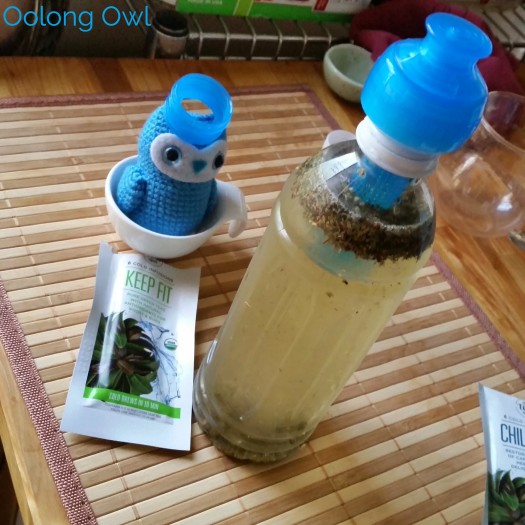 The main flavor is the lemon myrtle that is nice lemony without being tart. Also in the tea is the green tea that's a little herby in flavor. I liked this cold brew, it is very refreshing for a hot day or for a workout!
Chill Out
This one is a herbal cold brew is also organic with hibiscus, peppermint and licorice root.
Chill out cold brews a pretty pink with a taste not tart as I was expecting. It's lightly sweet fruity, with a hint of fresh mint, with the main base being licorice. If you like licorice you'll enjoy the freshness of this one for its soothing taste. As a cold brew, I found the first sips the debris got through the Steep & Go as this blend had some finer tea particles.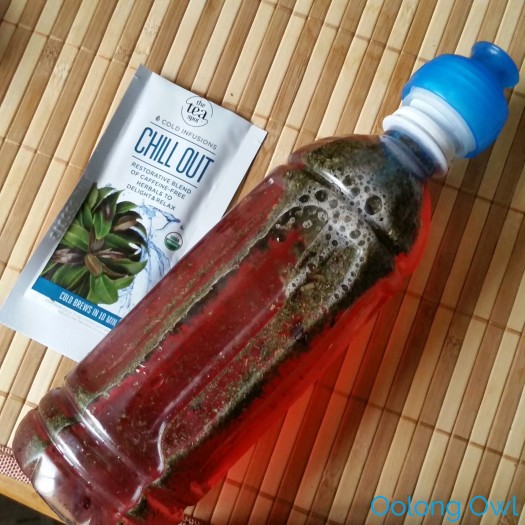 Steep & Go Comments
Now for the Oolong Owl testing of terror – I shook and rolled my bottle around like it was in my purse and no leaks or bits falling out!
The bottle top is like one of those classic sport drink style tops and works well. The filter does a good job keeping the majority of the tea bits filtered out while I drink tea. I didn't get any particles in the Keep Fit blend (which contains small bits like rooibos), but I had some bits in Chill Out, which had finer bits.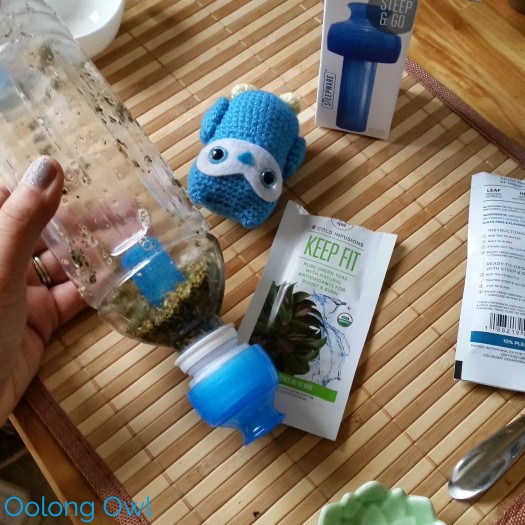 I did a 2 hour cold brew run with a whole loose leaf tea (a Dragonwell), the Steep & Go did exceptionally well at filtering!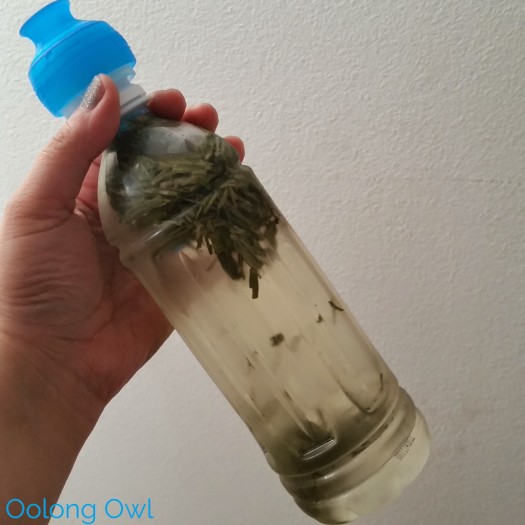 I like the Steep & Go cold brew device. It works very well in being leak free and decent at keeping tea filtered.
The cold brew blends were fair, but I wish I could try a few more that were my style (I dislike licorice). However, the convenience is nice of having prepackaged tea if you are on the go.
I packed up my Steep & Go in a little tupperware, with a couple samples of tea with me. Into my purse it goes for when I need tea!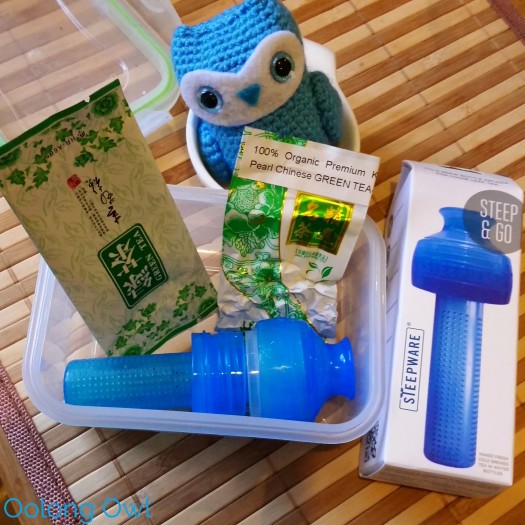 What I think would get the biggest use for me is taking the Steep & Go while flying. The size of the Steep & Go is compact to put in your carry on. Since you can't bring liquids through security. When you buy your water after security, bam you have tea ready for the plane! There's been a few airports that I couldn't get hot water which was rough for a tea drinker like me.
Not the type who buys bottled water and prefer a reusable bottle? The Tea Spot also has the Steep & Go Cold Brew Bottle, which includes the Steep & Go top, as well as a nice reusable bottle. I wasn't able to get one of these during WTE as they were super popular and sold out!
(tea ware and tea provided for review/ amazon affiliate)