I purchased this cold brew tea set, along with extra teas from Summus Tea during the World Tea Expo 2015. I had to have it – the tea samples were delicious and the glass bottles were so pretty! Summus Tea sells fine, hand picked, organic Taiwanese teas.
Admittedly, I saw a few bottle designs at World Tea Expo, but this one was special. Summus had COLOUR CHANGING BOTTLES! OMG OMG! Summus had a few designs, a tiger, butterflies and this one which I picked: tree with leaves and birds. Out of the box, the design is white and so cute. Apparently, it was designed by the owner's daughter, such talent!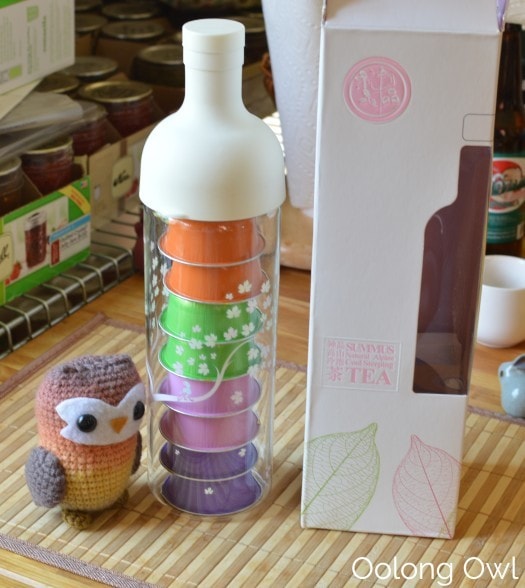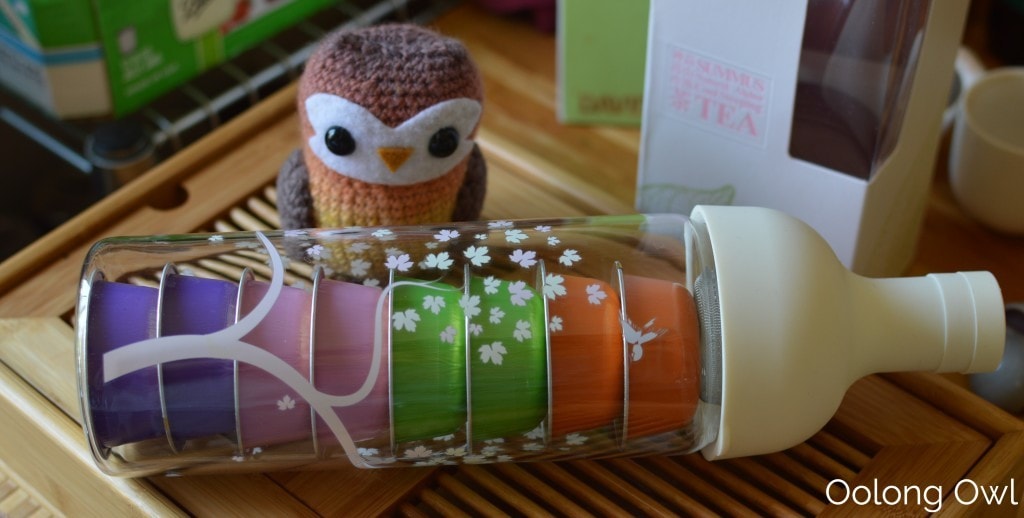 The bottle is glass with a rubbery silicone top. The top has a filter attached to stop tea leaves from pouring out.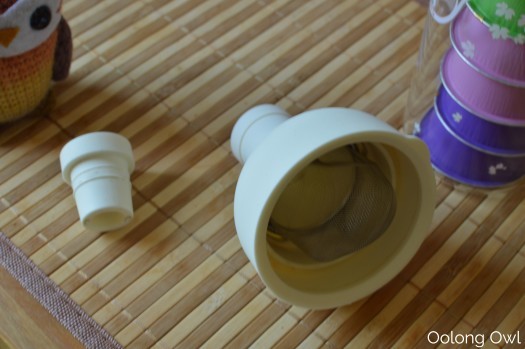 The colour changing magic happens when cold liquid is introduced. At room temperature the design is white.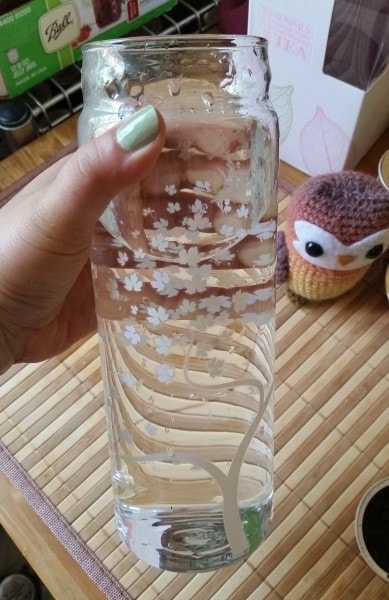 It seems cold tap water makes the colours slightly turn darker. When I added iced the glass near the ice changed colour the most! This bottle is hard to photo due to its size and being clear, so I'm trying my best tea readers!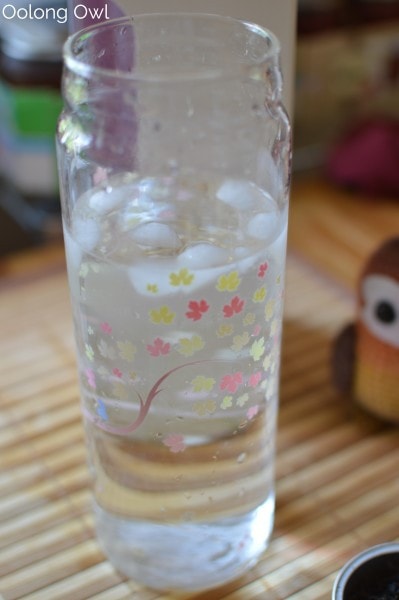 In goes the tea. I am using Summus Alpine Superb Black here (review of the tea below!)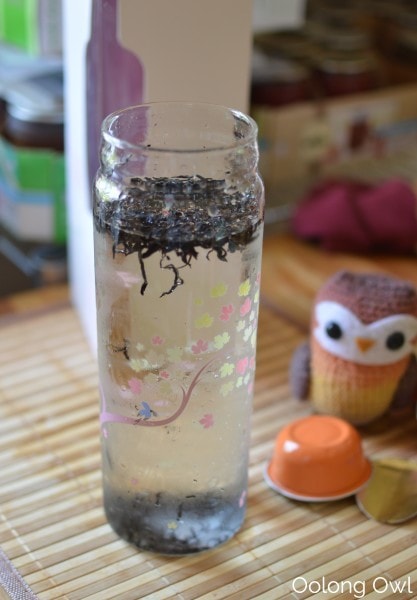 And into the fridge. The bottle is quite tall, just like a wine bottle, so it's in the door next to my cooking red wine and some chocolate red wine that's been in there for a year that I keep forgetting to unload on dinner guests.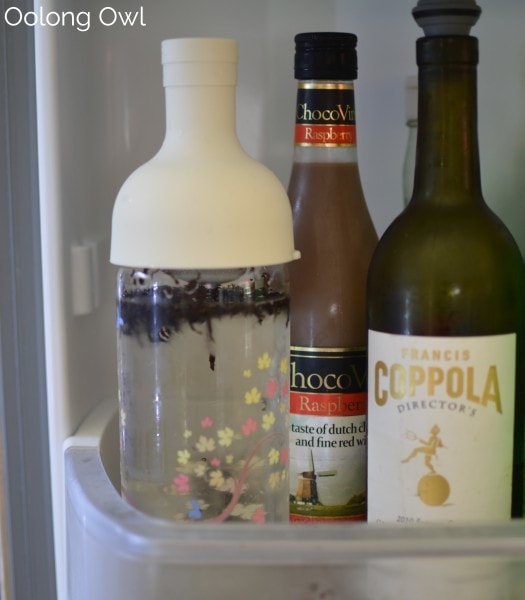 After 4 hours in the fridge, the colours of the bottle are dark! The birds are bright blue and the leaves a couple shades of pink and yellow.
Cold Brew Bottle Performance
The colour changing bottle worked well! It pours nicely and the filter works well. I found the unit does not leak and can take laying on its side. I wouldn't go around shaking this bottle as it is slippery due to condensation.
THE BIGGEST APPEAL of this cold brew bottle – Drinking cold brew tea straight out of a wine-shaped bottle brings a whole new element of tea drunk. The warmth of your hands also makes the design colour change as you drink it, haha!
Tasting of Summus Tea Black and Oolong
Cold Brew instructions came with the bottle which turned out to work very well and is now my cold brew method. I was using too much tea before and Cold Brewing 8 to 12 grams of tea for a 4 cup /34 oz/ 1000ml bottle is perfect!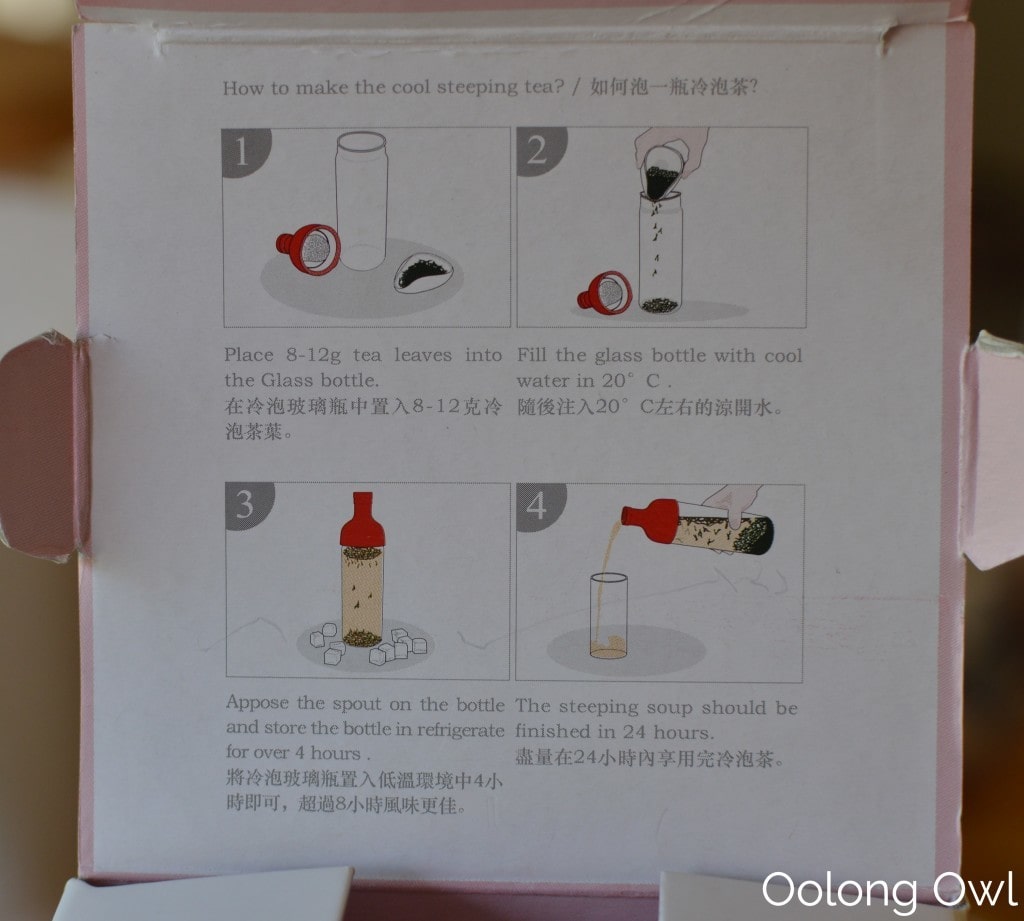 The box packaging is bright and pretty with creative origami elements as they are all one piece.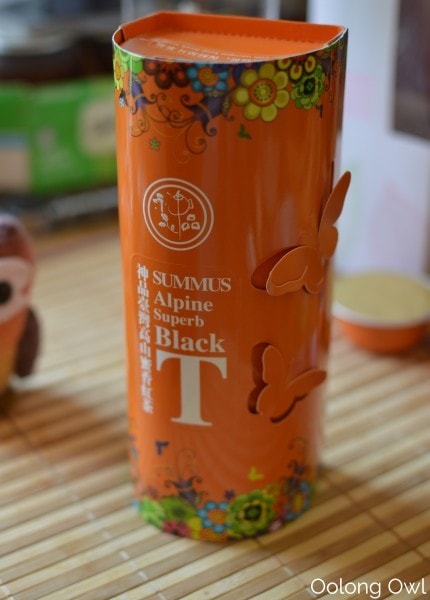 Inside the box is a cute pull out tray.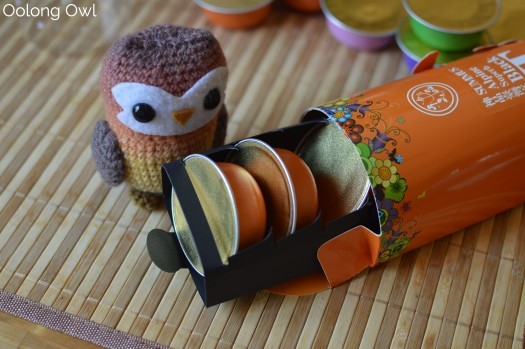 Each tea is individually packed in little foil tubs that are sealed with nitrogen to stay fresh.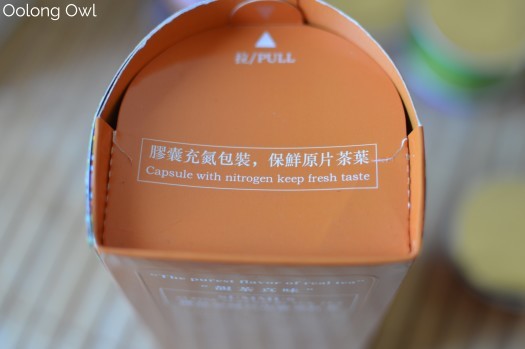 When you crack open the tub, the scent of the tea hits you like a school bus. I almost feel guilty not hot steeping these teas in a gaiwan, they smells so good!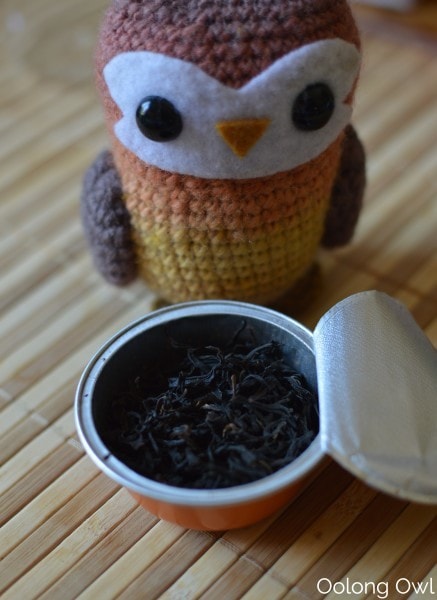 However, Summus Tea seems all about the cold brewing, so I will follow through. I got 4 different teas from Summus – 2 black and 2 oolong. Lets drink!
Summus Alpine Superb Black Tea
This is the first Summus Tea I brewed and is in all the photos above! The dry leaf is sweet and tannic in scent. I did a 4 hour cold brew as that is as long as I could wait for this tea. THIRSTY HOOT!
The tea is a touch golden. The flavor is delicious and flavorful! It is very sweet, with the main flavoring being quite fruity squishy mixed raisin with toasty milk bread, chestnut shells, and light wood notes. Finishes with a floral echo aftertaste. The black is super fresh and clean tasting too. The flavor cold brewed is quite close to an medium oxidized oolong, without the richness of a black.
After I poured out a cup for the Tea Owl, I drank the entire bottle straight out of the bottle in one sitting. No regrets. Oh wait, I probably should of tried it with a longer cold brew. Oh well, next time.
Summus Apline Oolong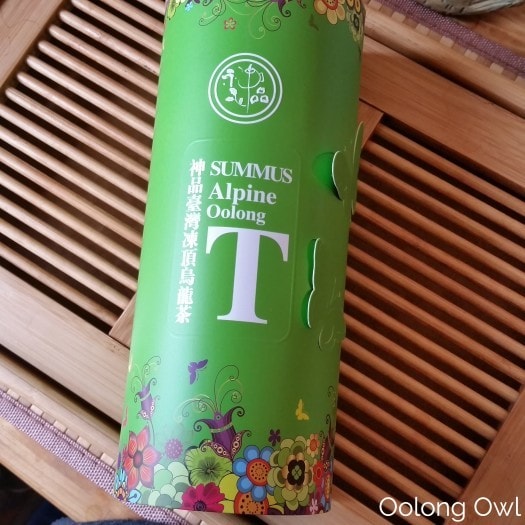 The dry leaf smells very floral and lovely. After a 24 hour cold brew, I had a flavorful tea that was thick buttery, floral and sweet. The aftertaste is slightly pomelo citrus note with a lingering floral flavor. The tea isn't grassy, bitter or astringent. This is one of the nicest green oolong cold brews I've had! This cold brew was also consumed in one session, yum!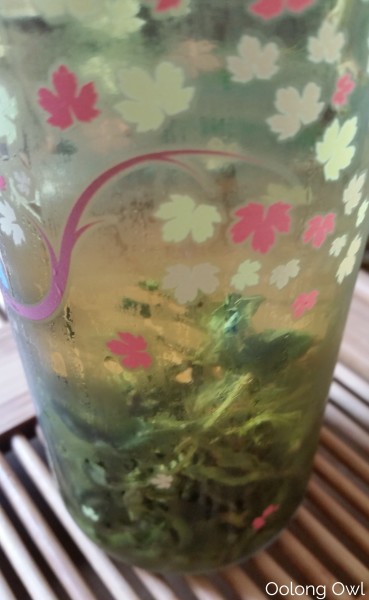 Look at these beautiful leaves!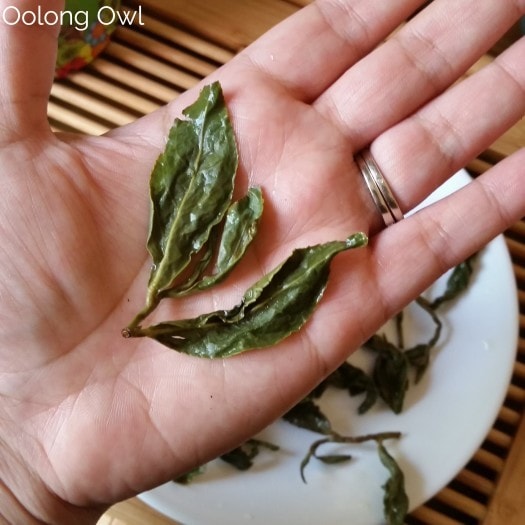 Summus Alpine Premium Black
The leaf in the Premium Black is thinner and more broken up than the Superb black. This one I steeped overnight, so about 10 hours.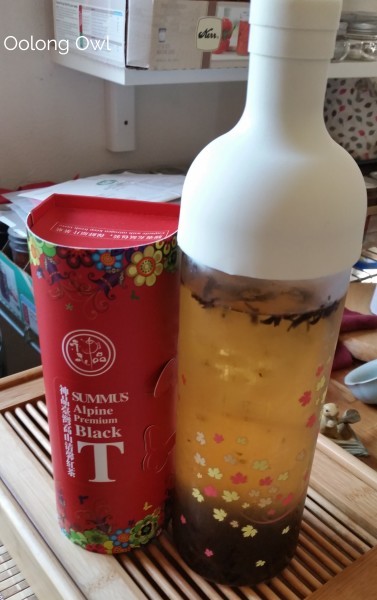 The taste is more floral than the other black. It's distinctly sweet like honey, flowers with a bit of malt and hardwood. Similar to the other black cold brew, this one is also crisp and flavorful. Hard to say which black cold brew I like more – both have tasty personalities. If you haven't cold brewed Taiwanese black teas you need to right now!
Summus Organic Oriental Beauty
It is time for a tea to steal the show!
This oriental beauty has to be the most beautiful leaf I've seen so far – it is certainly a rainbow of silver, gold, yellow, red, browns and greens! The leaf is perfect looking!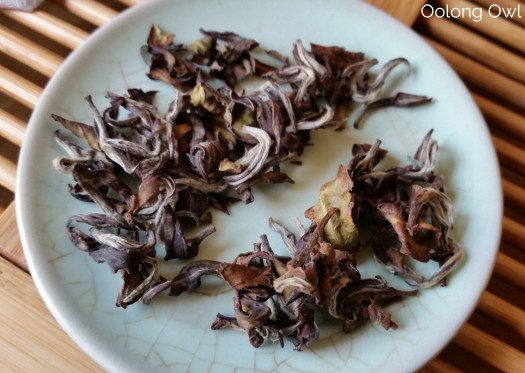 Another! So pretty!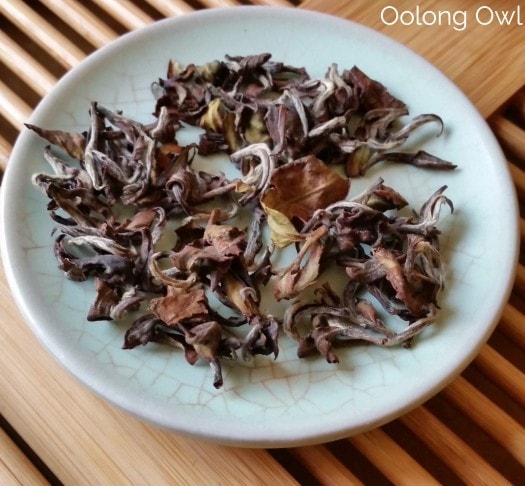 Again, this looked too good to cold brew but I did it. At first I wasn't convinced – at the 4 hour mark there was barely any flavor. When I tried it at the 20 hour mark, it had good flavor.
I don't think I've had oriental beauty cold brewed and it is now a favorite, the 20 hour brew time was worth it! This cold brew is delicate, sweet, buttery and floral. There is an aftertaste of peach that is really nice, which also builds with each sip. That peach aftertaste is the best part of the oriental beauty.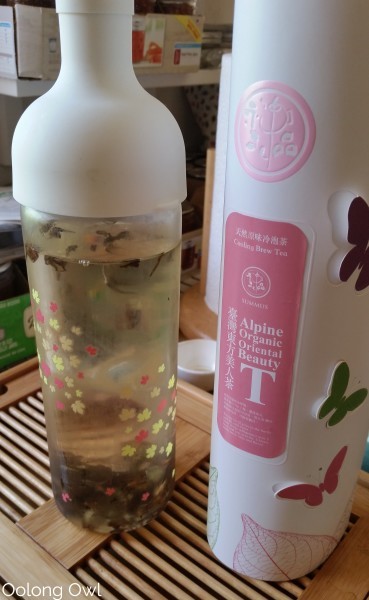 Like the other 3 cold brews, I drank the entire bottle in one session – it was so good! I wished I had 2 bottles of it!
Comments
I love my purchase of the Summus Teas and Cold Brew Bottle! The teas are excellent quality and the cold brew bottle is attractive. Ideally, I would love to use the bottle on a picnic – it would look very sharp pouring cold brew tea out of this wine bottle shape.  I enjoyed all the teas, especially the Oriental Beauty – that oolong was out of this world! The crisp flavorful black tea cold brews would go great with sandwiches and sweets. Alpine Oolong was also quite nice for a floral citrus drink for a refreshing hit on a hot day.
Sigh, unfortunately I could not find an online store front for Summus Teas. This might be a problem as that Oriental Beauty oolong was the best! I will keep you all posted if I find a place to order from!