I drafted the bulk of this blog post at 3:11 am Sunday, as I was unable to sleep. The day before, Saturday, I had a big housewarming / potluck style / husband birthday / bbq / tea party. The food was crazy as I purchased a whole Filipino lechon pig. Plus I made lumpia, tea sous vide salmon, desserts, and friends who brought awesome vegetable dishes.
Parties are stressful and tiring to host but I prepped as much as I could in advance so all I had to do was deal with some appetizers and the salmon. I also coped by starting a solo tea party early with 2007 Repave Sheng from White2tea. Repave is the cheap mind blaster of teas.
I managed to steep a small gaiwan out, and then switched to the sold out Mandala Tea 2006 Special Dark, a crazy rich and thick ripe puer. I got a couple steepings of Special Dark in me, but then guests started to arrive and helped me finish off the tea. Of course you don't let the tea or food stop, so I started a wild oolong I got from the World Tea Expo 2016, which lasted us to food time.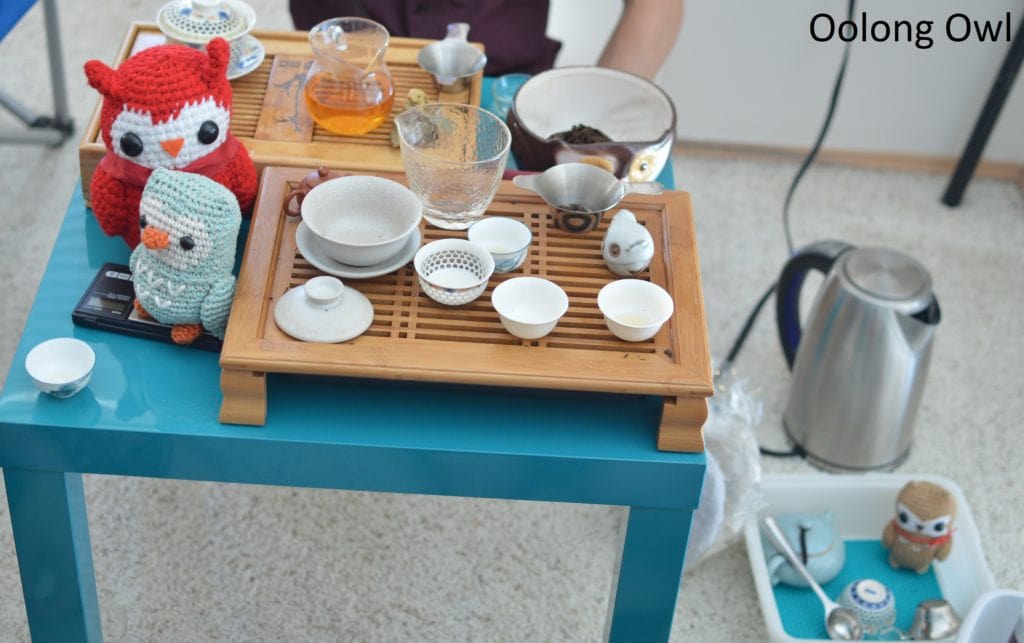 Food time got action packed. To set up the food scene, here is a picture of the spread (I know some might freak about whole pig). I brought out 3 more teas I prepared – iced Yunnan Sourcing Black Gold Bi Luo Chun (malty excellence) and cold brews of Summus Oriental Beauty and a Teavivre Tai Ping Hou Kui.  In attendance was a bunch of my sis' friends, husband co workers, and my tea buddies. My tea buddies are a small group I hang out with mostly from Steepster, and a few tea celebs whom you might know – James from Teadb.org (and Meet, special guest on Teadb) and Glen & Lamu from Crimson Lotus Tea.
Post food is when the tea drinking got serious. We hauled the tea set to the deck, brought in a second kettle as the constant refilling of a 1.7 Liter kettle was too much of a wait, and drank tea for hours.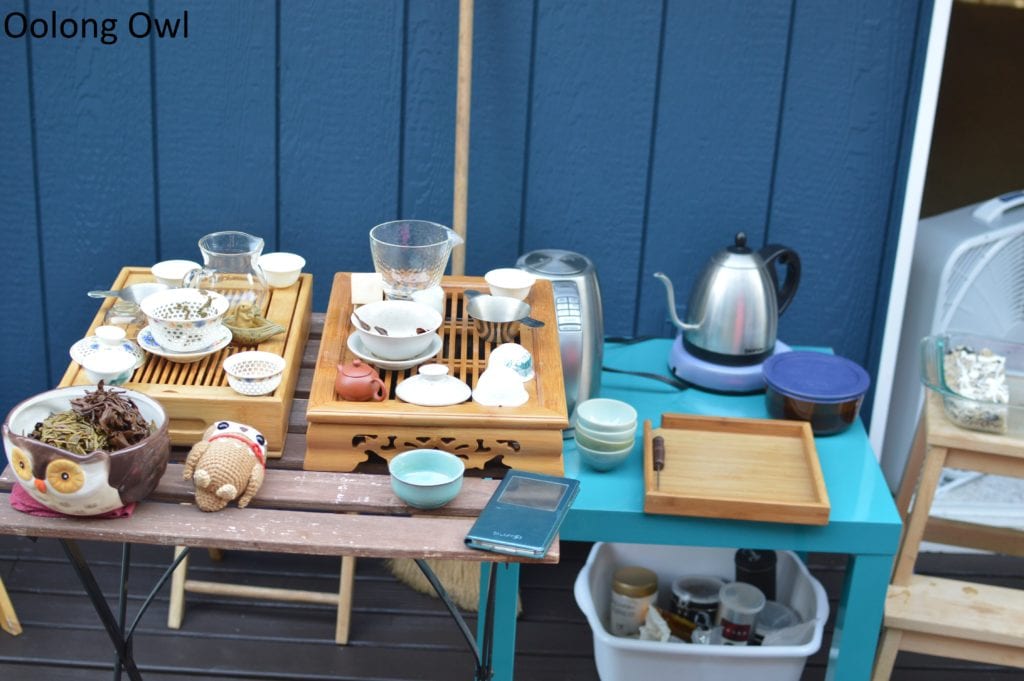 This round started with the amazing JT&Tea Ruby 18. Then at that point we were warmed up and the guest sheng puer came out – a 2004 Dingji Yesheng and two special offerings from Crimson Lotus Teas, including their new Beneath an Emerald Sea. After all those teas, it was pretty hard to stand up and it was a crawl to the bathroom to make room for more tea. The 2004 sheng had a weird effect of making me feel hot, despite getting hit with a cold breeze. The second "saucy"sheng was pretty delicious, and the Emerald Sea activated my sweet tooth. All this "slimming" sheng gave me the hangries, so another round of food happened. An interesting pairing is sipping bitter young sheng and following it up with sweet rice krispies squares, or drinking sheng with greasy pig to enhance the tea texture.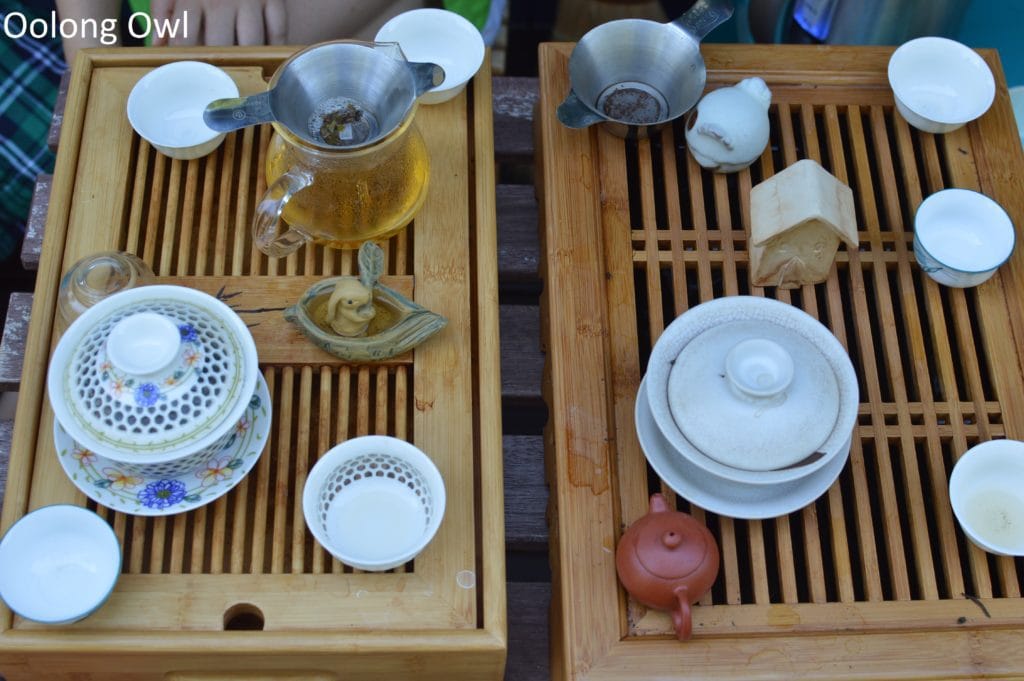 Total teas from my stash used at my party and shared – 72 grams (30 drank gongfu, 42 for cold brews/iced). Around 28 grams of teas was brought by guests and gongfu'd…. yeah, that is a lot of tea! What I found most enjoyable is having tea with people. I'm so used to tea for one, then maybe once a month I make tea for two. Tea for 8, whoa! Since moving to Seattle I've been drinking more and more tea with people.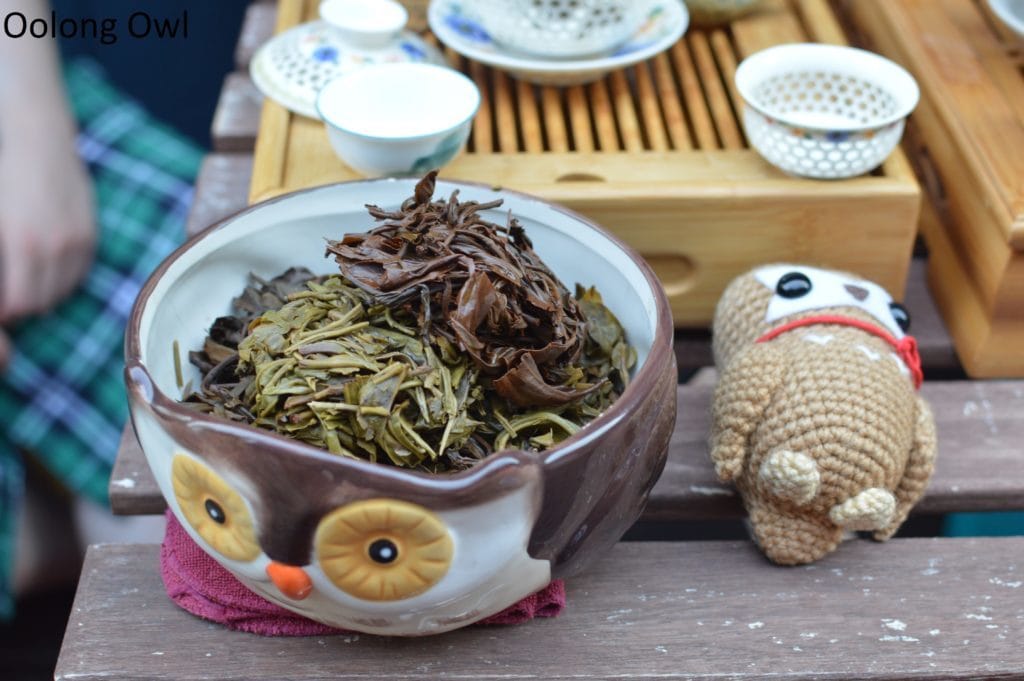 After most of the people left, I cleaned the house in some tea drunken haze. It felt like I did barely any cleaning as tea tears space and time, but my house became clean. Eventually I crashed into bed and never slept. 7am I stumbled out of the house to painfully haul home a 120lb wine fridge that will become a pumidor (to be continued in a future Tea Hoots). I've had a killer headache all day and feel every muscle movement feels like it is going through thick muddy shou sludge…. but totally worth it!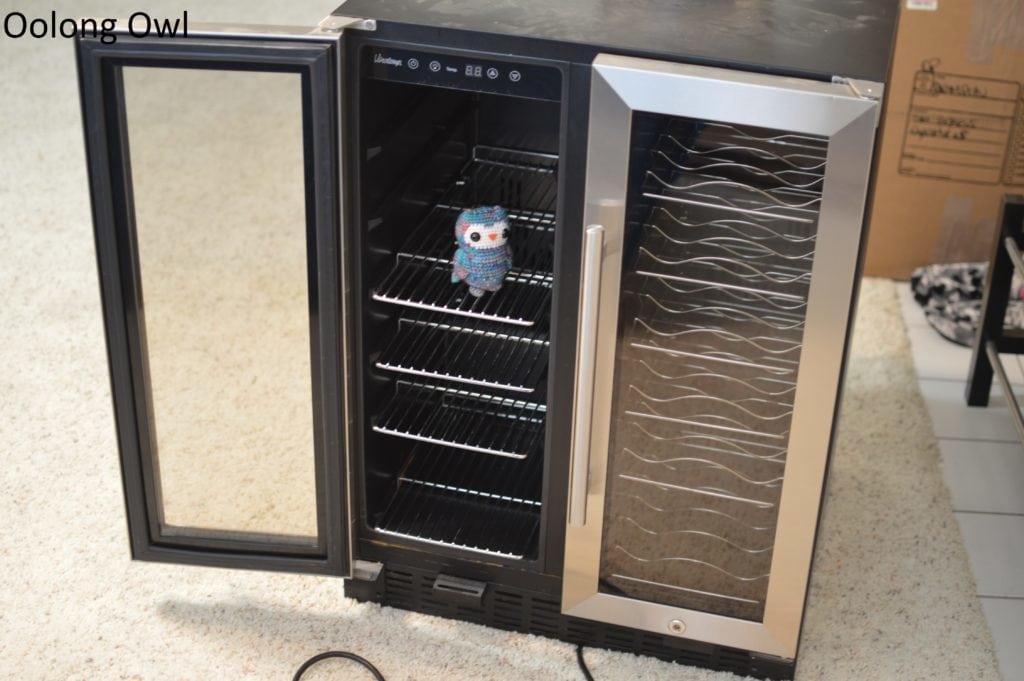 Thanks to Seattle tea buddies for the official welcome to Seattle!