For the last Sunday Tea Hoot I mentioned briefly at the end that I got a new Pumidor. For the new puer people, a "pumidor" is a vessel that stores puer in a controlled environment. Fridges do well as pumidors as they are well insulated, thus make pretty stable environments.
Anyways, I am here to tell you all my tale of my puer storage drama. I have never talked about how I store my puer since it has always been in a state of learning, then limbo, or "something better was coming."
In my early days of puer (which you all can see digging in the 2012 archives) my storage was pretty bad. I used two small cardboard boxes which I stuffed into a dresser drawer. At least the cardboard boxes were unscented, I have a good nose for those kind of things. My dresser was free of perfumes and I used the other drawers to hold my hand knitted scarves and hide Christmas gifts. As my dresser was starting to fill up and it got very scented of tea. I was able to smell my tea from my bed! Thankfully back then I didn't buy too many puer cakes, I still held onto my rule of buying samples of everything before committing to large orders.
Immediately after Cwyn posted her crock storage, I researched my options for crocks and found none. I even had issues buying canning jars, it seemed SoCal people didn't ferment or can things. That said, I went to Target and World Market Cost Plus and bought a bunch of giant jars and owl cookie jars. I found ceramic kitchen compost bins were also a perfect sice. I bought a bunch of tobacco buttons and stole my husband's hygrometer from his charcuterie box to get more serious storage. Interestingly my house generally rocked around 55% humidity since we never turned on the heat, so despite my crap storage I was lucky.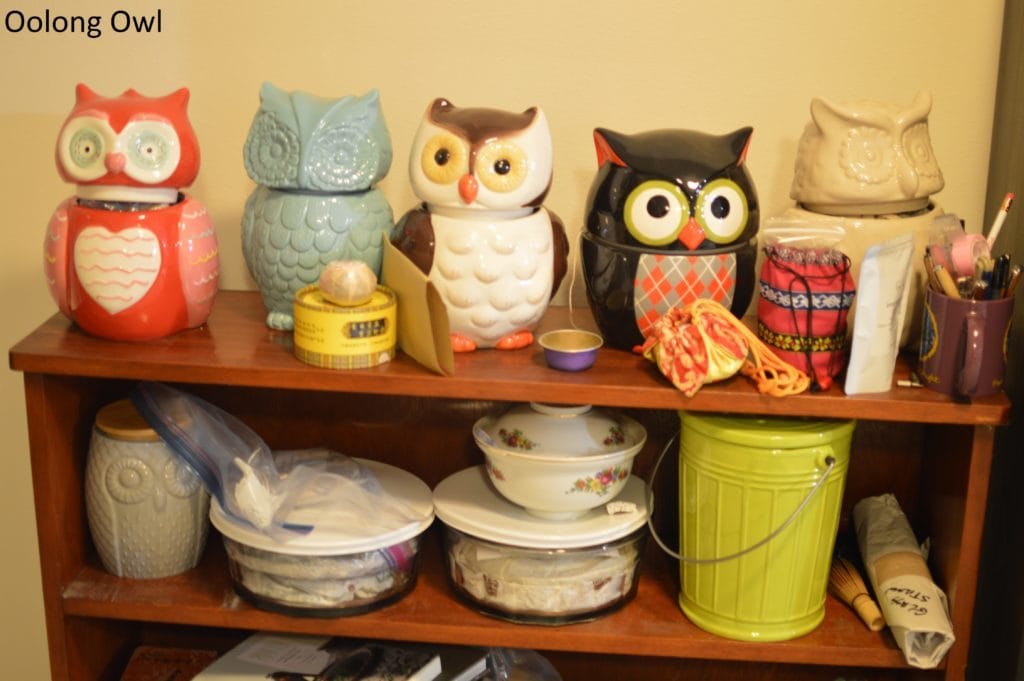 I used crock storage for awhile and it did quite well for me. I highly recommend it if you don't have much puer. I had a plan for better tea storage though, especially since I was running out of room to store all these bloody crocks. My idea of taking my husband's unused charcuterie box and turning it into storage, but I needed to do a few adjustments such as make it more insulated. That never happened because at that point I found out I was moving.
For about 3 months my puer was in ziplock bags in a suitcase. My puer cakes were either coming with me in a suitcase or sitting in a warehouse somewhere in unknown conditions. My crocks were in storage, and I couldn't get anything better as I was in temporary housing with little space. This is where I think my storage was having issues. I noticed some of my teas not tasting quite right, a little too flat.
Once I got my house and my things out of storage, my teas went back into crocks. I had another amazing idea – a tea closet. I have a Harry Potter style closet in my house that I can stuff that ol' charcuterie box in, along with my other teas. I discovered the charcuterie box would not fit in the closet. After that, I figured I'd just build something in the closet to store my puer. Then I had problems with the actual closet as it smelled. I used baking soda, vinegar, alcohol, vacuumed and steam cleaned the carpet multiple times and got no results – eventually the closet got musty and strange. My puer stash was growing and I ran out of crock space at this point. I didn't want to buy yet another giant glass crock from Target as all these crocks were taking up too much space.
I then had amazing luck – I found a bar fridge on the side of the road. It was encased in ice, it must of malfunctioned and the previous owners dumped it. It took 2 days to thaw on my lawn, and once it thawed the fridge contained someone's injection arthritis medication. I then left the fridge outside for the sun to UV the smell out. Unfortunately I now live in the Pacific Northwest, which is damp and weird. A zillion critters moved into my fridge and I learned earwigs LOVE the cracks in the fridge. I had spent an afternoon bleaching a fridge door in a bathtub while freaking out at the bugs crawling out of it.
Of course, after all that effort that mini fridge stinks like chemicals and plastic. I can't risk taking the fridge outside again as another bug cleaning will cause me to have a meltdown, so I have it resting with baking soda and charcoal in an effort to remove the smell. This fridge is now airing out, hopefully it will lose all the strange smells eventually.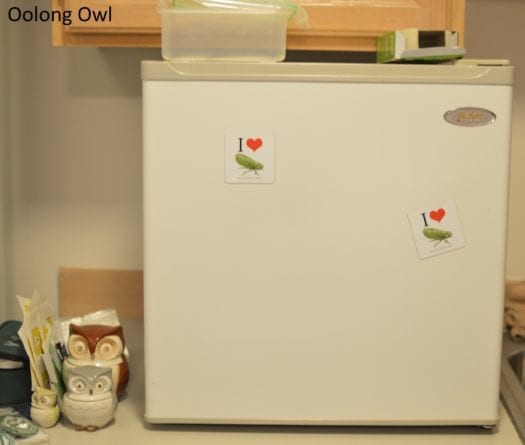 I then discovered the readings on my hygrometer felt off. I was watching my crocks swing 15 to 20% in a day, which shouldn't be happening or I'm doing something very wrong in my crocks. After testing my hygrometer I discovered it was busted. Check your hygrometers often!
Again, I had another streak of luck – my husband's work has an internal "craigslist" and someone was trying to get rid of a broken wine fridge. I had to borrow a car to get the wine fridge home as the thing is over 100lbs. I got it home and desperately hoped, prayed to the GONS that the wine fridge wasn't stanky. Turned out the fridge was very clean.. and interestingly was two separate chambers as it was intended to hold wine at different temperatures. One side of the fridge smelled a little tannic but it was so slight I didn't care.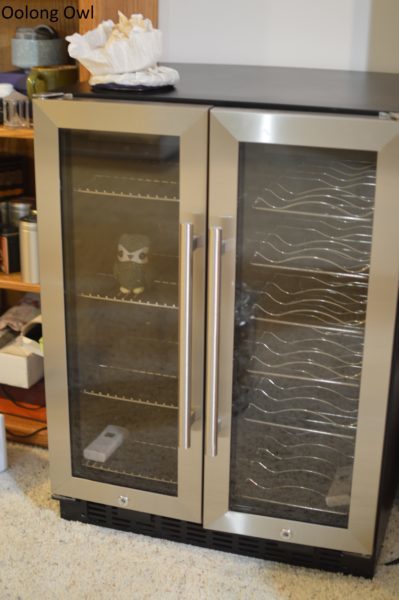 In goes the puer! At first I was planning to just put sheng in it, bigger cakes on one side, however it worked out all my cakes fit snuggly in this single fridge. My puer stash isn't too big, but again, I seem to sample more than I cake, and I have never tonged anything. The puer scent overtook the tannic scent, so that became a non-issue. I got a new hygrometer from Amazon – a wonderful Ambient Weather wireless system with 3 remote sensors (shout out to Grill for the help). It took about a week to get the humidity up to what I was aiming for, the photo below was taken just after I loaded the fridge, I have been rocking a 64-67% humidity.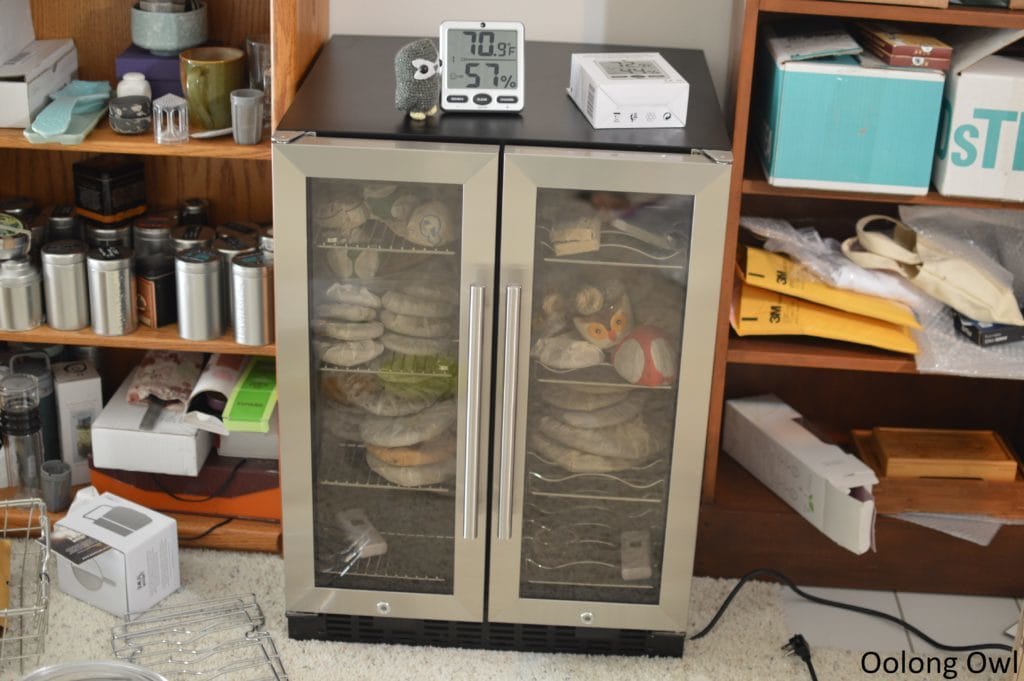 I am really happy with this wine fridge and it is just what a puer drinker needs – 357g puer cakes fit perfectly and the shelves pull out for easy use. Reading online, this fridge in particular, a double chamber Vinotemp, is a lemon, many people have problems with it, and would cost $750 to fix the compressor. I do like the wine fridge design more than a bar fridge due to the more open design and shelving. My only complaint is those wiggly racks aren't wired enough to keep my 100g cakes from falling through. Either way, there are broken fridges out there, and people have to pay to dispose of them – so keep your eyes peeled since you don't need the fridge to be in working order.
So that was the drama of my puer storage and where I am at now. I will write more in detail later on regarding my current storage as I am sure some of you have questions.
Have a hooty Sunday!
(amazon affiliate link, the tea owls are hungry)