I was on my evening walk with my husband and I saw a falling meteor. My husband joked that I should make a wish. I said, "You think this is Animal Crossing, and I'll get a coffee table in the mail tomorrow?"
Earlier that day I was thinking about how I wanted to relocate my tea drinking to another room. I feel disjointed from my tea stash as my tea stash is split up into multiple rooms, and I drink tea in the kitchen, which has a surface to put my tea table on. My stash is split up because my pumidor didn't like the cold room that the main stash is in. And the rest of the stash is split due to being disorganized from upcoming house renovations. However, I thought if I had at least a coffee table I could relocate my tea drinking to where most of my tea stash is and just move everything there, except for the pumidor.
If you are not familiar with Animal Crossing, it is a Nintendo video game series where you move into a town full of animals and live, with time passing like real life. You make money to pay off your mortgage and decorate your house. Many things are seasonal, so if you play all year round you will be able to catch all the bugs, fish, and dig fossils to donate to the town museum…. that is run by owls.
The game is cute and open ended. In the Wild World and New Leaf version, if you see a falling star and hit the action button, your character will make a wish. The next day, you get a piece of furniture in the mail from Wishy the star.
The next day, my husband came home with this: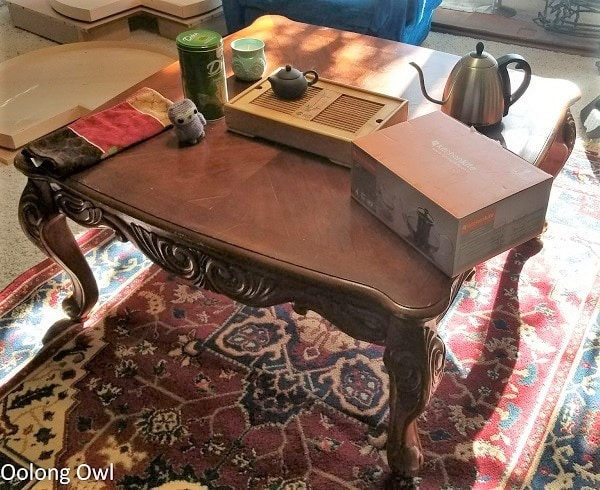 A hardwood coffee table! It is actually was clean and in good condition other than a few scratches and some bubbles in the veneer top. He found it with a free sign close to the house. I can finally move all my tea things to this room and have tea on the coffee table, rather than standing at a kitchen island. Oddly, I am more used to drinking tea while standing, I am still getting used to sitting and having tea when I am in shops or with groups. In the end, life is like Animal Crossing.