There is a tea blogger challenge going around, that started with Tea For Me Please, which is to talk about stuff beyond tea. Occasionally in my tea reviews and other Sunday Tea Hoots, you'll get snippets of my madness. Here are 5 things you might not know about me.
Hoarding Going Beyond Tea
Nail polish. I swatched them all recently and I hit close to 200. When I moved to California and Seattle, I purged over 40 bottles both times. I particularly love holo and I do my own gels.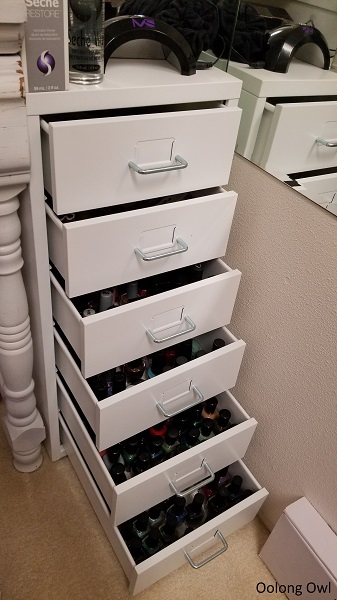 Yarn. I got a lot of yarn. My other blog, Awkward Soul, is dedicated to crochet and yarn, though my energies have been focused with Oolong Owl. I collect more yarn than I have projects for. If I find anything fun that would make a good Tea Owl, I buy it. I got 2 huge totes of yarn, plus 2 overflowing totes. I also have another tote filled with undyed yarn. All my yarn isn't close to organized at the moment, so no photos.
Fabric. This is a new one since I got a new sewing machine and started playing with quilting. OMG ALL THE OWL FABRIC.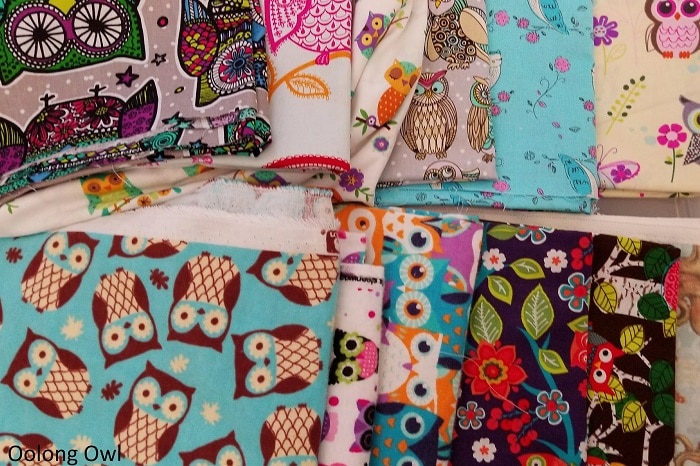 Not to mention all the owl knick knacks I own. Hopefully, you'll never see me on Hoarders.
Strange Career Path
Right out of high school, I went to animation school, then after worked various jobs in the industry like storyboarding, layout, character illustration, and flash animation. I didn't like the animation world at all as it was very seasonal work, extremely competitive, with grueling overtime to meet deadlines for little pay. I then went back to school and did an undergrad in Psychology, then later got more specialized with Addictions Counselling, so I worked in mental health homes, concurrent mental health/addictions centers, and women's shelters. Moving to the US killed this work, as it is paid peanuts here, so I feel the stress isn't worth the pay.
So now I am just a writer. I do Oolong Owl and various other writing projects.
Hobbist Cook
I always loved cooking. I would watch my grandmother cook every day and I knew all her cooking secrets, which no one believed (the biggest secret was the jar of MSG in the back of the cupboard). My parents worked full-time jobs, so I was self-sufficient at a young age to cook for myself. I got really good at baking.  When I worked at women's shelters, I was cooking for 50 women most shifts, on top of my other duties. A couple times I stepped in for our cook to do dinner for 97 clients.
I made all the desserts for my wedding. I regularly send my husband to work with pies, cookies, and cakes – which gives me an excuse to bake, eat a sample, and not eat the rest.
I rarely go out to eat, maybe 2 or 3 times a month, and when I go out it is for things I cannot cook myself, food festivals, or I planned my day poorly.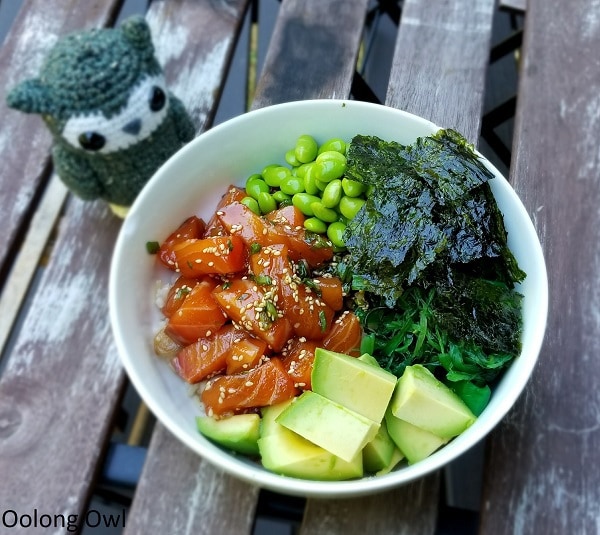 Also related to above, I have a ton of spices and kitchen gadgets. I've had a sousvide for years, crazy sized BBQ smoker, and I also make my own sausages.
I should do more tea food posts, but what my household is not good at is cleaning and my current kitchen is in dire need of remodeling.
Weight Lifter
When I moved to California, I got into Brazilian Jiujitsu. I started lifting weights to get stronger. I eventually quit BJJ and weight lifting became my main activity. I mostly focus on powerlifting, with dreams to try strong man, if I can get around to making/finding the equipment. My goal is to just lift as much weight as possible. I am also injury-tastic outside of weight lifting – I have benched myself for sore shoulders, knees, sprained ankles, broken toes and fingers – all done at BJJ, walking around the house like an idiot, or trying yoga.
Weight lifting is a part of why I like matcha, generally I don't drink green teas, but matcha is a great preworkout due to the caffeine explosion.
Endometriosis
I took a break back in November-December 2016 as I had surgery for never ending pain caused by a "cyst/ potential cancer" the size of a grapefruit, to find out it was severe Endometriosis, to the point of it attaching some organs together. It all made sense, as ever since I was in my late teens I've been in lots of pain, 3 days a month I could not leave the house as I was in too much pain or could pass out or even vomit. Many doctors didn't take me seriously. Most were just failing to understand this isn't normal or thinking I was exaggerating, one doctor even told me that I "should go clean my house, it'll make me feel better." After years of that garbage, I gave up and muddled through life taking max doses of Aleve routinely. It slowly got worse and worse, lasting longer and longer. I finally went to doctors last year when my pain started to not end, I was up to 2 months of intense, never ending cramps. Endometriosis was brought up twice, but both doctors figured I wasn't in enough pain since I have been managing so long, and when they saw a huge growth on my ovary, they figured it was a cyst or cancer and it had to be removed.
There's no cure for Endometriosis, it is just hormones to stall the growth plus regular surgeries to cut it out once the pain becomes too much again. In fact, they can completely gut me and there is still a decent chance I'll still have Endo. It is quite annoying as Endometriosis is 1/10 women, but not talked about as it is squicky women's pain, heck I feel like a rebel talking about it now. Getting a diagnosis is difficult, many similar to me, getting told by doctors for years we are just being hysterical and everything is normal. Not to mention, just about every women will get ovarian cysts, which can be horribly painful, yet not talked about.
Hope that was cool. Check out Tea For Me Please's post to see what other tea bloggers have said too.