This Superior Wuyi Aged Golden Buddha Oolong was a tea drunk upsold purchase at Treasure Green in Vancouver, Canada, during my trip to Vancouver last year. I've learned this is why tea shops have you sit down and drink tea with them as the tea drunk makes for easy upselling. I'm at the point where I have accepted this, especially in the hands of a good tea seller – I will always go home with great teas.
I am not sure what went through my mind purchasing this oolong. It was harvested in Jiulong Zhai, Wuyi Mountain in 2004 and has gone though 2 charcoal roasts. It is also sold in a really pretty box.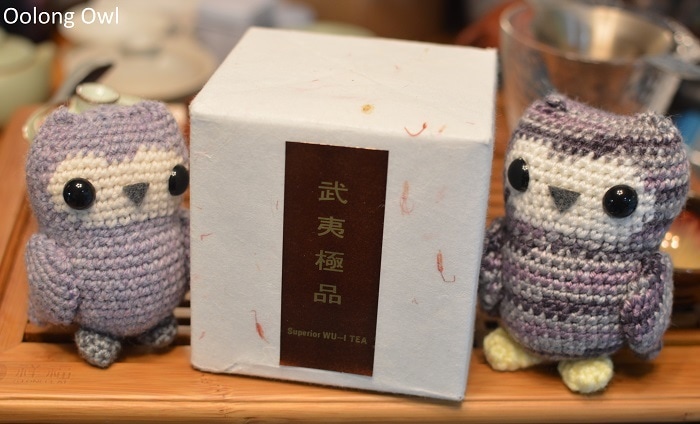 Underneath the pretty wrapping paper was a box and tin of tea.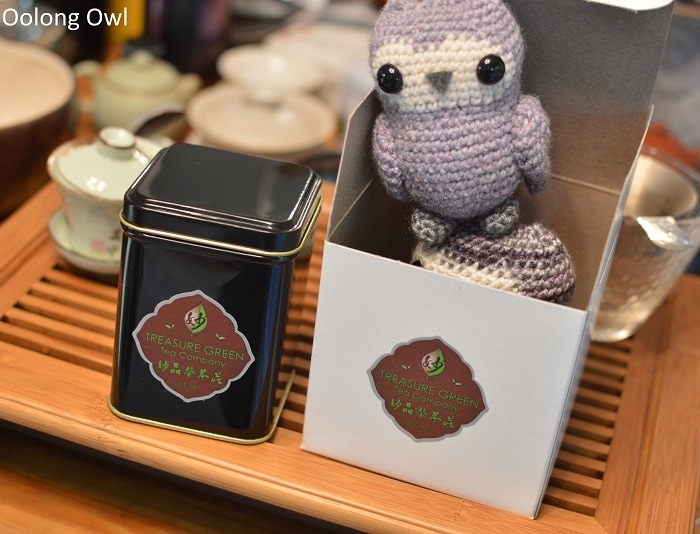 Dry Leaf and Steeping Method
Not the most exciting of leaves. They smell like old books and wood scraps left over for years.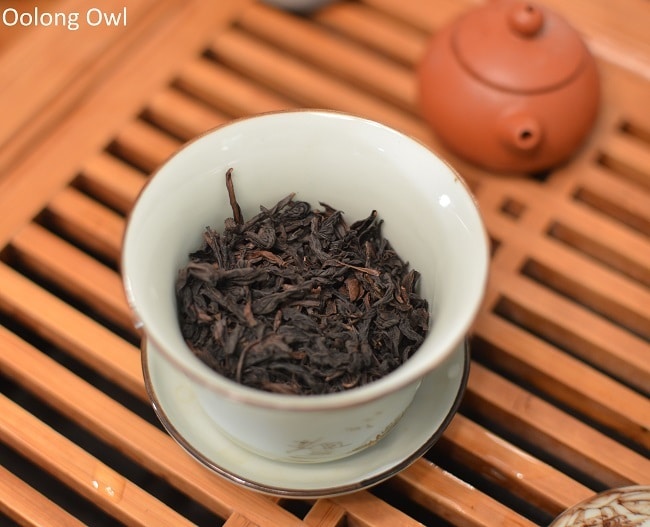 It is time to leaf hard! 1 gram of leaf to 10 ml of vessel size – I am using a lot of tea and flash infusions with boiling water.
Tastings of Treasure Green's Superior Wuyi Aged Golden Buddha Oolong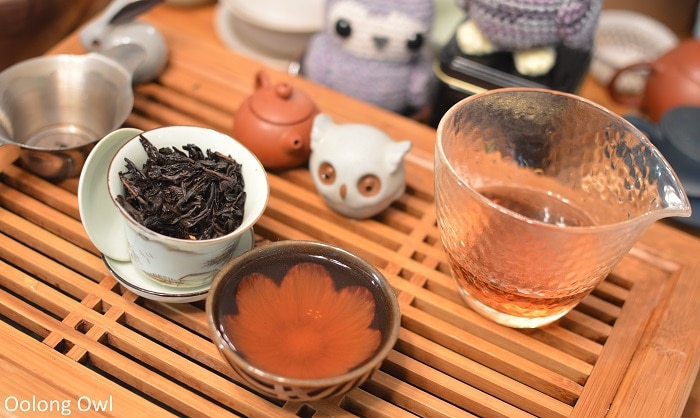 First and Second Infusion: Aged Golden Buddha sips in super roasty – I can taste the charcoal yet without any ash or smoke. The texture and smoothness of the oolong is like drinking a BBQ stick of butter. The finish is oddly fruity floral and fresh. I can't peg the fruity floral flavor yet. There is a slight astringency at the end of sip, but adds to contrast the smooth thick texture.
Third, Fourth, Fifth, and Sixth Infusion: This tea is so smooth, the texture is like melted butter. The sip is very roast and savory. As the sip goes on, it shifts to fruity like peach crisp. The finish is like fresh peaches, dripping with butter, bit of sweet and savory. The aftertaste is interestingly very fresh and very bright, which is crazy after drinking this tea as a heavy dense roast flavor.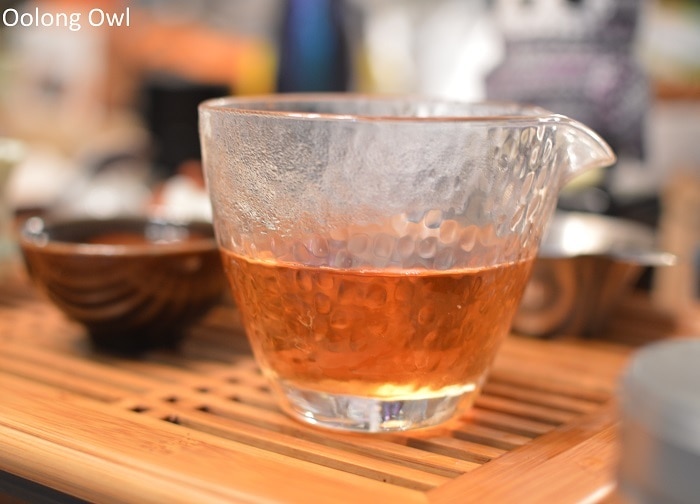 Seventh, Eight, Ninth, and Tenth Infusion: We have a big flavor change here. This could be a point where many people would just stop re-infusing this tea. It jumped to be quite dry all of a sudden, making it a challenge to push through. However, if you can get through the dryness, you are rewarded with delicious rock notes. The roast has shifted to an umami savory broth with salivating mineral notes. The finish is super dry, drying out my throat and back of my teeth, but in turn the aftertaste is a spiced nutty butter. I feel I could add just a touch of salt to Aged Golden Buddha and drink it for dinner. It has been quite heavy, thick textured, and savory that I feel it should be a meal.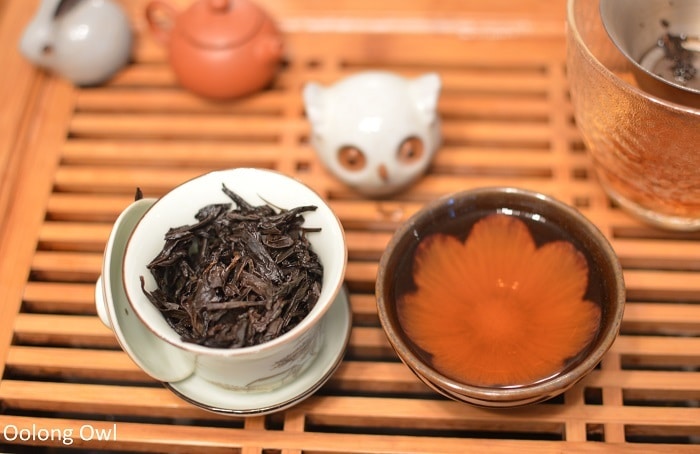 Actually drinking this tea is making me hungry… and tea drunk. I am getting a really nice internal brain massage. I feel like I'm having a rush, my body is demanding I zipline while eating chili and drinking rock tea.
Eleventh and Twelfth Infusion: Power long steepings here, about 15 minutes.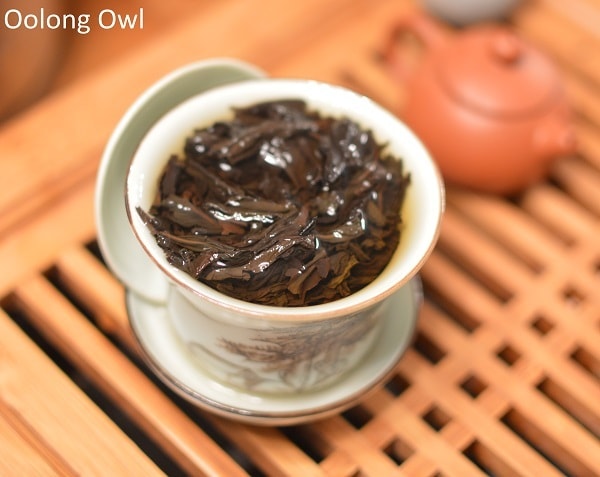 The flavor slipped greatly here, but what I got was light mineral and caramel, with a strong dry finish. Even if this tea wasn't dead now, I would of stopped due to utter tea drunk flailing, evil henchman laughing, and how I scaled the fridge to find the secret stash of cookies.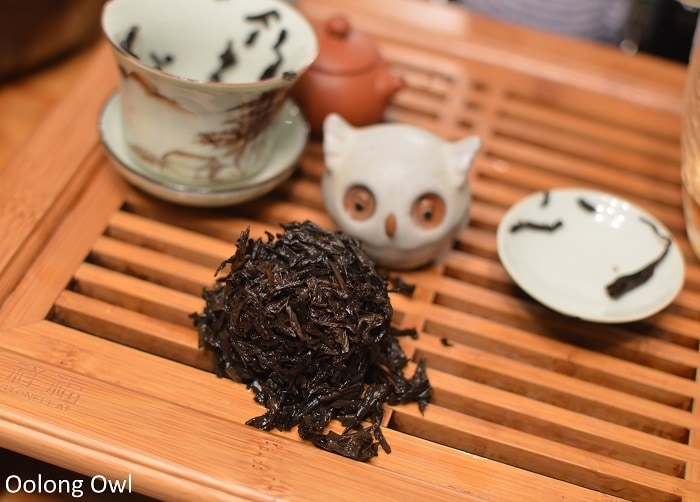 Comments
Hot damn, Superior Wuyi Aged Golden Buddha Oolong is good! I really enjoyed the heavy body, strong flavor roast and savory flavors contrasting with the fruity ones. This tea has a lot of body and personality – it is so rich that you can almost chew on it. The charcoal roast is very well done here as there is no ash or smoke.
I think newer tea drinkers won't like the dry elements in this aged tea, but aged oolong and some puer drinkers will quite enjoy this one. If you love rich flavor, contrasts, heavy body, and feels you'll love this tea. It is an expensive tea, but this is also priced in Canadian dollars. I believe I paid less in store as well. That said, if you are even in Vancouver, be sure to do some tea shop touring and hit up Treasure Green!