Sweet Roasted Chestnuts Flavored Black Tea is a Japanese black tea with chestnut flavoring. This tea is a Creha Tea that I purchased from Yunomi.us.
I'm sure when we think of Japanese teas we think of green teas. It's really cool to see a Japanese tea seller like Yunomi.us carry some Japanese blacks teas as well as oolongs. It is really neat to taste the difference of these teas compared to the typical teas that are more commonly from Africa, China or Taiwan. If you wanna know what I mean, check out my review of a Japanese Pu'er.
Sweet Roasted Chestnuts Flavored Black Tea has really nice packaging. Very cute tin! It did not come with the shy Barn Owl. By the way, this owl is new here. The last barn owl amigurumi, Barney, was adopted. He's a few states over from me most likely terrorizing someone's Japanese tea stash.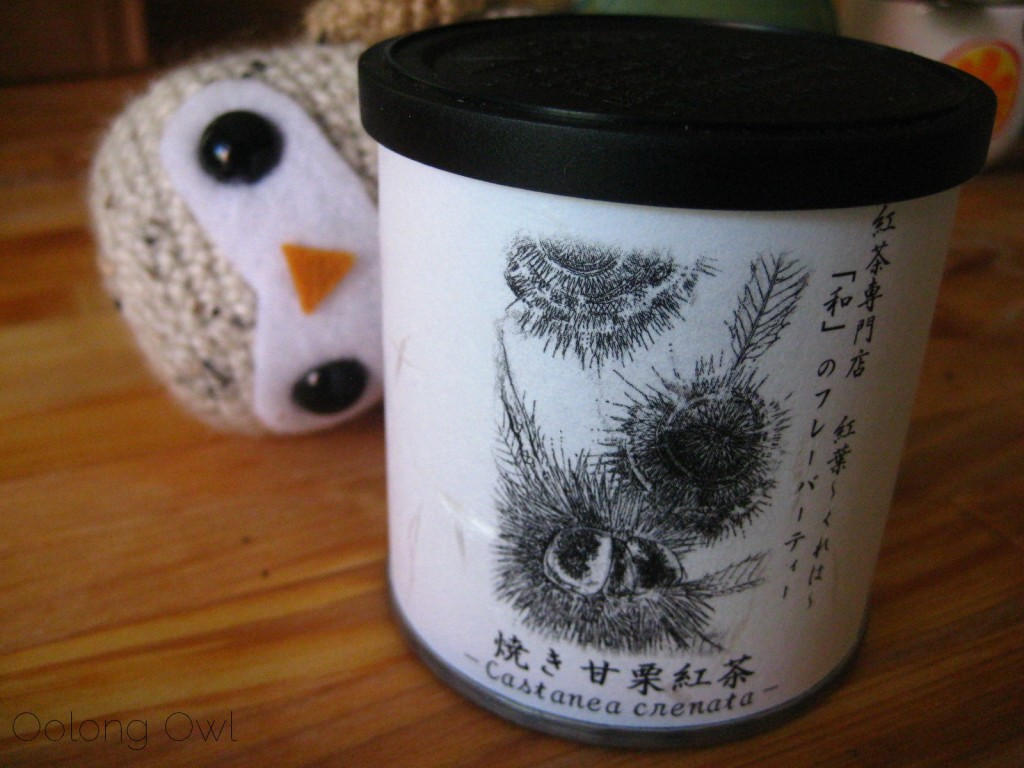 Closer pictures of the tea tin: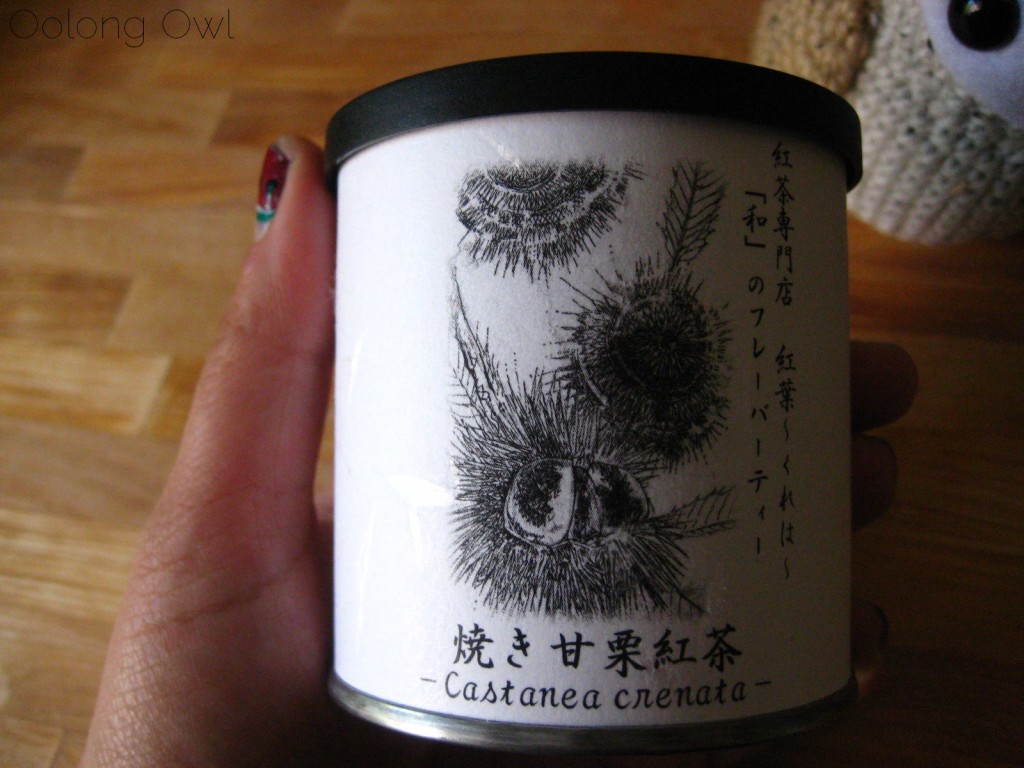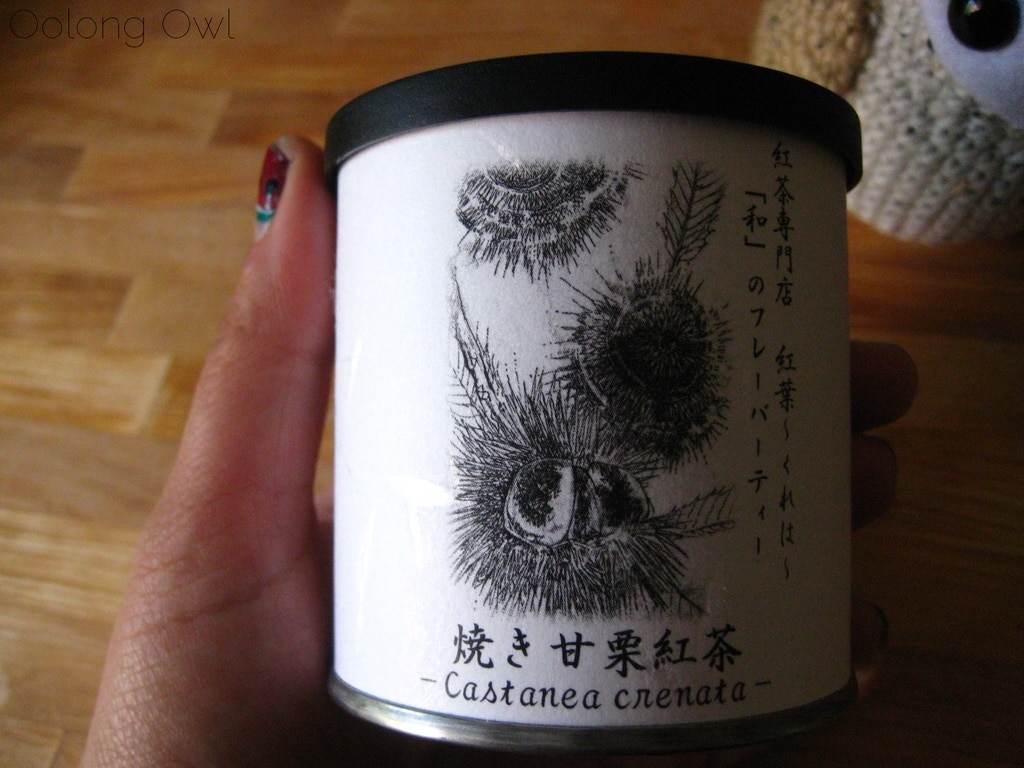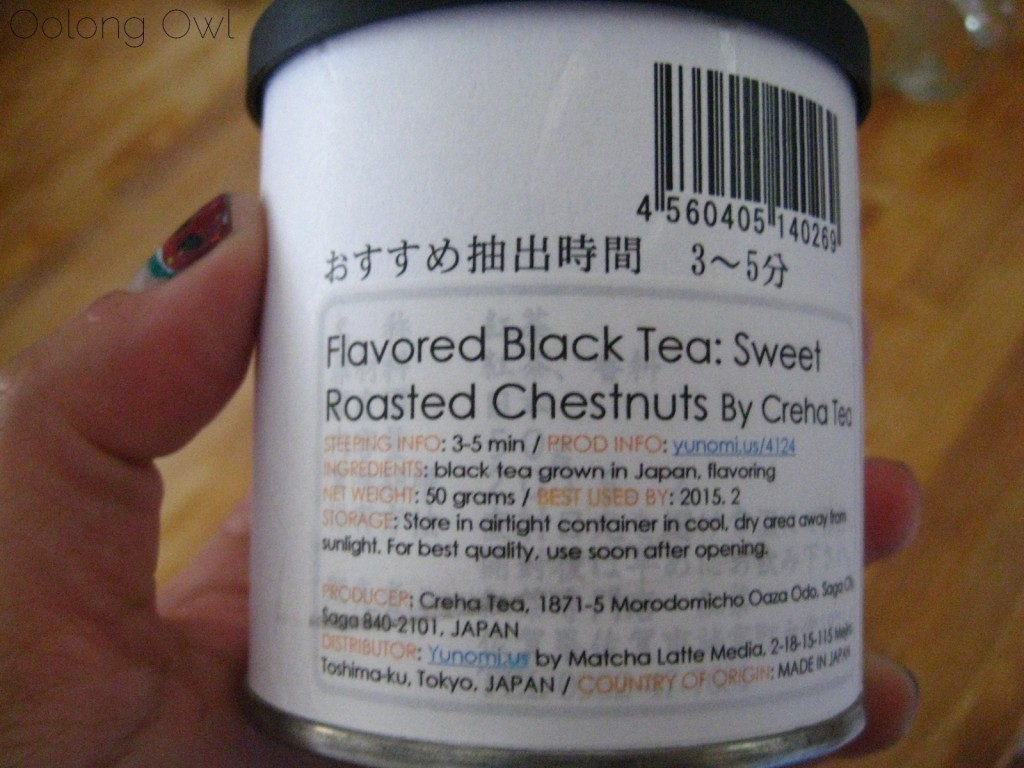 Upon opening the tin, the tea is sealed in plastic.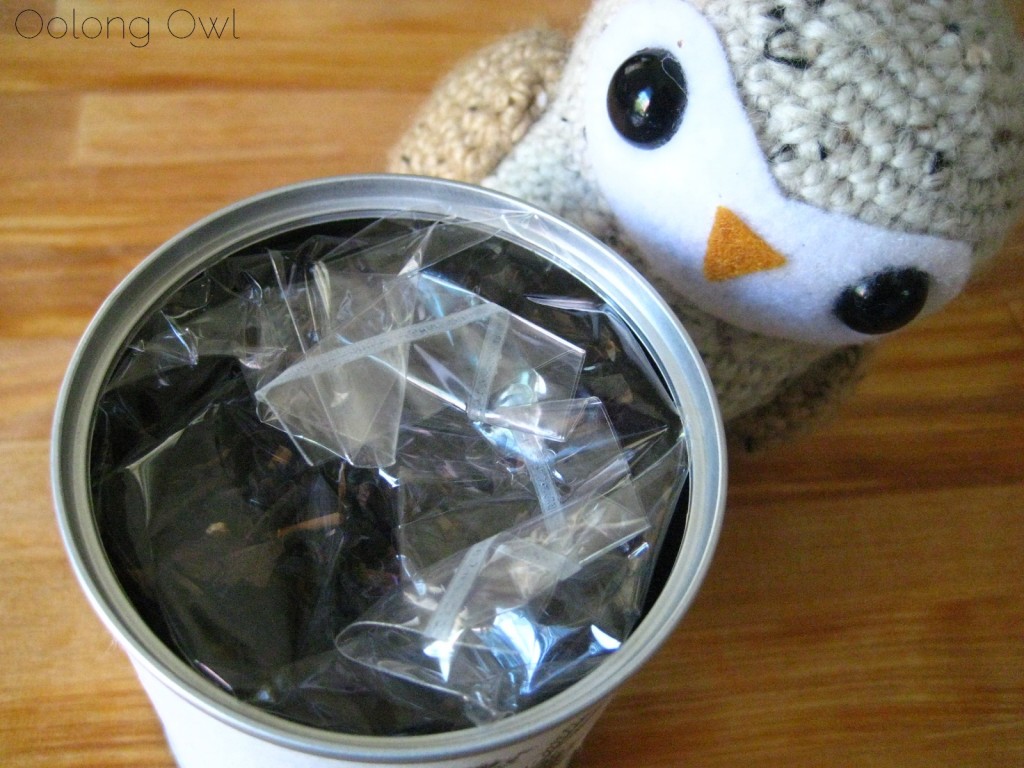 Dry Leaf: The tea leaves smell very strong and sweet with a hint of liquor smell – like sniffing homemade vanilla extract.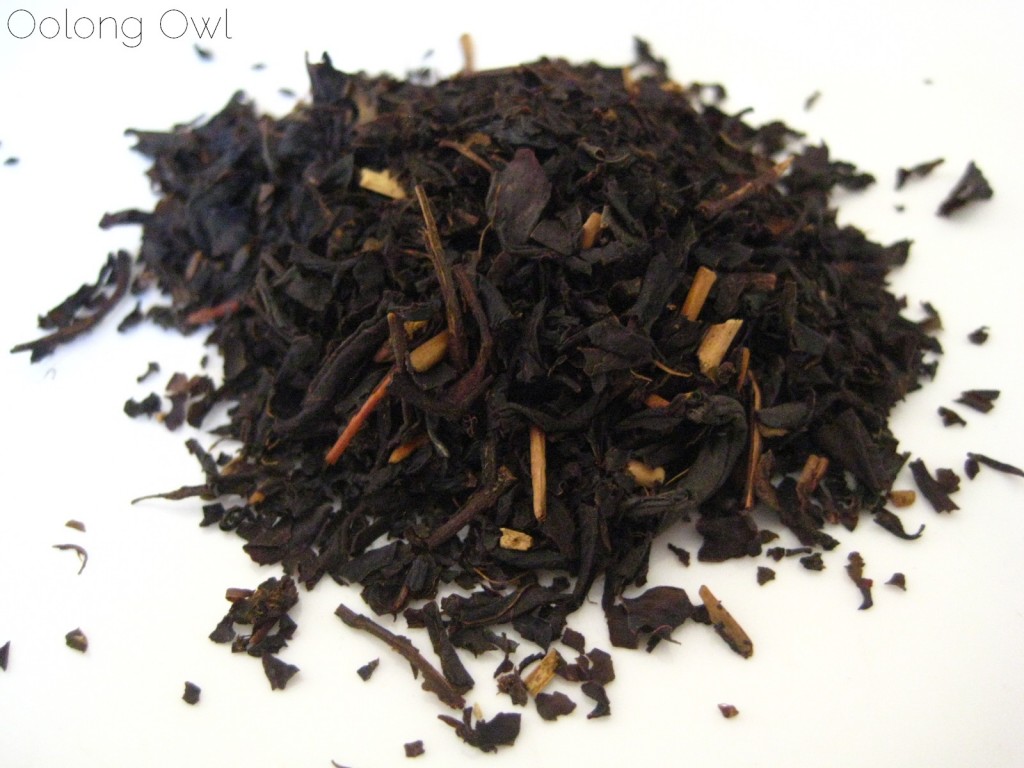 Steeping Instructions: I steeped this tea for 3.5 minutes – I gave it a taste and a slight bitterness was coming up, so I felt satisfied for how long I steeped it.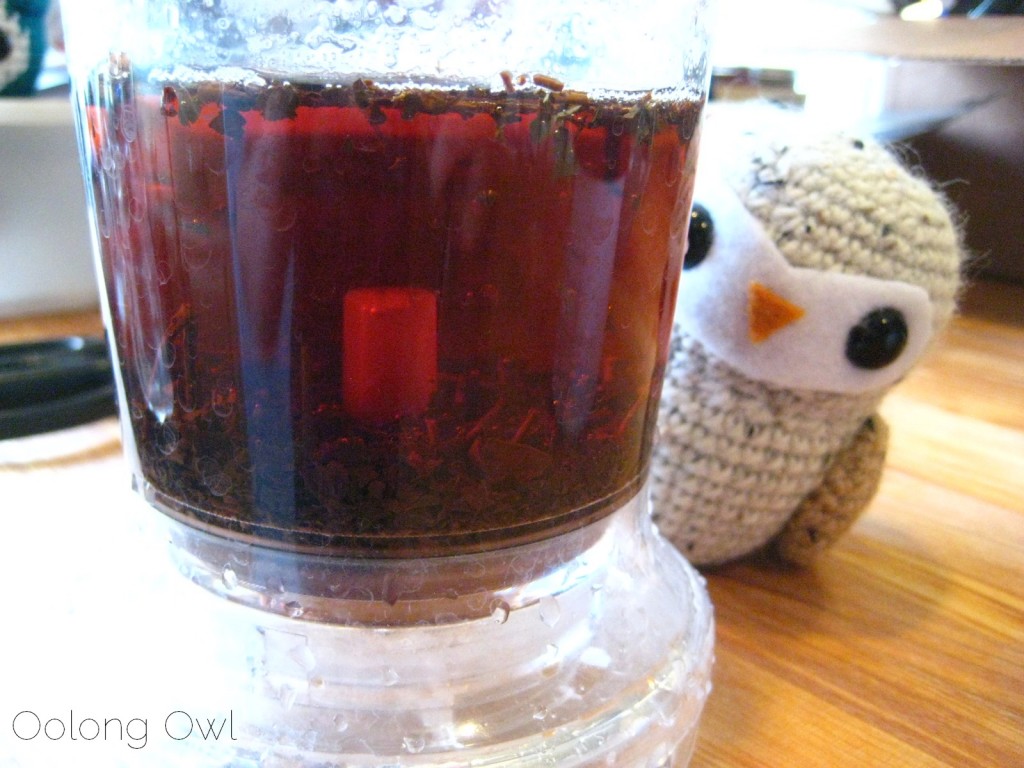 Lovely crystal clear, reddy dark amber cup of tea that smells super creamy!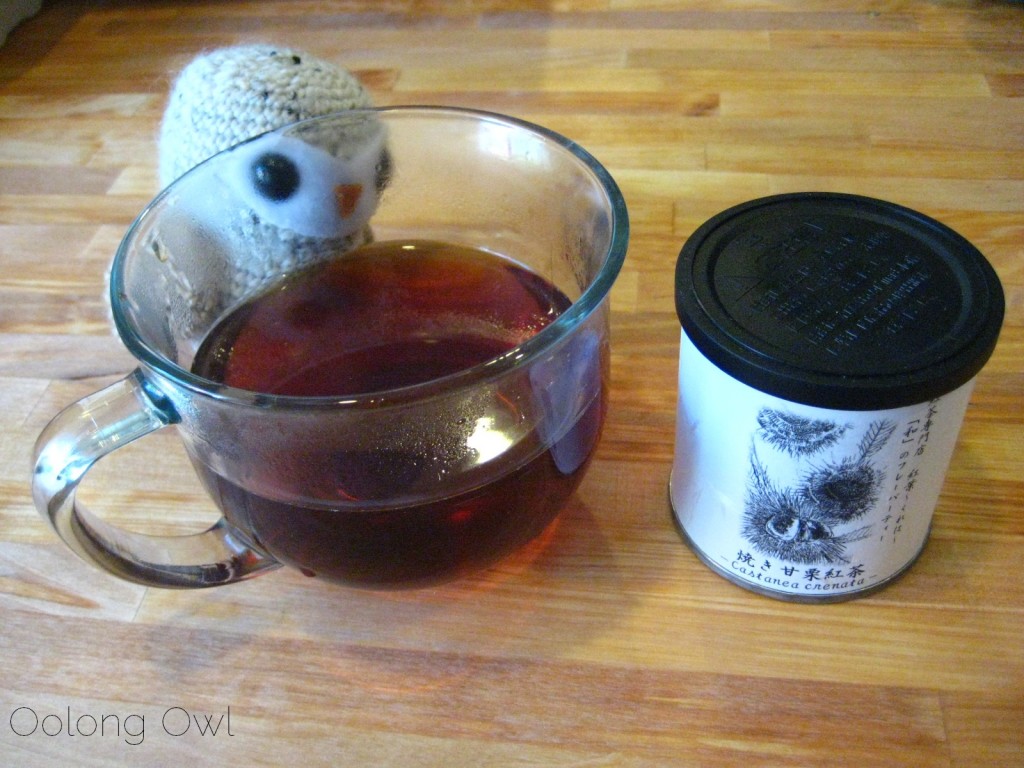 Taste: Sips in really smooth and light, developing the flavor mid sip. I can taste sweet creamy and nutty chestnuts that intenifies to end of sip, but only hitting a moderate level of flavor. At end of sip, the chestnut pops fully with a hint of sweet cocoa flavor with a hint of bitterness 1/10 on the bitter-o-meter, that reminds me of a sharp, nutty peel flavor.
The black tea base is very different than what I'm used it. It is light, little woody, touch roasty and very easy to drink. Very different from the usual robust, earthy, and sharp flavors of black tea.
To elaborate on the chestnut flavor, it tastes moreso like sweet chestnuts in a pastry or sweet than eating straight up roasted chestnuts out of the shell or bag.
You know what is freaky? Trying to drink tea with an owl hiding behind your cup looking at you.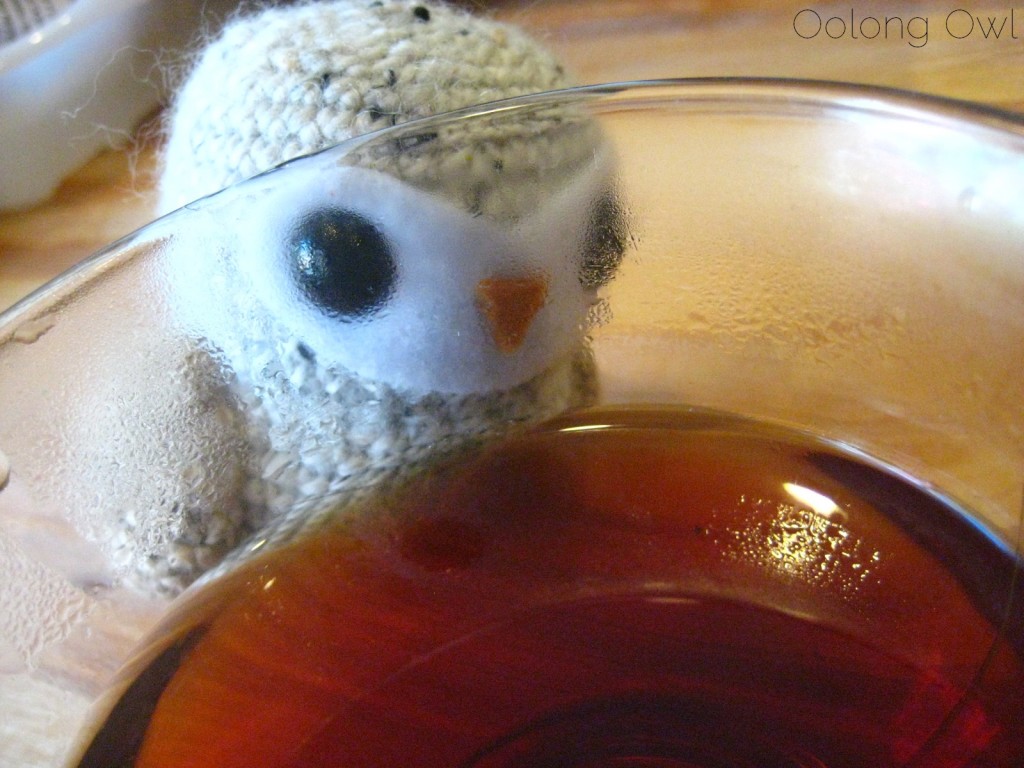 Milk and Sugar: I added some vanilla soymilk and honey. The flavor is quickly softened to taste like a latte, but I only added maybe 1T of milk. The tea is super creamy throughout the sip, with the end of sip having the sweet chestnut flavor blast out.
Resteep: Had some technical issues (accidentally reset my timer) and I think I resteeped this for 5 or 6 minutes. Either way, the tea came out very nice! Just a touch lighter, sayu 20%, but very smooth, creamy chestnut flavor throughout. The resteep is sweeter and more mellow. It is like the tea evened out in flavor. The base is very tasty, its like an ultra smooth roasted oolong, but quite nutty and a bit woody.  The creamy silk chestnut tastes as if I added milk to my tea, but I did not! There is a lingering sweet aftertaste.
Comments: Hey, Japanese black teas? Become more popular and easy to find please? You are fantastic! I'm personally not big into black teas, but I really love the lighter base of the Japanese black tea.
Chestnut tea really reminds me of bubble tea using black tea. It's mild tea with light flavoring. In fact, I should make some bubble tea with this tea!
By the way, I'm totally in trouble now. Creha has other flavors like Banana, Red Grape, Strawberry, Sakura, Yuzu, Peach, and Earl Grey. I want to try more!
Bonus:
I think I discovered why this Barn Owl is so shy… he is lacking feet! Whoops! Next time you tea owls see him he should have feet!