Teaful is a new tea experience that curates a box of teas with a theme of exploration of tea producing region. They list what teas are in each chapter, so there are no surprises for what you get. I got the Taste of Taiwan Chapter 1 box, but there is another box that comes with teaware.
Unboxing of Teaful's Taste of Taiwan Chapter 1
Teaful has some slick and modern packaging!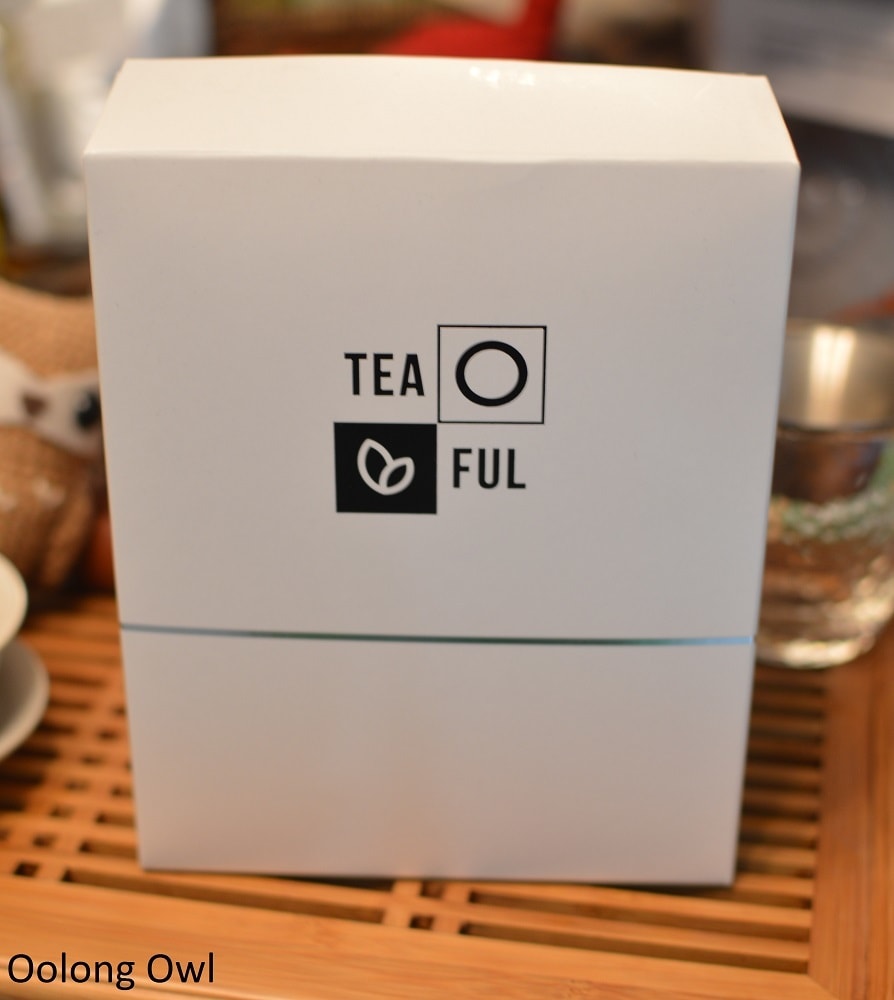 Inside is the four teas in individual boxed cubbies.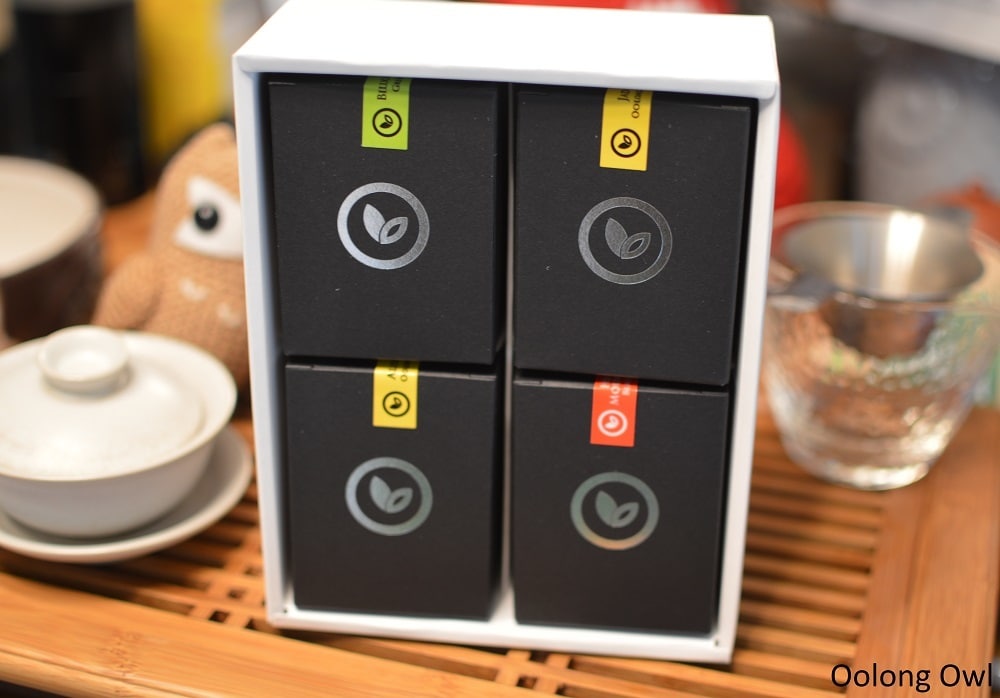 In each box is the tea foil or vacuum sealed, depending on the tea.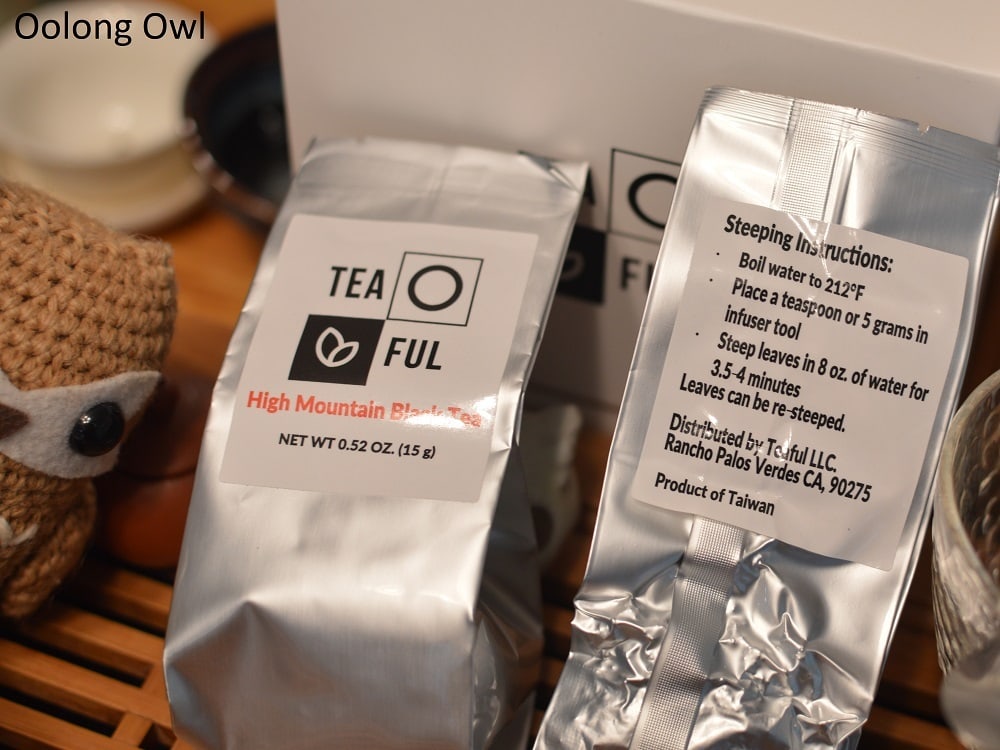 The first box is Taste of Taiwan Chapter 1. The teas in this package are:
Biluo Chun Green 20 grams
Jade Oolong 20 grams
Alishan Oolong 20 grams
High Mountain Black 15 grams – this one is 5 grams less as it is a rare tea.
Tasting of Teaful's Taste of Taiwan Chapter 1
I went in with the intention of just drinking and writing about the two teas in this box that interested me the most – High Mountain Black and Alishan High Mountain Oolong. After being quite impressed with the High Mountain Black and Alishan, I ended up drinking the rest out of curiosity.
High Mountain Black
Admittedly, I agreed to review this box as this black tea sounded fantastic and I needed to try it. This tea is in smaller quantity due to rarity. This High Mountain black is a 2016 Summer harvest, from Nantou Taiwan, processed as an experiment as the material is intended for High Mountain oolong, but was made into a black tea. I find this tea great addition to this Taiwan exploration box as we get a taste of newly invented teas, snuggled in with classics.
The dry leaf smells soft and fruity, with an appearance of long twists of black with the odd gold.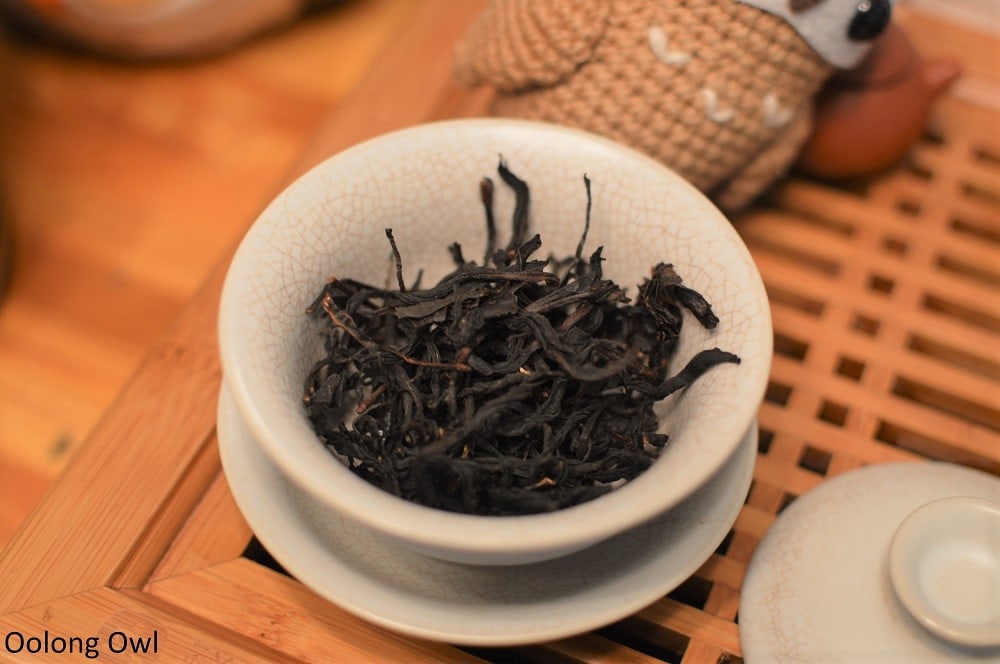 On the packaging is western steeping instructions for 5 grams in 8oz of 195F water for 4-5 minutes. This tea looked too good to western, so I gongfu'd it with 1 gram to 13ml vessel ratio, boiling water and flash steeps. The High Mountain Black steeped up beautifully copper with a luscious, sweet, fruity malt scent.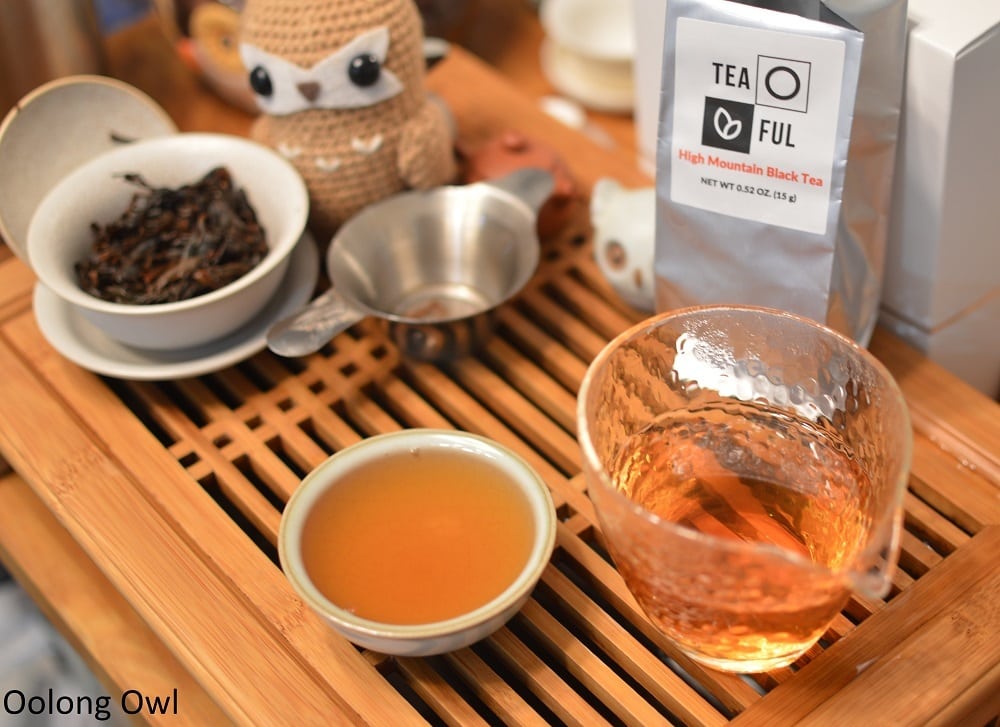 First, Second, Third, and Fourth Infusion: High Moutain Black sipped in with an interesting taste of creamy and slightly mandarin vibe. The texture was balmy on the lips and the flavor brightens to a sweet citrus honey at the end of sip. There was a lingering green plum flavor sitting in my mouth after each sip.
Fifth, Sixth, and Seventh Infusion: The High Mountain black got sharper in flavor – it has a lemon vibe to it with a background of malt. The flavor was still sweet like honey, however the texture is getting a bit abrasive with some dryness lingering in my cheeks. Despite the dryness, there is no bitterness.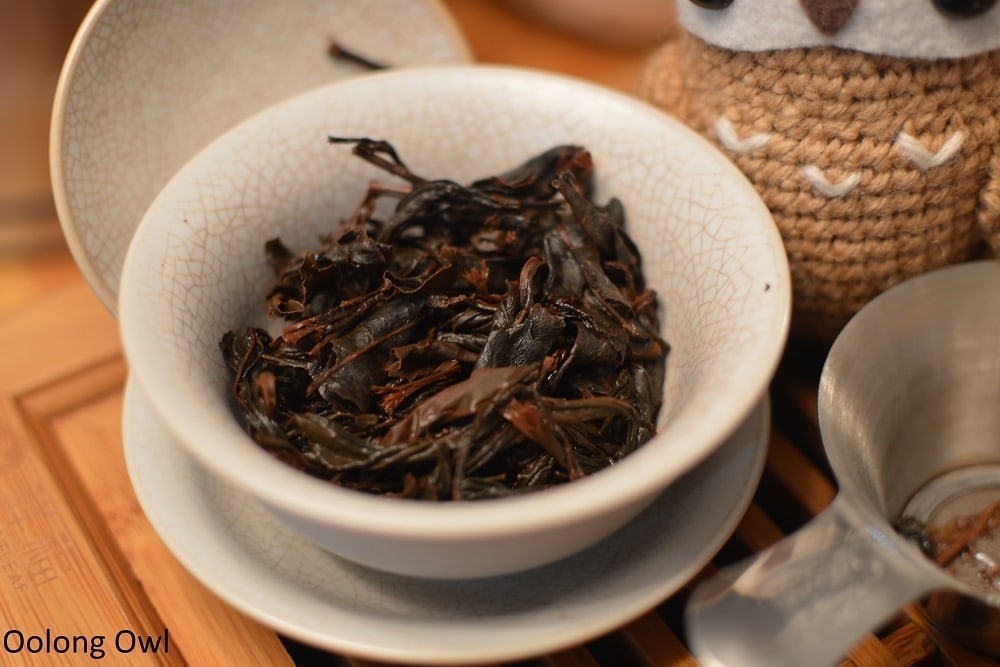 Eighth and Ninth Infusion: I just about got everything out of Teaful's High Mountain black. The flavor slipped more lemon citrus with a sharp dryness. Extra time and high temperature didn't do any favors to this tea, so the best infusions were obtained early on.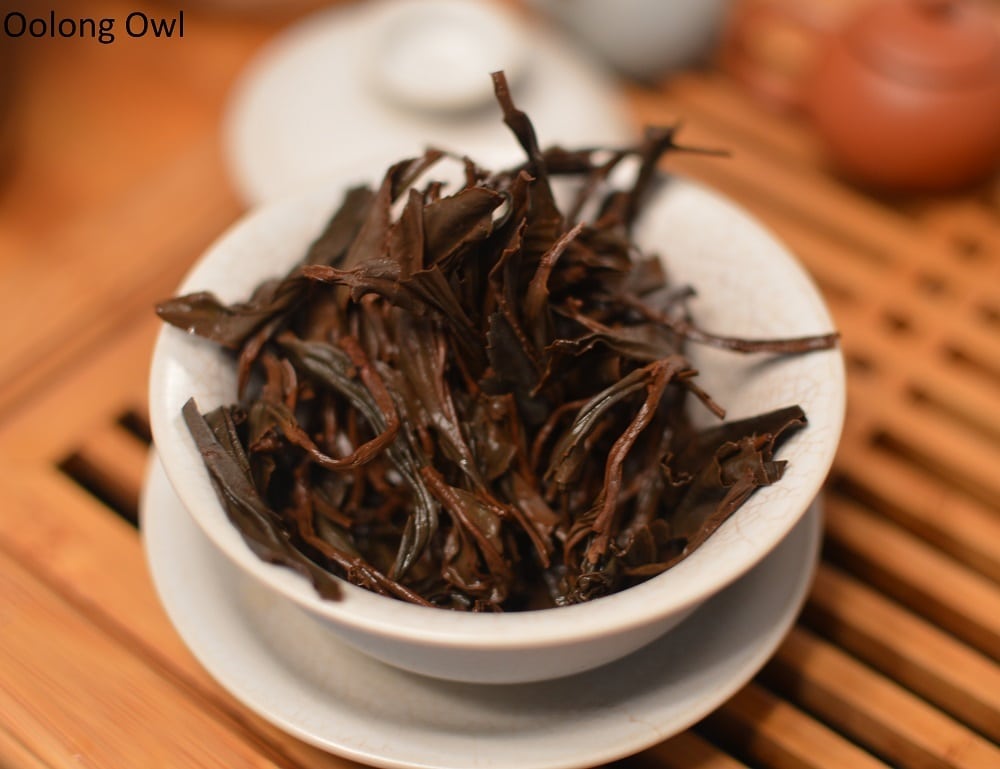 Overall, Teaful's High Mountain Black is a unique tea – the fruit and citrus notes are great, making for a great tea in early steeps. It does get pretty dry as it is sensitive to temperature and time, so it is not a tea for the long haul.
---
Alishan Oolong
This Alishan is from Chia-Yi, Taiwan and is a fall 2016 harvest. I am happy they got a fall harvest, as I got something pretty fresh.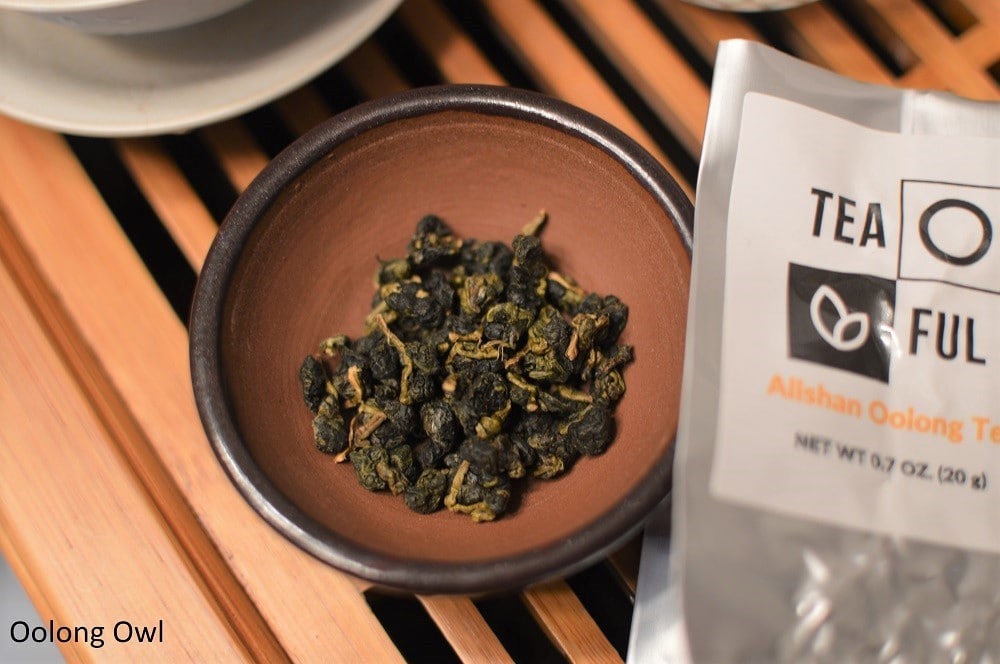 I went with 1 gram to 15ml, steeping in boiling water. I personally tend to use a teapot for my green oolongs, but I went with a gaiwan to be more neutral. I do like the Teaful's steeping instructions on the back suggesting boiling water – I find oolongs do best with boiling water. Teaful's Alishan oolong steeped up with a crisp pale yellow tint, with a luscious floral scent.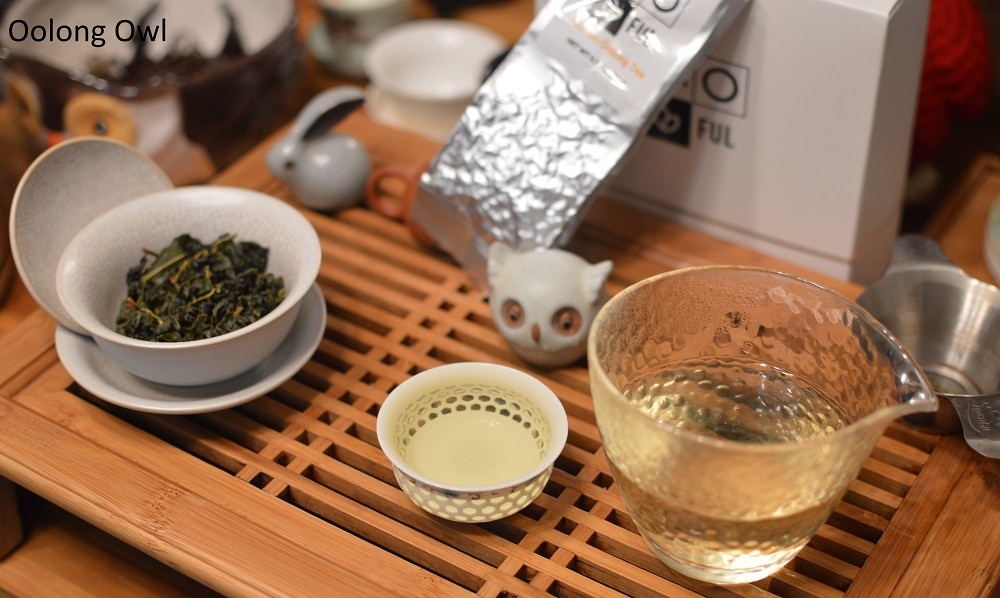 First, Second, and Third Infusion: I noticed the texture is heavy right away, sipping like cream. The flavor was softly floral and sweet, with a buttery background. The aftertaste was sweet grass and more floral – stronger than the sip its self.
Fourth, Fifth, Sixth, and Seventh Infusion: The flavor was nicely heavy of tulips, fresh sweet grass and floral, with best steep the Fourth and Fifth for max flavor. The sip was thick, but thins out end of sip to a bit of dryness, which stuck the grassy flavor longer. Each steeping gets more and more dry as the flavor slips.
Eighth Infusion: I did a power steep for 15 minutes. The flavor sipped in lightly buttery with little flavor, but the aftertaste was sharp grass, spinach and citrus with a bitter dry bite. I actually didn't mind this infusion at all as it felt it had its last hurrah of flavor.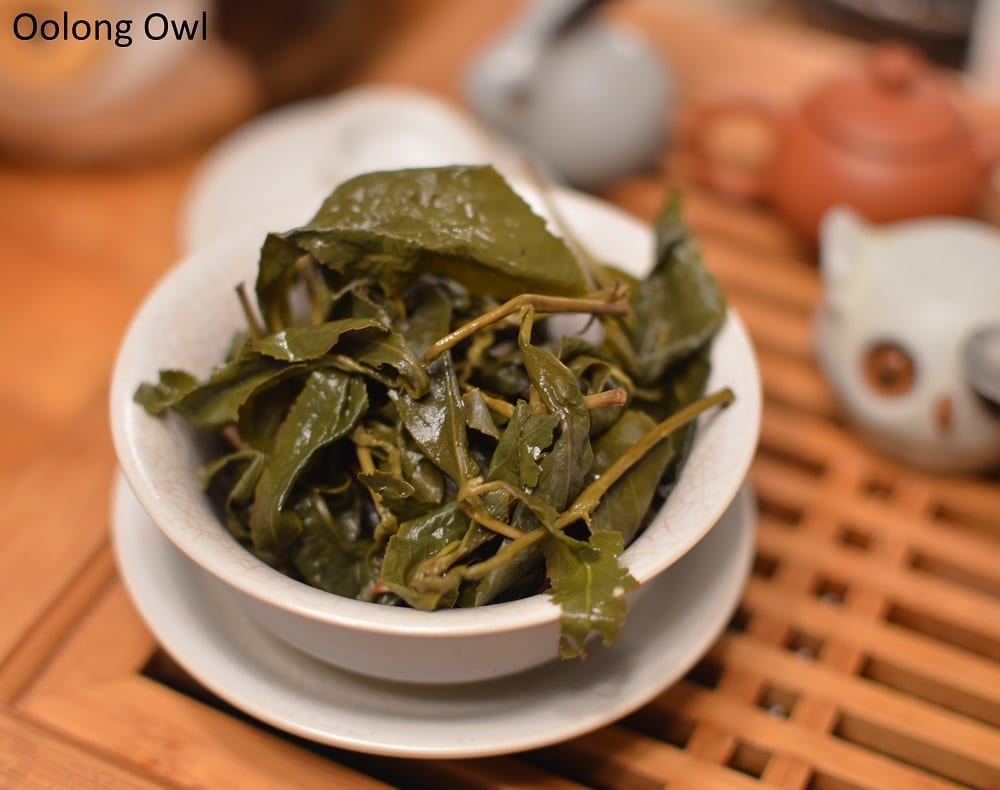 Overall, a pretty tasty Alishan with good body. This is the tea of the set that is the solid, classic favorite among oolong drinkers.
---
Jade Oolong
This oolong is from Minjian, Taiwan. Jade Oolong to me just infers little oxidation, making me think this is some sort of Baozhong. The leaf is a deep green with scent of cream and orchids.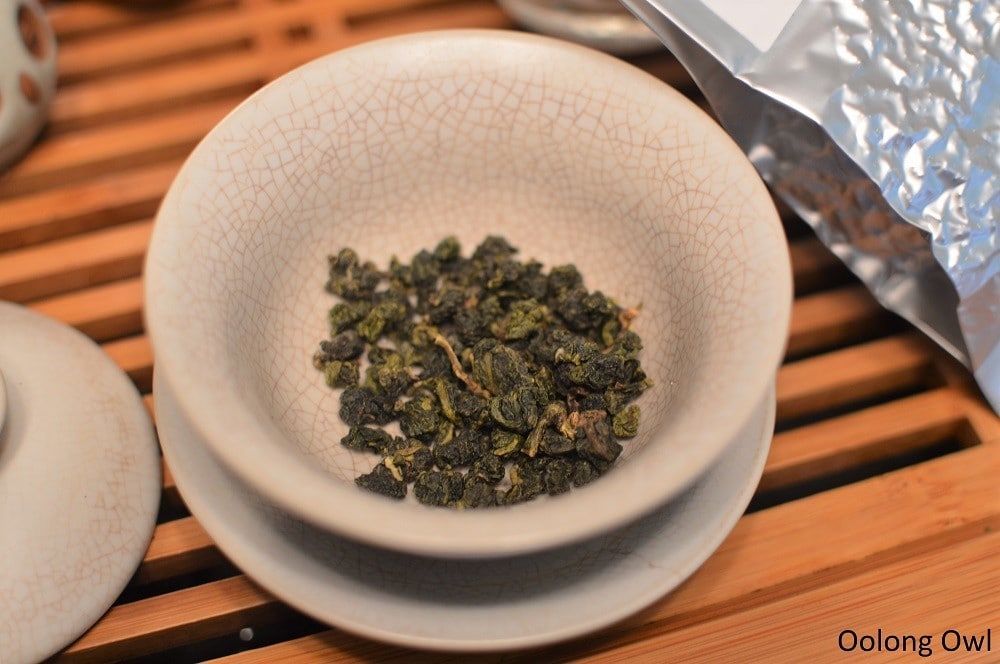 I used 1 gram to 15ml, boiling water, gongfu style with a gaiwan.
First, Second, and Third Infusion: This is a very green, low oxidized oolong – the flavor is quite green and buttery, yet also floral. The floral vibes closely to a jasmine without being perfumey. The texture is like silk, but not as thick as the Alishan.
Fourth, Fifth, and Sixth Infusion: The floral intensifies with each infusion with a background of butter. The finish is crisp grass with a dryness that gets stronger. As the flavor slips, the dryness gets stronger.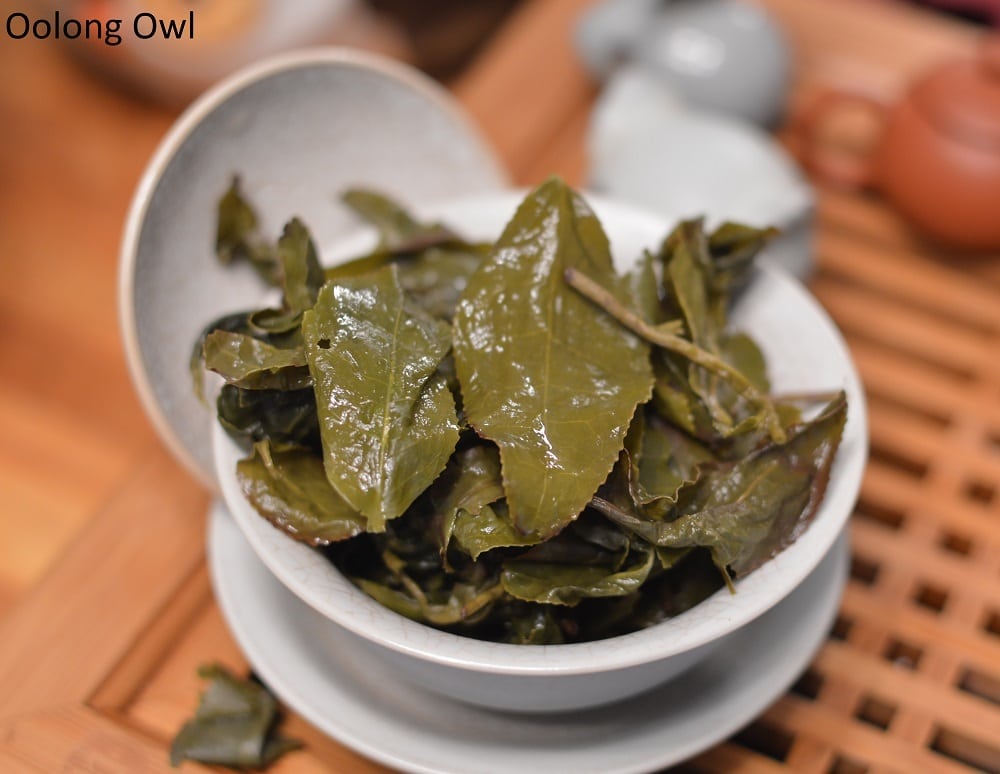 Jade Oolong gave me the vibe that of within this collection it is a middle of the road to the Biluo Chun and Alishan for green and floral. The quality of this oolong was okay – there was some pretty leaves, but also some chewy ones. I figure this one is your daily drinker tea out of the collection. Checking online, the price of the tea on Teaful's site also confirms that this is a cheaper, daily drinker tea.
---
Biluo Chun Green
I really wasn't planning to review this one as green tea generally isn't my thing these days. But with the quality of the alishan and black, I got curious. This is a Taiwanese take on this green tea, grown in Sanxia, harvested Spring 2016. The dry leaf smells like potent spinach.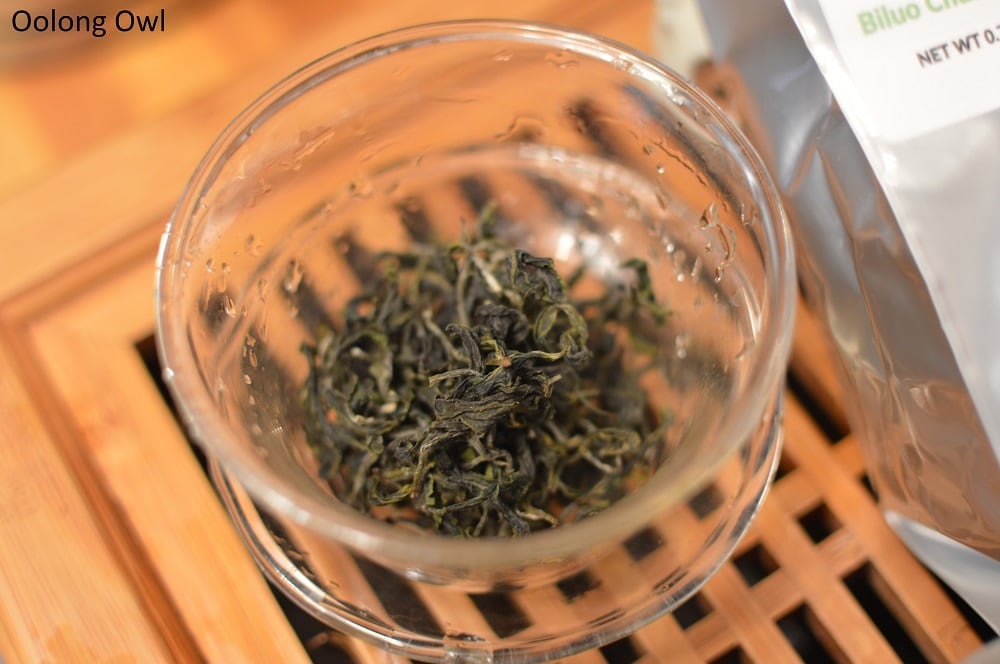 I went with 1 gram to 20ml, steeped in a glass gaiwan with 175F water temperature. This green steeps up almost clear, with a slight cream yellow tint.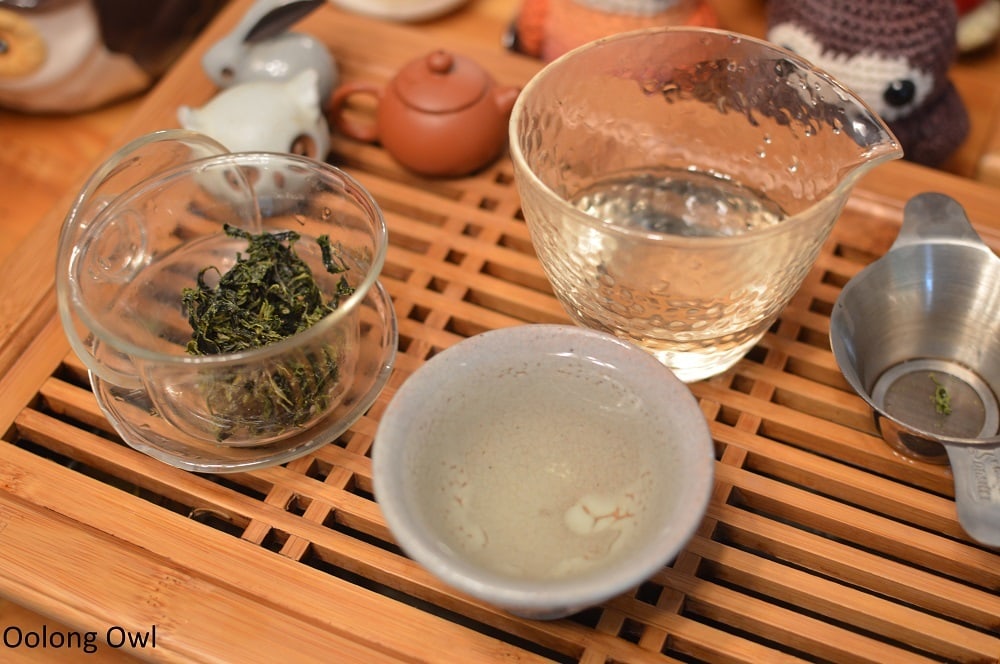 First, Second, and Third Infusion:  The sip was super clean – sweet, light and vegetal. This green has a slight butteryness, with the main flavor being fresh green bean like. With each steeping, the biluo chun got more sweet as if there was a dash of sugar cane added to the beans.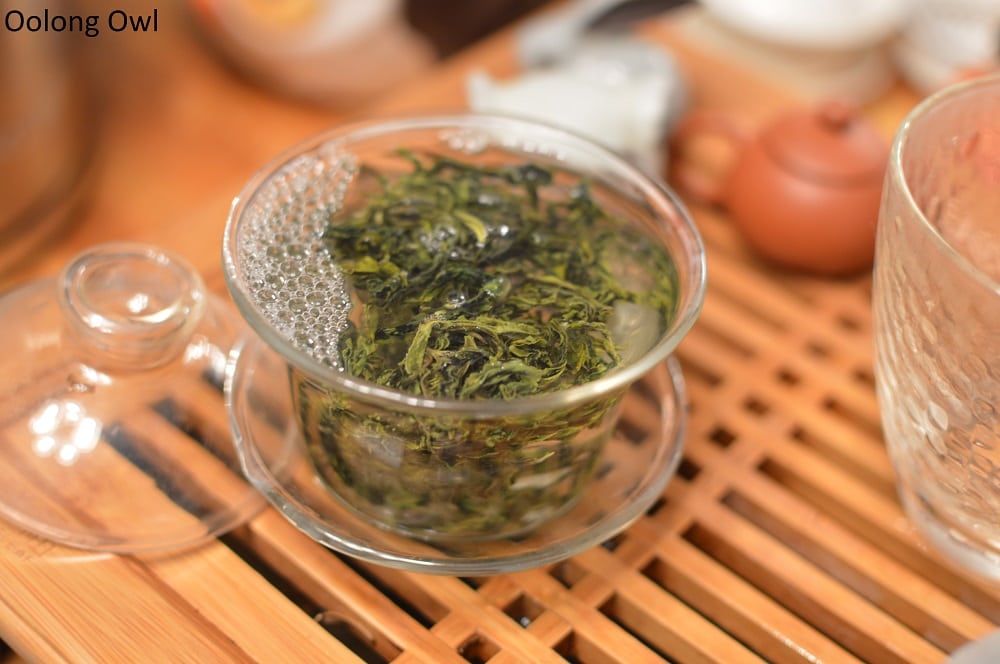 Fourth and Fifth Infusion: The green continued to get sweet, but a heavy dryness set in making my mouth feel scratchy.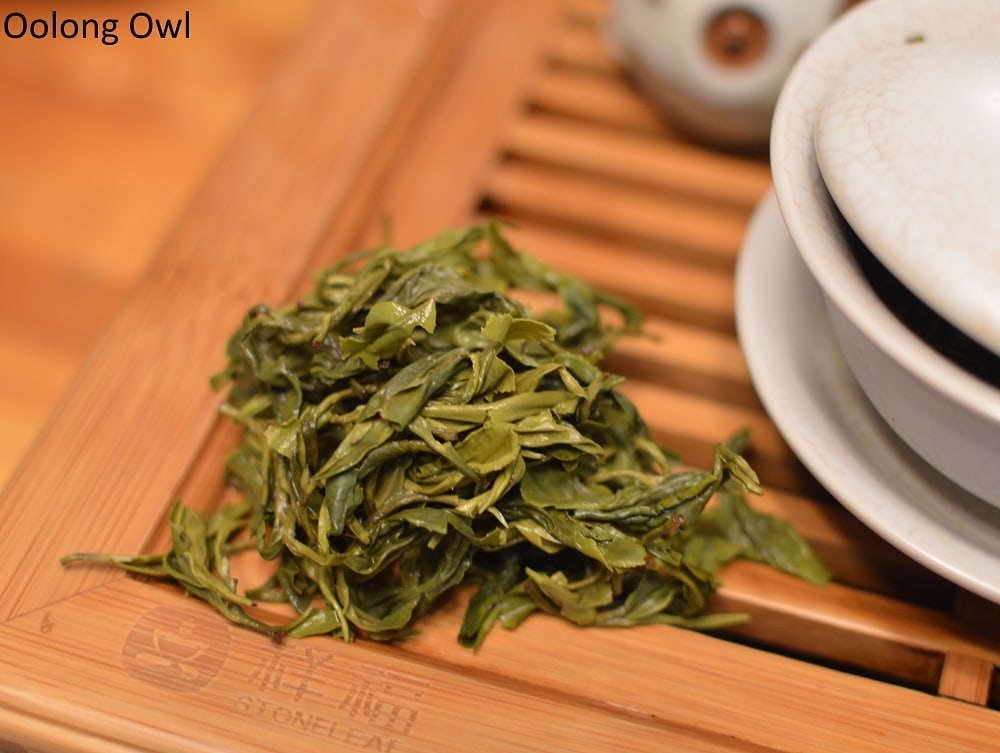 Overall, I didn't mind this green – it is completely on the other end of the scale to the High Mountain Black, as it was super fresh tasting. Biluo Chun Green was delicate, likely you only get a couple good steeps, or drop the water temperature down to 160F.
Comments
Success for the Teaful Taste of Taiwan Chapter 1 box! The quality was great with the High Mountain black being a unique twist that'll make a tea experienced happy to try, with teas like the Alishan as classic favorites. I am overall very happy with this tea selection and found it fun to try all the teas. The weakest tea in the collection was the Jade Oolong due to daily drinker status, with maybe a slight bias as I prefer more oxidized oolongs, maybe an Oriental Beauty might of been a more well-rounded choice.
I quite admire Teaful's approach – they got potential to curate some awesome teas that a new tea drinker will learn from and expand their tastes. Seasoned tea drinkers will like the quality and comparison of the teas, plus be enticed by the rare teas.
The Tasting Chapters are single purchase, which is great if you want to jump in and explore a certain region. You can purchase the teas separately as well in Teaful's Shop. Doing the math, the teas come out to $23 +$5 flat rate shipping, whereas the box is $25 and free shipping, not including a promo code on chapter boxes.
(tea provided for review)