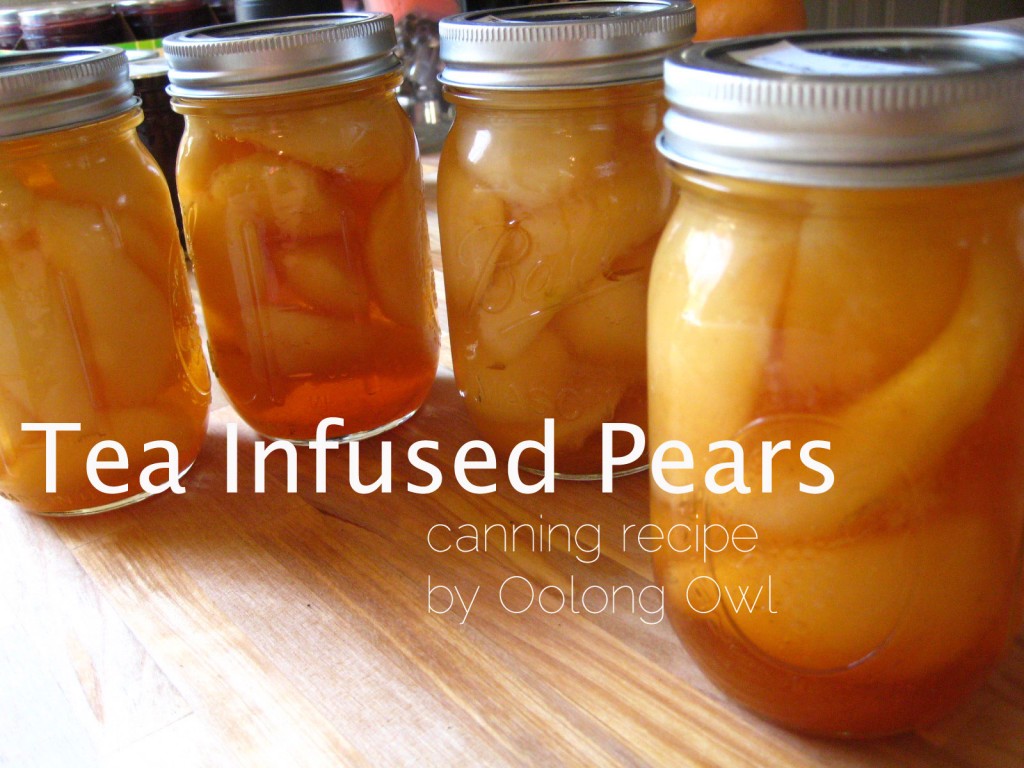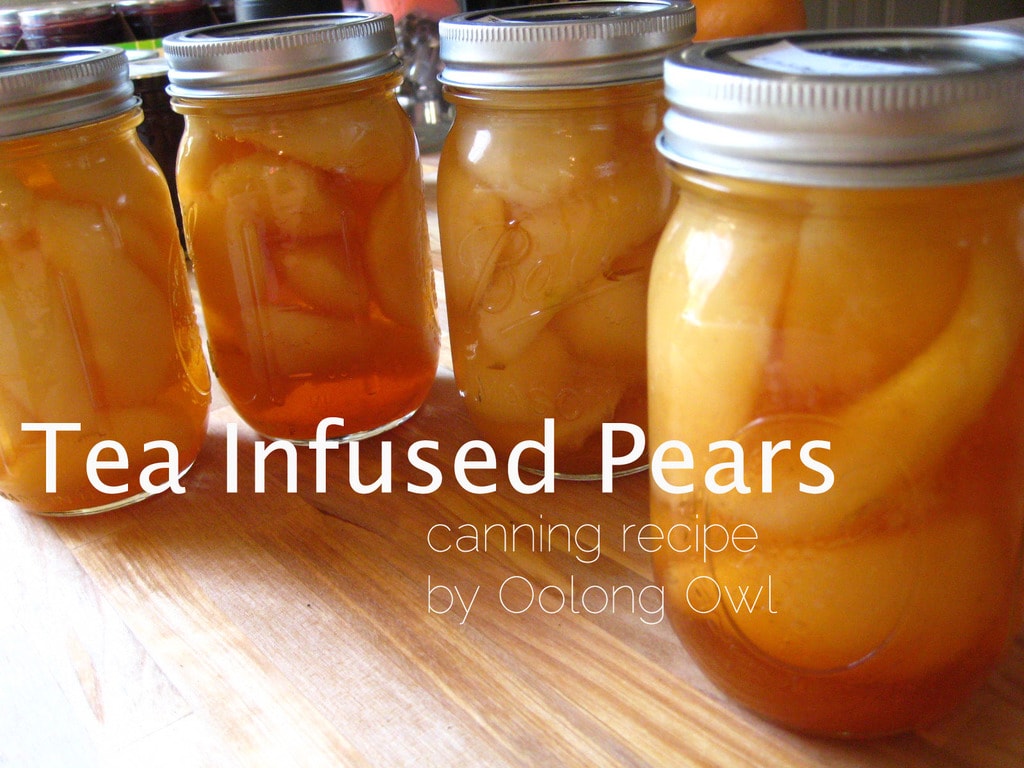 I've recently fallen in love with canning. My tea-hating husband and I love to cook and we get all frugal crazy sometimes, so venturing into home canning was inevitable. We've so far canned tomatoes, pizza sauce, spicy vegetable mix, dilly beans, nectarine conserve, nectarine vanilla maple jam, watermelon jelly, pomegranate jelly, salsa and pineapple.
My local grocery store had some great looking pears for really cheap, so I purchased 9lbs for canning. I love canned fruit for on top of ice cream, yogurt or even cottage cheese.
I was inspired by Coconut & Lime's recipe Tea Pear recipe, as well as from making Spirited Rum Pears from Ball Complete Book of Home Preserving, to make my own Tea infused pears.
The tea I used for the infusion is DAVIDsTEA Creme Brulee, a creamy green rooibos blend. Feel free to use what you think would pair best with the fruit. Here are some suggestions that I think would be good:
DAVIDsTEA – Buttered Rum, Glitter & Gold, Sugar & Spice, Vanilla Orchid, Checkmate, Oh Canada
Butiki Teas – Caramel Vanilla Assam, Maple Pecan Oolong
The Persimmon Tree – Periwinkle, French Vanilla Bean
*** Please familiar yourself with the home canning process and safety before attempting. Thanks, Tea Owl Safety Committee.
Tea Infused Pears
Makes 5 or 6 pint jars
8.5 cups of pears, peeled, quartered. (About 4lbs of pears)

1/4 cup of lemon juice (for soaking to prevent browning)
3 cups of tea (3 cups of water, 3-4 teaspoons of loose leaf tea)
1.5 cups of sugar
Start the water in the canner or large pot. Clean and prepare the pint jars for canning.
Peel, core and quarter the pears. Soak the pears in a solution of 4 cups water and 1/4 cup lemon juice to prevent browning.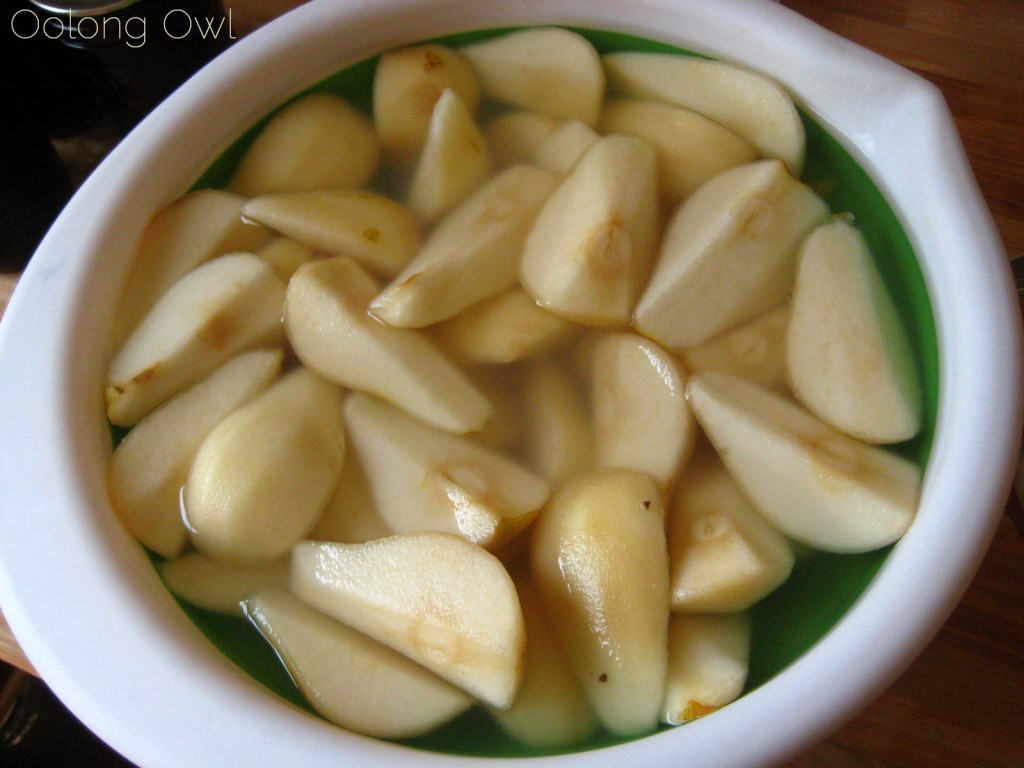 Make the Tea syrup!
1. Prepare the tea as per tea's steeping directions.
I steeped my tea separately and ahead of time to prevent oversteeping and messy straining. Optional: I added a 1/3 of a vanilla bean pod to add more flavor to my tea leaves.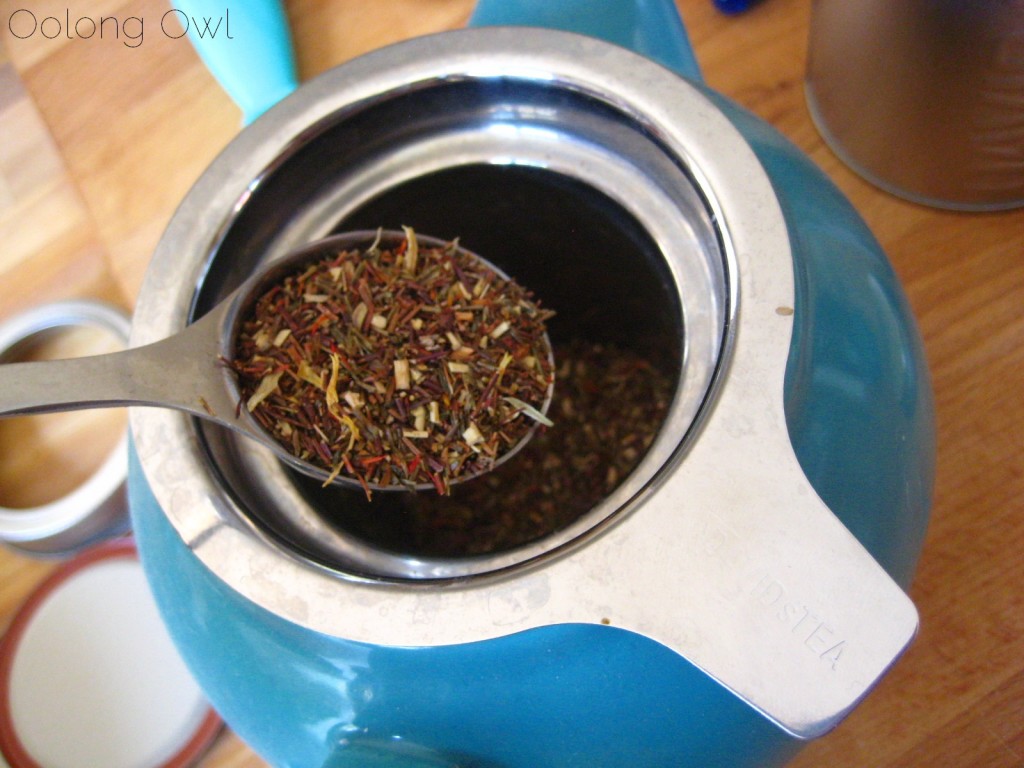 2. Put tea and sugar into a pot, and bring to a boil.  Turn down the heat and simmer for 5 minutes.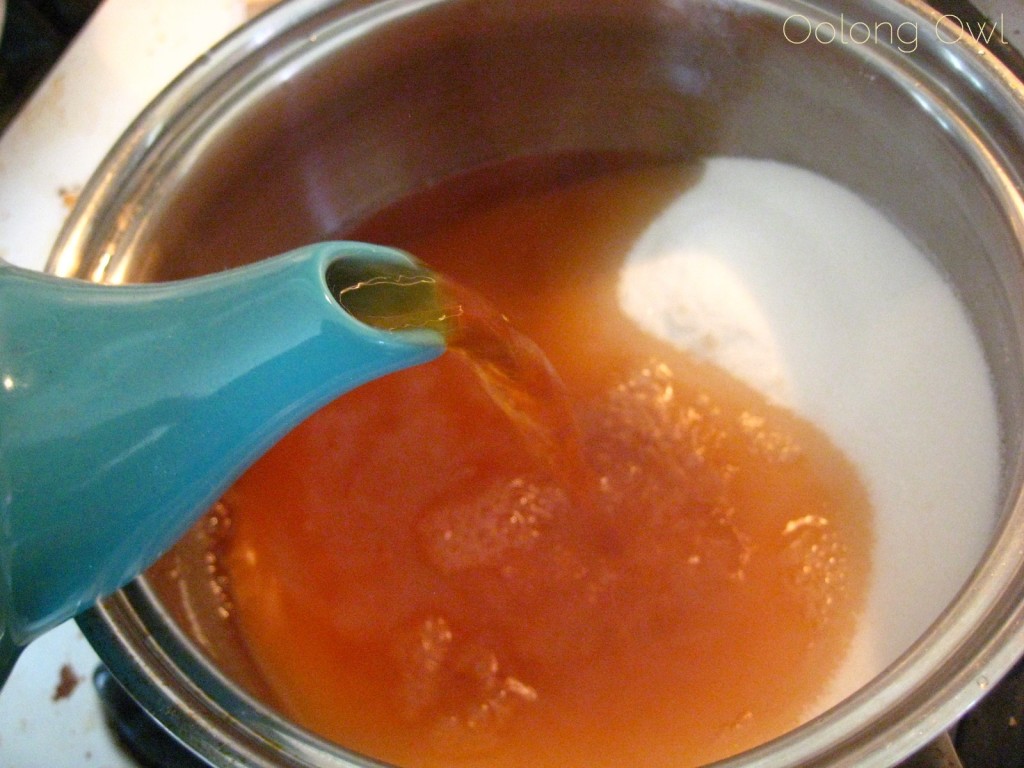 Time to Can the pears!
Pack pears into the hot, sterilized pint jars. Fill with the hot tea syrup to 1/2″ headspace. Remove air bubbles. Wipe rims and attach lids and rings.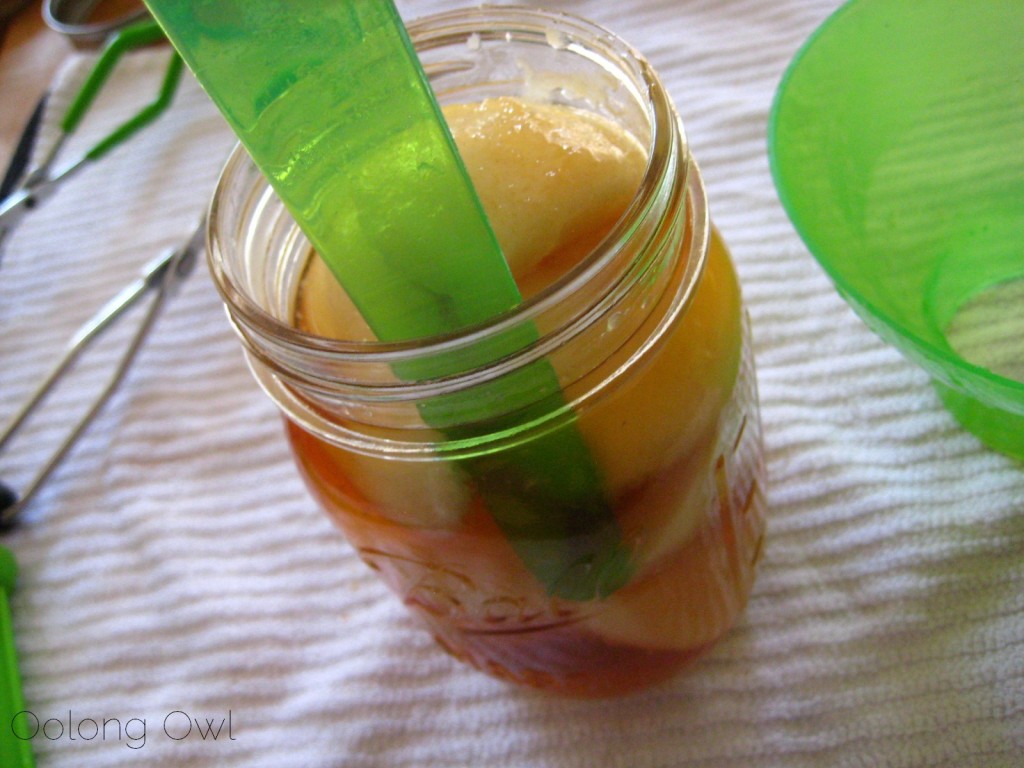 Process in the boiling waterbath for 20 minutes.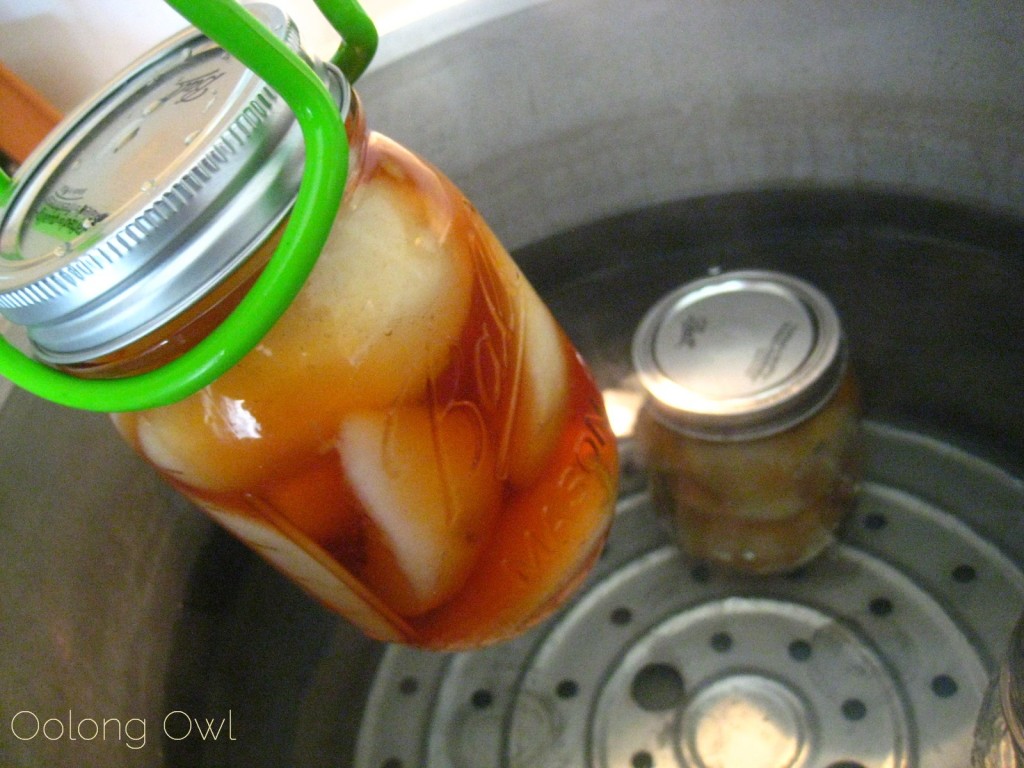 I'm not sure if it was necessary, but I left my pears alone for a week to let the flavors set in.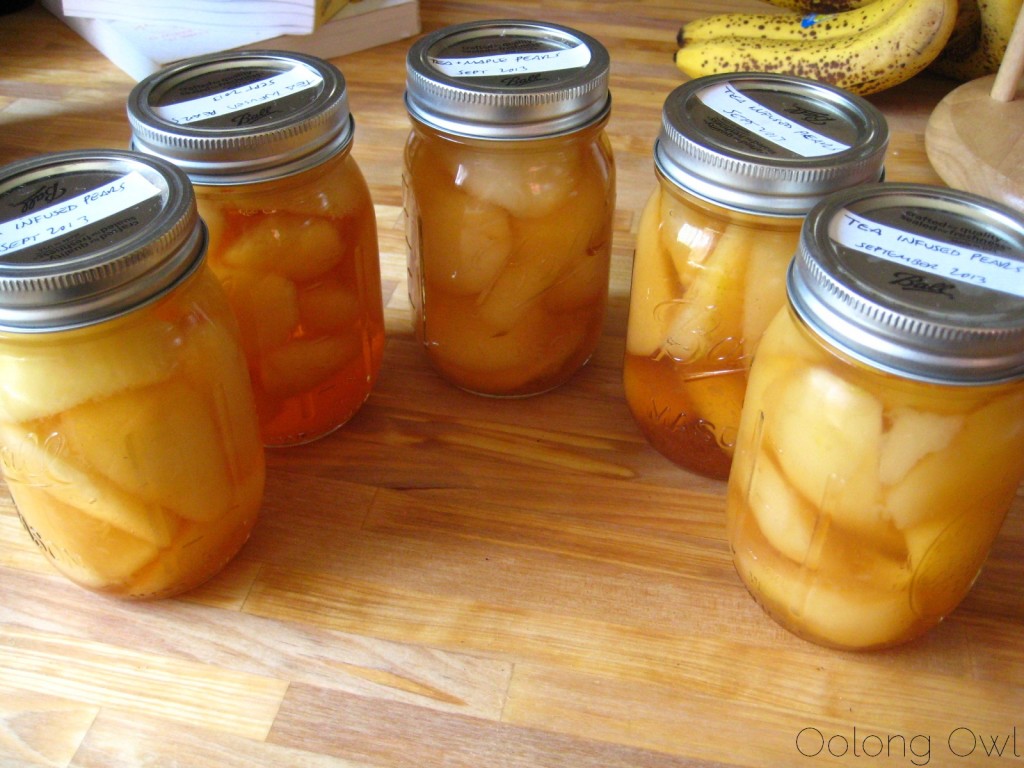 Tasting the Tea Infused Pears!
Oh man, these pears are so tasty!
The tea syrup is really good – it is heavy flavored caramel candy, sweet sugar, vanilla with a natural pear flavored background. The pear flavor matched very well with the tea!
The pears are firm, keeping their shape. The tea flavors have penetrated into the pear. At first I can taste the caramel tea and creamy vanilla, then I taste the mellow pear.
Even better is to serve these Tea Infused Pears like this: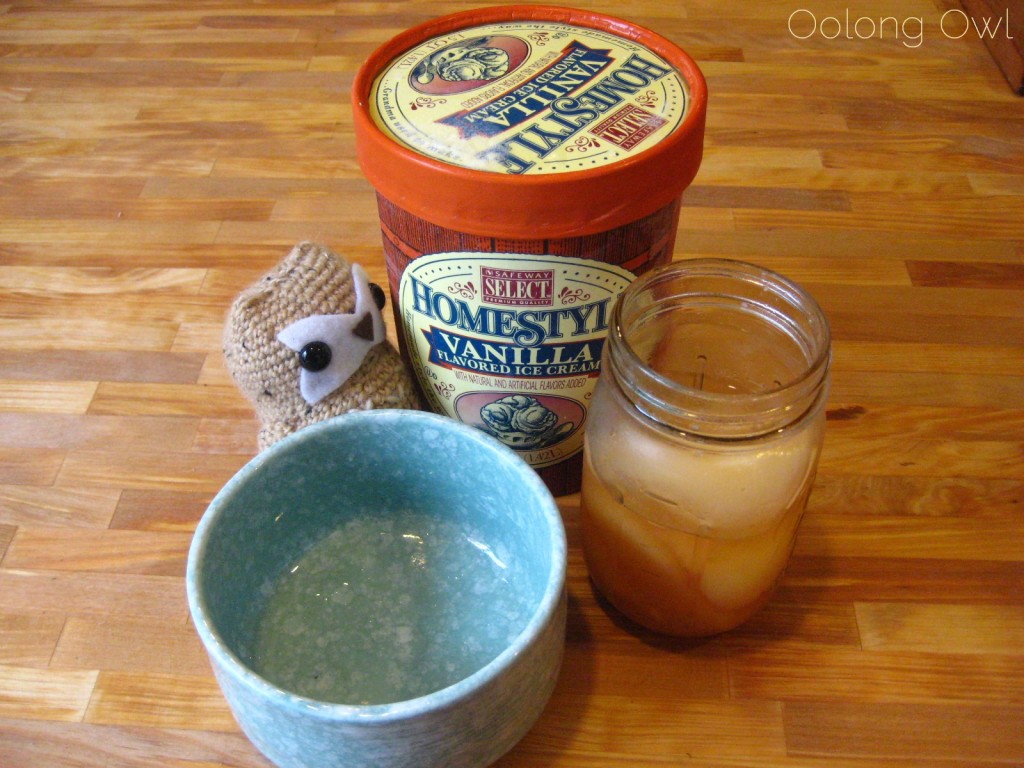 While being supervised by a Tea Owl, scoop some vanilla ice cream into a bowl. In this case, a big matcha bowl.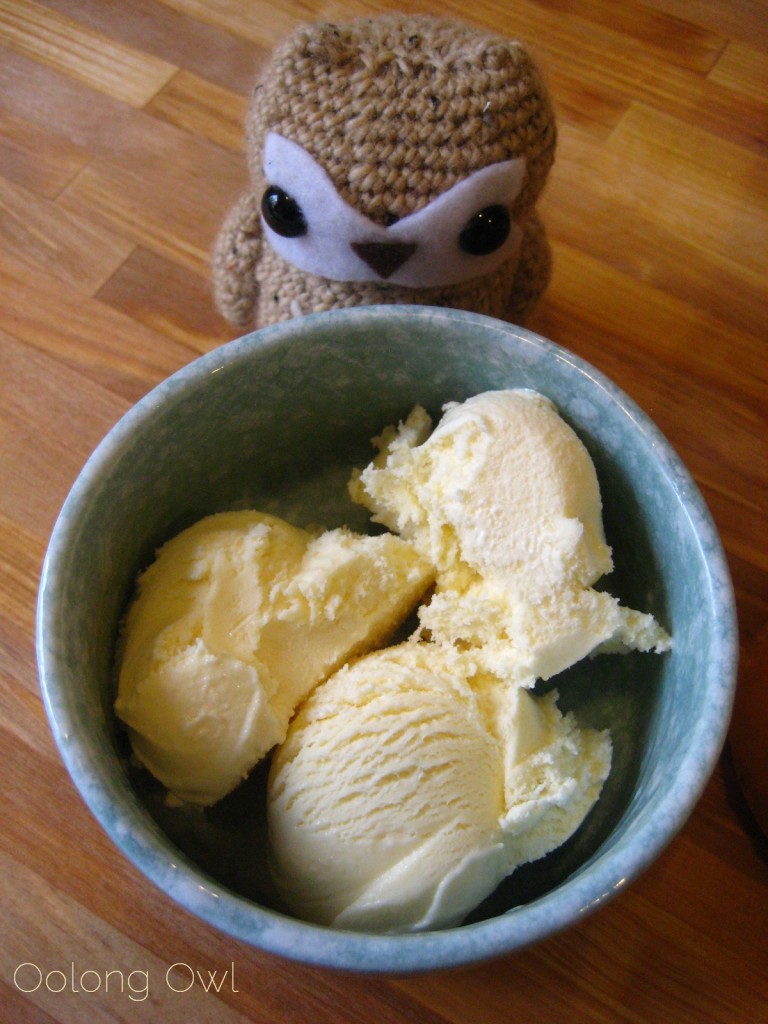 Add a couple pears onto of the ice cream.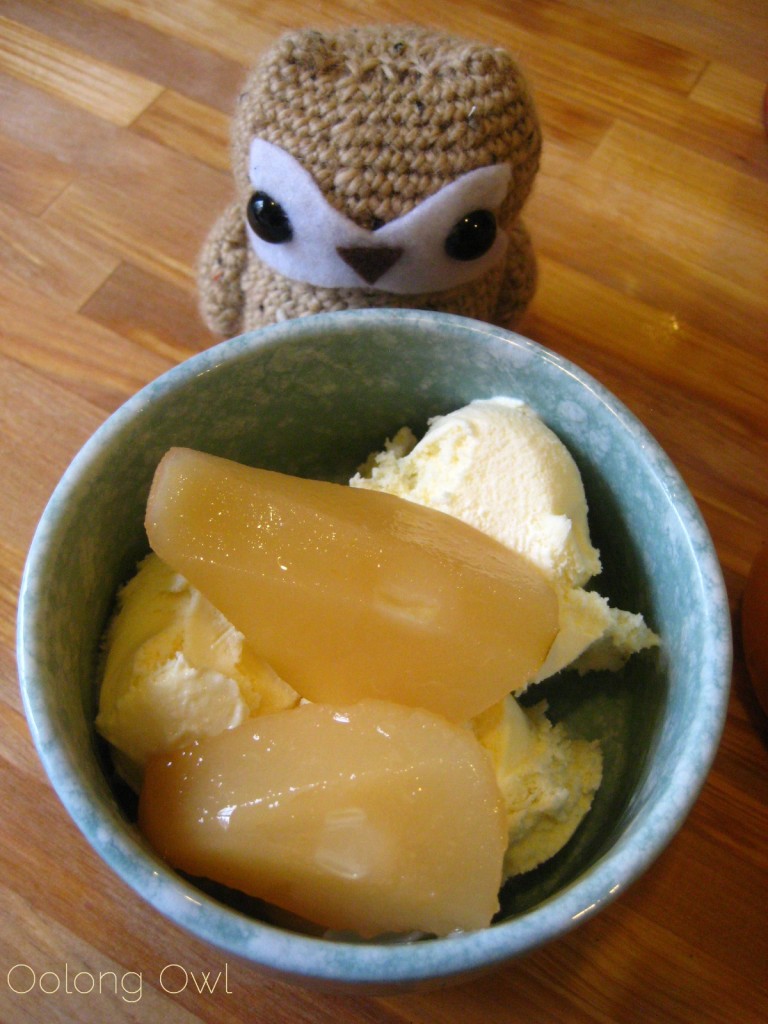 Drizzle the tea syrup on top.. YUMMMMM!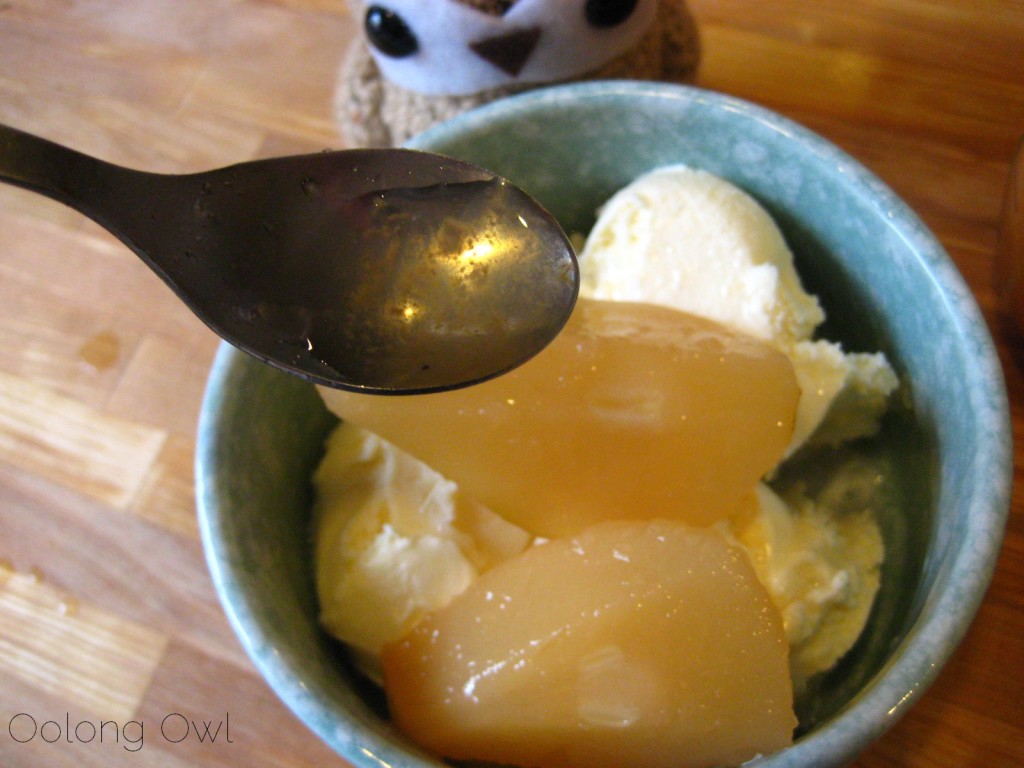 Mmmm, so tasty. I added an extra pear too!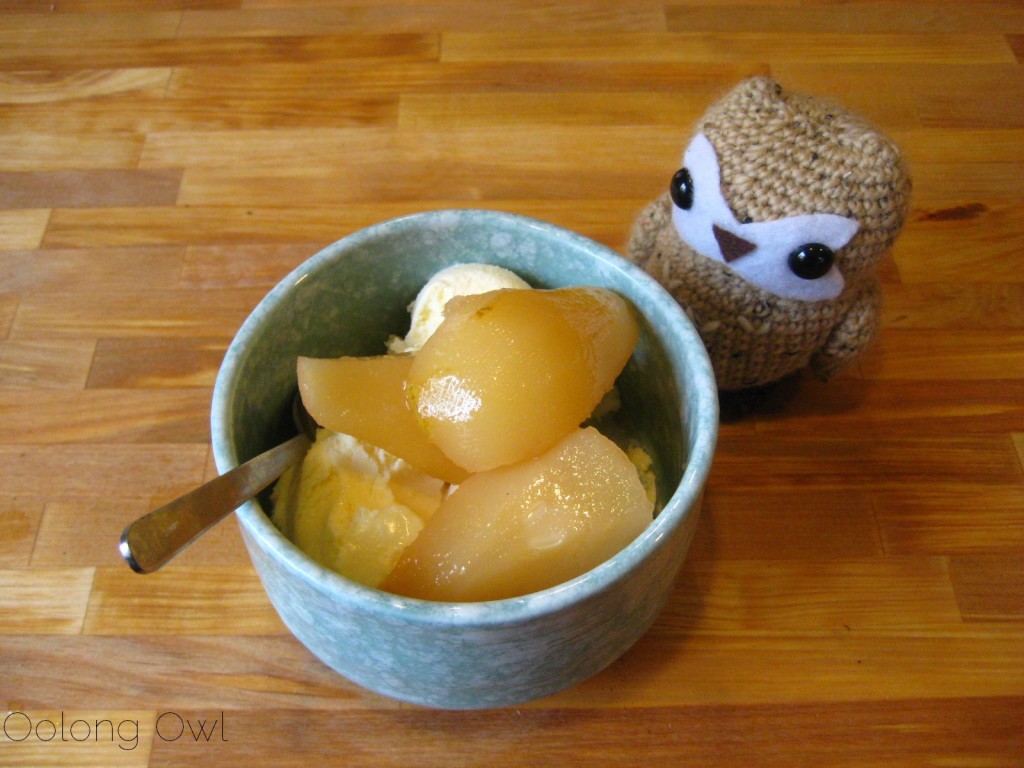 If you try this recipe, leave me a comment to let me know how it went! I'm curious to see what tea blend combinations you try!