Thai Chai Black Tea is a spiced black tea chai with coconut and lemon grass. This chai blend comes from The Persimmon Tree.
MMmmm, Thai Chai Black Tea. Thai food is something I should really have more of. I LOVE burn your face off spicy food! I'm hoping this chai is nice and flavorful!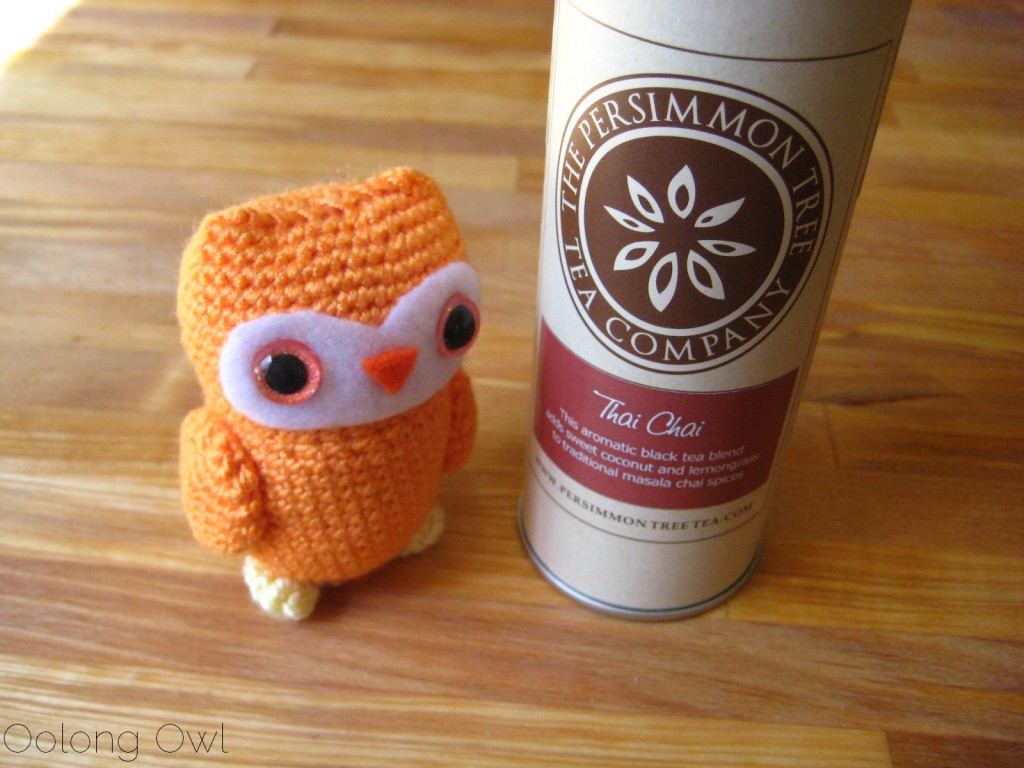 Dry Leaf
Very fragrant tea! Can I also have this tea as a lotion? Thai Chai Black Tea smells strongly of spices and lemon grass with a cocobutter like finish.
Appearance wise, Thai Chai Black Tea has lots of busy looking bits, heavy on the coconut strips and lemon grass.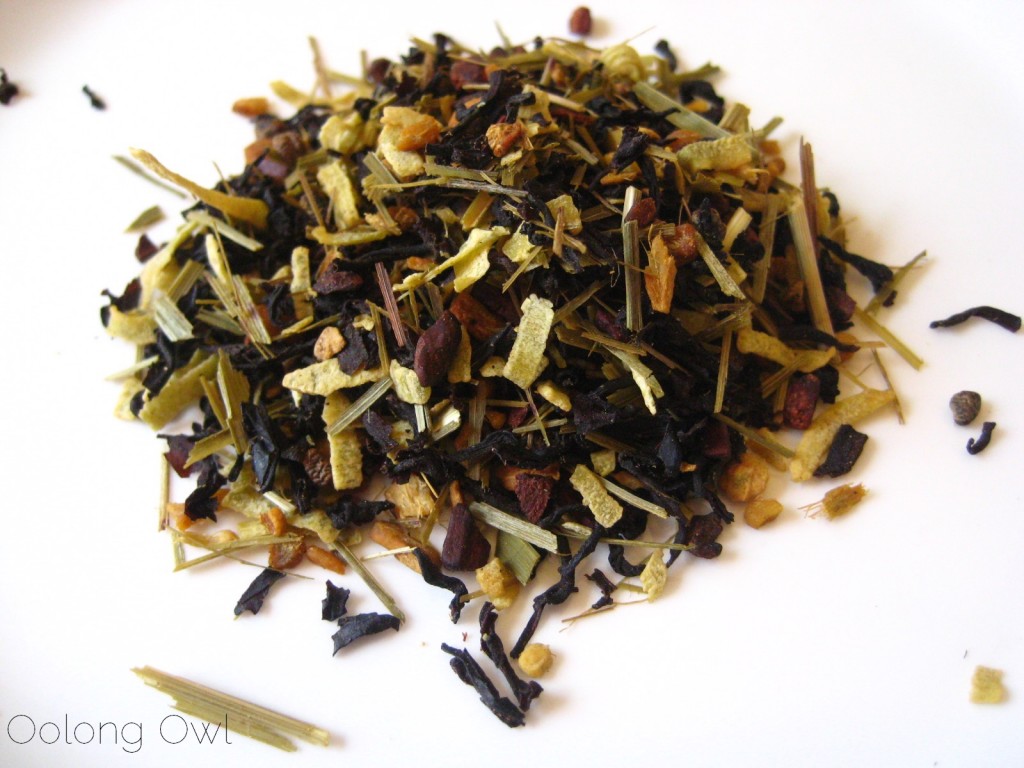 Extreme Tea Closeup!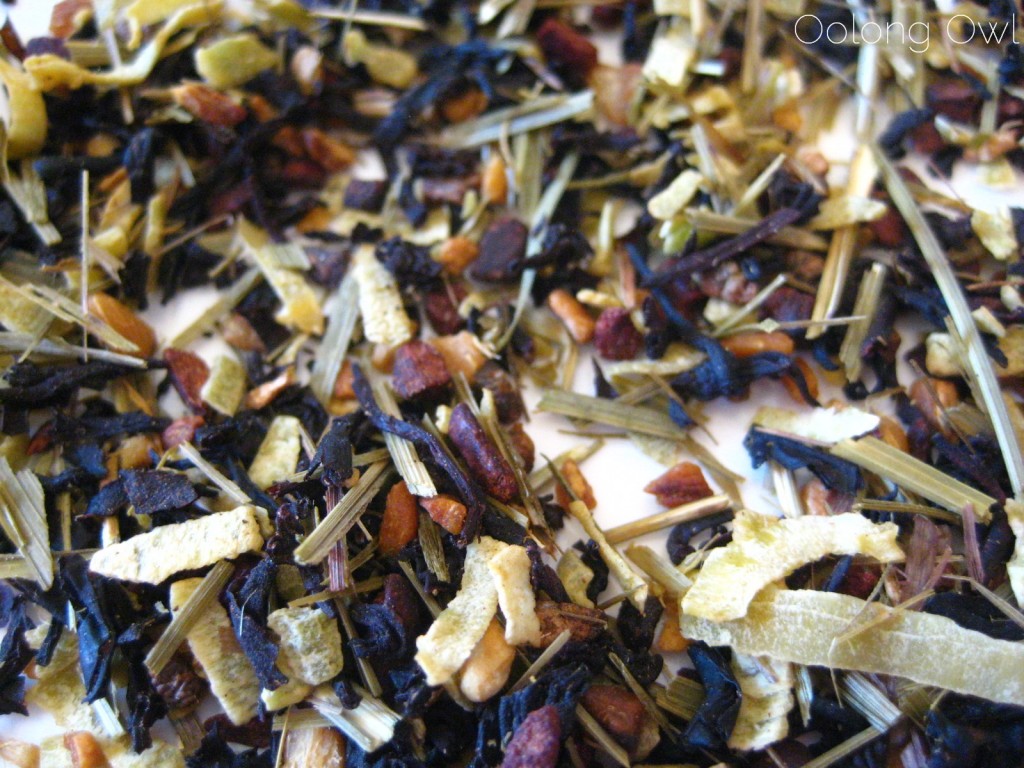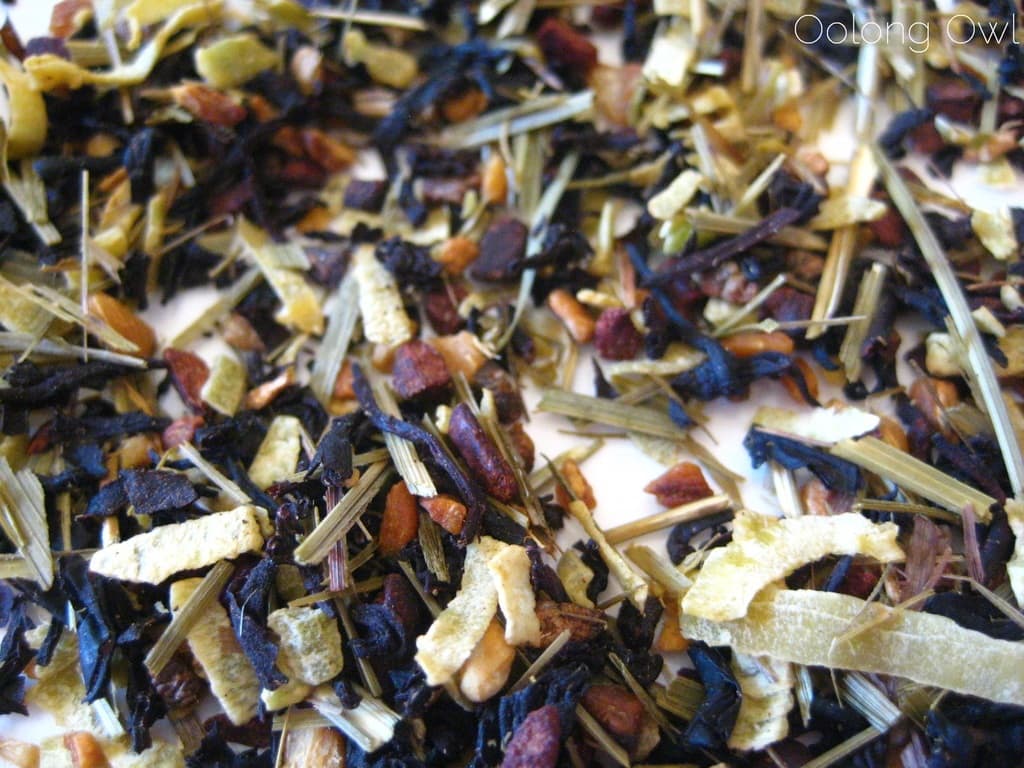 Steeping Instructions
According to the label, Thai Chai Black Tea is to be steeped at 200F for 5 to 7 minutes. I opted for 5.5 minutes.
The result of my steeping was a smooth and spicy smelling oak coloured tea with a bit of film on top.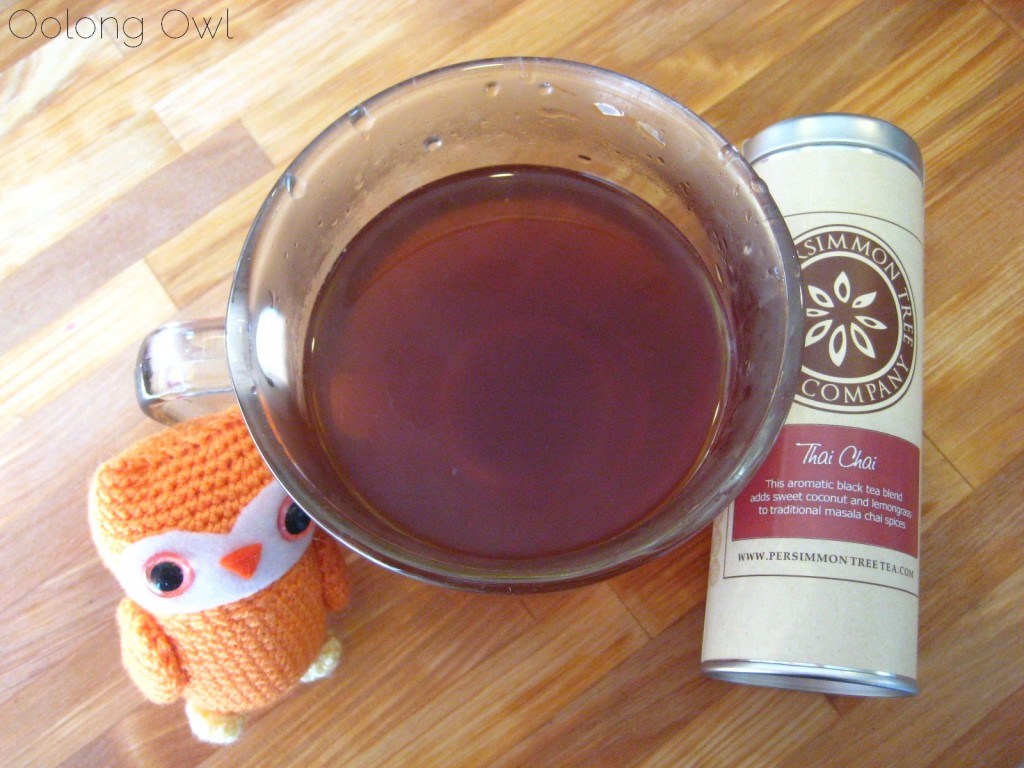 Tasting of Thai Chai
Flavorful! Thai Chai Black Tea sips in with a smooth coconut creamyness. Slowly, the tea blend develops into a bold flavor adding lots of citrus green lemon grass flavor, earthy black tea with some moderate warm spices. I can taste some ginger and cinnamon with a bit of cardamon, reminding me this tea is a chai. Thai Chai Black Tea finishes off with that lemon grass citrus flavor that has a little sweetness as well. I'd rank it around a 5/10 on the Spice-o-meter – The Persimmon Tree's Thai Chai Black Tea has distinguishable spices, but not a firey experience.
The black tea just adds an earthy light base to the background as this chai has quite a bit going on, however I detect no bitterness or dryness.
TeaLatte: So, I felt if I was going to make a latte out of Thai Chai Black Tea, I'd need to go all out. I used coconut milk,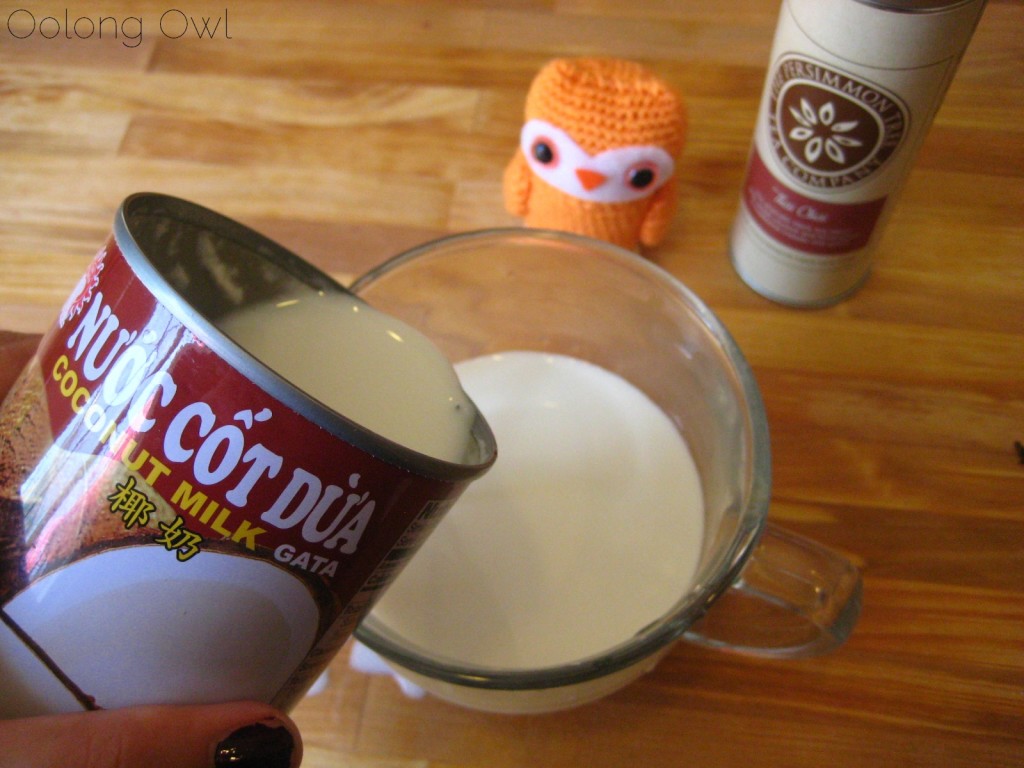 I then heated the coconut milk with some honey and poured the strong, steeped  Thai Chai Black Tea tea over it.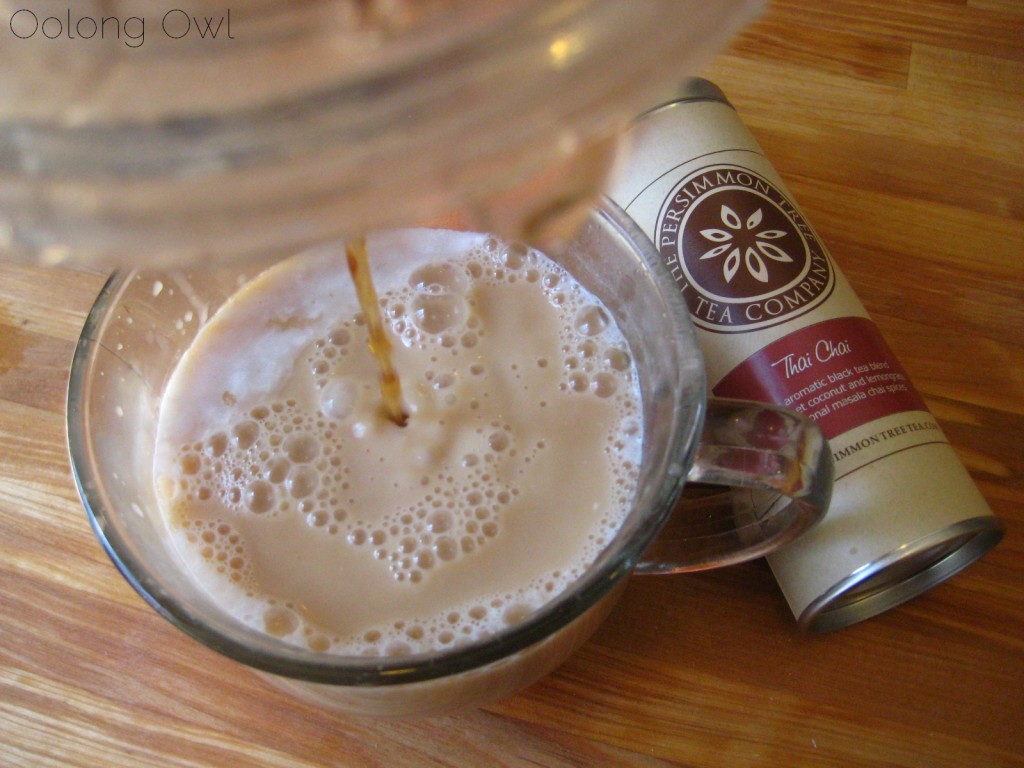 Very rich latte! The coconut flavor is sweet and smooth. The Thai Chai Black Tea does not get lost in the milk as its bold flavor punches through, the spices buzzing nicely against the creamy coconut milk. I find the lemon grass isn't as strong here, but still present to add some citrus interest with the spices.
I'm thinking making Thai Chai Black Tea coconut milk latte chilled with some boba/tapoica pearls or even some chia seeds would be ultra tasty!
Comments
The Persimmon Tree's Thai Chai Black Tea is a fun twist on chai! This tea would be well loved by a tea drinker who loves a strong tea.
I've had one other Thai spiced chai before – from Adagio Teas. I don't have the other chai on hand to compare, but from memory, The Persimmon Tree's Thai Chai Black Tea has more spice heat and is heavier on the lemon grass.
I highly recommend making Thai Chai Black Tea as a latte for an exotic getaway!
(tea provided for review)