Tillerman Tea is an online oolong seller located in the US. They only carry Taiwanese oolongs. I happen to enjoy Taiwanese oolongs so I am excited to see how Tillerman Tea stacks up. I didn't look much into each tea until after I drank them.
I got three to try – Dong Ding, Oriental Beauty, and Muzha Tieguanyin. All three teas I steeped with the same method –  1 gram of leaf to 15ml of vessel size, in this case, a gaiwan. I did quick infusions with boiling water.
Tillerman Tea's Dong Ding
Dry Leaf: The Dong Ding oolong is big chunky green rolls with a buttered popcorn scent. This Dong Ding appears to be the unroasted kind and super weighty.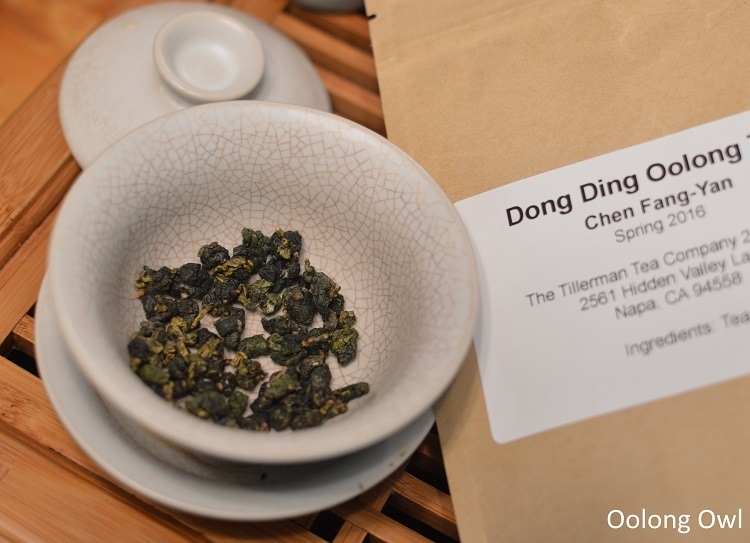 Steeped up, the dong ding comes out a pale yellow with a strong floral scent.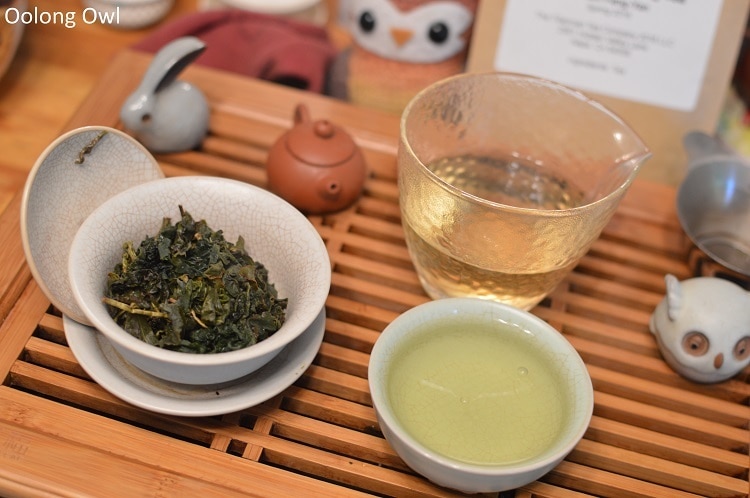 First and Second Infusion: This dong ding is GREEEN! It sips in buttery with a vegetal background. The aftertaste is a buttercup floral and sweet. Some sips has a under ripe pear flavor. The body feels like melted butter in my mouth, though there is some dryness after I'm done with these steepings.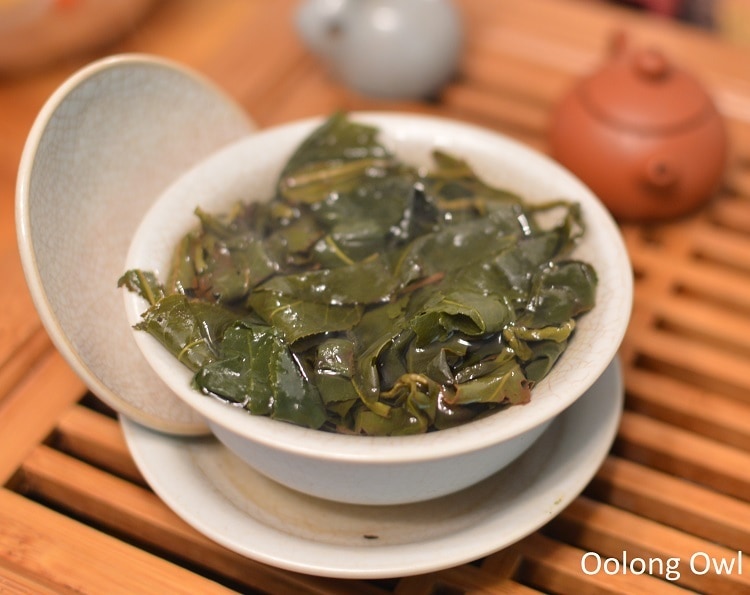 Third, Fourth, Fifth, and Sixth Infusion: The flavor slowly shifted to a wet pine flavor with a bit of citrus. However, the tea got quite dry enough to make the throat feel like I need throat lozenges.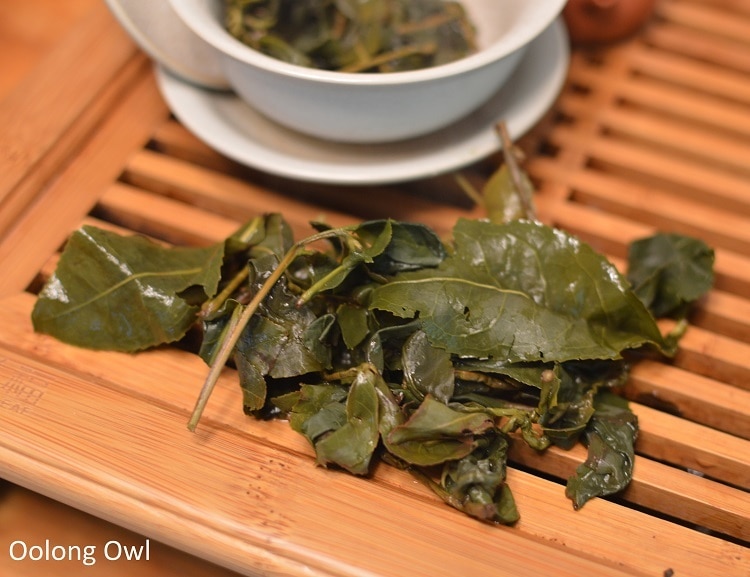 I got 6 infusions out of the Dong Ding, I figure the best were the first three. This tea didn't hold up well to boiling water as the lack of roasting made it quite delicate. I had better results dropping the temperature to 200F to milk a few extra good infusions. I wish this was roasted, but we are in luck as Tillerman also sells the same tea roasted, which I don't have.
---
Tillerman Tea's Oriental Beauty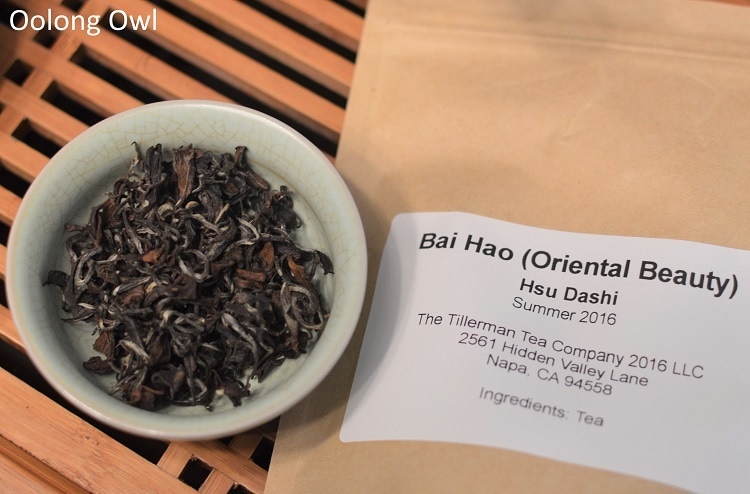 Dry Leaf: Another beautiful Oriental Beauty. This tea has a lovely floral scent, with a tea rainbow of ruddy and silver tipped leaves.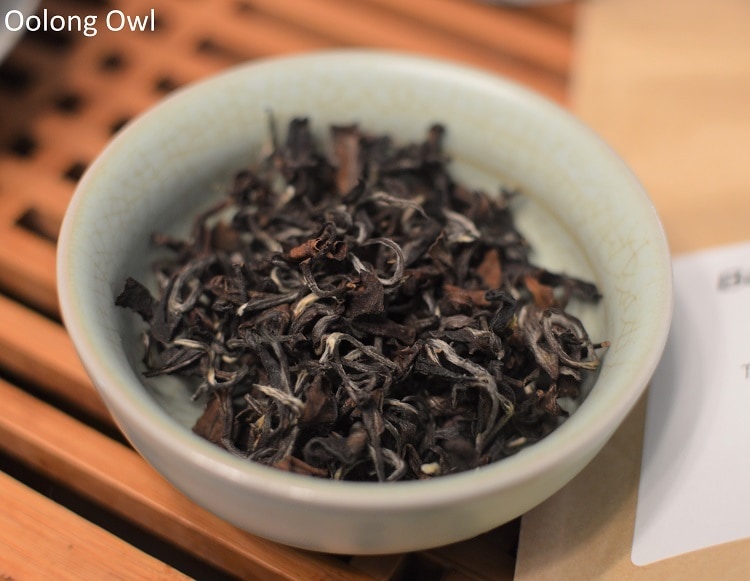 Steeps up an interesting yellow orange – a colour that comes in paint sets and confused why. The scent is a flat floral peachy.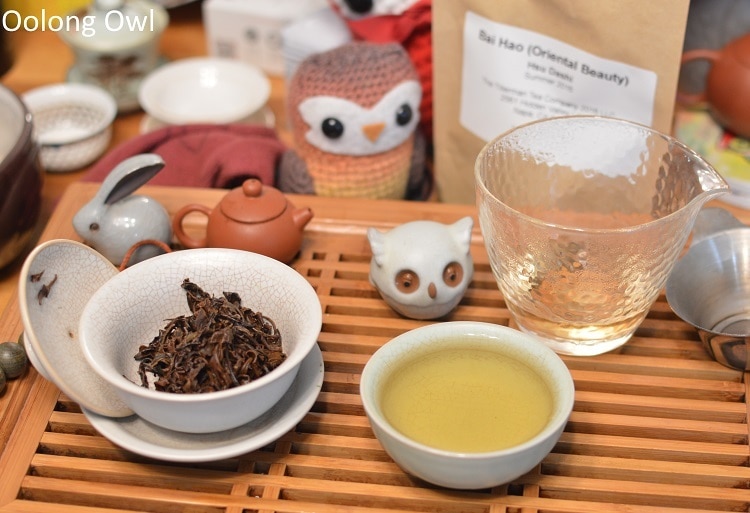 First, Second, and Third Infusion: The body is silky and smooth. Oriental Beauty tastes soft at first, but blooms into a floral peachy sweetness. After a couple cups, I notice a bit of a baby powder dryness in the back of my mouth. Second and Third steep was the peak of sweetness and floral.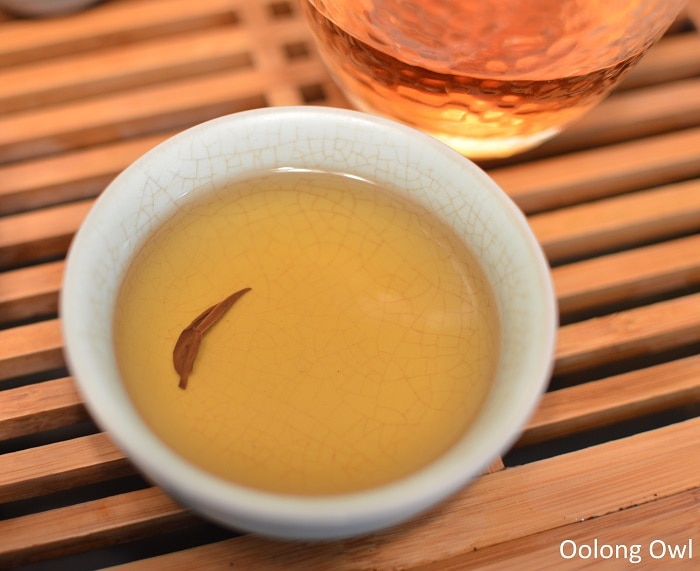 Fourth, Fifth, and Sixth Infusion: The colour is getting slightly more ruddy.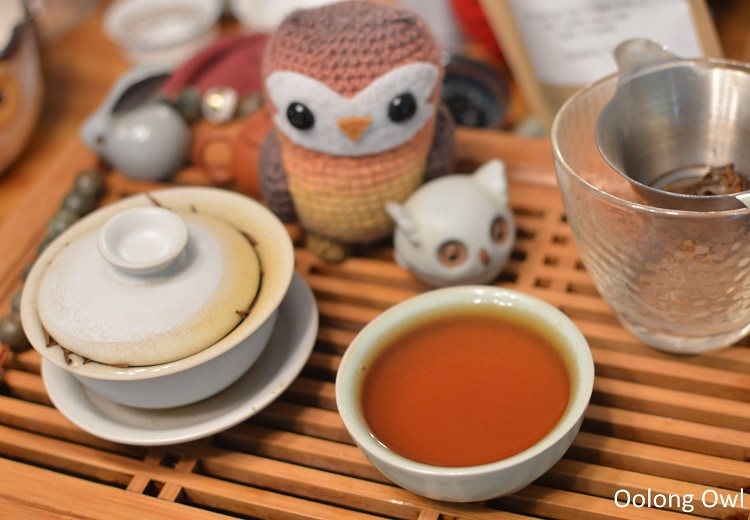 The flavor is still quite sweet, but developing a strong woodsy taste. The body is starting to slip and become thin here, as it gets more and more dry each infusion. End of these infusions the back of my tongue feels dry, which encourages me to keep drinking to calm it. The aftertaste is quite nice though – it's sweet orange, woodsy, and a little peachy floral.
Seventh and Eighth Infusion: I powered through these last infusions, the tea got quite delicate and light with a moderately high dryness. The sweetness lasted until the end, with a soft bit of woodsy.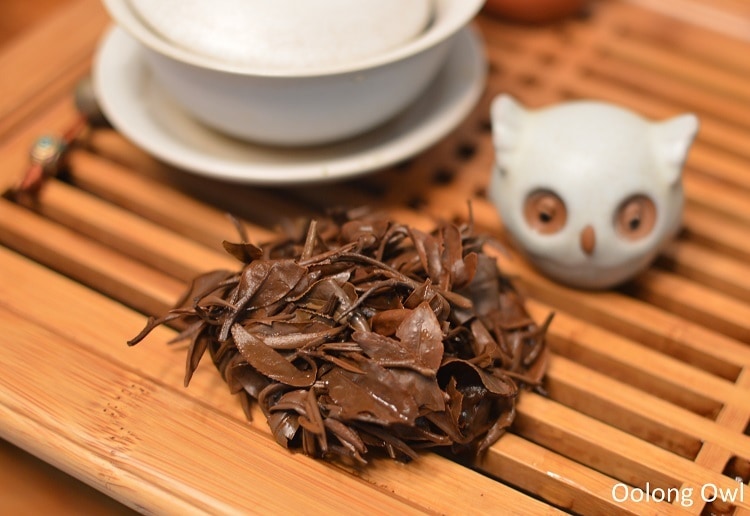 Tillerman's Oriental Beauty is the sweet one. Some Oriental Beauties are more woodsy, heavy, or floral. This one leans towards the more delicate soft and sweet side, which reminds me of more competition style oolong. The floral and woodsy are pretty balanced, letting the sweet flavor shine. The citrus notes are of interest, and the body is excellent in the early infusions. Great oriental beauty if you want something more light and sweet!
---
Tillerman Tea's Muzha Tieguanyin
Dry Leaf: Muzha Tieguanyin has an interesting roasty plum scent.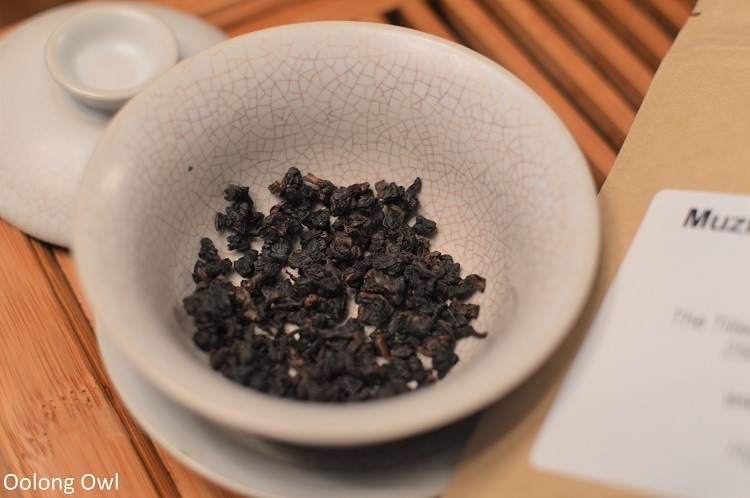 Steeped up, the tea comes out slightly brassy looking with soft roast scent.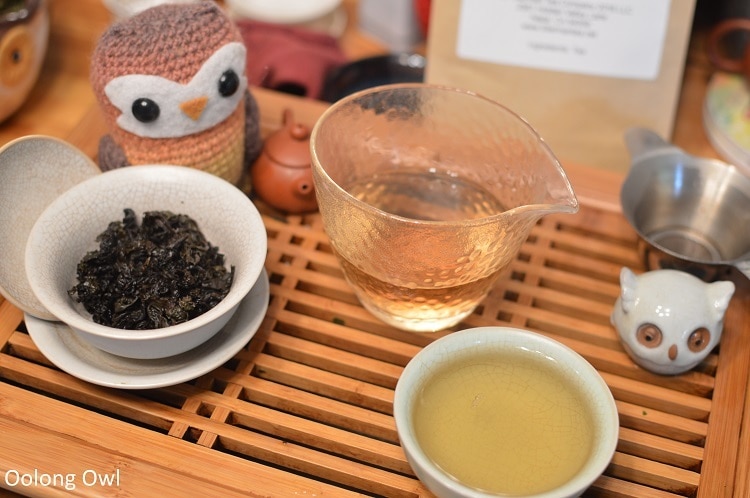 First, Second, and Third Infusion: Now we are talking! This is exceptional! The texture is heavy, like trying to run under water. The flavor starts soft and sweet but builds an excellent mineral flavor with a rounded savory roasty background that leaves your mouth salivating for more. I can taste the charcoal slightly, but it is not ashy or bitter. With the heavy texture, the tea sips really smooth.
Fourth, Fifth, Sixth, Seventh, and Eighth Infusion: The tea continues to be heavy in texture, with a mineral and roast flavor. The flavor starts to open slightly, making me feel like I am licking a wet rock that had a camp fire on it last season and drooling over it for some reason. With each steeping, the TGY got sweeter and more subtle. The Eighth infusion was the most optimal flavor that crossed max sweetness while having bite to it.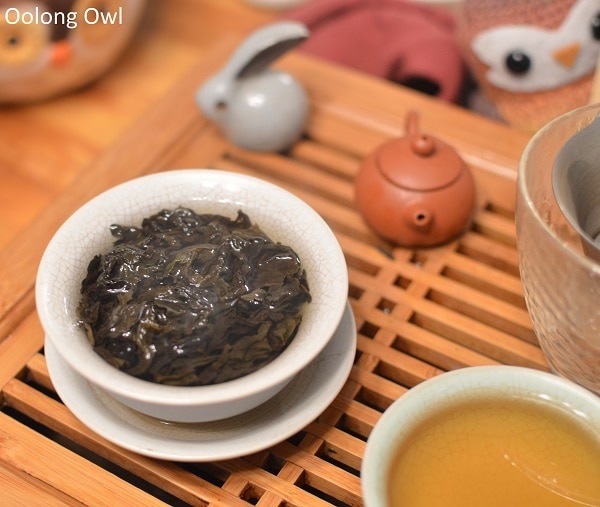 Ninth, Tenth Eleventh, Twelfth, and Thirteenth Infusion: The ninth steeping was quite good with sweet and savory mineral notes, but it started getting dry on the roof of my mouth and too light. Further steepings I steeped much longer, but getting more dryness. The final infusions tasted free of roast, just straight up sweet mineral with a high dry mouth feeling if you pause between sips.
I really enjoyed the heavy texture – this is the tea to try if you want to know what I mean about a thick texture in a tea. There was a lot of interest between how savory the roast made the tea, yet over time it fade to more sweet. It oddly gave me a violent craving for Sweet and Sour Pork, a similar like food contrast. Out of the three, this one was my favorite tea.
Comments
Out of the three teas Tillerman Tea sent me, the Muzha Tieguanyin stood out the most. The Oriental Beauty is also quite good and tastes almost competition. The Dong Ding was quite a few notches in quality below the other teas, with a daily drinker vibe to it. By the way, this was the Spring Dong Ding. Tillerman Tea has a winter Dong Ding and a roasted Dong Ding available.
I checked Tillerman Tea's site and the Dong Ding is $11 vs Muzha Tieguanyin and Oriental beauty at $30 & $32 (all 2oz sizes).  The latter two teas are priced quite well for quality, so I highly recommend them if you are looking for another good oolong vendor located in the US.
(tea provided for review)