True Tea Club is a monthly subscription tea box based in the UK. They do loose leaf teas, focusing on black, green, oolong, white, rooibos, and herbal. They send 4 teas a month and you can let them know if you don't want a certain type of tea so they can customize your boxes. They also have options for vegan friendly, dairy free, nut free, or decaf only. In addition, subscribing gets you 15% off at their shop, so you can purchase teas you like at a deal.
Pricing ranges depending how much tea you want a month, starting at £10. Free shipping for UK and £3.75 for international. The sizes are based on teaspoons, so the £10 is 5 teaspoons per tea = 20 x 1 teaspoon servings.
Use code LOVE for 50% off the first subscription box!
The four teas I got are Early Grey Rebel, Mighty Mango, Vanilla Cupcake, and Rainbow Chaser. They have a pool of 200 teas, so likely you won't get a repeat for a long time.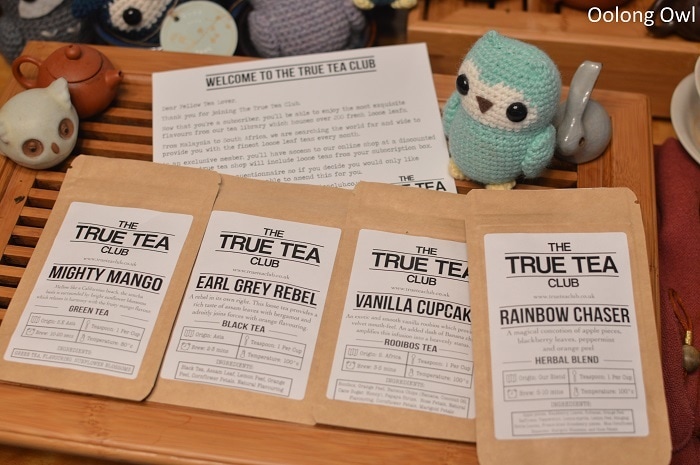 The box came with 4 cute paper drawstring tea bags, just in case you don't have a filter of your own to handle loose leaf.
Tasting of The True Tea Club
Earl Grey Rebel
The dry leaf is pretty earl grey style as it is accented with blue cornflowers. The scent is pretty standard citrus and bergamont earl grey.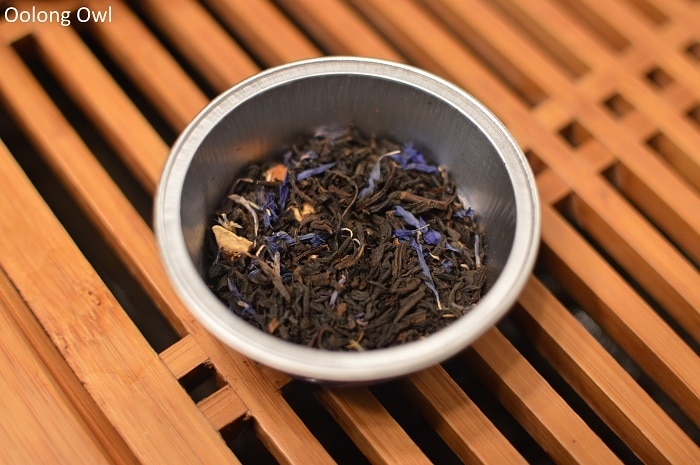 I followed the steeping instructions provided, boiling water for 2-3 minutes.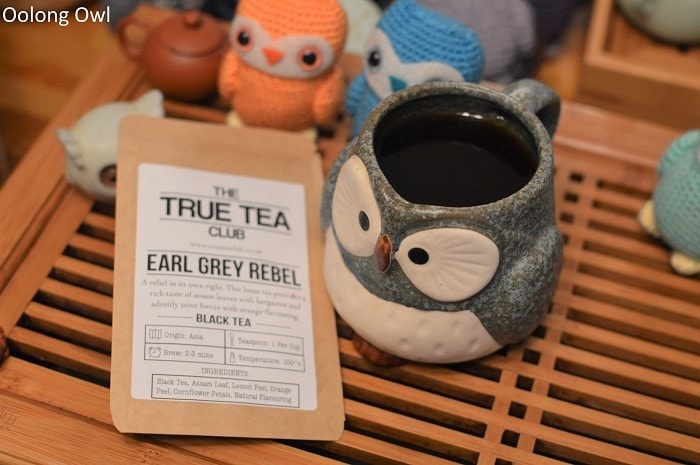 Steeped up, this is quite a different earl grey! The flavor is heavy on lemon. There are orange bergamot notes with the tannic brisk assam. This earl grey is very heavy on the citrus, without being tart or heavy – the lemon lifts and brightens it lightly. A rebel earl grey!
---
Mighty Mango
Might Mango is a mango sencha green tea! This tea is accented with sunflowers.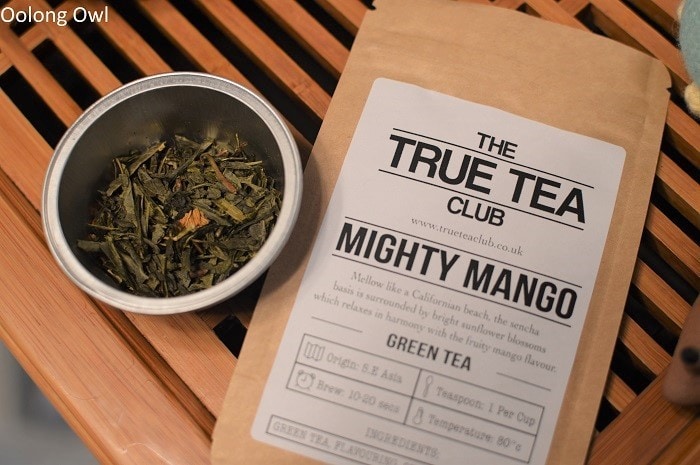 I almost messed this one up, expecting a 2 minute infusion. However the instructions say 10-20 seconds, I ended up with 30. The water temperature is 80c/175f. Oddly, I forgot to photo this one steeped up. No redos as I drank the entire sample!
The fast brew of the sencha got just the buttery elements, with little marine or bitterness. The flavor is soft, light, buttery and fruity mango. I wished I made this tea iced as it would of been able to take advantage of the fresh fruity flavor. This green was okay – nothing unique to this blend but flavor wise was good.
---
Vanilla Cupcake
Vanilla Cupcake is a rooibos blend. I figure by the name that this is just a vanilla rooibos, but looking at the description and ingredients – it has orange, banana chips, papaya, and rose.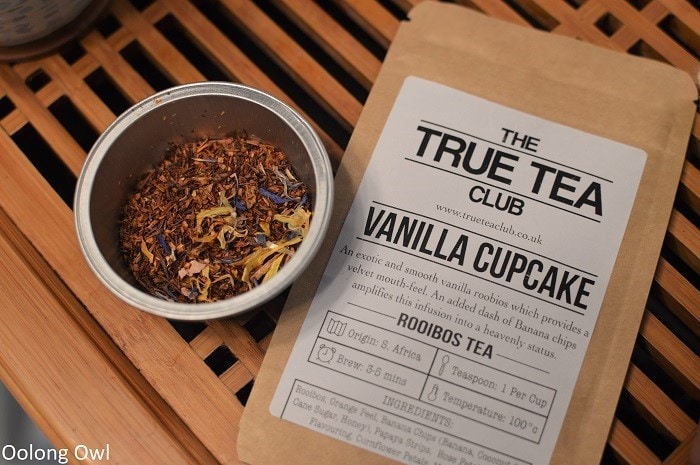 Steeping instructions were pretty standard at boil for 3-5 minutes.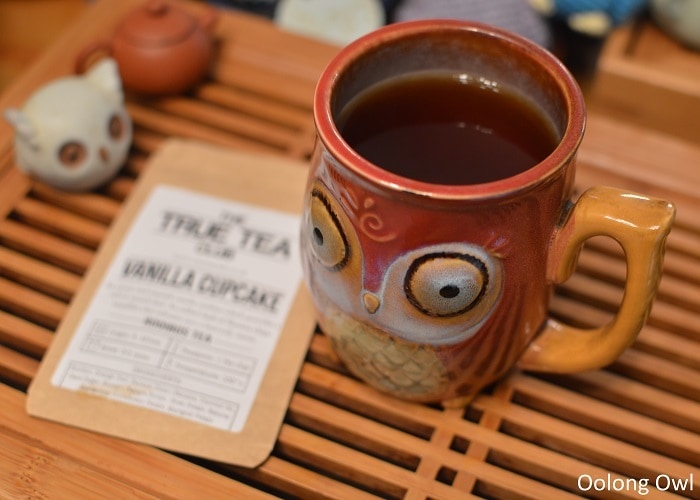 I do not like red rooibos. True Tea Club will customize it if you notify them if there is a loose leaf you don't like and I likely would of said no to rooibos. However, this Vanilla Cupcake rooibos isn't bad. It is very vanilla creamy and softly fruity. I can't taste the specific fruits, but I can pick up the sweet and smooth of banana and papaya. The rooibos isn't watery or taste like red wood landscaping bits as the vanilla and flavoring is strong. They were certainly going for a cupcake piled with icing, vs most cake blends that just go for that yellow cake taste.
---
Rainbow Chaser
Rainbow Chaser is a herbal blend that looks like a lot of fun due to the colour! This is a blend of apple, blackberry leaves, peppermint, orange peels, sultanas, cornflower, marigold, and rose.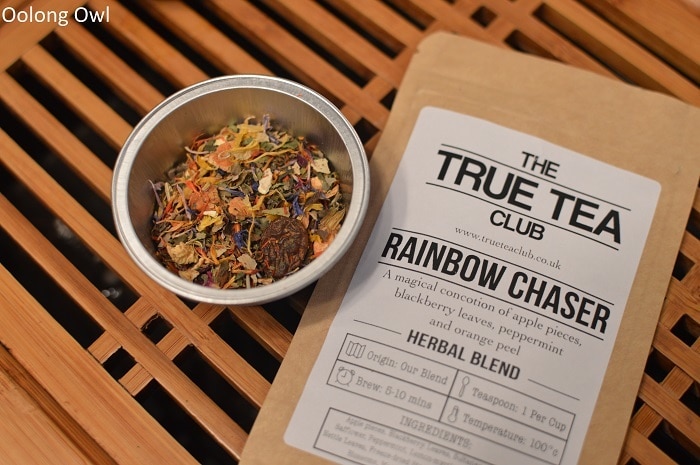 This one had the biggest contrast for steeping instructions – boiling for 5-10 minutes. I steeped for 7 minutes.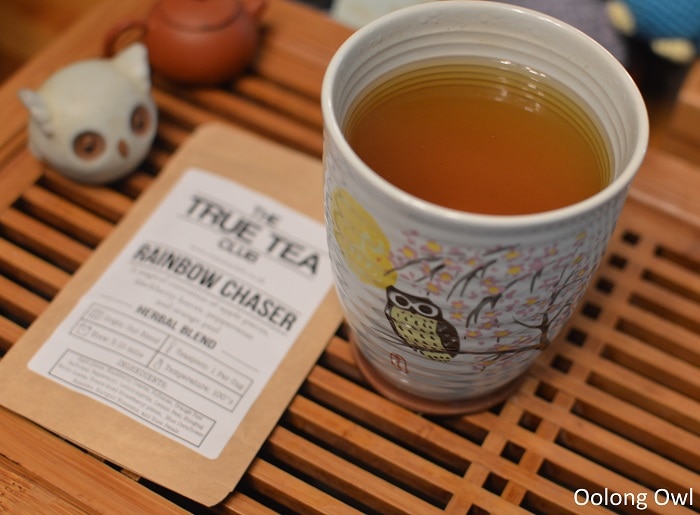 This herbal has a lot going on that it makes your head spin. It is minty, fruity, citrusy, herby, mellow, and sweet – a rainbow confetti explosion of herbal notes. It is hard to comment more on this blend, there is just a lot of flavors happening at once. It is pretty fun, but also hard to get your head around.
Comments
The True Tea Club has lots of fun and unconventional tea blends if you are looking for a flavored tea subscription. I found Earl Grey Rebel and Vanilla Cupcake to be the strongest of the lineup I tried. I do like there is some customization/consideration if you don't like certain type of loose leaf tea. The True Tea Club offering a vegan, dairy free, and nut free options is very good and a strong recommendation if you have those dietary restrictions. A pool of 200 teas is impressive too – getting repeats or worrying about bored is a concern of mine for tea subscriptions. The True Tea Club is a great option for UK tea drinkers, and not bad for international, especially if you opt for the bigger sized subscription to get the most out of your shipping cost.
My only beef is the serving size, I'd like to see weight of what teas you get or consideration of some teas you just need to leaf more than 1 teaspoon. 1 teaspoon is also on the small end of serving sizes, with most big flavored tea sellers opting for 2 teaspoons up to 1 tablespoon as they consider most people tend to use mugs.
(tea provided for review)