Turtle Cheesecake Black tea is a chocolate and pecan blend from 52 Teas / Zoomdweebies, an online seller of nerdy and unique teas. Turtle Cheesecake Black tea was Tea of the Week for September 2nd, 2013.
Woot! Another Black Tea for Oolong Owl's Black Tea Week! Turtles Chocolates remind me of Christmas time – it was a chocolate I'd get often as a gift, along with Terry's Chocolate Oranges. I haven't had turtles on cheesecake or tea, so I when this tea popped up for sale, I bought it immediately. Turtle Cheesecake Black tea also attracted a couple amigurumi turtles to help out with the tea review. Let's sip!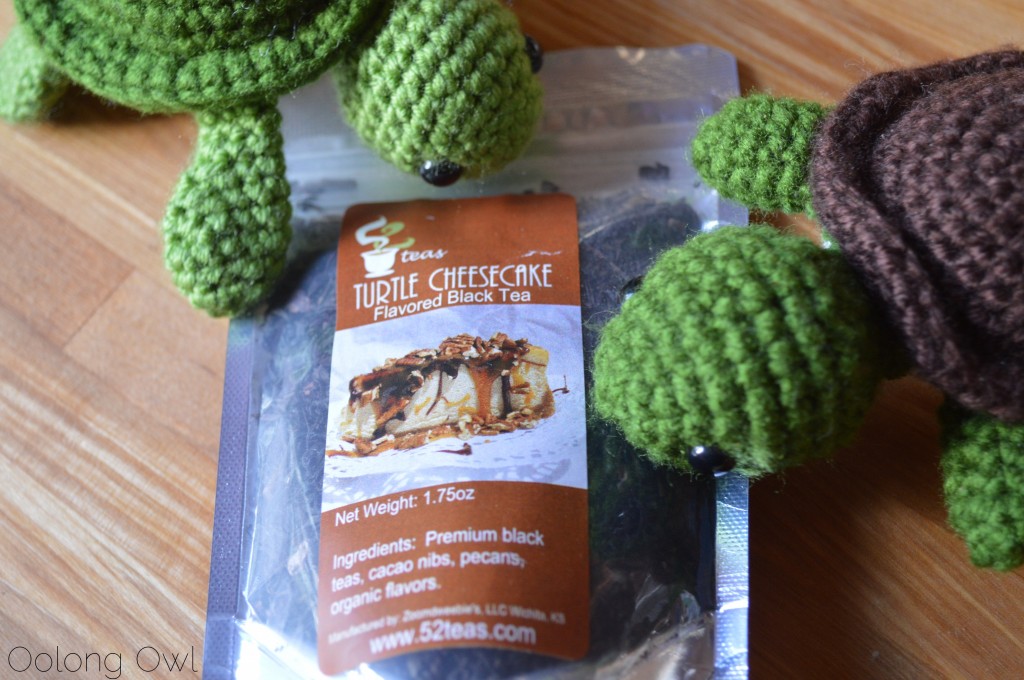 Dry Leaf
The Turtle Cheesecake Black tea is strongly scented of chocolate liquor and sticky sweet caramel. The blend has plenty of cacao nibs!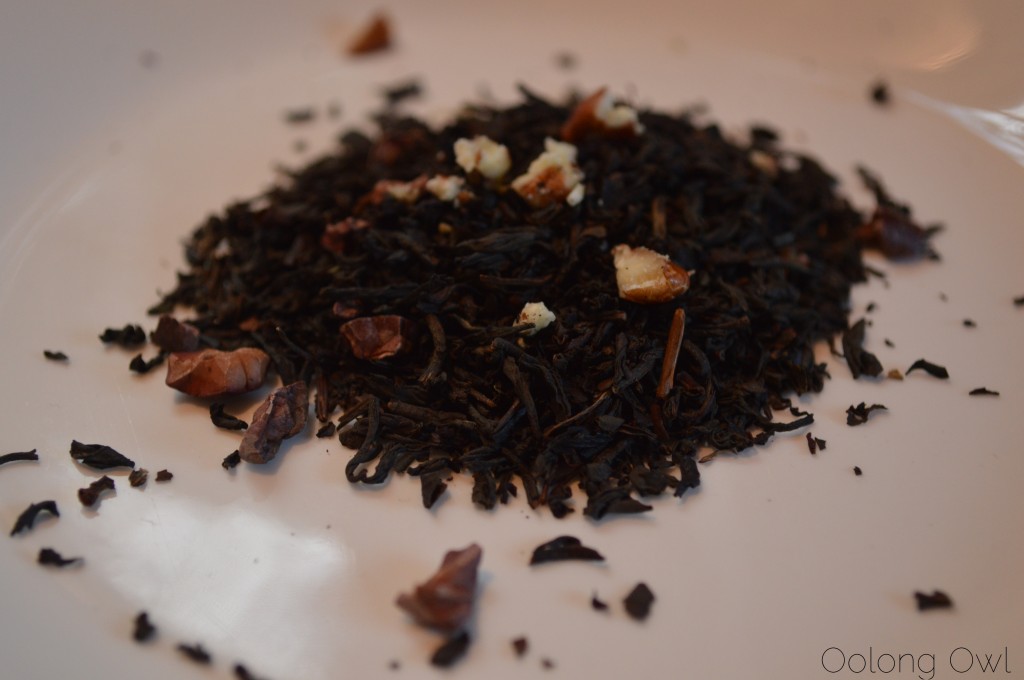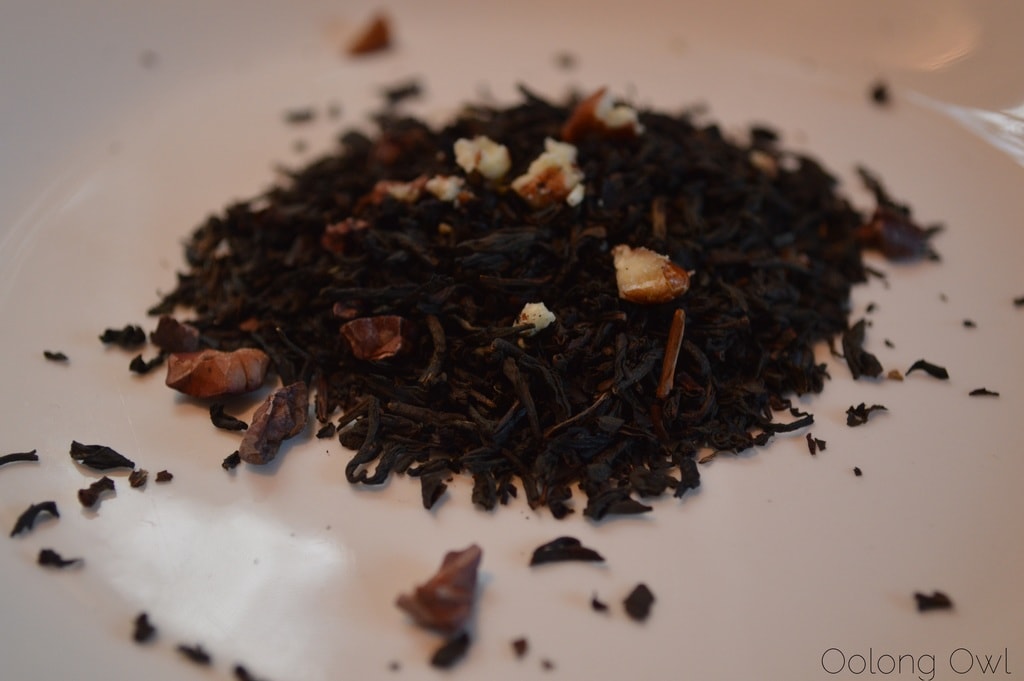 I found an entire pecan in my package of tea!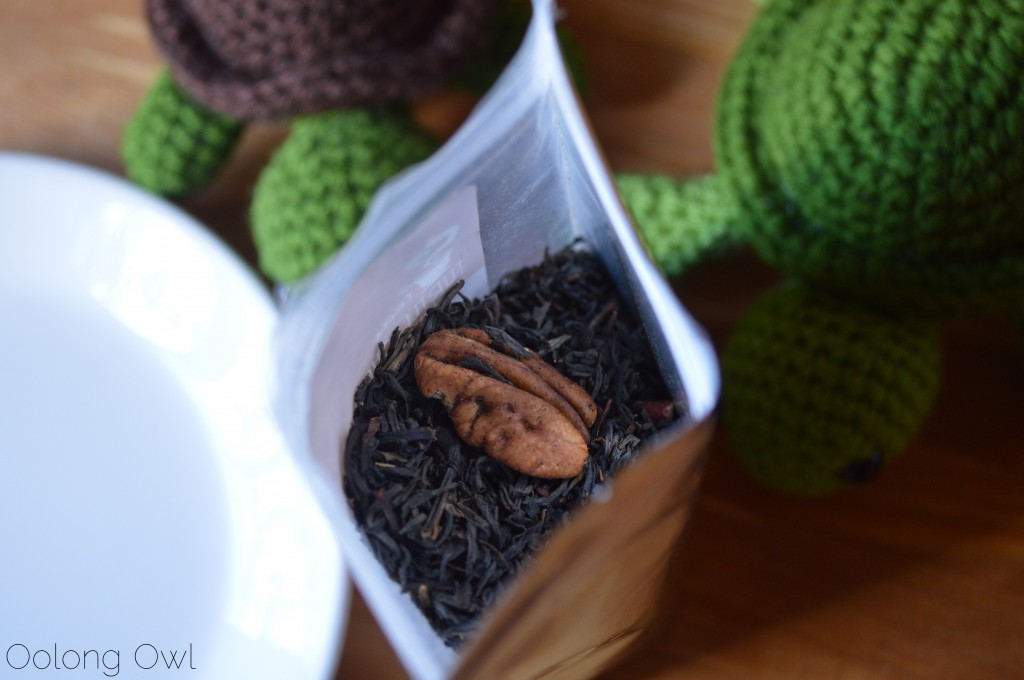 The pecan was immediately pounced on and dragged out by the turtles. They shell smashed it and put the pecan pieces back into the package. Such helpful turtles!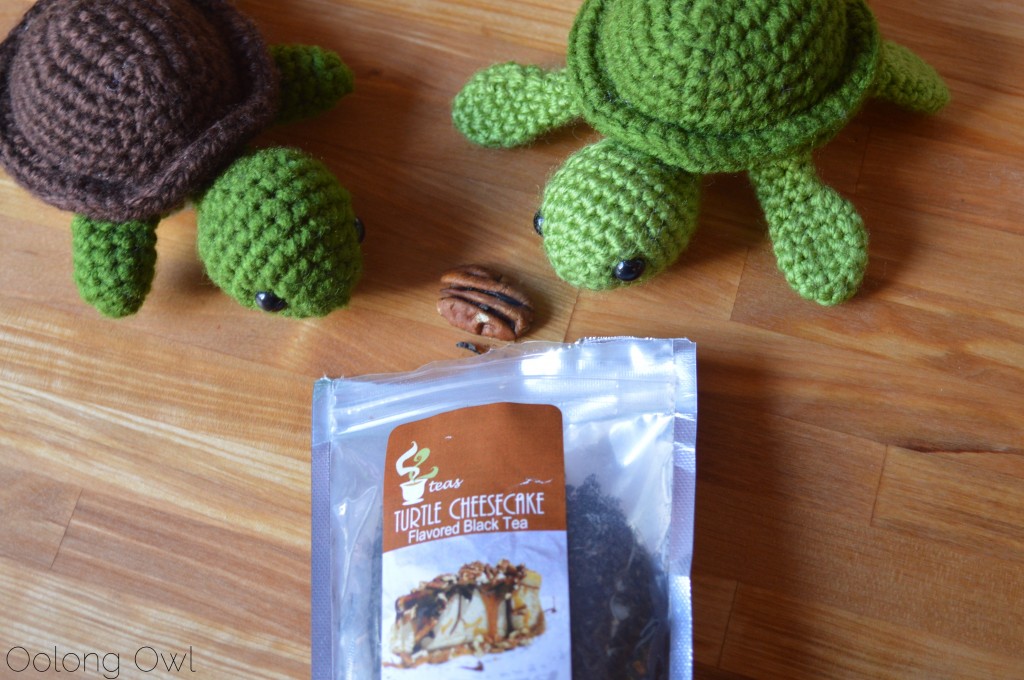 Steeping Instructions
I went with my usual 52 Teas / Zoomdweebies black tea steeping method: 200f/93C. Normally I stop at 2 minutes, but after a quick taste test, I decided to go up to 2.5 minutes.
We steeped Turtle Cheesecake Black tea in a mug in a stainless steel filter, covered.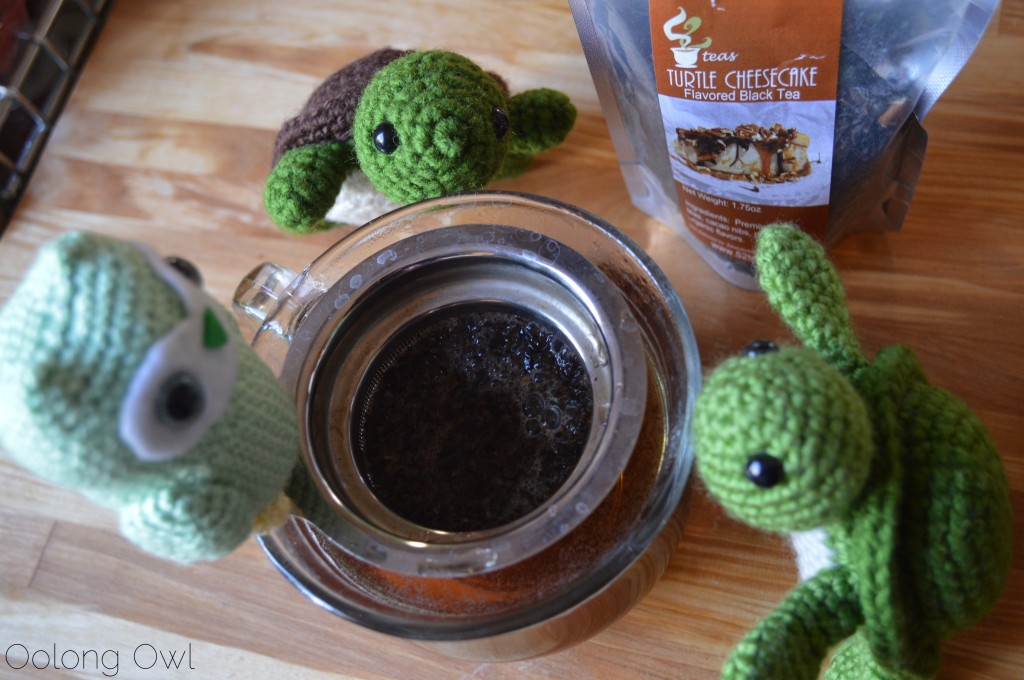 Turtle Cheesecake Black tea steeped up to be a deep woodsy color brew that smells like milk chocolate with a gentle nutty finish.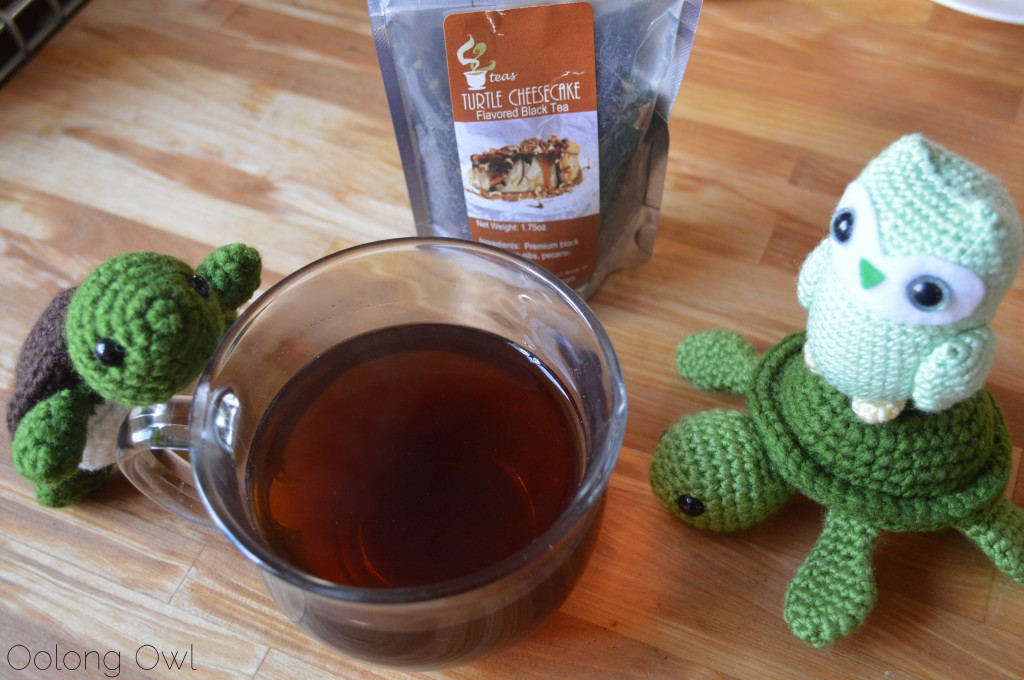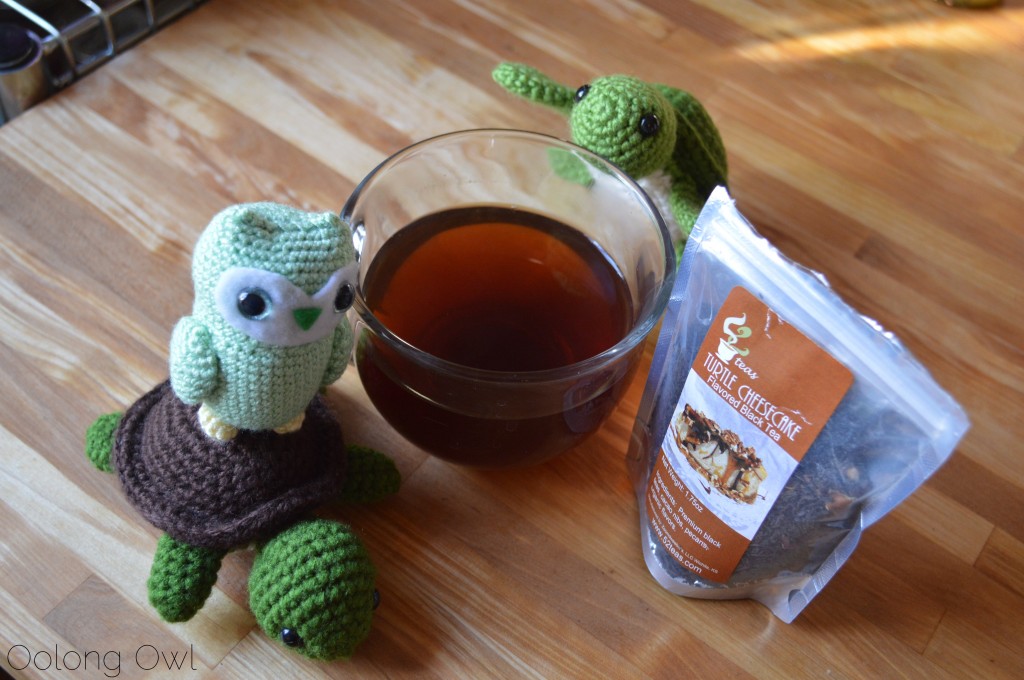 Tasting of Turtle Cheesecake Black Tea
Turtle Cheesecake Black tea sips in with plenty of black tea base that is nicely robust and earthy without any bitter or dryness. End of sip is where the magic begins in this tea. As if to surprise me that I'm not just drinking a straight black tea, a chocolately flavor pops out with some nuttyness and buttery notes. The cheesecake flavor isn't really present here. Hmmm.
The turtles demanded I add sweetener in hopes to bring out the cheesecake flavor! I didn't know turtles liked cheesecake…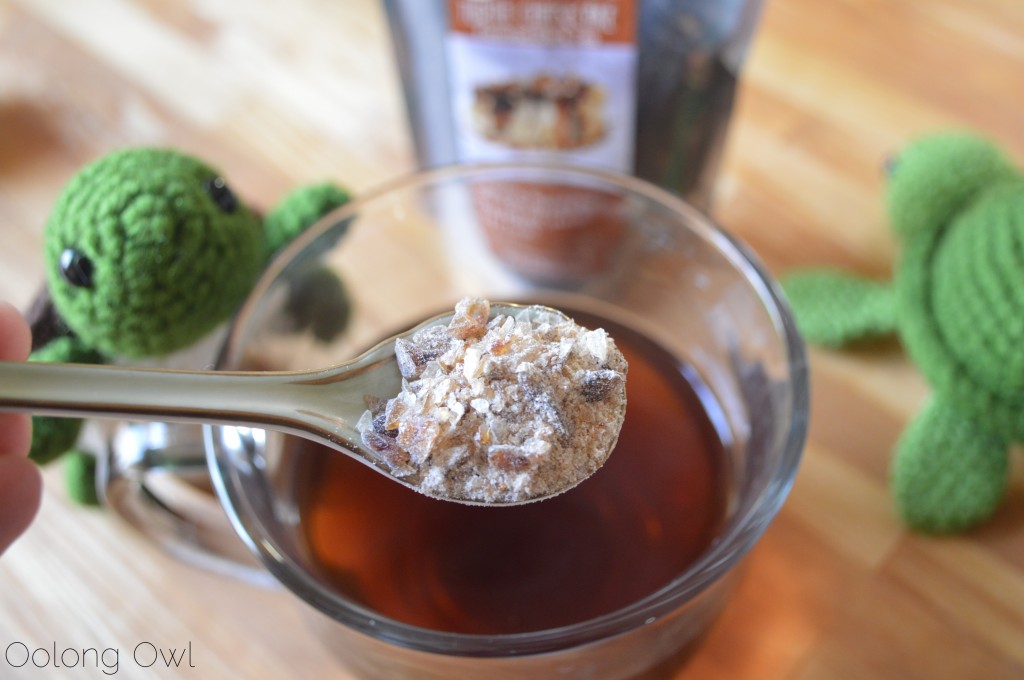 Sweetened: Now we're talking!  With a little german rock sugar the cheesecake flavor comes out! The sugar mellowed out the flavors, but also enhancing the caramel flavor. A creamy and cheesecake twang with a very buttery caramel. The buttery caramel reminds me when I make caramel when it's not completely finished – it's caramel tasting, but mostly butter and brown sugar just about to 100% meld into caramel. Unfortunately the nut flavor is dulled with the sweetener, but still reminds me of turtles chocolates. I personally prefer Turtle Cheesecake Black tea sweetened to enjoy the cheesecake notes.
Comments
Turtle Cheesecake Black tea is a fun tea that you won't find anywhere else! The flavoring isn't over the top, so you are able to enjoy the black tea taste with a chocolately, nutty and caramel twist at the end. I highly suggest adding some sweetener to this tea to bring out the cheesecakeyness if you want a dessert-replacing tea treat!
As I write this review, there are some Turtle Cheesecake Black tea instock at Zoomdweebies! Snag one quick!