I spotted The Tea Spot's Urban Tea Tumbler at the last World Tea Expo and was impressed with the design. To my delight, The Tea Spot sent me an Urban Tea Tumbler to play with! It was great timing too as the tumbler arrived when I was on crutches with a sprained ankle, unable to carry things as I walked, but I could carry this tumbler as it has a strap!
I gotta say, the Urban Tea Tumbler is a very nice tea tumbler. I've been using this tea tumbler almost every day even when I don't need to as it's a pleasure to drink from.
Urban Tea Tumbler Packaging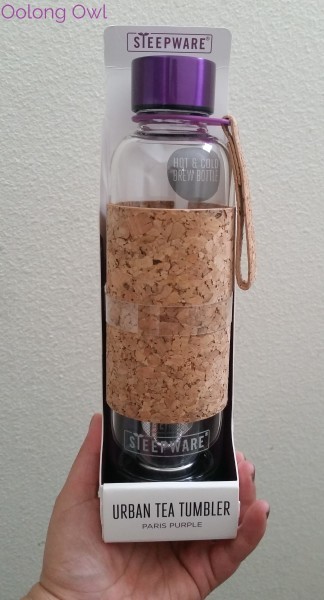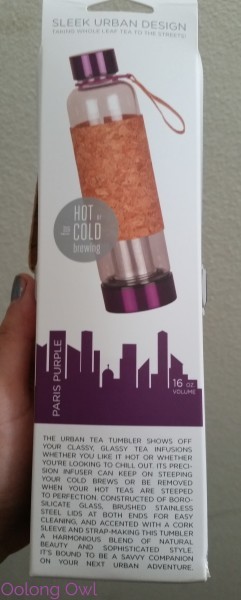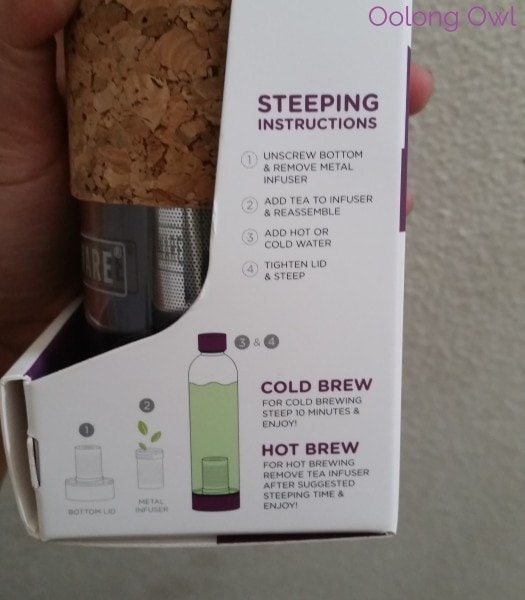 Urban Tea Tumbler Construction
Specs:
16oz Borosilicate Glass Bottle. 9.5″ tall bottle
Stainless Steel Lids, removable at both ends. LEAK PROOF!
Removable Stainless Steel Infuser that attaches to bottom lid.
Natural Cork Sleeve and Strap
Lead-free, Cadmium free, BPA free.
4 Colours to choose from – Steel, Blue, Green, Purple.
The Tea Spot has four different colours to choose from and it was really hard for me to choose a colour as you can't go wrong with the colour selection they have. I went with purple as I don't have a purple tumbler and I can match my nails to it on that day. When I took the bottle out of the packaging, I noticed the whole unit feels really sturdy and well built. The Urban Tea Tumbler is very attractive and modern with the cork band. The colour on the lid is very bright, I love it! The strap is a nice touch too.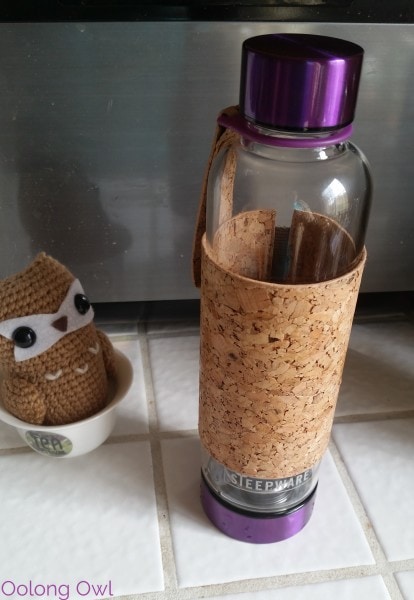 The cork sleeve feels really nice adding good grip but also a bit of cushion.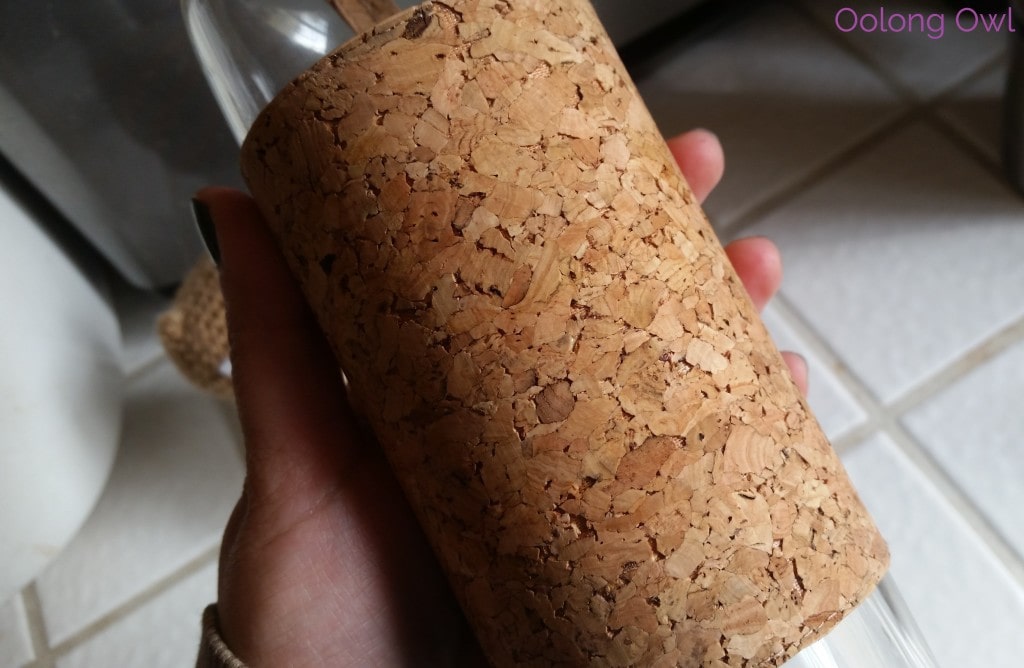 Construction is glass, stainless steel, with little to none plastic contact to the steeping. The glass bottle is quite thick. The lip to drink out of is perfect size to not slop all over yourself and I never noticed the lip getting ripping hot like other wide mouthed tea glasses do. The bottle also pours very nicely if you are using it as a impromptu tea pot to serve others.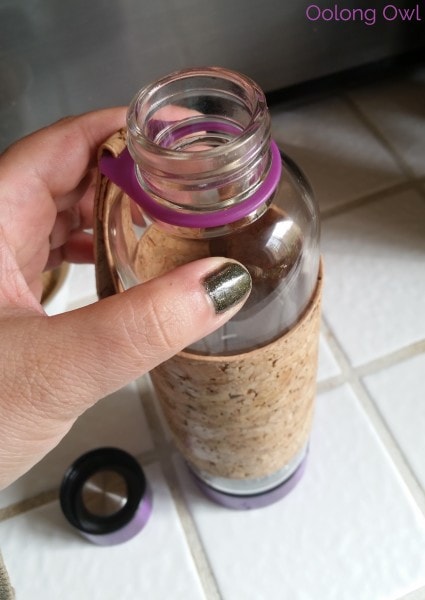 The lids are very sturdy, cased in steel. A few of my tea tumbler with plastic lids can be squeezed but these lids can probably take a beating. The wide bottom lid also makes the tea tumbler easier to clean!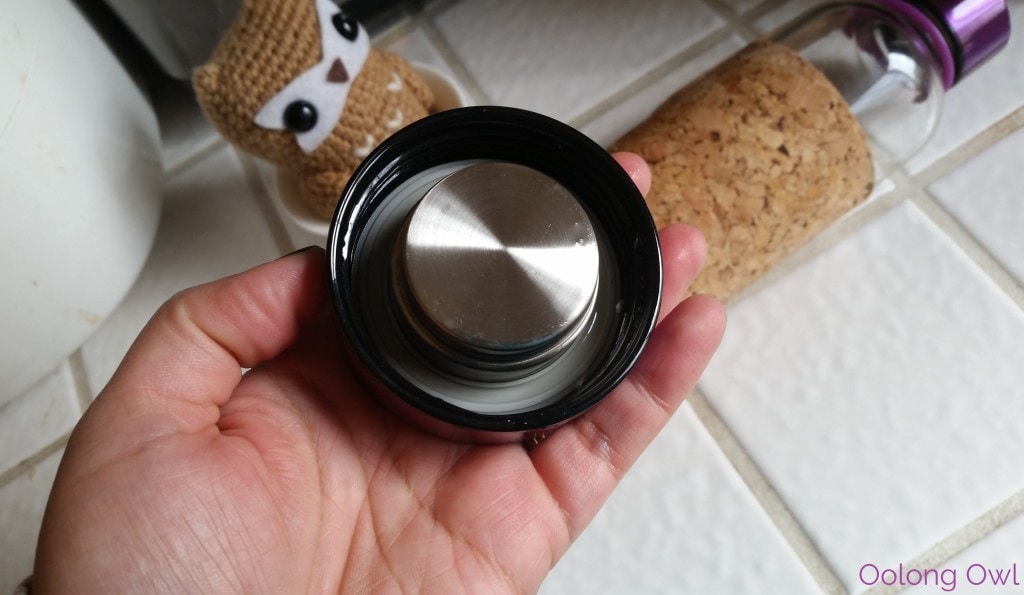 To get at the tea filter, you unscrew the bottom and twist off the filter. I've used the filter with rooibos and had no escaping bits. You can easily flip the unit over, unscrew the bottom, remove the leaves, put the lid back on and flip it over to continue drinking. A more common design for glass tumblers is the leaves 1. Cannot be removed but are blocked with a filter so you don't slurp them up. 2. Not as common, but a basket at the top. With the Urban Tea Tumbler having the filter at the bottom, you don't need to make a whole 16oz bottle as the tea will still touch the leaves. If you like to keep steeping as you drink, the water will still be in contact.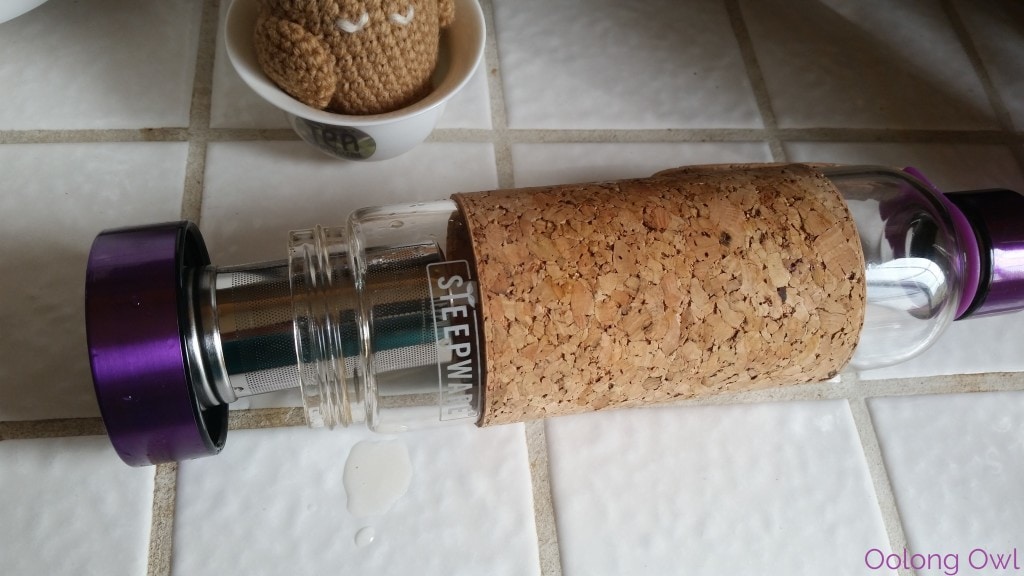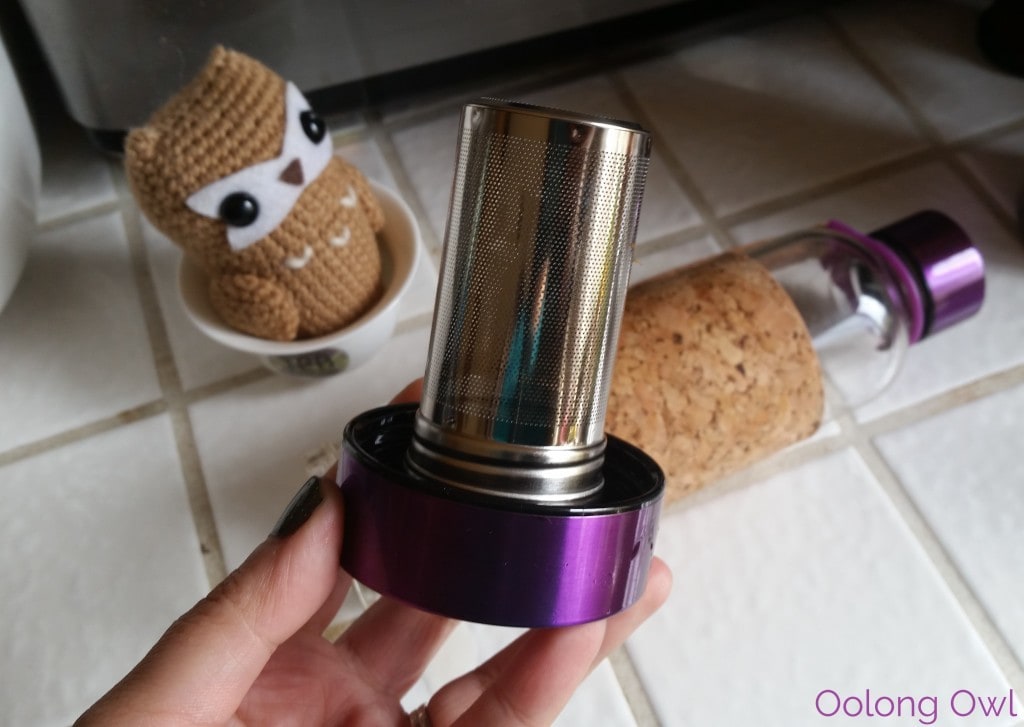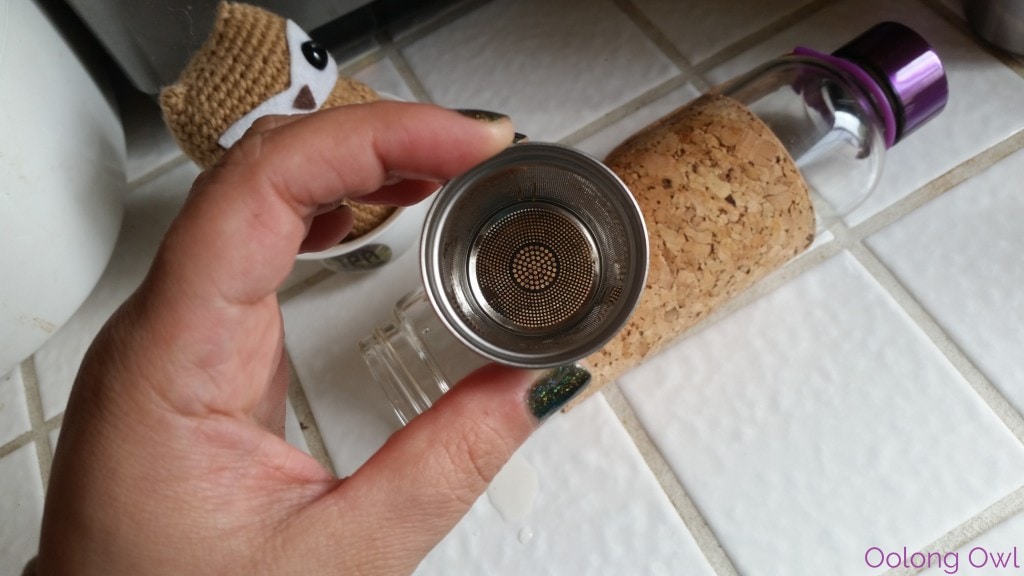 Yes, the Urban Tea Tumbler is leak proof! The seal on the lids are perfect. I have had no leaks despite shaking it around while dancing around.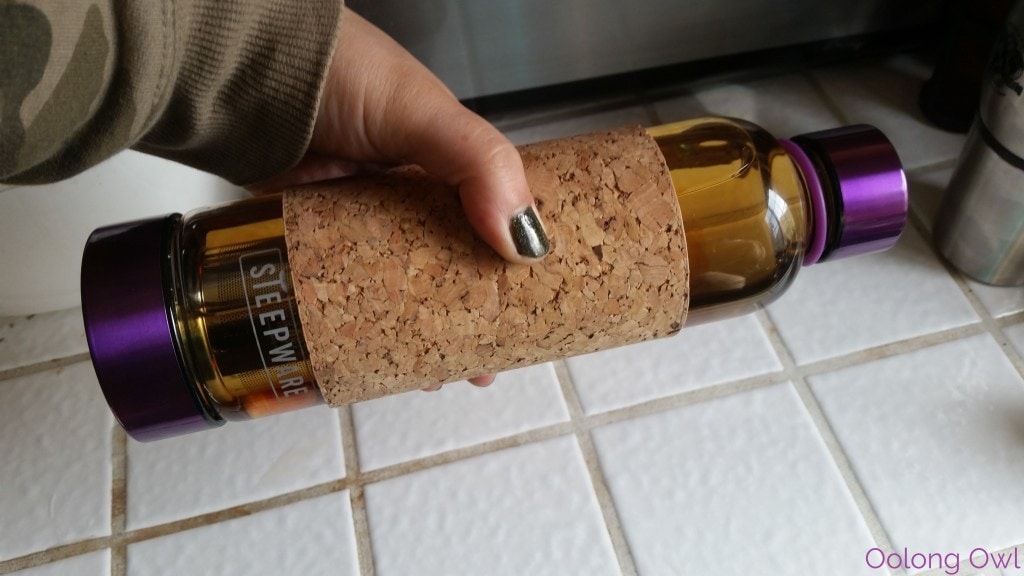 Some Considerations
Here are some additional observations about the Urban Tea Tumbler. Some of these may or may not deal breakers, but some are expected due to the Urban Tea Tumbler being made out of glass.
Warm Tumbler – The Urban Tea Tumbler does get warm despite the cork sleeve but not unpleasantly so, I got a temperature reading of SoCal summer at 100F. Without the cork sleeve.. yeah don't. That's hot! The sleeve is quite tall so you should always be able to grip it.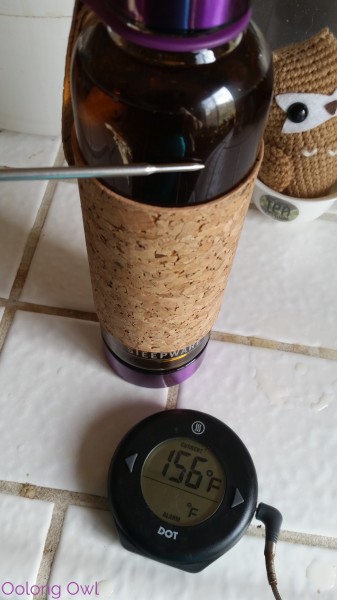 Heat Retention – An all glass vessel is expected to not do well on retaining heat. This is what you get if you want to see your tea. As with the first point, the outside gets quite hot so there is some heat loss. I tested the water temperature.
My environment temperature was 64F. I lazily preheated the tumbler with hot tap water (120F). Upon adding boiling water, the temperature dropped to 205F.  After one hour, the water temperature was 135F. After two hours, 112F. That said, you got about 1 hour of hot water to drink out of (probably less if you are opening and closing the lid). Again, if you want something that stays hotter, a stainless steel double wall tumber would be more suited for you (the DAVIDsTea carry was 155F after 6 hours!). The picture below is the water temperature at 2 hours (ignore the bottom 150F, that is the alarm).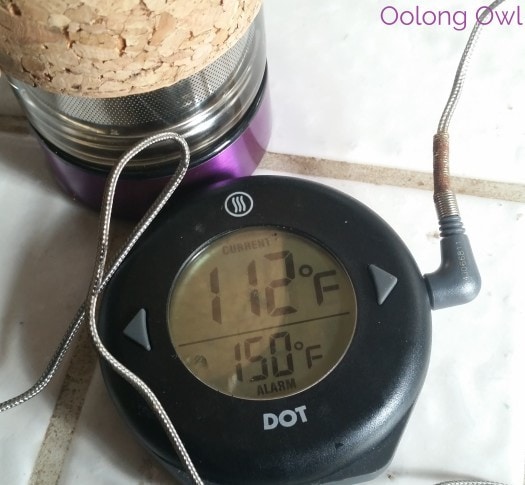 Heavy – The tumbler is heavy when full, likely since it's got all that thick glass and stainless steel. I should really get the others to compare but The Urban Tea Tumbler hits just under 2lbs when full of tea. I probably wouldn't put this in my purse as that would kill my shoulder especially since my purse is practically a clown car, but this tumbler in a backpack would be perfect. 2lbs might be too heavy for some to carry, but then if you want a glass or steel model it is going to be heavy. Do you even lift, hoot?
Durability? I really wish I could test this tumbler. My theory is it is more durable that the other double-walled glass models. The lids are solid, I figure those would be the last to break. A review on the Tea Spot site reported dropping it on the floor and no breaks – I'm not going to test that, I only got one of these! Even if Tea Spot gave me two, I wouldn't be throwing it down the stairs for you all, I'll be using them both! Otherwise, the tumbler feels really sturdy and durable. Though if you want something that can take the ultimate beating, you should get a stainless steel tumbler.
Cons
Filter Size – This is the one con to this tumbler to what I would say it would be the perfect glass travel tea tumbler. The filter is on the small size. If you drink blends, or smaller cut/fanning leafed teas the filter does the job quite well and is a non-issue, so ignore this, the tea tumbler is great!
The filter is 1.5″ in diameter and 2.75″ long, thought when screwed onto the lid the length is reduced to 2.5″.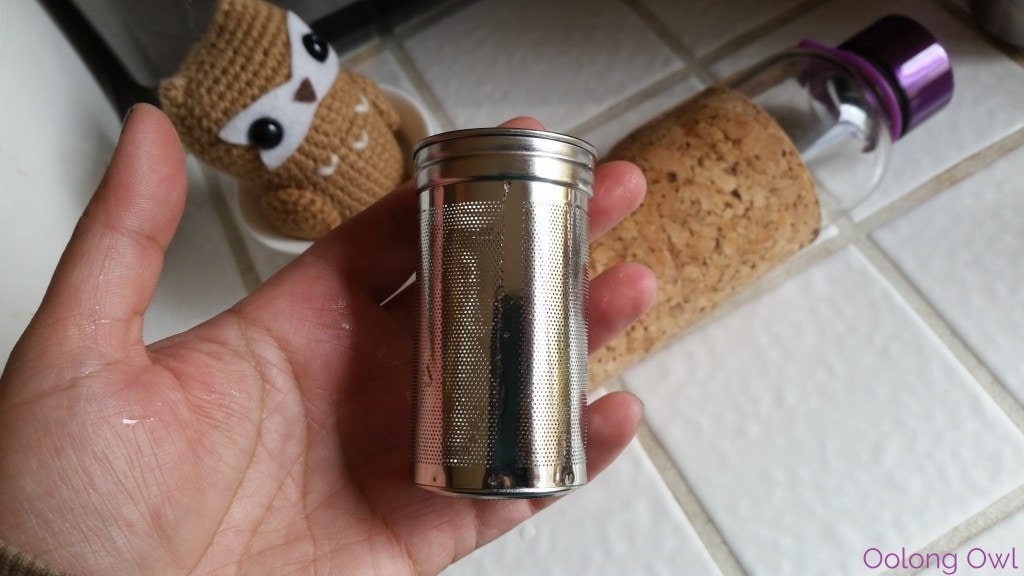 If you drink big honking leaf teas like rolled oolongs or wiry blacks/whites/greens and like to over leaf because you live fast, leaf hard, the filter is too small for the 16oz bottle size. The filter seems to max out at around 5 to 6 grams of mega big tea leaves. One of the bigger leaf teas I tried with the Urban Tea Tumbler, White2Tea's Bang Dong Hong which can have 1.5″+ leaves, I could only get 5 grams in or I would have to get smashy on it. After steeping, the leaf was exploding.
As a compromise for big leafed teas, I found the Urban Tea Tumbler worked best filling the bottle 8oz or 10oz, not using the full capacity. Still, this tumbler is optimal for western style steeping.
Comments
The Tea Spot's Urban Tea Tumbler is a high quality loose leaf travel tumbler. If you want a sturdy, leak proof, glass bottle with stainless steel parts tea tumbler, along with a removable filter – the Urban Tea Tumbler is an excellent piece of teaware. For me, the best things about this tea tumbler is it is really nice to drink out of with the neck bottle design, leak proof, the super sturdy quality feel, and double lid removable bottom filter. I love my Urban Tea Tumbler, especially for western steeping!
The Tea Spot's Urban Tea Tumbler would make a really good cold brew bottle too!
Price is fair, at this time $29. It is on the average high for travel tumblers, but the quality of this tumbler makes it worth the price.
(Teaware provided for review/ Oolong Owl affiliate)