White Monkey tea is an organic, fair trade green tea sold by Little Red Cup Tea Co. This tea is mountain-grown from western Hunan Province in China.
Looking for a tea company that sells only whole leaf, certified organic and fair trade teas? Check out Little Red Cup Tea Co. Their line up is small, but they had a few teas that caught my eye. I did do a double take on this White Monkey tea. It sure looks like a white, but the description of White Monkey on Little Red Cup Tea Co's site is that it is a green tea. White Monkey is technically processed like a green tea using very young tea leaves.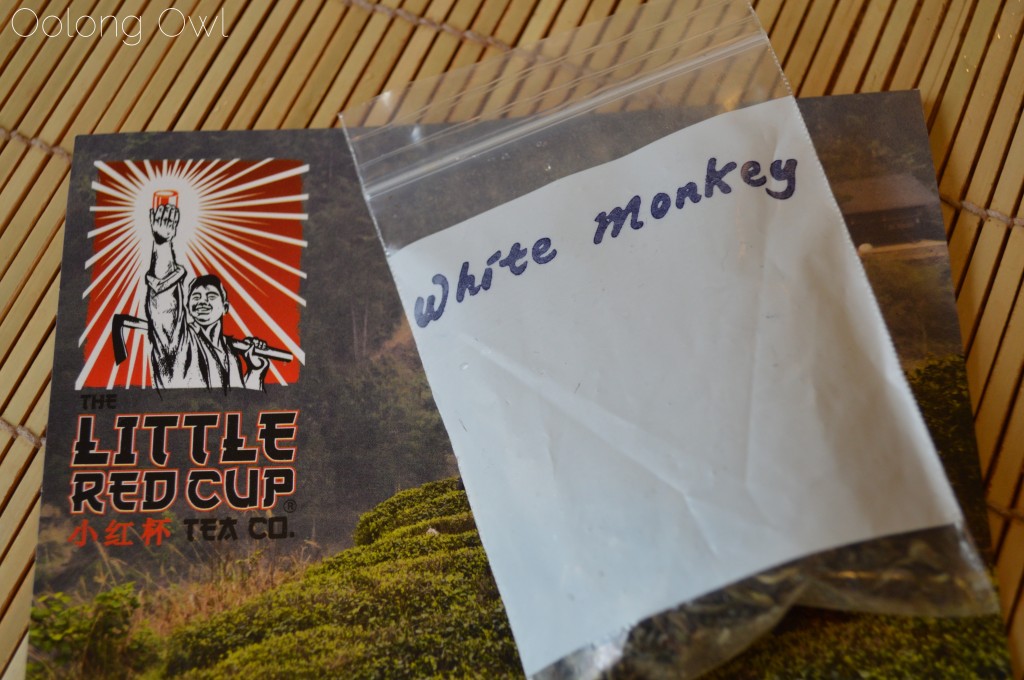 Dry Leaf
Not much scent coming from the dry leaf of White Monkey. What I can pick up is a "dry" scent. The leaf is interesting as it looks like a white tea as it has some leaf fuzzies on them, but also mixed with more bramble-bush dark grey green leaves.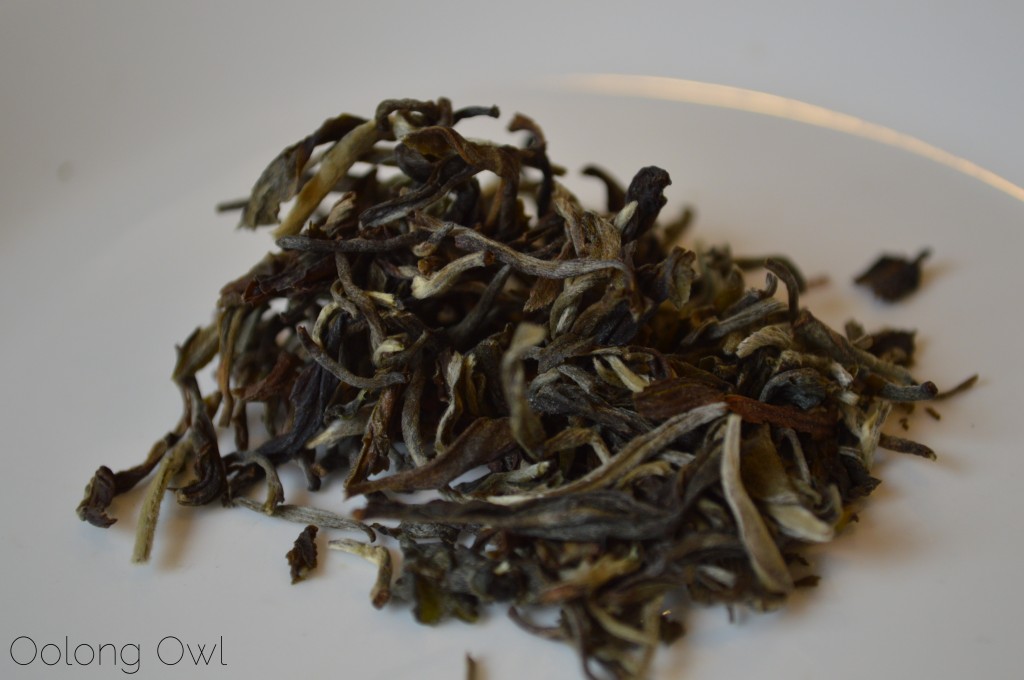 Steeping Instructions
Little Red Cup Tea Co has a brewing guide, which I followed for making a cup of their White Monkey tea. I figured since White Monkey is technically a green, I steeped this tea for 2 minutes in 175f water.
The result of my steeping is a sweet scented champagne coloured tea.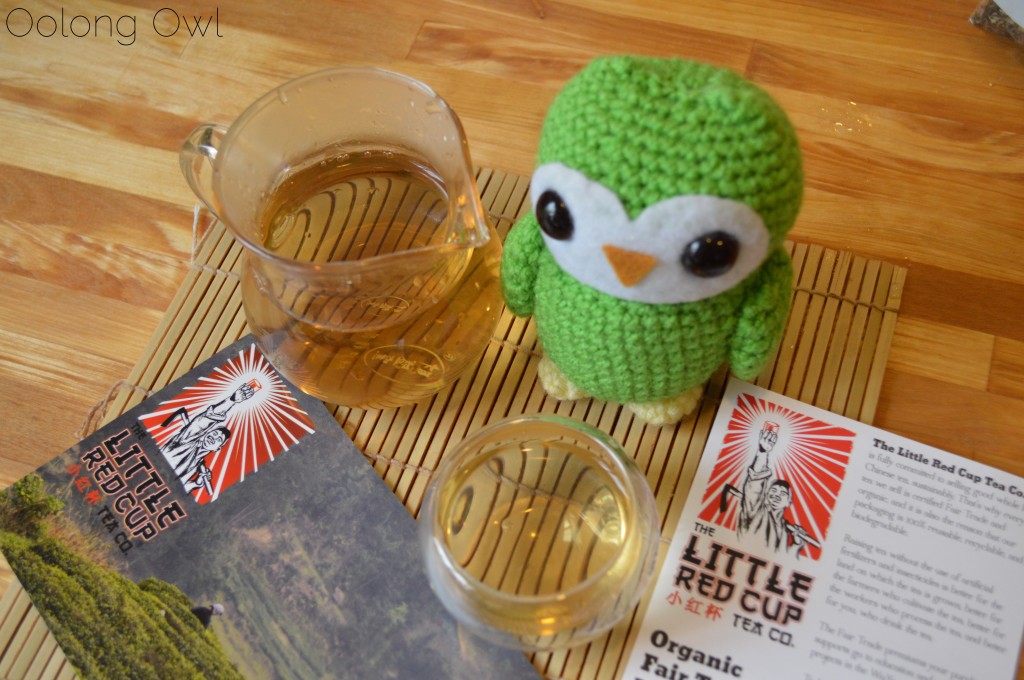 Tasting of White Monkey Tea
Sips in quite light and delicate. However, despite  White Monkey's being delicate, the flavor is fairly complex. There is a slight dandelion floral essence going on, a 1/10 on the Floral-o-meter. There is also a vegetal flavor, like straw and buttery corn. All the flavor notes in  White Monkey tea taste fresh and smooth. The tea brightens end of sip to a sweet peak of the floral and vegetal. Even with the complex flavor, this tea is easy to drink.
Resteep: I did a 3 minute resteep which came out very well. White Monkey is still the same flavor intensity with the complex flavor notes smoothed out. The tea tastes creamy, smooth vegetal floral with a hint of hay. Very nice and an excellent resteep!
Second Resteep: Since the first resteep went so well, I decided to do another resteep. This steeping has also quite a bit of flavor, though more vegetal, hay and straw notes and less sweet.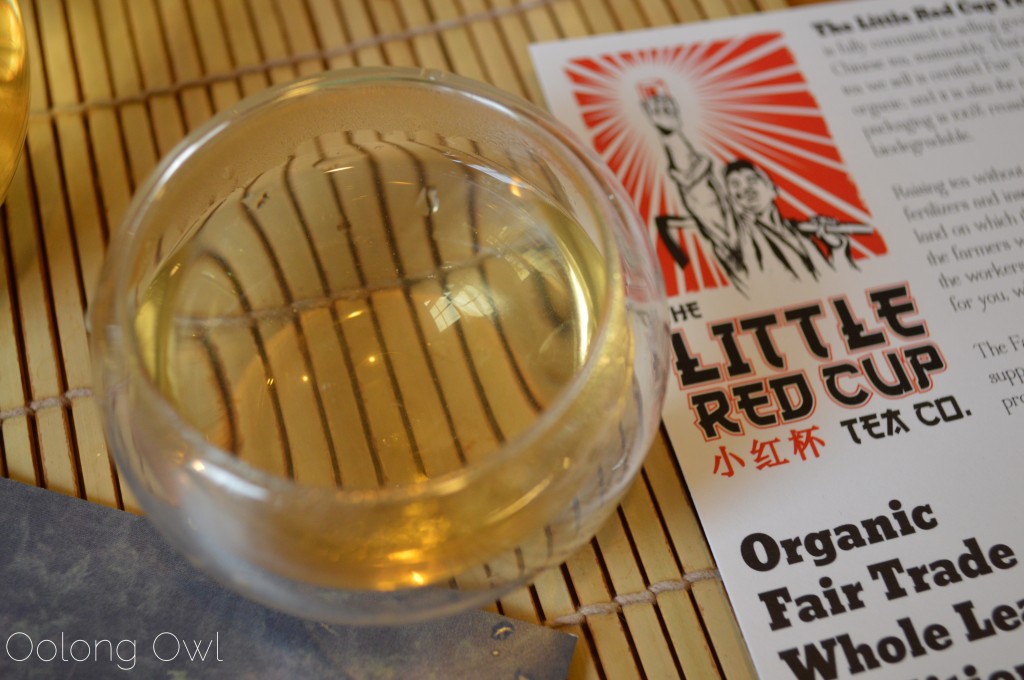 Comments
Little Red Cup Tea Co's White Monkey tea is a white tea for green tea lovers.. or is it a green tea for white tea lovers?
I am intrigued how on one side White Monkey tastes like a white tea: light, hay and floral. However, it does remind me of a green tea with its fresh vegetal buttery corn flavor and not being that sweet like a white tea. Actually, this tea somewhat reminds me of a silver buds raw pu'er but more fresh of a flavor. I want to battle debate about this tea in my head, but end of the day, this tea is very tasty.
Overall, White Monkey tea is a lovely, light tea that would fascinate seasoned tea drinkers, but also a friendly cup of tea for a new tea drinker to enjoy.
(tea provided for review)