Back by popular demand… W I L L   I T   G O N G F U !
The first Will It Gongfu? Oolong Edition was just an April Fools Joke, but many of you requested it to be a regular thing. Likely as you all just want me to drink more gross things. Funny enough, while I was at a tea shop in Vancouver, other patrons were explaining gongfu cha to some new tea people. They said, "Gongfu is masterful brewing… it will make any bad tea taste good." Well I got some questionable tea to put to the test.
Will It Gongfu – Puer Tea Bags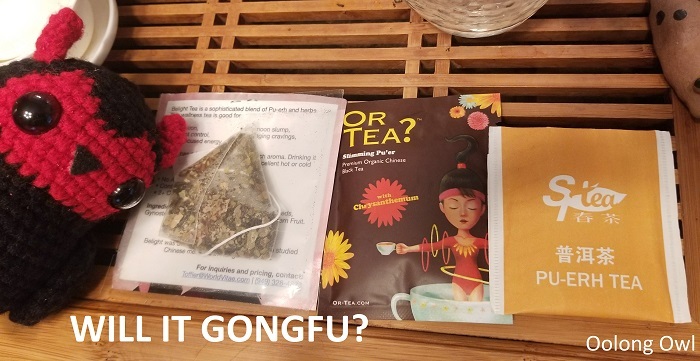 The whole point of tea bags is to make fast and easy tea. How do you brew puer tea bags? Puer generally isn't steeped western style, the long infusion makes for some strange results. My guess these puer tea bags are intended for western style long infusions, maybe get a resteep or 3, and for slamming. I'm not drinking for pleasure of good tea here, I am drinking for puer fix. Most tea bags are made into dust and low amount that it is confusing how to approach to do gongfu chat, but for all these I cracked open the bags and tried to get a close ratio as normal – range of 1 gram to 15 through 20ml.
Spring Tea / LongRun puer tea bag
LongRun Puer I have reviewed in the past. They are a decent Amazon option if you want puer cakes and tuochas off Amazon. I got three LongRun tea products that I got as free samples, but I do not see anywhere online to purchase them.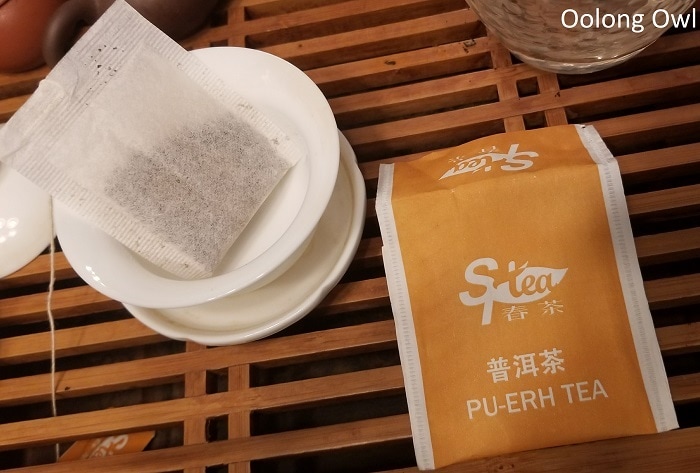 With the bag open, this tea actually looks like loose shou puer after a shrinking ray. It isn't complete dust, and you can make out leaf bits.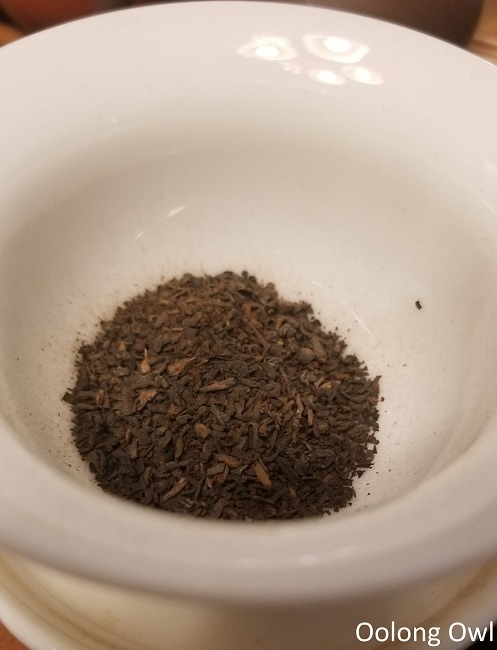 The tea comes up a mahogany brown, though cloudy as to be expected.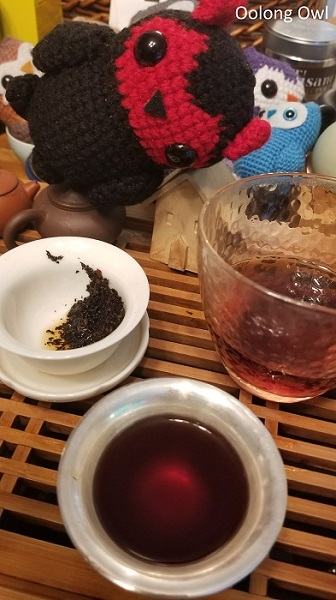 Flavor wise, this isn't bad. I got smooth creamy woodsy notes, with a mix of dirty carpet. I also have contamination in the first infusion as I can taste the flavor of how my tea bag jar smells like… which is bad. A reminder that tea bags can pick up scents – store your tea bags well! Each infusion got a bit sweeter and once the contamination was gone, it wasn't bad. I only got four infusions as the flavored just died quick. What makes this taste not bad as it is puer woodsy dirt tasting, not dry, bitter, fishy, nor too strange. This is drinkable in desperation of needing puer. Also, I've had much much worse puer in cake and cheap mini tuochas form.
Will it Gongfu? Yes. Better than some mini tuochas.
BeLight Tea
BeLight Tea was all the rage one year at World Tea Expo – a tasty puer blend with the usual "magical tea wellness" properties tags. What sets this tea apart from other weird diet tea is the lack of senna, so this one won't make you poop. I've said it before, I don't believe in tea health effects – I drink a lot of tea and it has done nothing besides tea drunk sessions.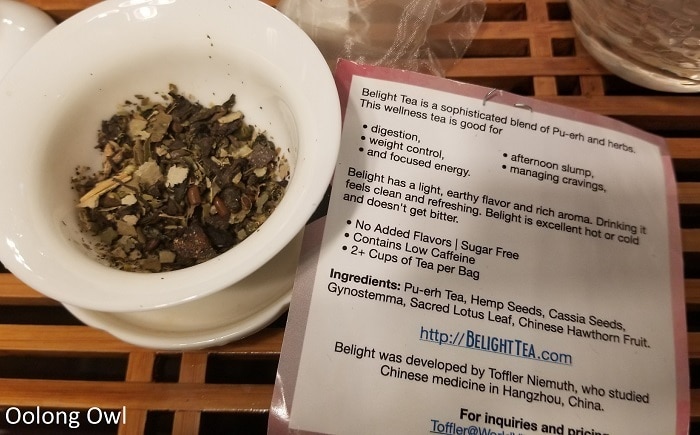 The tea brews up a pretty light copper that is fairly clear.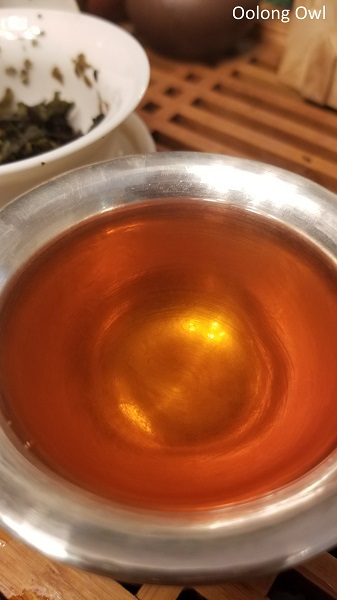 The flavor is nutty, like my mouth is full of random nuts I ate at a Christmas appetizer nut cracking plate. There is an interesting light caramel sweetness and overall very smooth and easy to drink, but intensely sweet. It tastes like I was trying to make iced tea, added the sugar already, but failed to add the ice so the tea is concentrated. Note, there is no sugar in this tea, likely some herbs that have the effect of sweet. All I want to do is water this tea down and drink it western style.
Will it Gongfu? No, probably better iced.
Slimming Puer
Like the last puer tea bag, this Or Tea? one is also a diet one. However, unlike the last puer tea, I don't know if this one has intentional laxative side effects. Oh well. I do like their artwork on their tea bags, so cute!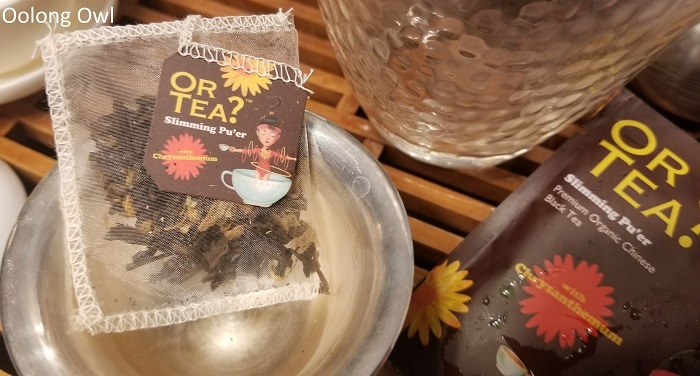 They also had an oolong I actually kept the bag tab on. Monkey Pinch Oolong!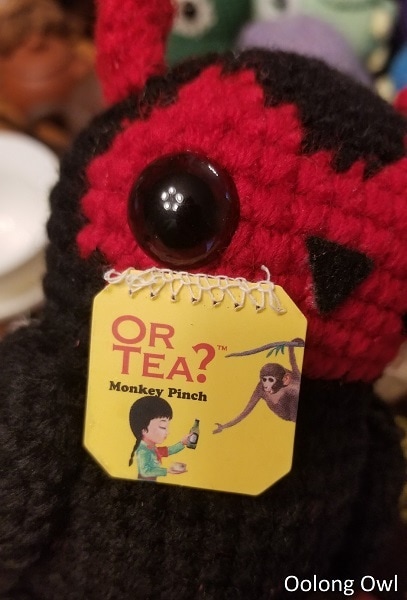 Brewing this smelled bad.. like rotten celery. Otherwise the colour looks pretty, and the leaf looks great – like another loose (non dust) shou puer with chrysanthemum leaf.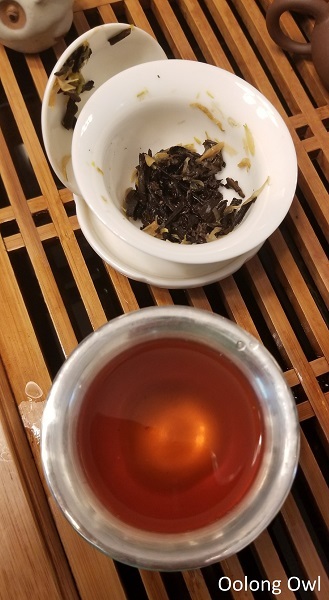 The flavor is a no – it tastes like celery gone bad. Hilariously, the silver tea cup makes it worse as it brightens the celery flavor. I can't taste any puer at all. A longer infusion with more water made the puer stand out more, with an earthy taste with less celery and actually chrysanthemum. I am thinking there is just too much chrysanthemum to make this gongfu right. Western style, this Slimming Puer is much better as it tastes like a floral chrysanthemum tea with a puer earth background.
Will it Gongfu? Unless you love celery and got peanut butter on hand, no.
LongRun Easy Brew Puer
Easy brew? Bah, let's make brewing not easy.
What the hell is this. THIS IS THE EVIL POWDER OF THE DARK SIDE!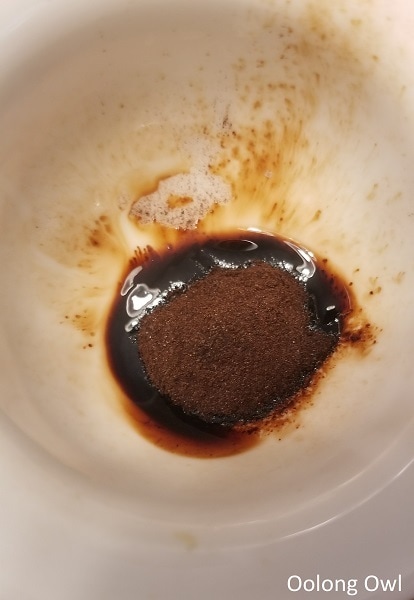 It gongfu'd easy, with no leaf left after so no strainer was needed…. duh.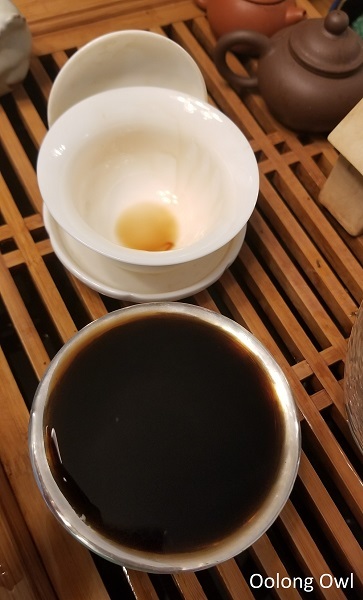 It started quite similar to my instant Starbucks coffee sticks that I feed to my Dad/ Father-In-Law. The gongfu instant puer like tastes bitter, strong coffee. I can't get more technical as I don't like coffee and simply said "ew, coffee" to the Tea Owls. Then the strong fishy puer in the finish came. We have instant fish.
Will It Gongfu? What the hell did I just do to myself?
LongRun Instant Strawberry Puer
There are a couple things wrong with this. Can you figure it out?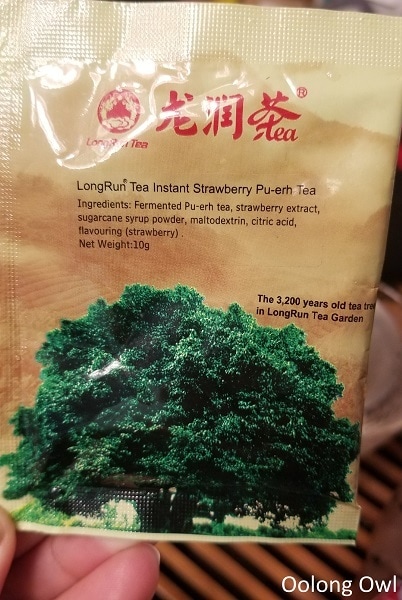 Actually, add another thing wrong as per the best before date.  It is my fault for having this sit in my stash for 2 years.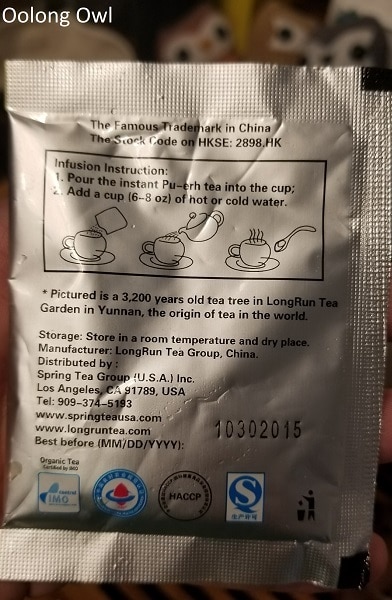 The powder. HOLY HOOT!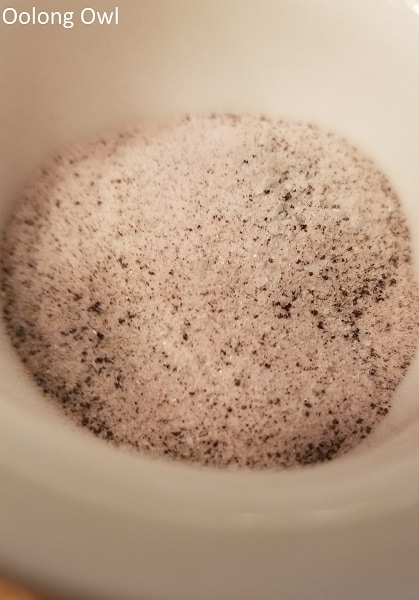 What we have is a trend, Unicorn pink puer. With some blue, purple, and sparkles, and we will have a winner. Tea balls? Fancy puer gift packaging? You tea sellers aren't with it with the Millennials. With water… MAGIC!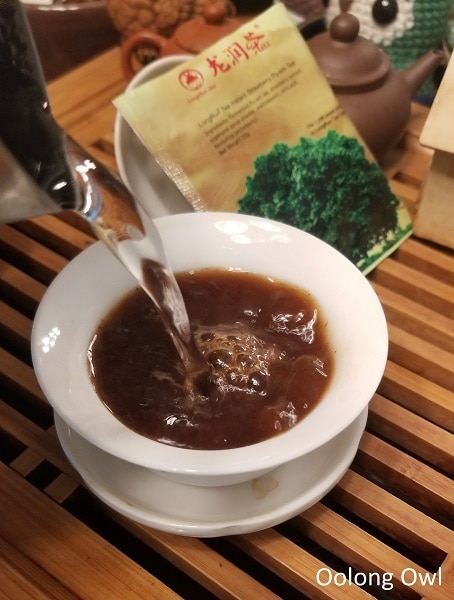 Now it looks like any shou. I could bring it to the next tea party or slip it in with some other teas, and no one would suspect a thing other than WTF Instant puer.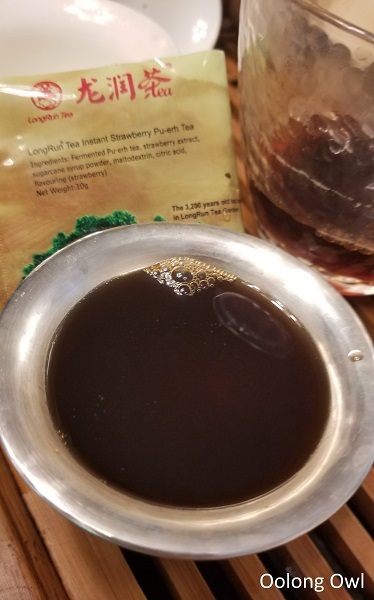 The flavor is SUPER SWEET, the sweetest of them all. It is tooth rotting sweet, with a mix of fake strawberry candy flavor, with a finish of a bit of woody puer and a touch of fish. Fantastic. I diluted it to what should be how I am supposed to drink it, and it is simply sugary strawberry candy with an earthy background. I could see this tea being at a coffee shop, as it has that red flavor that caffeinated children would love. Add some whipped cream and sparkles, as we got a new hit.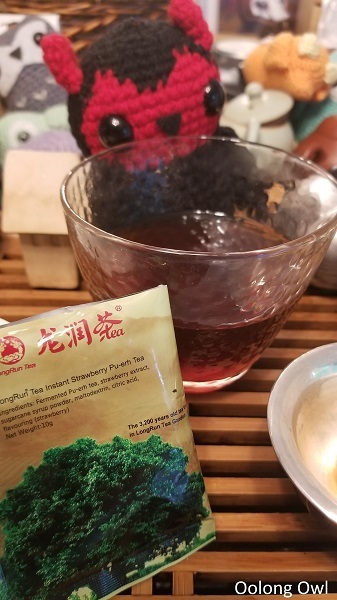 But we must as the age old question. Will it Gongfu? No, my tea table got sticky. I had to put my tea table out of commission for the day to wash it with soap, oil, and dry it.
(various tea freebies for review | amazon affiliate link)