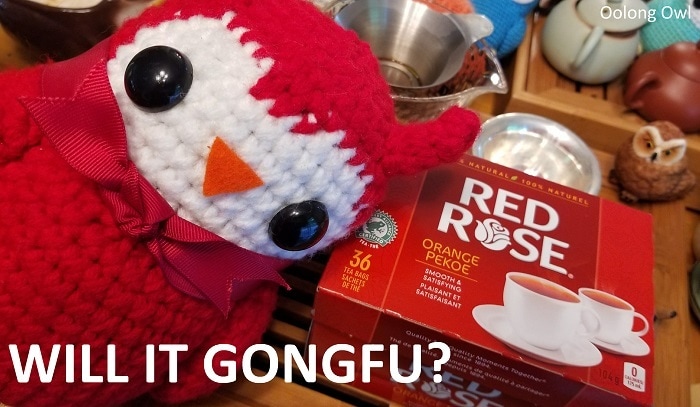 Red Rose is a tea I drank as a kid growing up in Vancouver Canada. Majority of restaurants and coffee shops in Canada carry Red Rose. Likely many homes have a box of it in the cupboard, along with Canadian Tetley tea. Interestingly, and I have wrote about this before, Canadian boxed tea is prized in the US as it tastes better than the ones made for US drinkers. It appears the Canadian Red Rose tea in particular is a straight Orange Pekoe, vs the weaker blend that the US gets.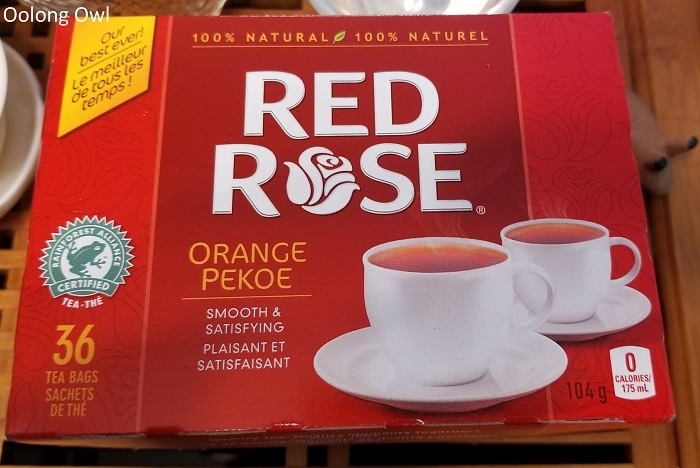 It actually took me visiting four shops in Vancouver to find Red Rose that came in a box with less than 72 bags. I don't need 72 bags of this stuff, nostalgia be damned. The smallest box I found is 36 bags, which is still a lot of tea considering many tea bags are sold in 12-20 per box. You know this is serious daily drinker crap if most stores carry the bulk box. I also needed authentic Canadian Red Rose tea. This tea looks real due to all the french on the box.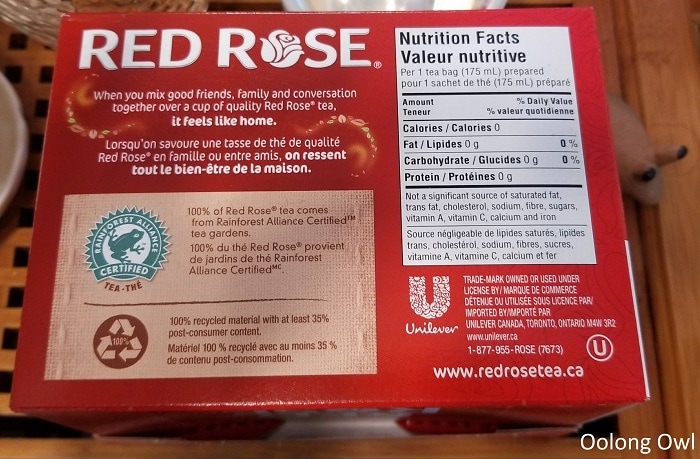 Heh, they changed the bag. I bet that pissed off all the old people.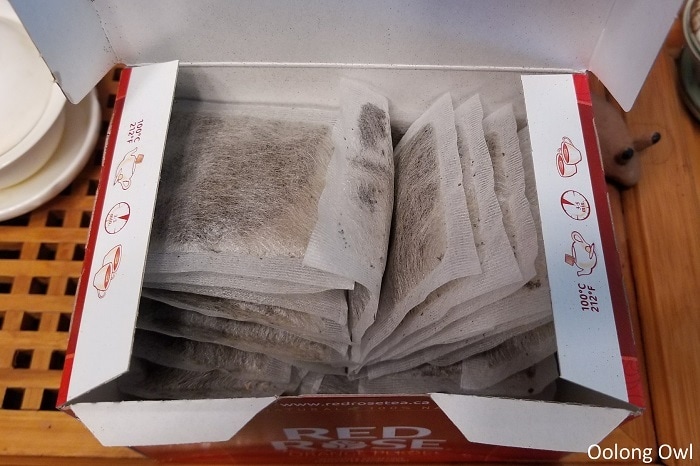 Opening the box, and I can smell the nostalgia. My guts instinctively retreated expecting that bitter tea that I doctored with many sugar packets as a child. We must ask the age old question W I L L  I T  G O N G F U  to see if I can improve the flavor.
Dry Leaf
There is quite a lot of tea in one of these Red Rose bags. Weight check – 3 grams of dust leaf per bag! WOW. This bigger amount of tea is likely a reason why Canadian tea is prized, as I have heard people say they like this one as it is stronger. To put into perspective, most tea bags have 1 gram of tea. Sometimes they have 2 grams. Those "loose leaf" tea bags often come in 3 grams.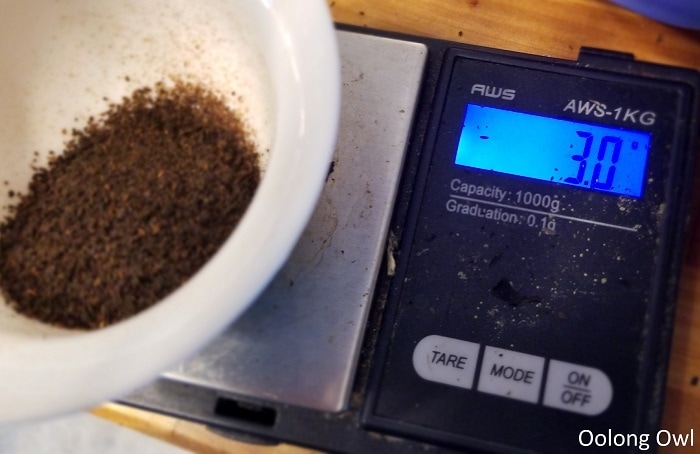 Despite the high tea bag weight, the tea is still dust.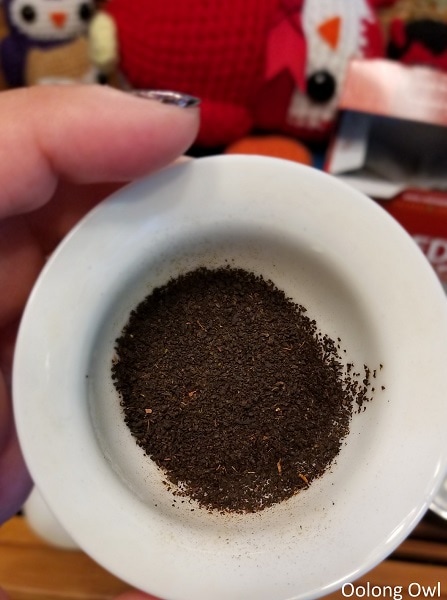 I did a ratio of 1 gram to 13ml of vessel, steeping with boiling water. This being the 3rd Will It Gongfu of questionable tea bags, I am now experienced in gongfu'ing dust and mud.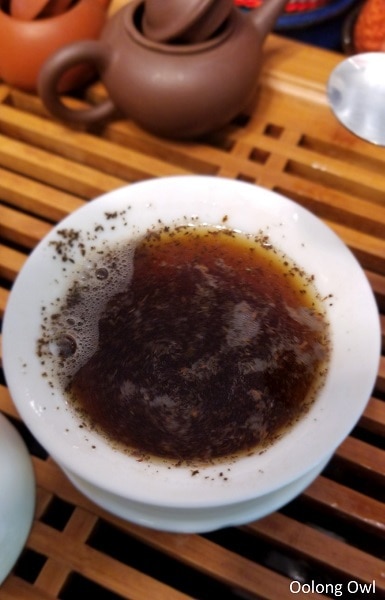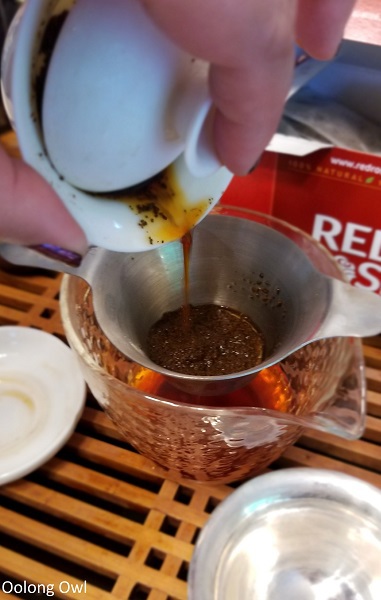 Whoa, Red Rose steeped up cloudy, but that colour is RED. In silver.. VERY RED.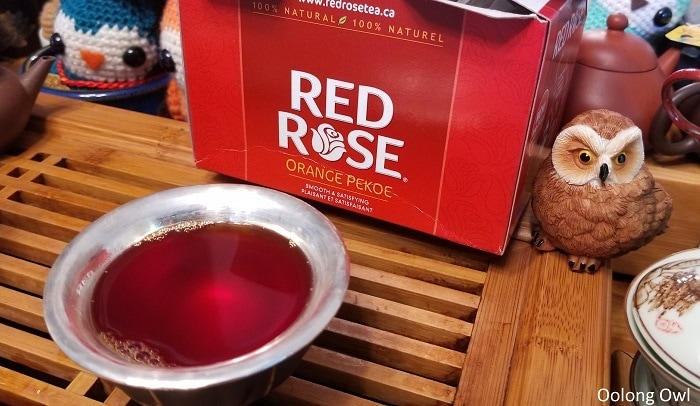 Will It Gongfu – Canadian Red Rose
First, Second, and Third Infusion: The sip is ultra gag. It is SO PIERCINGLY BITTER that you have to gag the tea down. If you can get past the nasty bad bitter, (and I feel so pro) there are nice cherry wood rich notes and cherry stems. But holy hoot, this is so bitter. I am drinking it in silver and it still tastes like bitter death. Sorry Canada.
The steeping process I found interesting. While steeping Red Rose looked like sand underwater.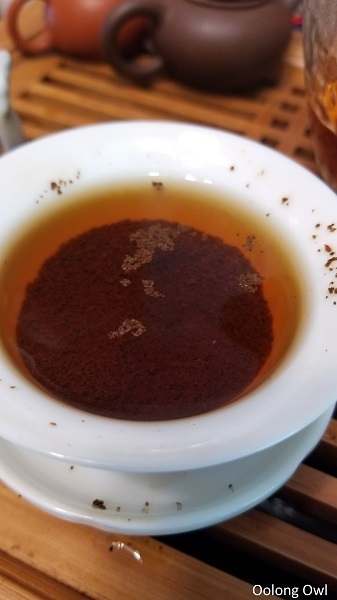 Drained, Red Rose looks like raw, and trying to curdle, butter tart batter.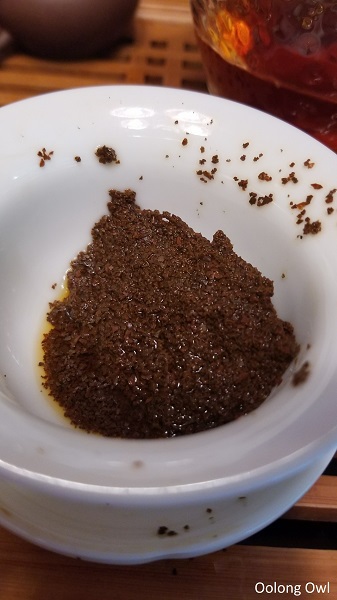 Fourth and Fifth Infusion: I am doing the old sip and dump to get to this point. At these final infusion the tea got clear and very beautiful. You would think I was steeping hibiscus or something. The tea lost its nasty death bitter, but the flavor is strange. Red Rose tastes flat, yet clean, but with little body. Notes of cherry wood and bitter bark, with a strong grandma tea concentrate breath. Gongfu Red Rose is oddly drinkable in a masochistic, apologetic, and friendly way.
It is also so darn pretty and red.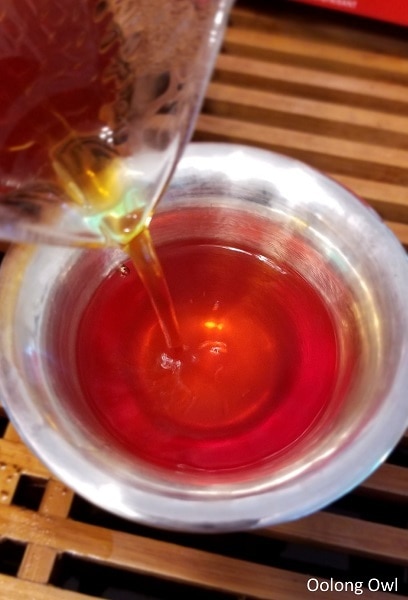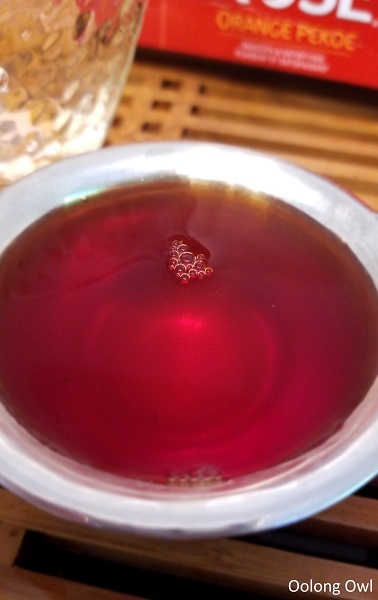 Western Style Canadian Red Rose
There was handy instructions inside the box to steep a bag for 3-5 minutes in boiling water, which I followed.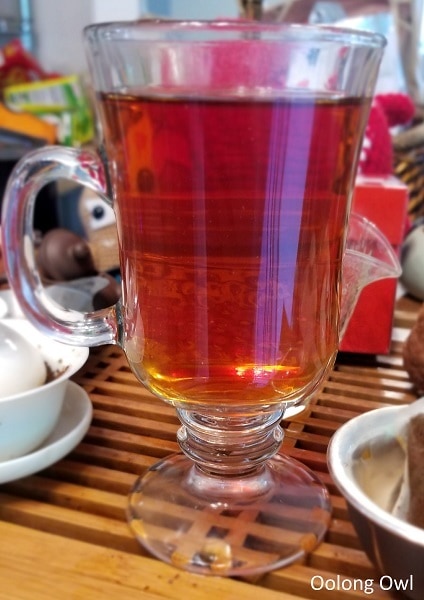 Red Rose actually sips in quite smooth, but then gets that typical tea bag taste of stale cardboard, but this has a mix of bitter cherry wood and stale caramel. It tastes close to the last infusions of gongfu with a little bit more bitterness, but I rather have this cup of "blehhhh" tea than prolonging the terrible with 3 infusions of horrible, then 2 "blehhhh" infusions.
I have had worse (cough US Twinnings/Bigelow/Liptons cough) but of course, I can pull 600 teas from my stash that taste better. It is likely in the bottom 10 of worst teas in my stash, beating out fishy ripe puer matcha that I like to show guests to make them hurl.
Canadian Red Rose, Will it Gongfu?
Sorry, no.
20 minutes post Red Rose drinking I got major gut rot. If that sounds good, you can pay a premium on US Amazon for Canadian Red Rose tea despite the 72 pack being $5 back in Vancouver.
(Amazon Affiliate links)