I love World Market Cost Plus – they have a bunch of stores in my area as well as an online shop! I tend to shop at this store for holiday gifts as they have a neat range of interesting toys, international foods, decor, bath stuff and clothes. Their kitchen section is really nice and World Market has lots of tea ware (and teas)! They also have lots of OWL GOODIES! HOOT! I bought a bunch of stuff online for Christmas gifts, but I also got a bunch of owl stuff for myself. I've purchased from World Market before for great priced Cast Iron Tea pots.
The World Market Haul – Owl Stacking mugs, Owl Tea Infuser, Owl Crock and Owl Coasters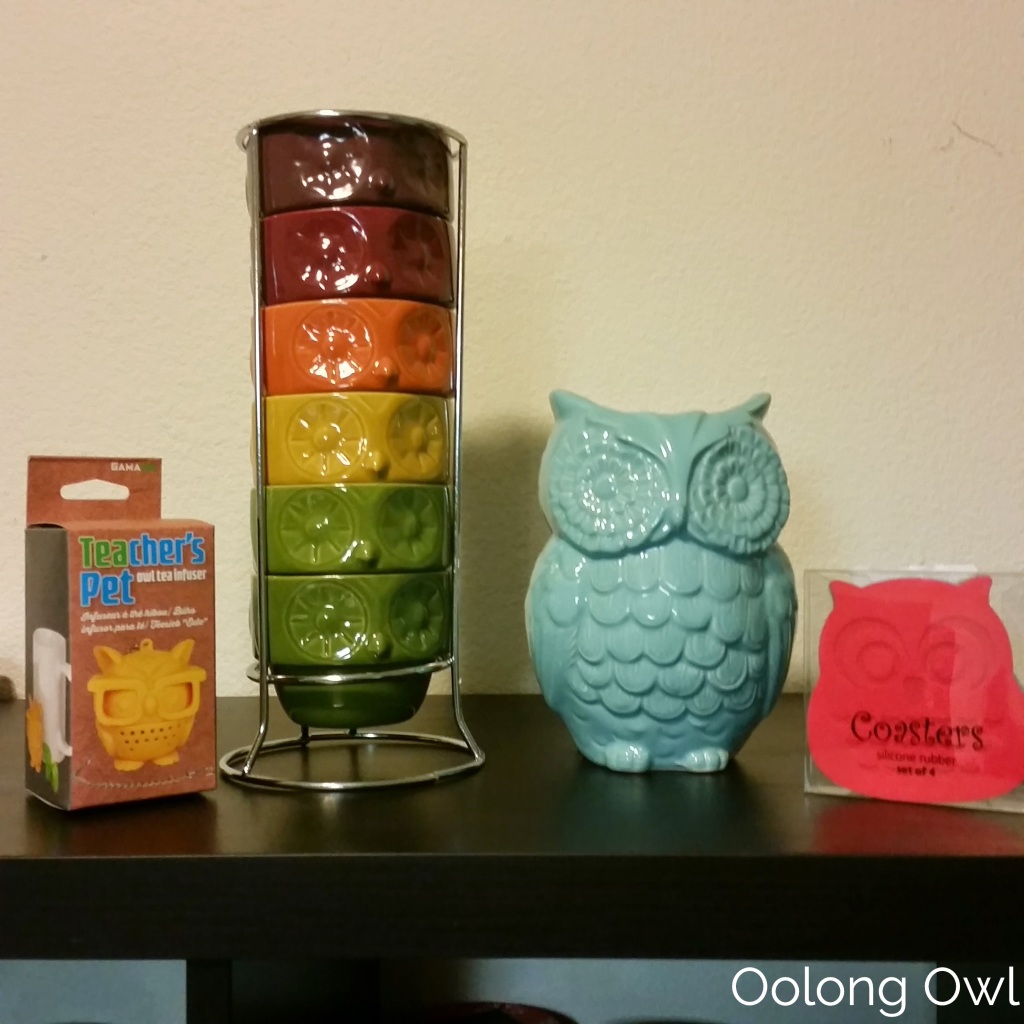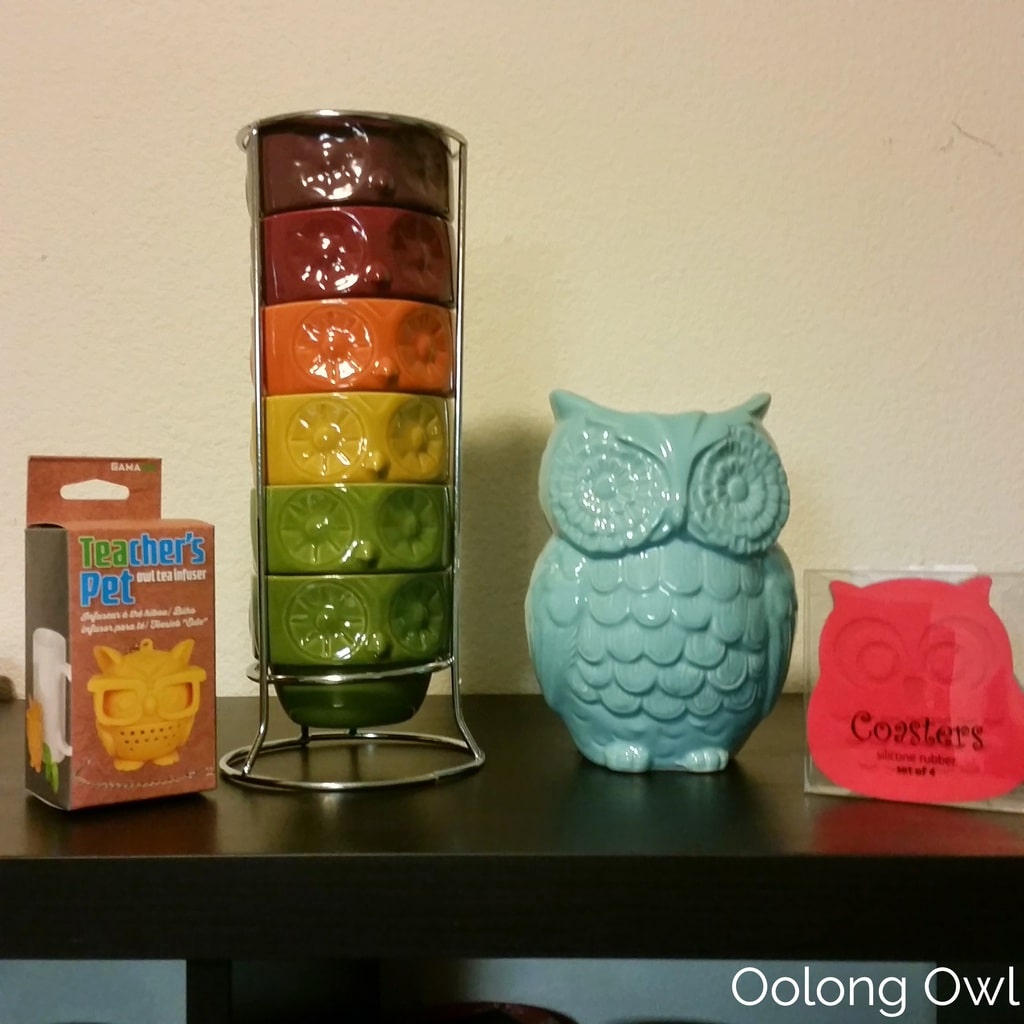 The Owl crock is pretty nice, I purchased this owl intending to have it store my tea utensils. It turns out the Owl crock is too big for tea spoons and was probably made for holding spatulas and stuff. With that said, the Owl crock is just hanging with my tea stash looking hooty. Any suggestions?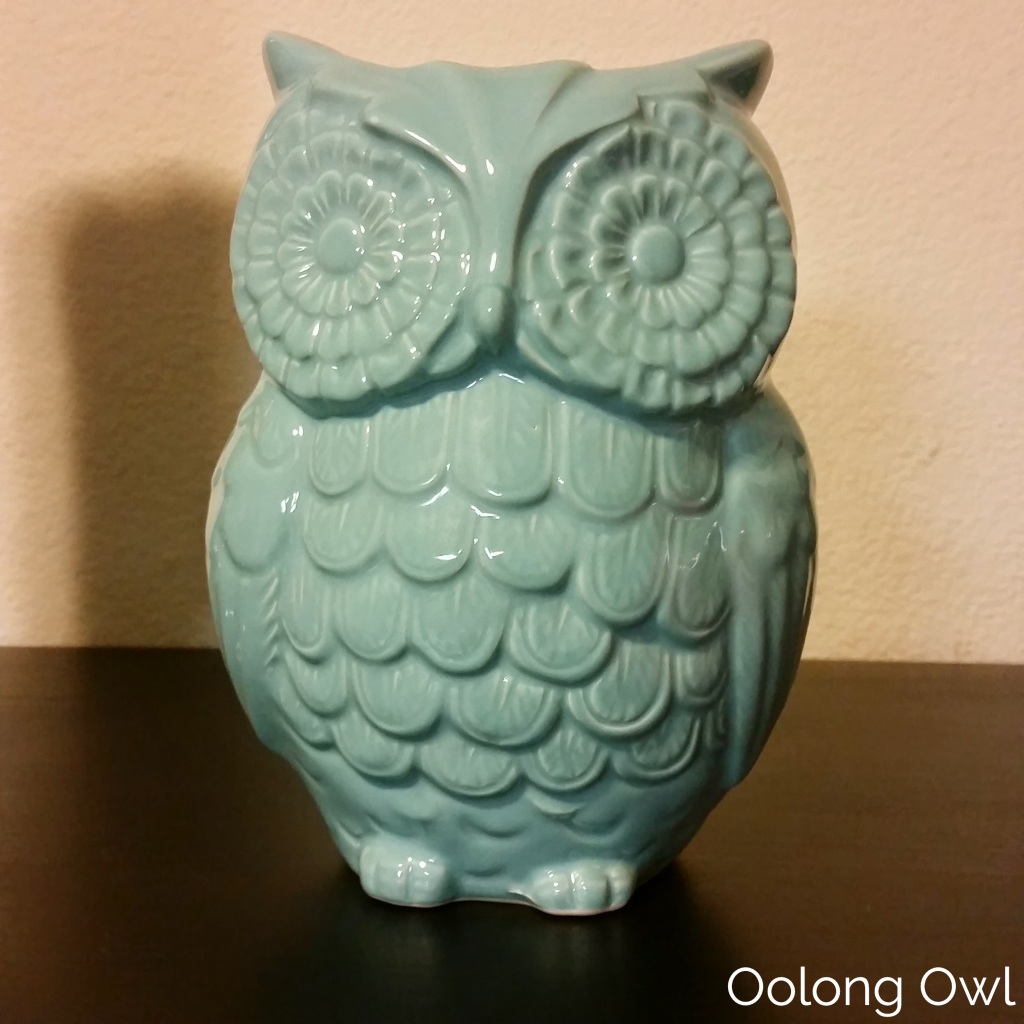 The Stackable Owl mugs are really cute and was on a sale for $11! I mostly like the owl shape, but the space efficient stacking mug is a big perk.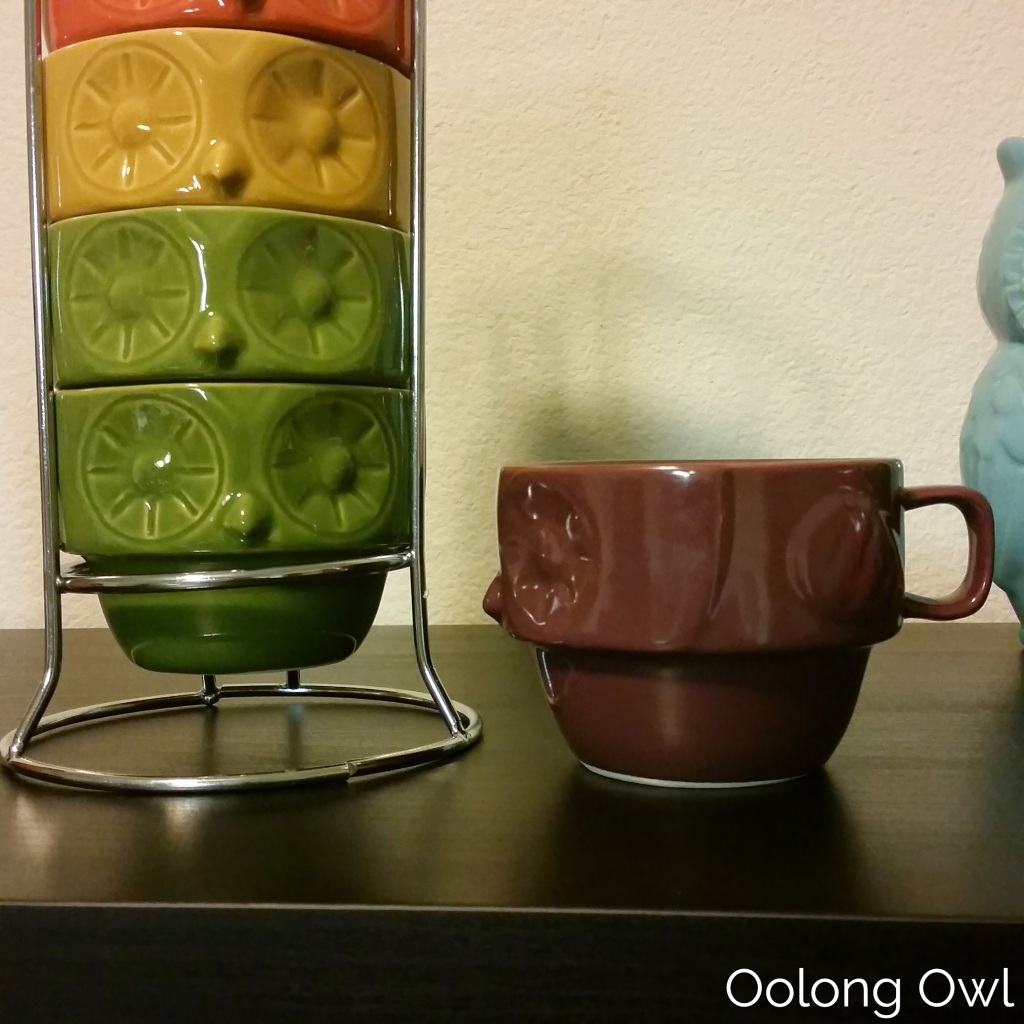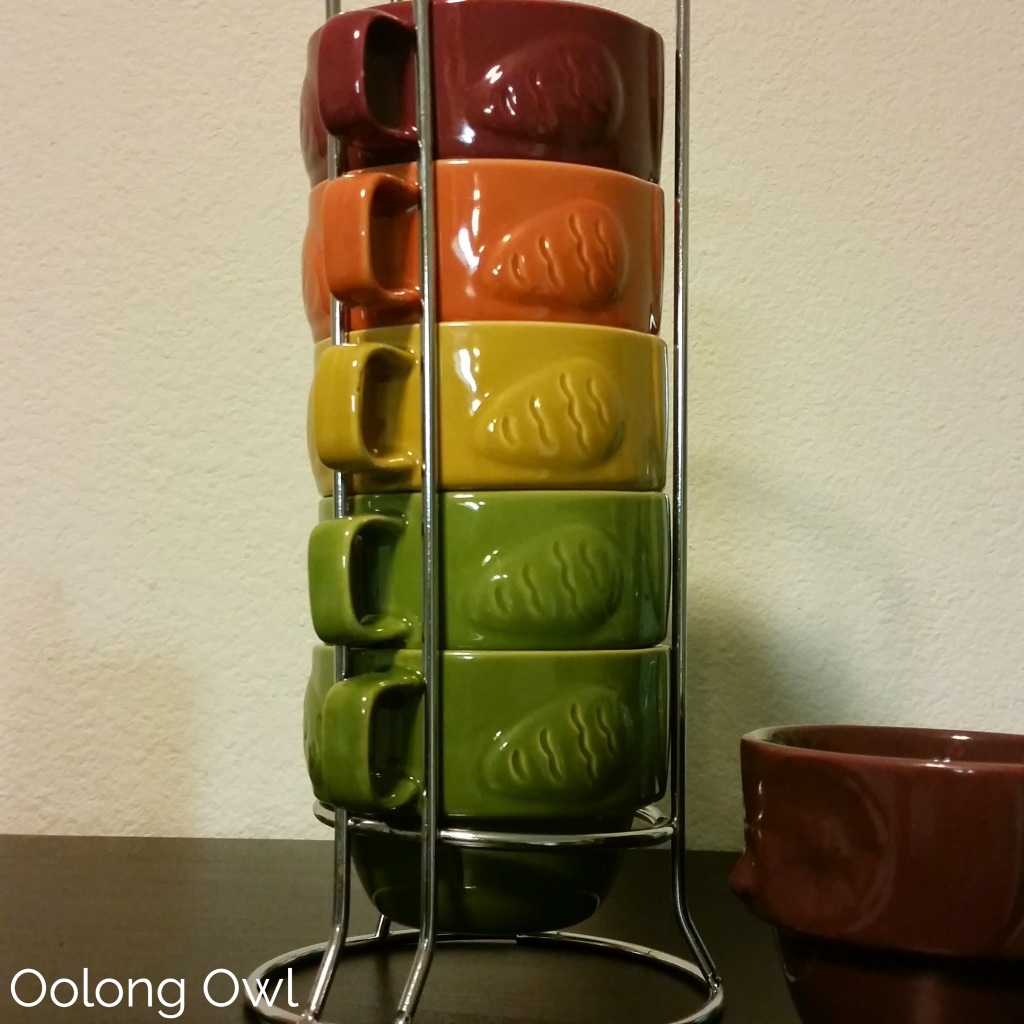 The mugs are a nice 8oz size, perfect for a single cup of tea. The handle is a bit small, but comfortable for my small hands. The only weird thing with this set is some of the owl mugs are kind of oval, so they get stuck in the rickety stand. Otherwise, very cute!
Owl Coasters – I couldn't find a link on the World Market site. These coasters are pretty neat, and silicone! The colours are vibrant and the owls are chubby cute. I never use coasters but I think I will now, I cannot resist putting a tea cup on a chubby owl tummy!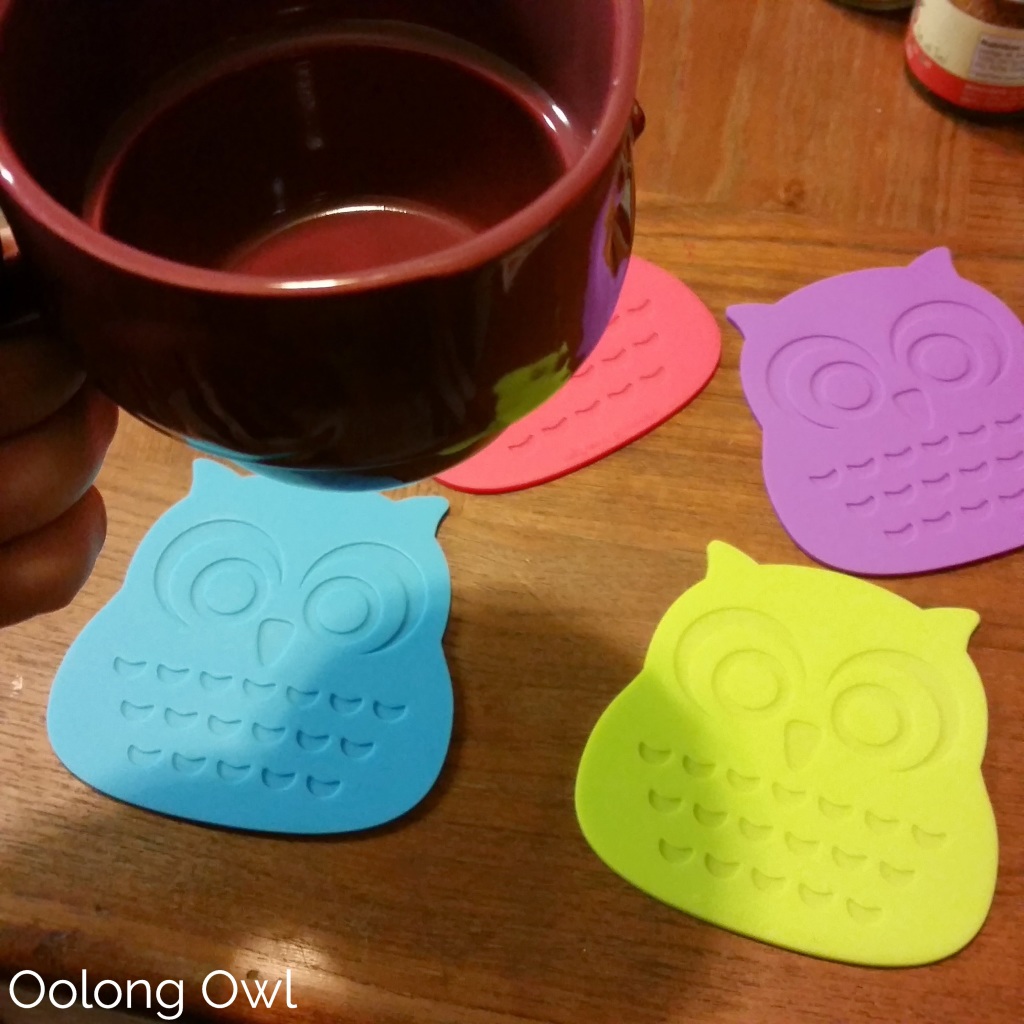 Owl Tea Infuser – OMG YES AN OWL TEA INFUSER! A really cool looking owl too with glasses and a nice sturdy silicone feel to him. *squish squish*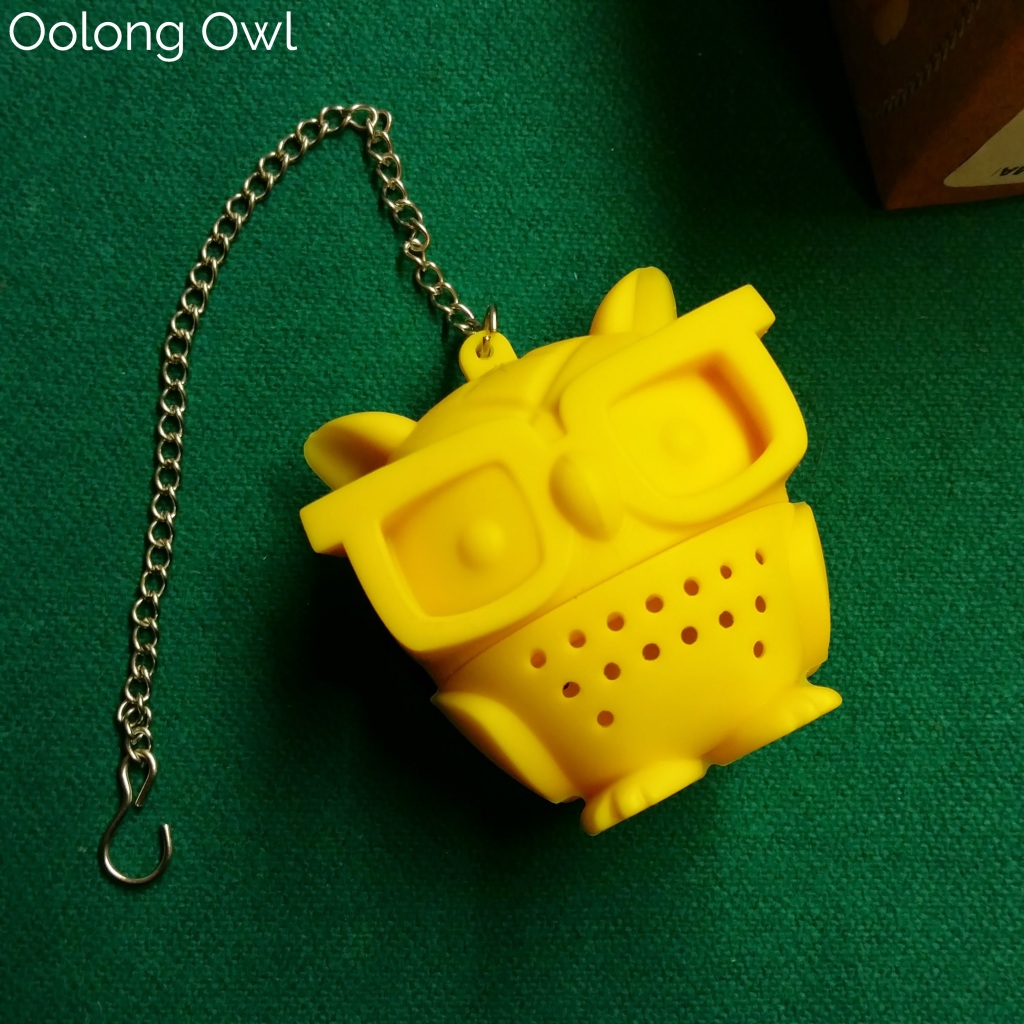 Look at the nerdy owl have prolonged bear soaks in his owl tea cup on an owl coaster!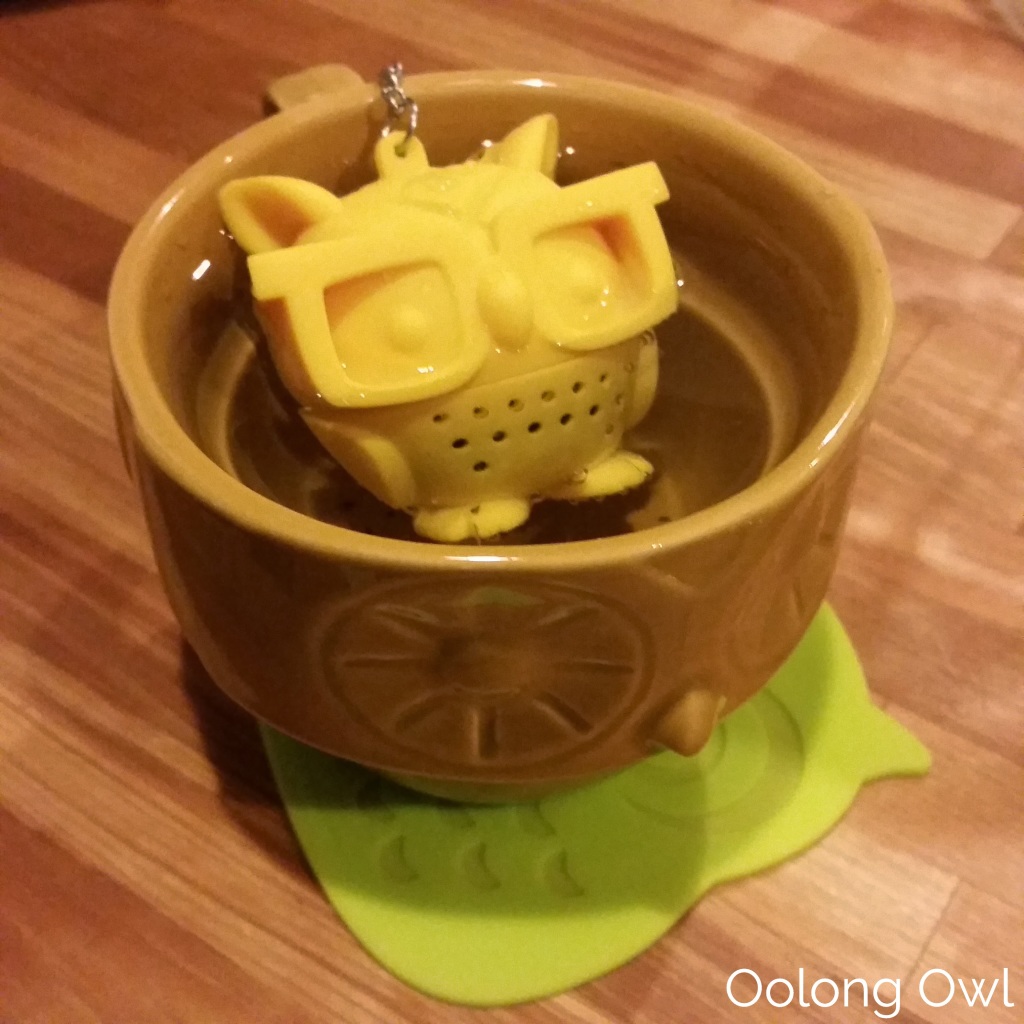 Unfortunately, the infuser performance is poor. I expected as much since these novelty tea ball style infuser usually suck at making tea. First off, inside the owl was tiny – I barely smushed in a teaspoon of tea. The holes in the infuser were on the large side so some tea escaped. The big let down was the flavor – my tea was insanely weak. I've had this tea before many times and have drank it recently, so I know it wasn't the tea. I added an extra minute to the steep time to hopefully salvage my cup, but it was still watery with the bitterness starting to come out from over steeping.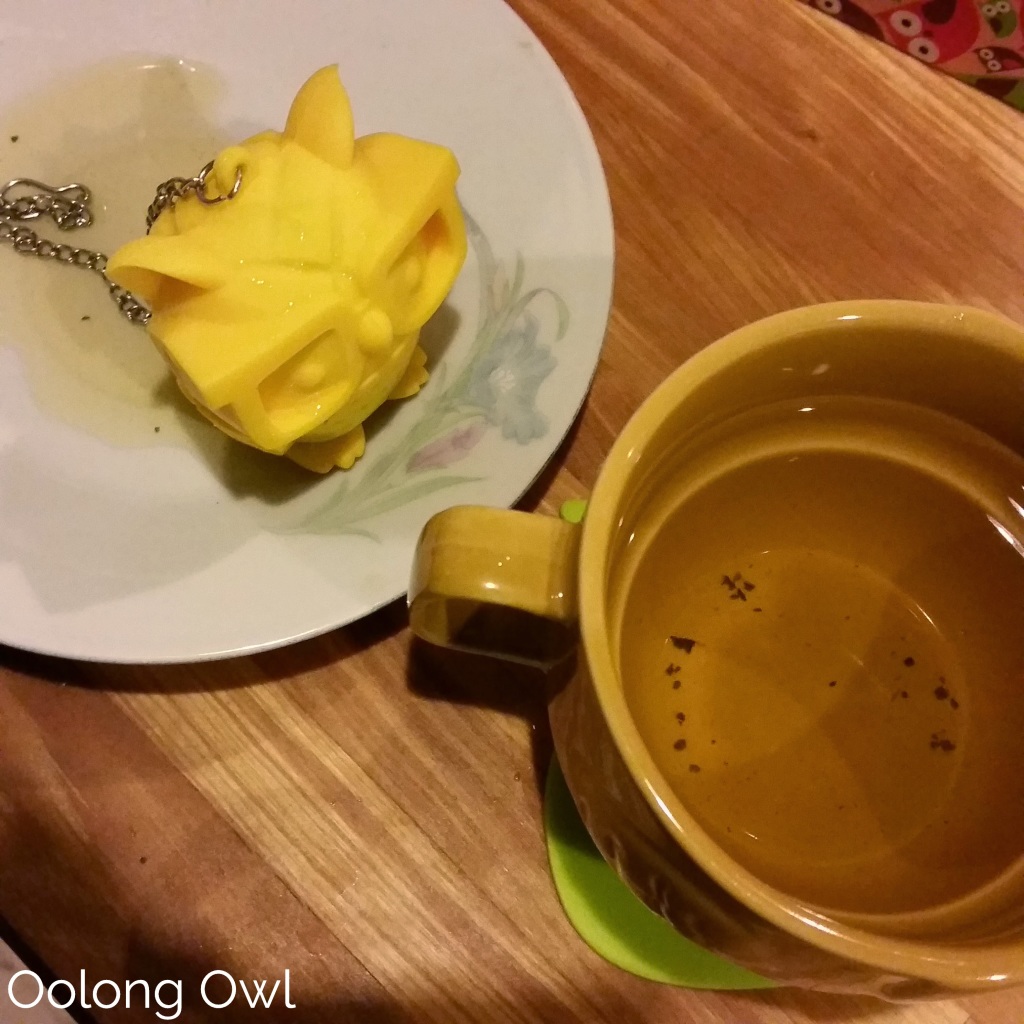 Opening the infuser, the tea pretty much exploded out and was a huge mess. The infuser open is traumatic as you see the owl in half with tea mush leaking everywhere. Yeah, sorry fellow Owl lovers, this tea infuser is 100% novelty. Though, since this owl tea infuser is so darn cute I'm happy to let him hang out with my teas.
BONUS: Do not put the owl tea infuser's legs on backwards! Oh my!