Welcome to the Oolong Owl Hooty coverage of the World Tea Expo 2016! This year the World Tea Expo is held June 15 – 17 in the Las Vegas Convention Center!
I flew in Tuesday night and I'm staying at Circus Circus. I expect a few nights stumbling back here tea drunk, hopefully in better shape than Hunter S Thompson.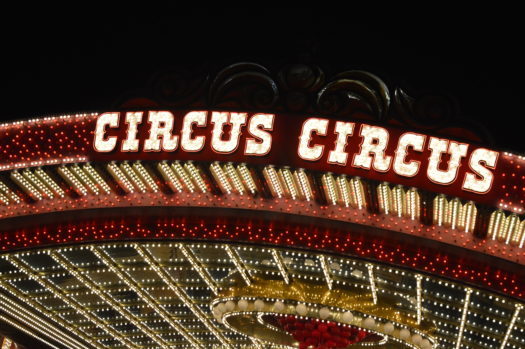 I am here with ZERO tea, no tea in my suitcase, nor travel tea tumbler. I expect I will thoroughly rectify my lack of tea situation over the next few days.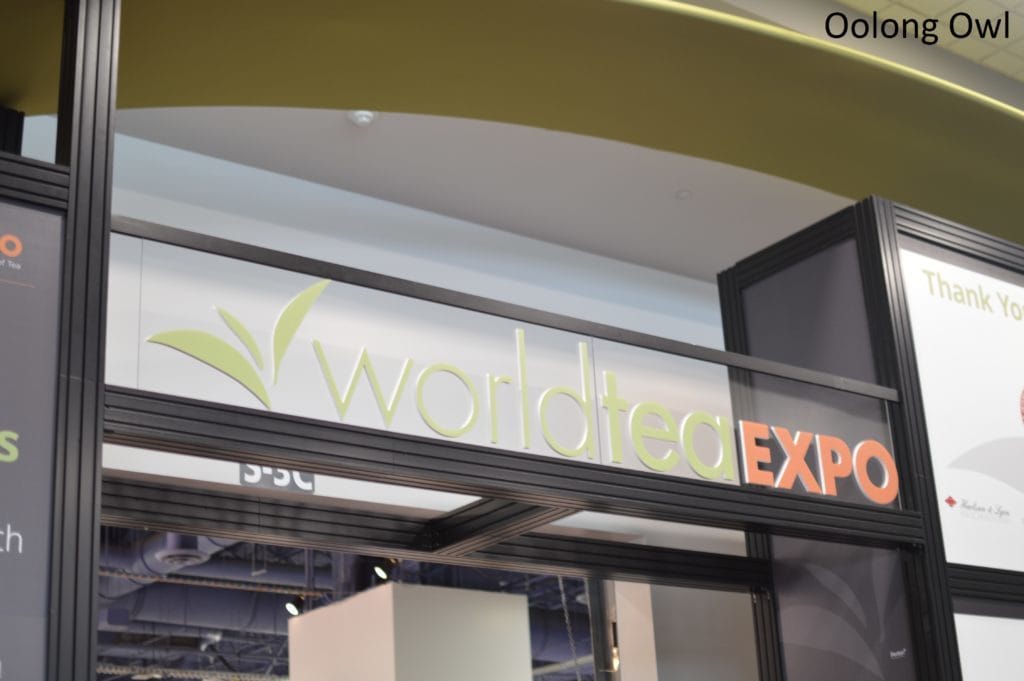 I decided this year to bring my own tea cup so I can do my part to reduce all the plastic/paper cup waste. I brought an unused ruyao cup I purchased in Seattle. Time to stain up this bad boy!
First thing to catch my eye was this beautiful teaware set by a Korean seller Yunnan Zhenweihao Tea Corp. Very tiny tea set and artist made, thus not even close to my price range *cough* $200 *cough*. Such a beauty though!
Tea Owl for scale!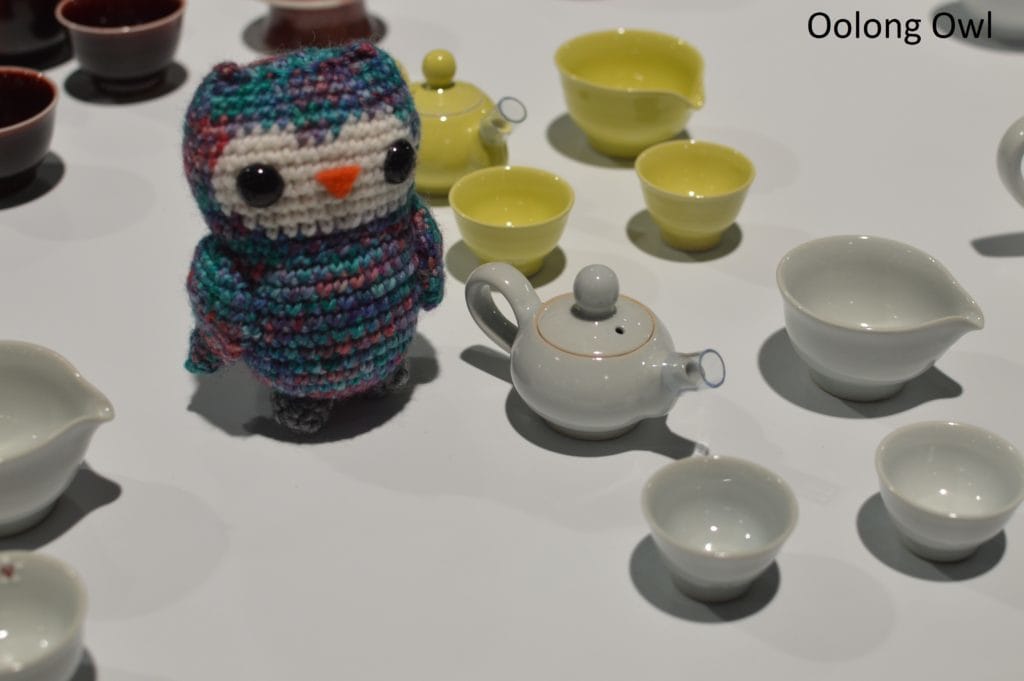 This first most interesting tea I tasted today was a houjicha matcha by Nodoka. It wasn't pretty but the flavor was impressive like a full bodied houjicha! I really want more of it! They also had a genmaicha matcha – it had that grassy and rice taste.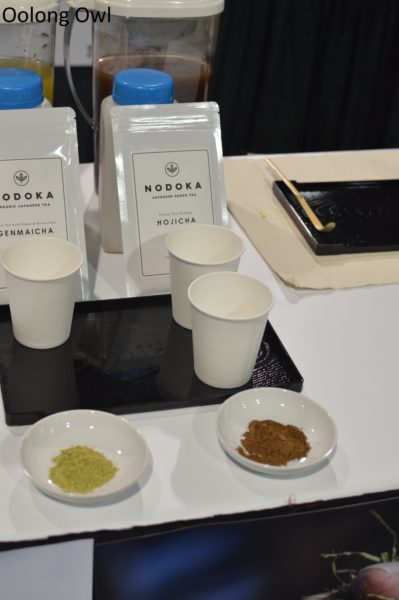 I had also tried some very impressive tea from Nepal. Kanchanjangha has a great ethic of fair trade and organic. They are also involved with the farmers' families with schooling opportunities for their children.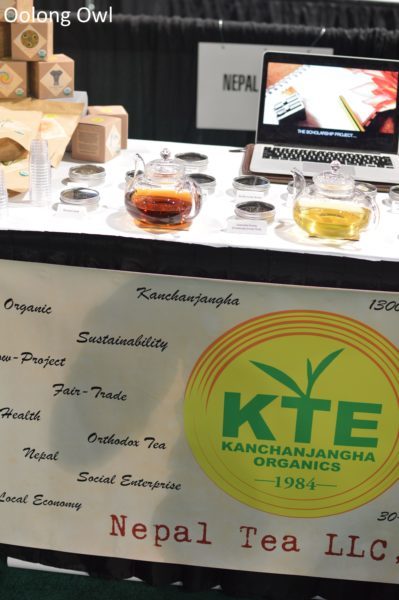 I came across a really interesting tea tumbler. There was a big language barrier so I could not ask about it. This tumbler has 2 chambers, so you can have two separate teas at once. There was no filter, but the concept was very interesting.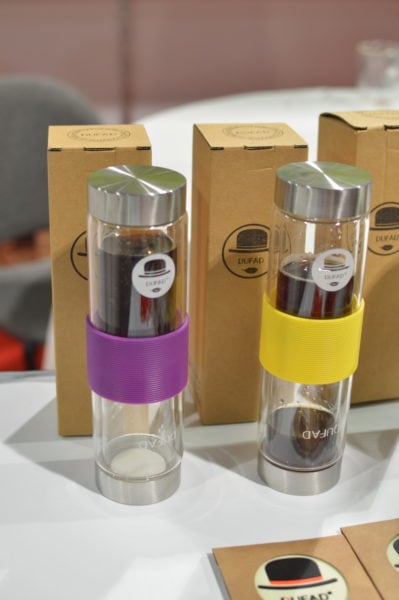 I came across a seller that claims to be the originator of the white tea cake and aged white tea, Beijing Zhenluhao Tea Co. Ltd. FYI I could not find any online links other than their logo, nor nothing on Baidu. Edit (added June 20) They said they invented the white tea cake in 2007, and no other ones were on market even in 2009. They were surprised I even owned white tea cakes, then boldly said mine are fake. Holding my tongue until I get more information on them and my sources.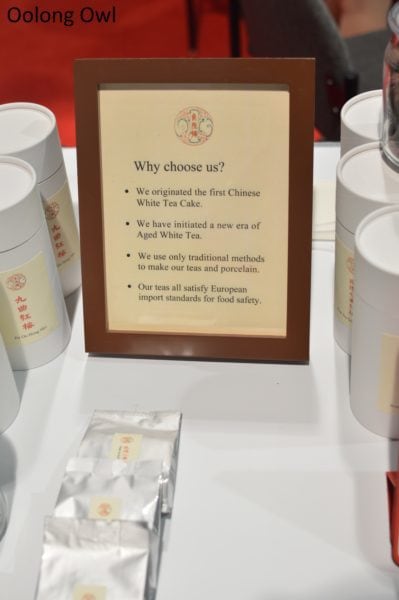 They had gorgeous white tea cakes. This guy… $100. Ouch.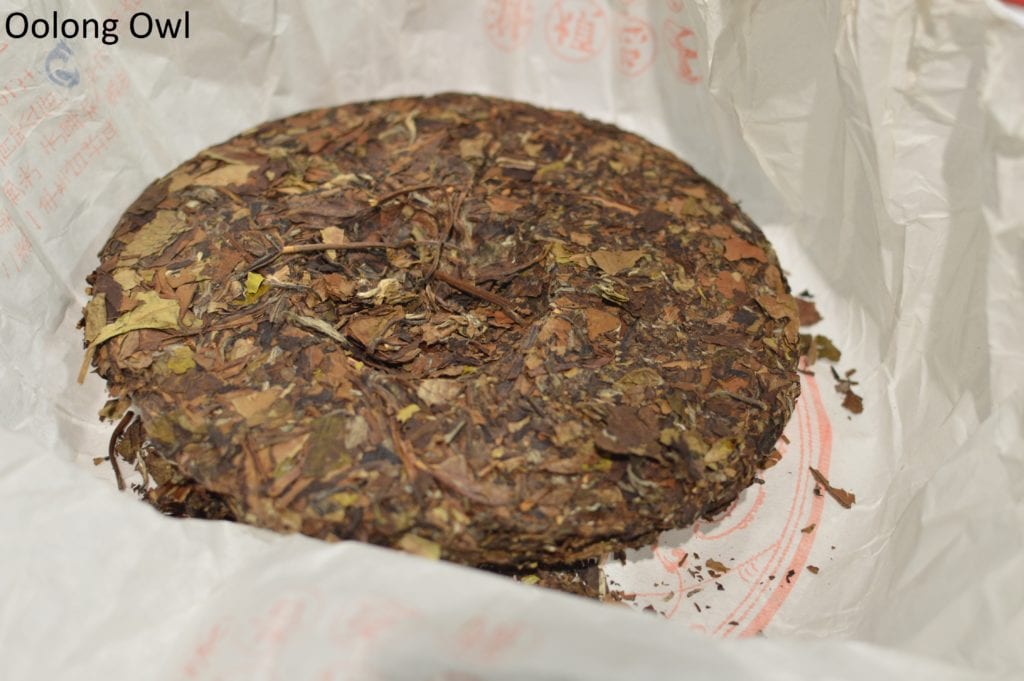 This one is $1000, with just 5 years age on it, WUT?!?!?! Let us admire by photo only.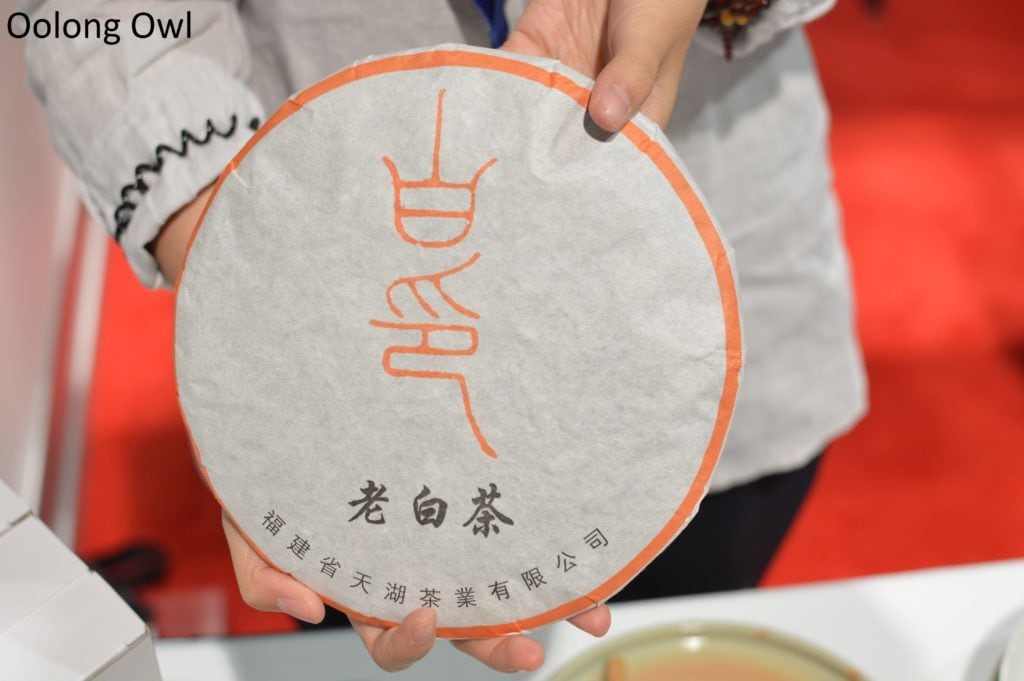 Today was the Tea Bloggers RoundTable featuring fellow amazing bloggers – Tea For Me Please, The Tea Stylist, Steep Stories – The Lazy Literaus, iHeartTeas, My Japanese Green Tea, Joy's Teaspoon, Tea Happiness, and facilitated by Scandalous Tea and The Tea Enthusiast's Scrapbook.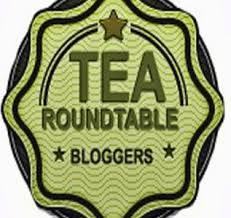 The discussion was great with a focus on negative reviews. The Tea Owls ate all the snacks.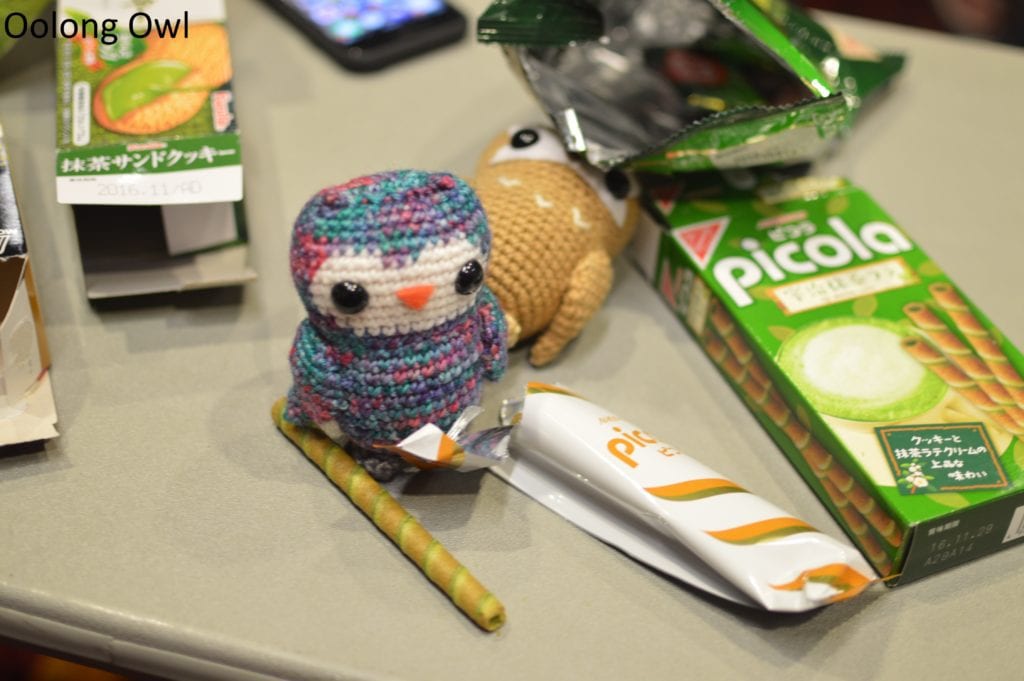 After the Tea Bloggers Roundtable I made way to re-meet my tea buddy, but got side tracked by Joseph Wesley Tea! I love their teas so it was a real treat to meet Joe in person, oogle the gaiwan, and try an excellent Da Hong Pao oolong.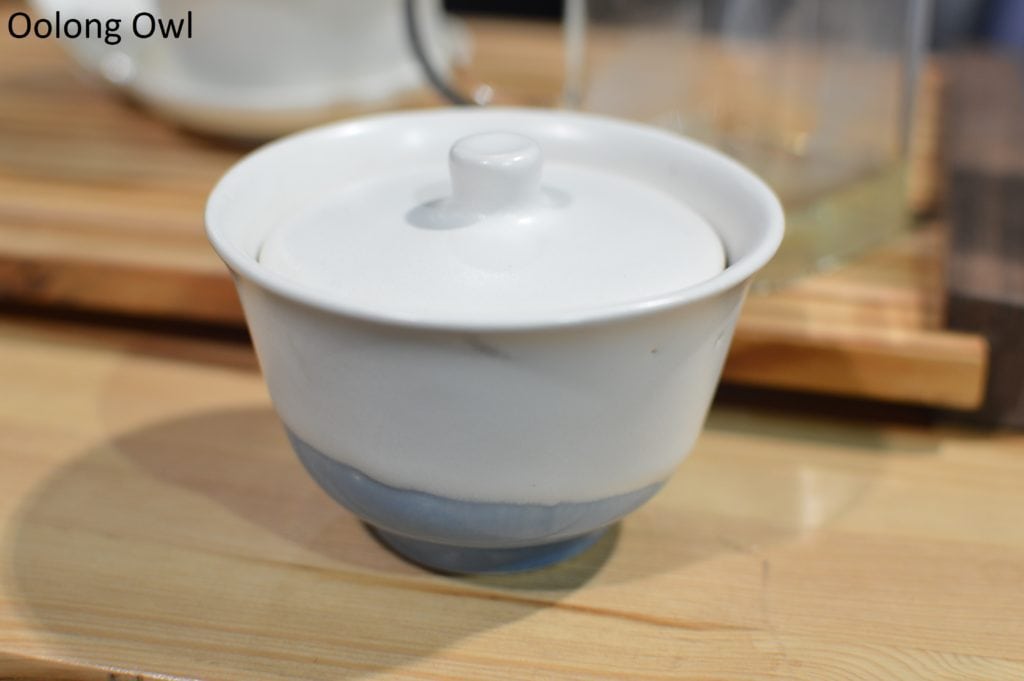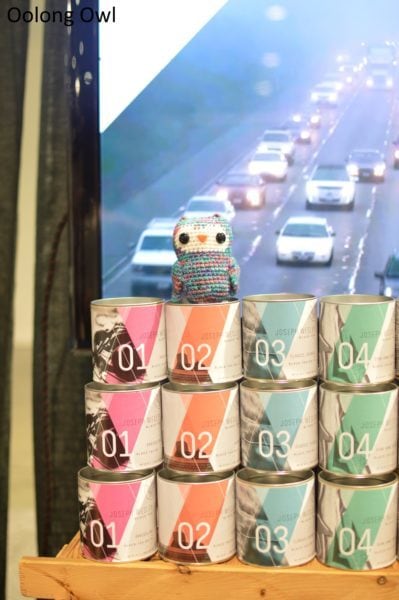 At this point I was very tea drunk and had the bright idea to start photoing waste buckets. Here is Joseph Wesley's waste bucket.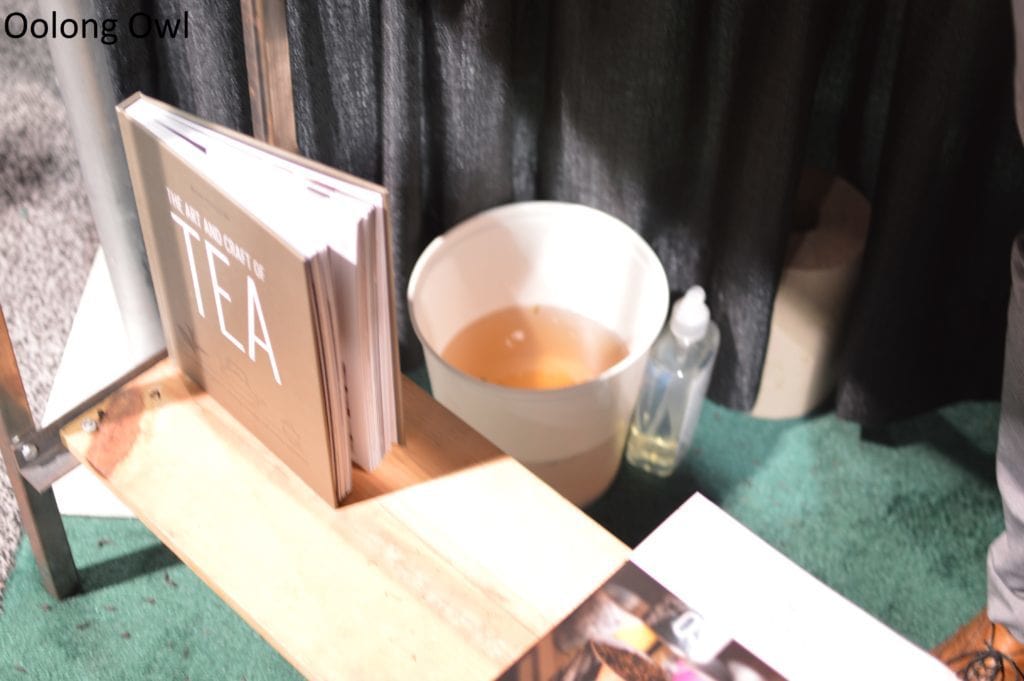 I was excited to see Summus Tea at this year's World Tea Expo. Their cold brew bottle and exceptional Oriental Beauty stole my heart at WTE 2015. They featured NEW cold brew bottle designs, gorgeous tea tins, a tea maker machine, and an insanely good Ruby Oolong.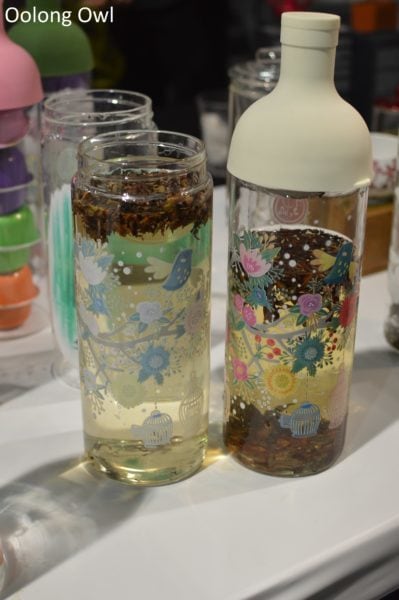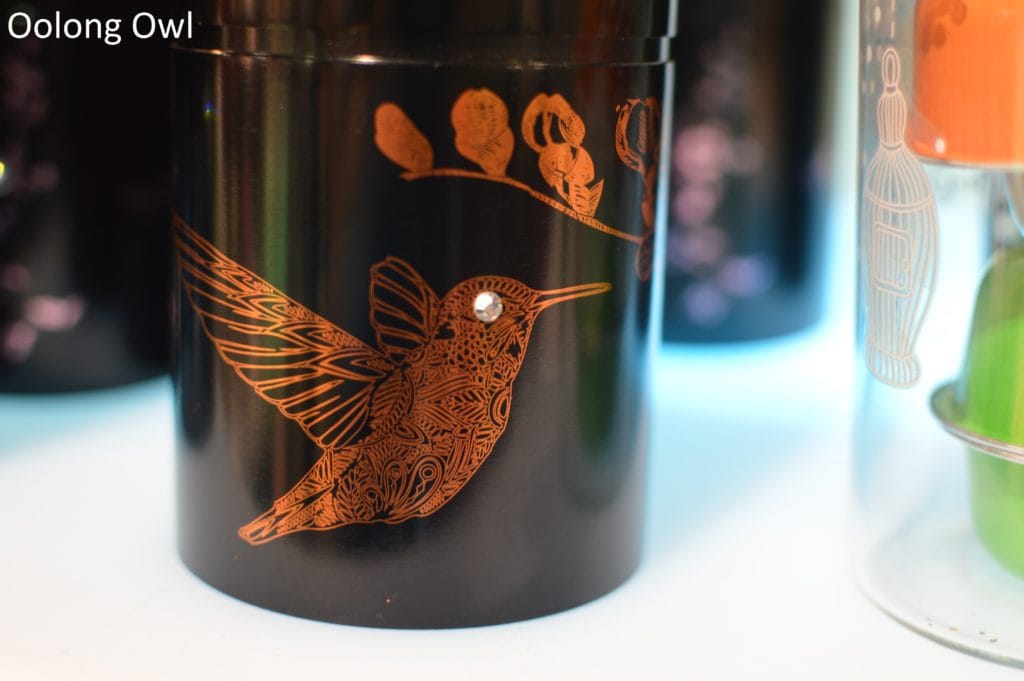 The Summus tea machine is brand new and steeps with individual cups. It uses a very high pressure to steep a tea in a few seconds and can do multiple infusions. Admittedly I had my doubts – tea capsule tea hasn't been that great (or insanely expensive). This was actually really good, especially with the Ruby Oolong and Oriental Beauty, as it managed to capture the complexity of the tea. The green oolong was great in the machine, but was cloudy. They use whole leaf in the capsules, so the pressure used did the magic.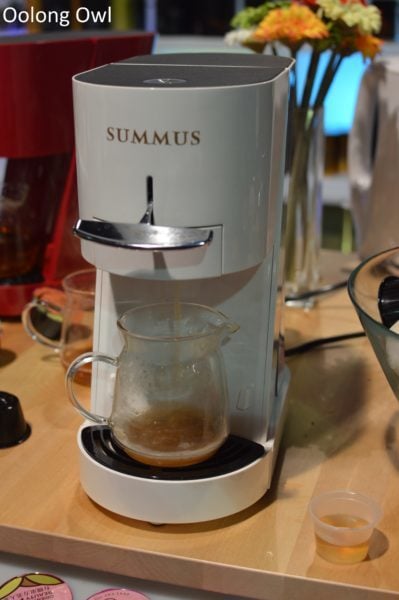 This new tea ware product by Boreal Wildcraft Tea Company caught my eye as I immediately saw "hey, this would not work for a left handed person boooo." as it has a strainer built into the side. I went to talk to them and it appears they do a leftie model, popular at that! GO LEFT HANDERS! I was soooo happy I didn't even see it in action and bought it just because it was left handed. We need more love!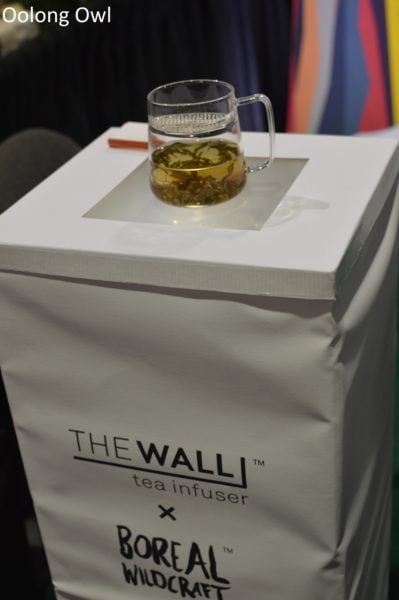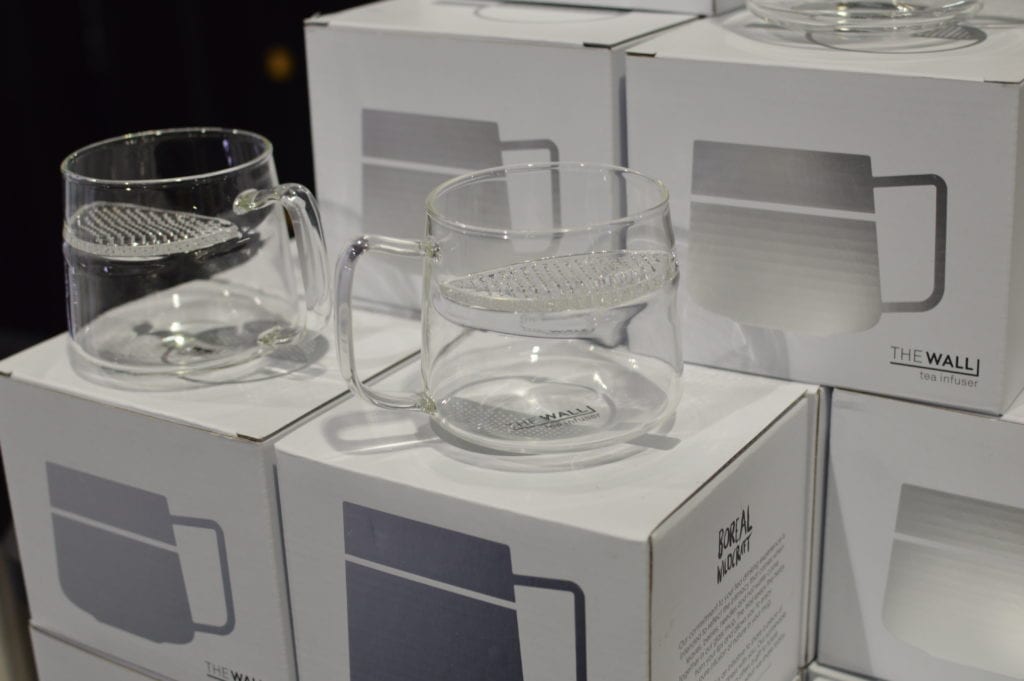 A highlight was also meeting Young Mountain Tea. They had a kickstarter last year for an amazing white tea, Kumaon White. I backed their kickstarter and got the white tea, however I do not have a review yet as it got caught up in my Seattle move busy time.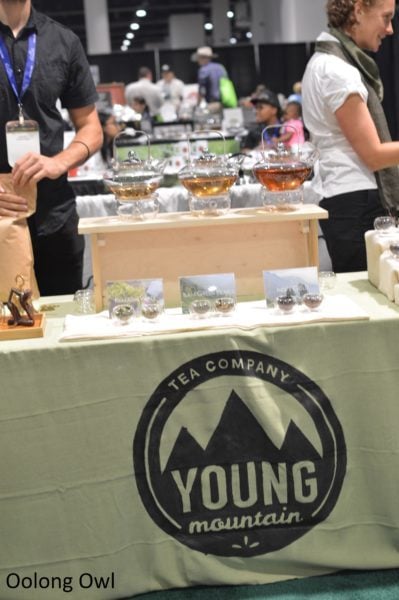 I tried an amazing black tea from them that I need to acquire a large amount of.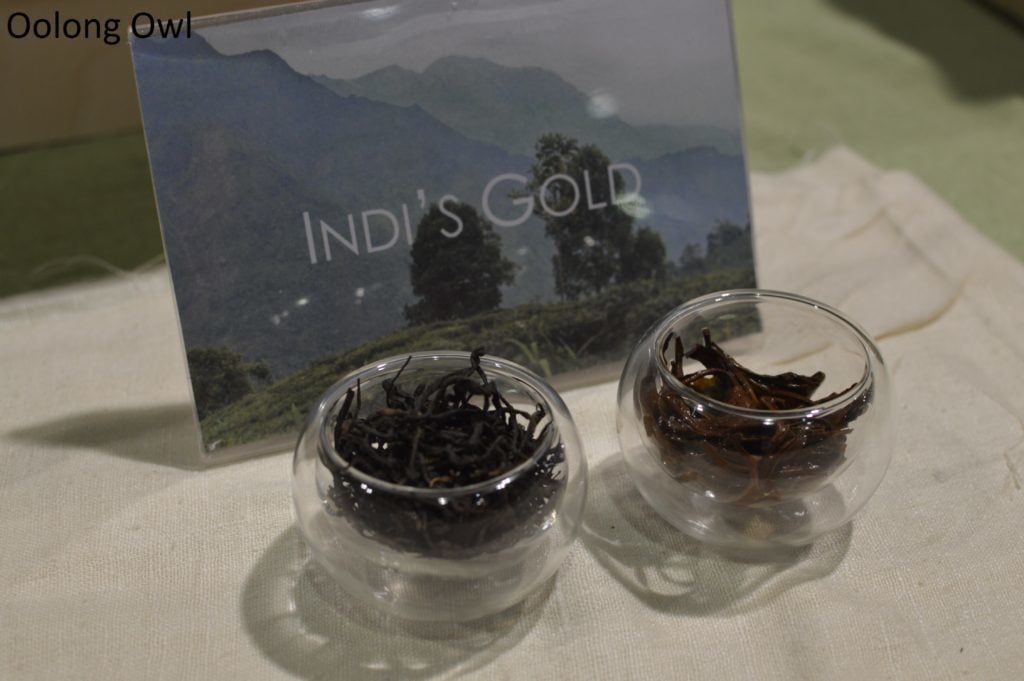 This was the best tea of the day for me – I didn't catch the name of the booth when I was there as my taste buds took over and wanted me to move in. I came back, they are Anhua Lingfeng Mountain Tea Industrial Co. Ltd. Amazing Heicha! DROOOL! I had two different ones, one was a wonderful woodsy "woodshop floor" (as describe by my tea buddy) and the second one was so unique in flavor – it echo a bit of Oriental beauty, woodsy, yet with a dry lip. I will go back on Day 2 or 3 and get the name.. or move in with them.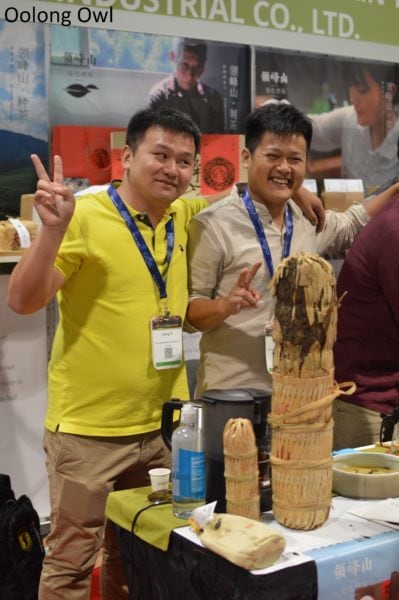 An interesting find was Lumbini Tea Factory. They had some teas I've never seen before.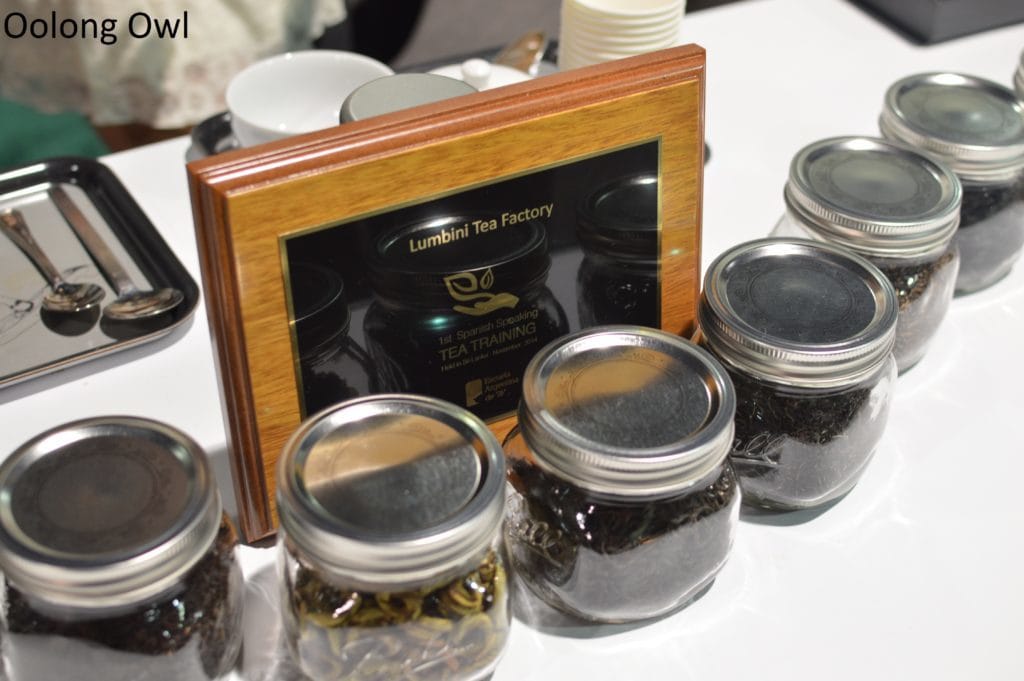 A hand rolled green.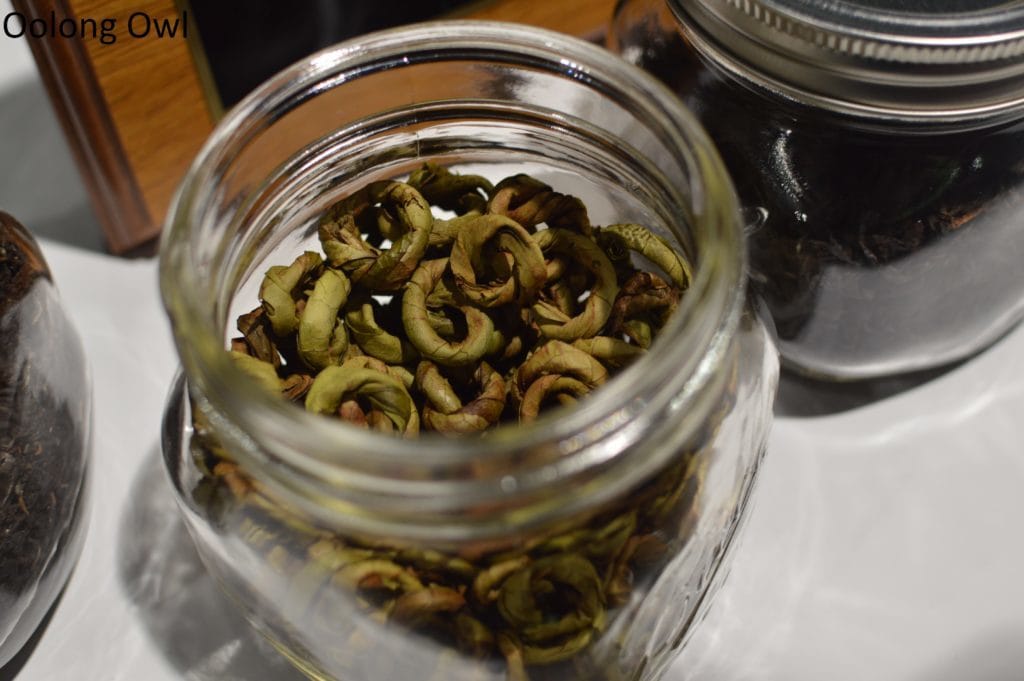 I didn't get much information, but this black tea really looks like a fig.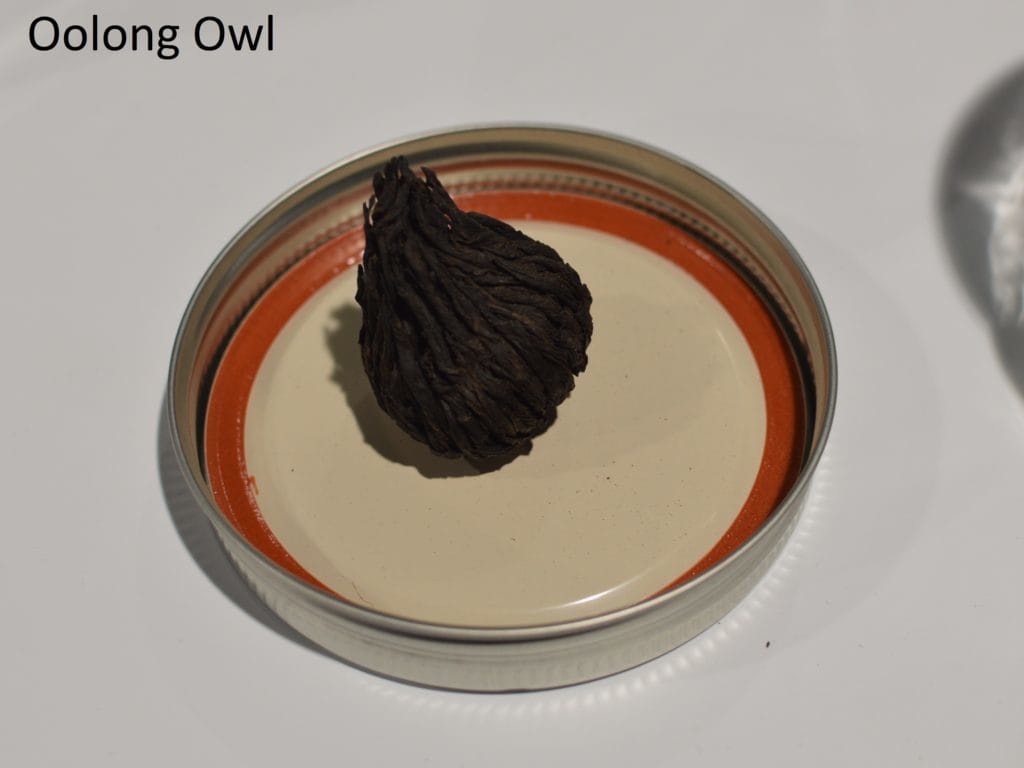 They also had an impressive looking black tea.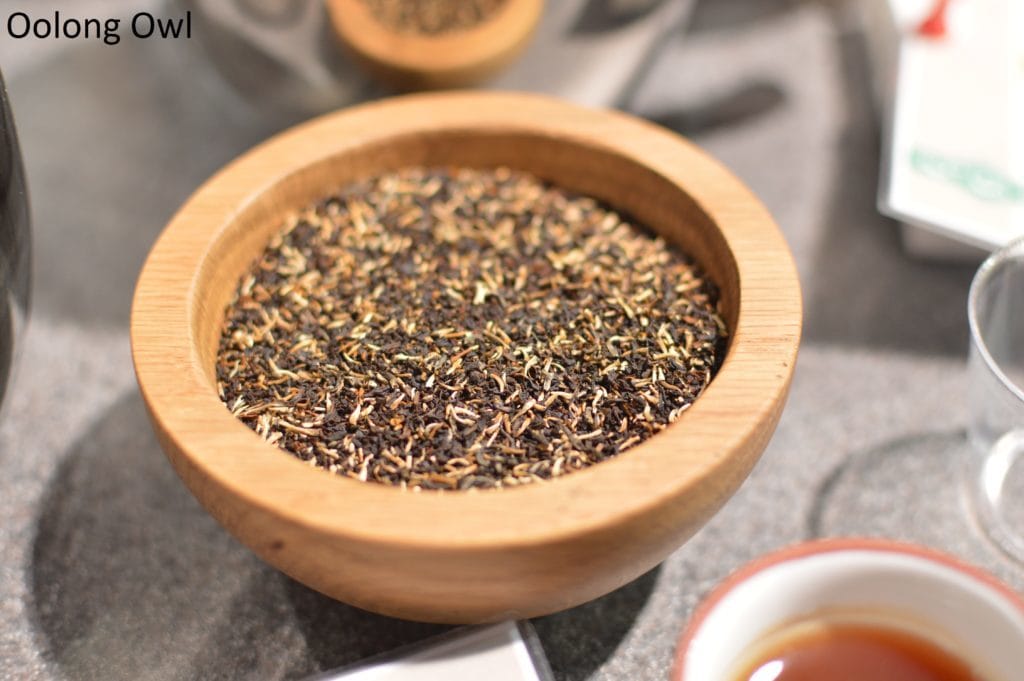 After the showroom was the World Tea Awards 2016!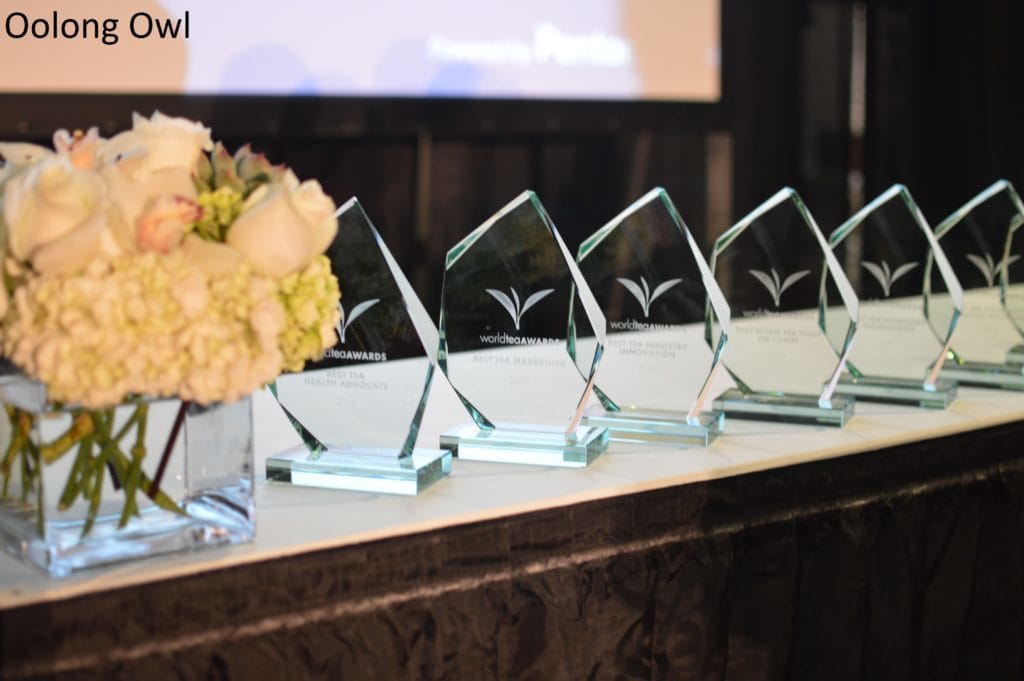 The Tea Owls ate prime rib (their favorite) and watched the best of the best. Of course, what we were the most excited for was "Best Tea Blog".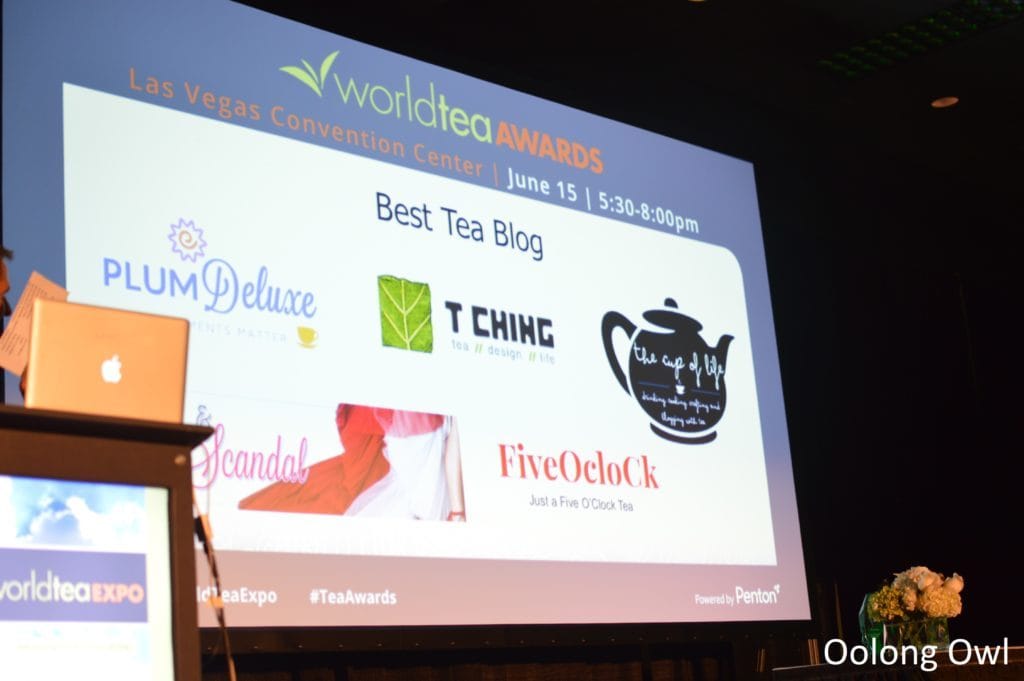 Who won? Well I didn't take a photo of the slide showing the winner. I was too busy sitting on the floor making squealing hoots while texting the 2016 Best Tea Blog T-Ching's social media guy "OMG OMG OMG YOU WON!!!!" Congrats T-Ching!!!!!!
Sample Haul
My bag was heavy! Holy cow, I got a nice red shoulder. Zojirushi took pity on me and gave me one of their bags, which was big enough to hold everything. I bought some really cool things that you will all see in the Haul post after the World Tea Expo.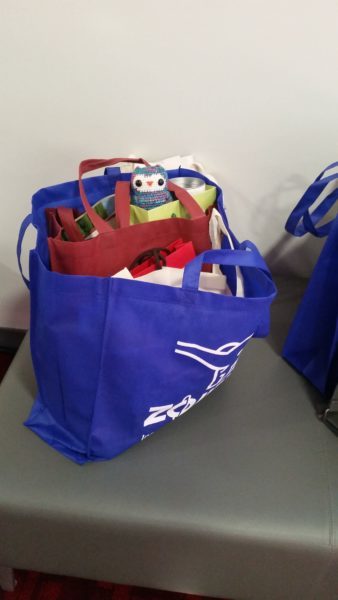 A lot of samples. I cannot see the bottom of my table.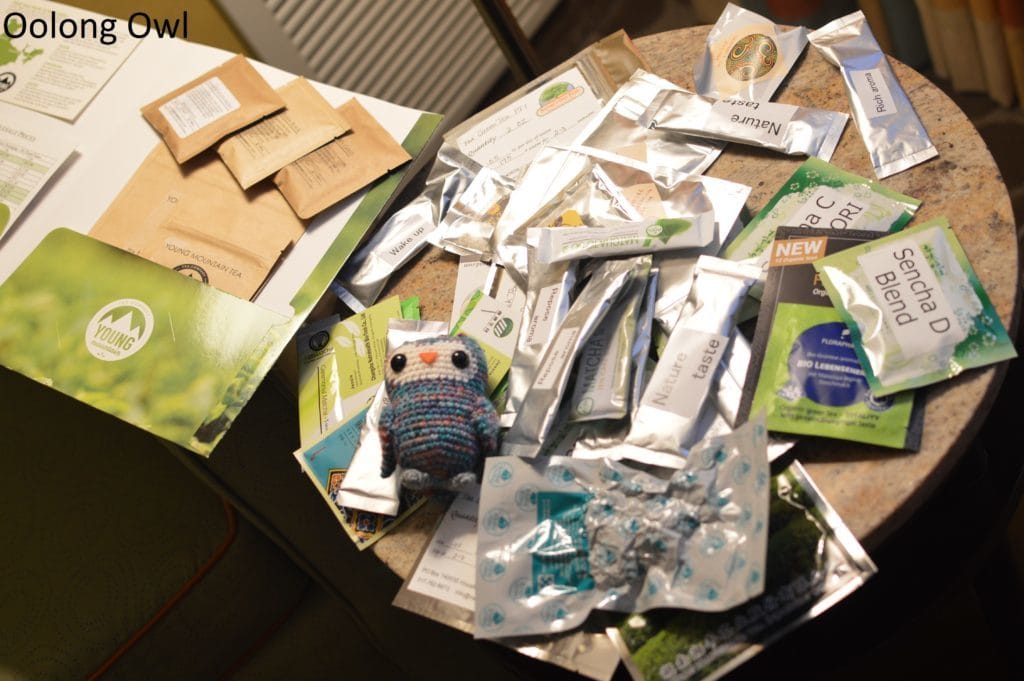 The ruyao cup got some slight staining just after Day 1!