I was doing my usual browsing through aliexpress and found a really sweet gaiwan! I also snagged a tea pet while I was at it!
My tea pet is one I've seen around instagram plus I remember a tea seller having one in her facebook photos. I've wanted it for some time and I finally found one for an alright price so I jumped on it. It's a bunny on a leaf boat tea pet!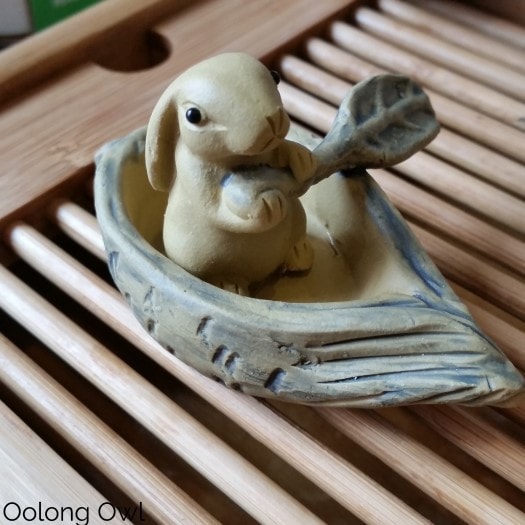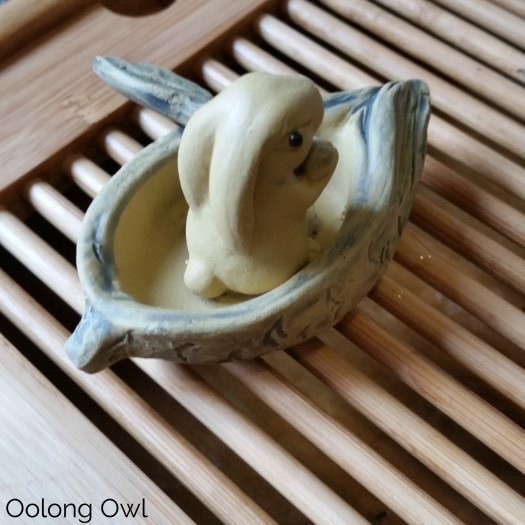 The tea pet is pretty cute as when you pour tea on him it fills up the boat! Thankfully, filling up the boat does not lead into a tragic tea boating accident!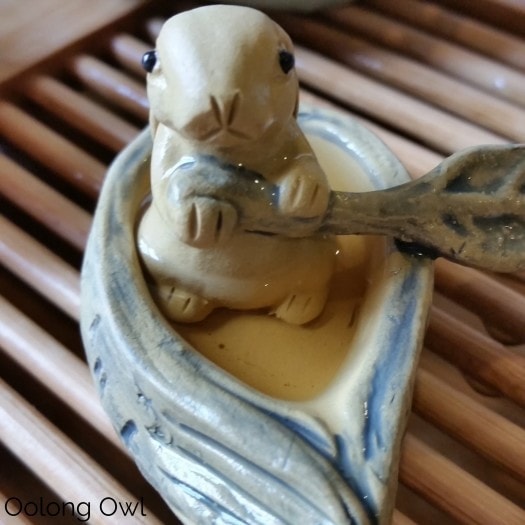 No, the tea pet doesn't float. It would be pretty cool if it did! What if the rabbit is on a boat, trying to paddle away from the tea?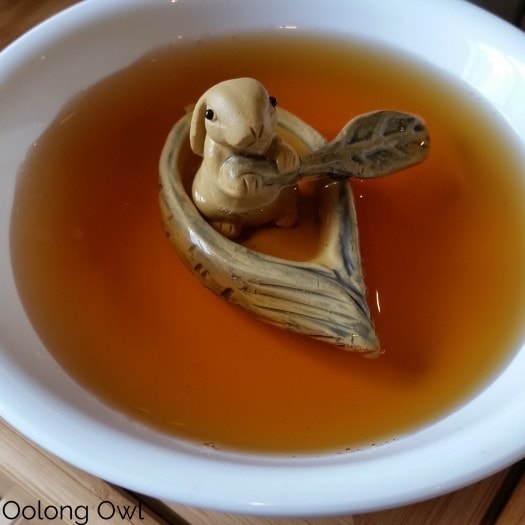 I'm thinking I will just use this tea pet for lighter teas, since my other tea pets I'm actively trying to stain with black and ripe pu'er. I quite like this tea pet as it is a loppy like my bunny Benson. Realistically, I know my bunny Benson would just sit on a boat glaring, which would propel him across the water.
The gaiwan I picked up looked quite unique to me and no other sellers had it. The listing said it is "korean style". I ID'd the gaiwan to be a ru kiln/ruyao glaze despite the listing not saying so in English. I really like the cloud accents on the gaiwan and cup, but sometimes they look like brains.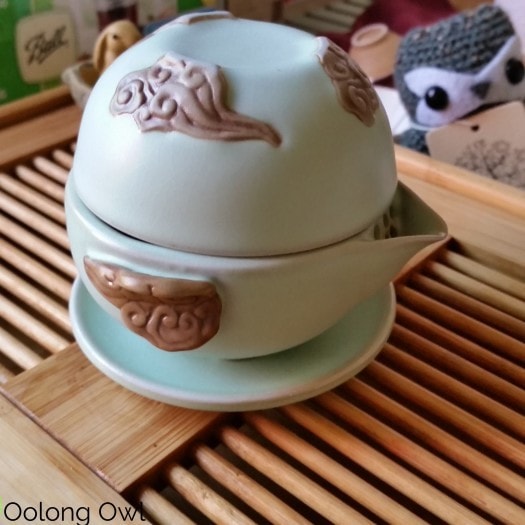 The design is an easy pour with little handles on the side, with a "sneeze guard" top to stop leaves from falling out when you pour. It came with a saucer and cup.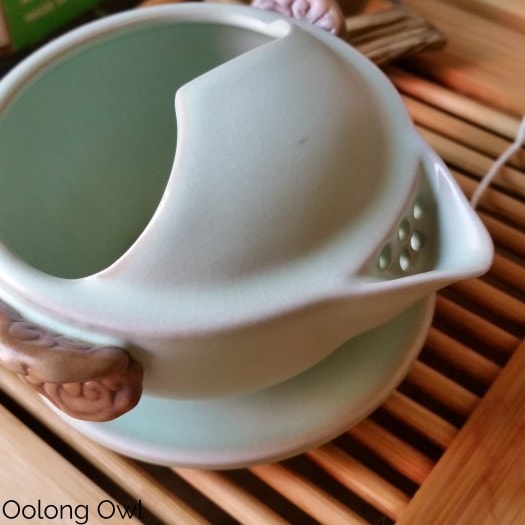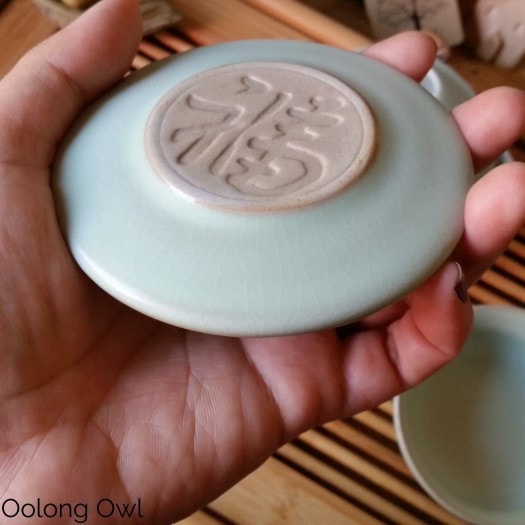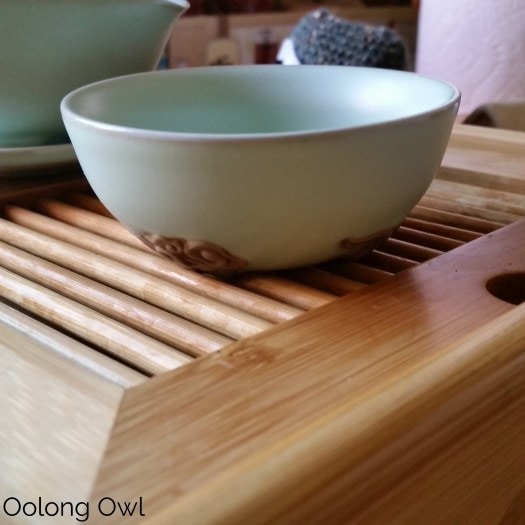 Both the gaiwan and cup have little feet!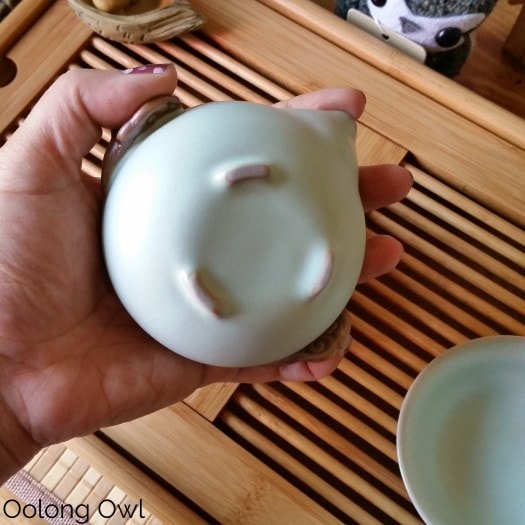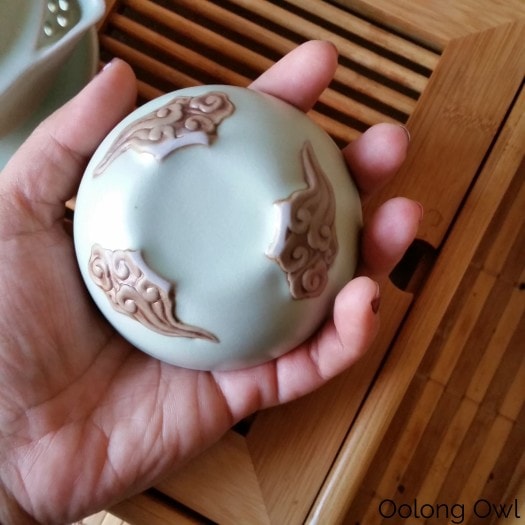 The cloud "wings" makes for nice grip. I have small hands so the handles work nicely for me. It doesn't keep your fingers cool though as later steepings the entire vessel is boiling hot! However, the gaiwan pours really nice!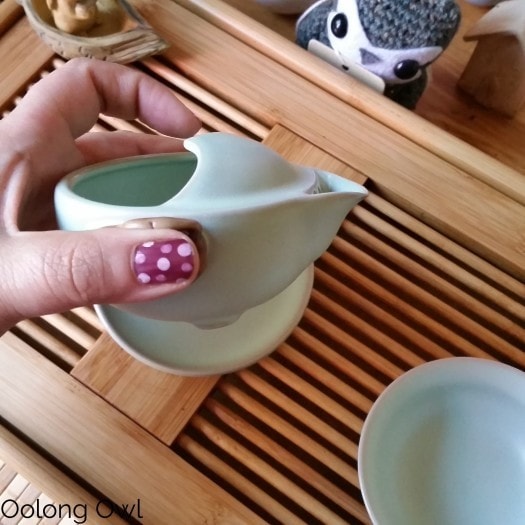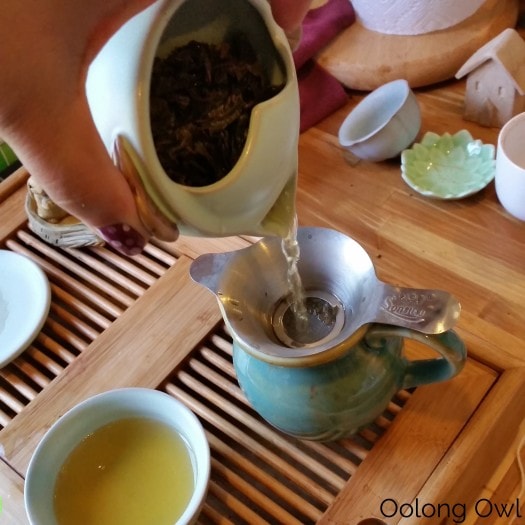 I'm curious what would get tea stained first – I predict the saucer as I spill a lot of tea. After my first use (which was an upcoming tea review) I forgot to clean up after my session and left the sheng pu'er in the cup and gaiwan and there's already some staining.
And the cup staining looks pretty weird. There was some tea left and where there isn't any stain is where the tea was.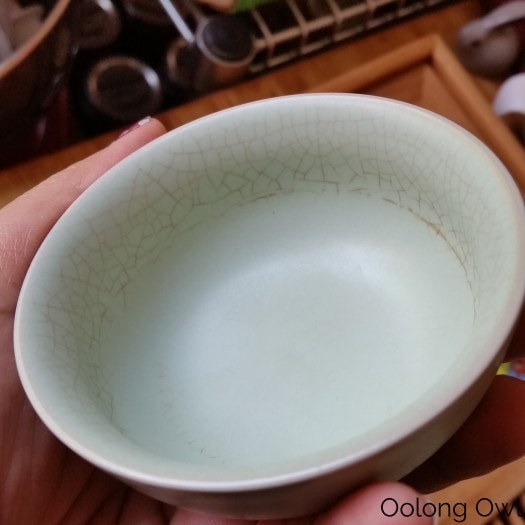 In crazy news, I have another gaiwan and cups on the way. I need an intervention. Or maybe more people to come over for tea.