I found out that amazing Taiwanese tea seller Taiwan Tea Crafts has clay tea pots at a great price. I checked them out, and they got clay tea pots in the $35 to $50 range, but more importantly in the sizes I like – 100ml or less. If you like bigger pots, they also have 160-200ml sizes for $40-$48.
I posted my clay tea pots on Instagram and have been getting lots of questions about them. First off, Taiwan Tea Crafts is quite clear these tea pots are not authentic,
"…the clay used is tested to be free of heavy metals and contaminants. Not only is this a good stepping stone teapot but, first and foremost, it si a good teapot that will be sure to render years of good service at a fraction of the cost of similar quality authentic Yixing ware. Made in Taiwan."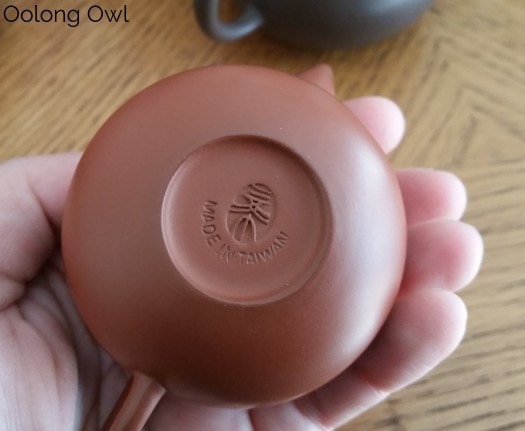 I absolutely respect their honesty of their tea pots, I think many would just pass this off as legit yixing. Same time, who knows if any of my other pots are authentic. One of my pots came with a document and a snazzy photo, another was bought in a shop in Hong Kong, but they aren't verified authentic. Oddly, I see more people quest and rant authentic yixing than worry whether their tea is actually what it says it is *cough*1,800 year old trees *cough*.
Whatever, as long as the clay pot didn't cost a fortune, works well, and it doesn't poison me, IDGAF. Similar logic to "as long as the tea tastes good, that is all that matters."
That said, these Taiwan Tea Craft clay tea pots work very well!
Taiwan Tea Crafts Clay Tea Pots
I ordered 2 tea pots around last November. I used one of them and it preforms so well, that I ordered 2 more when the next sale came around. All pots are thin walled. They look much better in person, as oddly the Taiwan Tea Crafts website pictures look really shiny and weird.
First Pot – Small Stubby Xi Shi Purple Clay Teapot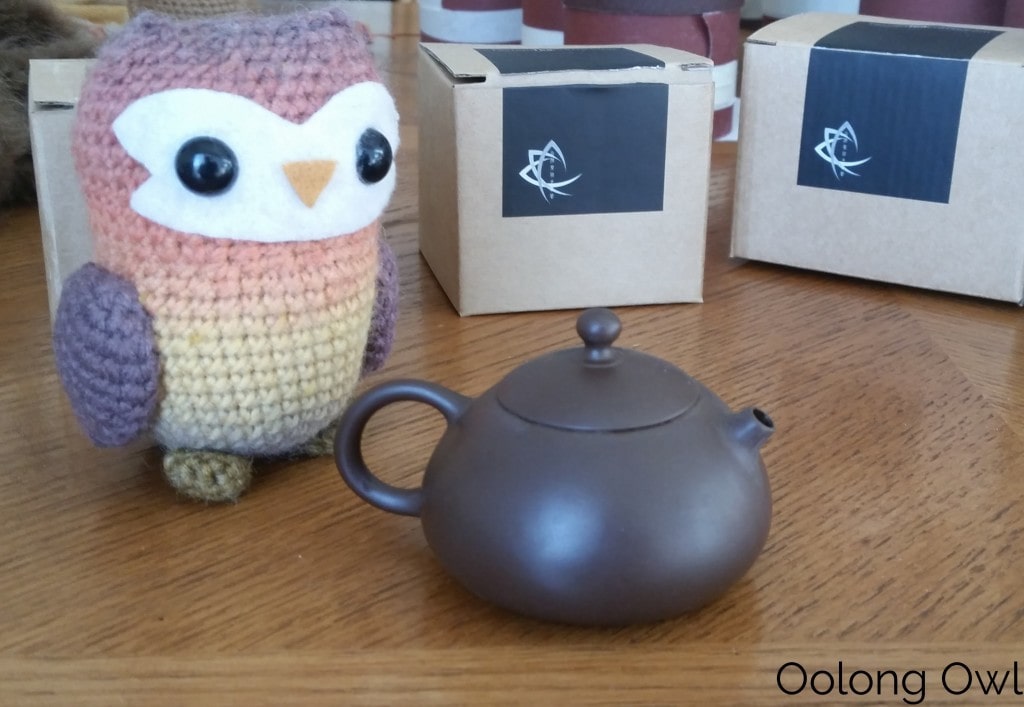 There is a story with this tea pot. I was hoping to get a sheng pot and turned out this one pours quite fast so it was a great match. I went to link it to friends and realized Taiwan Tea Crafts sent me the wrong pot! It didn't bother me that much as I would of ordered that same one eventually, so I let Taiwan Tea Crafts know when I put in my next order, including ordering the pot I originally wanted. They sent me a pitcher for their error.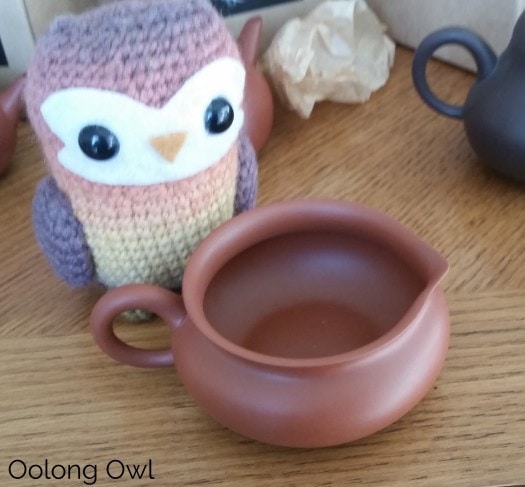 Out of all the clay tea pots from them, this one was made the best. The lid fits on tight, the stop pour works, and it pours fast. It works well with sheng pu'er, including young sheng, so I am very happy with this clay tea pot.
Second Pot – Small Pear Shaped Purple Clay Teapot
This tea pot is a beauty – tall pear shaped! I've been playing with it and it does green oolongs very well, so that is what this tea pot will be seasoned to. The craftmanship is pretty good. It says it is 100ml but this one actually measures 110ml. A lot of people like this clay tea pot, the shape is different yet has a simple silhouette.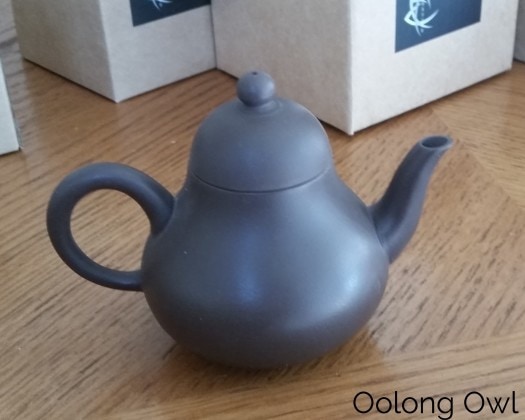 Third Pot – Pocket Yuan Zhu Red Clay Teapot
This was a last minute switch before ordering. I was tempted by the Xi Shi, but I already have a Xi Shi, so I went with a teeny 80ml. This pot is super cute and I love the size. I've tried this one a couple times for aged sheng and it did alright. I still need to play with it more.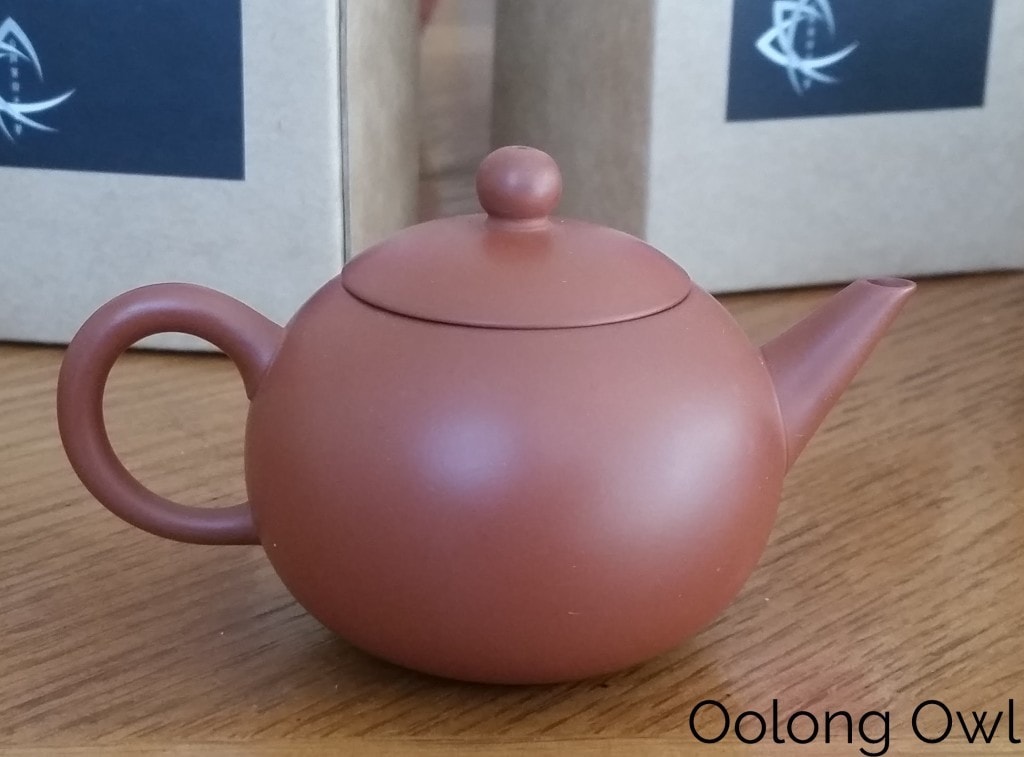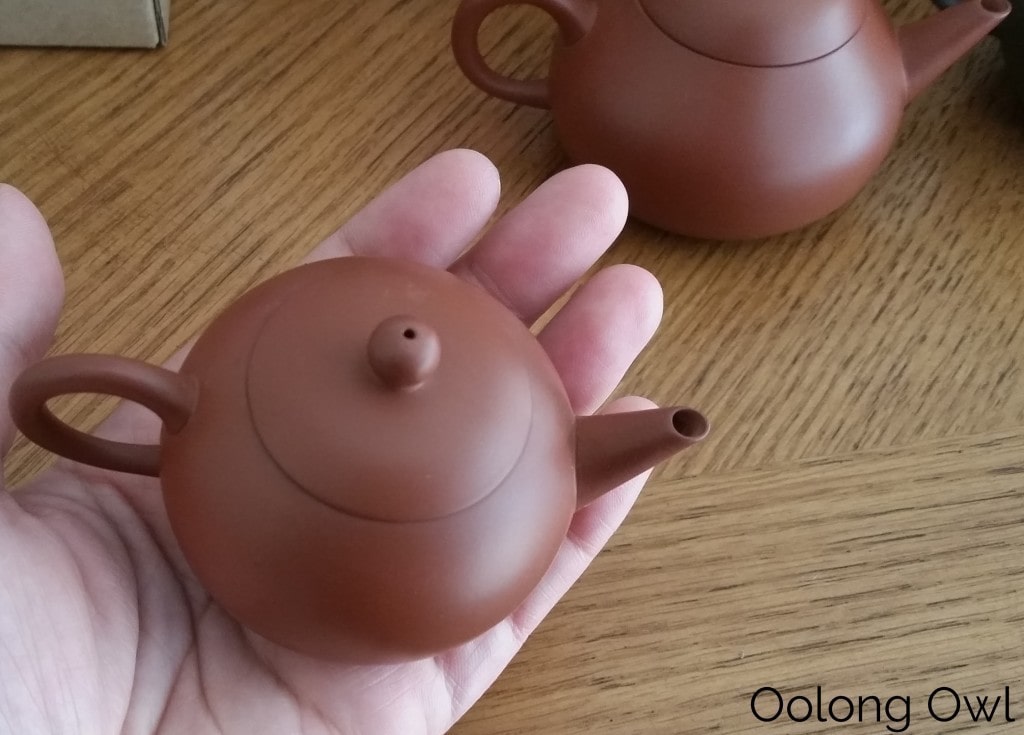 Fourth Pot – Small Stubby Pear Shaped Red Clay Teapot
This was the one I originally wanted from my first order. Alas, I haven't steeped any tea in it yet, but it seems to be a slow pour when I tested it with water, this one might become an oolong pot. This is how the tea pots come in a box – with a pink wrapper over the lid.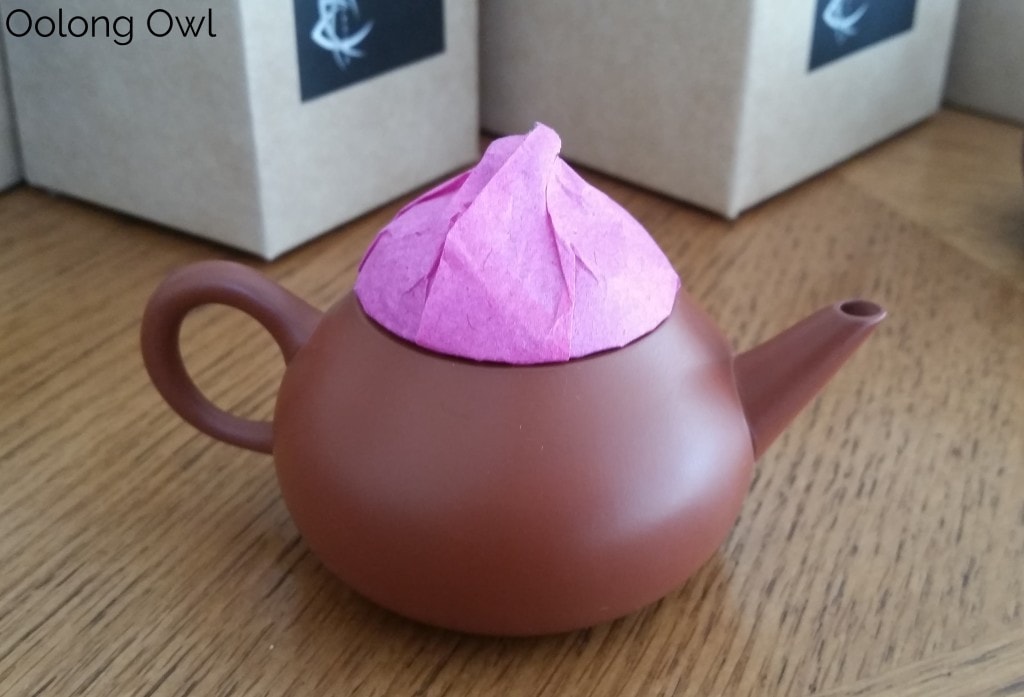 All the clay tea pots together!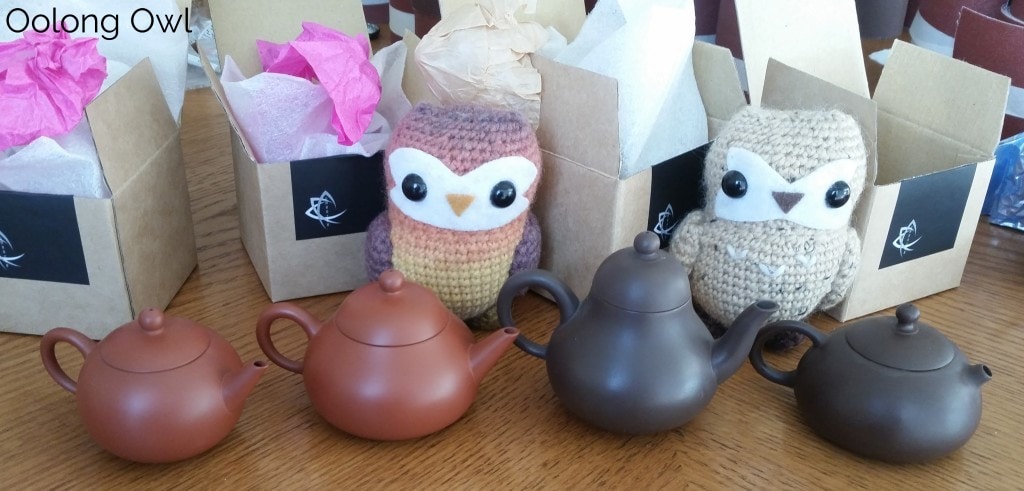 Of course, I sneaked some tea into my orders as both of these sounded amazing!