My 2000 Fu Ding Bai Cha Aged White Tea Brick was my winning purchase from my trip home to Vancouver back in August at The Chinese Tea Shop. The price of this tea is on the high side for me (despite it being a big brick) but having to been able to drink it and enjoy it greatly, leading me to buy the entire brick. I hauled my brick to Alaska and returned home, taking off the wrapper and letting it sit until I felt like it was the best day to drink it.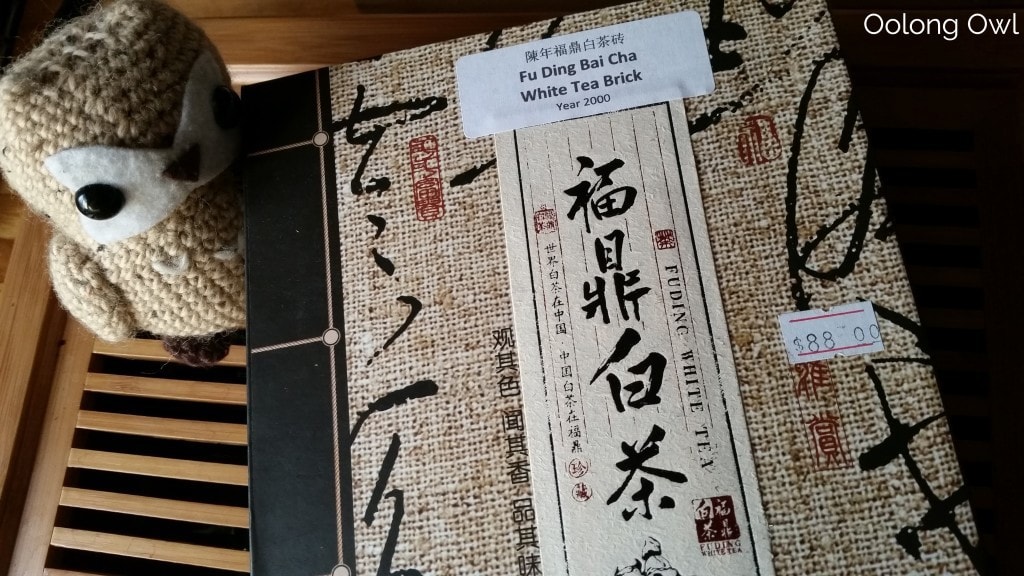 Aged white tea is something I've come across only a few times, and what I've seen isn't that old, usually only a couple years or maybe 5 to 8 years old. Even less is coming across the white tea pressed into cakes. Apparently The Chinese Tea Shop had a 30 year old but recently sold out. Looking online, they have also have a 2013 Fu Ding Bai Cha.
(edit, checking up on the listing, the tea was harvested in year 2000 and then pressed into bricks 2008!)
Dry Leaf
The 2000 Fu Ding Bai Cha White Tea Brick is a 500 gram brick that is tightly pressed. A really pretty brick too, I love the different colours of leaf!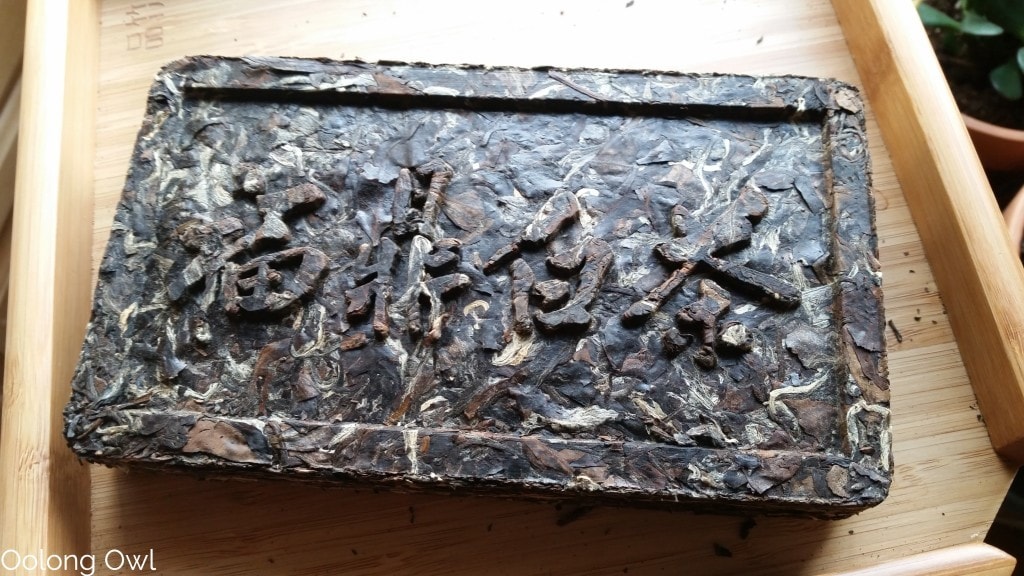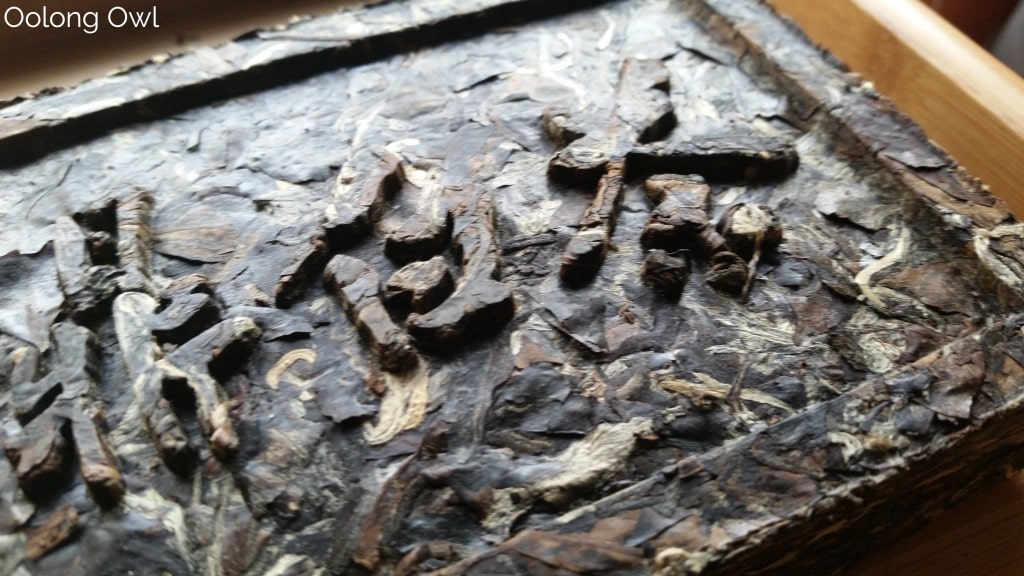 I was shown how to break it by bracing on the side and using a knife to split the brick in half.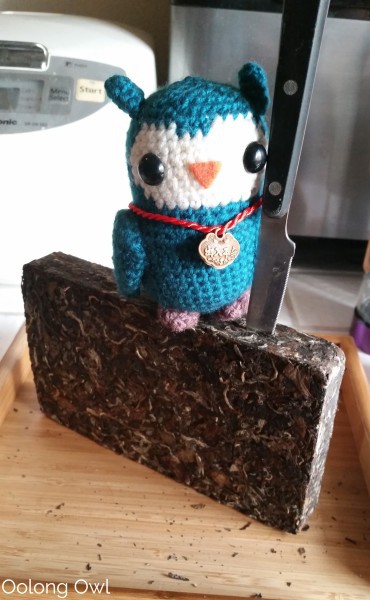 Turns out I need to lift more weights as the brick was quite resistant to my efforts. I was able to slowly chip off some servings making a giant embarrassing mess. I was using a dull paring knife but a real pu knife or oyster knife might of been a better choice.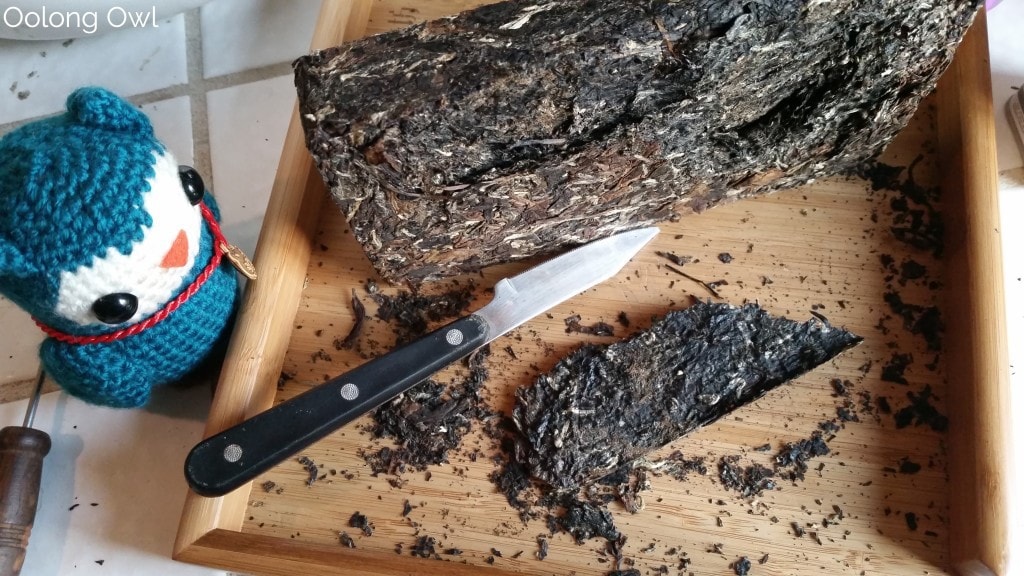 Steeping Instructions
I was told to start at a lower temperature then bump it up as I go, and that how it was prepared when I sampled. I had forgot plus the temperatures were in Celsius. Anyways, I started with 190F and 8 grams of leaf in a 90ml tea pot.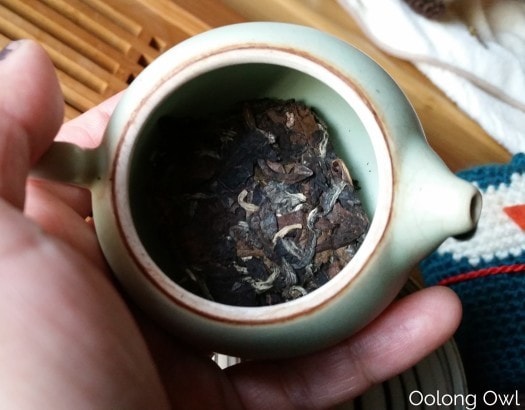 I did a rinse and tasted it. The rinse was weak so I dumped it.
Tasting of 2000 Fu Ding Bai Cha Aged White Tea Brick from The Chinese Tea Shop
First Infusion: The aged white is light but creeps up to a round flavor of a mellow woodsy that is sweet and ultra smooth. This does not taste like white tea or really anything similar to other teas.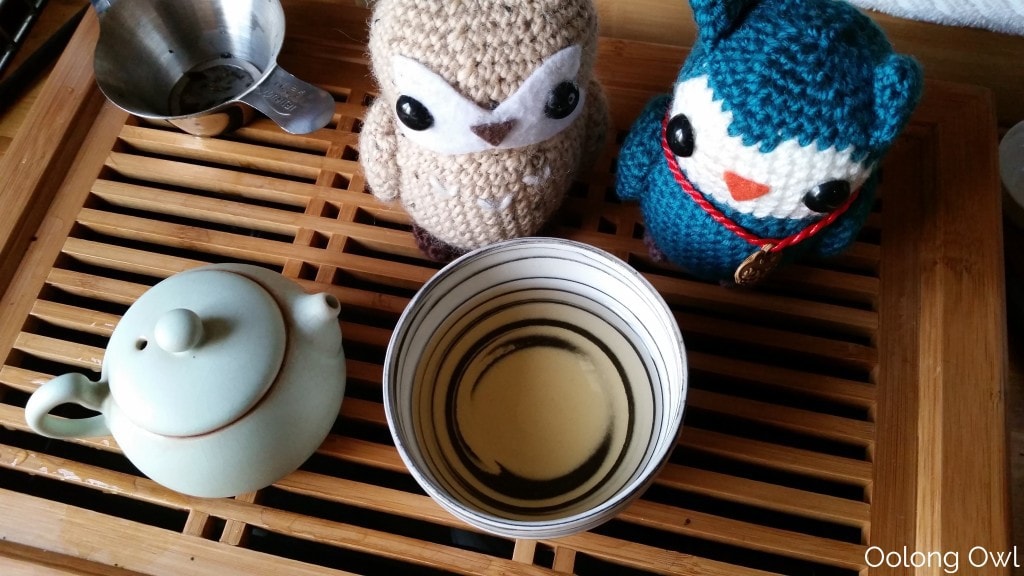 Second, Third, Fourth, and Fifth Infusion: Each infusion is building up flavor getting stronger and stronger. The notes are of strong straw, woodsy birch pine, amber mineral, and really smooth. The flavors is potent yet disappears after each sip, making you want to drink through faster. But with each steep the aged white tea carries more of an aftertaste of mineral sweet, making it easier to drink fast. This is how you blast through a 15, almost 16 year old, tea quick. Oh my tea budget!
At the fourth steeping the colour has gotten darker to a golden bronze.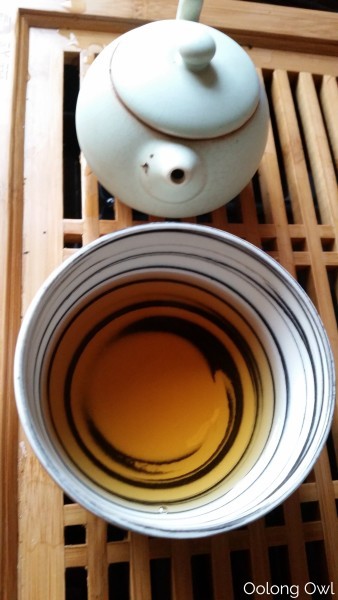 Sixth, Seventh, Eighth, Ninth, and Tenth Infusion: I upped the water temperature to 200F. The flavor jumped to nicely earthy like freshly chopped wood, cinnamon, and allspice. The tea is still smooth and sweet. I found with The Chinese Tea Shop the owner makes really good tea. These steepings are starting to taste like it was in the shop, but not as rich. I'm thinking a big part of the difference is the water and probably since I drank it out of a yixing pot whereas I'm using a non-porous tea pot.
Either way, this aged white is good. Why isn't aged white a bigger thing? Excuse me while I stuff all my whites to be aged a decade.
Interestingly, ten steeps in and the leaf is still not fully open ans saturated. We are in for a long haul!
Eleventh, Twelfth, and Thirteenth Infusion: I jacked the water temperature to boiling, which jump started the Fu Ding Bai Cha White tea again. The flavor adjusted, tasting a bit like clover and more woodsy and sharp, losing some smooth. The flavor notes are starting to move closer to black tea. I also remembered to smell the lid here and it smells earthy and floral, reminding me this is a white.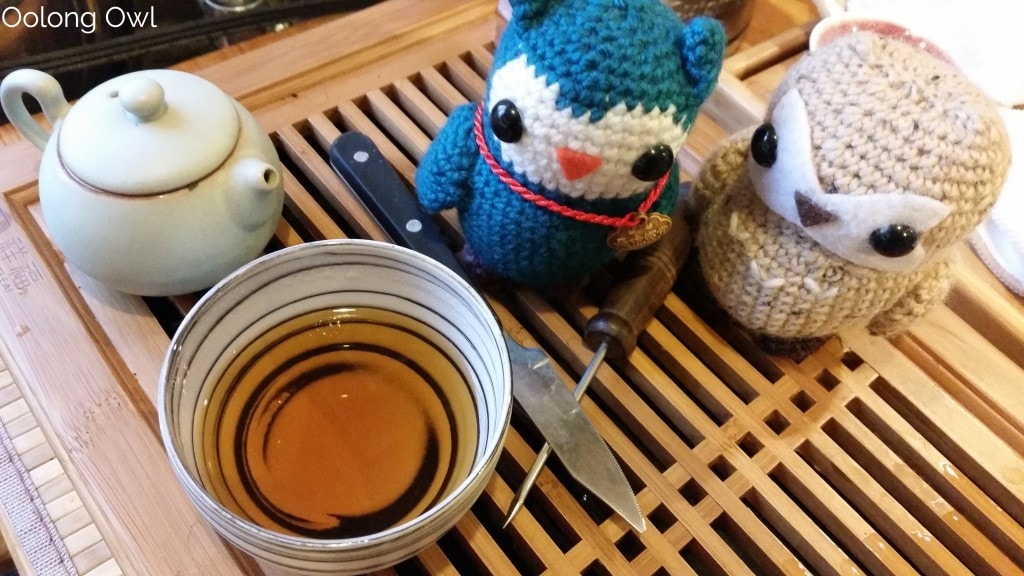 Fourteenth, Fifteenth, Sixteenth, and Seventeenth Infusion: The flavor of the aged white tea is starting to wane despite the higher water temperature so I'm doing pretty long to keep the flavor potent. The aged white tea tastes of clover, woodsy, sweet sap and amber mineral.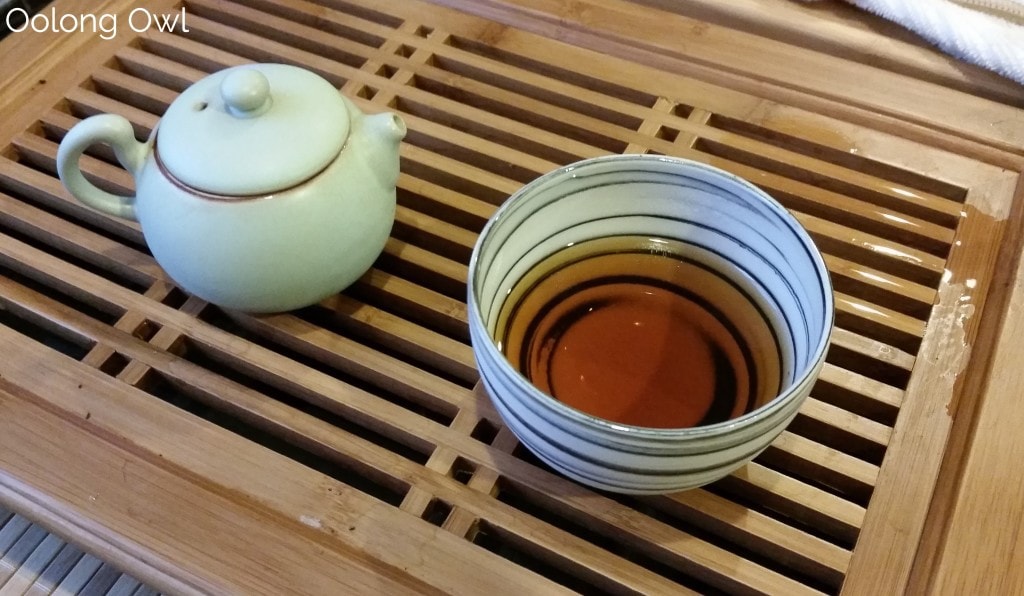 Eighteenth Infusion: 15 minute steeping. The tea is getting bitter and cooked leaf tasting, along with the woodsy clover notes. Maybe I'm getting too agressive of a steep here but flavor is still strong.
Nineteenth Infusion: I did 30 to 45 minute steeping here. I played 3 levels of Fire Emblem Awakening on my Nintendo 3DS and then drank the tea. To my sadness, there was little flavor left but drinkable.
Twentieth Last Hurrah Infusion: Upon cleaning out the leaves I noticed there was still some compressed aged white tea leaves. MOAR STEEP! I put the compressed leaf into a tea tumbler and steeped it overnight in the fridge as a cold brew.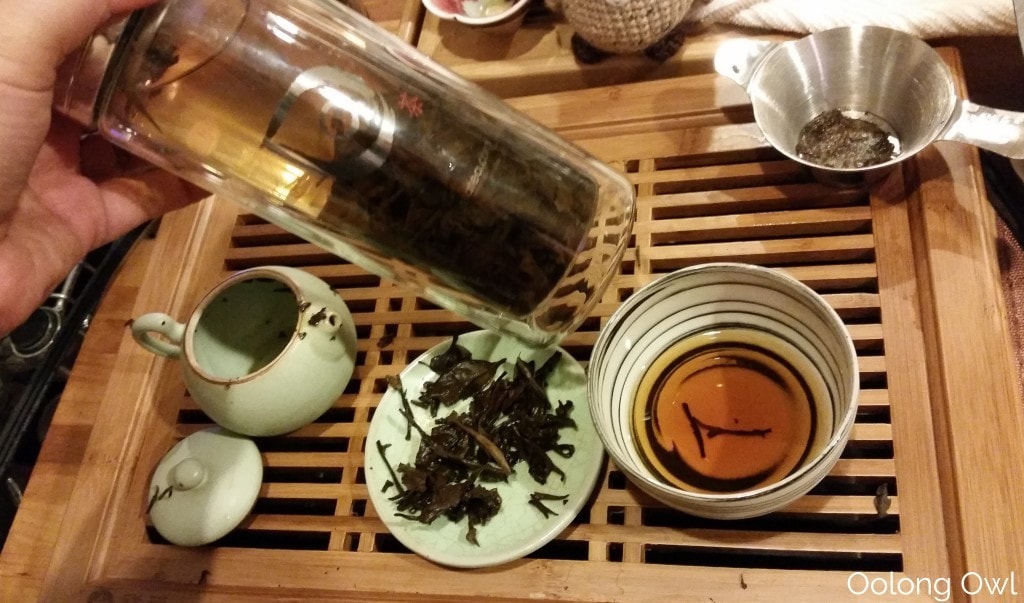 The flavor of the cold brew was light, but quite similar to the 14-17th infusion. Very good! I milked all that I could out of the 2000 Fu Ding Bai Cha Aged White Tea Brick!
Comments
The Chinese Tea Shop's 2000 Fu Ding Bai Cha Aged White Tea Brick tastes very different than a white tea and any other tea. This aged white tea is very smooth and woodsy, making for a great tea session.
Put it on your bucket list to try an aged white tea cake if you haven't already. If you find white teas too delicate or weak in flavor for your tastes, an aged white would be more suited for your tastes. I think from now on I will be buying more aged white so I can compare them.
Also, The Chinese Tea Shop has some excellent teas and teaware, so be sure to check them out! I'll be back in Vancouver Canada early 2016 to buy more goodies!