Everything I've tried from Bana Tea Company has been excellent. When I was visiting the Los Angeles Interntional Tea Festival, I was ready to try more of Bana Tea's offerings. I had mentioned to the owner than I LOVE the 2004 Denong Red label shou. She suggested that I would like this 2005 Denong Ginseng Scent Shou Pu'er. I was skeptical as I dislike ginseng teas for that weird licorice sweet taste, however I was reassured this pu'er didn't have that taste, it was meant as a cooling sensation, so that was good enough for me. This one is also more expensive than the 2004 Denong I like.
Out of all the goodies I bought, I had to try this tea first to see what this ginseng scent was about.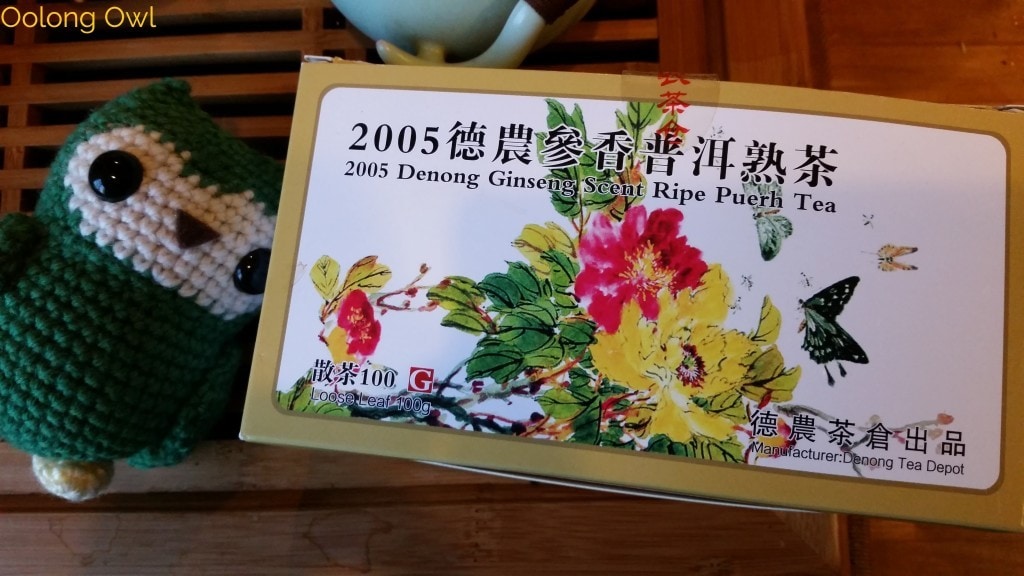 Dry Leaf
Inside the box is a sealed silver bag. The ripe pu'er looks like it was in cake or brick form once and is broken into pieces for easy drinking.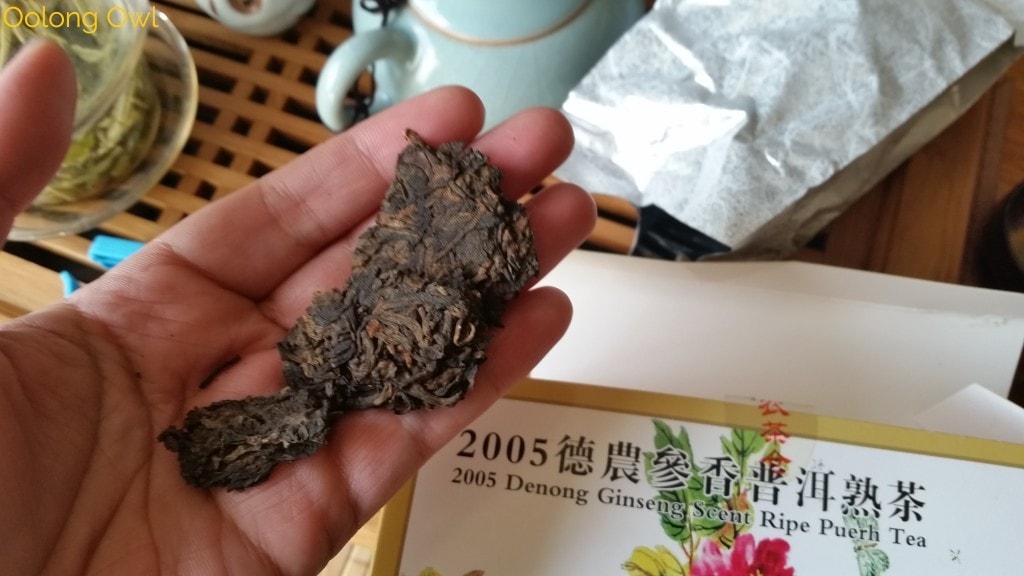 Steeping Instructions
I used 6 grams of tea in a 90ml pot (1gram to 15ml ratio). I did two rinses and started with around a 20 second infusion.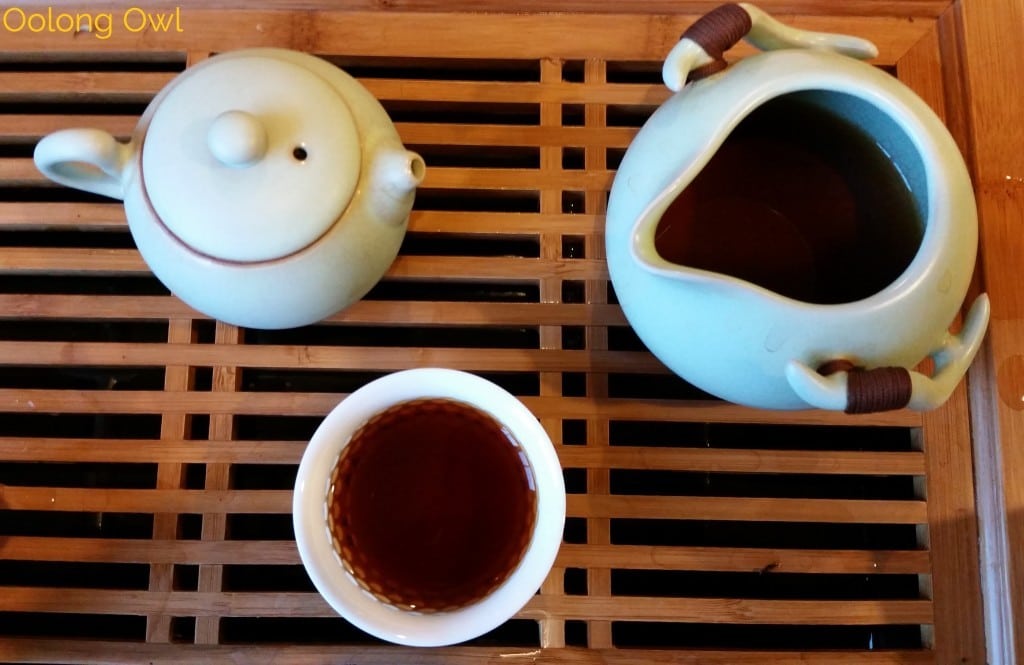 First Infusion: Wowee that cup of tea is super clear! Look at that! Gorgeous!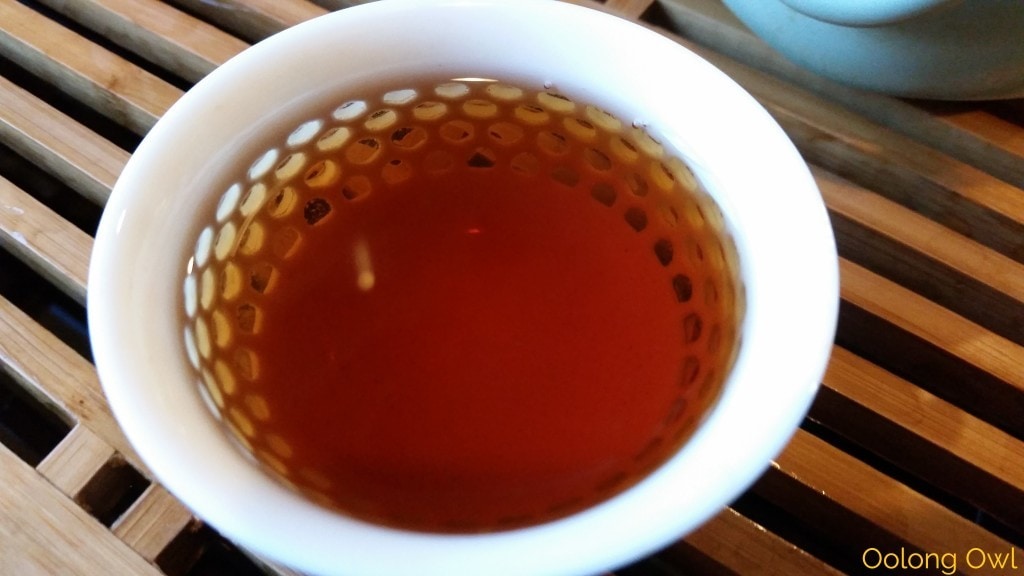 Taste is light and clean, with notes of walnut, earth with a hint of smooth sweet. The first steeping of 2005 Denong Ginseng Scent pu'er is slick and easy to drink. The first infusion didn't last, where did it all go?
Second, Third, Fourth, and Fifth Infusion: Oh wow, what a taste! 2005 Denong Ginseng Scent pu'er is richer with a walnut, hazelnut, dark earth and dark caramel finish, yet clean and sweet. After each sip, and what I find very interesting, is there is a cool mouth feel which off sets the earth flavor. With each steeping the flavor gets richer and more cooling.
My mouth got so cool, like I chewed some mint gum, but weird as my breath is fresh but not minty. I find the cooling sensation a weird experience as I associate camphor notes with mint and cooling. This shou pu'er lacks camphor but cools even better.
Sixth, Seventh, Eighth, and Ninth Infusion: Stand down mentos, this is the fresh maker right here! The flavor is all cooling sensation through the sip. My mouth is cool it feels cold when I breath in. There's a touch of the earth notes and some light sweetness. Not a lick of funk, bitterness, or dryness, just cool. I put on a sweater.
The tea owls got all tea drunk already and started to play the Mr. Freeze game where you exchange cold names until someone craps out. Hoot – Winter. Hoot – frigid. Hoot – Chill out. Hoot – Frozen. Hoot – Let it go.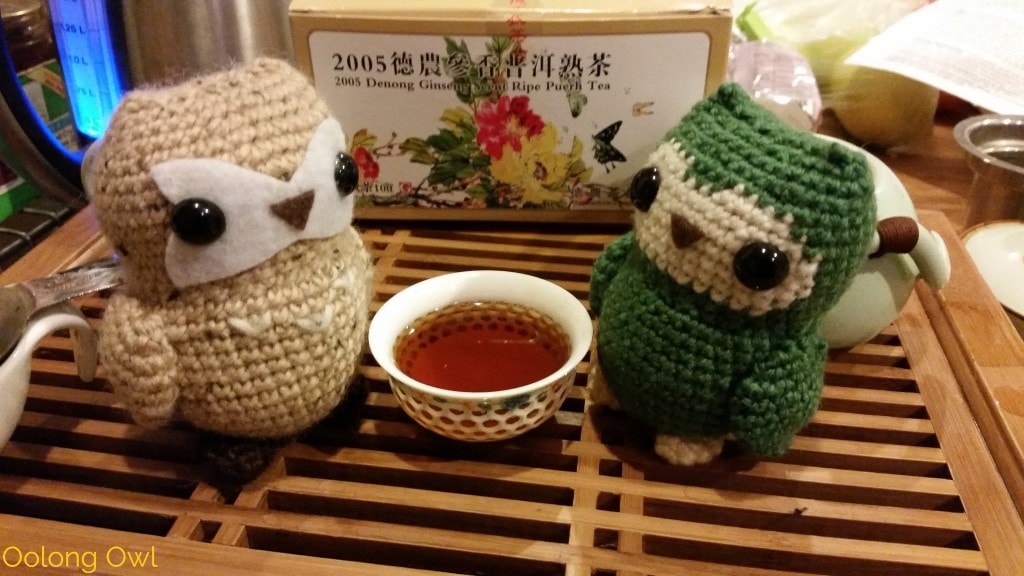 Tenth, Eleventh, and Twelfth Infusion: Colour of 2005 Denong Ginseng Scent pu'er is going light here to where we started. Still really cool but lightening here. but has a vanilla sweetness going on. Background of nuts earth. Very nice tea. The leaf was trying to escape the pot!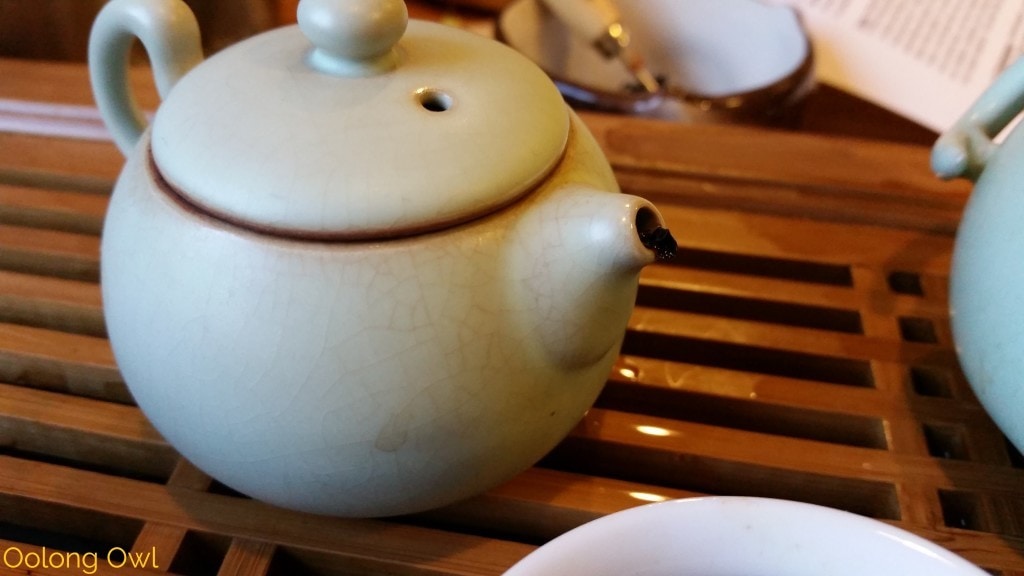 Thirteenth Infusion: Dead. I steeped 2005 Denong Ginseng Scent pu'er for 30 mins and it's just a bit sweet. I was hoping the cooling would carry the tea for even longer but turns like it's a no.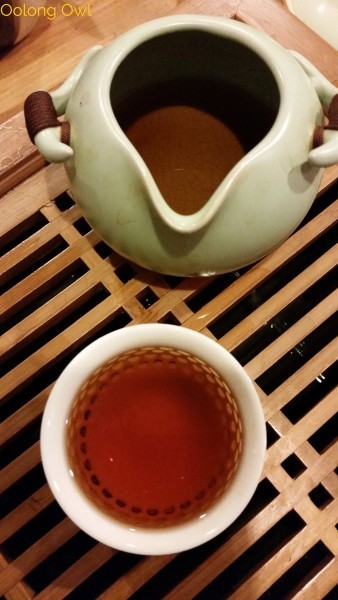 Comments
My breath got so fresh drinking 2005 Denong Ginseng Scent pu'er that I wonder if I can brush with this tea. I probably won't keep my teeth white but feel oh so cool. If you love a cooling feel pu'er, or haven't tried one yet, 2005 Denong Ginseng Scent pu'er is excellent and easy to drink!
If you haven't tried Bana Tea Company's teas, I suggest you do so. The quality is great and I particularly love Bana Tea's ripe/shou pu'er. Bana Tea Company also sells samplers – variety, sheng/raw, shou/ripe, and vintage (1980s-2005).