I purchased this tea during my last trip to Vancouver Canada. Treasure Green is a tea shop located in China Town in downtown Vancouver. The 2010 Puerh Mini Waffle Brick Shou was a must purchase as it is Treasure Green's special edition pressing. Turns out, this puer is Bing Dao, Lincang material and it sounds like it is semi-fermented.
I purchased the waffle version, but Treasure Green also sells a 200 gram cake that was too rich for my blood to treat a cake as a sample. They also have a special edition 2012 Bingdao sheng (cake and waffle) that I regret not buying, which hopefully I remember to purchase next visit.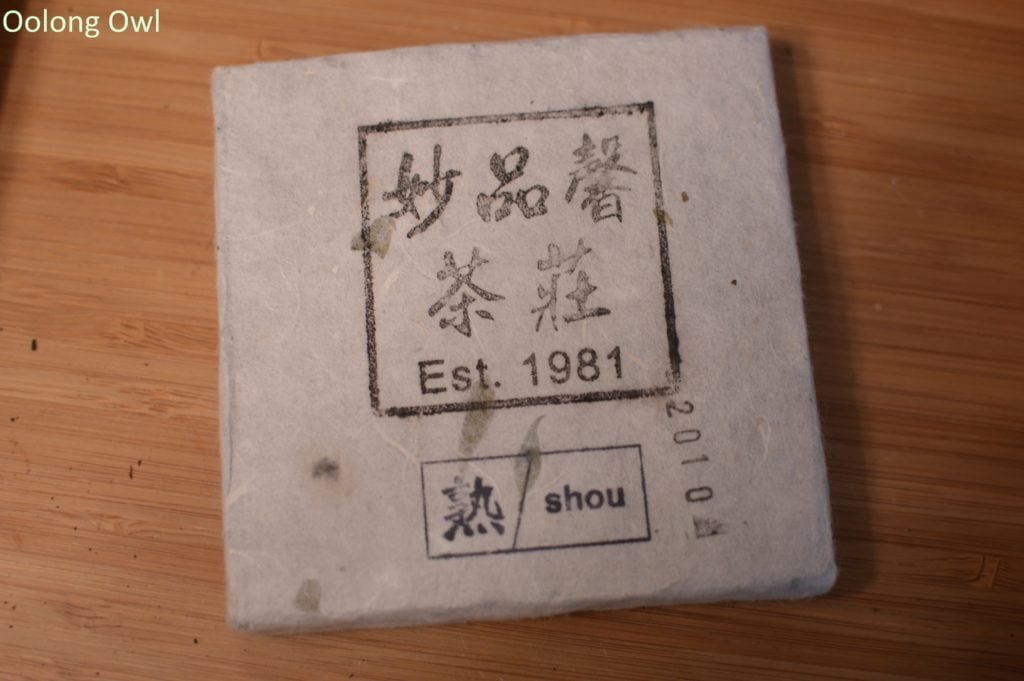 The packaging is beautiful. It is just a simple stamped label, however the paper is beautiful with leaf embedded in the textured wrapper.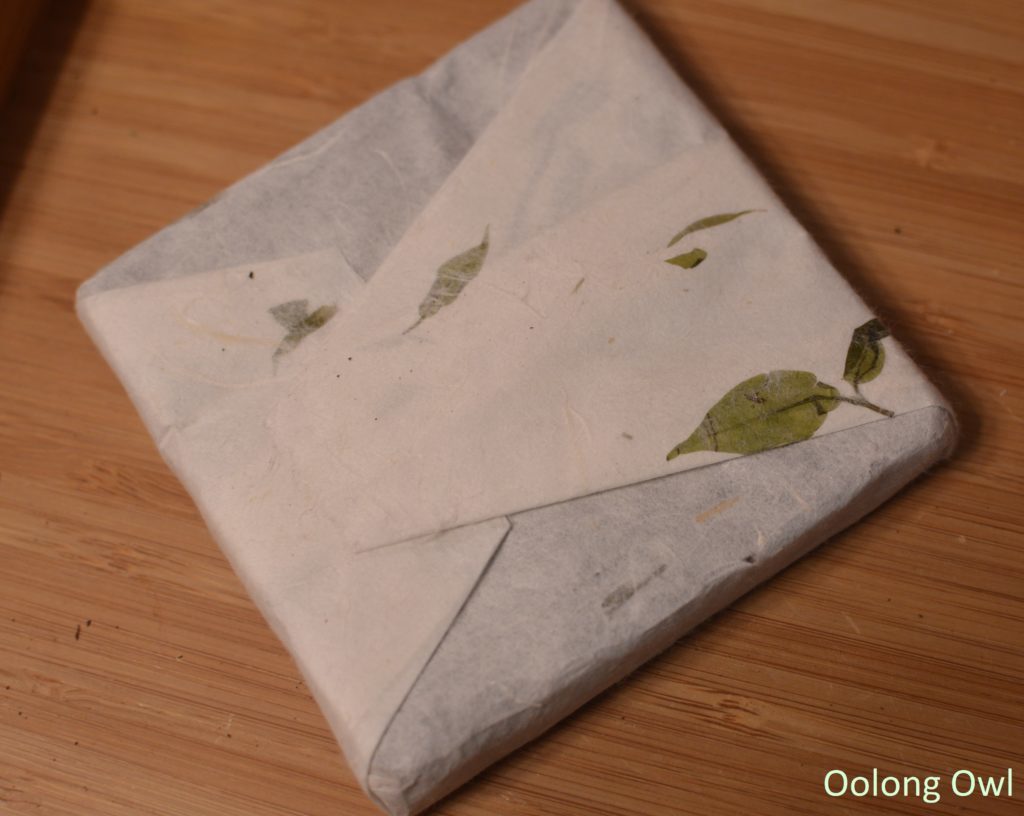 The shou came with steeping directions that I forgot to follow. Ol' crochety owl follows her own steeping instructions!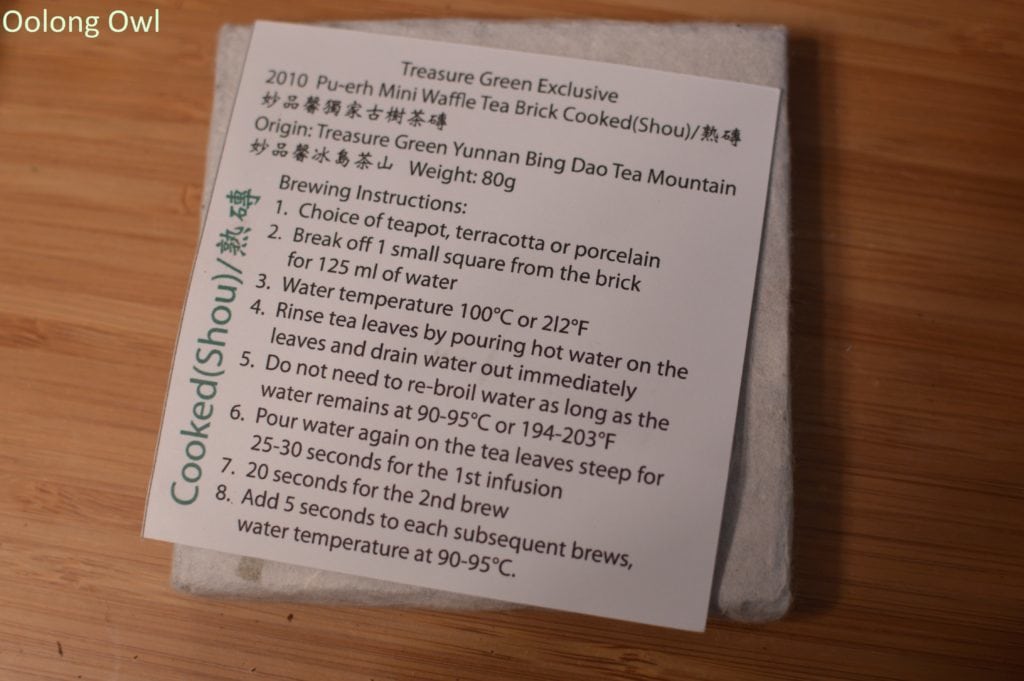 Dry Leaf
Unwrapped, 2010 Puerh Mini Waffle Brick Shou is tightly compressed into a fun chocolate bar shaped. To my dismay the brick weighs 75grams. I assumed this was a 100 gram brick due to size, but the chocolate bar dents cheated me. Of the three little servings I broke off, they measured 7.5 – 8.5 grams, a generous serving.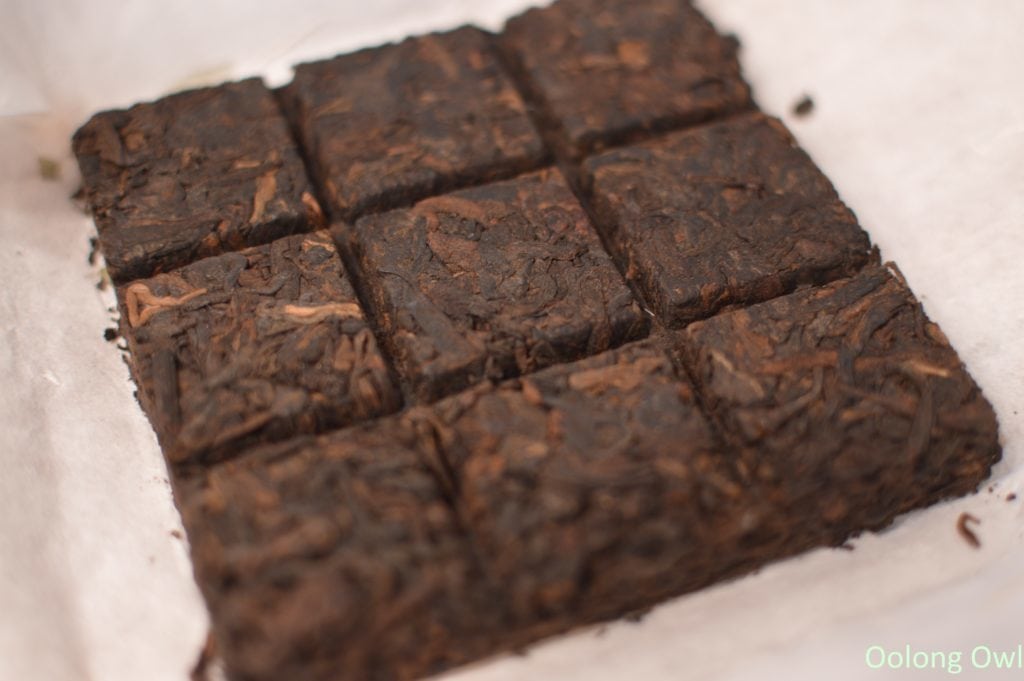 The waffle breaks apart easy, but forget trying to split a single serving in half – this tea is compact! I tried slicing a square down the middle and it was too dangerous to keep trying. That said, accept you are rolling with a  125ml-ish pot/gaiwan, or steep it hard. But hey, this tea isn't cheap so share it or drink it all day!
Steeping Instructions
I did 1 gram to 15ml (tea weight to vessel volume). I used boiling water and 2 rinses. These bricks are hella compacted, so I used a trick Crimson Lotus taught me recently for  steeping puer balls directly pour onto the ball/brick, pour out the rinse(s), then close up your gaiwan/pot and let the tea steam open in the hot dry-ish vessel for a couple minutes. After a couple minutes I found the waffle brick fell apart and is ready to go!
Tasting of Treasure Green Tea Company's 2010 Puerh Mini Waffle Brick Shou
The shou steeps up a light ruddy brown with a sweet earth scent.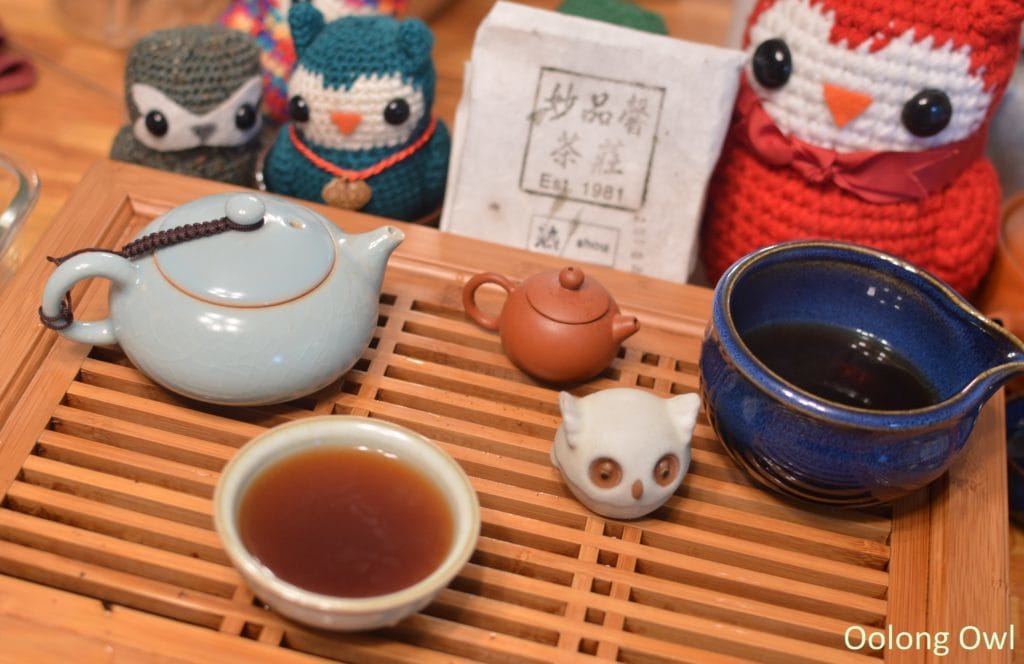 First, Second, Third, and Fourth Infusion: Sips in very sweet and smooth. The taste is clean and mineral sweet with an echo of dark chocolate and walnut shells. The finish is the sweetest The texture is slick and thick, making my mouth feel like I'm drinking melted chocolate, yet it's tea. Each steeping develops more walnut notes and brighter flavor. After each sip gave a bit of a salivating sensation, wanting me to drink more. There is no funky flavors, bitterness, or dryness.
Fifth, Sixth, and Seventh Infusion: This shou is getting better and better. The texture is ultra creamy, again, still like drinking melted chocolate or heavy cream in texture. The flavor is very bright for a shou – strong mineral, with a twist of rich dark chocolate, with a finish of mejool dates. The highlight here for me is the texture, which is just out of this world.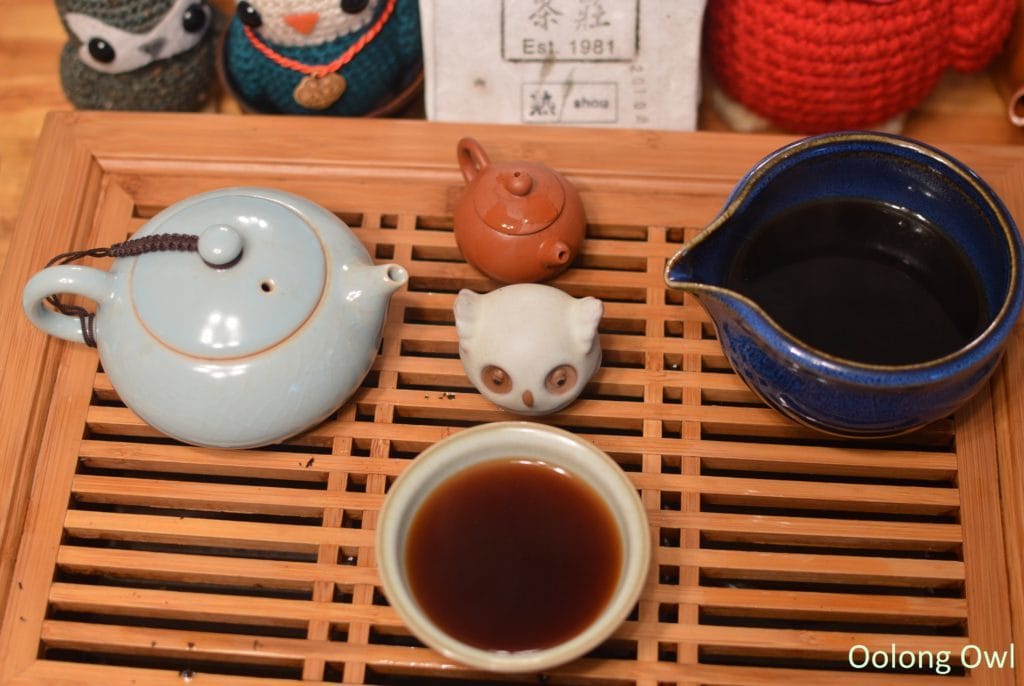 Eighth, Ninth, and Tenth Infusion: Even sweeter? What is this wizardry? The texture is still creamy, but the flavor has shifted to a bright, mineral rock and date sweetness. It is pretty neutral, but most of the enjoyment comes from the texture and sweet. I'm feeling pretty smiley from this tea – it's got a cuddly feel from the texture, and "I'm cheating on my diet" feeling from the sweetness.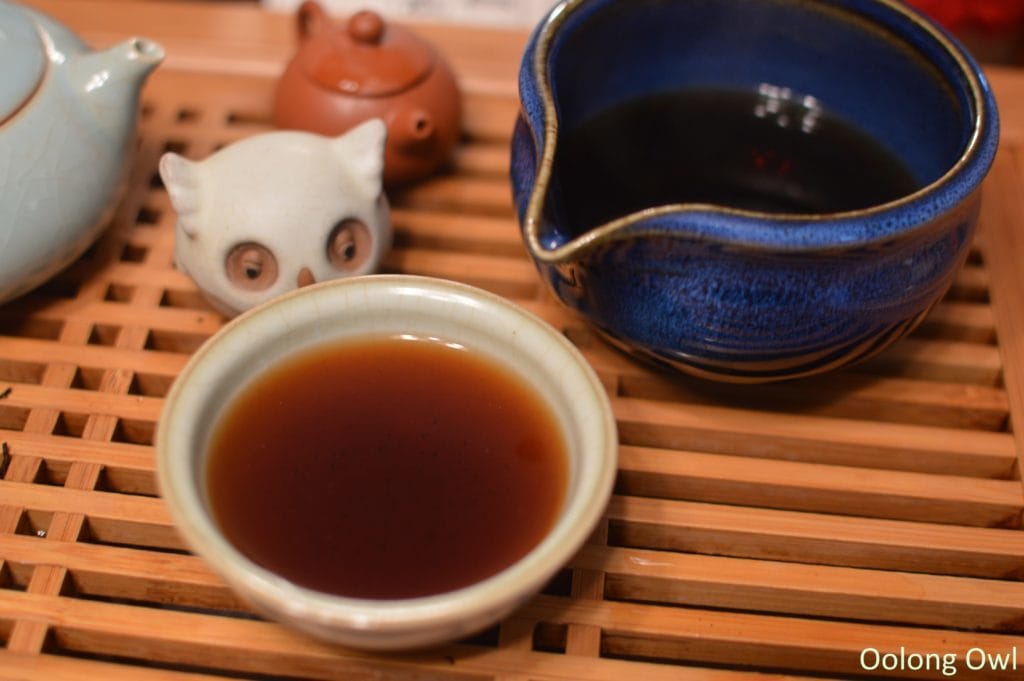 Eleventh, Twelfth, and Thirteenth Infusion: The final steepings were long, I ramped up to 30 minutes. The flavor I got slipped more into date, whereas the texture slipped to thin silk. Impressive how the texture still held on this long!
Steeped out, the leaf on this waffle shou still has a bit of green to it. This tea still has aging left to do!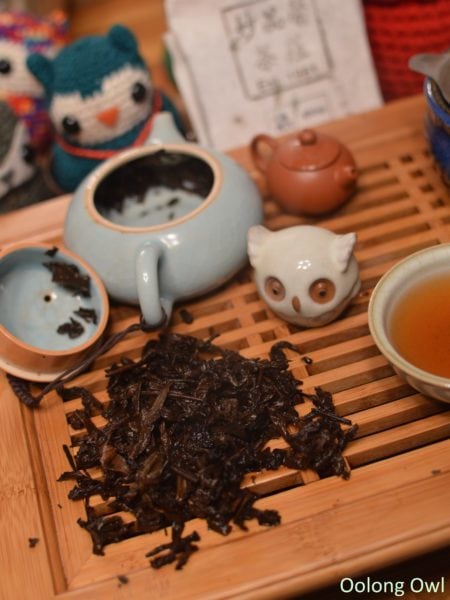 Comments
Treasure Green's 2010 Puerh Mini Waffle Brick Shou is also on the list for the cleanest shou I've tasted. This shou commands an excellent slick texture and sweet date notes. Admittedly, in the beginning I felt "this is decent" but with each steeping I got more and more impressed. I enjoyed every infusion of this shou and despite rolling with a bigger tea pot than usual, I drank every drop – I couldn't get enough! I am curious if there is any difference between the waffle and the cake – other sellers told me they use leftover material for waffles/ mini tuochas/ coins, but I am not sure if this is the case or not for the 2010 waffle.
The price on Treasure Green's 2010 shou is on the expensive side, at this time $26 CND for the 75gram waffle brick, or $75 CND for the 200g cake, which is high rolling for a shou. My guess is there is an added cost from this tea being from a physical store and pretty packaging. These are Canadian prices so there is fluctuation if you are paying in USD, I paid much less at the time when the Canadian Dollar was very low. I recommend Treasure Green's 2010 Puerh as a treat for the shou puer lover wanting something high roller and excellent quality, you will not be disappointed.