Everyone likely remembers their first. Way back when, and likely you can dig through this blog's early posts, I bought my first puer cakes through Mandala Tea. Garret is super awesome and helped me out, and it is when I bought their 2012 Wild Monk Sheng puer. I quickly sunk further down the pu-hole and bought samples of all Mandala Tea's house puer. Noble Mark is one of my first favorite shous that caused me to stock up to later. I didn't even review this tea on Oolong Owl despite it being one of my favorites. I did review Special Dark, which is another OMG Epic tea (now long gone), Phatty Cake I & II, and Temple Stairs. Mandala Tea went on online hiatus but recently came back. Let's do this – a long awaited review of Noble Mark. I even have a stack of Noble Mark in loose – the 2011 Noble Mark Ripe Puer Blend which is still available for purchase, but let's drink the cake.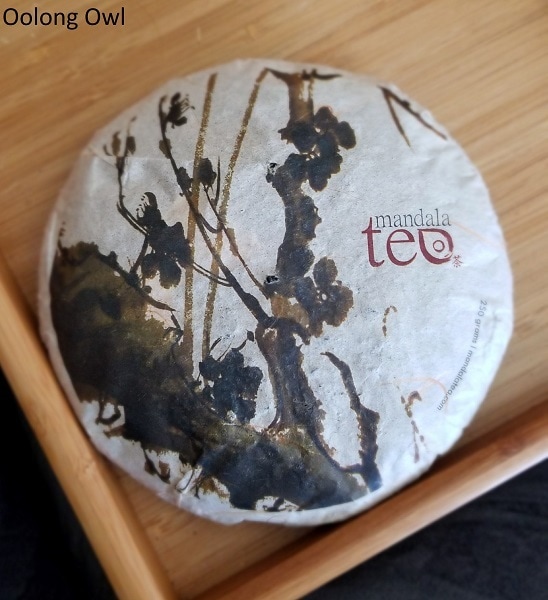 Dry Leaf and Steeping Method
By the way, this cake has been sitting in my storage since November 2013. It got a little banged up from moving, so there are some edges missing. It smells like my storage, which is strong earthy shou with a hint of funk… I should really let my shou air a bit more.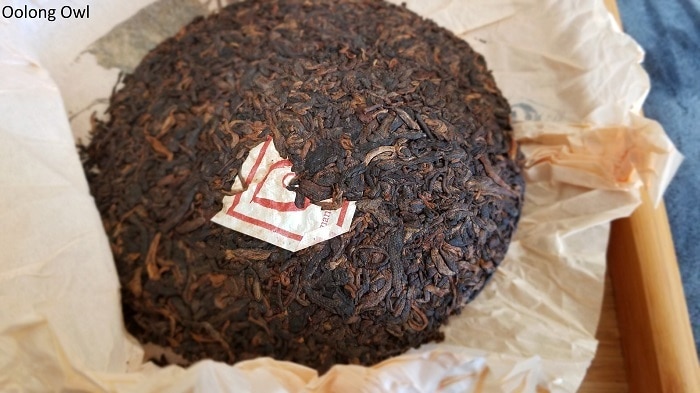 I tend to feel nervous when I drink old favorites as I know my tastes and steeping style has changed. I am going in here heavier on the leaf – 1 gram of leaf to 12ml of vessel size, steeping a bit shorter with boiling water.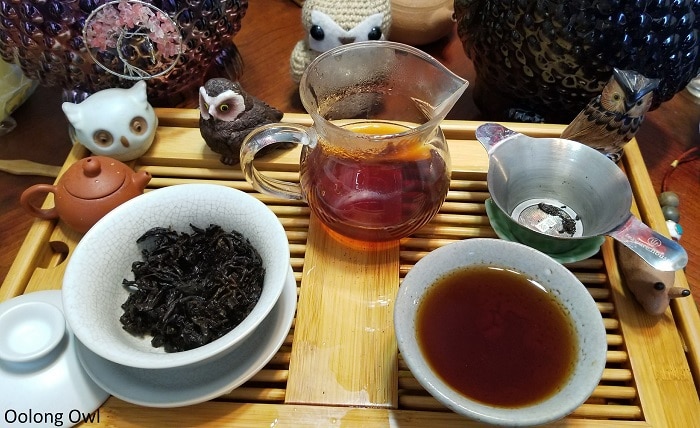 Tasting of Mandala Tea's 2012 Noble Mark Shou Puer
First, Second, and Third Infusion: Noble mark is sweet, super clean, and chestnutty. The flavor is bright and sharp, leaving a lingering sharp bittersweet nutty flavor after each sip. There is an interesting contrast between clean, sweet, yet that bittersweet hit that reminds me of murky coffee.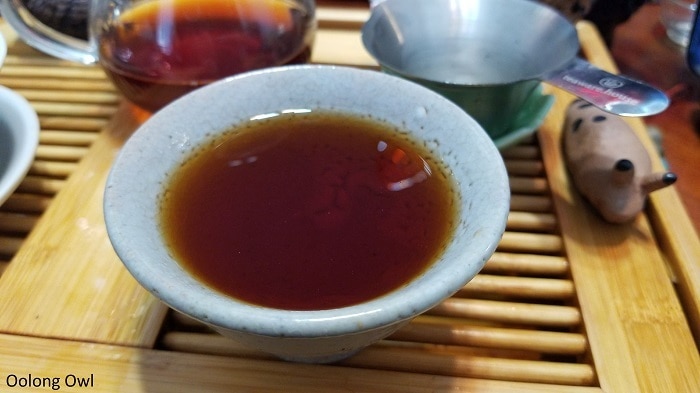 Fourth, Fifth, and Sixth Infusion: I finally got a taste of the rich depth Noble Mark can do and how I remember it to be.  It is smooooooth, rich sweet cocoa, with the sip turning sweeter and sweeter as it goes on. It lost the bittersweet. The texture is slick and oily that I am worried it is taking my bitch to remove lipstick off.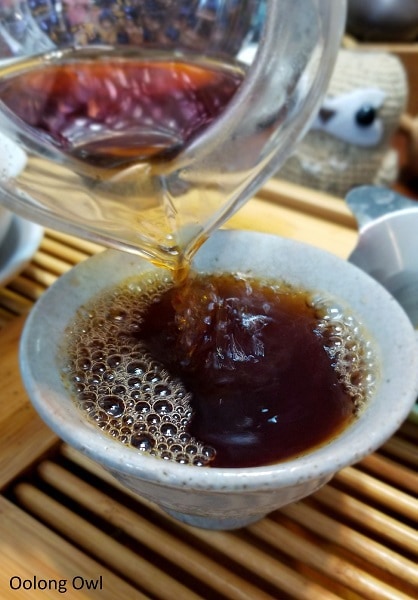 Something that I didn't notice before, but I do now as after years of experience, is I pay better attention to body feel. The body feel is chill and grounding like I am sinking into a bean bag chair. I should be drinking this after dark with dessert. I personally tend to not go for sleeper energy teas, I like the maniac "get shit done" tea body feel. I am curious if this is a tea that I could drink later than usual and sleep. I know plenty who can drink shou before bed, but I generally find the caffeine or energy hit too strong, so I'll be bouncing till 3am.
Seventh and Eighth Infusion: Screw it, I need a dessert with this tea and then I'm going to pass out. I have some eggy sponge cake that I got at the Korean bakery.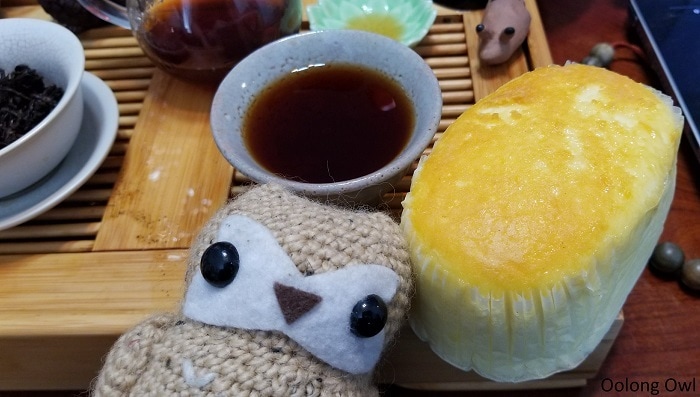 I'm sure people will scream blasphemy, but dipping the sponge cake into the tea is awesome. This kind of cake is fluffy but very dense with fine bubbles – it just soaks up liquid without disintegrating. It also isn't that sweet. Noble Mark is sweet and nutty and dark chocolate, it adds another dimension to the dense eggy cake.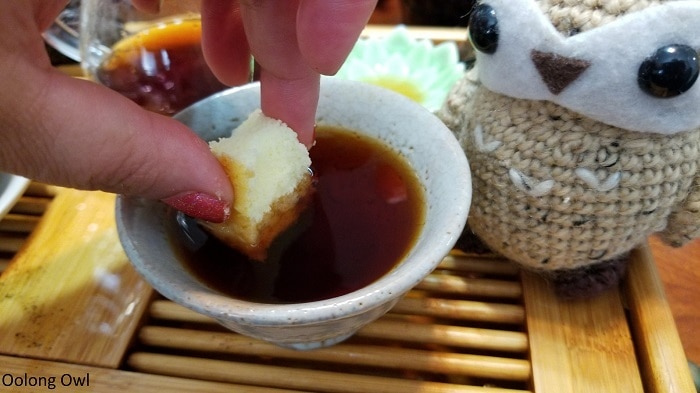 Ninth, Tenth, Eleventh, and Twelfth Infusion:
Noble Mark has slipped to ultra sweet and lighter – I had to do a 5-20 minute infusion to keep this one alive. It is brightly sweet and light, like wet yet malty rocks. It is easy to chug here, I am dozing off in between infusions despite it being 6pm.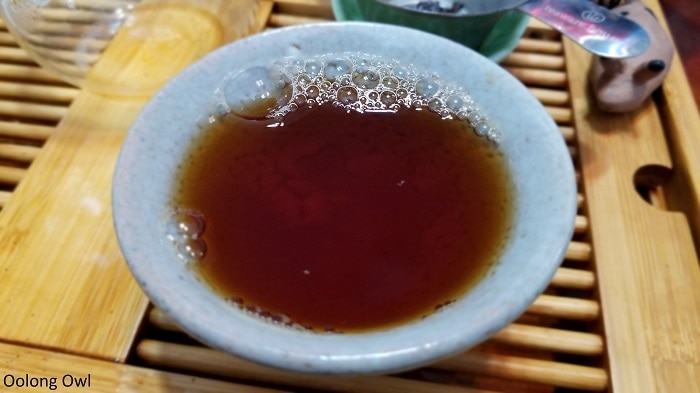 The steeped out leaf is quite chopped up and messy. The description of Noble Mark makes note of using smaller leaf.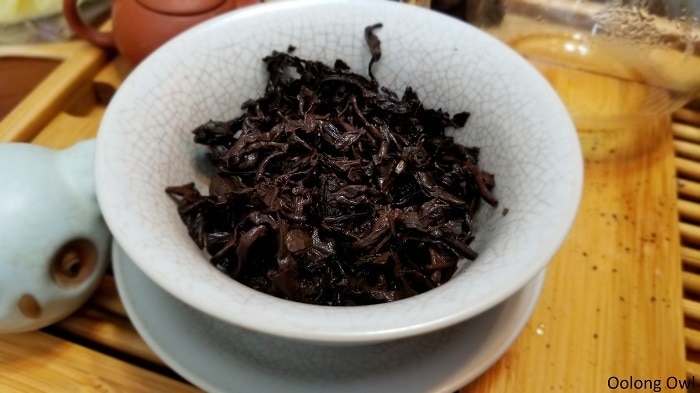 Comments
Noble Mark is a sweet and smooth puer that is well balanced. It has its rich thick moments but settles later on to light and sweet. It is a shou puer that you cannot go wrong getting, it is one that can win over a coffee drinker or anyone new to puer, but smooth and chill body feel enough to interest a more seasoned tea drinker. Noble Mark is the perfect tea to wind down after a long day or impress people to serve along with dessert.
I have no regrets getting this cake and stocking up. My only criticism is I found the cake on the dusty side – I had a lot of fine flecks of tea that made a mess on my tea table or dumping last of my cups. Likely a finer strainer would have been a good call here. I am not sure if it just my cake being beaten up over the years, but I don't recall problems with the loose material.
Mandala Tea still has some 2011 Noble Mark Ripe Puer Blend material! Be sure to check out their other teas, they have some epic ones!