I purchased a couple of these 2013 Fuding Bai Cha White Tea Bricks from the The Chinese Tea Shop at my last visit to Vancouver. I actually was hoping for more of their 2000 Fuding, but they were sold out at the time, and had the 2013 brick instead.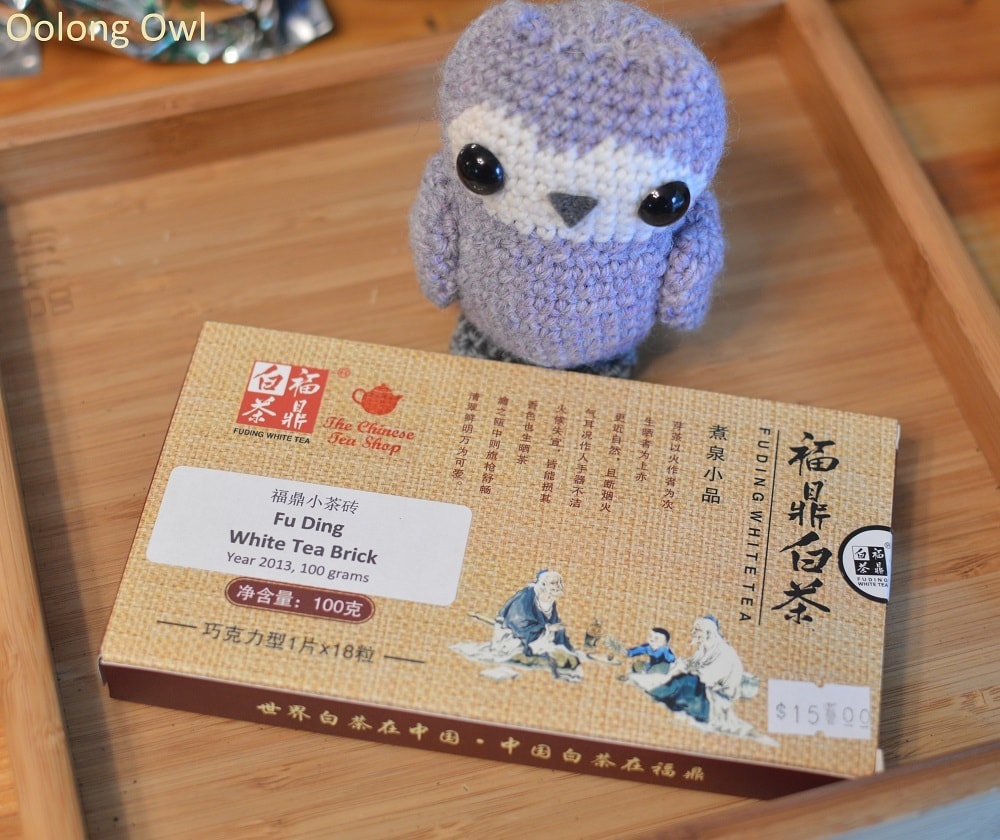 This white tea is 100 grams and pressed into 18 squares, chocolate bar/waffle style. It is inexpensive, so I purchased two bricks.
Dry Leaf
OMG SO CUTE! I wasn't planning on writing about this tea until I unwrapped it. I was so impressed with how the 2013 Fuding Bai Cha looked, I dropped everything, starting writing, and taking photos. The leaves look big and rippled with autumn colours.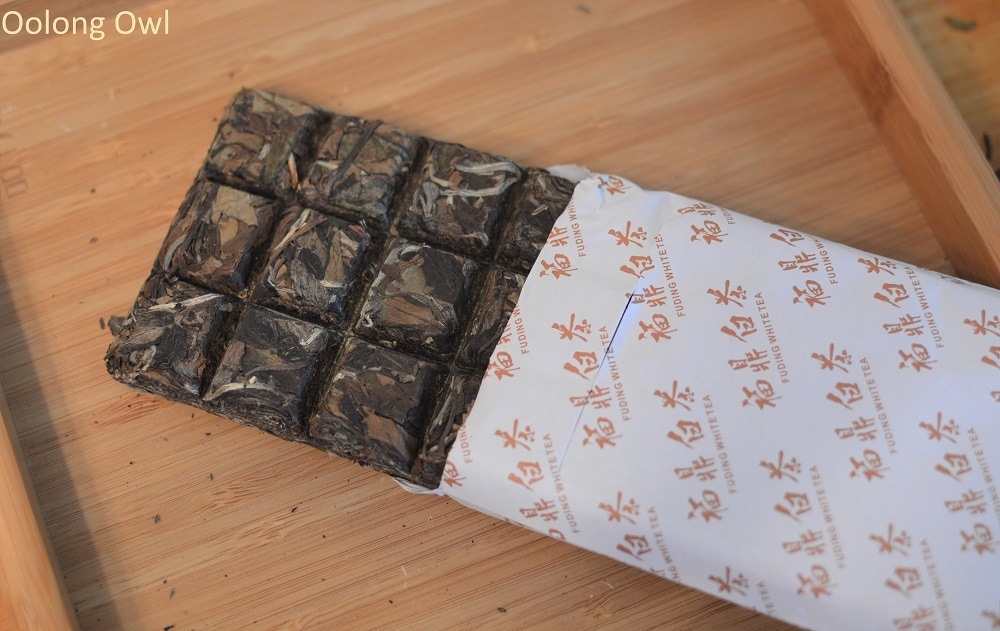 The scent of the white tea brick is a musty honey maple.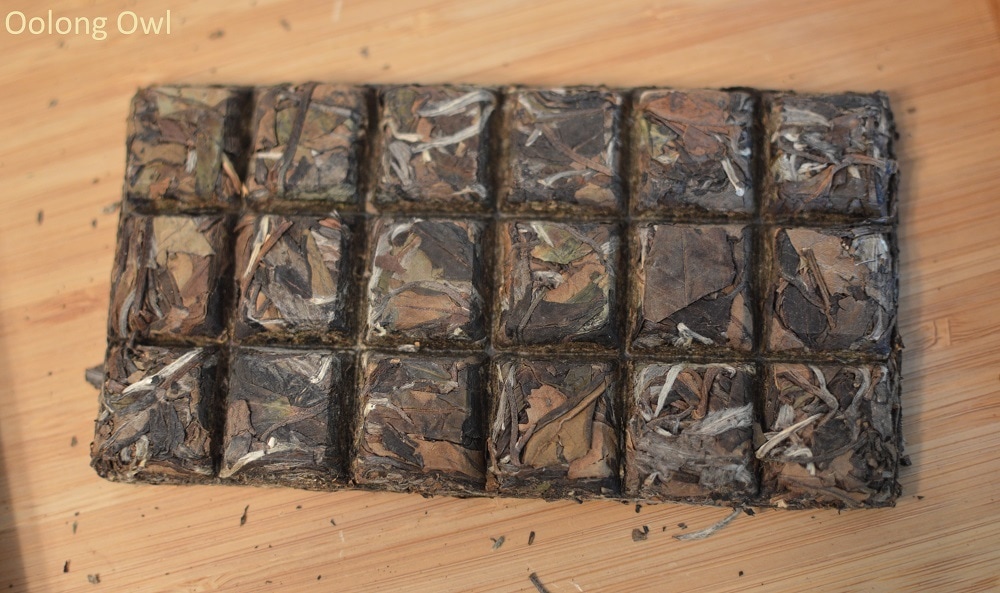 Steeping Instructions
The brick has 18 squares. Mine clocked about 5 grams each, but due to the lighter pressing and big leaf, breaking off squares was quite messy. They didn't break that evenly and lots of big sheets of leaf fell off my square.
I used 1 gram of leaf to 15ml of vessel size, steeping with boiling water. I feel you could leaf down to 20ml, but not much stronger than 12ml due to expansion. Since I wasn't intentionally going to review this, I ended up steeping my white tea in my usual clay pot.
Tasting of The Chinese Tea Shop's 2013 Fuding Bai Cha White Tea Brick
The hot leaf smells like I put my jar of bear honey in the clothes dryer as the tea smells like linen and honey. This is assuming the honey didn't start a fire in the dryer. The tea came out a clean, clear bright gold. Gorgeous tea!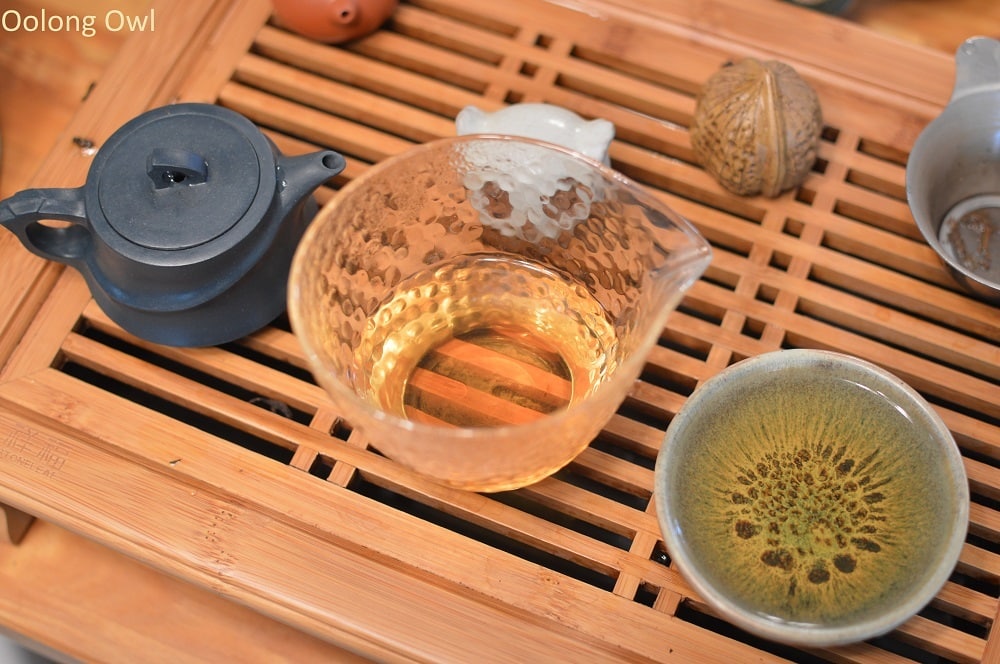 First, Second, and Third Infusion: 2013 Fuding Bai Cha sips in very clean, the slowly develops a thick mouth feel of drinking cream. The flavor is sweet, slightly musty, with linen and honey. The finish is juicy and sweet, switching gears again.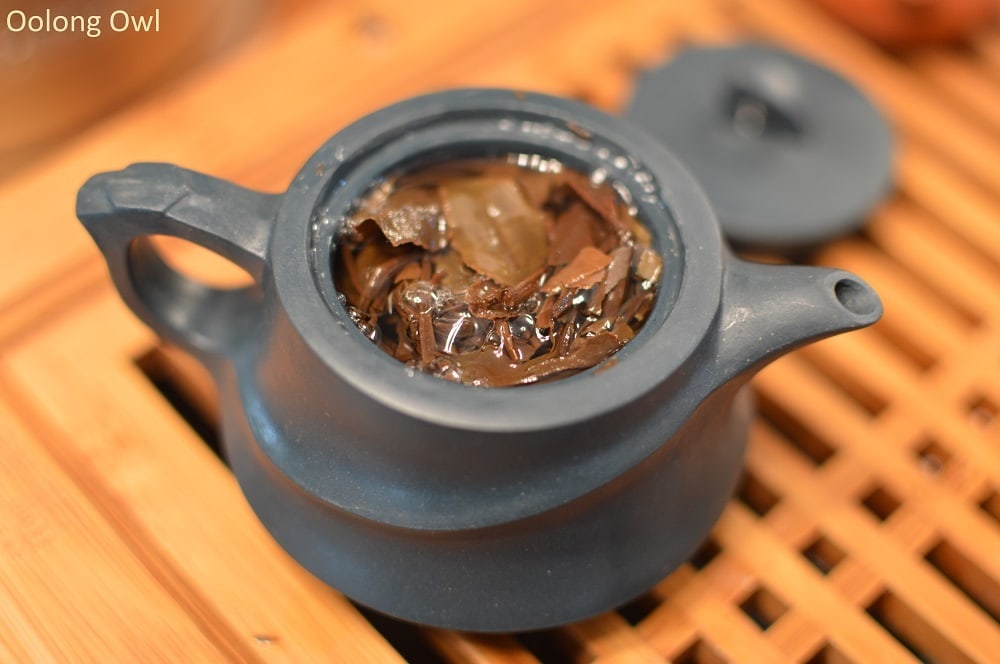 Fourth, Fifth, Sixth, and Seventh Infusion: 2013 Fuding got bright, bright like a black tea. It is bright, juicy, honey and sweet. The notes are light, yet the body and flavor intensity is strong and thick. For these steepings there is an addition to a slight dusty in texture, giving me a slight dryness like a dusting of baby powder.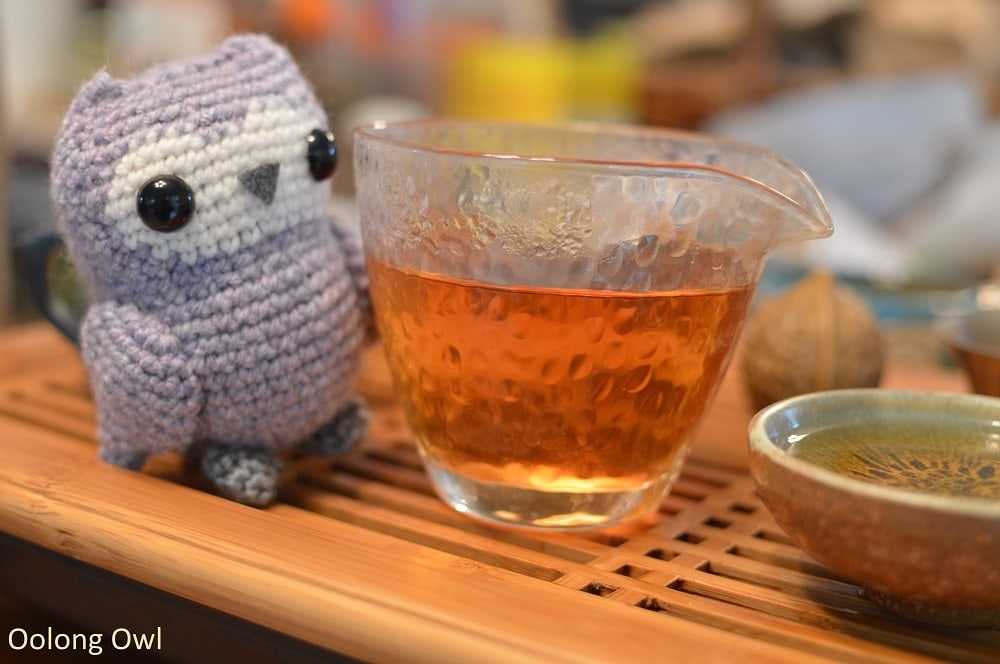 I started feeling really energetic, yet cool and methodical. Not my usual maniac flailing tea drunk – I am ready to do things and I have  plan. That plan is dinner. The Tea Owls want steak. This poor new owl, who just hatched last night, gets the crumbs from the pecking order.
Eighth, Ninth, Tenth, and Eleventh Infusion: The flavor is starting to shift again in this white tea square. It is building to a slight date flavor, but still quite honey and bright. The dryness is building to a soft briskness, which is interesting as this white seems to of stolen elements of black tea. At this point the tea started needing longer and longer steeps.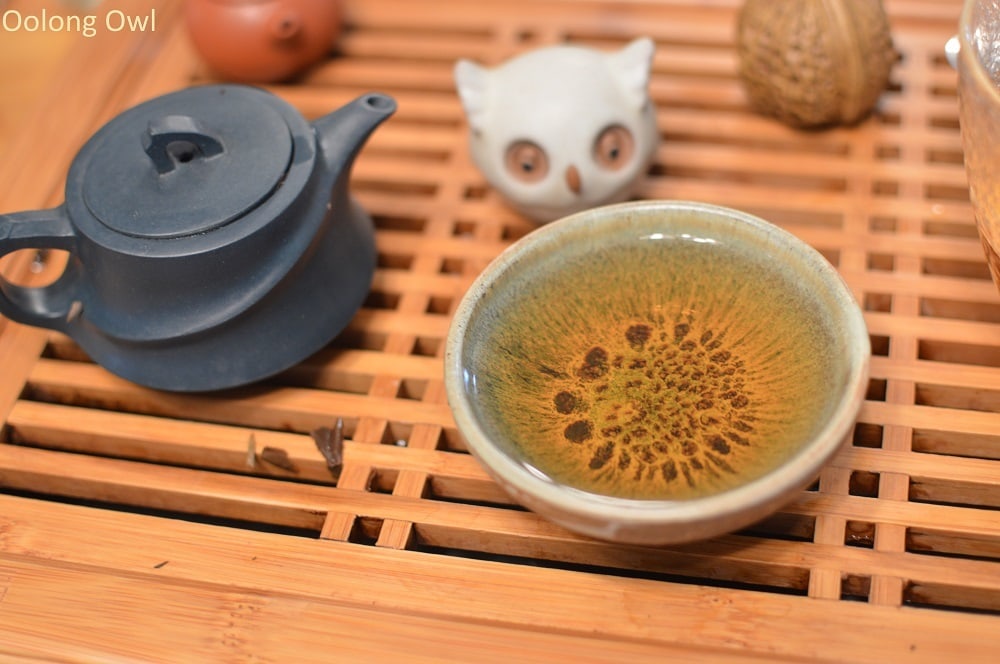 Twelfth Infusion: I could of likely milked this one another 2, but I had things to do. Namely, shopping for dinner ingredients. I did a power steep of 20 minutes to pull everything out. This turned out to be a bad plan as I got a bitter taste with sharp date notes and briskness, however with a balmy texture. This is a tea to just resteep fast for high numbers, than long heavy brews. I think turning down the temperature to 200f would have best results, or leafing down to 1 gram to 20ml… or give it a few more years.
Ahhhh aged white tea – looks gorgeous before but never after steeping it out.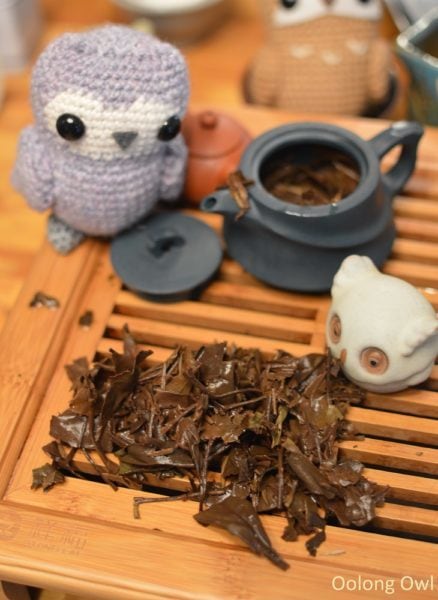 Comments
The Chinese Tea Shop's 2013 Fuding Bai Cha White Tea Brick is a solid starting to age white. It has a good daily drinker appeal now, and you get quite a few steepings out of it. Very good if you like white teas with more power and flavor to them, but yet sweet and delicate. Yet, not aged at this point to be crazy date and medicinal.
The square brick pressing is fun for travel in theory, but the mess of this particular white I'd likely never use it for that. More of a stay at home, easy to break white. If I wanted to drink now, I would honestly break the whole brick apart so you can deal with the mess in one shot and have it contained. It is a compact tea, I will likely give a few squares to my friends and forget about it for a few years.
Price on 2013 Fuding Bai Cha White Tea Brick is pretty good at $15 Canadian. But really, Vancouver is a great tea city to visit and I highly recommend you take a trip, being sure to visit The Chinese Tea Shop.