Today's tea review is Crimson Lotus Tea's 2014 Iron Forge Shou Puer. This pu'er is a huang pian (big leaf or not pretty leaf material) from Yiwu. Generally huang pian pu'er is cheaper, making it a really affordable option. This is reflected in Iron Forge, at this time $38 for 500g of tea!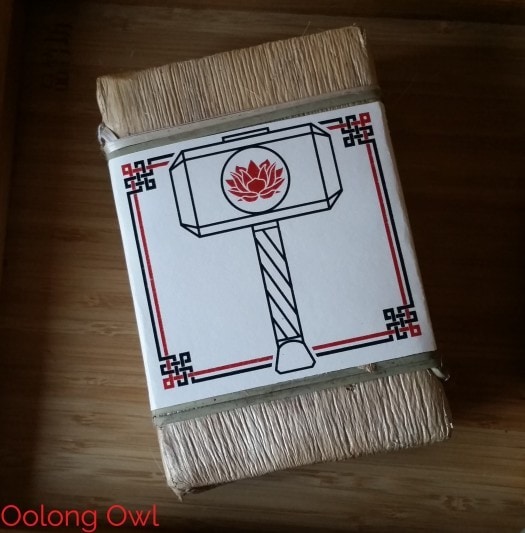 I seriously bought this tea because the name and packaging was awesome. I've been watching Glen from Crimson Lotus Tea make pu'er knives on Instagram, and it seems totally fitting to have a metal work feel. At the time of order, I had finished the season of Forged In Fire and was pumped up!
Unwrapping the 2014 Iron Forge Shou Puer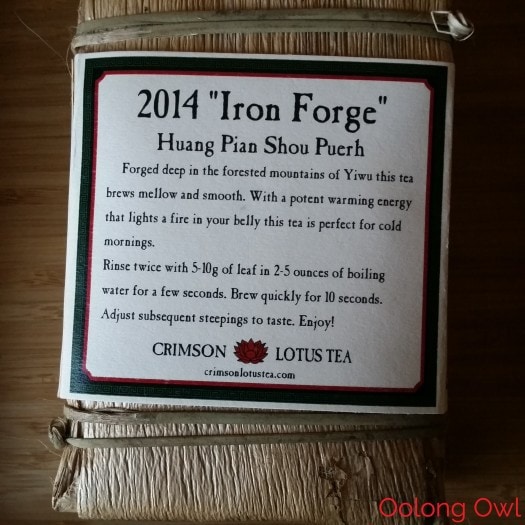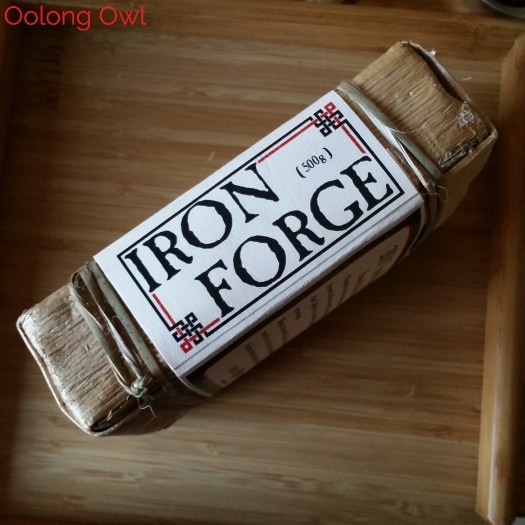 The brick was easy to open, all I did was slip off the label, untwist the grassy bamboo stays, and then unwrap the bamboo. No need to hack it up anything.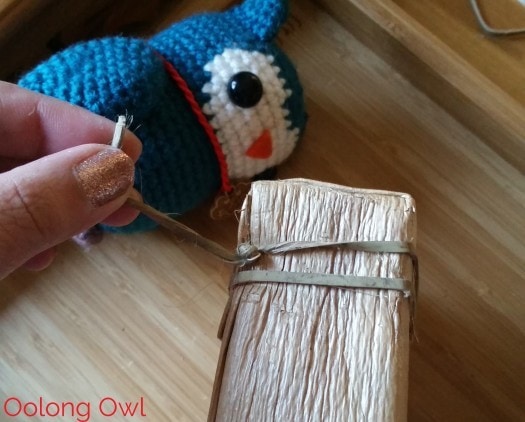 Inside is 2 x 250g bricks of shou. I purchased this tea on Cyber Monday, so I've had it since December, drinking in February. Upon opening I realized I should of opened this tea sooner to air out, it smelled heavy wet pile shou. It was not funky shou scent, so it does not have an unpleasant smell, but still had a really strong scent of wet earth. The cakes also felt a touch humid.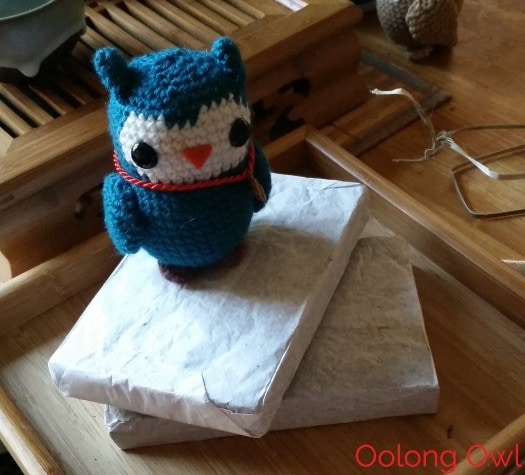 I unwrapped one and it was like a big chocolate bar, yum!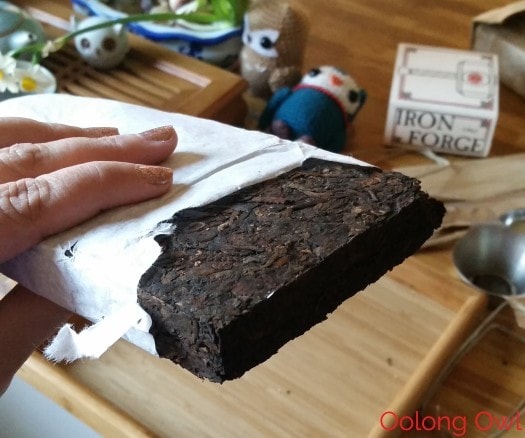 Dry Leaf and Steeping Instructions
Huang pian broke up big and leafy. This brick was super easy to deal with, I actually didn't need a pick, I just flaked chunks off with my fingers.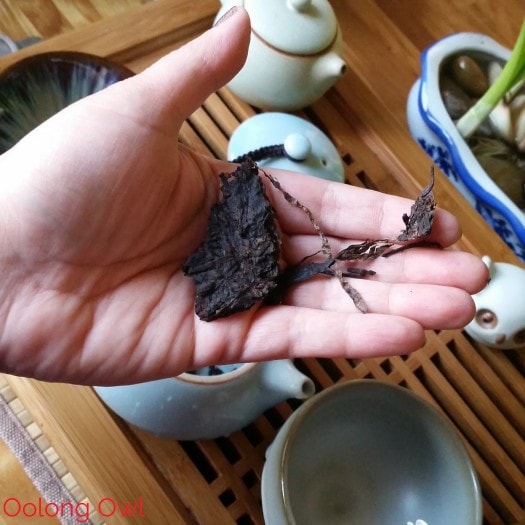 I did pretty standard gongfu brewing, 1 gram to 15ml, boiling water, 2 rinse. I started with 20 second steeps as my pot pours on the slow side.
Tasting of Crimson Lotus Tea's 2014 Iron Forge Shou Puer
First, Second, Third, and Fourth Infusion: Steeped up, Iron Forge shou smells wet pile, just like the leaf. The tea colour is a beautiful deep reddish ink brown.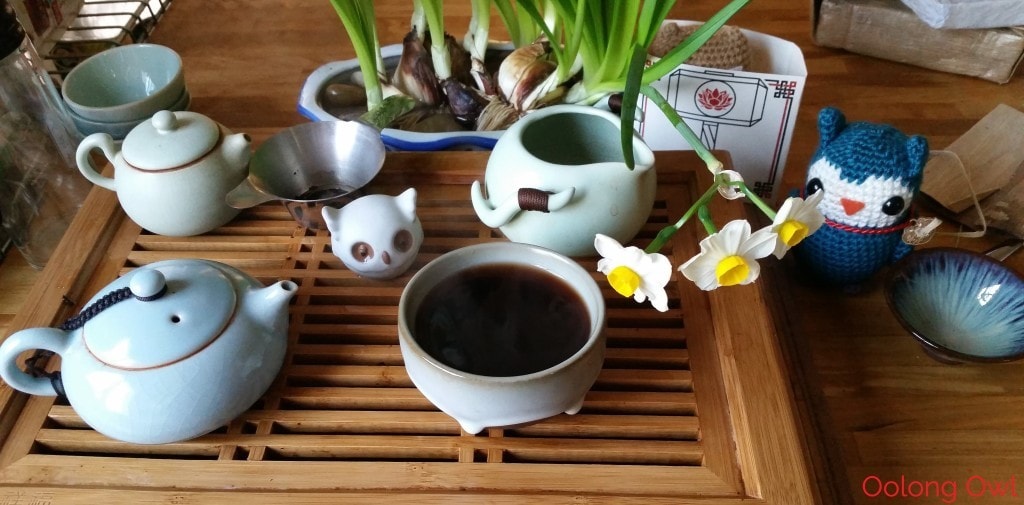 The taste is smooth, sweet creamy with a touch of earth. There's a hint of wet pile but not sour, funky or bitter. With each steeping, Iron Forge Shou gets more damp forest floor, lightly shroom broth, mineral sweet. There is a wild feel to this tea like I'm drinking scrapings off a west coast rainforest. Each steeping creeps in more strength without face punch strong. It's very approachable and friendly.
Fifth, Sixth, and Seventh Infusion: I'm deep into the woods. The flavor is thick dark wood, damp earth, and a mineral finish. The clean aftertaste mouth feel encourages you to sip for more, but each sip has a deep breath feel to it. Each steeping of Iron Forge lightens, opening more wet stone mineral flavor. This tea tastes like what a rainy west coast forest smells, a forest I've experienced a lot growing up on the west coast and camping there.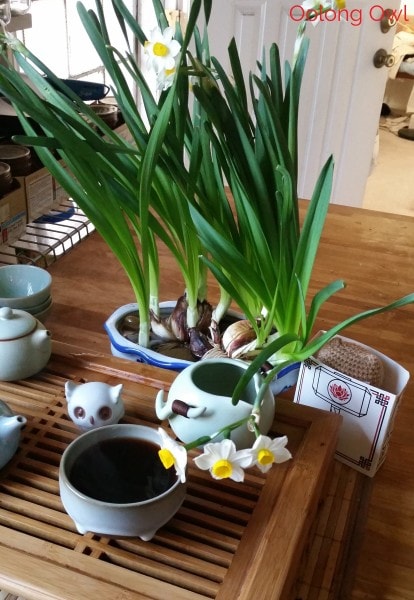 Eighth Infusion: 10 minute steeping here. The flavor has shifted greatly to a sweet wet stones and mineral. Not much earth or wood now. The flavor trip for this shou is great and wish I got more steeps but I'm fighting. Fighting the Alliance. FOR THE HORDE! KEK!
Ninth and Tenth Infusion: I managed to get a 20 and 40 minute steeping here. There is just sweet wet stones notes, but good to the last drop.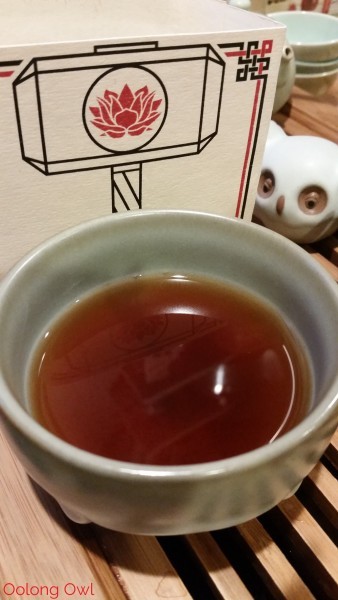 Big leaf whoa! That's a single leaf. Not kidding huang piang.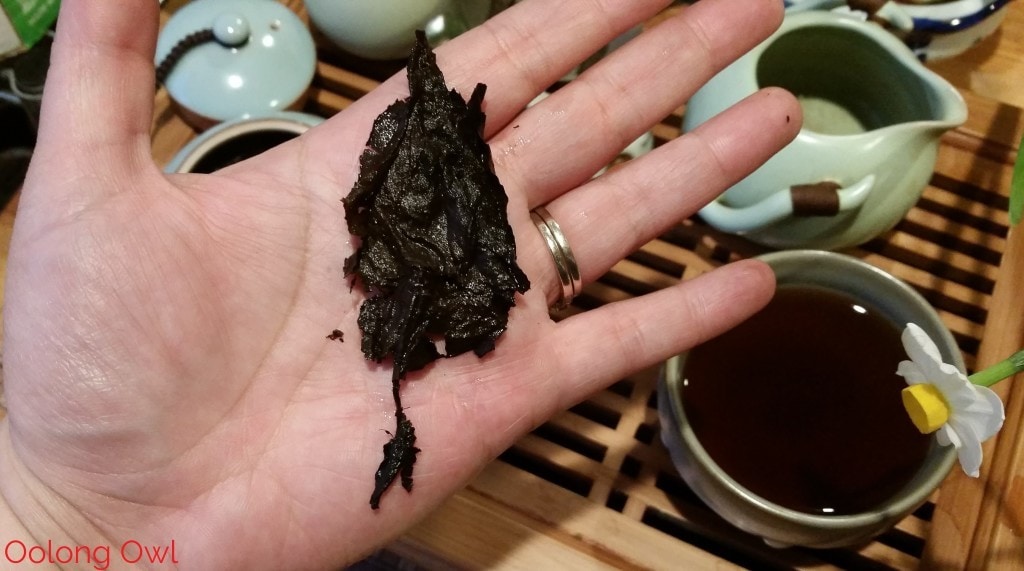 Comments
Crimson Lotus Tea's 2014 Iron Forge Shou Pu'er is pretty solid. The main feature is the price is cheap! Want your first shou cake? You can't go wrong with this one!
Iron Forge Shou is totally a daily drinker as it sips fast, easy to drink, and smooth. You can go chug away at this shou as you work, it's not that heavy heady shou that coat your insides with mud. I quite enjoyed the notes on this shou as it gave me warm fuzzies for home, plus Owl loves a good price for a good tea.