2014 White2Tea 46&2 Raw Pu'er is a tea from 2013 Jingmai leaves, spring 2014 pressed. This pu'er is from White 2 Tea, Beijing based online tea seller.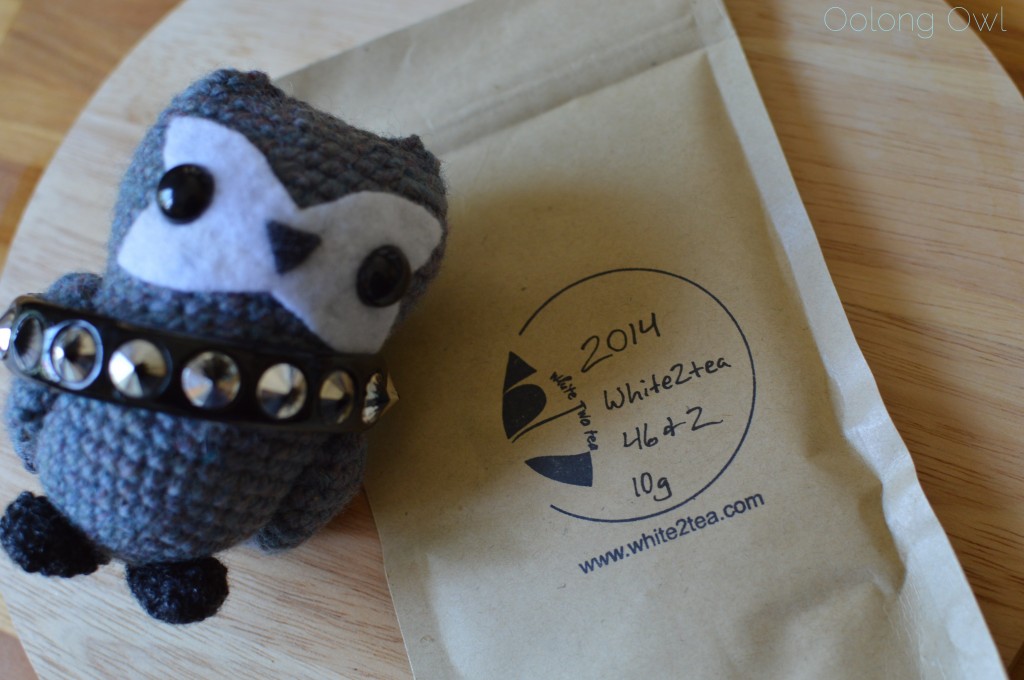 First off – this has got to be the coolest pu'er name! When this tea arrived the other week, it spawned a Tool marathon for a few days, with a few extra plays of Forty Six & 2. White 2 Tea confirmed with me that the name of this pu'er is a reference to the Tool song!

White 2 Tea has some really neat, modern pu'er cake wrapper art. I'm working off a sample so I don't have the wrapper in person, but here's a image off their site of 2014 White2Tea 46&2 Raw Pu'er.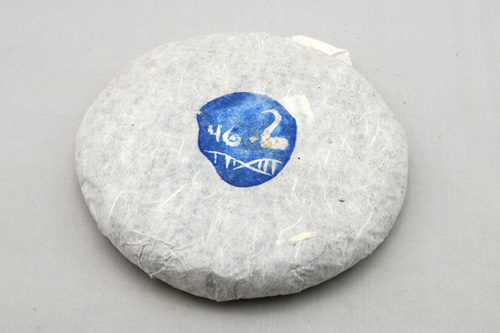 Another example of awesome pu'er cake wrapper artwork is White 2 Teas' New Amerykah – SNES rpg goodness!
Dry Leaf
Opening the package of 2014 White2Tea 46&2 Raw Pu'er released a punch of fragrance – sweet floral mixed with a dry scent I associate with sheng/raw pu'er.
The leaf is quite exquisite, loosely twists of silver, bronze and black leaf.
Steeping Instructions
White 2 Tea also has a quite informative blog. I found their easy pu'er steeping instructions very helpful in helping me determine how much pu'er to use. The ratio is 1 gram of tea per 15ml of water. I had a 100ml-ish gaiwan, which adds up to…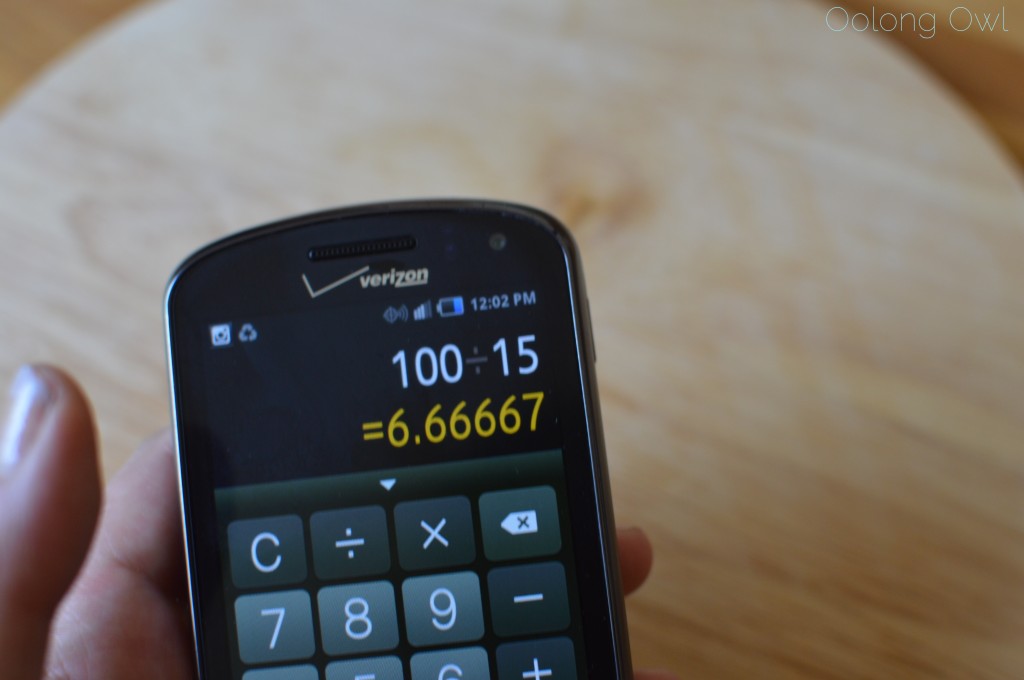 Well that's….  HEAVY METAL! Anyways. 200F water used here, rinse, 15 second steeps to start. In retrospec, I should of started with 5 or 10 seconds.
Tasting of 2014 White2Tea 46&2 Raw Pu'er
First Infusion: My first infusion 2014 White2Tea 46&2 Raw Pu'er came out with a touch of gold colour with a light scent of smoke, leaf and wood – like new growth on a charred forest.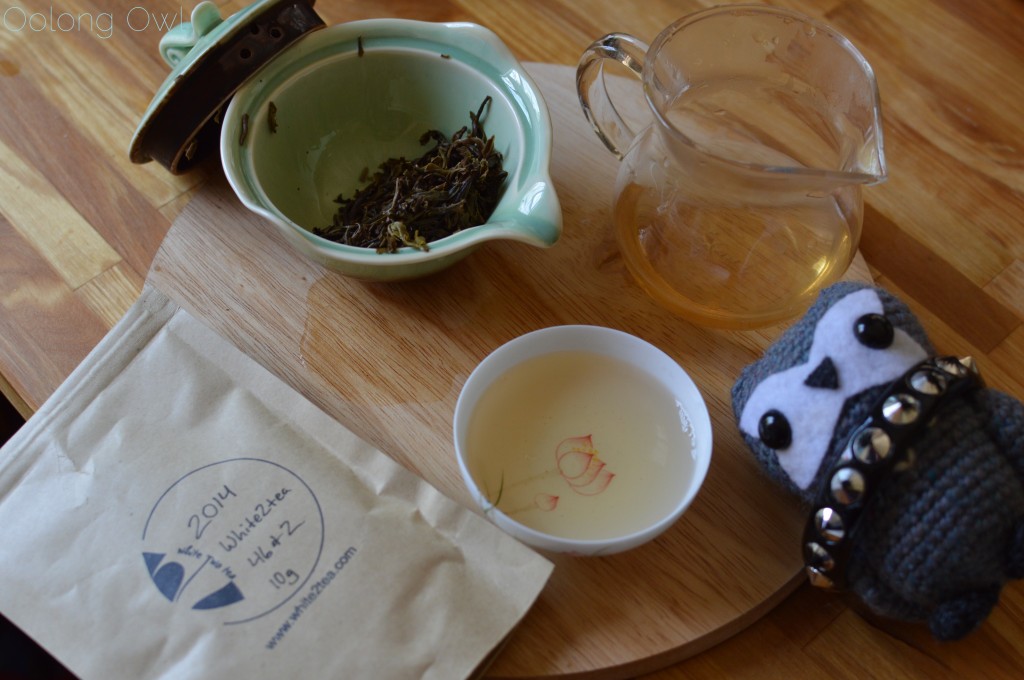 First sip – WOW! SMOOOOOOOOOOTH! I probably needed a longer rinse here, but this steeping was creamy milky in texture and flavor with a shock of clarity at the end with a peak of vegetal sweet finish. This steeping was just getting my feet wet, so to speak. I'm basking in tea drunkeness as I write this, but let's start this pu'er journey walking into an abandoned fruit tree farm, forest, vines and brush taking over.
Second Infusion: 2014 White2Tea 46&2 Raw Pu'er has a slight charred earth notes and stronger flavor backed with a silky texture, not as thick as the first infusion. The finish is sharper, with a sweet leafy flavor and a hint of astringency – 1/10 on the Astringe-o-meter.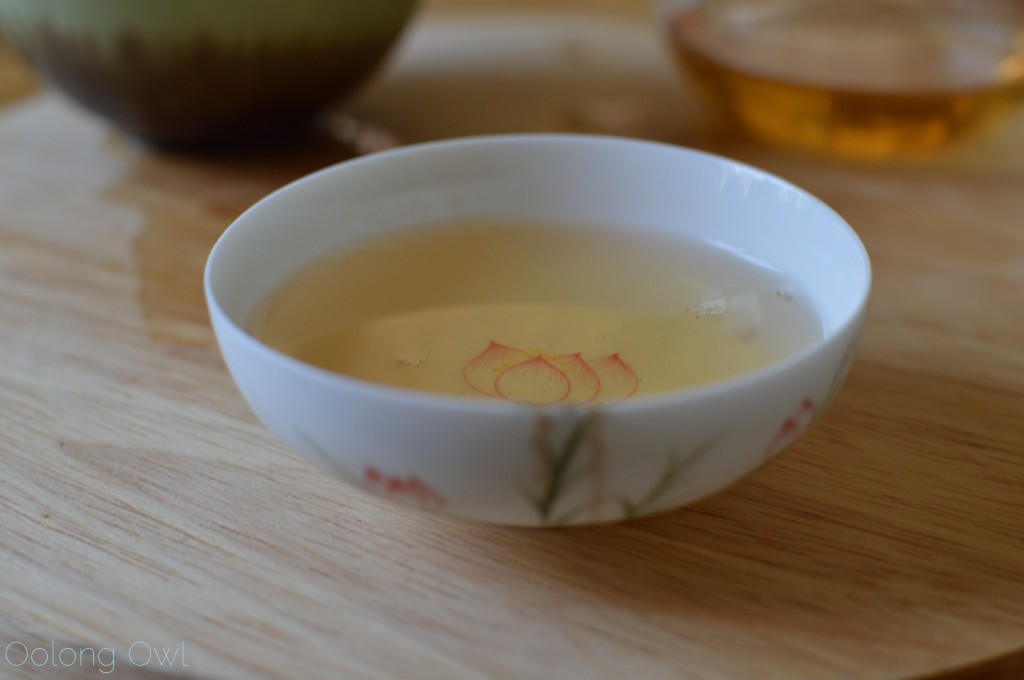 Third Infusion: Going deeper into the forest, with lots of sun breaking through the gaps in the leaves and branches. 2014 White2Tea 46&2 Raw Pu'er is leafy strong with a fruity sweetness. The fruity leafy flavor along with the astringency reminds me of nibbling on a core of a pear including the bits of pear skin on the top.
Fourth Infusion: A gritty infusion! The astringency peaked at a 3/10 on the Astringe-o-meter. It's not silky anymore, lots of steamed leaf flavor and fruit. The tea is now like the center of an asian pear – sweet, but the gritty core drying your cheeks. Quite shocking to hit the astringency here, like I got attacked by some forest vines and getting pulled somewhere I don't want to go. I realized I need to slow down the steepings – I've been adding 15 seconds and it is too aggressive for me.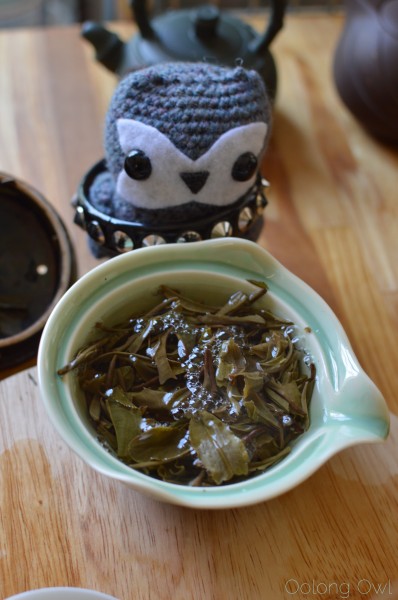 Fifth, Sixth, Seventh, and Eighth Infusion: I did the same steep time for infusion #5  as infusion #4 to slow down the progression. After that, I resumed 15 second steeping increases. This steeping was much better, as if I GTFOutta the bad part of the forest and into a calm clearing, reflecting on what happened. 2014 White2Tea 46&2 Raw Pu'er has a bit of a coppery flavor with still steamed leaf, pear core and lighter astringency (1/10) with a hum of mellowness. I was also chain drinking the previous infusions, but with these steepings I slowed down drinking these steeps, enjoying each cup.
Ninth and Tenth Infusion: I increased the steep time here to an additional 30 seconds. I got full out tea drunk here, laughing at formal Tea Owl being klutzy in his spiked outfit. The steepings of 2014 White2Tea 46&2 Raw Pu'er tasted mineral like mixed with pear skin. The dryness sips in non-existent, but a minute after each sip my cheeks feel a touch dry.
Eleventh and Twelfth Infusion: I was hellbent to get 12 steepings out of 2014 White2Tea 46&2 Raw Pu'er. 4 + 6 + 2 = 12! Yeah yeah, it should be 48, shush! The last steepings here were calm sips – soft, silent, a little sweet, smooth and light on flavor but with a gritty dry finish! Battle scars, yeah! There was a beautiful stillness while steeping this last infusion that I hope I captured.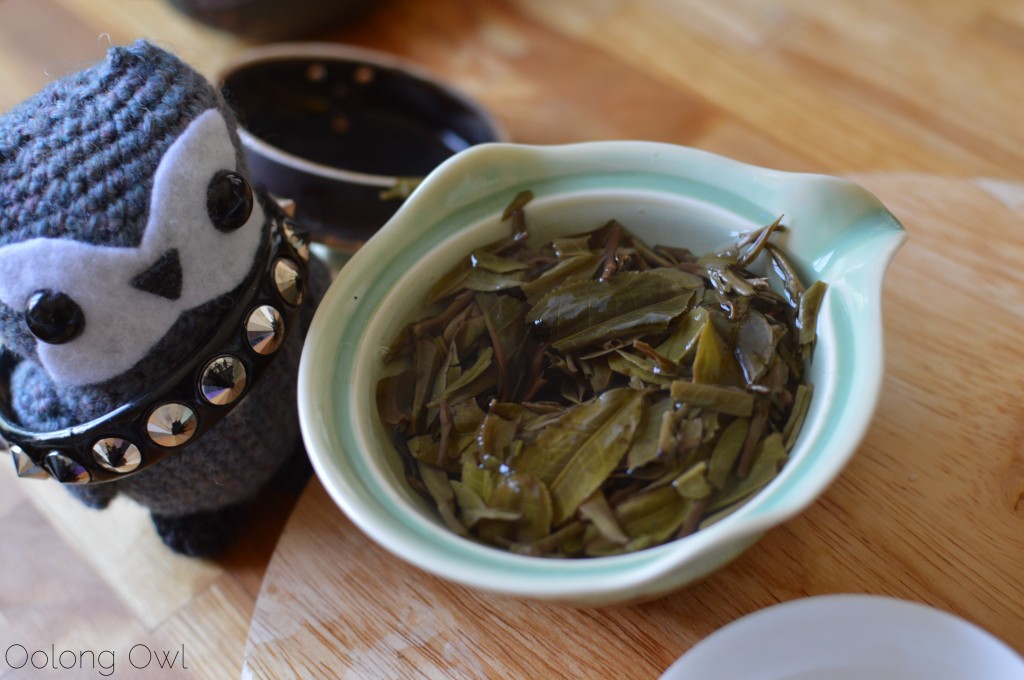 Comments
I had a fun journey drinking 2014 White2Tea 46&2 Raw Pu'er and really enjoyed this tea! I'm excited to try more of White 2 Tea teas! Lots of energy in this pu'er with the first few steepings being smooth, middle steepings had some interesting twists and heavy guitar, with a gritty finale – kinda like a progression metal song! LOVE IT!
2014 White2Tea 46&2 Raw Pu'er is great and energetic tea and really smooth for a pu'er pressed from this year! With that said, this pu'er has a bit of a price tag on it (at this time, 200g for $72.50) and would be great pu'er to have in your stash. FYI.. my birthday is in November *winkwink*
(tea provided for review)