I recently did a big White2tea order. When I opened the box there was something in there that smelled really pungently strong.  Upon sniff testing every tea in my box, this was the cake! If You Are Reading This It's 2 Late! I kept smelling the cake it over and over, curious how a promise of sweet sheng smelled so pungent. This much confusion meant I needed to drink this ASAP.
If You Are Reading This It's 2 Late is an interesting name. I've already trolled people on instagram with it!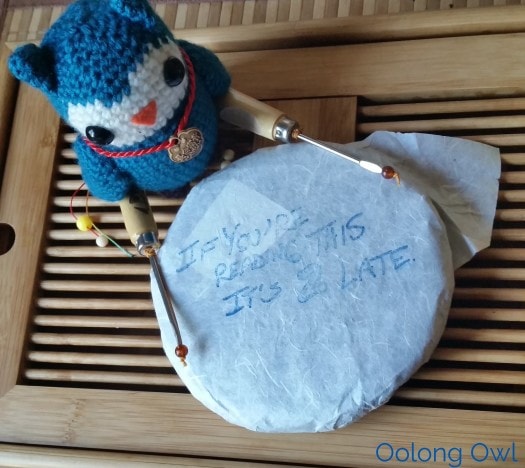 With all these White2Tea cakes, I got lots of potential White2Tea tea reviews, ontop of the usual White2Tea club stuff. I also just ordered more teas from the recent White2Tea sale. I hope you all don't mind. I don't mind. #fangirl #fanowl. Hmmm.. do we need the official White2tea fan tea owl? Maybe a white two headed Tea Owl with puppy ears?
Unwrapping & Dry Leaf
If You Are Reading This It's 2 Late cake was pressed softly as the edges were breaking apart. The cake has a pretty appearance with a dark unsaturated green and silver leaves twisted together.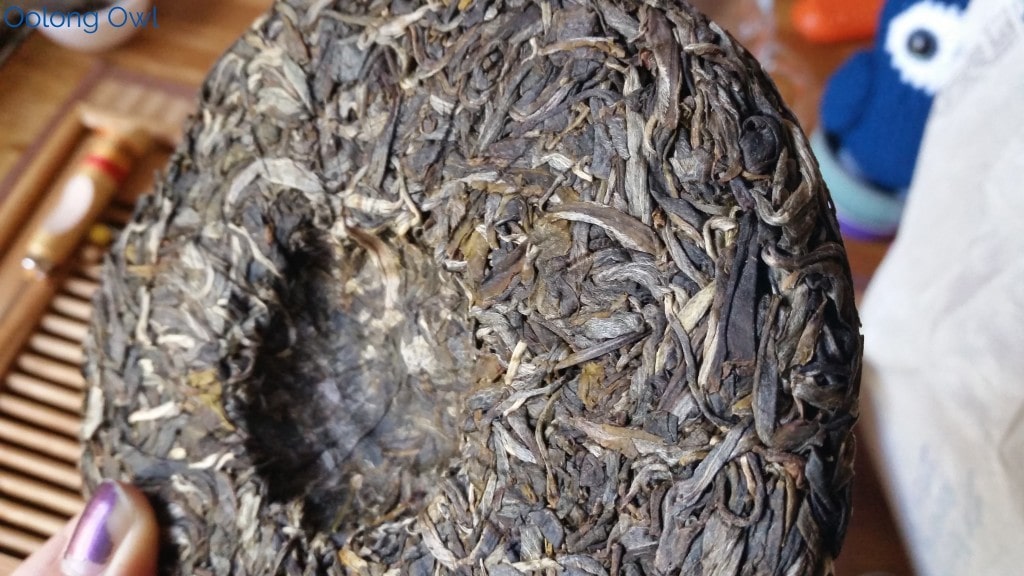 I was able to pull whole pieces off easily with my fingers. Teal "pu'er pick" owl stabbed out  some larger bits.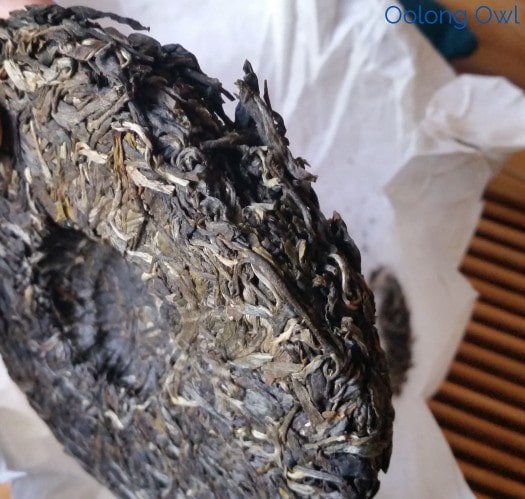 Steeping Instructions
I wasn't sure here. I was thinking a safe bet would to go 185F for new pu'er. After much debate I went with 200F water temperature. I'm living large but not YOLO tea drinking. I used 8 grams in a 120ml gaiwan. I did one rinse and started with 15 second infusions, adding more time with each infusion.
Tasting of White2Tea's  If You Are Reading This It's 2 Late Sheng Pu'er
First and Second Infusion: 2 Late steeps up a light golden cup with a sweet, hot leaf, and pungent scent. Yup this is the tea!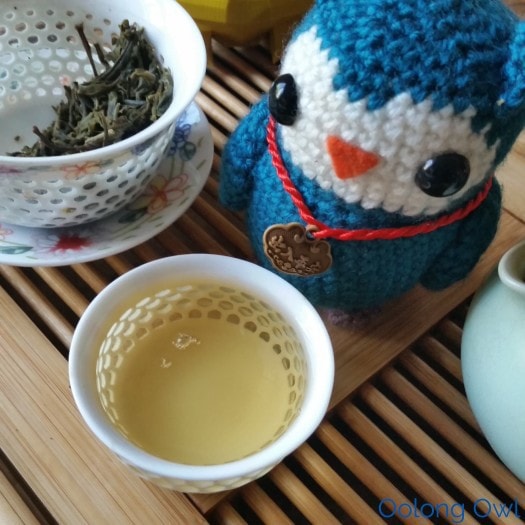 These early infusions have a lovely sweet taste with a sugar cane vibe. The mouth feel is thick of fluff and milk. The finish is light but the aftertaste is mighty. 2 Late is  sweet, almost metallic, but creamy and fruity.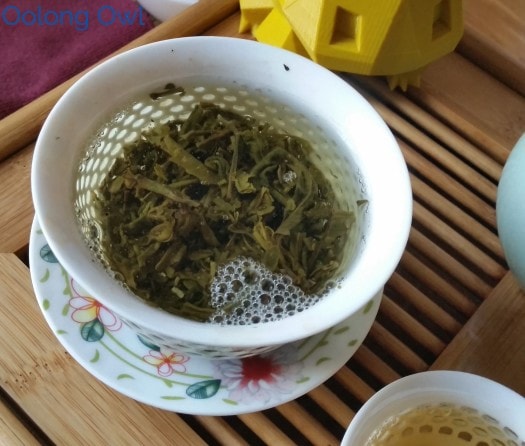 Third, Fourth, and Fifth Infusion: If You Are Reading This It's 2 Late's flavor is growing right at the start of these infusions. The flavor is  peaches and cream like that instant oatmeal I ate every day in college. The flavor is complete with even a light metallic bitterness of a cafeteria spoon!  The aftertaste is heavy peach, like a stronger version than actually drinking the tea.
The thick fluff mouth feel is addictive and is the best part for me. There's a bit of dryness, but pleasant. I'll give the dryness level a 4/10. The dryness and mouth feel make my mouth feel full of fluff and oil, my teeth feel like plastic and I'm thinking I have felt for a tongue. All that sweet pu'er is making my brain turn into stuffing trying to understand what is going on. I might of just turned into a crochet critter of mine which would be a strange world of photography, and being passed around and squeezed by old ladies at knitting circles.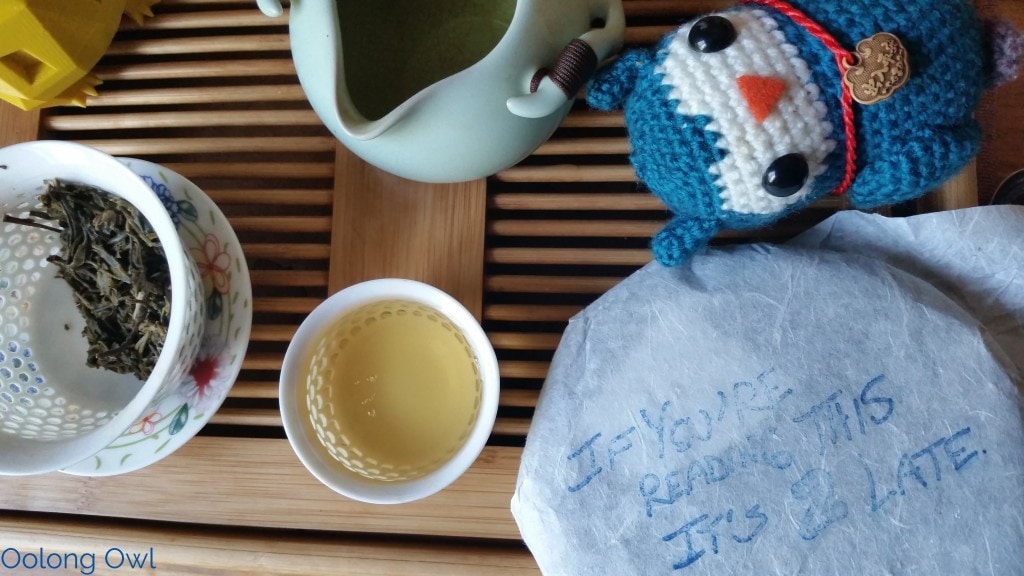 Sixth, Seventh, and Eighth Infusion: If You Are Reading This It's 2 Late switched gears. 2 Late is not as fruity but still thick and creamy. The flavor is savory, buttery, and herby like boiled to death spearmint leaf. The mouth feel is the same and there's some peachy aftertaste still but its fading for savory. The astringency has gone up making my teeth feel dry and funny.
I started bumbling about the house raging that my Tea Owls collective agreement requires them to have tree stumps. Mr Oolong Owl (tea hating husband) had a sip and said this tea "tastes like tea". Thanks, I didn't know that. He then donated us this handsome stump from his wood turning pile.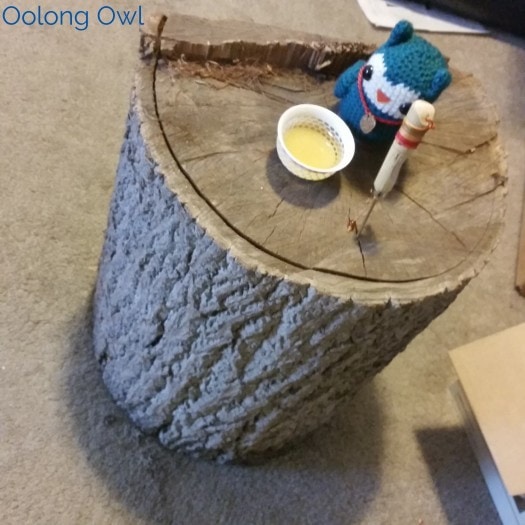 The Tea Owl is pleased.. WITH THE POWER PU'ER HE WILL BREAK THE PU'ER PICK FREE. THAT PU'ER PICK WILL BREAK ALL THE CAKE.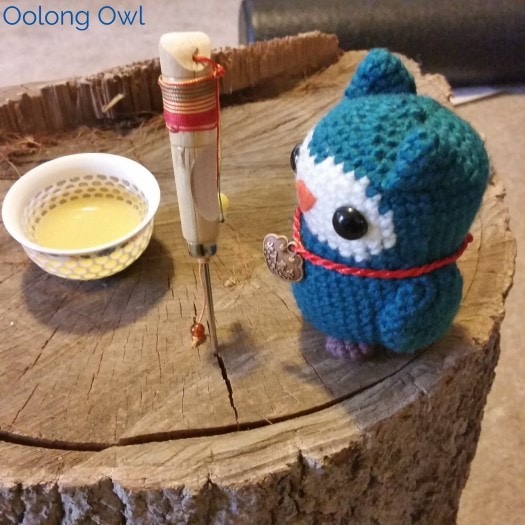 Ninth and Tenth Infusion: Oh that's good. 2 Late is light, smooth flavor of butter savory herb with a mouth feel that I'm pretty sure I can rub a match on the light it. I do like the early steeps for sweet fruit but these middle steeps have a nice mellow lightness that makes me happy.
Paused my session as I had to make dinner. Turns out tea drunk makes for sloppy potato peeling and added human skin and blood flavoring for mashed potatoes.
Eleventh, Twelfth, and Thirteenth Infusion: I'm going in without a dry mouth. If You Are Reading This It's 2 Late is sweet, milky with a steamed herb finish. The aftertaste is savory and peachy floral. I can feel the dryness spreading in the middle of my tongue and cheeks. On the 13th infusion I tasted not much of anything.
Fourteenth Desperation Steeping: Candle lit steeping. Yeah I'm drinking tea 2 Late, har har har! Sleeping is over rated when there's good tea that needs to be finished. Teal Tea Owl has unstoppable pu'er pick strapped to his back.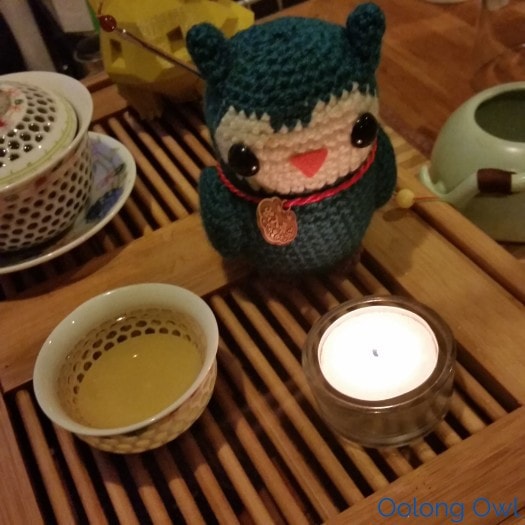 I did the final steeping a 14 minute one because it sounded snazzy. This one had a hint of flavor, with just linen notes and lots of dryness.
Comments
White2Tea's If You Are Reading This It's 2 Late is a really nice young sheng if you are into the sweeter pu'er. This tea is an example of a tasty sweet pleasant bitterness. If you love crazy mouth feels, this pu'er takes you on a fun ride!
As I sipped this tea, I often thought of White2Tea 2015 Poundcake. At this time as I've only tried the 2015 Poundcake Gourd of Blood Sacrifice. If You Are Reading This It's 2 Late is more mellow and all about the mouth feel. 2 Late is sweeter for longer and less cooked vegetable flavor. Whereas Poundcake is more intense upfront but fades to intense vegetal later on. Both 2015 Shengs are pretty good and the same price, so you can't go wrong trying both. I'm leaning more to 2 Late as I got a sweet tooth as well as a tea texture fiend.
For your own sanity, do not drink an entire session in one day! I was up to 3 am completely wired and wacky.