I purchased White2Tea's 2015 Pretty Girls shou puer at launch, and it got lost in the back of my pumidor, along with Brown Sugar and Red Shroom. This puer is one of their most expensive shous, clocking in $39 for 200 grams. I overheard that "Pretty Girls" is some sort of reference that flies right over my west coast head. However, the wrapper art of Pretty Girls has a nice robin on the front.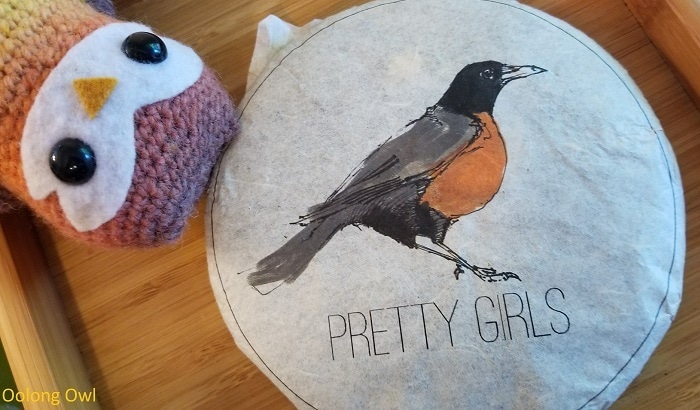 I was inspired to finally give this puer a try as my house is under siege by bird turf war since the spring. As with many Seattle area houses, I got lots of tall trees lining my house. The front of my house has a crow family. My deck has two robins nest that has hosted many babies. The jerks starting the war is the Stellar Jays.
I've seen the Stellar Jays attacking the crows and the robins, but also stopping by my office window to say hi (in their crazy "song") to inform me they bombed my car. The Stellar Jays also seem to like eating my roof, puking peanuts in my gutters, eating my fruit trees, and spitting the pits on my driveway. The biggest offender was I caught a Stellar Jay who broke into my kitchen and was eating my tortilla chips. I can never photo them as they are agile ninja turds, but at least their gang war is fun to watch a WWE style taunting of all the birds in the area. Though it is creepy when there is a Jay standing at my porch door looking like he would flick a toothpick at me.
Dry Leaf and Steeping Method
Wow, look at that gold in this cake! Very nice!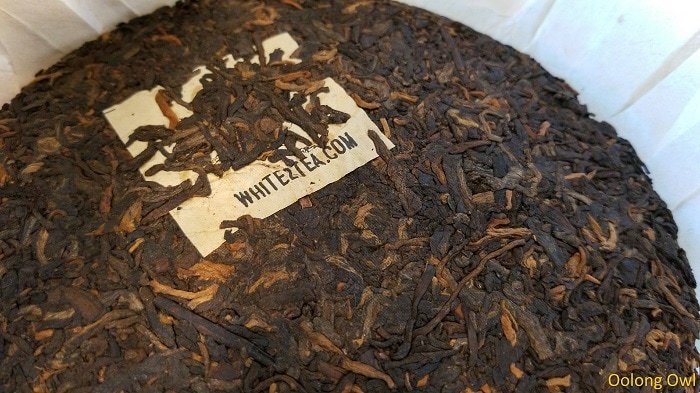 I used 1 gram of leaf to 15ml of vessel size, steeping with boiling water. I feel you can easily leaf more than this. The hot leaf smells like milk chocolate and caramel. First couple infusions are kind of cloudy.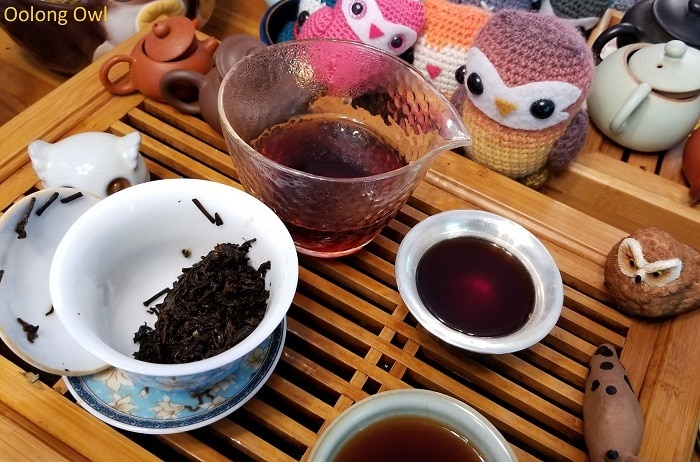 Tasting of White2Tea's 2015 Pretty Girls Shou Puer
First, Second, Third, and Fourth Infusion: The flavor of 2015 Pretty Girls Shou Puer is chestnut shells mixed with shiitake mushroom, with a hint of bittersweet chocolate. Pretty Girls dominate flavor is mushroom. The aftertaste is a smooth chocolate, contrasting the heavy earthy taste. The broth is on the thick side, with the flavor doing a great job coating the mouth in chocolate.
I noticed the silver teacup does wonders for any funky shous. I found the silver teacup cut through the mushroom and bringing out the sweeter flavors.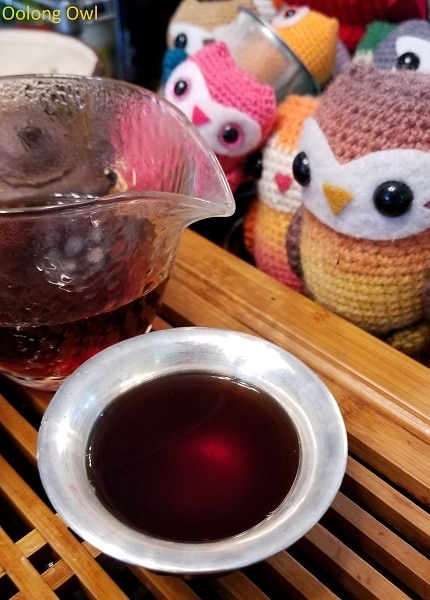 Fifth and Sixth Infusion: Pretty Girls is starting to clear the mushroom notes and lost the cloudy appearance. The flavor is getting sweeter with each infusion, as well as getting cleaner in taste. Right now it is getting more chocolate, mineral, and bright in flavor. There is some interesting depth with the strong profile of sweet over the earthy background.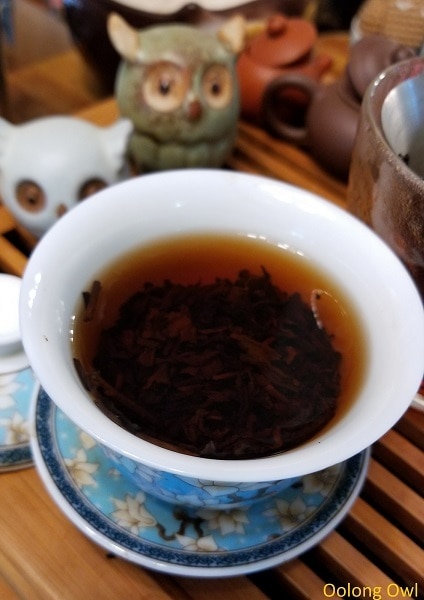 Seventh, Eighth, and Ninth Infusion: Pretty Girls shifted to sugary sweet, with flavors of mineral, chocolate, and background of earth. The body is slick and thick like melted chocolate. This tea is in addictive chug mode, and I can't steep it fast enough to drink.
Tenth, Eleventh, Twelfth, and Thirteenth Infusion: Pretty Girls was consistently sweet but slipped fast in flavor.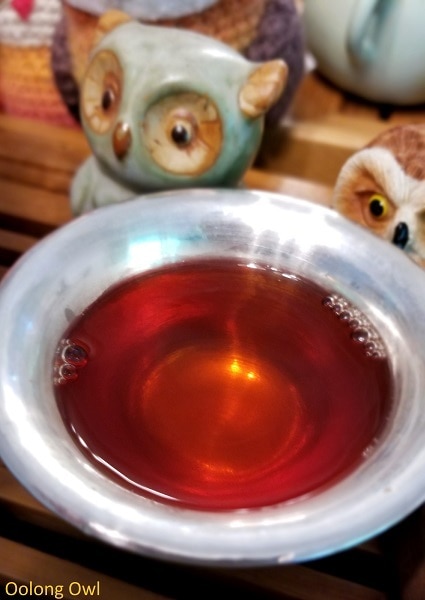 I struggled to keep this tea going. I likely could have gotten more infusions with a thicker walled gaiwan or teapot, or leafed a bit harder.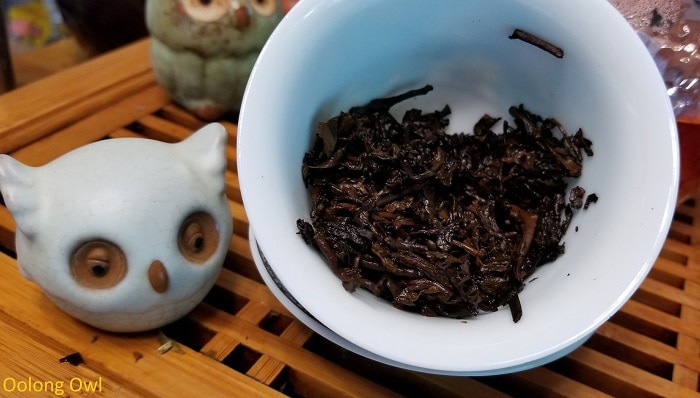 Comments
The earlier the infusion, the more dirty White2Tea's 2015 Pretty Girls is. With each infusion, Pretty Girls gets cleaner and sweeter. The body and longevity is pretty good as well. Pretty Girls is a solid, high-quality shou and if you love sweet and clean ripes you will enjoy it. Pretty Girls has an addictive, zoned out zombie chug quality, but you can also take your time to savor the body and flavor. New to shou tea drinkers might not like the ultra mushroom infusions, but in the later sessions, Pretty Girls would appeal to many drinkers. Though I am curious with time whether the mushroom would clear up.
I like 2015 Pretty Girls Shou puer, though I think I like White2Tea's 2016 Trap Bird better…. but that is another review and likely some owl bias.
Bonus! The shou smear on the side of the gaiwan gave me a good chuckle.