For my White2tea order awhile back I purchased the 2016 Chocobricks in White and Black. 100 gram chocolate waffle brick for $15 is a pretty good deal. Let's dive in!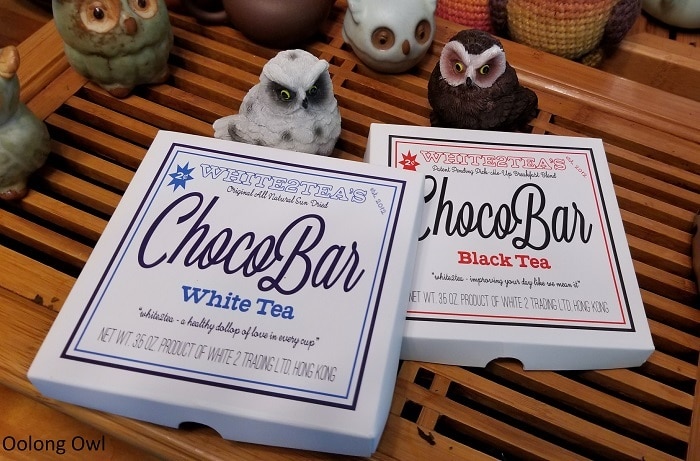 2016 Chocobrick White Tea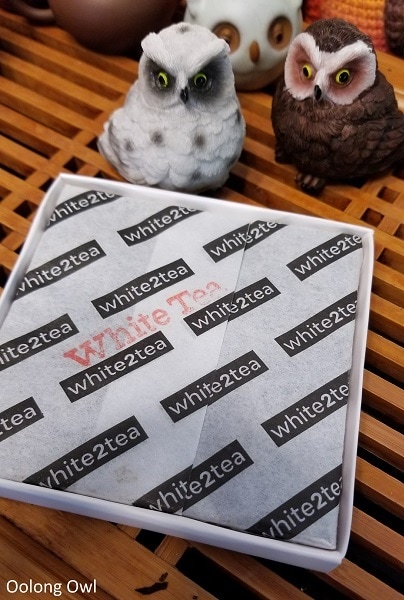 2016 Chocobrick White Tea is a sun dried Yunnan large leaf varietal. White tea always looks great pressed as the leaves look artistic with the mix of fall colours.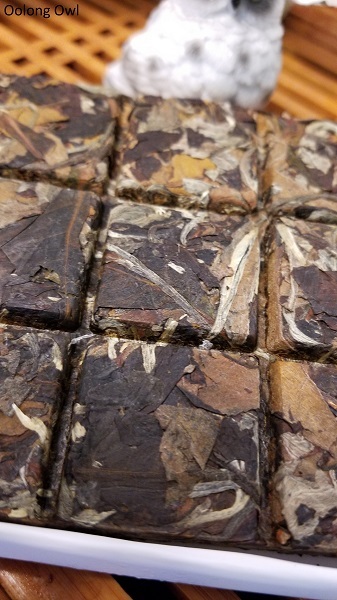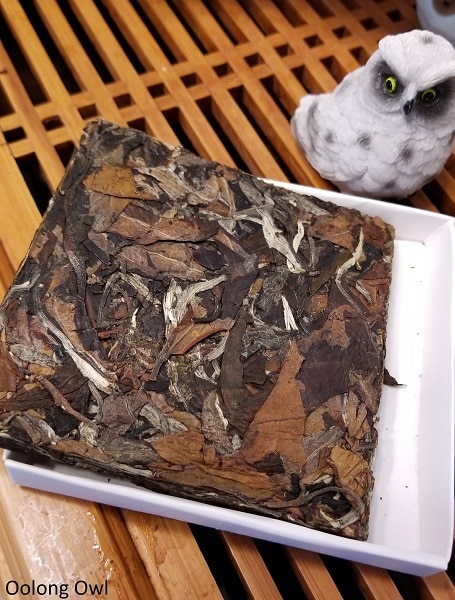 So far, this is the worst waffle/chocolate/whatever pressing I have dealt with. It is hard to photo, but the indentations are shallow, plus the pressing is quite firm.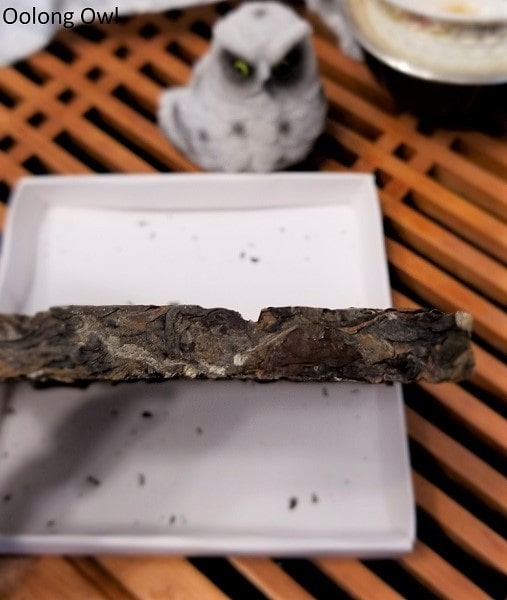 The tight pressing and big leaf made it difficult to break off a piece. I first tried to break a square off, then tried with my flat puer knife to hack at the indentation. I finally managed to snap a row off with angry owl strength, but it also shattered tea all over the place, and managed to give me a tea splinter. Yes, I got tea lodged into my finger. The square I broke off weighed just over 9 grams, which was too much for me to deal with. I tried to use my puer knife again, but with such a thin brick this was asking for more bloodbath. I whittled 2 grams off, so I ended up using 1 gram to 13 ml of vessel size – a little too much leaf for my liking. I will need to go to the scroll saw to cut pieces next time.
I used 200F water temperature, as I like my white teas steeped hot.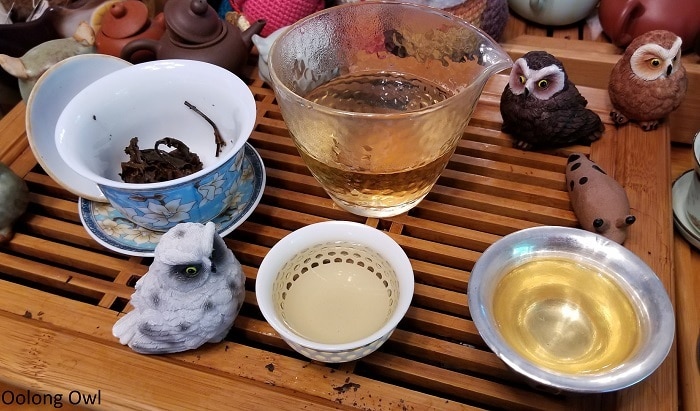 First and Second Infusion: The flavor of Chocobrick White is soft and vegetal. The sip is light, but the flavor pops at the end of sip to be a stale aloe, tulips, and linen flavor. The body is lightly creamy.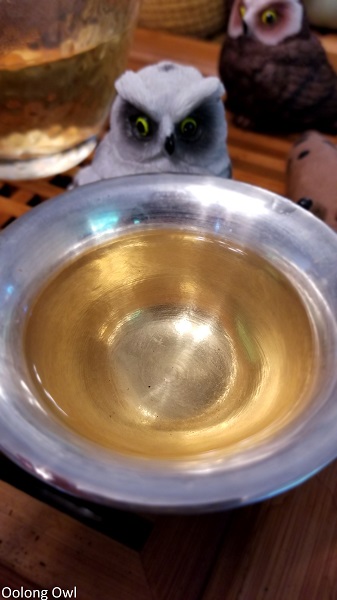 Third and Fourth Infusion: The compression on the white chocobrick is going to take some time to open up. The flavor is opening with each infusion, fleshing out an agave sweetness, with more aloe, linen, and tulip notes. Chocobrick is pretty smooth and easy daily drinking.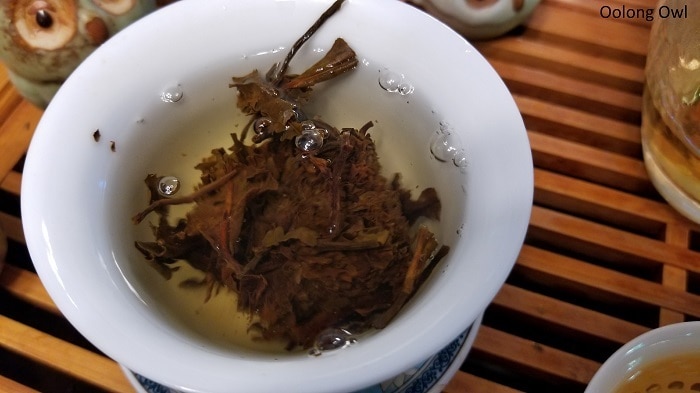 Fifth, Sixth, Seventh, Eighth, and Ninth Infusion: I got annoyed at the brick taking forever to fall apart, so I went in and split it with my fingers. The tea was still dry inside!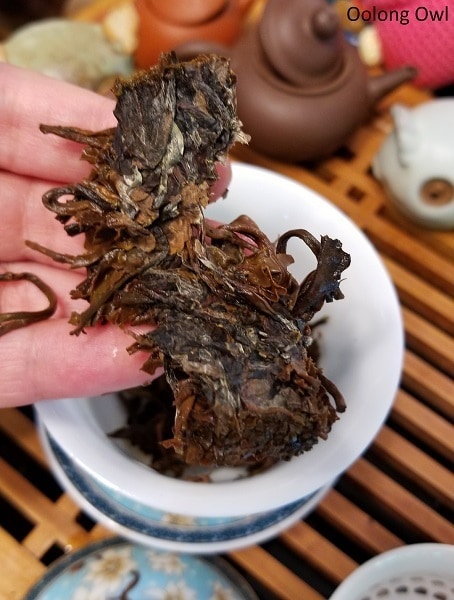 The flavor shifted to a richer, honey note, with some cream and wood. The body is thicker too. Overall this is the best infusions. The color got a nice amber too.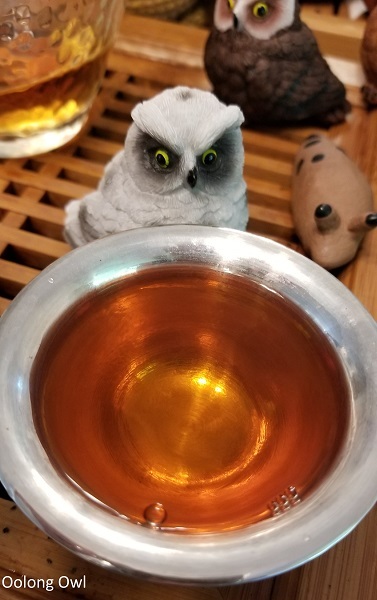 Tenth and Eleventh Infusion: This tea keeps chugging along. The flavor is still heavy, with honey and dry wood. The only change is I am steeping it for around 5 minutes, and there is a bitterness starting. My aggressive steeping has finally caught up.
Twelfth and Thirteenth Infusion: Chocobrick got hella bitter here, doing these infusions at the 10-25min steep time. The flavor was sharp and of wood, medicinal bitterness, with a flat body. I believe I could easily get another infusion if I stove boiled, but I will stop here.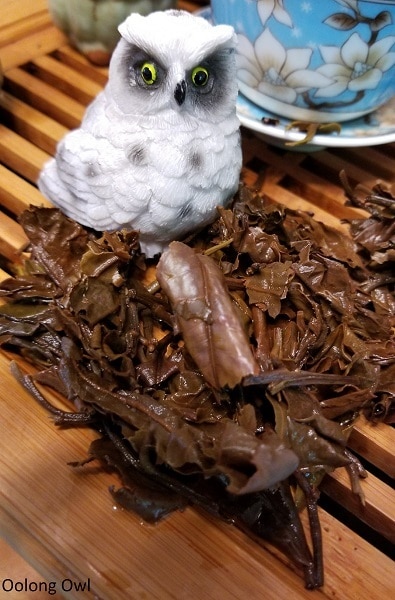 The 2016 Chocobrick White is an easy daily drinker pressed white. It is a pain to break, so maybe not a travel tea unless you saw it up first. I am going to let this one age, maybe it'll lose some of the bitterness, increasing honey flavor. Though likely the culprit is the higher leaf ratio due to giant squares. I think back to my 2013 Fuding Bai Cha white brick – that one is much sweeter and ready to drink now.
---
2016 Chocobrick black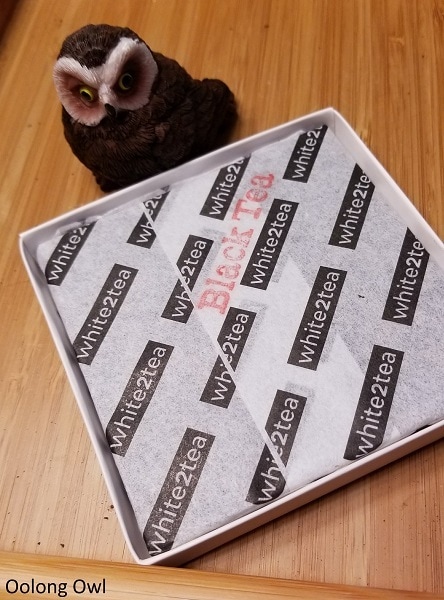 Similar in appearance to the Chocobrick white, but black tea. This tea is also sun dried large leaf material.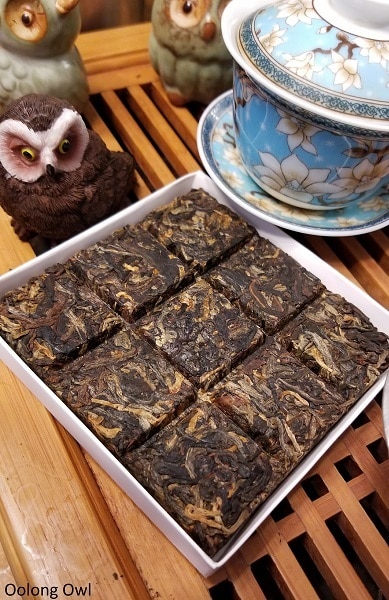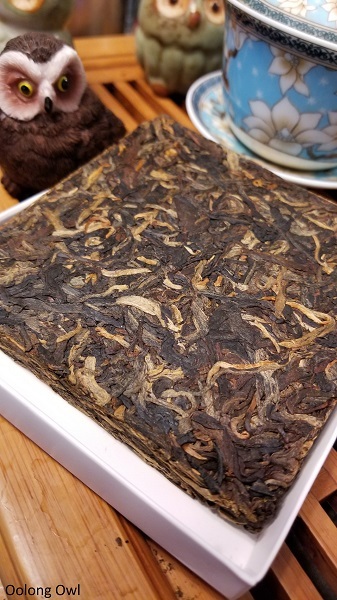 Chocobrick black was much easier to break – I was able to snap off a square without any issues. The square I broke off turned out to be 10.8 grams! I was able to break off a couple grams, so I rolled with 1 gram to 12ml per vessel size. I used boiled water here.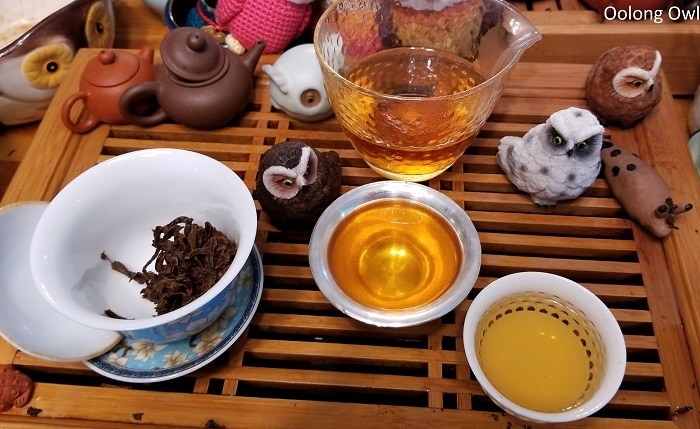 First and Second Infusion: Chocobrick Black starts off mineral, creamy, fluffy, malty and sweet. The flavor is on the light side but is carried with a thick milky body. The tight compression needs more time to open up.
Third, Fourth, Fifth, and Sixth Infusion: Chocobrick black chunk of leaf fell apart quickly, finally separating in this steep block.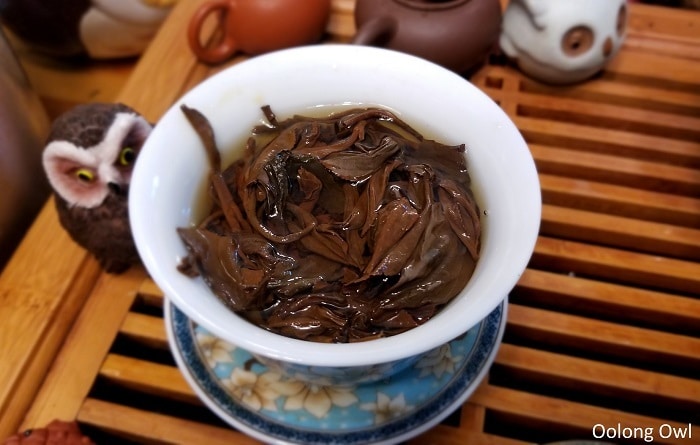 The flavor is stronger, with a malty background, savory, bittersweet chocolate, with a brisk quality to it. There is a slight dryness to Chocobrick as well. I found Chocobrick black responded very well to silver, as the flavored brightened the malty, and brought out a sweet mineral chocolate flavor.
Eighth and Ninth Infusion: Chocobrick got quite dry and bitter in these last infusions. Without a silver cup, I likely wouldn't have drunk these steepings. The flavor is malty and bittersweet chocolate.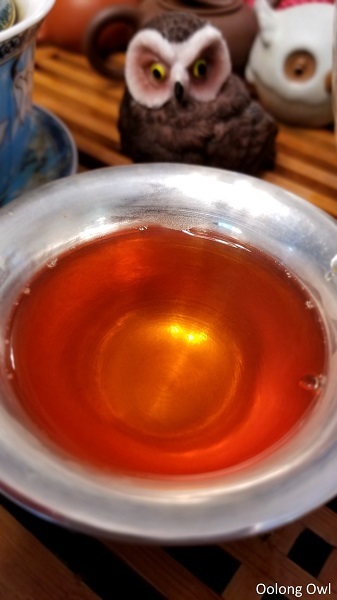 Chocobrick Black has good early infusions and easy to work with. The notes are great if you love bittersweet chocolate and malty black teas. Chocobrick black would be great for type who like milk teas.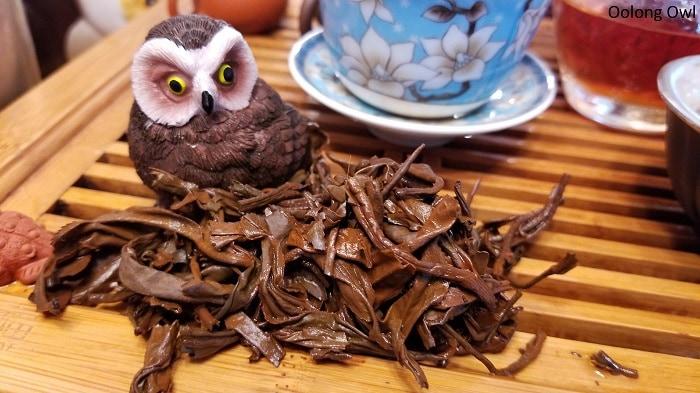 Comments
With the Chocobrick white and black, I feel the squares are too big for a solo drinker for a session. They are difficult to size down from the individual square too. I'd say to treat Chocobricks as an all day daily drinker due to size and flavor profiles. I revisited the Chocobrick black tea and used a big gaiwan and drank a single square for an entire the day. Otherwise, both teas are great to drink in a group. I feel both the Chocobrick White and Chocobrick Black are fine to drink now, but certainly feel free to tuck them away for some aging to see what happens.