I always associate Crimson Lotus Tea for having excellent Jingmai sheng puer. Awesomely, Glen & Lamu, owners at Crimson Lotus Tea, gifted me a cake of the new Spring 2016 Jingmai LOVE sheng puer.
Spring 2016 Jingmai LOVE is an affordable 200 gram hand blended puer cake. Stats on this puer is it is from Simao Prefecture, 1300m elevation, and wood fired.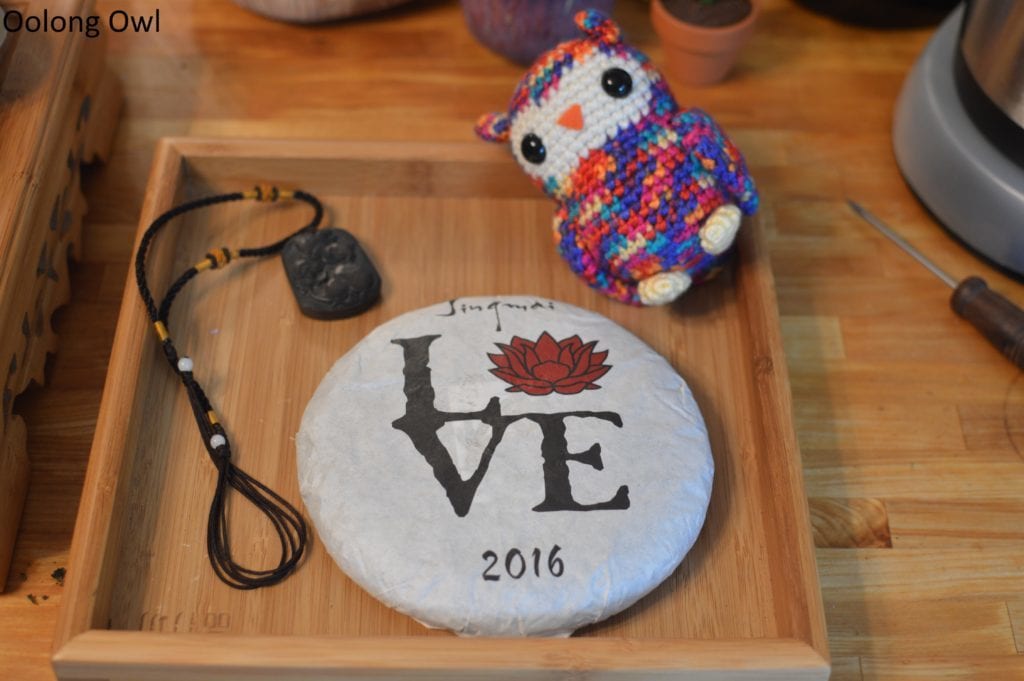 I love the design of Jingmai Love wrapper and greatly appreciate the back that clearly states the tea and seller. It saves the front for artwork, and I don't have to tape more information to the wrapper or open to see the ticket.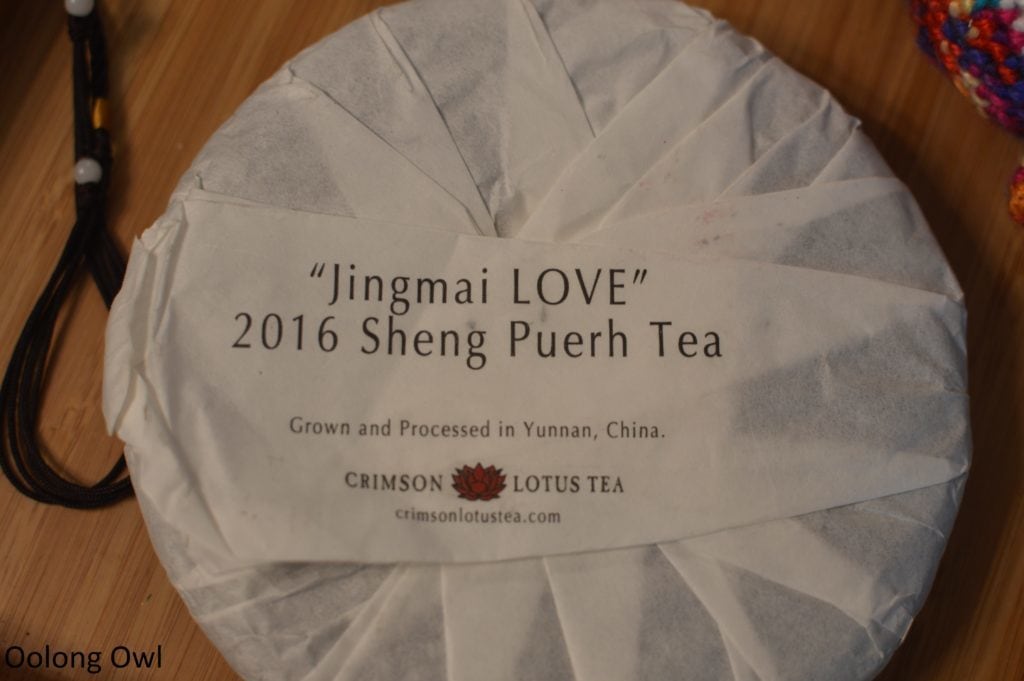 Dry Leaf and Steeping Method
The puer cake has quite a bit of silver leaf in it than I'm used to seeing. The tea has a light sweet floral scent to it. Breaking off a serving was fairly easy to do.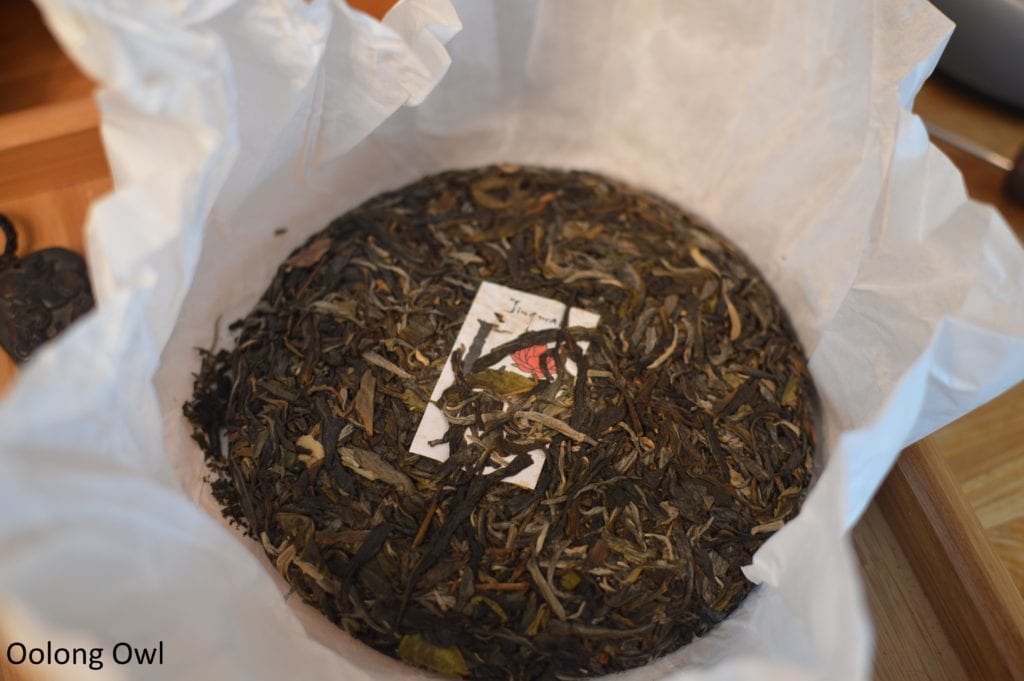 I went with 1 gram to 15ml leaf to vessel ratio. I used 200F/93C water temperature, starting after I did a quick rinse.
By the way, this Xi Shi tea pet pot and jianshui cup is also from Crimson Lotus Tea, which I bought awhile back. I use the cup for sheng, and as far as I know the teeny tea pot pet has never left my tea table. As of right now, the cups are sold out, but there are a number of different tea pot pets still left.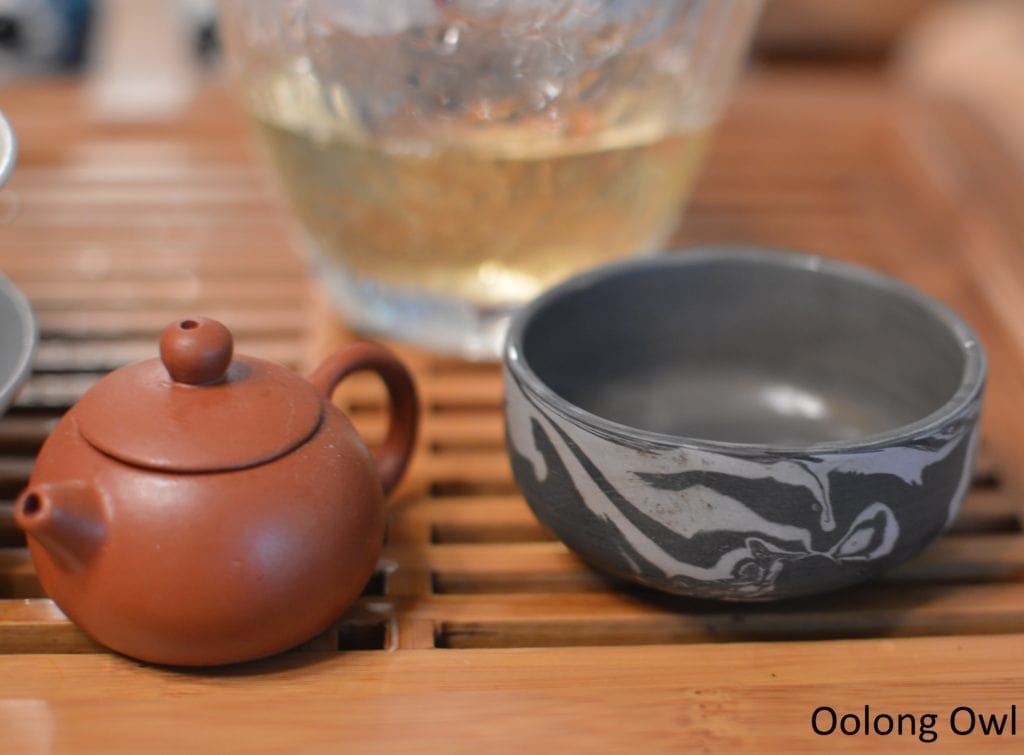 Tasting of Crimson Lotus Tea's Spring 2016 Jingmai LOVE Sheng Puer
First, Second, and Third Infusion: Jingmai Love steeps up a pale yellow. The hot leaf smells like steamed sweet sticky rice.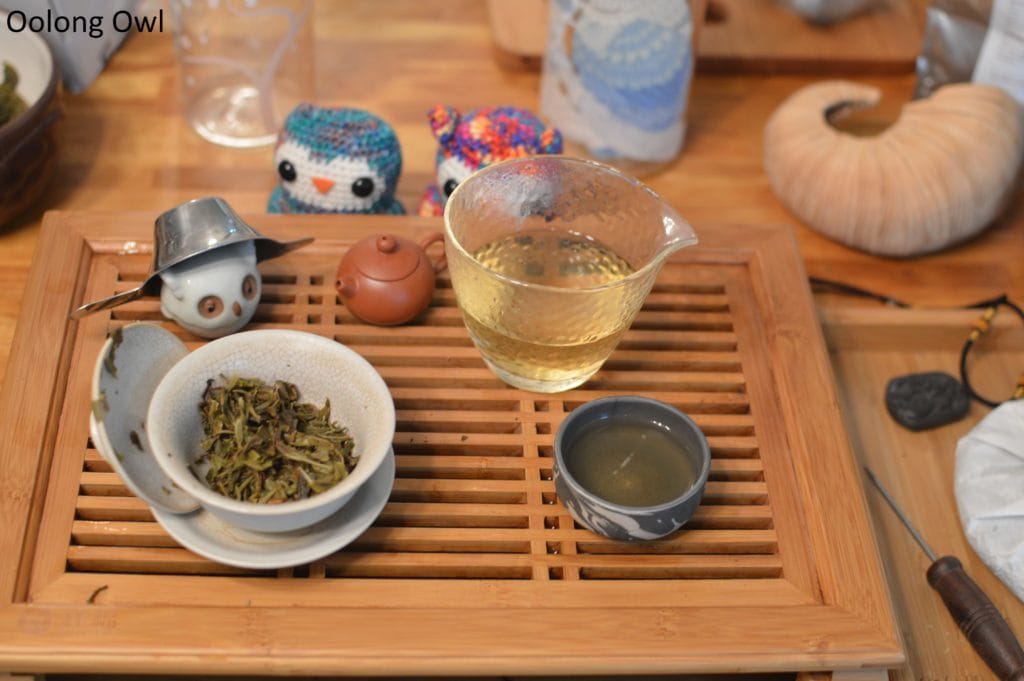 2016 Jingmai Loves tastes on the stronger side and is nicely full flavored. Right away I feel a change of pace as most of the other 2016 shengs I've been having are quite light. Jingmai Love sips in sweet, vegetal, with a hint of floral aftertaste. As I steep and drink, the flavor blooms more into honeysuckle with a thick creamy body. Some sips tastes almost under ripe apricots, others remind me of wheat barley. It has a nice refreshing quality to it as I get a cooling feel in my throat after each sip. I get a slight aftertaste that liners of that under ripe apricot. Phew, a lot going on!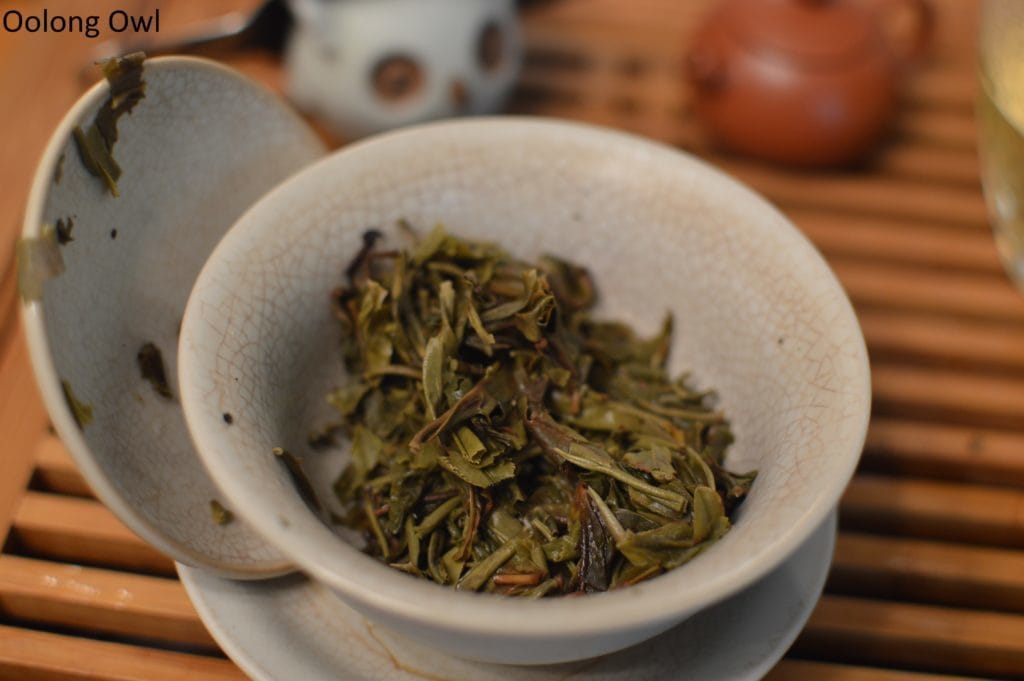 Fourth and Fifth Infusion: As I drink this puer I notice it gives me a tingling feeling in my throat, which when I breath it produces that cool feel. The flavor is dancing right before bitterness, but I mostly just taste under ripe apricots and honeysuckle. I get a slight dryness starting in my mouth, but still pleasant. This tea is like drinking in a spring breeze. Jingmai love brings me back a month to sitting on my deck, feeling the breeze, eating apricots, before I can them all into jam. I'm feeling pretty cool and chill.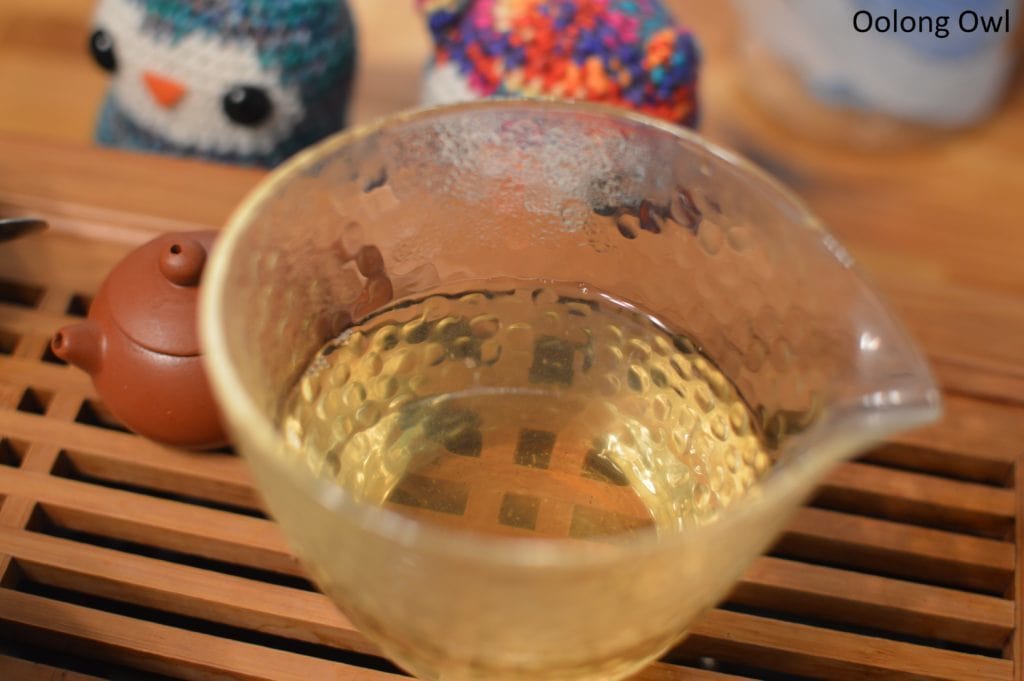 Sixth and Seventh Infusion: I take a sip and get tingle overload! SO MUCH TINGLE. It is like this tea is full of fine carbonated bubbles as it just dances like crazy in my throat. It is a really strange experience to describe as it really isn't carbonated and no bubble pop, but gives off that sensation.
Dammit, did I have to say bubble pop?!?!?! This blasted kpop song is now in my head, which is also popping, summery, sweet like this tea – conflicting with my current mood of cloudy September Seattle and chill zen tea drunk.

Eighth and Ninth Infusion: The bubbling is slowing down. The flavor is switching to bitterness as I've essentially overcooked the leaf at this point. It has a tart flavor with a bit of steamed green bitter going. I got an aftertaste of tart apricot. The texture has some slickness left but I also got some dried ass teeth.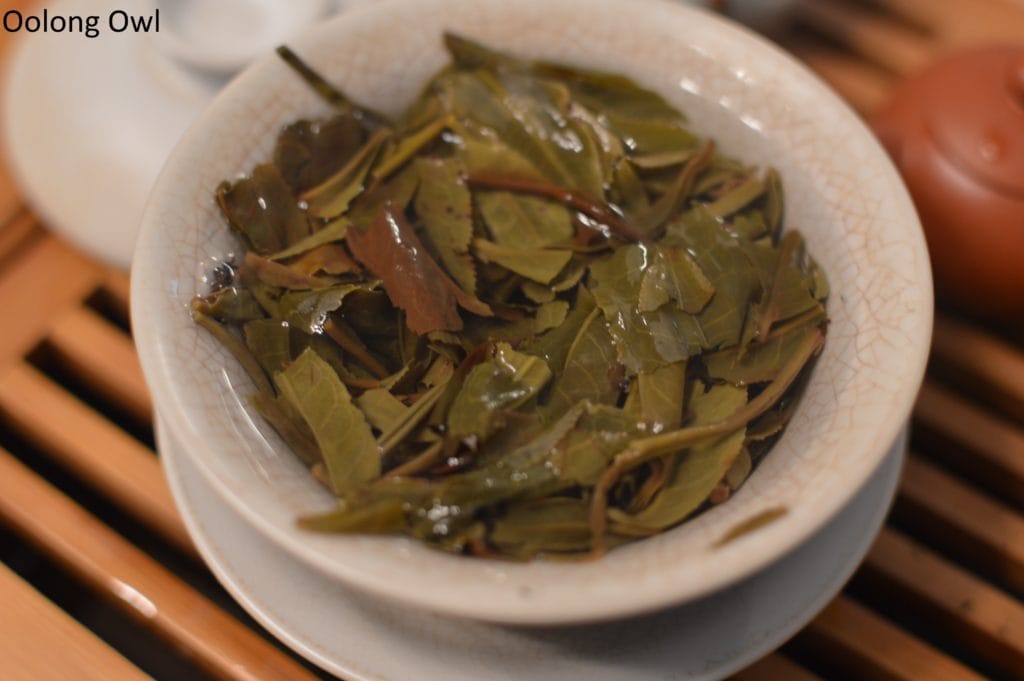 Tenth, Eleventh, and Twelfth Infusion: Long infusions here, about 5 to 20 minutes. It sips in creamy soft, then ramps up to really bitter and tart, but still got some bubble in. The bitterness is bordering a little too much for me, but I am still enjoying it. I'm too busy rocking out to bubbly kpop right now to notice.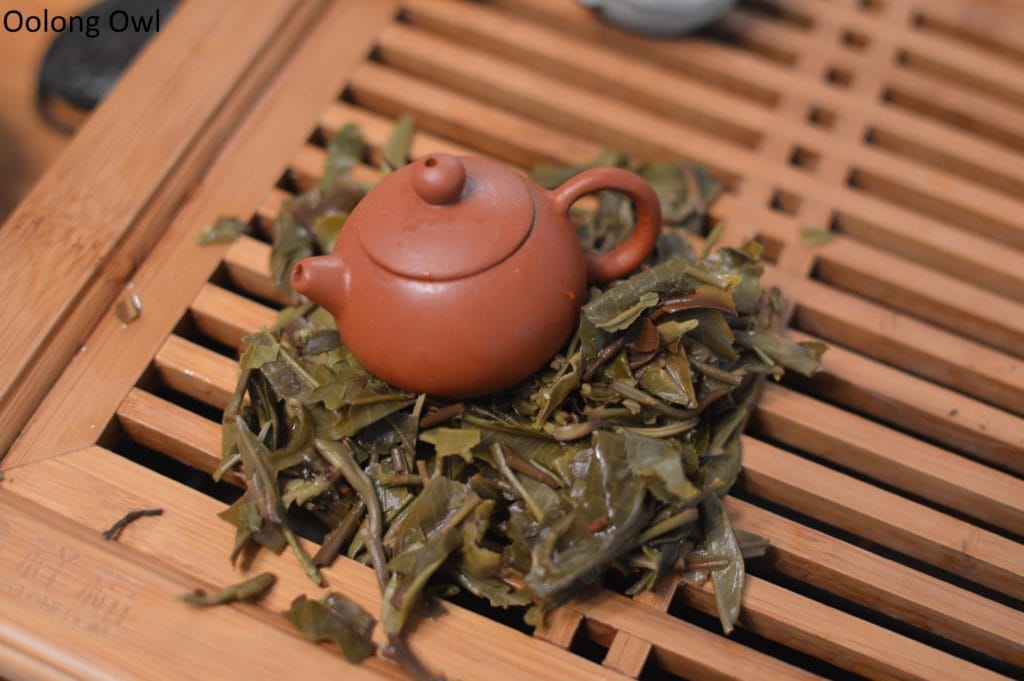 Bonus: I did have some Jingmai Love maocha I got as a sample when I bought that tea cup and tea pet. I did it straight up cold brew and it was very good! I don't think the cake wouldn't do as well cold brewed since it is compressed unless you steep it a few times or steam to loosen the tea. The cold brew Jingmai Love was excellent, refreshing, and honey tasting.
Comments
Crimson Lotus Tea's Spring 2016 Jingmai LOVE is a great young sheng with a lot going on. It's got some sweetness and honey, but a bit of sour rocking. The texture is the gem here with switching from cool to bubbly. This is a fun sheng to play with and have an energetic session with friends. I'd say this is a party tea or solo like me you get to a chill warm up before you dance around like an idiot around your tea table.
Jingmai love is priced very well, at $45 for a 200 gram cake. If you love sweeter jingmai teas you'll likely need to check this tea out before Oolong Owl drinks it all.
I was also given a jianshui rabbit necklace with my tea. The Tea Owls quite like it as they think it wards off evil bunnies. They fear my rabbit as one of them got chewed by my holland lop.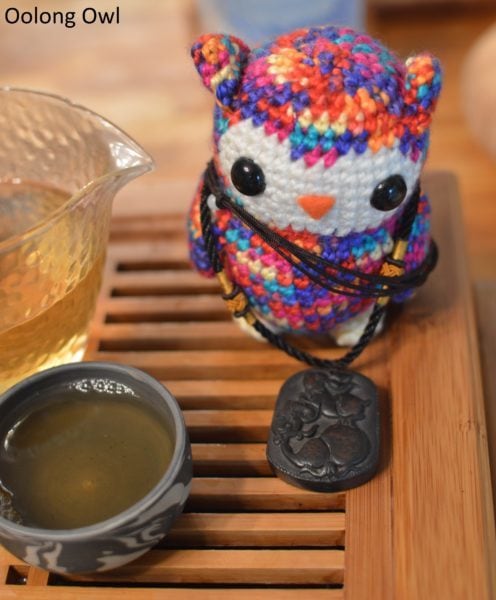 (tea provided as a gift)