So either it was my slow owl butt at reviewing things or people went ham on buying out all the Crimson Lotus Tea's 2016 Space Girls sheng. I had the review written, then saw it was sold out, and stalled on posting even longer. Then I thought I shouldn't let my tasting notes go to waste, and at least you all can get more of an idea of Crimson Lotus Tea's tastes. EDIT: There was a restock!  There are more Space Girls! GO GO GO!
What is unique about 2016 Space Girls Sheng Puer, in particular, is there are 4 matching wrappers, which was illustrated by Seattle local artist Stasia Burrington. I picked out my favorite Space Girl, Molly, which was difficult as they are all cute. The Tea Owls like Molly's space helmet.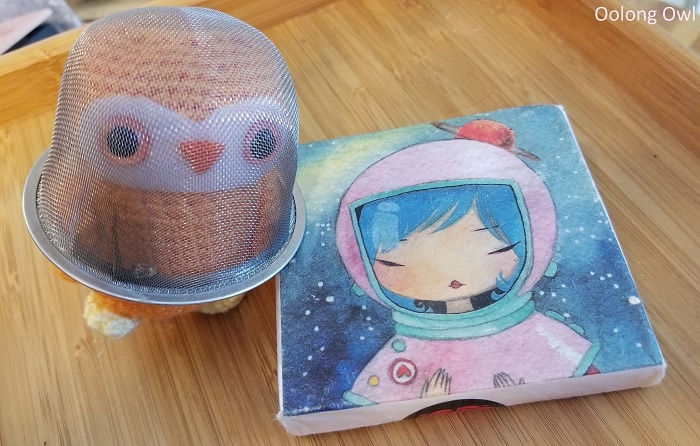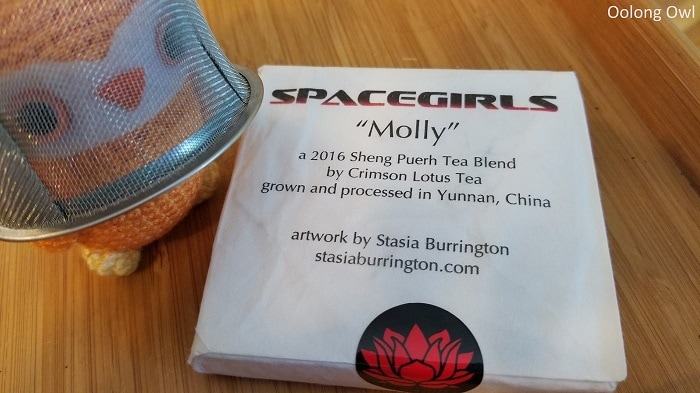 Dry Leaf
My brick of Space Girls was hiding in my pumidor for a few months and when I took it out I was greeted with a lovely fruity smelling tea. I appreciate the thoughtful wrapping job here with the outer wrapper folded and closed with a single sticker instead of glued. Glued wrappers tend to need surgery to keep the wrapper art intact, nor much real estate to house your tea for storage. Even the glued inner wrapper is done well.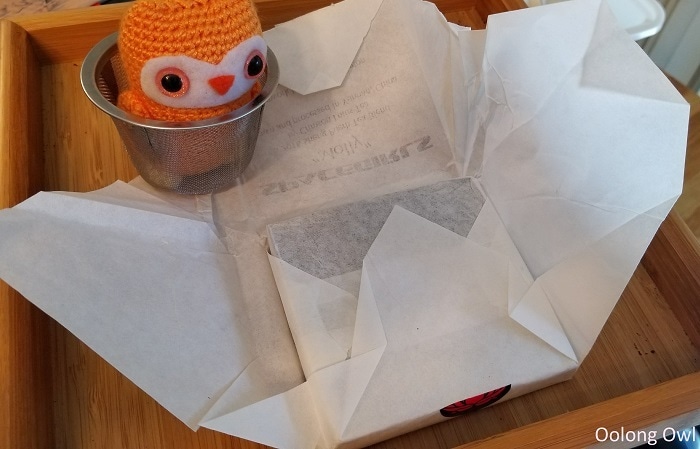 However, look out! The puer brick is pressed tight!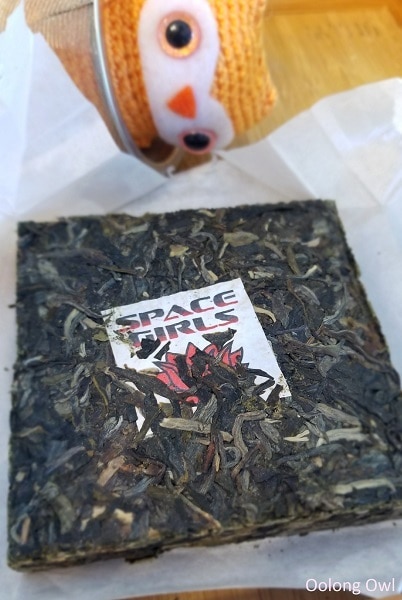 I suggest a flat knife over a thin puer pick. My folding puer knife did an awesome job hacking big pieces off.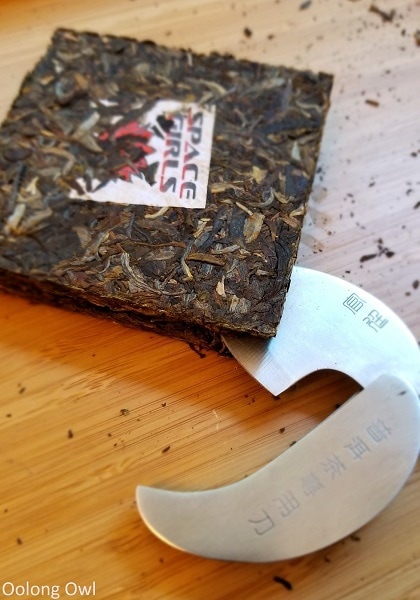 Steeping Method
I was warned not to push Space Girls too hard, but you know I will. Girls are tough, this chick owl can overhead 100lbs. I went with 200f/93c water temperature, 1 gram to 15ml leaf to vessel ratio, and quick infusions.
Tasting of Crimson Lotus Tea's 2016 Space Girls Sheng Puer
First, Second, and Third Infusion: Space Girls is gentle tasting, with a pleasurable amount of sweetness. The flavor is quite soft, so it is hard to pick up the notes other than some wisps of floral, fruity and sweet. The body is watery jello thick but slips quickly. The aftertaste is soft but I get a light fruity flavor. After each sip I can feel a slight dryness, yes you shouldn't push this tea too bad, it has that potential for astringency and I can tell it is coming.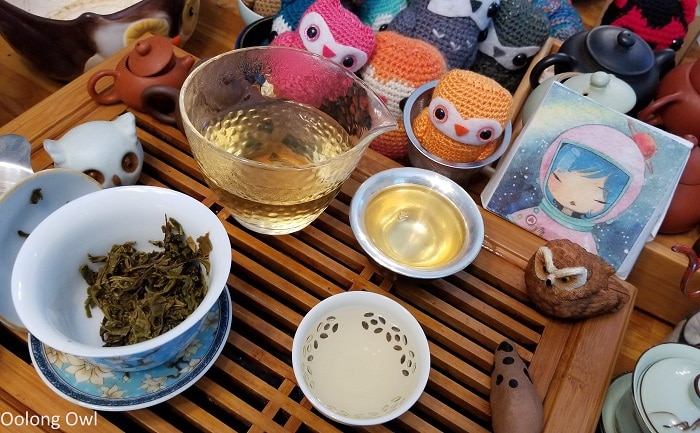 Fourth and Fifth Infusion: Space Girls is starting to brighten up. It is quite creamy, mineral, sweet mystery sweetness, with a nice slick body. I can sense the astringency is still looming and it is waiting to punch people in the face. At this point I am feeling a slight pep in my step, there is a little bit of spunky energy in Space Girls.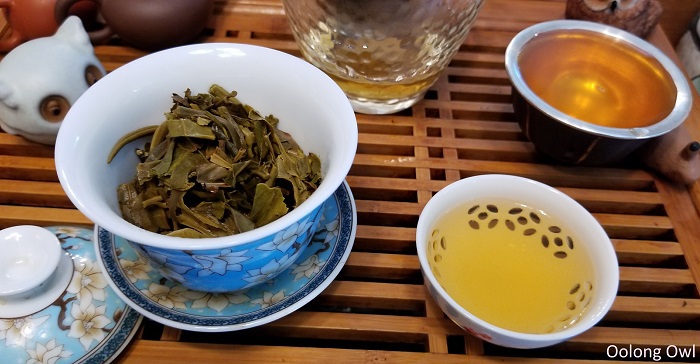 Sixth, Seventh, and Eighth Infusion: I pushed on these last infusions and got an interesting citrus syrup flavor. The citrus here reminds me of drinking the syrup out of a tin of mandarin oranges, but lighter in flavor. Space Girls did get astringent but fine to drink. The final infusion was finally overpowered by astringency and lost its mojo, so I stopped here.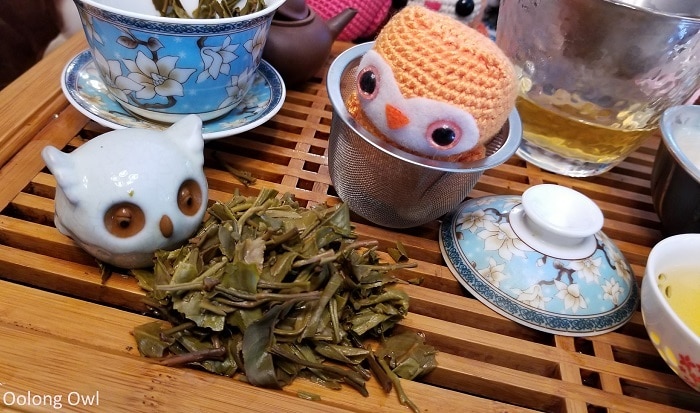 Comments
Crimson Lotus Tea's 2016 Space Girls Sheng Puer has a soft profile, with easy drinking notes of cream, slight citrus, and sweetness. The notes are gentle and hard to pick out, but if you can balance timing well with the right amount of push, you can pull out some nice notes without triggering too much of the sensitive astringency. You don't want to forget you were steeping this tea. You could go lower on the temperature, but keep in mind it is quite compressed so it'll take some time to have the tea open up.
If you love those sweet and soft puers, you'll like Space Girls. It also sports fun artwork, if you love puer wrapper art and collecting. For me, I didn't mind Space Girls, but it is a tea to pay attention while brewing and brewing skill testing. I'll likely lock this one in the pumidor and see whether the astringency will slip. It seems, like many of Crimson Lotus Tea's house blended sheng line, they lean more towards the sweeter profiles.
(tea gifted by Crimson Lotus Tea)