Floating Leaves Tea is the place for oolong, but if you want their best it is their Dong Dings and roasted teas. I'm no stranger to their Winter Charcoal Dong Ding that is thrice roasted, it is a tea that I've tea drunkenly purchased twice (too bad not thrice) despite having some already, and one I've enjoyed in shop a few times.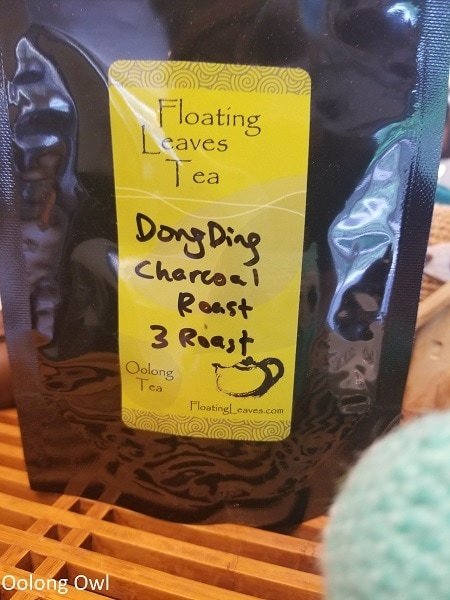 Shiuwen Tai of Floating Leaves Tea has told us many tales of the Charcoal Master who made this tea, as well many other stories of Dong Ding Mountain. However those stories are not mine to tell. If you are interested in Dong Ding, Shiuwen and Jake Knapp will be shooting a documentary to show us Dong Ding mountain's people and tea.
Admittedly, this is a tricky review to write – the 3 Roast Dong Ding is so good and resteeps well, that I hope I do some sort of justice to it.
---
Before I jump into what will be a long review, here is a coupon code:
DongDingOwl for 30% off Floating Leaves Tea's 2016 Winter Charcoal Dong Ding.
The coupon is up for the month of June 2017.
(fyi, this is not an affiliate deal or any kickbacks to me, and I'm using it myself before any of you buy it out all from under my beak)
---
Dry Leaf and Steeping Method
The leaf is big wads of rolls, with a deep, almost black, brown colour. The scent is a sweet and roasty.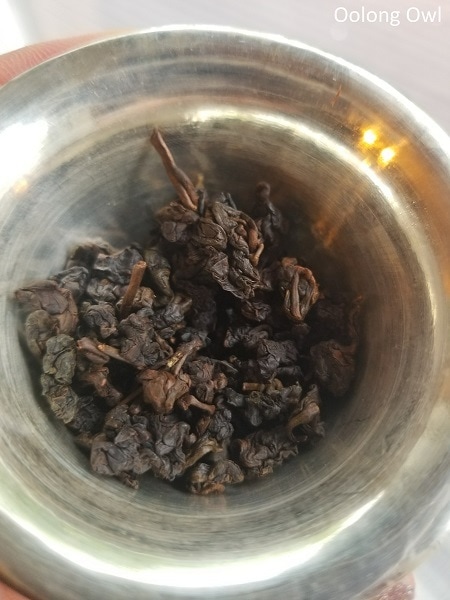 I used my usual thick walled gaiwan, pushing for long haul brewing. I used 1 gram to 13ml of vessel ratio, but I feel this tea can take going lighter or just a touch heavier on leaf if you so choose to, good roasted Dong Ding is quite flexible. Boiling water is a must as well, don't skimp and play cautious as Floating Leaves Tea's oolongs all boil very well. I did a quick rinse, and started with flash steeps. I am using 2 cups here, a regular one and a silver – the tasting notes are for the regular cup, even though it isn't in all the photos.
Tasting of Floating Leaves Tea's Winter Charcoal Dong Ding 3 Roast
Charcoal Dong Ding steeps up a lovely golden butterscotch color with a roasted tomato scent. The hot leaves are very strongly roasted scent, but also nutty and sweet. The Tea Owls have gathered to get a piece of this tea.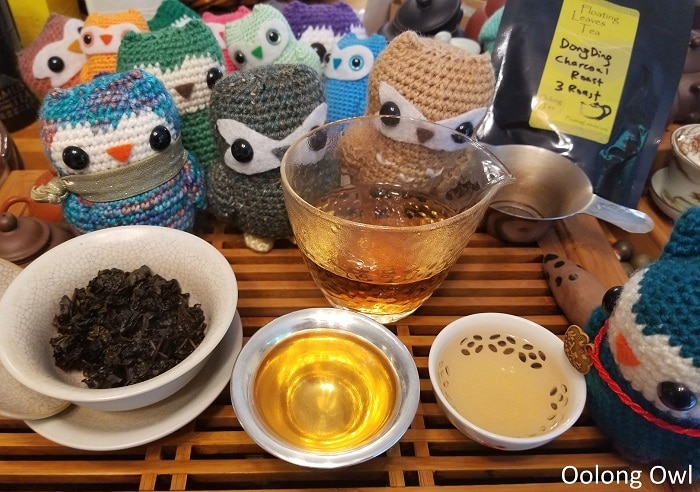 First and Second Infusion: Charcoal Dong Ding sips in mineral sweet, good smooth nutty roast, and a slight figgy flavor. The roast here is very well done as it is not burnt, ashy, or has charcoal brickette qualities. The roast adds a depth of flavor that feels with each sip, it is sinking into through the trachea. If you drink slowly, you will taste an aftertaste of sweet stone fruits and minerals that lifts you. Drinking plenty of Floating Leaves Tea, you'll notice a strong body, a trend in most of their teas.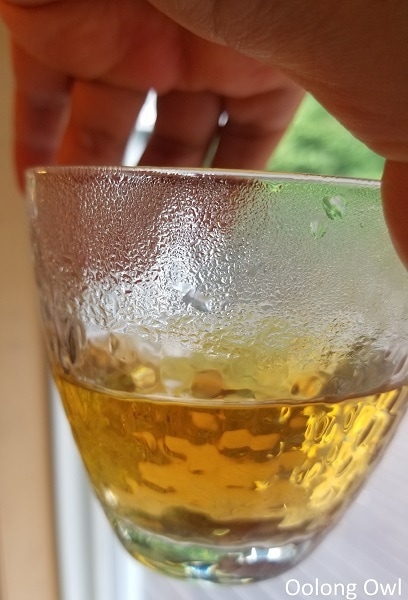 Third, Fourth, Fifth, Sixth, Seventh, and Eighth Infusion: Charcoal Dong Ding got more rich in flavor, developing a stronger, nutty roast flavor, without any roast harshness. The mineral hits front of sip, but also at the end tickling the tongue. The body is really beating me up – it is so thick, balmy lipped, and I can feel as if I drank a vat of sticky caramel and it is trying slug down the digestive tract ever so slowly.
During these infusions the color shifted more coppery too. So pretty!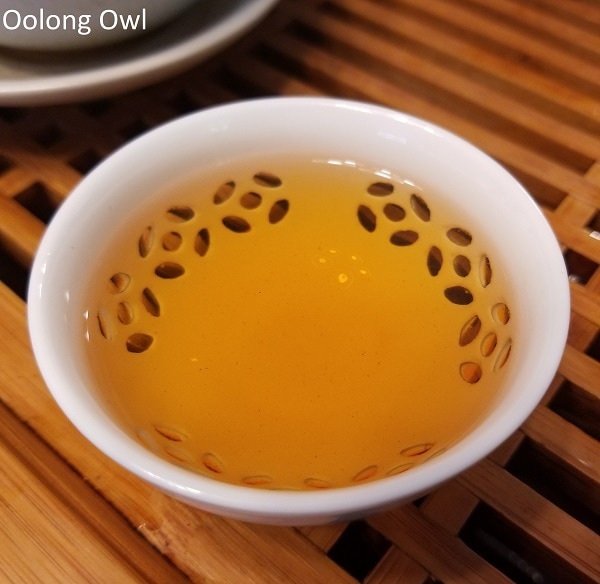 With each of these infusions, the tea still stays super smooth. It is an easy drinker to just chug the day away, but also too dang good for that.
Ninth, Tenth, Eleventh, and Twelfth Infusion: As the Charcoal Dong Ding goes, the sweeter it gets. The mineral comes out more, tasting like sweet dew on wet stones. The roast is still here, adding a smooth savory background before slipping back letting a fruitiness show up.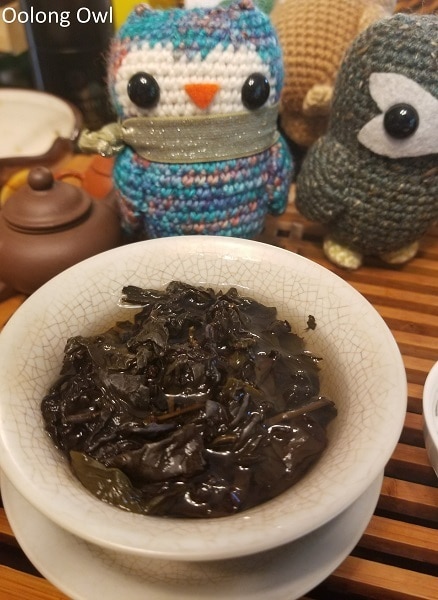 Thirteenth and Fourteenth Infusion: The Charcoal Dong Ding has shifted. The flavor is like a caramel covered apple. It is has a bright, browned sugar taste, with a fruity sweetness. Lots of mineral flavor as well. I found it interesting that the roast went full on caramelized sugar now. There is a slight astringency in the cheeks, it isn't enough or unpleasant to stop me.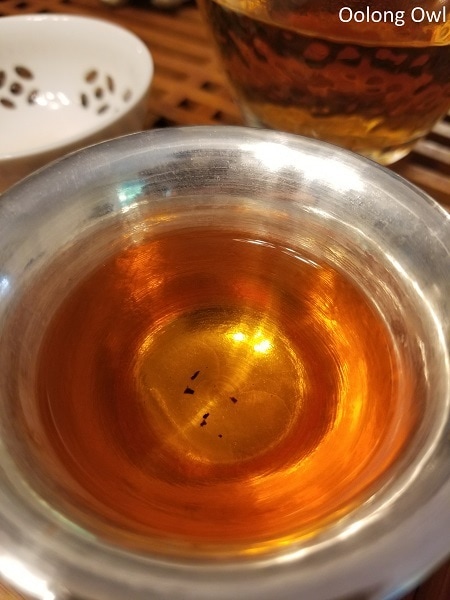 Fifteenth Infusion: As you can see this tea is in for the long haul. I recall someone telling me, likely Noah, apprentice at Floating Leaves Tea and blogger at Funky Leaves, that this particular Charcoal Dong Ding can be done for 30 infusions. 30. I can see 20 in the horizon, easily, but I don't think I'll get 30. I think in optimal conditions you can get 30 infusions, optimal being steeped in a seasoned clay tea pot. My gaiwan can only milk out so much from heat retention, and it isn't putting anything back into the tea.
However, I did learn a trick from Noah. What you do is take out the leaf out of the vessel, flip the leaves, put the leaves back, and go back to steeping. Flipping the tea works quite well, and gives more infusion power. Here is leaf directly plopped into my cup.. and blurry as I was full of tea.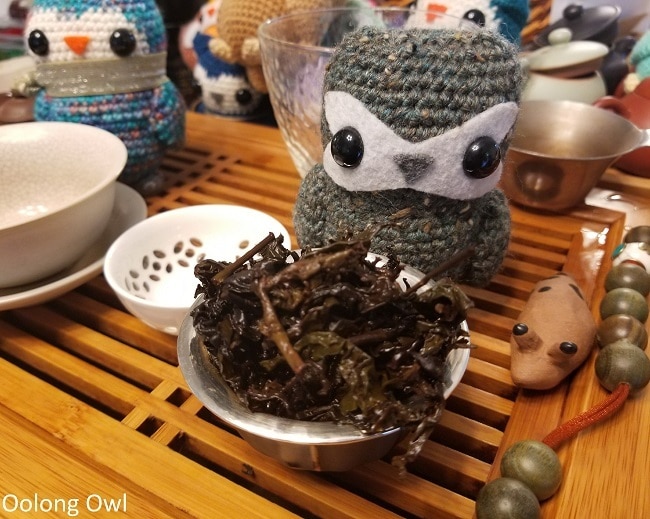 Flipped upside down and into the gaiwan.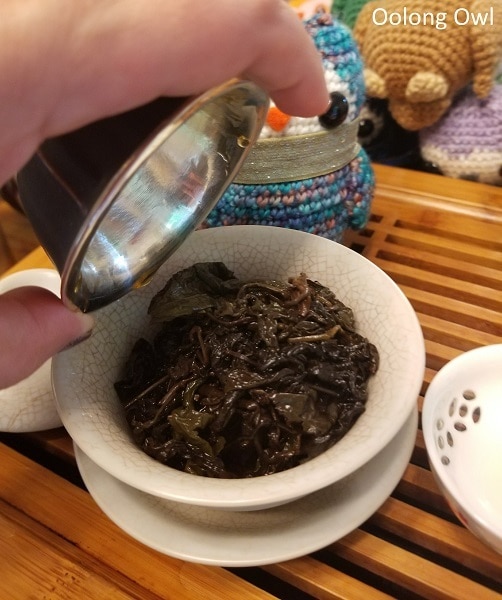 With some light separating, I see something I didn't see prior – the leaves that were on the bottom were opened and steeped out, whereas ones on the top (now on the bottom) were still scrunched up. I figure that open leaf was sitting in liquid thanks to gravity, despite my diligent gaiwan pouring.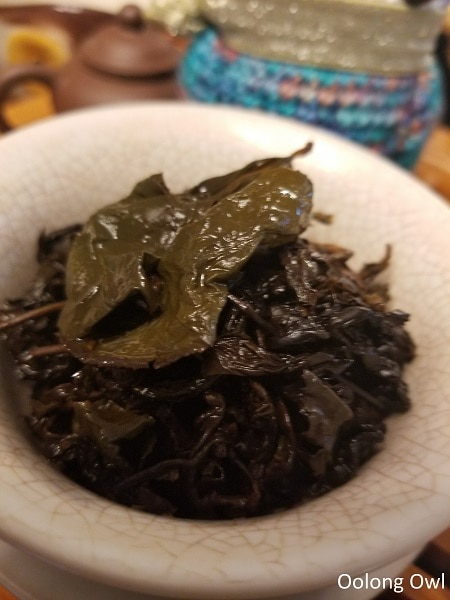 I did a quick infusion, and the flavor is still going and actually stronger than thirteenth or fourteenth infusion. This fifteenth infusion tastes more like ten or eleven.
Sixteenth, Seventeenth, and Eighteenth Infusion: The leaves still smell roasty! The flavor continues to shift into this caramelized sugar quality, but also the roast have evolved to have an interesting umami quality in the background. Yes. Steep Eighteenth is packed with flavor and bright. I could trick a Tea Owl who wasn't present earlier to think this was any other tea at like the sixth to eighth infusion.
I had to stop here for the evening. I've been drinking this for 2.5 hours with over 2 liters of water.  I need to get on with my evening, which needs to be free of my constant trips to the bathroom. I did my best to drain all the liquid off, and I set the gaiwan aside for later. Alas, this is when clay shines as there is less water retention.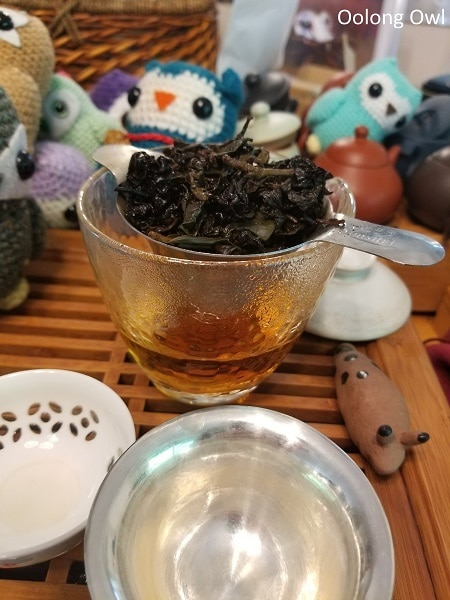 Nineteenth, Twentieth, Twenty-first, and Twenty-second Infusion: Carrying on the next day, I didn't bother with a rinse and just went on with steeping. Charcoal Dong Ding still has a similar flavor of caramelized sugar mixed with wet stones minerals. The savory element slips more with each steeping.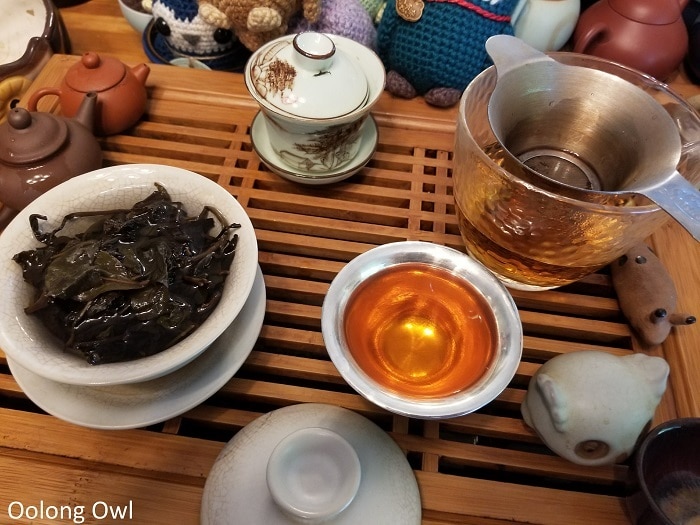 Twenth-third Infusion: I did a 40 minute steeping, but this is the end of it. There is no scent left and the tea is a soft mineral. Likely I could of gotten more if I had better heat, yixing clay tea pot, and didn't have an overnight break. I could easily one more infusion on the stove, but gosh, I got so many infusions already.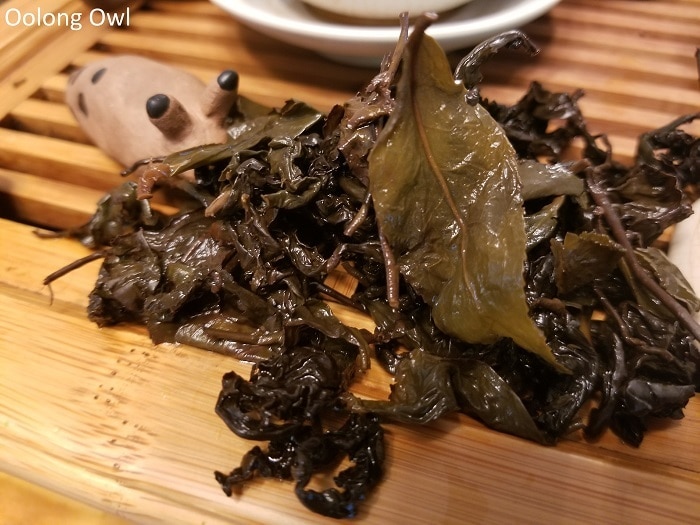 Comments
If you love roasted teas and want an complex oolong that can take long hauls with a lot of body, Floating Leaves Tea's Charcoal Dong Ding 3 Roast is it! What sets this tea from the rest is the heavy body, smoothness, and lack of harsh roast flavor. This is lack bitterness, and only has a slight dryness in the very late infusions. This tea joins my favorite teas from Floating Leaves Tea, the others being Red Peony (hands off, it is mine), and their 1990's Anxi Tieguanyin (which I need to review next).
Couple of my tea blogging peers have also covered Floating Leaves Tea's Charcoal Dong Ding 3 roast – Steep Stories and Teadb. Be sure to check them out, get all the perspectives. They also side mention a hooting epic tasting Four Roast Dong Ding at Floating Leaves Tea… sadly there is none this year as the Charcoal Roast Master didn't make any as the material wasn't perfect enough.
As a reminder, there is a coupon code – DongDingOwl for 30% off Floating Leaves Tea's 2016 Winter Dong Ding good for the month of June 2017. Also, be sure to check out the Floating Leaves Tea' Dong Ding Documentary. I think it is a cool project and the tales of Shiuwen's travels are always amazing to hear. Floating Leaves Tea also has a blog, mentioning progress of the documentary. You may see a familiar owl or two…