The July White2tea club tea was a whole 200 gram cake of 2017 Big Green Hype, which is part of their new 2017 Spring teas. Yay, I like previews and samples of brand new teas as it gets me hyped for what is to come!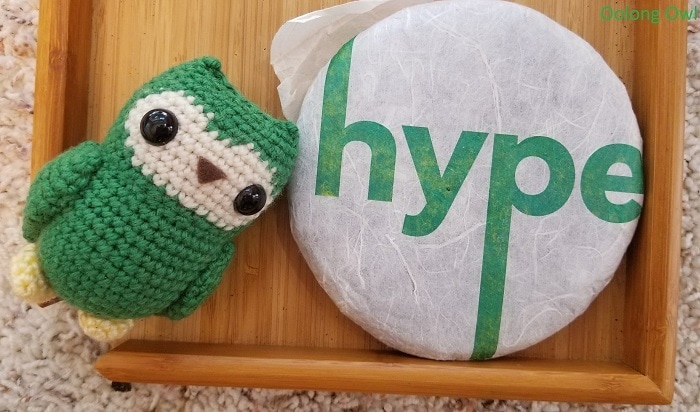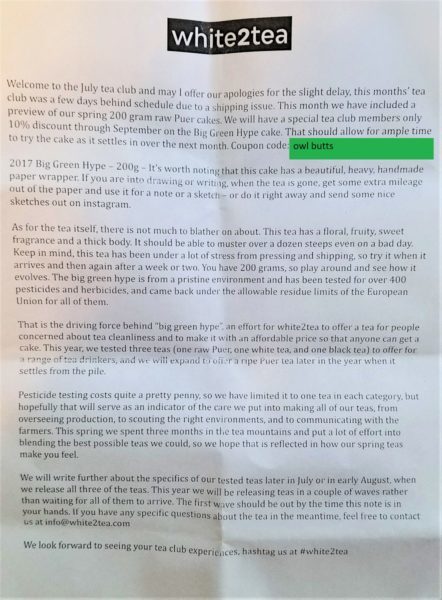 2017 Big Green Hype features a clean logo on fancy textured paper.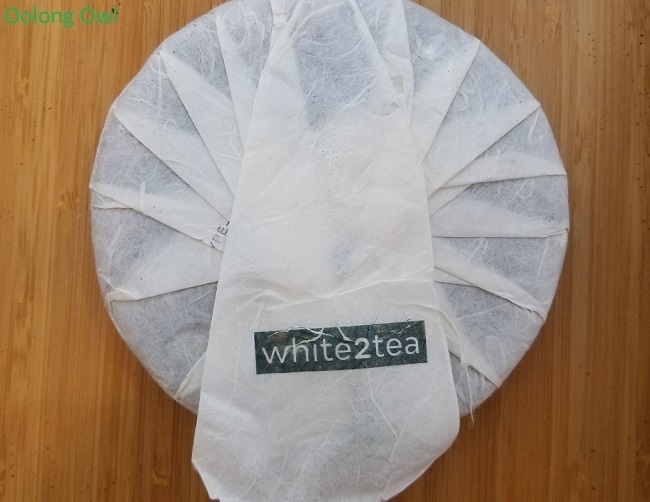 Leaf and Steeping Method
When Hype arrived, it was overly fragrant and fruity, but also warm and swampy from sweating in bubble wrap during the long ship time. I aired the cake out for a few weeks. Big Green Hype looks pretty good and has a moderate compression so you need a tea knife to pry off pieces.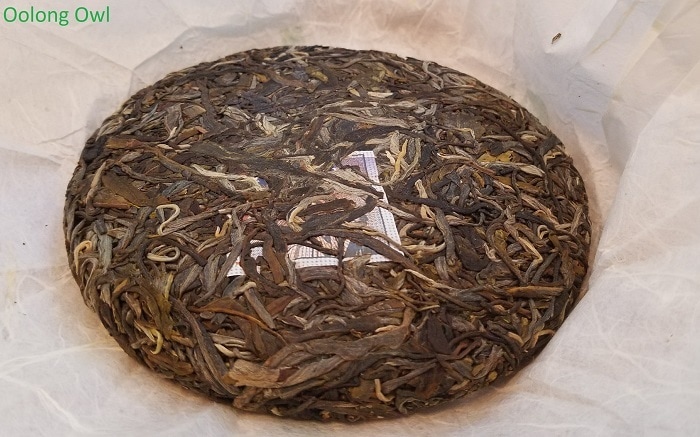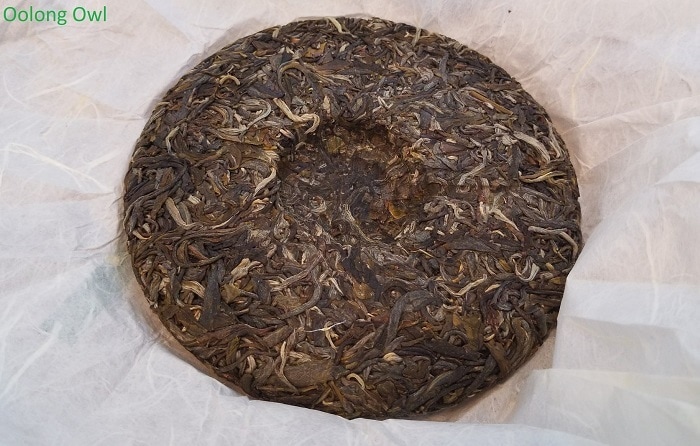 Up close, you can see the odd green leaf on the cake.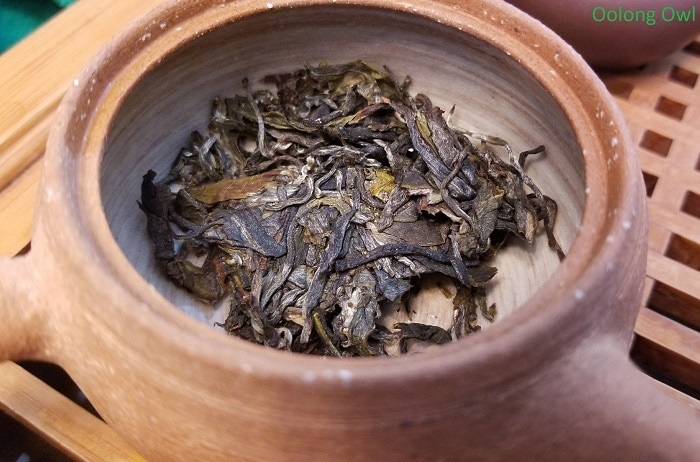 My usual gaiwan is out of commission, so I went with fast pour tea pot. I used 1 gram of leaf to 15ml of vessel, flash steeped in boiling water. The hot leaf smells like hot summer orchards, mixed of grassy fields and hot fruit in the sun.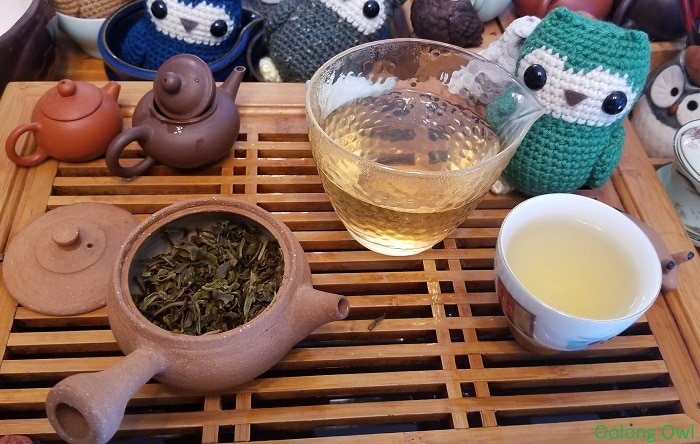 Tasting of White2Tea's 2017 Big Green Hype Sheng Puer
First and Second Infusion: Big Green Hype's flavor is light, soft cute notes of straw. The texture is loose – it is trying to be heavy, but it's more like unset jello. The aftertaste is a sweet peach. It is really light and on the watery side.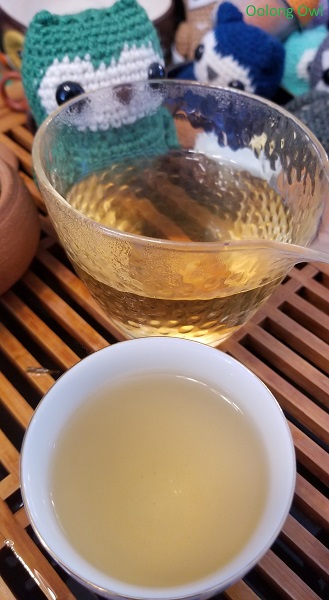 Third, Fourth, Fifth, and Sixth Infusion: Slowly Big Green Hype is building flavor. I am getting notes of hay and sweet peaches, with the aftertaste being stronger and more fruity each round. The texture is still a sloppy jello feel in the mouth. There is a slight astringency making my teeth feel slick and clean.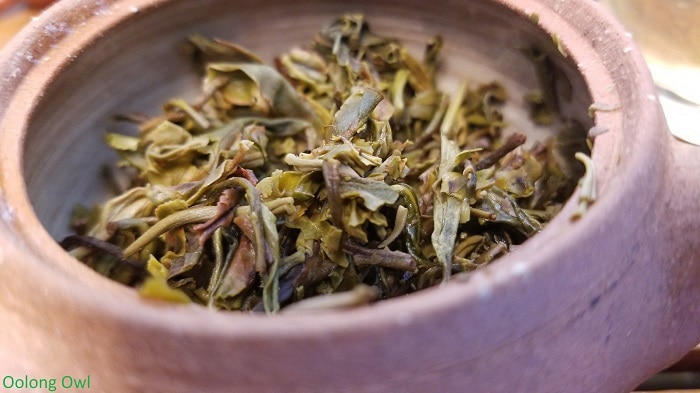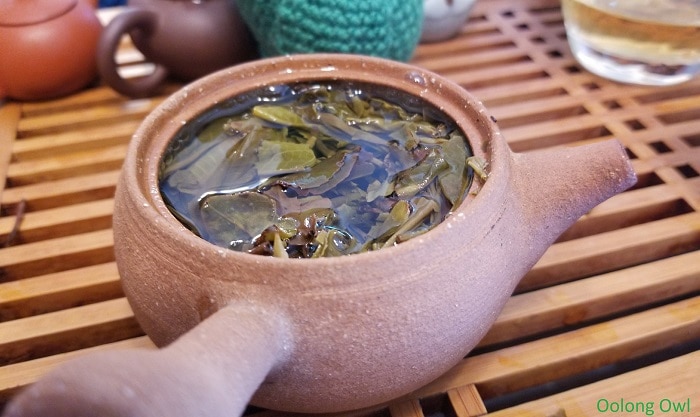 Seventh, Eighth, Ninth, Tenth, Eleventh, and Twelfth Infusion: Hype hit "got cooked" mode as my boiling steepings and re-infusions finally beat the leaf. I am getting some bitterness mixed with the fruity flavor makes it taste like I am eating peach pits. The aftertaste is also peach pitty. The texture picked up here, feeling nicely slick and heavy.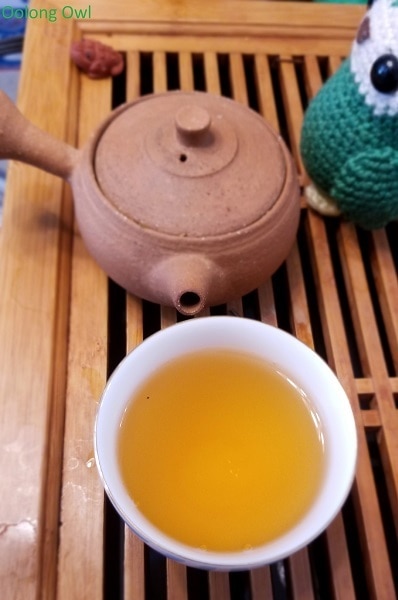 The last infusion died in flavor and the bitterness took over.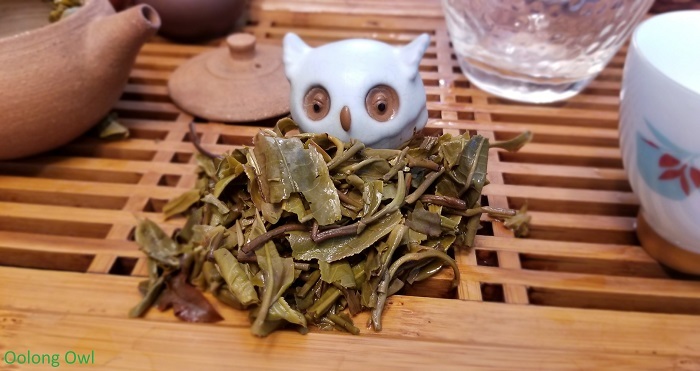 Comments
2017 Big Green Hype is a light, easy drinking, fruity sheng with a moderately heavy body, fine aftertaste, with later infusions of bitterness. If you are new to sheng, likely Hype would be a safe choice. However, at this time, this tea is a month old. I think the lightness will tighten up with time. If I wasn't on a schedule and didn't have a whole bunch of people asking for a review of Hype, I would have waited another month or two to drink this. So far it reminds me of the time when I drank the 2015 Pin when it came out, and it being very light. That said, I keep meaning to revisit a number of my once young teas and put my new observations to an Oolong Owl article.
Either way, White2Tea's 2017 Big Green Hype Sheng Puer is an affordable $35 cake that is a solid drinker without any notes one would find offensive (not counting boiling it to a bitter death at the end).