Today's review is an entry level raw/ sheng puer from Teabook. 2017 Teabook Raw Puer is a 100 gram cake made of spring Lincang area material. To start off, this cake is affordable it is only $10.95. Teabook also has a ripe/ shou puer for 200 grams for $9.75. I got this little cake at the PDX Tea Fest and had it stashed for about a month.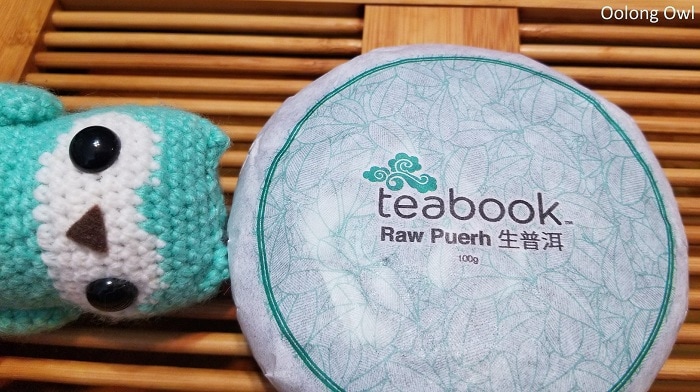 Dry Leaf and Steeping Method
The 2017 Teabook Raw Puer is pressed loosely, so the leaf breaks off easy. No special tools needed, I was able to break a chunk off with my fingers.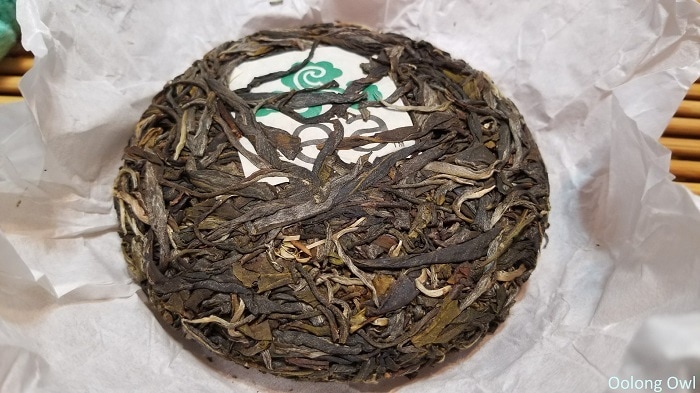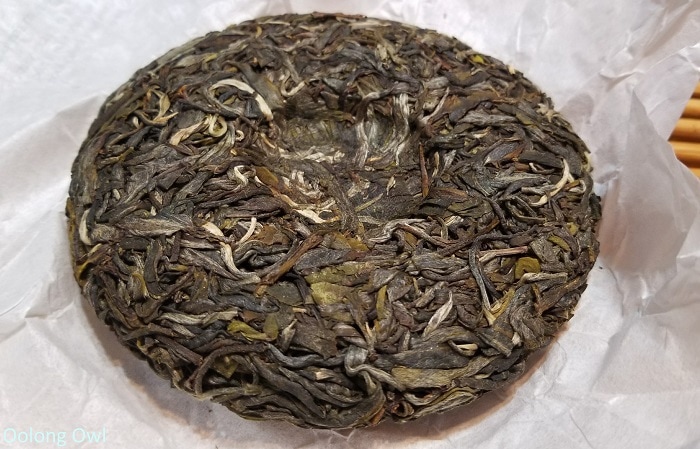 Close up, you can see the fuzz on the leaf.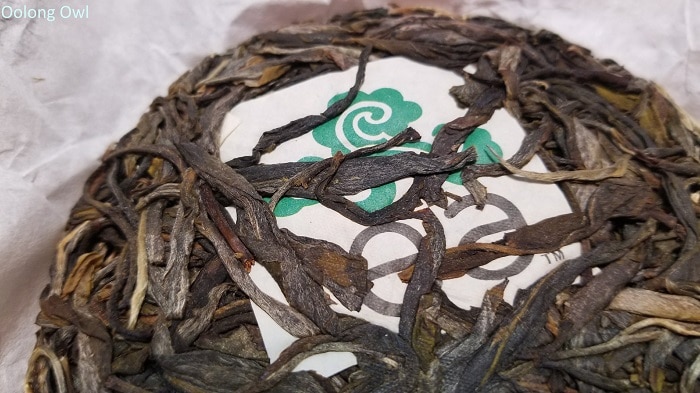 Teabook Tea Master notes recommend using 5 gram of tea for 3oz/88ml gongfu cha style, which converts to 1 gram of tea per 17ml of vessel size, with no mention of temperature other than 185-195F/ 85C-90c for glass/grandpa style. I went with my usual gongfu style using 1 gram of leaf to 15ml of vessel size, all in on boiling water with very short infusions starting at 5 seconds and slowing adding to 2 minutes. Boiling water shows all the flaws, and for a young tea this inexpensive, I might as well see if it is bombproof.
Tasting of 2017 Teabook Raw Puer – Gongfu Style
First, Second, and Third Infusion: The hot leaf smells fruity and floral with a touch of pan scorch.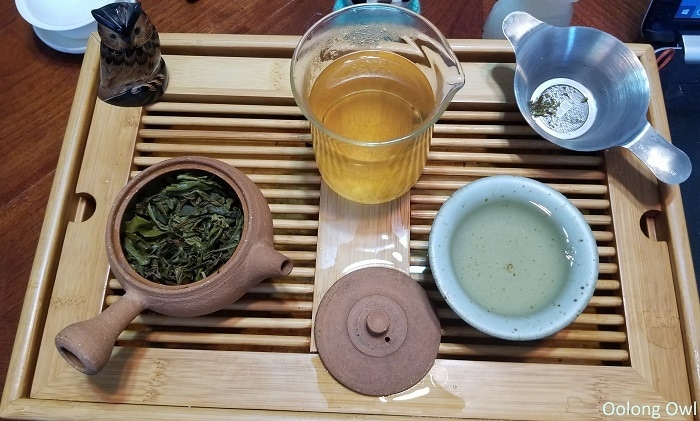 These early infusions are clean and light with notes of citrus pith and cotton. The body is lightly slick, enough to feel my lips are glazed with a bit of sticky lip gloss. After each sip, I got a touch of an aftertaste at the end with more slight citrus. The tea isn't dry or astringent – despite over clocking the recommended temperature.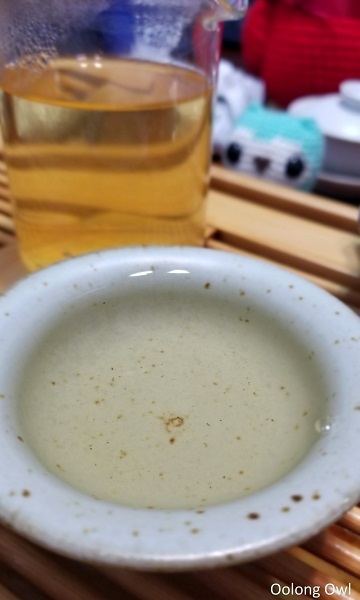 Fourth, Fifth, and Sixth Infusion: The slight citrus note clears. I get a slight honey note, mixed with some amber mineral, and grassy dew flavor. Overall the flavor is still quite light and subtle. I got a slight astringency grit feeling in the cheeks. The tea flavor and aftertaste is so fleeting, as well as the body. Overall, these infusions were easy to drink and pleasant.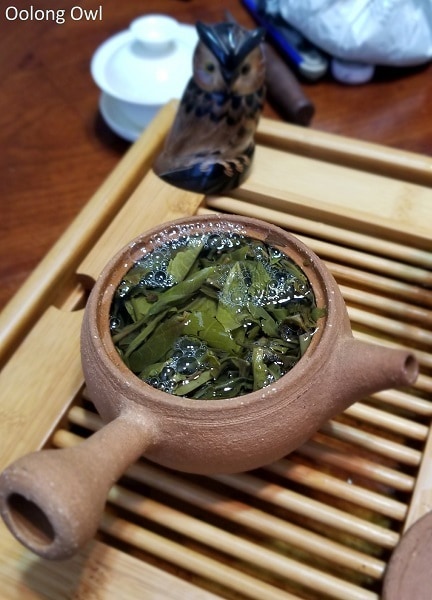 Seventh and Eighth Infusion: We've entered dry territory – this raw puer got stewed fast! Otherwise, the flavor is gone, as all I got was clean mineral water with a dry texture. I tried a power infusion, letting it go for 10 minutes as the final infusion. I was expecting this flavor earlier, as it is strong, bitter, lightly pan scorch notes with a long citrus sour pith aftertaste. This tea does have a limit, but it took some decent abuse to get there. Without a power steep, likely one would end this tea at the sixth infusion.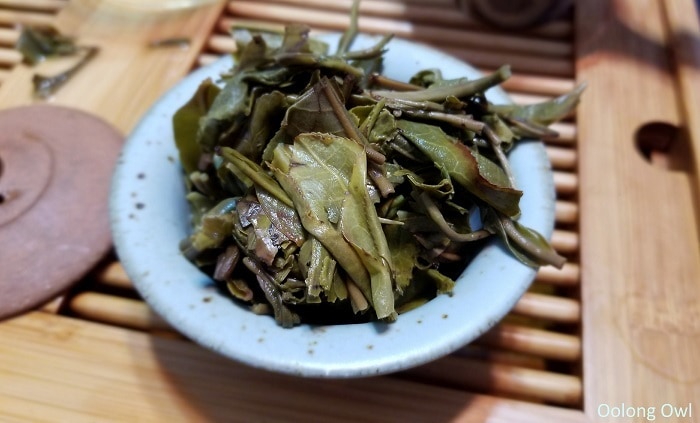 Tasting of 2017 Teabook Raw Puer – Glass / Grandpa Style
This time, I followed Teabooks instructions – I did their grandpa style, using the Teabook Travel Tea Tumbler, 3 grams of 2017 Teabook Raw Puer, steeped with 190F/88C water. I took a drive, drinking this for an hour during Seattle traffic.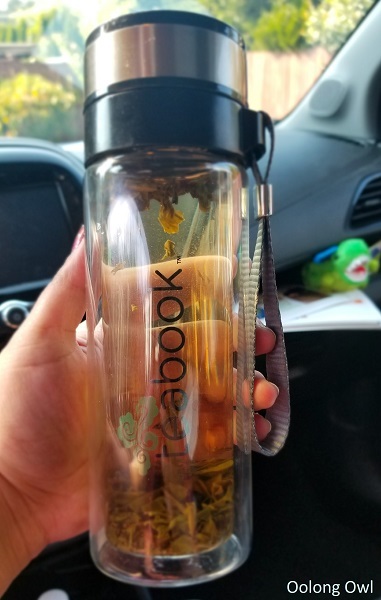 2017 Teabook Raw Puer came out buttery, yet clean, mineral, crisp citrus, and dewy in flavor. The flavor was much stronger and more pleasant in taste, though low on body and aftertaste. The smell is floral and delicious. The extended steeping is the best application for this tea, though it does get stewy and dry after about 1 hour of being in a glass.
Comments
The 2017 Teabook Raw Puer is an easy going, light tasting, young puer tea. Priced at $10.95 for a 100 gram cake, it is a pretty flexible tea that is hard to screw up in brewing. I went all out with full temperature and high leaf ratio which resulted with a gentle flavor until pushed. The 2017 Teabook Raw Puer works best in a travel tumbler or grandpa style – the longer infusions bring out a stronger flavor.
2017 Teabook Raw Puer is best for tea drinkers who are completely new to puer or intimidated by it. You don't need a pick to break the cake apart as well as the Teabook Raw is fairly forgiving to infuse. I would describe the 2017 Teabook Raw Puer as designed to be as little as offensive as possible as it isn't bitter, smokey, or strong. It is flexible to infuse, plus the price point is enticing to try something new without an investment.
If you are a seasoned puer drinker this Teabook Raw Puer is a hard pass unless you haven't found a sheng that grandpa styles well. I felt this tea was boring as it is too light, had little body or aftertaste. I didn't notice much of a body feel either. I banged out a 110ml session in less than 30 minutes, killed the leaf, and was looking for something else to drink. I figure the citrus notes are from it being young, and I am unsure how much this tea will change with age. There are plenty of good daily drinkers at this price point per gram, especially if you are okay buying 200 grams or bigger cakes.
(tea provided for review | affiliate links)