Last year I just reviewed my favorites and teas of interest after trying the entire 2016 White2Tea Spring puer line. This year I am just going to review a bunch of teas in brackets, as there have been many requests, but I don't want to write about White2tea exclusively for 2 months. I figure everyone really wanted reviews this year as there is so much to choose from and the descriptions are brief but very accurate. To spoil myself, I did not purchase samples under $89 a cake, so unless I buy more samples, there won't be a review of Manichee, Dangerous Messengers, or IPA.
All these teas were tasted individually on different days and in a random order not reflected in the review order. I also drank them pretty soon after release, so everything is pretty darn young. Likely flavor has changed if you are reading this in like 2018.
---
2017 White2Tea Puer – Pussy
White2Tea's 2017 Pussy sheng is a popular one of their spring line up as I've heard many of my tea friends and peers talk about it. However, I need to clear the air – STOP WITH THE HOOTIN BOX JOKES! Time to sit down and objectively sample this raw puer.
Dry Leaf and Steeping Method: 2017 Pussy has a strong floral fragrance from the leaf. I had a couple large chunks in my sample and I found the compression on them on the softer side, so it was easy to pry off some pieces with my fingers.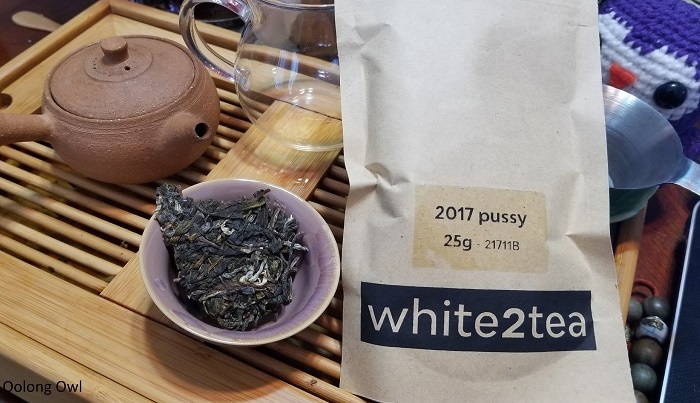 I used 1 gram to 15ml of vessel size. I was having kettle issues, so I was using close to boiling water at 208F/98C. The hot leaf smells like a flower shop on a hot day.
First, Second, and Third Infusion: Pussy is on the higher fragrance side. The flavor is light so far, but the end of the sip is a soft floral, sweet buttered baby's breath blossoms. The texture is on the lip balmy side and does a light coating in the mouth.
Fourth, Fifth, Sixth, and Seventh Infusion: Finally Pussy is getting flavor with notes of steamed green beans that squeak between the teeth, along with some slight tart plum skins. The flavor is quite clean, with a lightly lingering fragrance of baby's breath floral and plum. I am finding each sip is quite heavy, forcing a slow down while drinking. The body feels sinks, and I can feel the tea travel and settle next to my heart.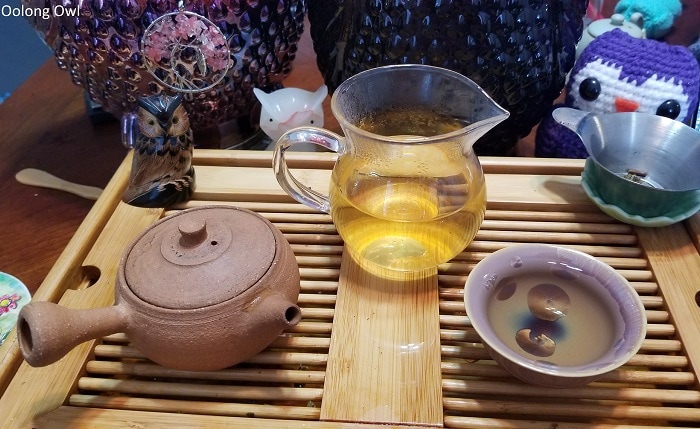 Eighth, Ninth, and Tenth Infusion: We finally have a significant change! I pushed this steep a little longer, so for 2 minutes. The flavor is light and astringent so I feel my gums dangling between my teeth. The end of sip and aftertaste is where it is at – it is soupy heavy, ball in the throat, sinking feeling, with the flavor finish of lingering sharp plum floral. Though I wonder at this point that sinking feeling is actually gut rot – I ate some snacks before this tea. I tried for infusion 11 and steeped it for 15 minutes, but got water and astringency.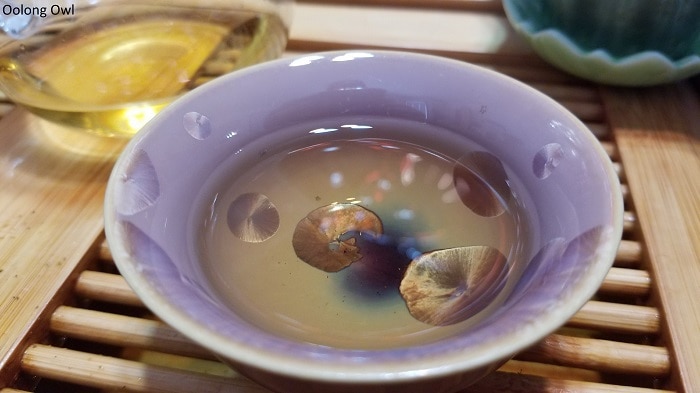 Comments: 2017 Pussy is a fragrance focused tea that encourages slower paced sessions to enjoy it to the max. I would label this tea for someone who loves White2Tea's Tuhao AF but wants a slightly cheaper option. It isn't as fragrant as Tuhao, but it has a slightly similar vibe to it with being heavy on the floral soupy. What did not wow me on Pussy is the price. I said it in my review of Farmer Direct Tea, but 2017 sheng has been expensive this year. I kept thinking of last year's tea being comparable for less.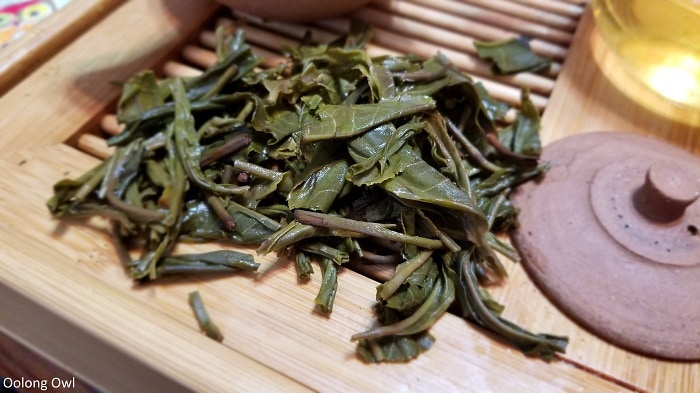 ---
2017 White2Tea – Bellwether
Bellwether is described as a yiwu-like blend.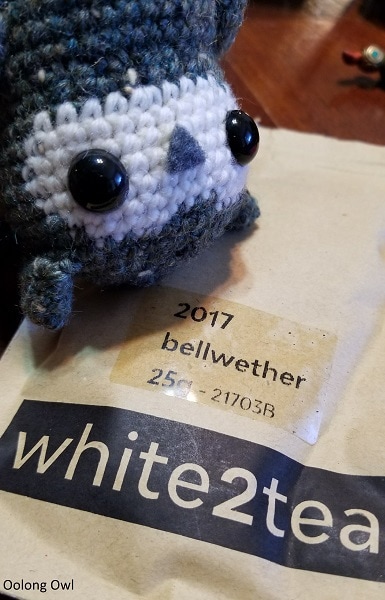 Dry Leaf and Steeping Method: Bellwether has a strong, yet flat and floral scent.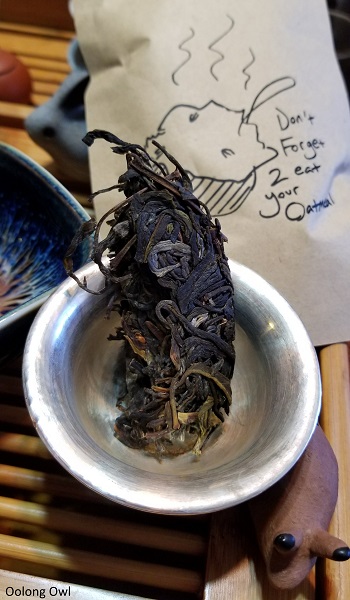 I went with 1 gram to 14ml of vessel size, steeped with 210F/99C water. I used a touch more leaf here because it was conveniently close to what I was going for. The hot leaf smells strongly floral.
First, Second, and Third Infusion: I can smell Bellwether as I drink it and it is lovely. It is floral up front with a bit of savory buttery notes in the finish. The savory notes remind me of those delicious bits that you de-glaze in the bottom of a pan. The flavor intensity is fairly high right off the bat.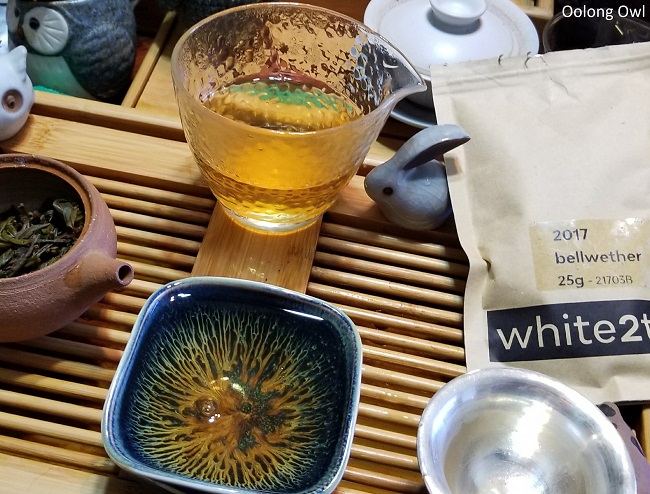 As I drink on, the more the texture becomes buttery custard and taste brothy, like I added some nice vegetal broth to deglaze that pan. I like the contrast of the aroma of floral, that is rises to my sinuses, and the savory flavor. It isn't dry or bitter. I suspect there is no floral flavor, that is all scent, with the flavor notes actually being savory pan scrapings and mineral broth.
Fourth, Fifth, and Sixth Infusion: Bellwether has gotten more savory and smooth. It has a strong developed taste of rocky mineral and butter. No sharp vegetal notes or ultra dryness. This tea is so smooth, mellow, and chill. The texture is nice and heavy, I feel like I've eaten my fill at a high-end buffet of mostly butter.
Seventh, Eighth, Ninth, and Tenth Infusion: I am impressed how smooth Bellwether is. It is just smooth, potent mineral and buttery savory puer throughout. The flavor is so full and round and just gulps down thick as you drink. There is some dryness developing giving me a bit of astringency on the tip of my tongue.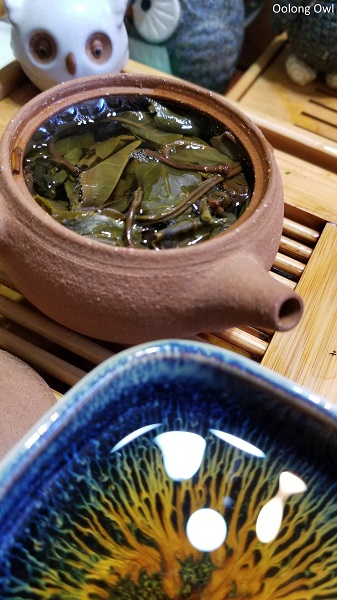 Bellwether finally struck the lightning bolt. I caught myself tea drunk commenting on people's Instagram random stuff. I called someone Tom Nook and told them I'll pay them back. I got a bit of a swirly head and the expected sheng gut rot. Despite Bellwether feeling dense to drink, my stomach is clenching and getting angry at the thought of having more. I need to lay down and eat a biscuit.
Eleventh and Twelfth Infusion: Bellwether slips in flavor, continuing to be minerals and butter until dead. It does build up a bad astringency drying up my tongue. It surprisingly doesn't get vegetal stewy. I can get a few more steeps but my body is protesting as it is telling me I need greasy noodles now.
Comments: 2017 Bellwether I drank second to last of all the 2017 teas and regret it. I had gotten tired of back to back sweet and light young puer whereas Bellwether is the potent savory tea I wished I had earlier to break it up. It does start with a nice floral aroma but settles down into a full flavor a meaty potent tea that'll give you chest hair without the bitterness. Bellwether does get dry in the final infusions.
Bellwether is the wild card of all the White2Teas cakes I tried worth $89+. You will go for Bellwether if you want a savory, non-vegetal/sweet/over floral tea. It is a workhorse, drink with friends with some greasy westernized Chinese food for optimal performance as the sheng hangry is strong. Bellwether has some good energy to it as well.
My personal opinion, I really liked how Bellwether started with the floral, as I am big into the aroma, but after that was okay, but I respected how this wasn't another sweet light sheng. I would drink the rest of the sample with friends and have a good time. It certainly goes down to personal taste whether you will love this tea.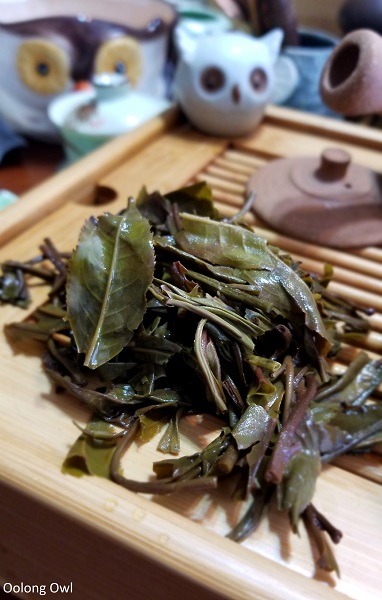 ---
2017 White2Tea – Happy Anniversary Baby
This tea has the least amount of information on it, just stating it isn't half-assed as it was made to celebrate an anniversary.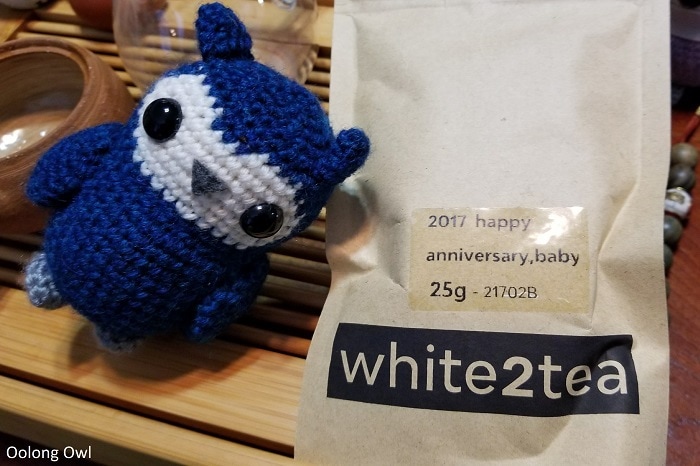 Dry Leaf and Steeping Method: Happy Anniversary Baby has a sweet and slight nose wrinkling pungent scent in the leaf I associate with young puer that could be bitter.
I used 1 gram of leaf to 15ml of vessel size, steeped at a boil. Steeped up hot leaf smells sweeter with a hint of savory, with a twitch of nose wrinkle from tart.
First, Second, and Third Infusion: The first impression is that Happy Anniversary is that it is sweet and creamy. The flavor is light to start, and the body is milk smooth that sticks past the throat. The aftertaste is really soft. Not many notes to taste other than texture and feel.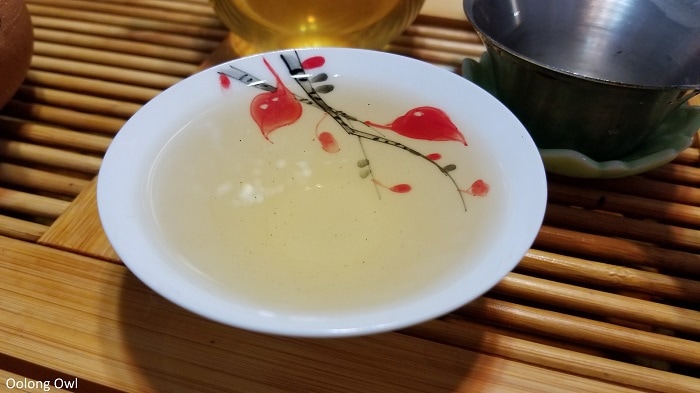 Fourth and Fifth Infusion: Happy Anniversary is very subtle or this needs more time to settle. The tea reminds me of a combination of Bosch and Pin. With each steeping it builds more layers of aftertaste in the mouth. I get glimpses of underripe hard mango and peaches with a smooth sip. A very soft, sweet gentle tea despite me boil it, and it has an interesting feel of sinking, yet spreading your wings.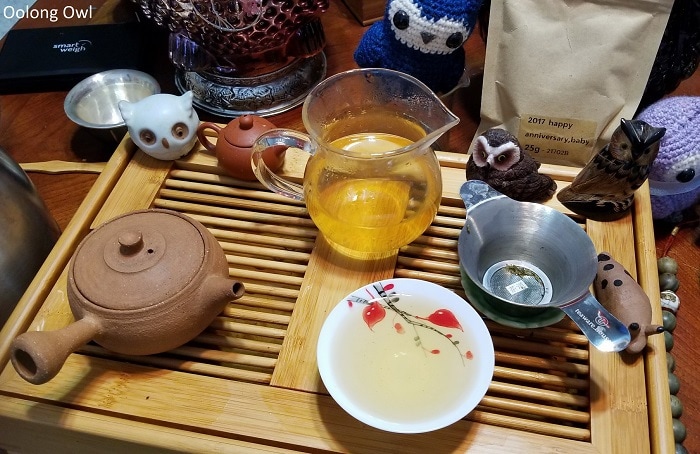 Since this puer cake was made for an anniversary, one would hope it doesn't start off tasting of bitter death. Though it does make me reflect if I were to make a tea that celebrates my anniversary with Mr. Owl Tea-Hater it would be notes of sawdust, rhubarb pie, roast pig with a pop quiz of toothbrush colours in remembrance of my immigration interview.
Sixth, Seventh, and Eighth Infusion: We have built up to this – the flavor is in full swing here with an underripe stone fruit (back to crunchy mango or peach). I smelled the leaves again and it is so fruity and delicious. It is interestingly tropical tasting – with a fresh aftertaste finish of herbs and slight bitterness.  Each infusion gets more herbal and stewed kale in flavor. The texture is slick, but the body feel is heavy, like getting punch and gaspy.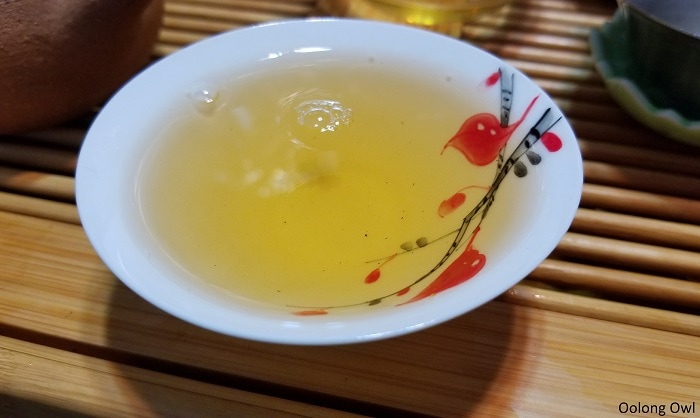 Ninth Infusion: Nope, I overcooked it – the flavor is bitter with a cheeky dryness that makes me want to brush my teeth. To be fair, this entire session I was steeping a touch longer than normal, as I was hoping to milk more out of this tea more aggressively.
Comments: Likely Happy Anniversary Baby needs more time and a tea intended to be age + fandom + memory. The notes are on the soft, sweet, subtle side of fruity and herbs – that you can certainly get bitter with time. The texture and body is heavily accented and uplifting.
Happy Anniversary Baby would be a good tea to tuck away for later or if you were a fan of White2Tea's Bosch or Pin, which are similar as both are subtle in flavor. 2017 Happy Anniversary Baby is only available this year. If you like the sound of it I would buy it soon!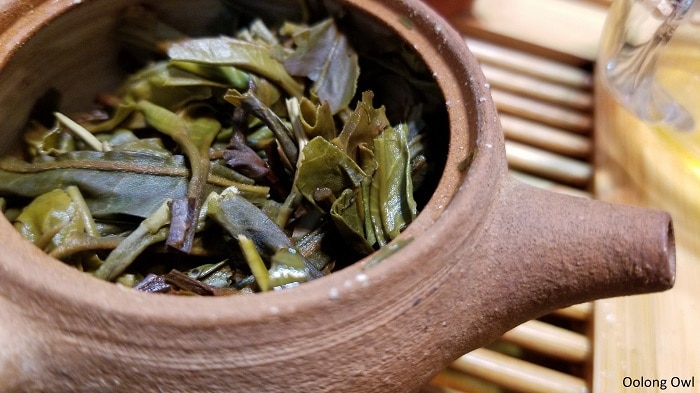 ---
I feel fairly indifferent to owning all three teas, other than Happy Anniversary Baby as it is a limited special cake. I quite liked Farmer Direct Tea, which is cheaper, and another tea from White2Tea 2017 that is in the $100+ range a lot more.
I hope this triple-threat review worked well. Stay tuned for part 2 – $100-$120 2017 White2Tea puer.