Welcome to Oolong Owl's coverage of the 2017 World Tea Expo!

Day 2 | Day 3 | Haul | Trends & Thoughts |
Day 1 was a short day of 3 to 6pm, which made it more of a networking day as there wasn't much time to see much of the show floor.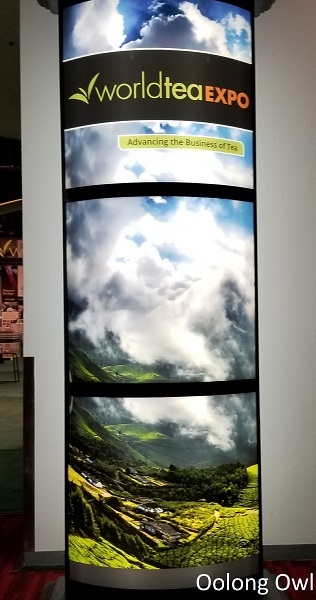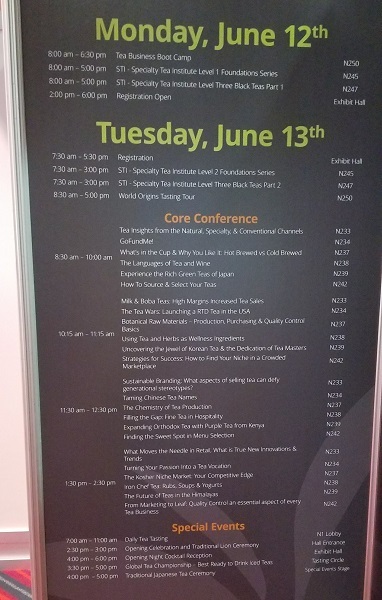 I flew in that morning, and arrived to the convention center early, wandering around looking for people I knew. This year was kind of sad as many tea bloggers and people I know were not in attendance. Upon opening of the day, they had dragons open the show.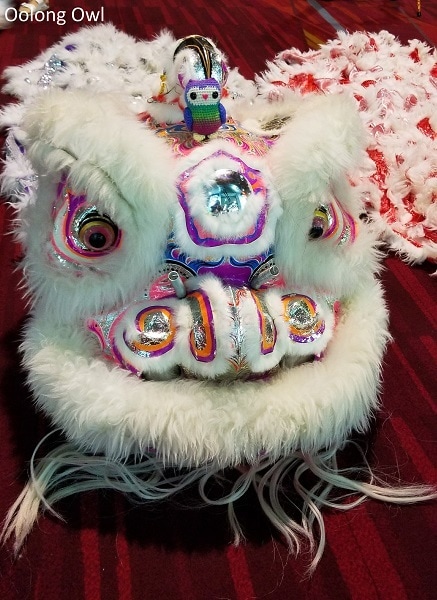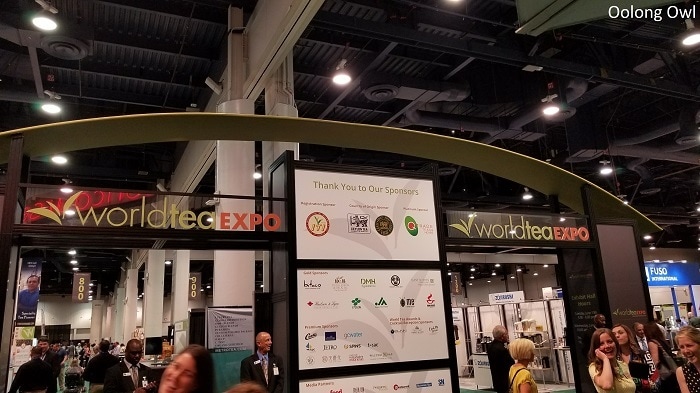 First stop, I needed puer as it was 3pm and I have had no tea all day. I hit up a booth called Old Village Puer, who had some really clean puer and were located by the entrance.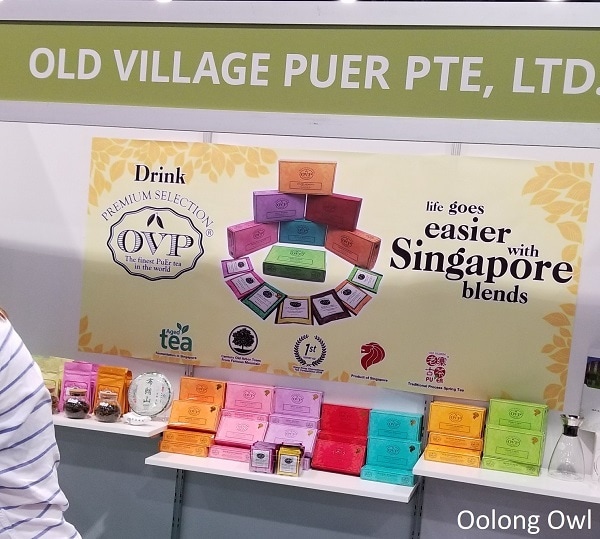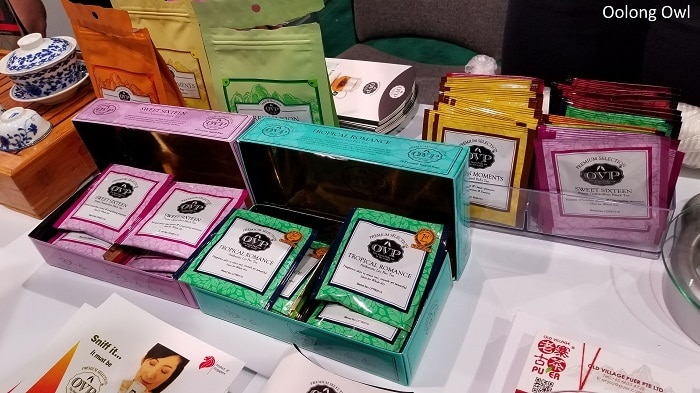 They were entering the US puer market with ideas to make puer easier to drink, thus tea bags and espresso pods. What fun information I got out of them was they were Singapore storage, which they were saying made for excellent puer due to the hot consistent weather. Despite being in a bag, everything tasted right and very clean. The espresso pod puer was good bitter sheng. I was honestly bracing for the worst, as pod tea is generally pretty bad, but was surprised I got a nice potent tea. This was also my first tea of the day.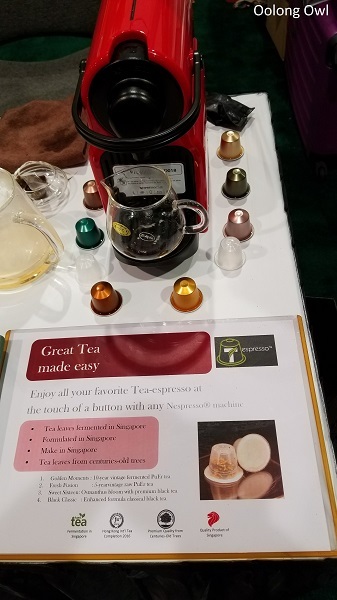 At this first puer booth I ran into fellow tea blogger Cwyn Death by Tea. No one is surprised at first puer stop near at the entrance us puer people run into each other, all twitching around looking for good tea.
Next to the puer tea bags was another pu stop – Menghai langhe tea co. Another seller trying to break into US market, but their approach was with hand rolled balls. The flavor was excellent as well, and their balls were very beautiful especially with all the gold buds. They had that classic menghai flavor to it.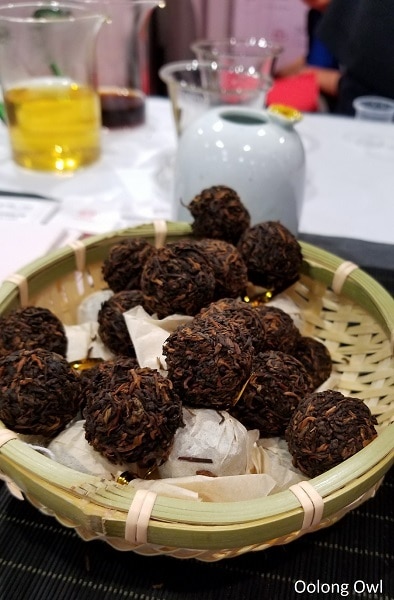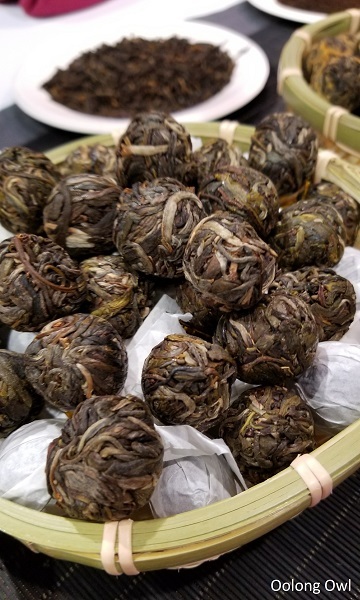 What I love about the timing of World Tea Expo is getting many of the newest, freshest teas. This is for you Kuding fans – kuding green tea by a seller called Kuding Green Tea. I did not know it was kuding until after I saw their name. It was very refreshing.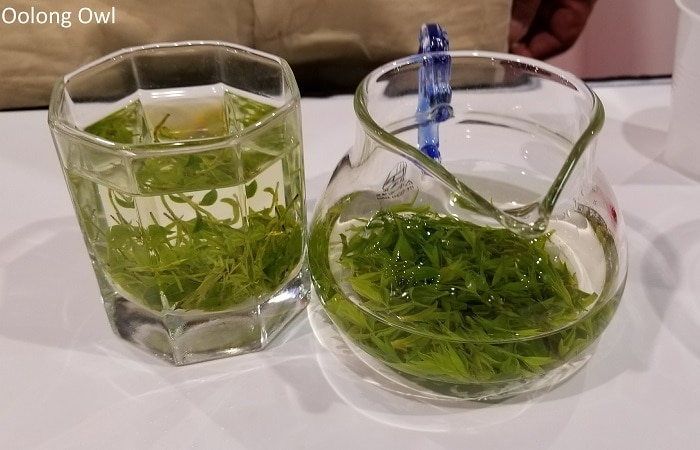 At this point is when the 2017 World Tea Expo…. how do I say this… poop-emoji hit the fan? YES AT THE 3RD VENDOR, like maybe 30 minutes in, things went crazy town.
Cwyn waved me over to the Xixianxinqu Jinye Fucha Tea booth, and displayed was a wrapped 2 kilo brick and samples of clear golden tea. I was told it was fu zhuan tea, aka fermented tea with purposefully grown golden mold.  We didn't have an open example, but was assured it was full of golden flowers.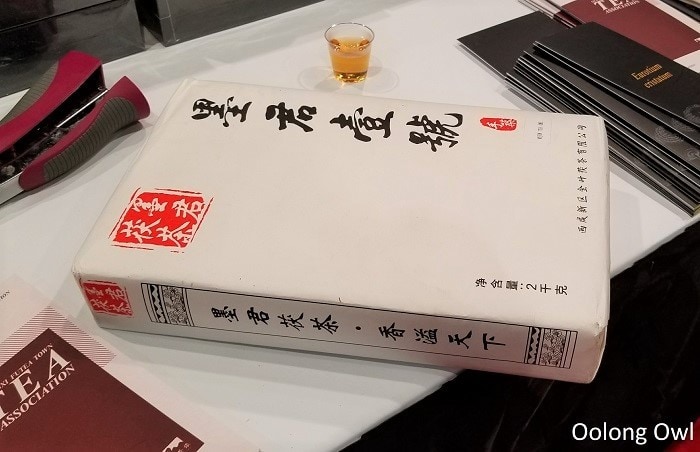 I don't recall how many cups I had. One? Two? It was delicious, honey, and sweet. Immediately I felt like a thousand ants were crawling on me and my head was filled with stuffing. I also would fail a sobriety test as I could not walk straight, began to chatter and laugh too much. I completely lost my usual professional routine of doing the World Tea Expo and stumbled through the show floor in a random manner, cursing fu bricks as I went. I had to piece much of this day by photos I took.
Somehow I made it to a whole seller, Changsha Wufeng, who had beautiful wild tree puer cakes AND moldy fuzhan. Sadly they did not have a tasting going on, but the tea was beautiful. I particularly admired their wild tree puer cake – it was a rainbow of colour.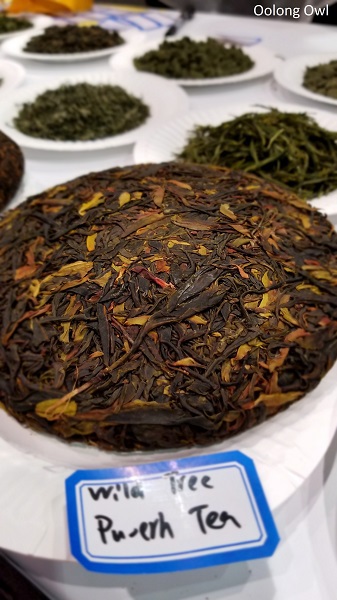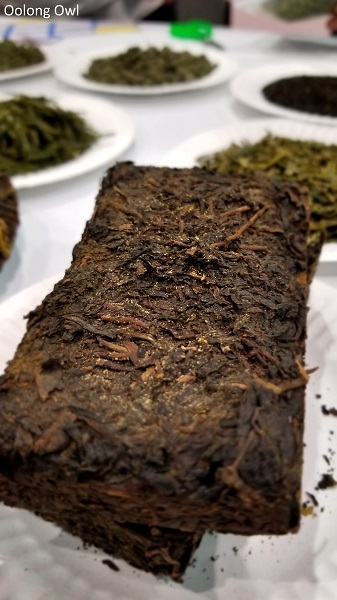 On the other side of the World Tea Expo, I arrived at a tea ware seller Lin Heisha (Yingjing) Culture, who had hand made tea ware. This cup stood out to me as with tea in it, it sparkled!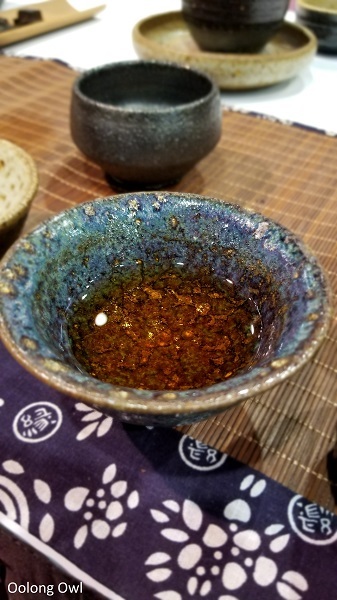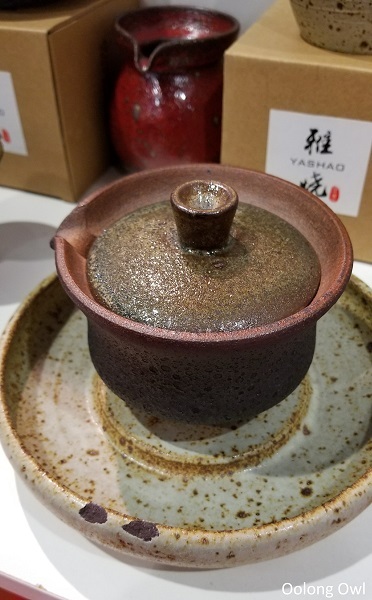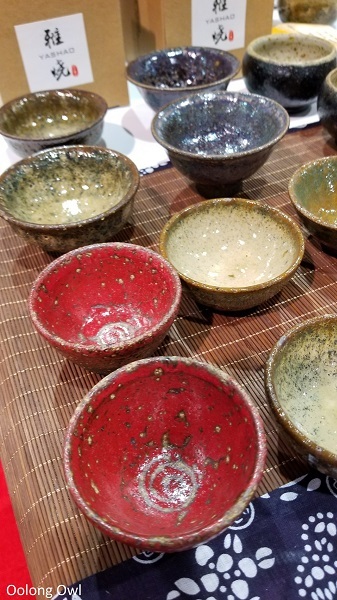 After that, we were back on the other side of the World Tea Expo at Gourmia, maker of kettles, including some with all the bells and whistles. They had many models on display, as well as protoypes. This kettle is a travel one that folds!
They had a interesting concept infuser that we begged to hurry up so we can buy it. I can't show the photo, but I will be paying attention to Gourmia and their new releases.
Fu brick was altering all rational thought that (now that I think about it) it would of been a better plan to go sit down and eat some french fries to come down off this tea drunk. Alas, I take Cwyn to a puer guy I know – Ravi at Royal Tea New York. Royal Tea New York just does whole sale, and they do their own puer pressings but more of the introduction to puer / daily drinker quality of tea. Sadly, their 2017 line wasn't pressed yet, but is coming. We weren't let down as dealing with Ravi is awesome – he has that passion for tea that just shines through. He busted put the good stuff, a 2002 Malaysian stored sheng. It was super smooth. At this point I am not sure if the addition to fu brick, or the fu brick was just still having a party, that we were still completely messed up.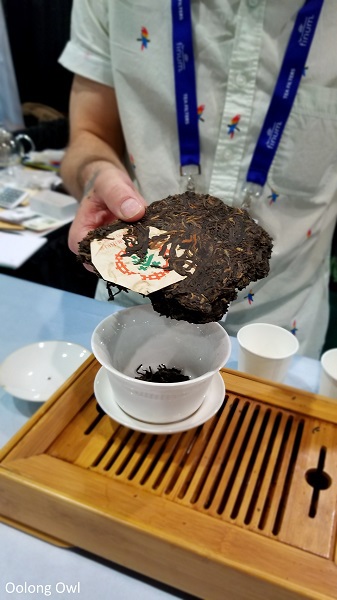 Cwyn and I then found this crazy cold brewer drip thing making iced Japanese green tea. I didn't catch who, nor did I find it again. We spent too much time plotting alternative tea uses, such as fresh maocha.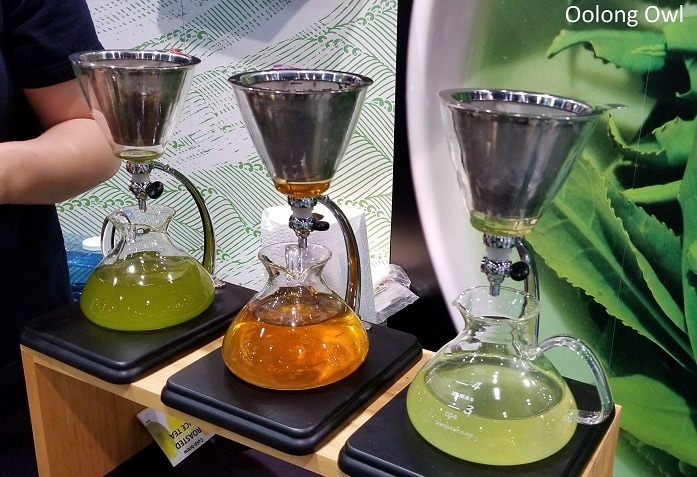 At this point I think we started to realize the fu brick-hole is strong. We should not drink any more tea and we had an hour left of the show room. MeiMei Fine Teas, another puer seller, spotted us and waved us over to come have some sheng. Cwyn and I flat out refused, apologizing to MeiMei with a promise to come back. I Pieced together we were at a kids tea seller, Bossi, who makes fruity rooibos teas in juice boxes. They were very good, even if you do not like rooibos. I quite liked the mango and strawberry, which tasted pretty natural. It took much resistance to drink the whole display jug.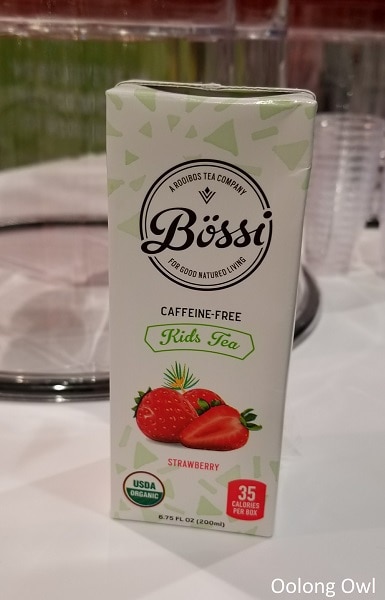 I then lost Cwyn to the can, and I stumbled into the tea kettle of my dreams that I think I am not allowed to show to the public as it isn't even released yet. I called it a UNICORN TEA KETTLE as it was a literal rainbow. I considered licking it to make it mine and Brewista had no choice to sell it to me. Accurate depiction: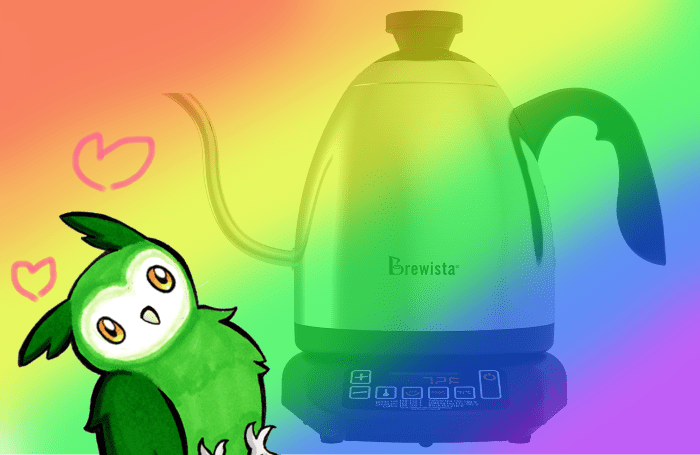 The fu brick told me I couldn't take it anymore and I stumbled out of the show floor and sat at the entrance. I ran into many tea friends, including Cwyn, and we hung out.
Fu brick man saw us and came to check in, but I don't remember what happened, but afterward we began plotting. Cwyn bought a pu knife. We will buy the 2 kilo fu brick, take it into the ladies room, and hack it apart to split. I thought of my more shady was my tea exchanges, such as time I gave James @ Teadb.org some White2Tea at a dumpy Seattle street corner, but chopping a brick of gold mold in a Vegas bathroom seemed close to rock bottom.
I would love to end World Tea Expo day 1 at this point, but after the expo I went to the Lucky Dragon Hotel and ate at the Pearl Ocean.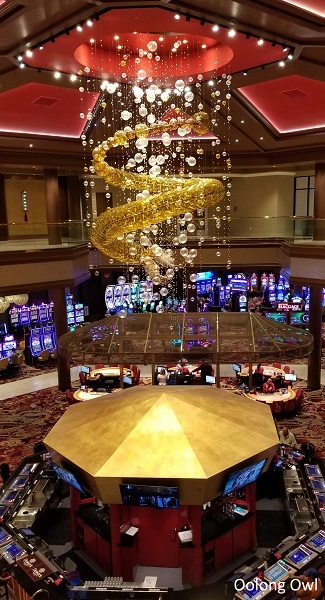 It was deliciously fancy dim sum. The next day I had people rag on me for not having tea there, as it was good thanks to Tealet, however I had plenty of tea at the World Tea Expo.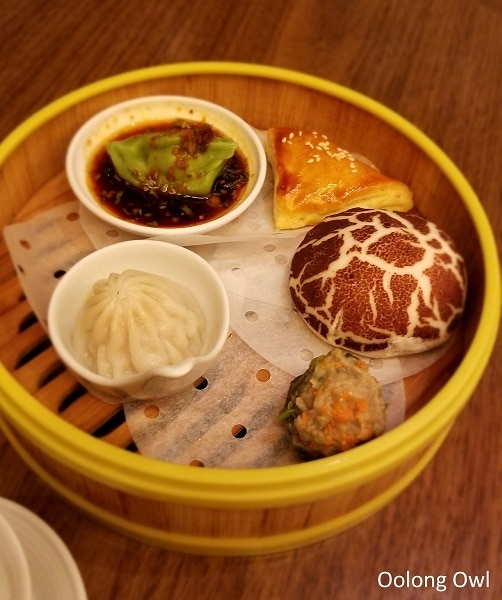 Day 1 Haul: Some of these I have no idea how I got thanks fu brick. In the pile is a Tea Source gaiwan shirt, Tibetan fermented tea, fresh kuding green, Tea Time & Fresh Cup Magazine, various tea bags, and puer balls.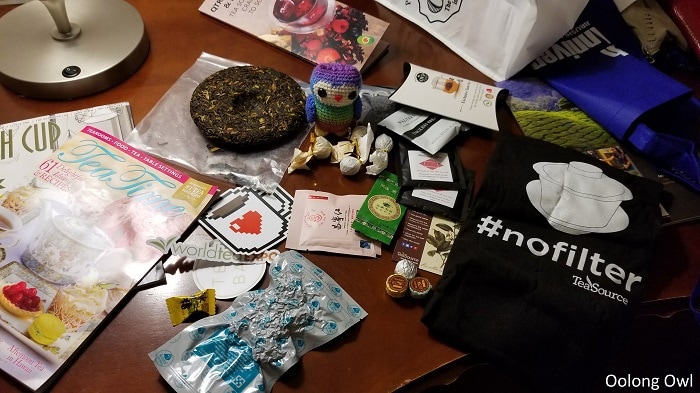 In the end, Day 1 2017 World Tea Expo was hands down the best World Tea Expo day I experienced so far… of what I could remember.