2018 seemed the year I went open wallet and ask questions later on white teas. I bought White2Tea's 2018 Censers white cake blind. Censers is a pressed Guizhou Province Bai Mu Dan (aka White Peony). Most of the white teas we find are from Fujian Province and sometimes Yunnan. That said, we are in for something a little different.
There was a mess up with my order and I got a sample of censers before I got the cake. I am unwrapping to show off the cake but will be drinking off the sample to finish it off.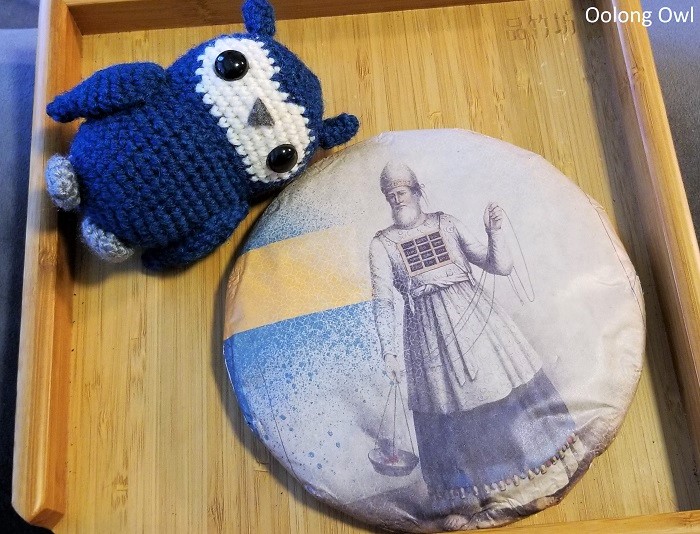 Leaf and Steeping Method
The Censers cake smells hay that is enough to make my nose itch. This tea very much smells like timothy hay, which is what my bunny Benson likes to eat. He also likes this tea, as he's nipped at the leaf a few times when he had the chance.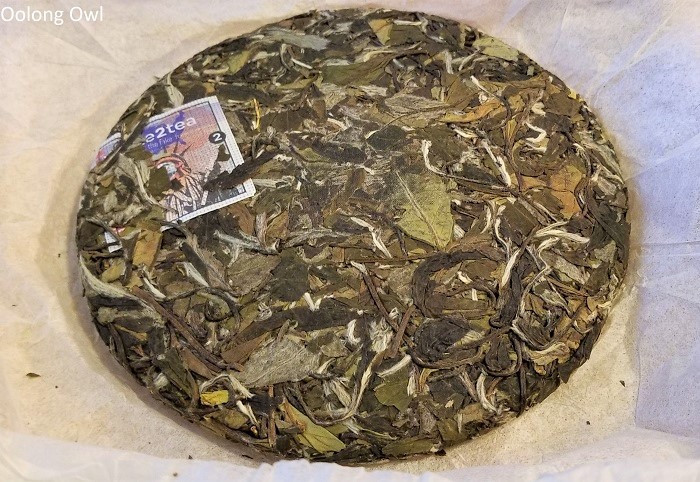 Fuzzy buds Enhance! Bai Mu Dan grade means there is a mix of buds and young leaves.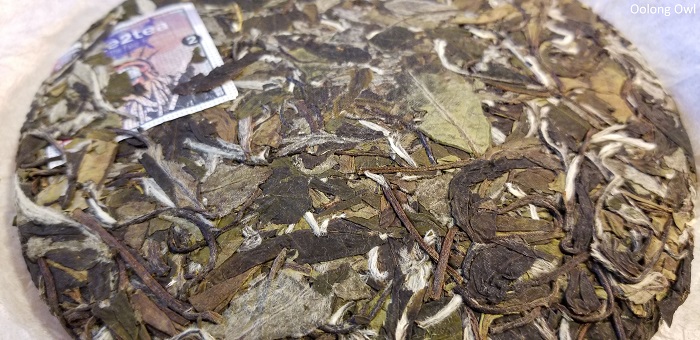 I've made White2Tea's 2018 Censers a couple times before this review and I had some not so great sessions while trying to figure the tea out. That said, I recommend 200F/93c instead of boiling. Boiling gets astringent bad and you'll see why later in this review. That said, I used 200F water, 1 gram of leaf per 20ml of vessel size ratio. This tea also did best in a neutral gaiwan vs my dedicated white clay teapot as my teapot butchered it as it rolls very hot. The hot leaf smells like amplified coconuts and hay.
Tasting of White2Tea's 2018 Censers White Tea
First and Second Infusion: 2018 Censers sips in thick and mellow, but as the sip goes on it gets brighter with the flavour being sweet young coconuts. The aftertaste echoes a sweet essence. Some sips have a slight floral note, other sips have a bit of hay in it.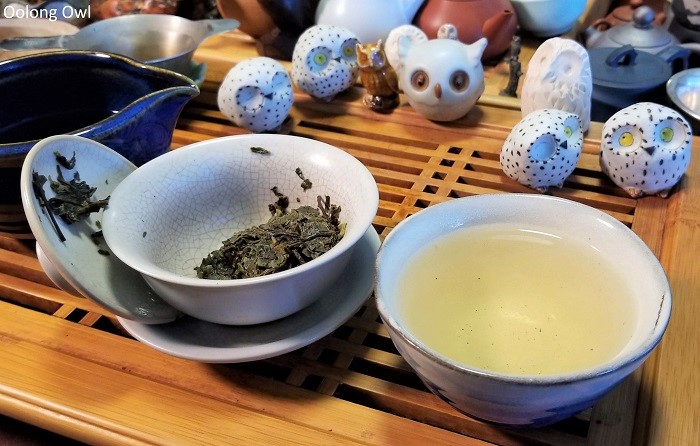 Texture and effect wise, Censers is a dense white tea. It coats the lips and mouth well with an oiliness. It has plenty of salivation too.
Third and Fourth Infusion: The colour got a touch deeper here.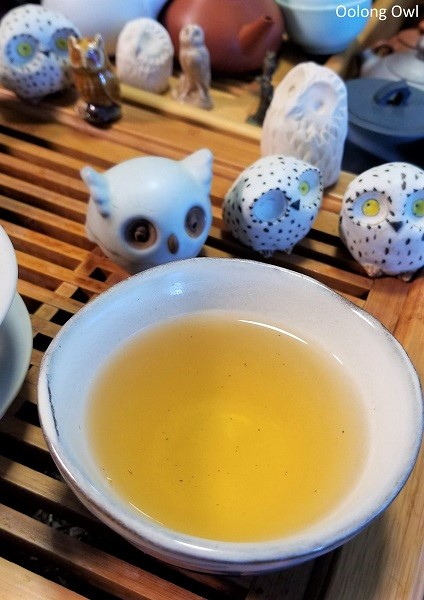 There is a touch of dryness here, but it is slight. This tea sips in all chunky like crumbled soft tofu. The flavour is coconut, somewhat honey, bran, and brown rice. When the tea cools some it gets more floral.
Fifth, Sixth, and Seventh Infusion: We have reached the problem area and that is Censers getting overcooked. It has more pronounced dryness and some bitterness. I think that bran note is actually the bitterness, which has a darker wheaty taste, which is stronger here. It is still a thick tea. I feel really full as if I just ate a big meal and my stomach is saying no more, however, I ate lunch 2.5 hours ago, it just Censers being that dense of a tea.
You can see what is happening here as the leaf is pretty broken up, which is likely why this is getting astringent and bitter.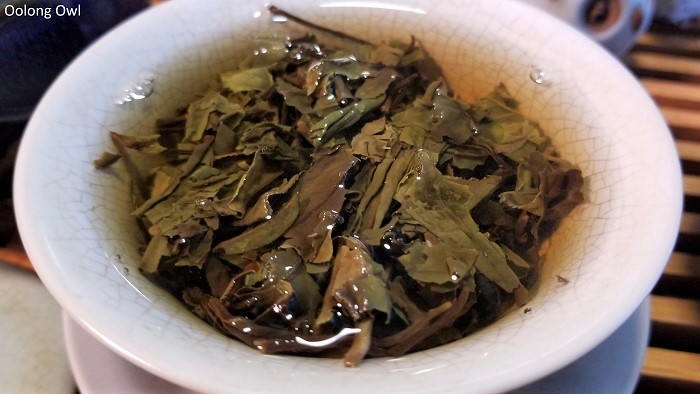 Eighth, Ninth, and Tenth Infusion: At this point at previous sessions, I dumped because it has a bad bitterness I don't like in delicate teas. However, I smelled the leaves at steep 7 and it has a lot left, so I kept going for you guys. It is on the bitter side and astringent enough to dry the back of my throat, but it has that fluffy chunky thick texture and a stewed slightly bitter honeydew melon at the end of the sip that lingers a touch. Despite the bitterness and dryness, the honey notes are quite nice.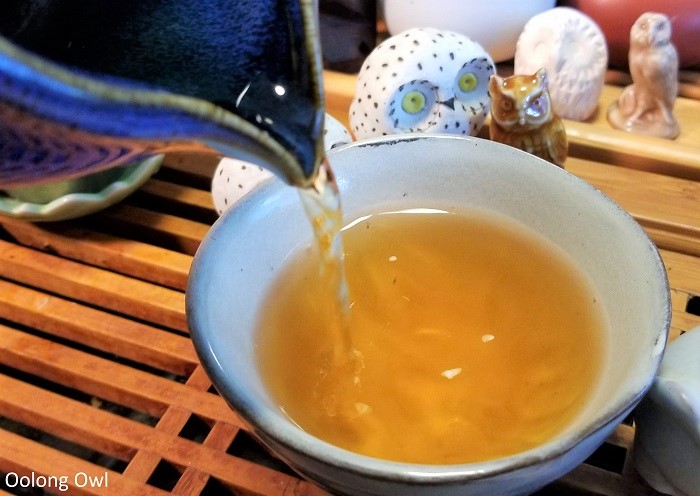 I tried for an eleventh steeping and the hot leaves smelled like hay stewed to mush, but the tea didn't have much flavour to it.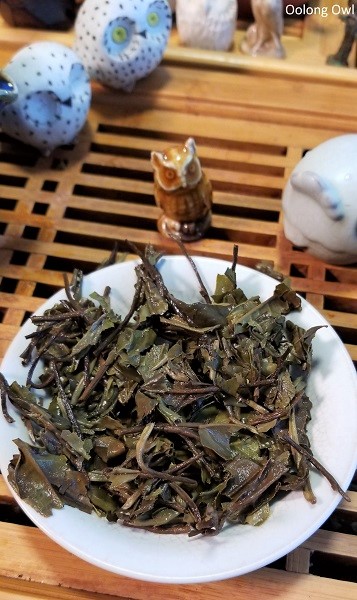 Comments
White2Tea's 2018 Censers White tea has an excellent thick texture. This is a tea of all oral fixation as I love what it does in my mouth (ew lol) as it feels really great to drink. It has notes of honey, floral, hay, coconuts, and bran. It is on the delicate side due to the leaf being mangled, so steep with care. If you like Bai Mu Dans (aka White Peony) you'll likely enjoy Censers a lot. I do recall one strange session I got notes of pandan, but that goes with the coconut vibe.
Personally, I like Censers' texture and the notes are interesting. I'm likely to leave this one to age as what I don't like is how delicate this tea is to drink now. From other aged Bai Mu Dans I've had, they get quite honey, so I can see Censers off to a good start.