Looking for a monthly tea box that you can try and discover different tea brands? Amoda Tea's Monthly box would be the perfect fit!
Amoda Tea features a new tea brand each month. They also feature tea brands that are high quality and ethically sourced, with blends that are free of artificial flavors and sugars. Besides the monthly box subscription, you can also separately purchase teas that have been featured in previous monthly boxes, as well as tasting sets from the Amoda Tea Shop. Their website is really pretty too!
This month Amoda Tea has paired up with Nepali Tea Traders with 25% of profits of Nepal teas are donated to the Nepali Tea Restoration Fund via Nepal Tea Traders.
Since this is my first Amoda Tea Box, I'll show off the packaging. This tea box is boxed slim so it fits into the mail slot. By the way, Amoda Tea is Canadian – Vancouver! My home town yay!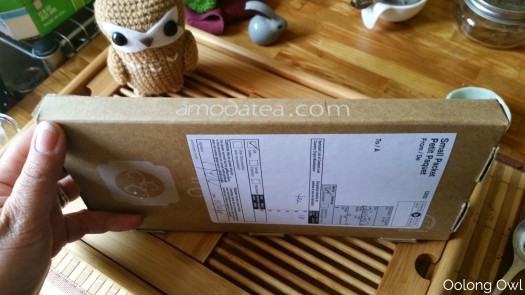 Unboxed: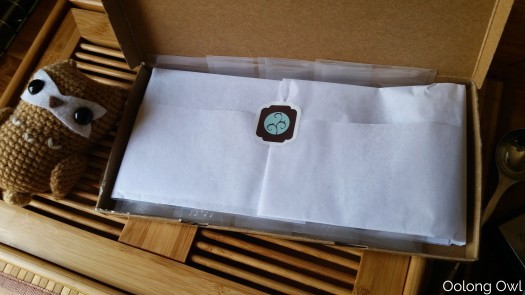 In Amoda Tea's May box:
Everest Earl Grey, Ana's Green Tea, Jestha Jasmine and Himalayan Golden (10 grams each) and a roll of paper tea filters.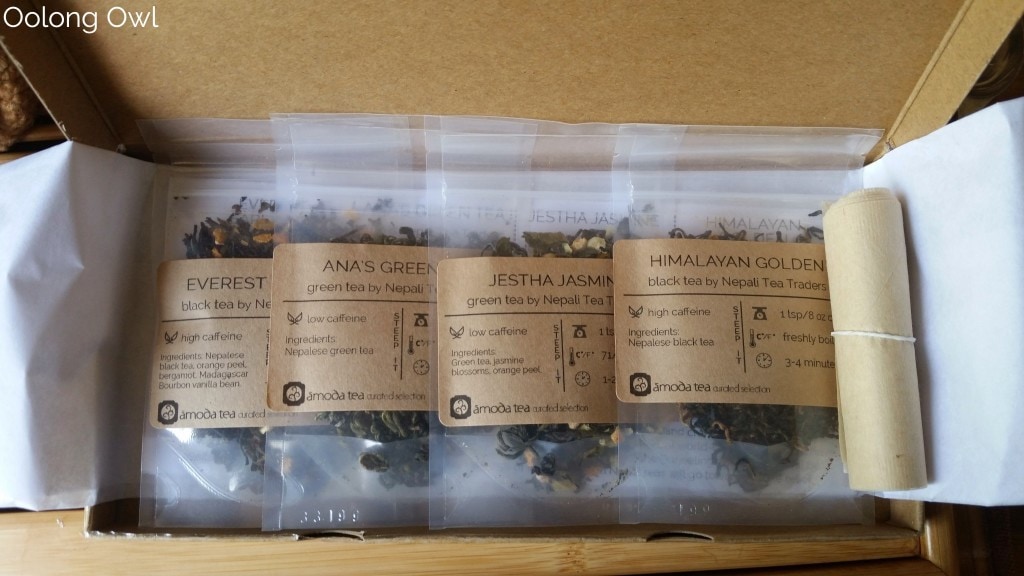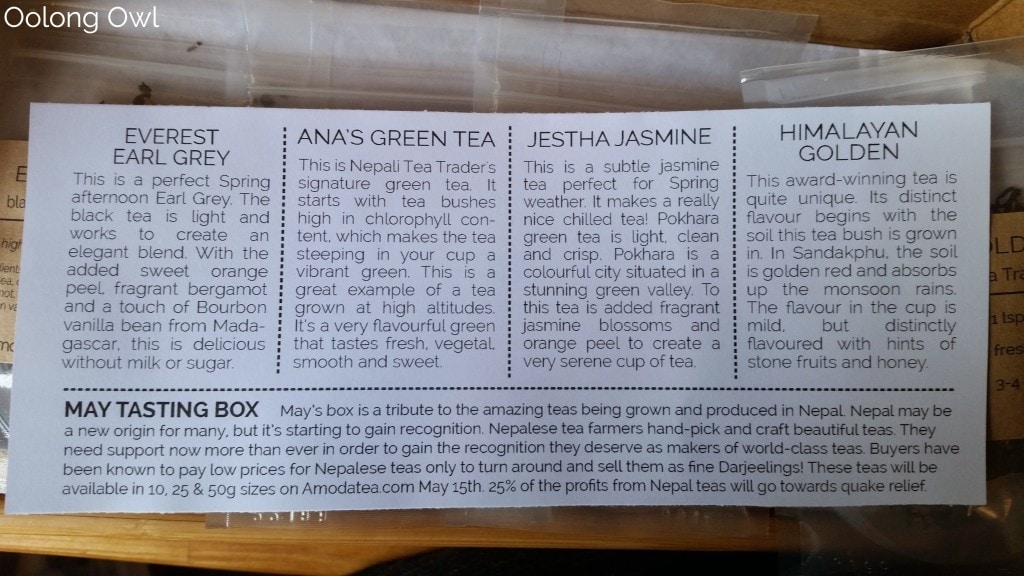 I like the attention to detail here as the teas are placed in the order of the information included with the box!
Tasting of May's Amoda Tea Box (Nepali Tea Traders)
I'm going to sample Jestha Jasmine and Everest Earl Grey. I'm in the mood for tea blends plus I've had Nepali Tea Trader's Himalayan Golden before and it's good!
Jestha Jasmine
The dry leaf of Jestha Jasmine is chunky with orange peel, green tea and white jasmine buds. The scent is lightly sweet jasmine.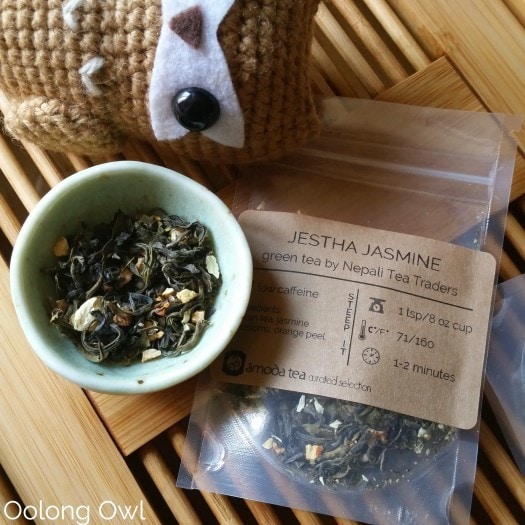 The steeping instructions were quite delicate, 160f for 1.5 minutes. Jestha Jasmine steeps up a pale yellow with a hint of floral scent.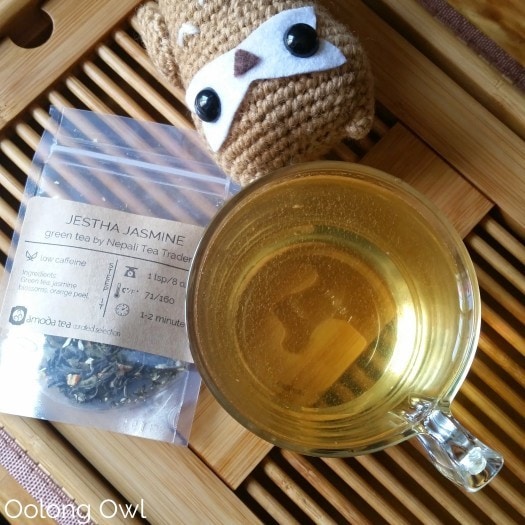 Jestha Jasmine is sweet, delicate and light in flavor. Right up front you taste the jasmine, 3/10 Floral that is sweet and not perfumey. Underneath the jasmine flavor is the green tea that tastes of buttered peas and hint of citrus. The after taste is lightly jasmine. Jestha Jasmine is a really nice jasmine green for someone who wants a bit of spring in their cup without being too potent.
Everest Earl Grey
Wow, the dry leaf of Everest Earl Grey smells magical! It smells like creamy vanilla and citrus!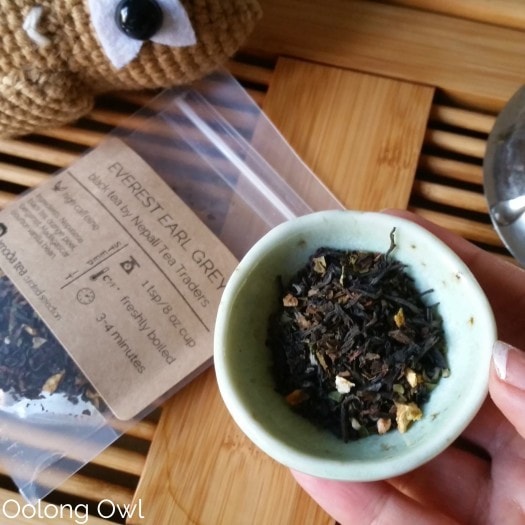 I steeped up Everest Earl Grey with boiling water for 3.5 minutes.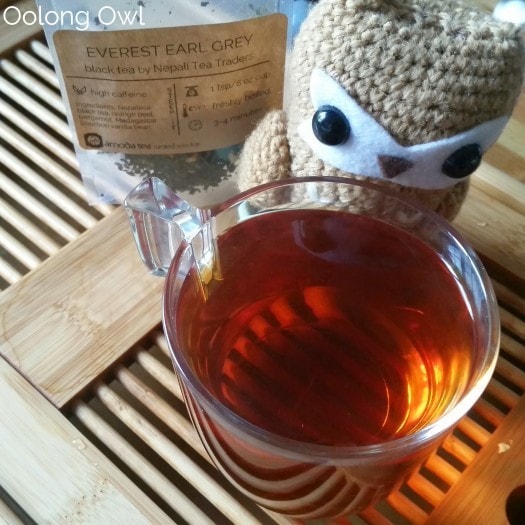 Everest Earl Grey sips in with a nice sweet vanilla flavor followed by orange, bit of bergamot and then finished as a brisk black tea. The black is quite good for an earl grey as it's a brightly flavored dark wood and malt without being too thick and heavy. The briskness is moderately dry, a 4/10 Astringency. The bergamot is light, one of the least bergamot flavored earl greys I've had, as it is more fresh orange in taste. The sweet vanilla is the best part making this earl grey great without milk or sugar.
Be sure to check out Amoda Tea's Monthly box as well as Nepali Tea Traders!
(tea provided for review)