Apples and Molasses Black Tea is a blend of black tea, apple bits, spices, cloves and molasses flavor. This blend is from Della Terra Teas, online seller of fun tea blends. Della Terra Teas is based in Pennsylvania.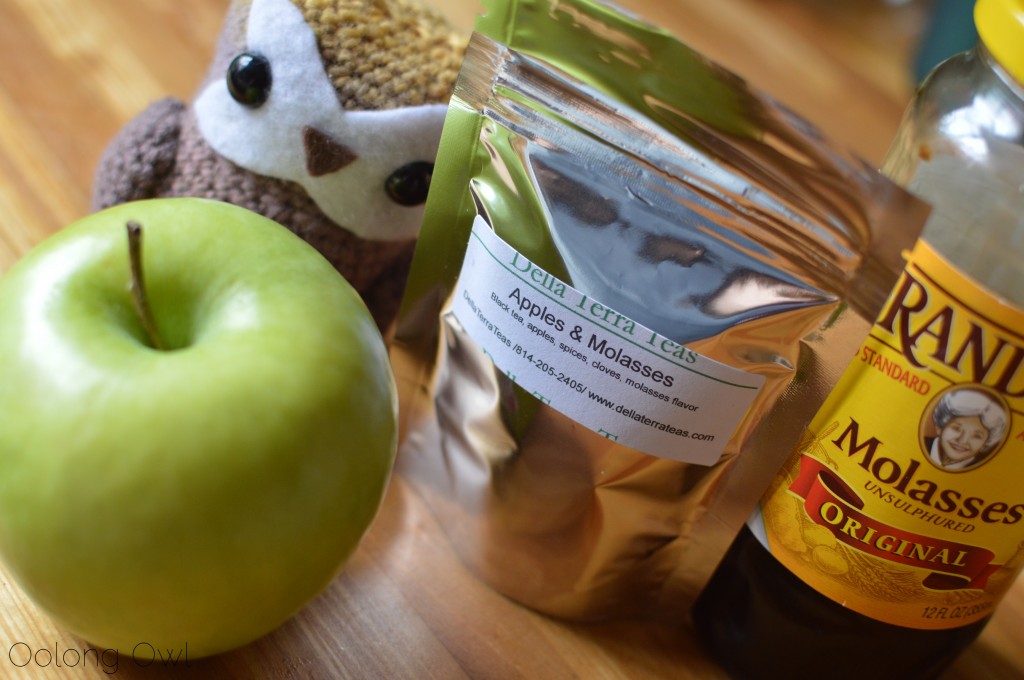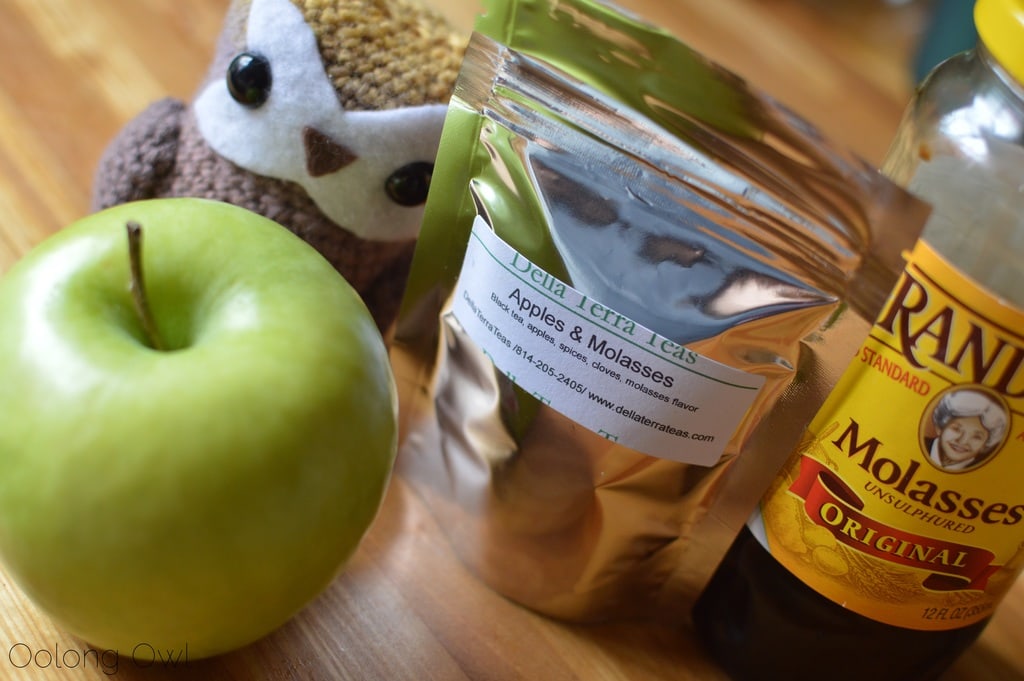 I love molasses in baking, which I know is a little weird as I know many people avoid recipes with molasses. I find it adds an excellent richness and the best ginger cookies! A weird cultural shift from being a Canadian living in California is that molasses seems less popular here – when I need it for baking it is much harder for me to find here! I don't think I've has a molasses in tea before, though I think it is an interesting idea to be a flavor in a blend. I don't think I'd add straight up molasses to my tea though!
Dry Leaf
Apples and Molasses Black Tea has a chunky appearance with lots of apple chunks with an amazingly fragrant sweet apple and spice scent!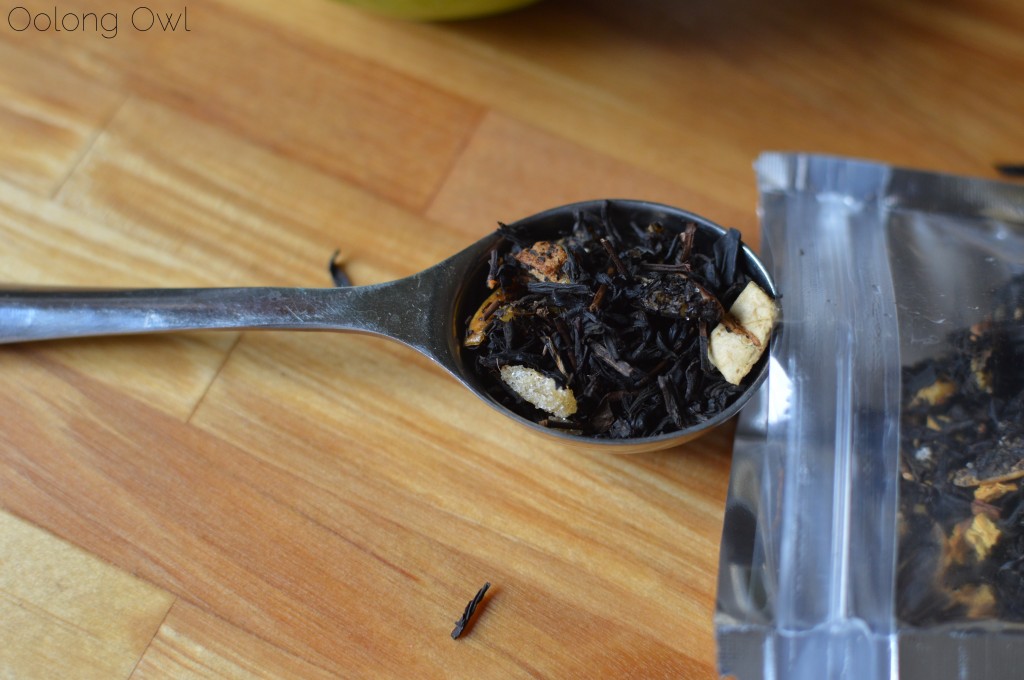 Steeping Instructions
The steeping instructions for Apples and Molasses Black Tea is boiling water for 2 to 5 minutes. I steeped my cup for 3.5 minutes.
3.5 minutes of steeping gave me a golden brown brew with a delicious scent of baked goods, apples and spice. Smells like a baked apple pie!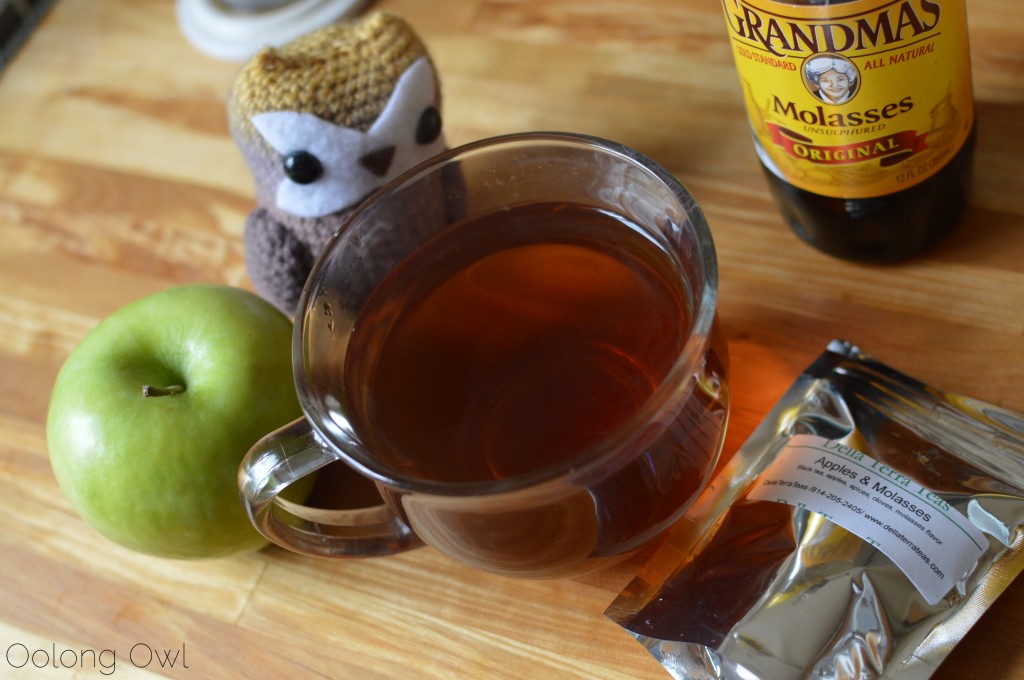 Tasting of Della Terra Teas' Apples and Molasses Black Tea
Apples and Molasses Black Tea sips in lightly sweet with baked apple notes. The spice level is at a 3/10 on the Spice-o-meter – it is on the light side, but adds interest. The black base is on the malty side, snuggled in with molasses flavor. End of sip has a bit more apple taste as well as a light molasses sweetness. The black base and apple flavor are fairly balanced, one not being stronger than the other. No bitterness, however I did get a bit of dryness towards the end of my cup, 2/10 on the Astringe-o-meter.
With a bit of german rock sugar, Apples and Molasses Black Tea is even better as there is a baked goods element now – like eating rich apple pie that is light on the cinnamon and clove spice. The molasses notes are still there adding lots of comfort to this black blend.  I recommend drinking this tea sweetened. If I had more time, I would try this blend with dark agave or brown sugar to play with the molasses notes more.
Comments
I found Della Terra Teas' Apples and Molasses Black Tea to be a very comforting blend. I should be really reviewing this tea in the Fall or Winter as this tea has a real comfort food and sipping in front of the fireplace feel to it. I like the molasses in this blend as it really rounds up the tea into something different compared to other apple blends.
If you love apple blends or Autumn teas, as well as looking for something a little different, Apples and Molasses Black Tea would be for you. As part of the Della Terra Teas' black line up, I'd try Pineapple Upside Down Cake tea first.