A new month, a new box of teas from Simple Loose Leaf!
To recap on Simple Loose Leaf's selection club. Each month you get to choose from a selection of 5 teas. You may also select the option of sampling all 5 teas, or choose 2 you like. Each tea is 1 to 2 oz, or for the sampler, a 4 oz sampler pack. Simple Loose Leaf also gives you a quick preview of the teas for the following month and lets you also get a 6 grams sample to try ahead of time. Within the 5 teas, Simple Loose Leaf aims to have a good variety to choose from, straight teas, blends and a herbal.
** For the month of April, Simple Loose Leaf has a discount code to try the first box for $1! The promocode is 1DOLLARMONTH
This is my second month on Simple Loose Leaf's selection club. For April, I was able to choose from Gen Mai Cha, English Breakfast Black, Madagascar Coconut White, Hazelberry Pu'er and Cranberry Breeze Herbal. I decided to get more Hazelberry Pu'er and a sample of Sweet Peach White.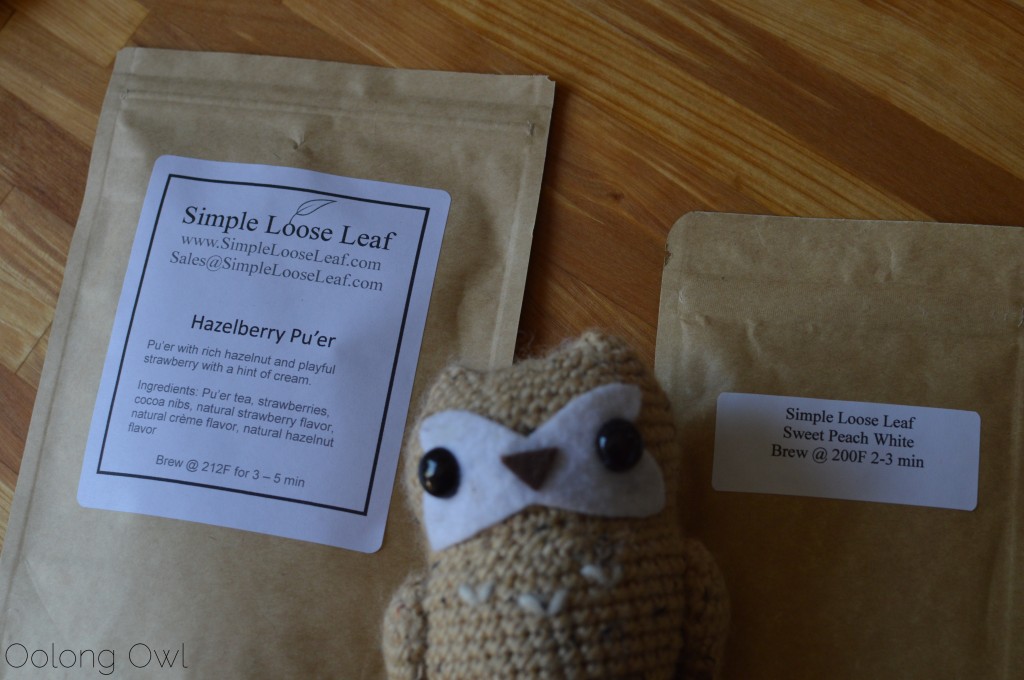 Actually, I chose to get a lot of Hazelberry Pu'er. What I liked about Simple Loose Leaf's selection club was being able to get a sample from next month's teas. I was very curious about Hazelberry Pu'er. From experience, pu'er blends can be hit and miss, so being able to sample it was perfect! I loved the sample of the tea, so for April I got more of the tea I enjoyed!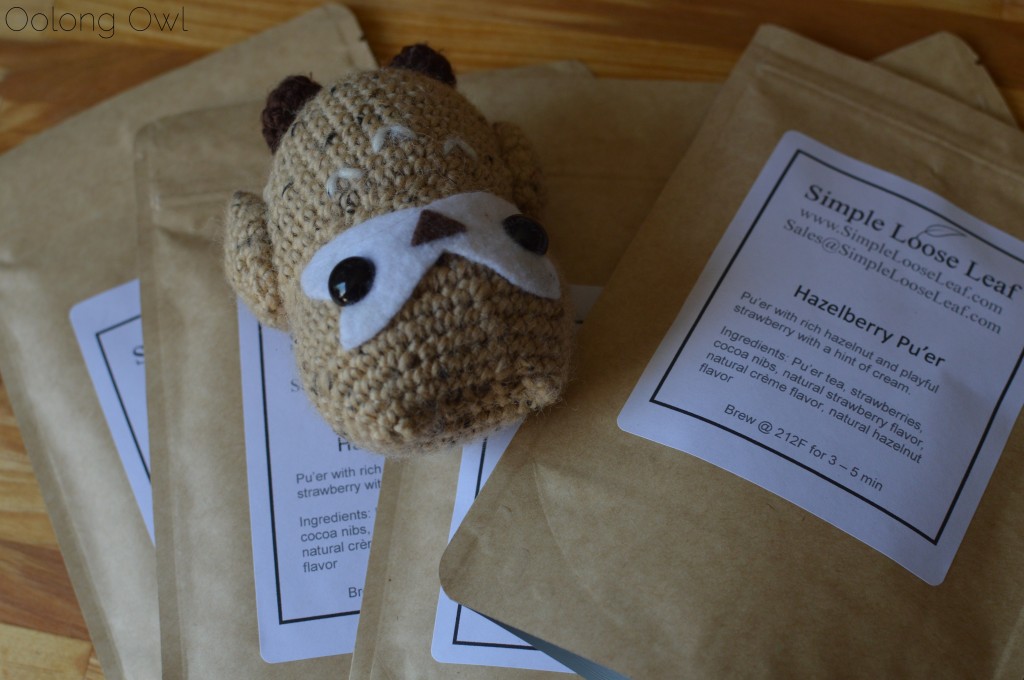 Let's dive in and sample Hazelberry Pu'er – this tea is a ripe pu'er with cocoa nibs and cream, strawberry and hazelnut flavoring.
Dry Leaf
Hazelberry Pu'er has an earthy pungent pu'er scent that is perfumed with cream and strawberries. The dry leaf looks like a fairly standard loose leaf ripe pu'er.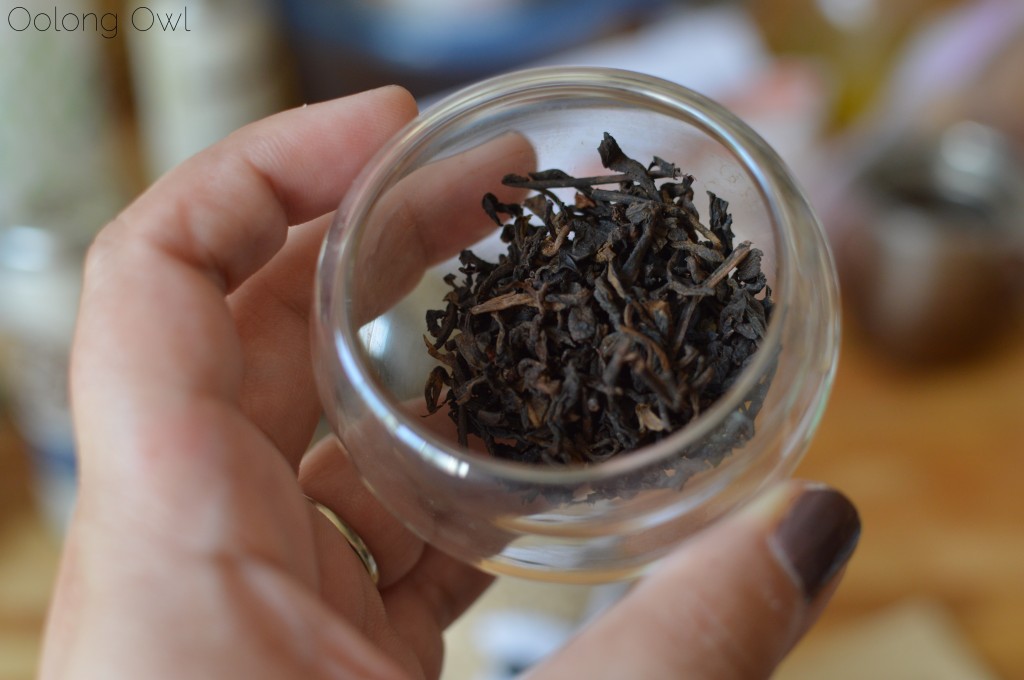 Steeping Instructions
A no fuss steeping method here – I steeped my Hazelberry Pu'er for 4 minutes with boiling water.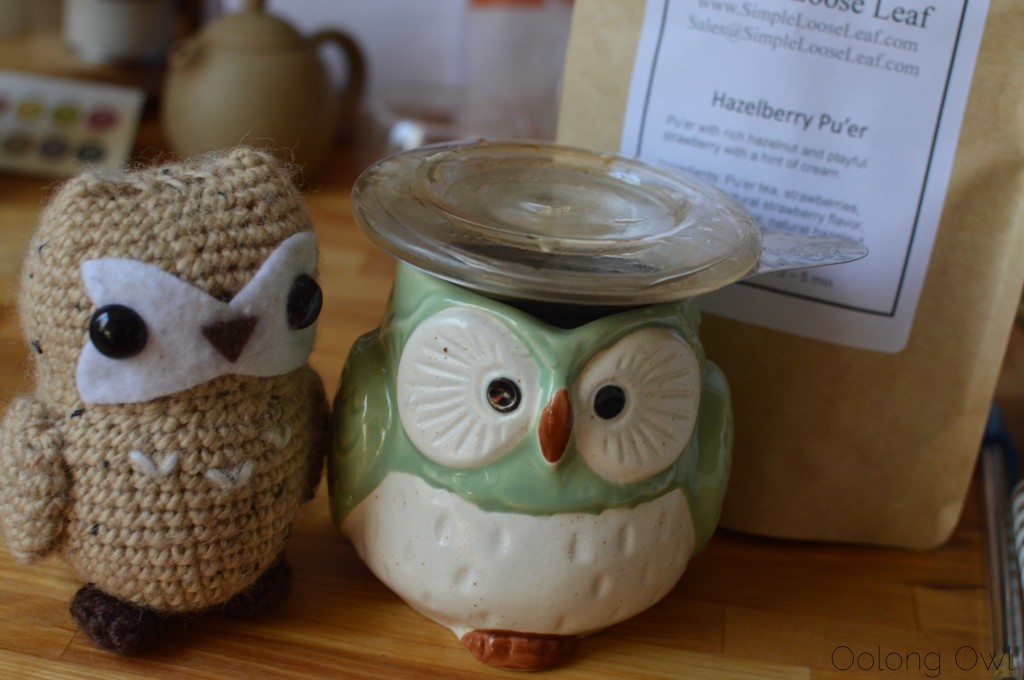 At the end of my steeping, I discovered some strawberry bits floating at the top – aha, they were hiding in the woods of pu'er!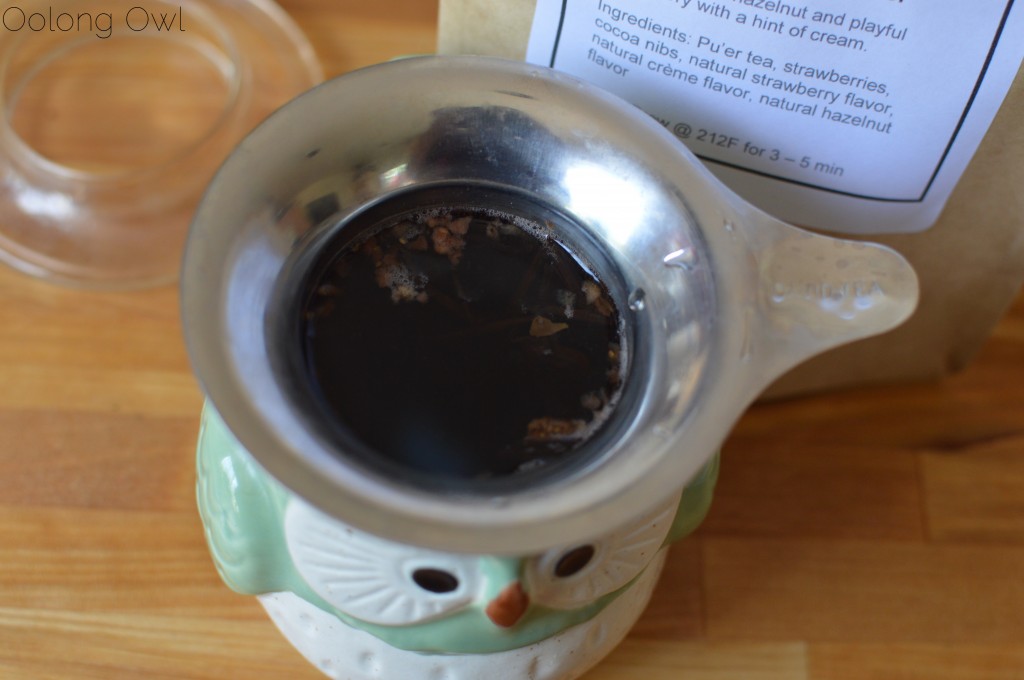 Hazelberry Pu'er steeps out black as coffee with a fermenty pu'er scent and a sweet finish.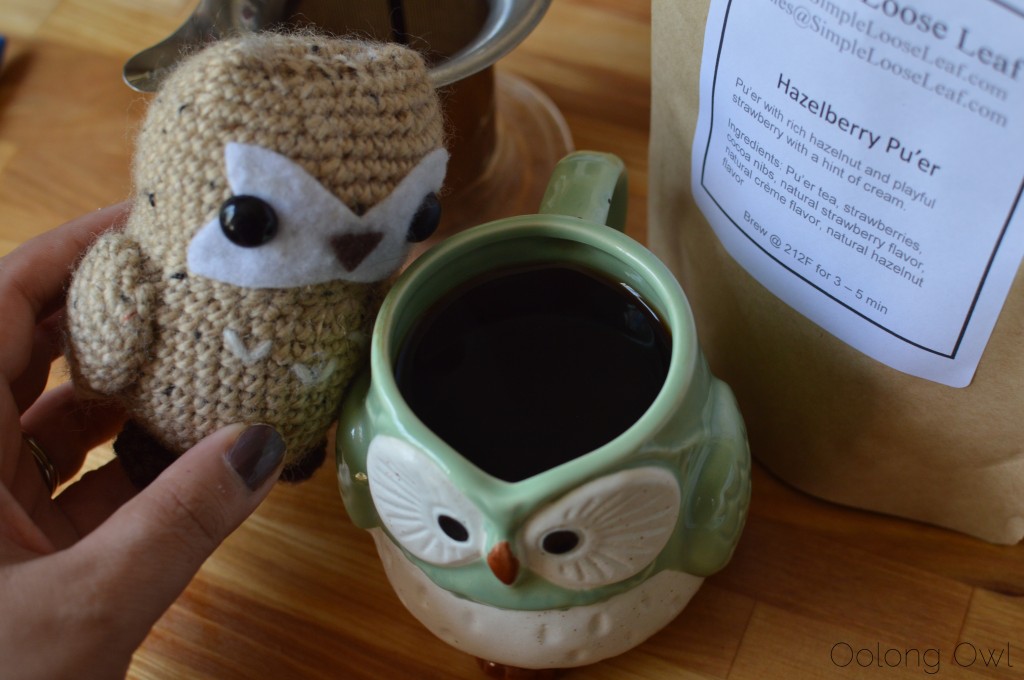 Tasting of Hazelberry Pu'er from Simple Loose Leaf Selection Club
Hazelberry Pu'er sips in mega watt rich. The ripe pu'er has a deep earthy and mushroom flavor. However, that deep tea base dissolves into a thick cloud of cream. SO much creamyness going on in this tea! End of sip is a sweet and lightly tart strawberry. The contrast between the heavy pu'er and cream works, with the transition from cream to strawberry being quite delicious. There is a slight fermentation aftertaste with a hint of hazelnut and berryness. To sum up Hazelberry Pu'er, it's like eating a strawberry shortcake while camping.
Sweetened: I prefer Hazelberry Pu'er unsweetened, but this tea actually does very well with a bit of german rock sugar. If you are new to pu'er, adding sweetener would be a good idea. With some german rock sugar, my cup of Hazelberry Pu'er became more focused on the strawberries and cream, with an interesting rich tea background. Much more rich than a black tea!
Comments
This crazy owl tea drinker had a great experience this month with Simple Loose Leaf's selection club. I really like how I was able to choose the tea(s) I wanted, and was able to sample one the month before! Simple Loose Leaf has a huge lineup and it was super cool they have some really neat teas like Hazelberry Pu'er, which are on the unique and wild side to please a seasoned tea drinker. At the same time, Simple Loose Leaf's selection club selection has a good amount of variety to get a new tea drinker to try a bit of everything.
Hazelberry Pu'er was an excellent offering for Simple Loose Leaf's selection club for April. I'm still thinking about what teas to select for May – Japanese Sencha Saga Green, Darjeeling Second Flush, Sweet Peach White, Formosa Oolong, and Citrus Hibiscus Herbal. June's tea line up looks amazing (there's another pu'er blend!)
(tea provided for review)