Variable temperature kettles are the game changer in tea. Not all teas can be made with boiling water and if you are having issues with tea being really bitter, it is likely your water temperature is too hot. I find many black teas that are prone to bitterness do great at 200F, sometimes even 190F. Green teas need to be steeped with a cool water temperature of around 175F or they will be bitter, swampy and awful.
Anyways, Variable Temperature Kettles are not cheap, so often people on tea forums are asking about which one is a good kettle. I have two kettles in my possession – Bonavita 1-Liter Variable Temperature Digital Electric Gooseneck Kettle and the Cuisinart CPK-17 PerfecTemp Variable Temperature Kettle. These two kettles are the most popular choices recommended on tea forums. I've also reviewed the Cuisinart CPK-17 PerfecTemp Kettle if you want to compare the two kettles.
I came across Bonavita at the World Tea Expo and I picked their brains for awhile asking questions trying to find out if their kettle would retire my current one. I really love the Bonavita gooseneck kettle's appearance and they were super cool to send me one for review. I've been using this kettle for a couple months as my office kettle (I am too lazy to go up and down the stairs for hot water) and I took it with me on a road trip. When I badly sprained my ankle, I exclusively used this kettle for weeks.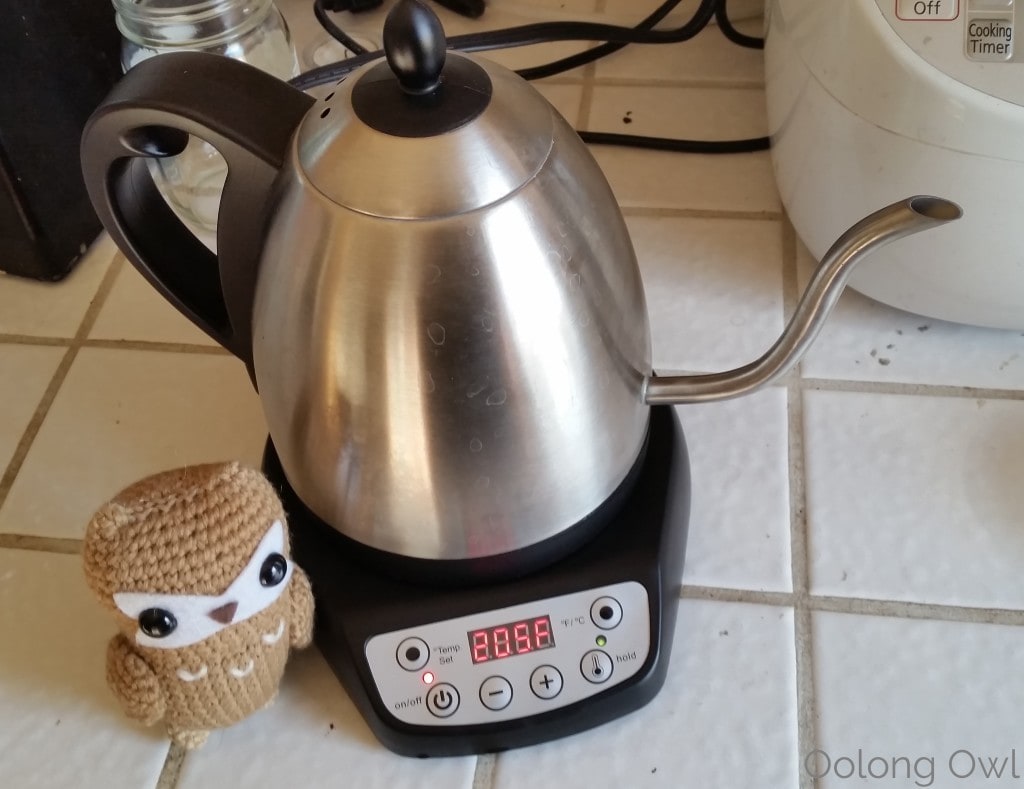 Bonavita Variable Temperature Gooseneck Kettle 1 Liter
Specs
1 Liter Capacity (also available in 1.7 liter size with gooseneck design)
Single Degree Control from 140 to 212F (60 to 100C).
Real time temperature display
Hold Temperature for 60 minutes
Stainless Steel with BPA Free plastic
Gooseneck spout for controlled pouring
Toggle Fahrenheit and Celsius display
The box!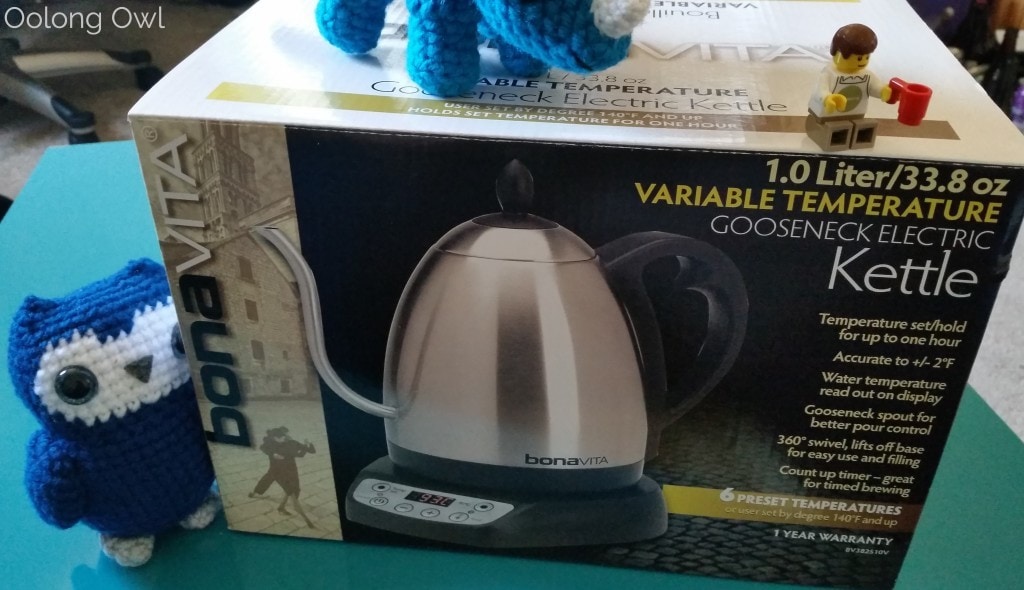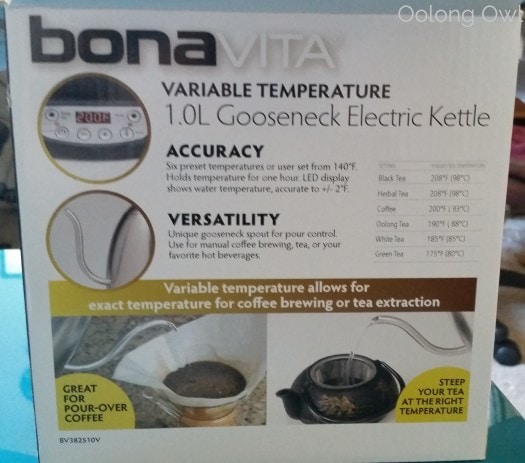 The kettle has 4 parts. The main vessel, heating base, removable cover for the heating base and the lid. The cover is for commercial or frequent use to protect against spills. It's pretty ugly but I leave it one most of the time as I get water everywhere.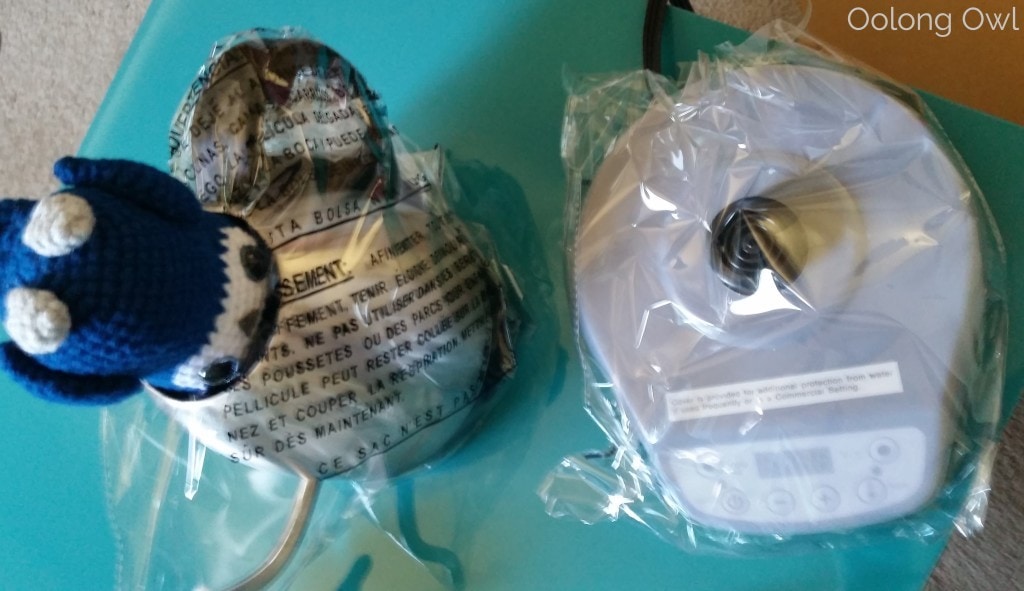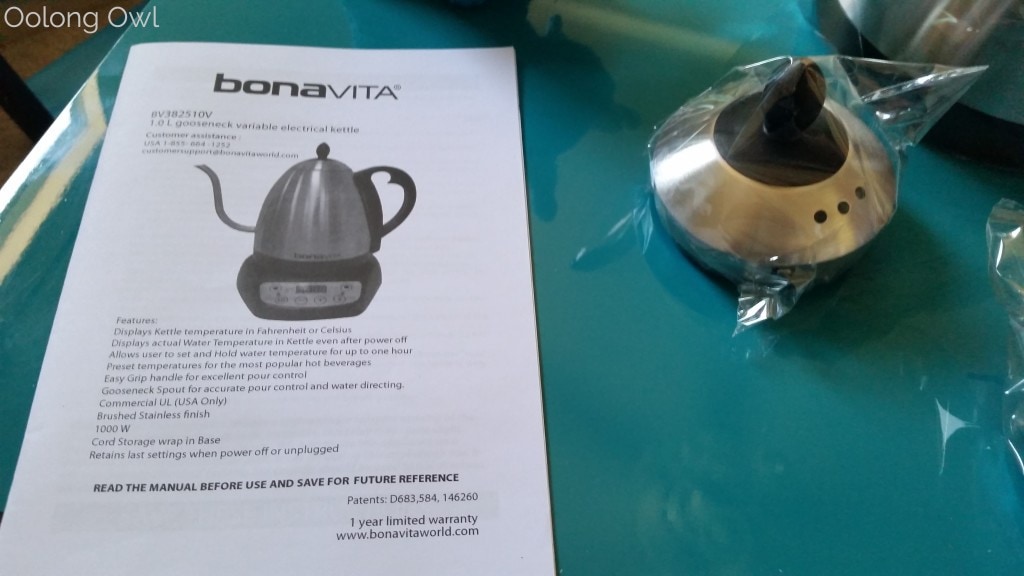 Instructions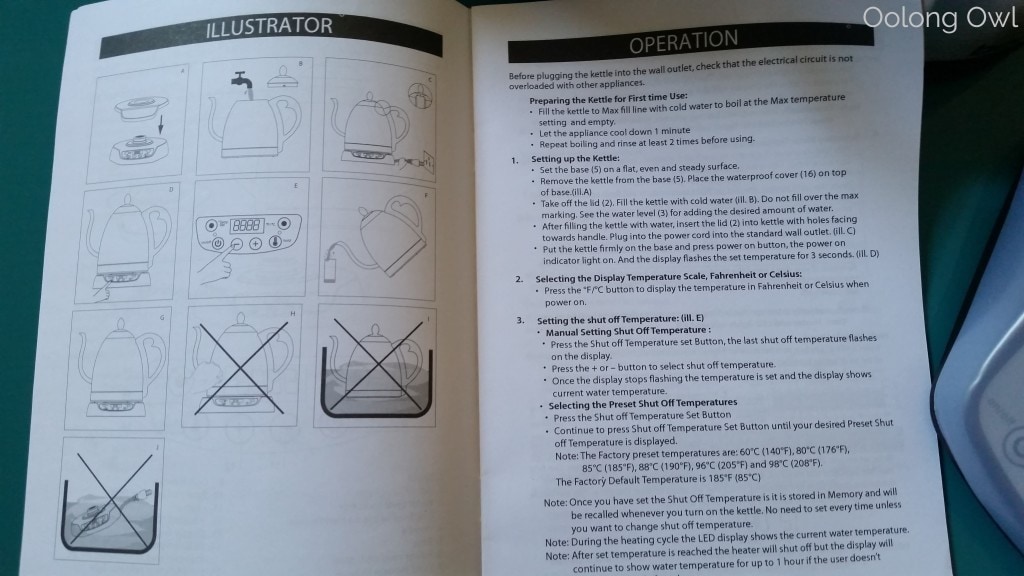 Additional Observations
Best Pour – There are NOT KIDDING on how much control this thing has. There is a slight learning curve as I found I kept overshooting, but once you get it you can pour accurately on a dime. Pour your hot water into tight places like a boss!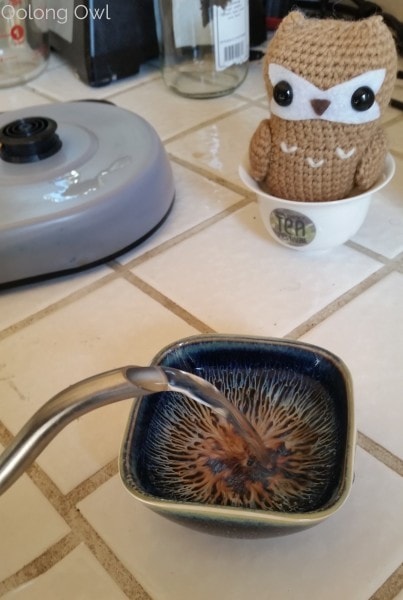 Single Degree Control – Again, not kidding on the single degree control. You want temperature control? You got temperature control! You can punch buttons all the way from 140F to 212F / 60 to 100C.
Preset Temperature Settings – The Bonavita variable temperature kettle has 6 preset temperatures you can scroll through.
Fahrenheit – 140, 176, 185, 190, 205, 209.
Celsius – 60, 80, 85, 88, 96, 98.
Good Looking – The gooseneck looks freaking awesome. I've had many compliments about this kettle and when people see it online on my photos they love it! Look at this tea set up!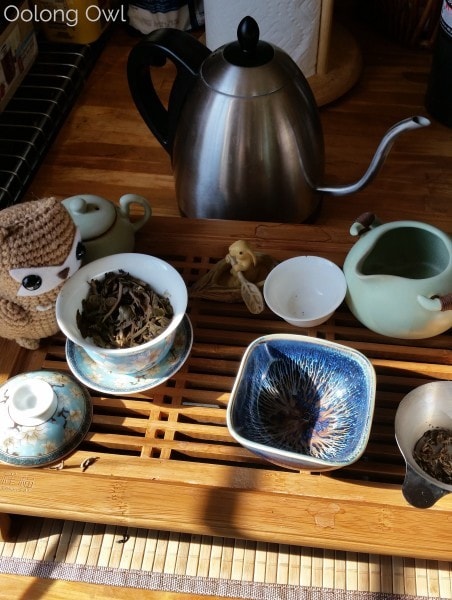 Easy Cleaning – The gooseneck is the obvious PITA to clean, but a descaler soak would probably get it. You can't see how bad it is anyway (con for some). There is also less things to go wrong – the lid pops off (no fancy button like the Cusinart). The bottom is flush with no exposed heating elements. You can easily see down the kettle and admire all the mineral deposits you've collected.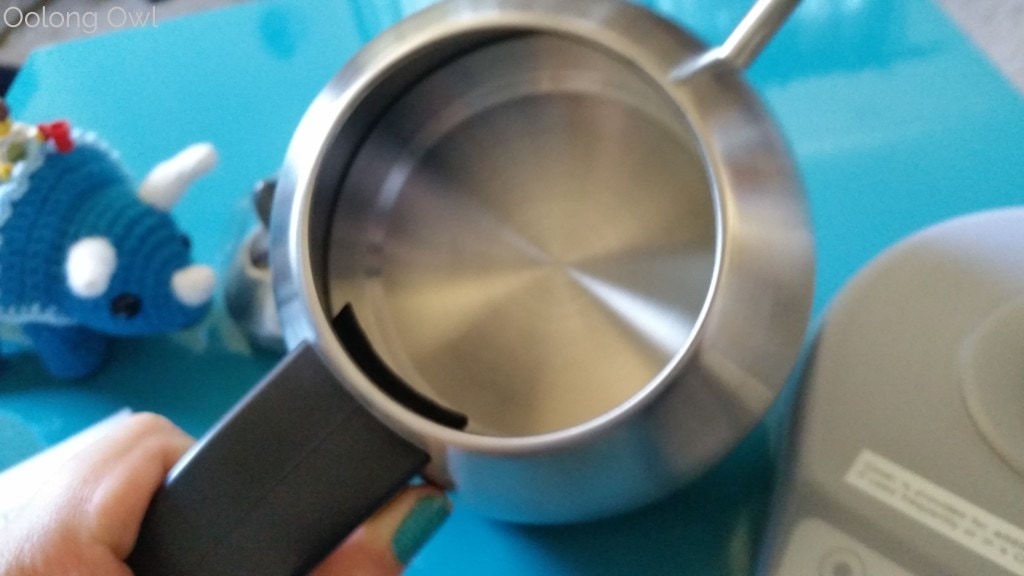 Only use water in this kettle! Don't heat milk, stock, eggs or other random stuff. These kettles are nice, treat them well!
Light weight – Empty, the Bonavita is 1.25lbs. Filled to the 1 liter max line – 3.2lbs. This kettle is not beastly like the Cuisinart PerfecTemp's 6lb bulk. Granted, this is a smaller model, but the vessel is very minimal in design and all the electronics are in the base.
The F/C toggle is amazing – No guessing or math to figure out if you have a water temperature recommendation in either Celsius or Fahrenheit. Very useful and should be on all kettles!
It's actually bigger than 1 liter – There is a fill line on the kettle, but you can go past it if you like living dangerously, and the kettle will still work. I like the one liter size, but if you are worried about needing more but don't like the price tag of the  1.7 liter size with gooseneck you might be better to settle smaller.
Though, as per the instruction manual, "If the kettle is overfilled, boiling water may be ejected." hahaha! Yeah I'm not testing how much height I can get.
Little Plastic Contact – I see you are back again paranoid plastic people. This kettle has very little plastic in contact. As you see in the photos above, the only real plastic inside is how the handle is attached. Don't overfill and no plastic cooties.
Other Considerations
No water level display – This kettle is pretty no frills in terms of the vessel. You have to learn by weight whether there's enough water for you, or open the lid and eat a steam facial.
Do you honestly need single degree water temperature control? Seriously. Look at your tea stash and see what is temperatures you need to use. I've never come across needing random stuff like 145F/62C or 188F/86C. Do you need to shell more cash for single degree control at the sacrifice of the cons I will list soon?
Cons
No alarm alerting you the kettle is up to your set temperature – This is honestly a deal breaker. You can actively watch what temperature this kettle is at, which is great and I have a sense of informational control. However, I never know when the blasted thing is done. This kettle is completely silent.
Example – I set it to 205. I watch the temperature climb up. I wander off as I have better things to do than watch my kettle. I come back and it says 203F. I either just say "hell with it" or go with  "dammit this kettle does single digits I will wait". Come back and it says 202F. Somewhere in there it hit 205 and is just fluctuating with the active read out. Worse, you remember an hour later you were waiting for the kettle and never heard it beep/whistle as you got distracted touching all your pu'er cakes.
Button Mashing terror and learning curve to use – SO MANY FREAKING BUTTONS TO PRESS!
How to use the variable temperature Bonavita kettle. In our example, we want 195F –
Press On/Off button
(optional/may not apply) toggle F/C button.
Press Temp Set, then press at least 3 or 4 times (or worse if you miss it) to scroll through your choices of preset temperatures.
hit + or – button 4 times as you want 195, not covered on the presets.
Press the Hold button or it'll just get to temperature then stop for some stupid reason.
It is probably best to ditch using Fahrenheit as Celsius requires less buttons.
Hold Button Mashing – Stop with the buttons! This button is the bane of my tea drinking existence, even chipping my nail polish in rage.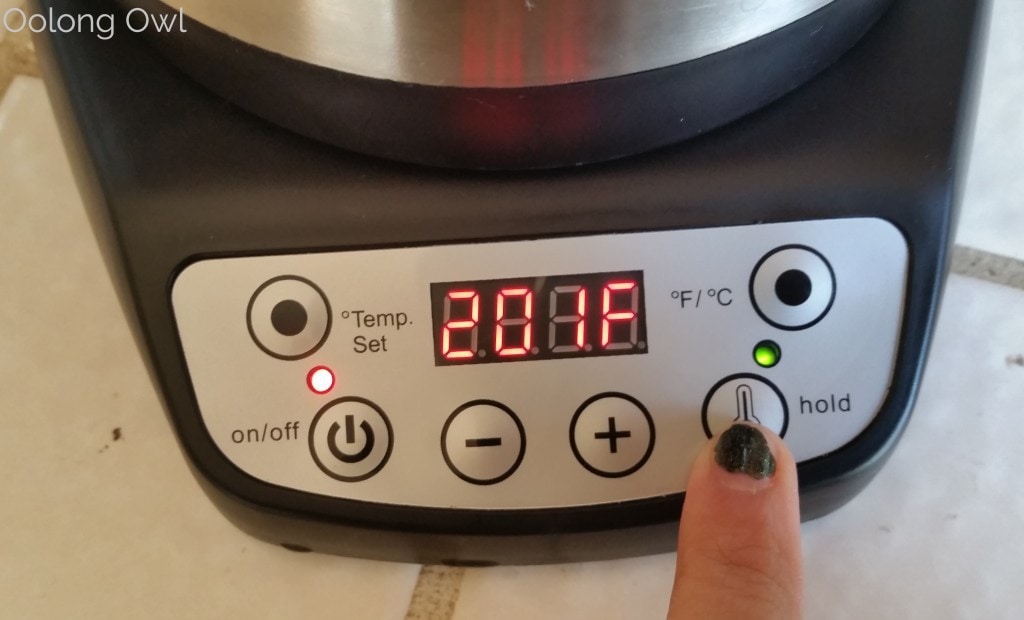 6. to Infinity – Every time you pick up the kettle, the kettle temperature control soft resets. So after each time your pick up the kettle and put it down, you have a window of 5 seconds to press the hold button (again) to hold the temperature. Repeat until you are done with the water.
Why can't the bloody hold button toggle like the F/C setting button? I'm lazy, I'm busy, I drink too much tea and I forget to press the hold button. I want my next infusion of pu'er and my water temperature dropped to 160F, FFFFFFFFFFFFFFKKKK!!! Overtime I started getting into the habit of pressing that Hold button, but I still forget in the throes of tea passion. I'm pretty sure the first thing to break/wear out on this unit is the hold button from excessive pressing.
No Auto Shut off Boil dry protection – This is another deal breaker for some people. I see nothing mentioned on an auto shut off boil dry protection. I have had this kettle boil dry on me multiple times. I was alerted as I started hearing cracking, steaming and the plastic cover started warping. The Hold (keep warm) is for 60 minutes – that is plenty of time to boil dry and cause some problems to the surrounding areas.
This is not a kettle you can forget about! Our competitor model, Cuisinart PerfecTemp, as stated in my review, has an auto shut off if it runs dry.  Also you run into the problem that you don't know how much water is in this thing so it is easy to run it dry by accident.
Oolong Owl Confession
My Bonavita kettle is a dud. Mine will heat up to like 150-180f, shut off without warning, flashing errors. If I jack it to 212 and hold the temperature it will eventually it errors and shuts off. I simply restart the heating and it has not issues, and I only put the kettle up to 205 or 209F. If the water is warmer it is less likely to screw up, my guess is the kettle overheats trying to get up to temperature. Some days it works fine, I don't know why.
Reading the comments on Amazon, there's a number of reports with the Bonavita with my temperature error or rusting. However, it is all covered – Bonavita will replace your kettle. Before you buy you should check the store warranty, return policy, or opt for an extended warranty if possible.
The confession #2 is this kettle was sent to me for free for review. I never bothered to contact them for a replacement as they sent it to me for free so I didn't want to make a fuss over it, plus I am going to tell you all anyways that I had to return the kettle for these issues. Mine works fine, it just needs every more attention, so I have to pay the Tea Owls extra to man.. err.. owl the kettle.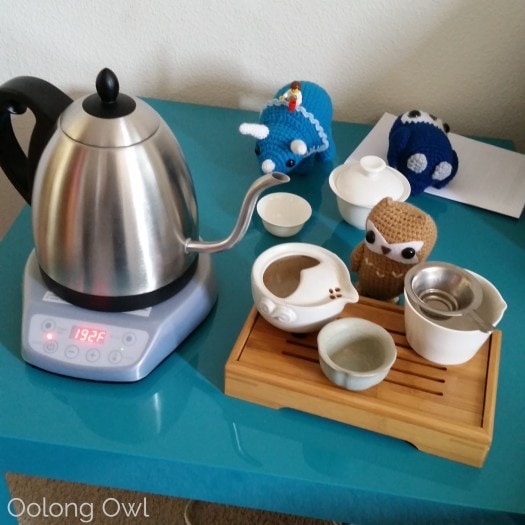 Comments
Bonavita 1-Liter Variable Temperature Digital Electric Gooseneck Kettle is a really sexy looking kettle – all your tea buddies will love it and your non tea drinking friends will think you have the coolest tea kettle! You want precision? This kettle is all precision with accurate pouring and single degree water temperature control. If you have a perfectionist streak the Bonavita kettle will make you very happy.
However, this kettle is not quick and easy to use. The Bonavita is not a kettle you can whip up a cup while you get ready in the morning, have a gongfu tea session while cleaning the house or fall asleep on. The lack of audible alerts and no boil dry auto shut off protection is a bad fit for many people as you should not leave this kettle unattended for long.
I'd say, best use of the Bonavita 1-Liter Variable Temperature Digital Electric Gooseneck Kettle is in a dedicated tea session. You got your tea table set up with your gaiwan or tea pot, either solo or with some tea buddies and you are all sitting there drinking tea. You got a great looking kettle to increase the pleasing appearance of your tea set up and you are all focused on the tea so there's attention to the kettle.
You are also paying more for the single degree control feature compared to other kettles. Bonavita does have other gooseneck kettles like Bonavita 1 Liter Electric Gooseneck with no temperature controls (just boil) and Bonavita 1 Liter Gooseneck Stovetop Kettle, both much cheaper.
I find the Bonavita Variable Temperature Gooseneck Kettle price can vary quite a bit, usually around $70 or $80. The 1.7 liter size is usually more expensive than the 1.7 liter Cuisinart CPK-17 PerfecTemp Kettle, at around $90 to $100 USD.
(teaware provided for review / Amazon affiliate links/ Pricing pulled December 2015)