I made this salmon recipe at my recent mega summer tea and BBQ party. It was so delicious and I was so impressed with myself, I kept asking people if they tried the fish. YUMMM!
I love cooking sous vide – it is the best kitchen appliance and I use mine a couple times a week. I personally own an Anova Culinary Sous Vide, however there are other options such as Sansaire Sous Vide, Nomiku, and Joule. I prefer sous vide cooking with dry lean meats, such as chicken and pork chops, as it makes it tender and juicy. However, sous vide does do magic to fish.
Anyways, I realized after I made my fish that as per my usual cooking, I combined 3 different recipes to get this fish to have the results I wanted. Does that mean it is my recipe? The original inspiration was from Kitchen Nani (BC style is really good!). Recipe after me trying to get all food bloggery and talking about how I made it.
I start with a whole filet of salmon. I think this was a wild sockeye, I dunno, it was on sale at Costco.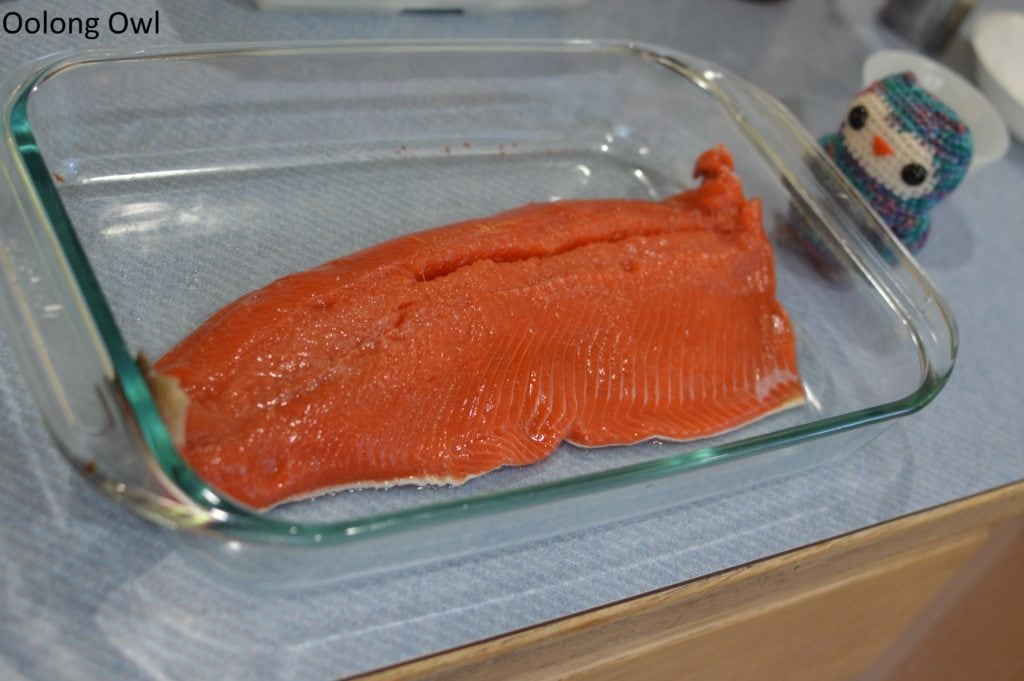 An important step is to brine your fish. If you don't brine your fish it will fall apart, turn white, has gross white globs everywhere. I've made un-brine salmon before and it is totally ugly. Brining your fish keeps that vibrant salmon pink colour! I did a dry brine I found at ChefSteps, which I find is super easy to do, and faster than making a wet brine and soak.
Completely and generously coat your salmon in kosher salt and sugar. Let the fish sit for up to 20 minutes. Use this time to prep the sous vide and spices, or drink some young sheng to get more hungry.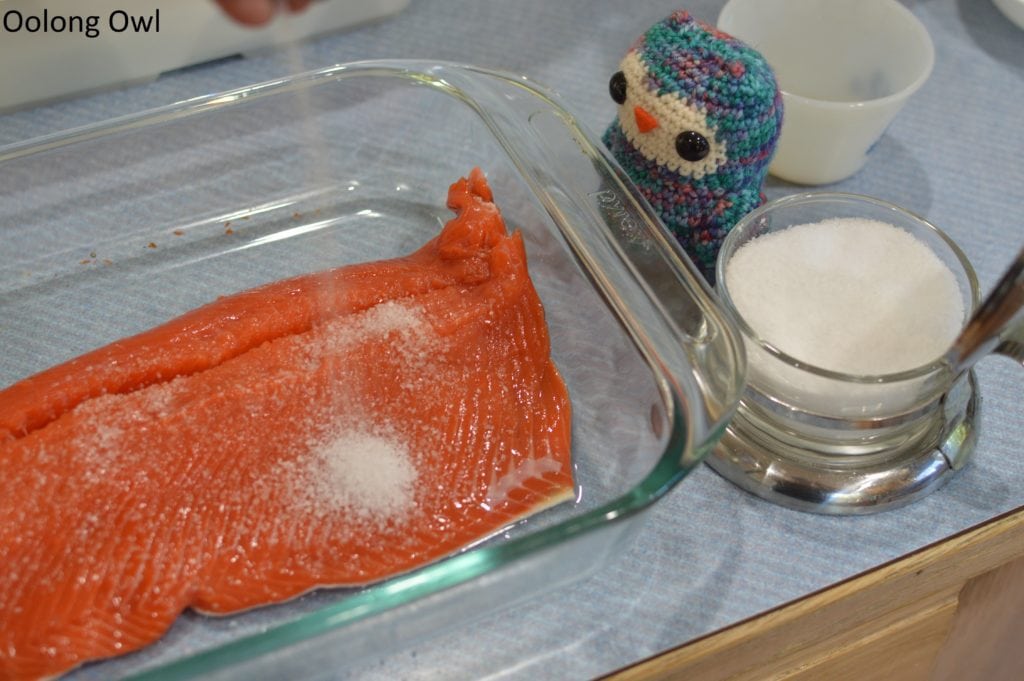 One the brine is done, give the filet a rinse and pat dry.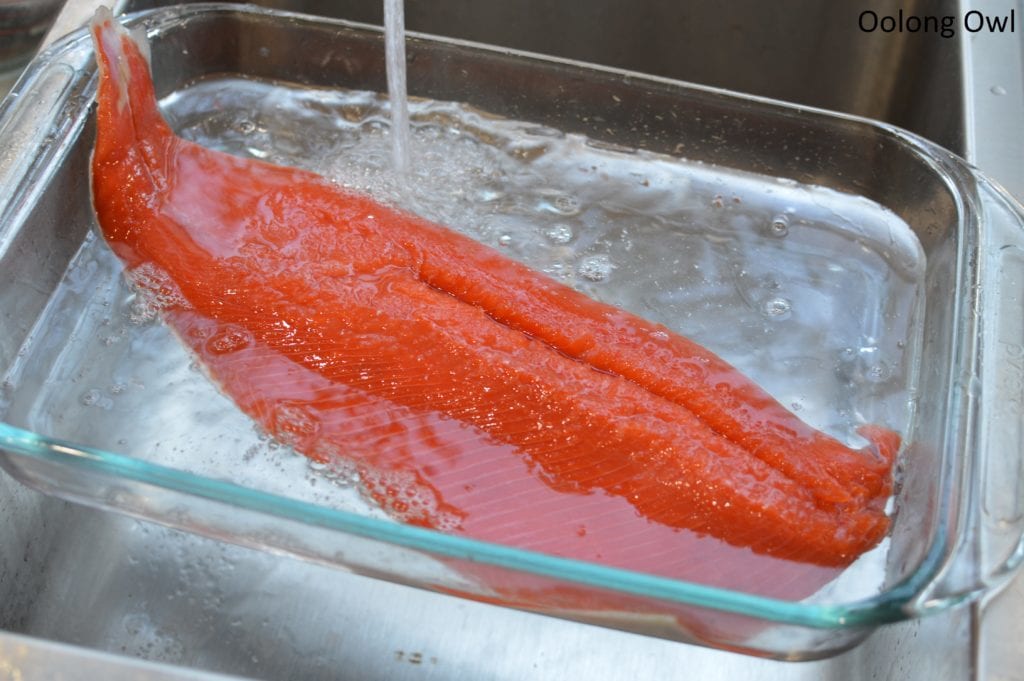 Put together your spices and tea – coriander, mustard seed, dill, and pepper here.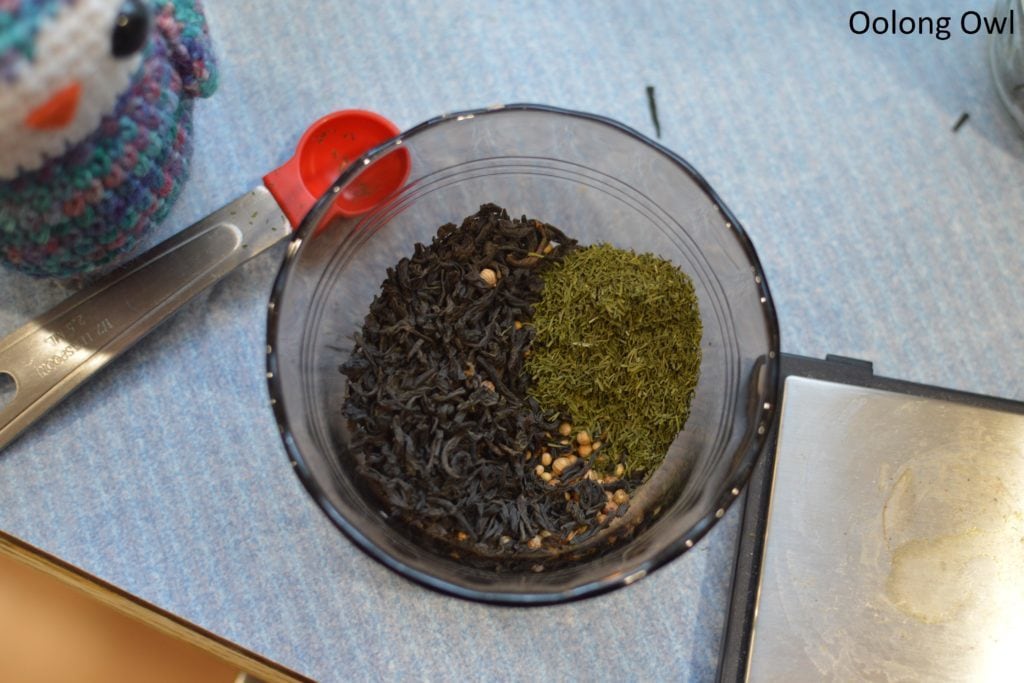 I used Lapsang Souchong black tea, the smoked style. This tea is somewhat easy to find. I personally dislike smokey Lapsang Souchong as it tastes like a tire on fire, but it has many applications for cooking as it add a wonderful smokey flavor. If you want to get all fancy and you know your teas – I think a smokey heicha would work as a substitute. A strong green I think would work too as the water temperature doesn't go high to make it bitter.
Put your fish in your sous vide bag of choice (I use foodsaver) and all the spices on it. Add glugs of olive oil to coat the fish.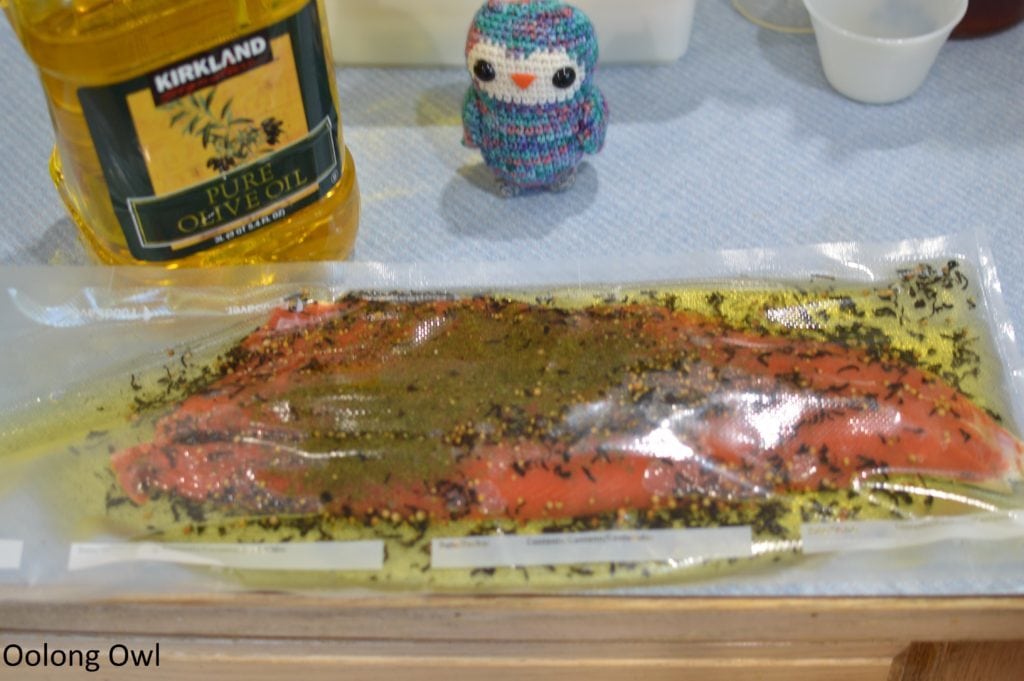 Sous vide your fish. Use the water displacement method/Archimedes principle instead of vacuum sealing your fish, as fish is delicate and you don't want to smash it. I'd consult the ChefSteps temperature guide on what doneness you like according to your fish thickness. For a more visual guide, Serious Eats has a great sous vide salmon guide too.
I personally love 122f/50c for a medium flake texture and this is makes most guests happy. The lower temperature salmon is deliciously tender like sashimi, but also freaks out people who are do not like raw fish (despite it not being raw, it is just sous vided amazingly). That said, my fish about about 1″ thick so mine went in at 122f/50c for 40 minutes.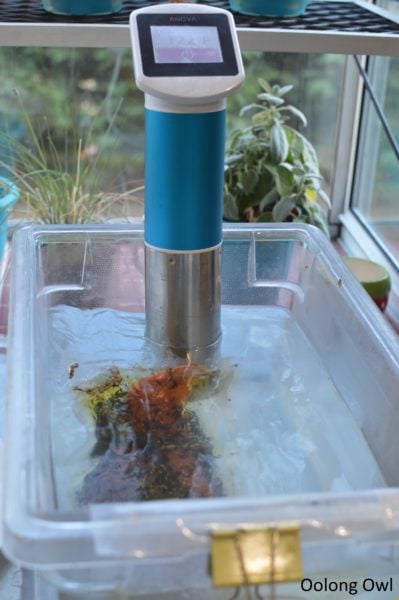 Once your salmon is done, be sure to serve ASAP! If you have a torch (or a fancy Searzall like I do), feel free to give the top a quick browning. You can also do a quick sear on the skin. Do a quick sampling, but I find it needs a bit more salt on top before serving.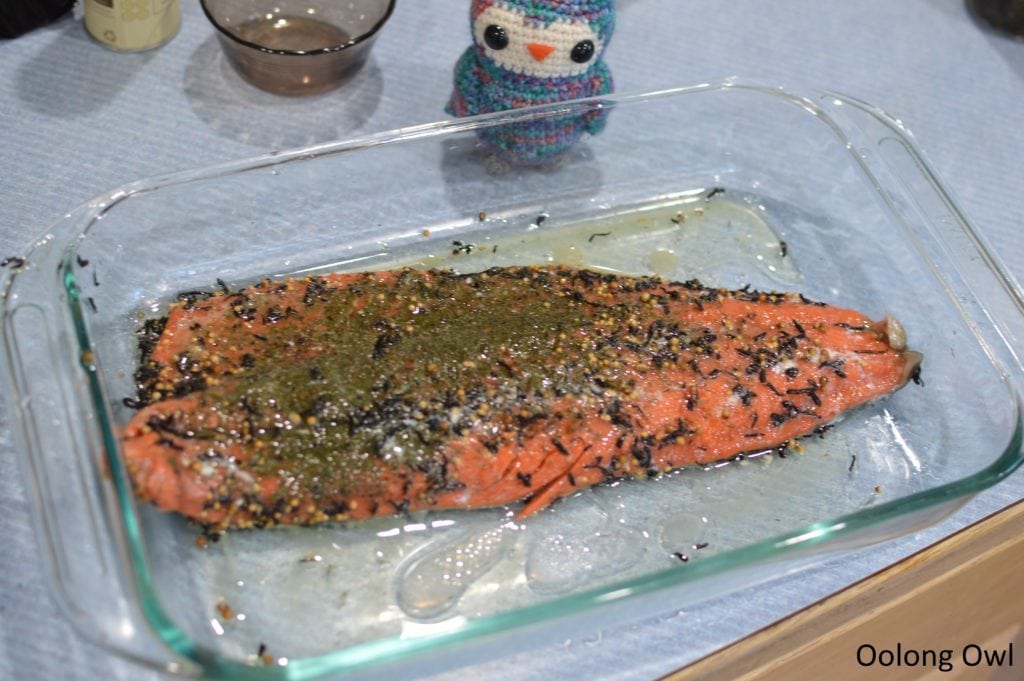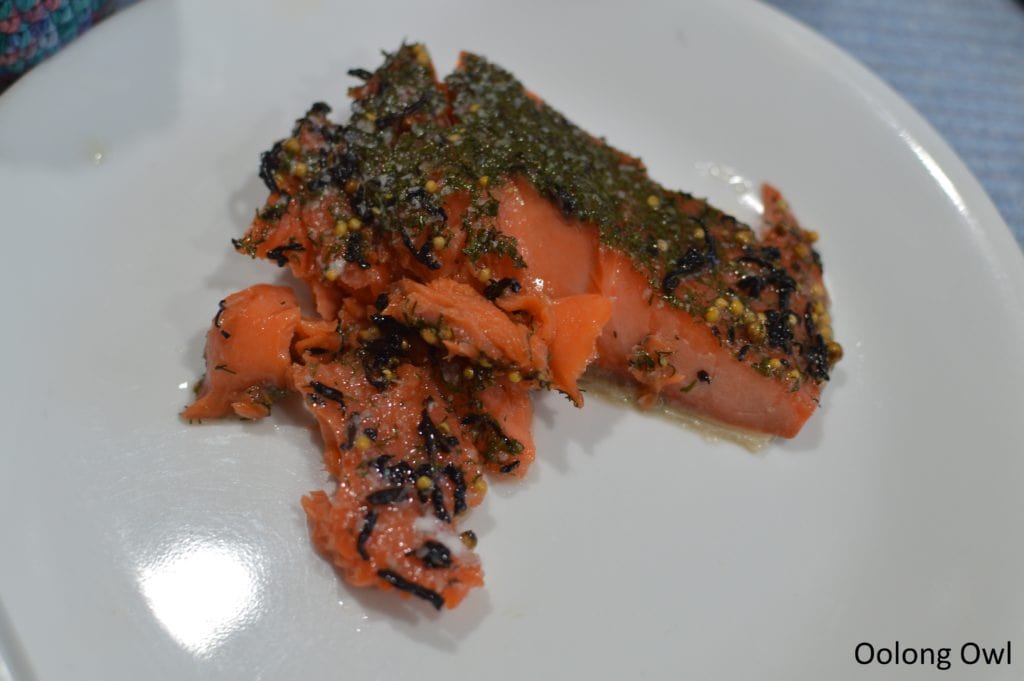 The salmon comes out super tender, juicy, flaky, and buttery thanks to sous vide. The coriander add spice and pops in your mouth while the Lapsang Souchong black tea adds some smokey rich depth. TASTY!
Don't have a fancy pants sous vide? Maybe you can foil and poach it in the oven, the results won't be as buttery and flaky, but the flavor should be there. If you attempt, tell us in the comments!
Oolong Owl's Sous Vide Lapsang Souchong Salmon Recipe
1 whole salmon filet (feel free to cut into servings)
kosher salt
sugar
1/8 cup or 8 grams of Lapsang Souchong Black tea (the smokey kind)
1 teaspoon of whole coriander
1/2 teaspoon of mustard seed
1/2 teaspoon of dried dill (or couple sprigs of fresh)
10 twists of fresh pepper
Olive oil to cover
salt and pepper to taste
Brine the salmon. Sprinkle to cover the entire fish in generous amounts of salt and sugar. Set aside for 10-20 minutes.
While you wait, prep the tea and spices – Lapsang Souchong, coriander, mustard seed, dill, and black pepper. Heat your sous vide to 122F/50C (or to the doneness you prefer).
Rinse off the salt and sugar off the salmon and pat dry.
Rub spices onto the fish, insert into a sous vide safe bag. Add a few glugs of olive oil to coat the fish. Do not vacuum seal.
Once sous vide is up to temperature, add the salmon using the water displacement method. Sous vide for about 40 minutes (depending on fish thickness)
Remove salmon from sous vide and bag. Optional – torch the top to get a bit of texture, or sear the skin to crisp. Season with salt and pepper to taste. Serve immediately or chill.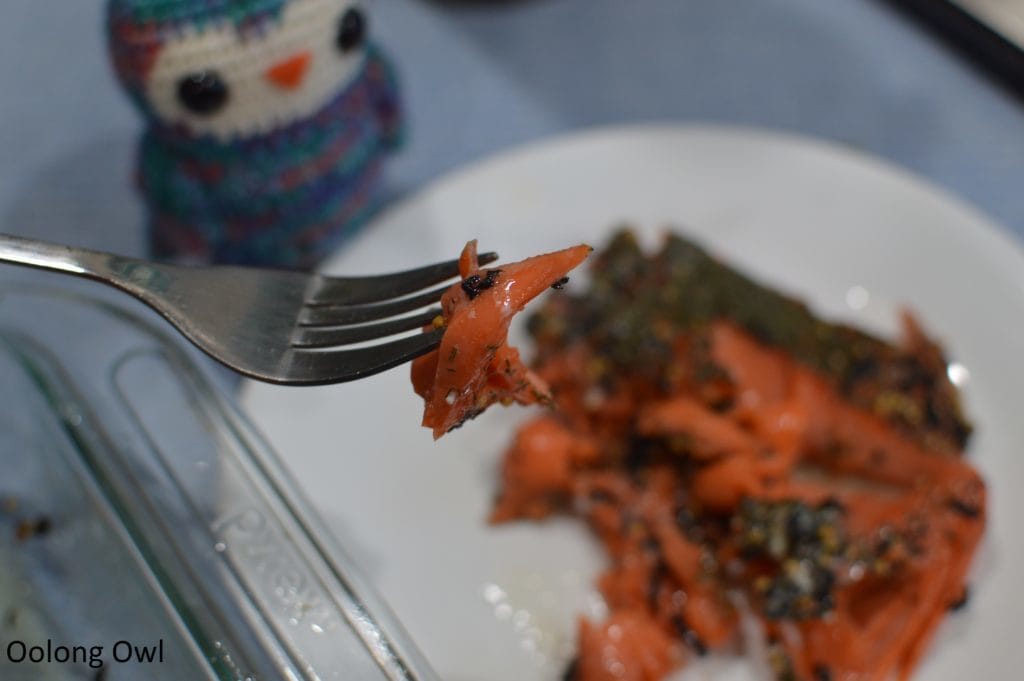 (amazon affiliate links)