In my opinion, a variable temperature electric kettle is a must have for a tea drinker. It is a game changer, especially if you drink delicate teas. The biggest complaint I hear from new tea drinkers, especially with green tea and matcha, is their tea is too bitter – really high chance they steeped the tea with boiling water. The same green or matcha steeped at 160F to 175F will yield a tea that is not bitter! I came tame a bitter astringent black by dropping the water temperature to 200F.
When I'm without a variable temperature kettle I find it really hard to function as a tea drinker as I lose control and consistency over my tea preparation. You do have an option to use a thermometer, pouring tricks and watching your water cool, but who's got time for that? You can spend a bit more and save time with a variable temperature kettle. Time is money and there's so much tea to drink out there.
I own two different variable temperature kettles and I thought I'd review both (next review soon!) as variable kettle recommendations are something I see quite often in tea forums.
Anyways, let's look at the Cuisinart CPK-17 PerfecTemp Variable Temperature Kettle. I believe I have expertise on this kettle as I've owned 2 of them over 4 years!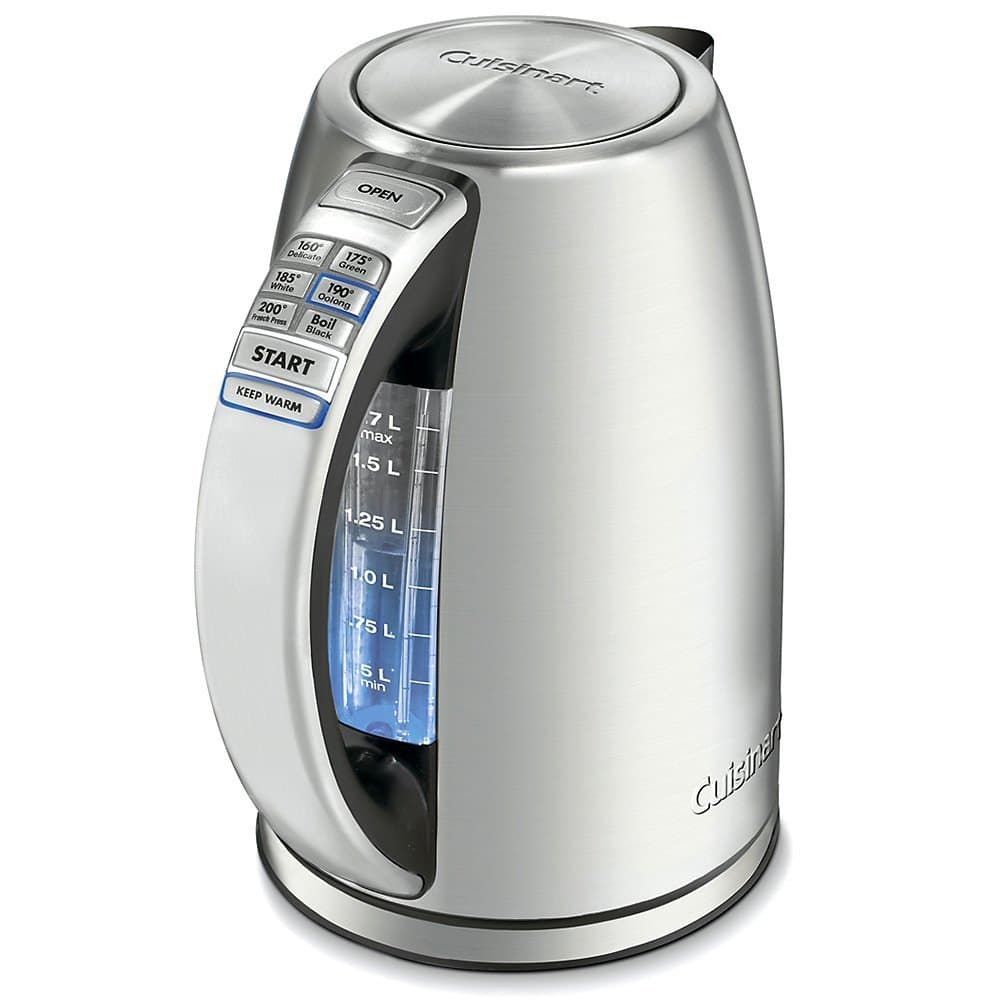 Cuisinart CPK-17 PerfecTemp Variable Temperature Kettle
Specs:
1.7 Liter max capacity, 500ml (0.5 liter) minimum water level. Lit visible water level display from the outside
12″ tall and cool to touch handle
3 Main pieces – a concealed heating element base that 360 swivel and the main kettle unit. There is also a removable scale filter.
Boil-dry protection auto shut off
Temperature options – 160, 175, 185, 190, 200F, Boil. Keep warm option will hold temperature for 30 minutes. Buttons are lit for easy reading of your settings.
Kettle beeps when up to temperature
My kettle is 3 years old, so it has some minor wear and tear in photos. Oh, and it is in dire need of a descaling. Oh well.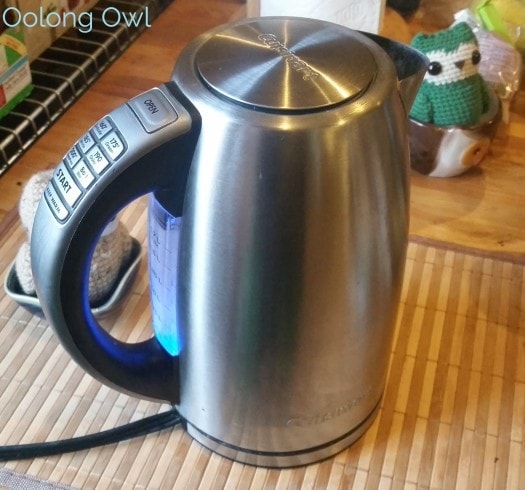 The kettle connects to a base, but can swing around freely. There is also a descaling filter attached to the spout that I never bothered to mess around with, nor noticed it do anything.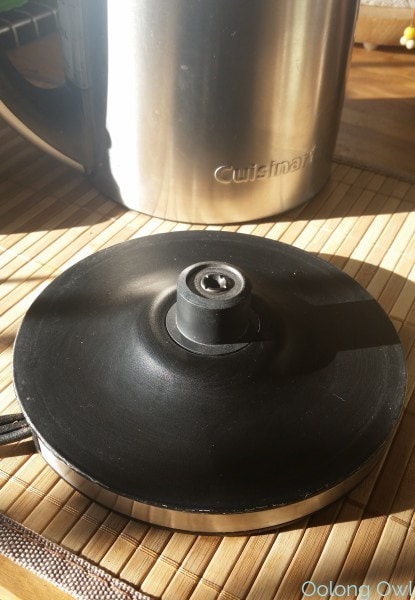 Oolong Owl Observations
Super easy to use/ requires only 2 buttons – Choose your temperature and hit START! There is a "Keep Warm" button and you toggle it on and off, I've left mine on  3 years ago and the kettle remembers so I've never had to mess around with it. Each button is also labelled according to tea – my clueless husband can make a cup of green tea without any tea knowledge of water temperature. If you pour the kettle and put it back on the base, it will continue to keep warm automatically.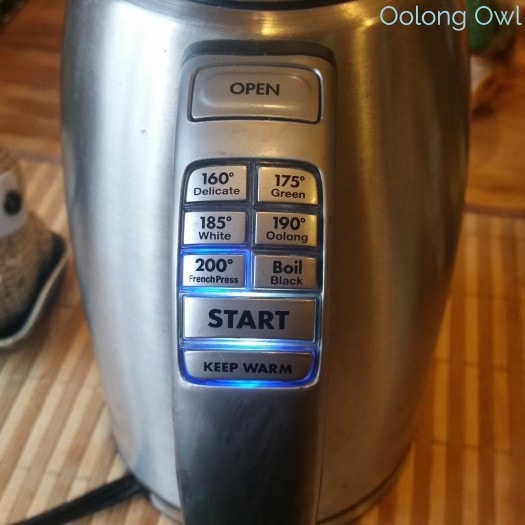 This feature of the Cusinart is a HUGE perk for me. I'm pouring the kettle easily more than a dozen times during a gongfu session and I don't need to press any buttons, unless I take too long and the "Keep Warm" times out, then I hit my temperature and start button again. No need to reheat more water!
The buttons buttons beep when pressed and also lit when in use, it is easy to read what temperature you are waiting for.
Boils decently fast – I found the Cusinart comes to a boil quickly, especially if you fill to the 1 liter mark and not full capacity. It is much faster than my stove kettle and I don't have to worry about forgetting about it and burning down the kitchen.
Pours nicely – The spout is a nice shape and pours with good control. If you are jittering from so much tea, you will still be able to pour this kettle.
Pretty accurate water temperature – this unit is heated with a thermometer, not timed (like your oven). You can jump up a temperature and you'll hear the water heat up and a few moments later beep. A few times I have checked with a thermometer and everything checks out.
Can take high traffic use – I used this kettle A LOT. My Cusinart is used every day, probably 6 times a day. Often it's running for hours as I do gongfu tea session. I'd choose an electric kettle over a tea maker as the kettle gets used for all hot water needs like I need hot water for the sous vide machine.
Cons
The Cuisinart CPK-17 PerfecTemp Variable Temperature Kettle isn't perfect and I've had two of them so something obviously happened here.
Slightly fragile and you MUST respect that minimum water level – You need to treat this kettle with some care, this isn't the tea kettle you can slam around. The reason I am on my second one as my first kettle broken down from being handled poorly by roommates. The view finder cracked after people would turn it on without any water in it. Then slamming it on the base doesn't help the kettle either. Over time the cracked view finder started leaking, finally frying the kettle.
My second kettle has no cracks or leaks and is at the 3 year mark. I always ensure I have at least the minimum water level (500ml / 2 cups) before starting the kettle. When I had roommates I didn't let them ever use the new kettle.
Hard to see the water level – How the water level works is that it is a separate chamber of the kettle, so the kettle fills first, then the water level. It is really easy to overfill as there is a delay. Often you'll fill then all of a sudden it levels off and it's too much water, which takes a long time to boil than usual or you overfilled the kettle with your nice water.
The displayed water level is also tricky to view as it's under the handle and water is clear (duh). Many times I can't tell I ran out of water or how much water is left. The only way I can tell is by jostling the kettle a bit to see the water movement. It's a lame design here, but I do prefer it over no water level. No experience needed to know by weight how much water is left or steam blasting your face looking inside.
Note – the first photo (which is what the use on amazon) has white text on the water level viewfinder. My first kettle was white text and my second is black. The black text is easier to read but still does nothing for reading actual water level.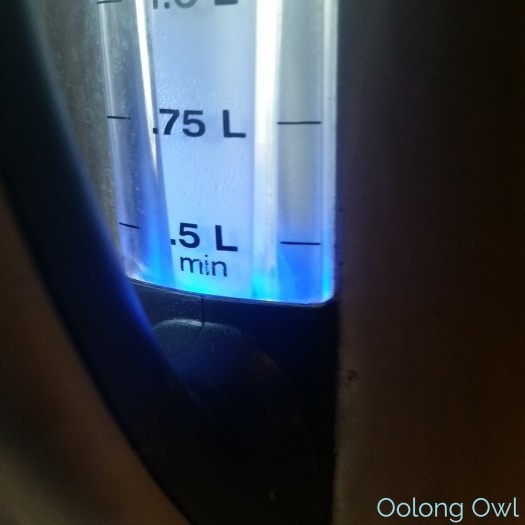 Annoying to Clean – The top is quite narrow. I have small hands and I can barely reach in the kettle.
Side Note – I'm looking at you Alton Brown. You are responsible as one of your books said "Try using a kettle to boil eggs or keep stock hot" which my husband followed jamming eggs and chicken stock into the kettle. ONLY USE WATER IN THIS KETTLE!*$)()(#!&&!!$! The top is too narrow and the kettle is too tall and the egg broke in the kettle. With this kettle being annoying to clean, trying to get chicken stock taste out of it was a horrible task. I'm pretty sure a roommate of mine put sugar in the kettle too, which also created cleaning issues. Either way, never add anything non-water into an electric kettle, I don't care what Alton says.
You will always need to descale your kettles, you cannot avoid that. However since this kettle has the view finder, that's another gross outer spot to see your yuck built up water stains. Even after descaling I still got grossness at the spout as there is more kettle height past max water level. Behold, grossness!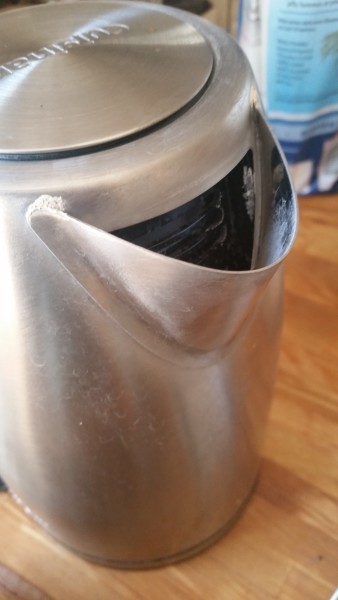 Open Button – this is probably something with age and massive use. Overtime I found the Open button is less responsive. When I got this kettle the second time the responsiveness of the new kettle was very noticeable. I think this button will be the first to wear out regardless of how well you take care of your kettle – though I have had no issues yet after almost 3 years.
No Celsius Option/Display – If you are a US tea drinker this issue might not come up for you, but once you purchase tea outside the US it will be a convenience problem probably since practically everyone outside the US uses metric. It would take little effort to put Celsius on the buttons. To be honest, I'm Canadian so I like seeing metric. I keep meaning to post C on my tea reviews, but since my kettle is F I'm just too lazy to math it every time.
Potential Cons depending on your tea drinking habits
Lack of full temperature control – This may not apply to you. First off – look at your tea stash and see what you drink and the water temperatures you use or see most often.  If 160, 175, 185, 190, 200F covers all your main teas, you are golden. If you drink a bit of everything this should cover you.
For my case, I'm a tea blogger. I get suggested water temperatures all over the map – 110-130, 155, 165, 170, 180, 195, 205 are ones that come up for me that this kettle cannot do – 180f and 195f being the most common. I think an extra row of buttons for 180f and 195f would cover every tea drinker and make me very happy. I make do to cover those temperature gaps so it's not a huge deal.
On the flip side, the Bonavita Variable Temperature Digital Electric Gooseneck Kettle does single degree control and is also a flipping PITA to use due to required button mashing to get your desired temperature (review coming soon!)
Heavy – This kettle is heavy. It's big, a 1.7 liter. Without any water it weighs 2.5lbs, filled to 1.7liter max the kettle is 6 lbs. Do you even lift, hoot? Too bad there isn't a 1 liter model.
Plastic – Hey you, yes you person who hates plastics. Yes, your water will be in contact with plastic in this kettle due to the view finder. If you don't like plastic contact, the Cusinart is not the kettle for you.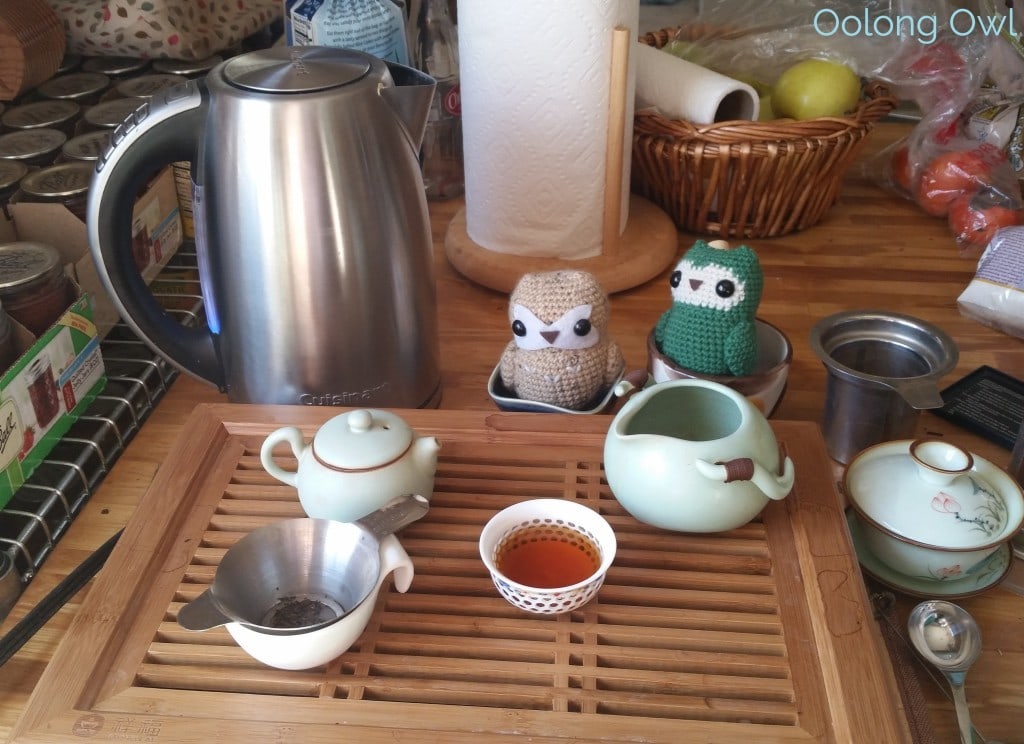 Comments
Cuisinart CPK-17 PerfecTemp Variable Temperature Kettle is a good, super easy to use kettle. The main selling point of this variable temperature kettle is ease of use requiring as the temperatures are programmed in and individually buttoned. It's not the most durable kettle, so you need to treat it with care for a long life of making hot water for tea.
At this time, I own the Cuisinart CPK-17 PerfecTemp and a Bonavita Variable Temperature Digital Electric Gooseneck Kettle and I much prefer the Cusinart due to ease of use, especially for daily tea drinking.
Price seems to vary, but most commonly I see the kettle go for around $80 to $90.

(amazon affiliate links)