I came across Cusa Tea at the World Tea Expo. I was reluctant to try as instant tea is generally not that great, and I've had a few run ins with other instant tea sellers who disliked my review as they claimed their tea is better than loose leaf tea (like whaaaat?). I had a sample as was actually pretty impressed with Cusa Tea's product, which is fast tea for people on the go. What sets Cusa Tea apart from the other instant teas is the material is all USDA organic. They also use a different method to instant their tea by doing some sort of cold brewing vacuum crystallization process without the use of additives. Upon review, it seems all their teas are fully organic except the flavored ones.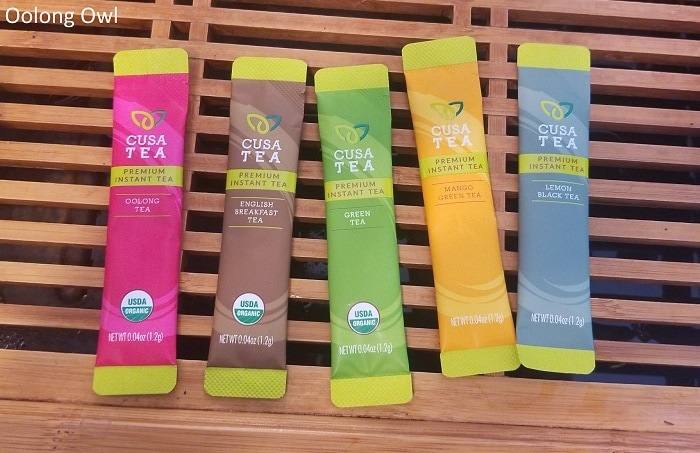 I made all these the same and close to directions – 350ml 200F/93c water to 1 packet. I chose 200F/93c water as that is the water temperature most found at coffee shops will give you. The packet said 350-415ml, I found that I liked Cusa Tea on the stronger side, so 250-300ml had the best flavor. I recommend adding water and tasting as you go to find the right flavor intensity.
Cusa Tea can also be made iced. I was informed that using a bit of hot water first to dissolve the powder, then add cold water and ice.
Tasting of Cusa Tea Premium Instant Tea
Organic English Breakfast Black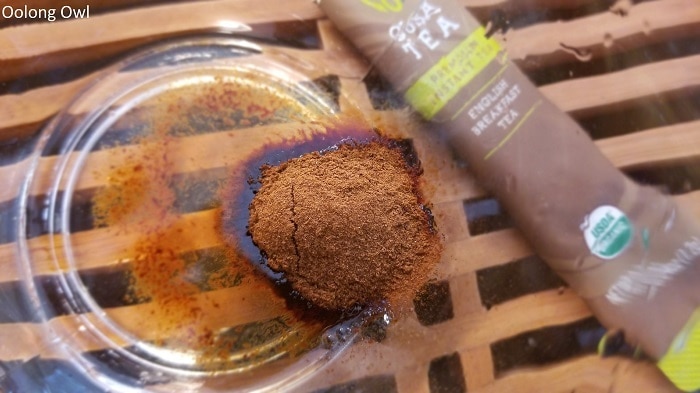 Organic English Breakfast Black leans on the fruity side, but with a smooth, robustly earthy flavor. What I like about the flavor is that it is very smooth and has some depth to it. There is no dry or bitterness, so this is traditional cream and sugar tea tastes fine without extras. I personally would make this tea a little stronger, I think 300ml was most optimal for a strong black.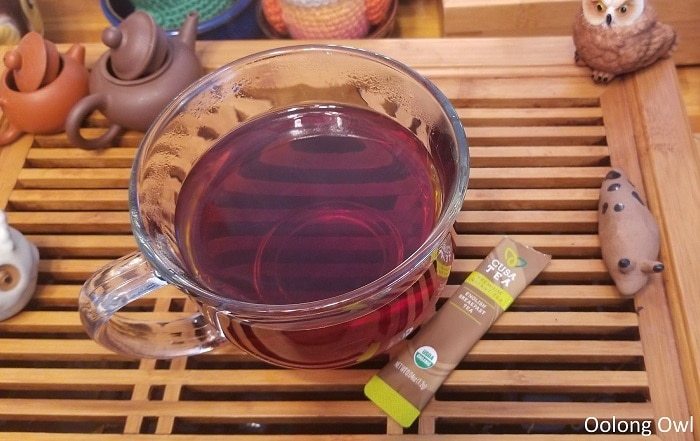 ---
Organic Green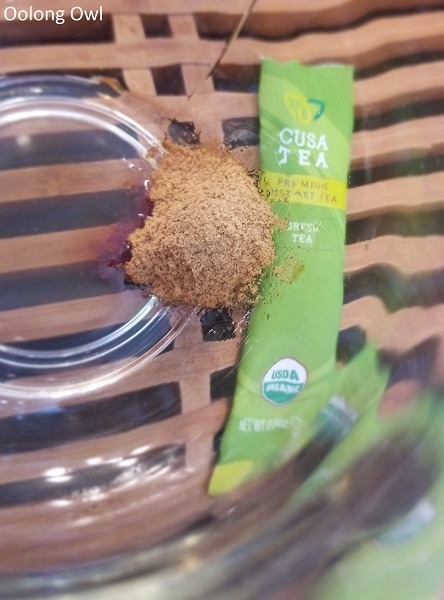 I was in shock as this water temperature was way too hot to be drinking a green tea. My mouth was not prepared! Organic Green was surprisingly not bitter but a little dry. The flavor has a peachy, pea, and lettuce flavor, thus a mix of sweet and savory. I think this green falls short and didn't capture that fresh bright essence that green tea is.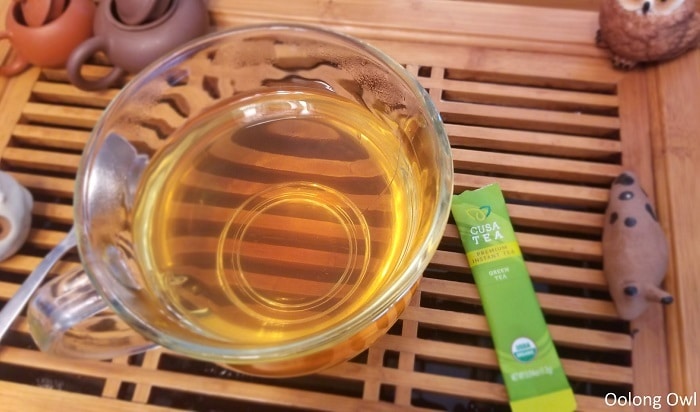 ---
Organic Oolong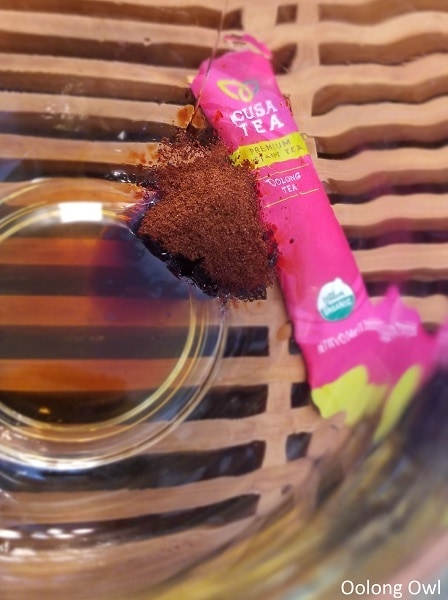 This is the tea I sampled at the World Tea Expo. This Organic Oolong is a heavy, nutty, lightly smoky, hairy chested oolong. My guess they used a roasted oolong as the base. It is quite smooth and very robust in flavor. It isn't too complex as most of the flavor punch is heavy smokey oolong but is a satisfying sip. I quite like roasted oolongs and blacks, so this fills that happy center, steeped instantly.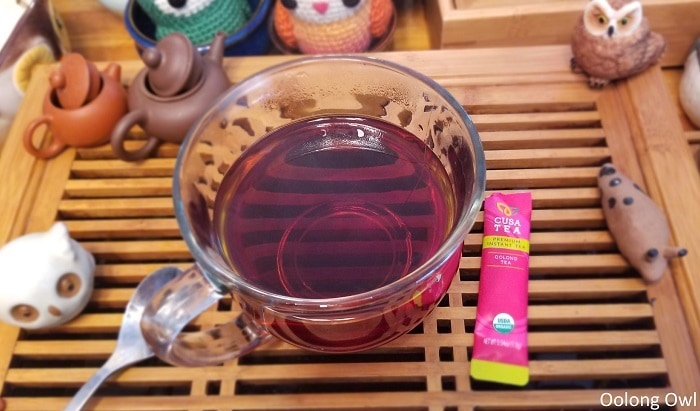 I am surprised with this oolong as other instant oolongs tend to be greener or floral. Having a punchy heavy oolong was a good choice, and I recommend those who would normally pick the English Breakfast should get the oolong.
---
Lemon Black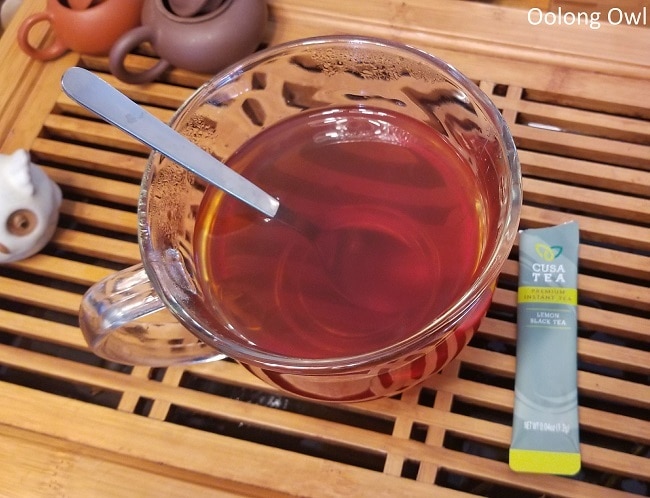 Whoa, lemony! Lemon Black tastes like the smooth fruity English Breakfast black with a fresh lemon squeezed in. The finish even has that acid lemon burn and lingering flavor, just like real lemon, very impressive! However, this tea is quite tart, so you really got to love lemon. I would personally add some sort of sweetener to this, which I did in the form of a spoon of clover honey. With honey.. DANG very good! This is way better than any bottled lemon iced tea I've had. I had to try it iced and it is even better!
---
Mango Green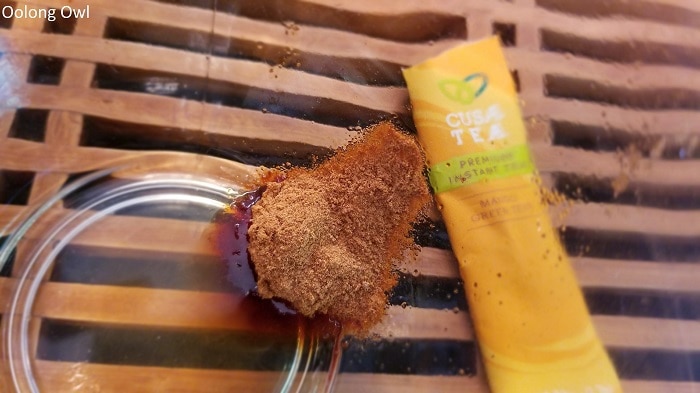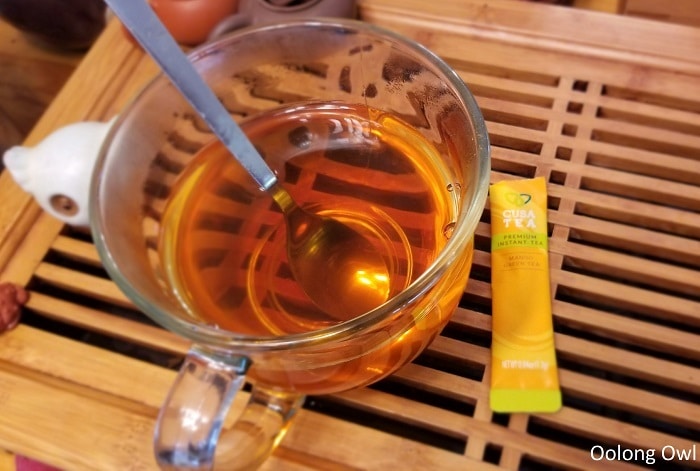 The smell of Mango Green is amazing – it has a super strong mango scent! The flavor is light on the green tea side – it has that same vegetal pea flavor, but with a strong mango aftertaste. I am talking real mango flavor here too. There is still some dryness and a little tart from mango, but this is quite good and fruity. I think the best application is iced – as it cools it gets sweeter and fruity.
Comments
Cusa Tea is the best instant tea I've tried so far. Whatever they have done to make it preserved more of the complexities of the tea and get some excellent smooth, non bitter flavor. I think the best ones are Cusa Tea's black, oolong, and flavored teas. The darker teas shined for interesting flavor, and the flavoring is incredibly natural. The green tea was the weaker tea as it does lack that freshness, which is hard to get for instant tea. I drank all 5 teas in one session and I can certainly feel that caffeine hit. It is hard to pick a favorite, but I think the Lemon Black and Organic Oolong are strong contenders.
Cusa Tea is tea-on-the-go, purse/backpack emergency stash, office, or travel tea. They don't claim to take over loose leaf, just have a decent product for quick tea. I can see types who love flavored tea would greatly enjoy the Lemon Black and Mango Green, ignoring ease of making tea. If you are a teabag type, Cusa Tea knocks bags out of the water for flavor and convenience. Cusa Tea also offer a variety pack to try all the flavors.
(tea provided for review | Amazon Affiliate links)