I love tea tumblers and I was really excited when DAVIDsTea announced this new iced tea press. This iced tea maker looks like magic! I got my hands on one right away, then I've been using it regularly for a few months so I really got to know how this thing works.
DAVIDsTea Iced Tea Press Stats
16oz / 475ml capacity
BPA-Free Tritan material, Double Chamber
Only 3 pieces
Non slip base
Fine Mesh to prevent oversteeping
Handwash Only
Made in China
Various Colours – Right now it comes in Teal and Hibiscus pink
DAVIDsTea Exclusive
The Iced Tea Press did not come in a box, and the instructions printed on the paper sleeve.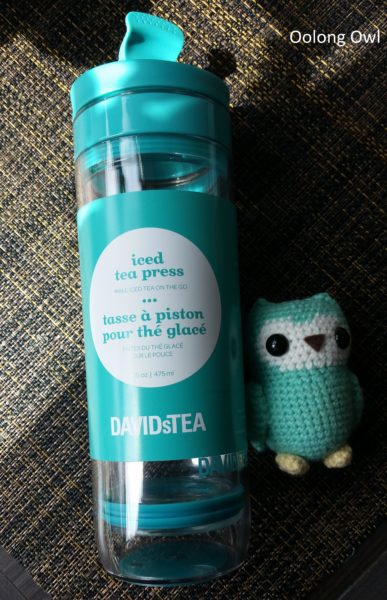 Bottom of tumbler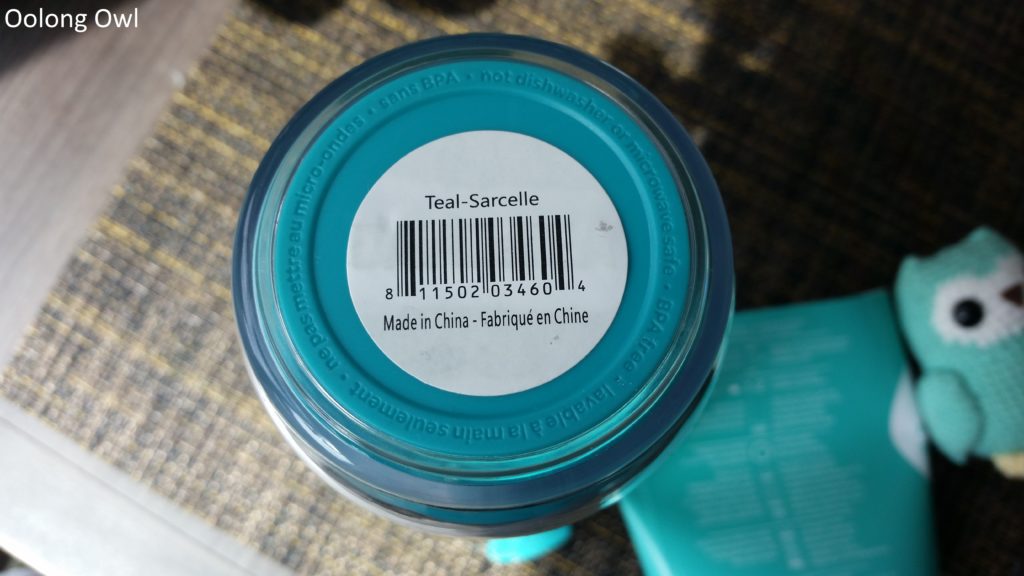 Only 3 pieces, pretty simple!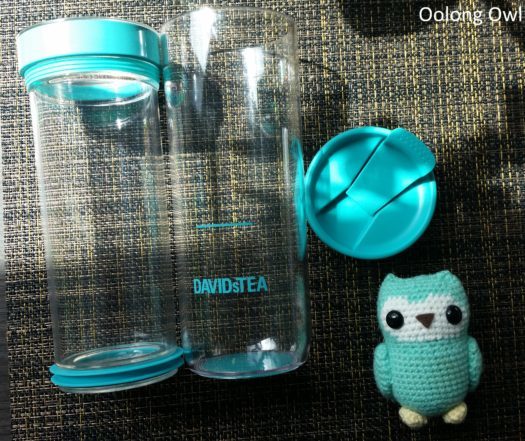 Inner Chamber mesh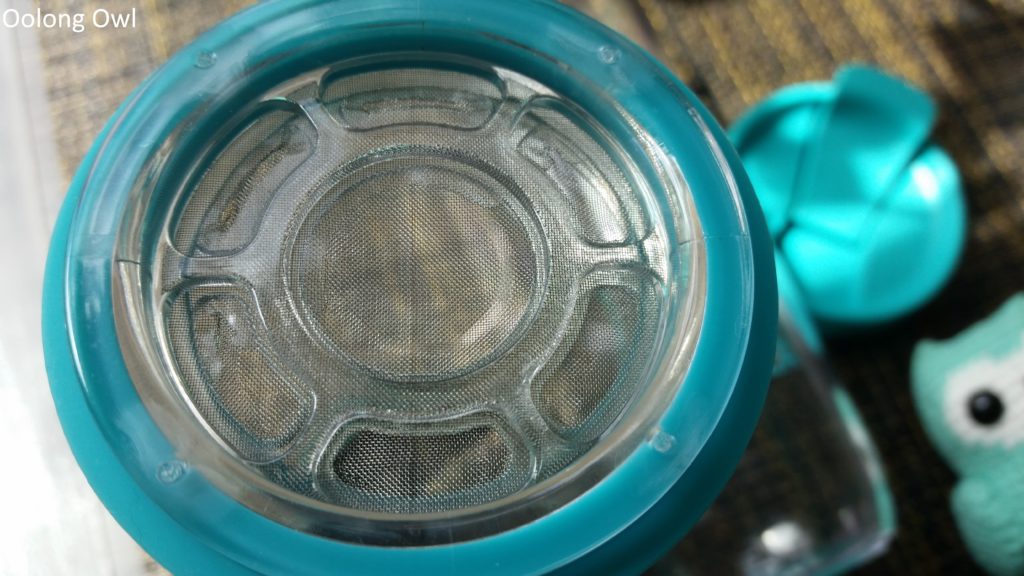 Using the DAVIDsTea Iced Tea Press
Here's a video on how to use the Iced Tea Press so I don't have to make one myself.
Damn perfect tea spoon. Here's the real steep math – about 8 grams, say 2 servings western style weight, tasted the best for me.
If you are using agave you can add it after the ice and shake the tumbler as agave dissolves well in cold liquid. If you are using granulated sugar or something thicker like honey, you'll want to add it with the hot water step and give it a stir before introducing the ice chamber.
With my first use of the DAVIDsTea Iced Tea Press, it went as exactly in the video. I had no issues and had good tasting iced tea.
However, I add a step at the end and give it a quick shake. Shaking the tumbler will chill the tea immediately and distribute the flavors. Times I did not shake it I found the tea was warm.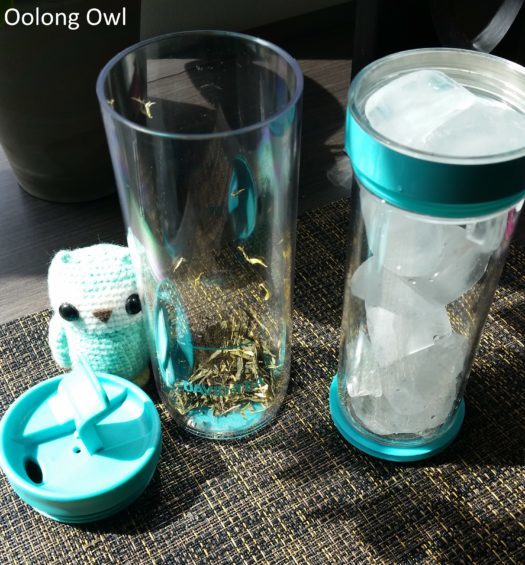 NOTE: It's warned on the instructions – be sure to have the lid off or open when putting the inner chamber in.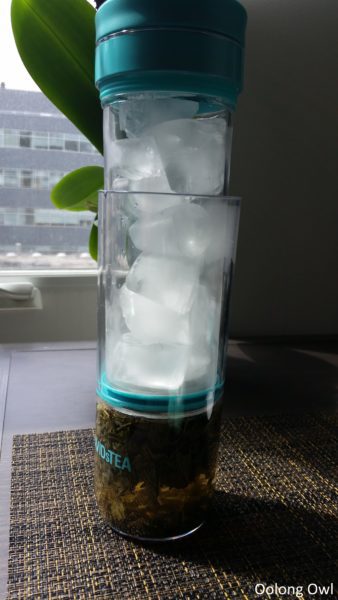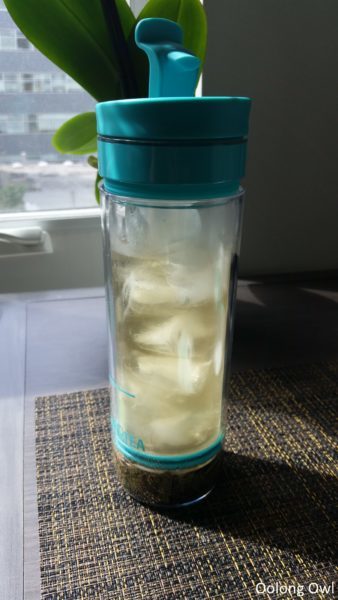 Pros of the DAVIDsTea Iced Tea Press
Perfect ratio – the ice to tea ratio worked! It worked with ice cube tray ice and refrigerator ice maker ice (note, it does not work with crushed ice, it overflows!). I was a little worried I'd have too much ice or too little ice, but as long as you fill the tea to the line and the fill the ice so you can screw on the top, everything works. Super cool! If you don't know how to make iced tea, this device will take much of the problems out for you… though you still need to figure out how much to leaf. My tea is perfectly chill to drink.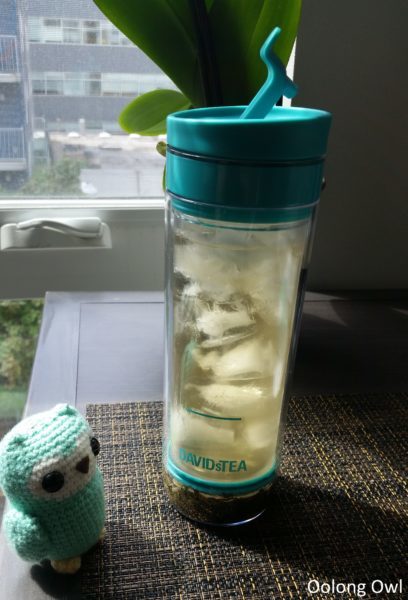 Great leaf expansion while steeping – The design of the press gives the leaf plenty of room to expand, making for a great steep!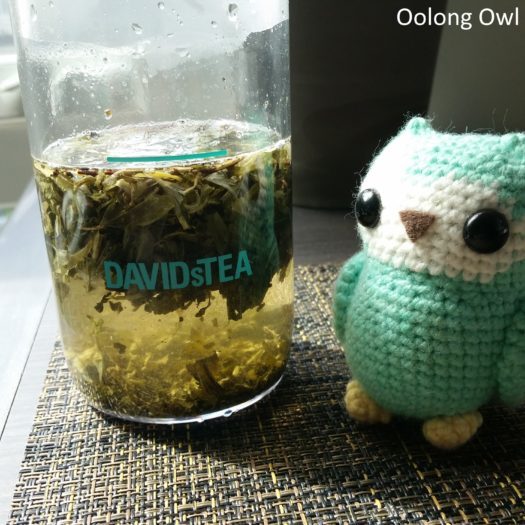 Fine Mesh – I have not once ate leaf. The mesh and silicone sides have pushed down and stopped all manners of tea leaf.
Cleaning – Super easy cleaning! After each use I take apart the unit, overturn the spent leaf into compost/garbage, rinse the the three parts and done. I do a deep cleaning once in awhile, more often if I add sugar or the tea was fruity. This iced tea press was massively easier to clean than DAVIDsTea's Matcha maker. However, you cannot dishwasher the iced tea press. I would do a baking soda/ tea soak scrub once in awhile, but otherwise this is easy to clean.
Cons of the DAVIDsTea Iced Tea Press
Hard to take apart – This tumbler is a real PITA to take apart, but this is also a pro in a way as it makes for a tight seal. When I first got it, I could not take the inner chamber out, I had to get my husband to do it. I am also a pretty strong gal, but I think the main problem is fighting suction and the exterior is smooth plastic without any traction on it – a big design flaw. If the unit is wet on the outside, forget it, you are not separating the chambers as there is no grip to hold onto.
To separate easier, do a bit of a twist and have some liquid inside. If the Iced Tea Press is in use, the water in it really helps gets the pieces apart. If the unit is completely dry then it is really hard to take apart, similar to my first experience. I recommend after cleaning to store the unit in separate pieces. I've noticed it does get easier to take apart over time to take apart, which worries me if the seals are starting to degrade.
Resteeping issues – First is related to the issue above of the tumbler being hard to take apart. In my brain, I do all that effort to take the unit apart, I might as well make a fresh tea. Second, and address in additional considerations section, the bottom chamber has the tea sit there in some liquid. If you go for a resteep 30 minutes later, you got some bitter tea already. If you don't mind taking it apart and drank the tea in a few minutes, it would work.
Not super leak proof. I shook the thing, flipped it around, pulled the inner tube out a ring. No leaks, however I did get a bit of moisture at the seal and condensation in between chambers. Sometimes when I spin the unit around I get some mystery drips from the condensation. It's not leaking, but I would not trust it to be doing flips in my purse that contains electronics. I would feel more safe if the two chambers would snap in place or screw closed instead of relying on silicone traps.
Additional Considerations
Oversteeping As per the website:
"Plus its super-fine mesh stops the infusion, so even the most delicate tea won't be oversteeped. Now that's refreshing."
I scratched my head on this one as I swear my unit oversteeps – I had some stiff tea with the last sips. This Iced Tea Press is essentially a french press design, so you got all the problems of a french press as the leaf does not come out unless you take apart the device and dump the whole thing out. I was skeptical, so I tested it. I steeped some hibiscus on the bottom, just enough so it wouldn't press more out. I added new water into the inner chamber. The tea on the bottom is trapped, so that is steeping away, but it is separate from the drinking area. You can invert that with no issues – magic!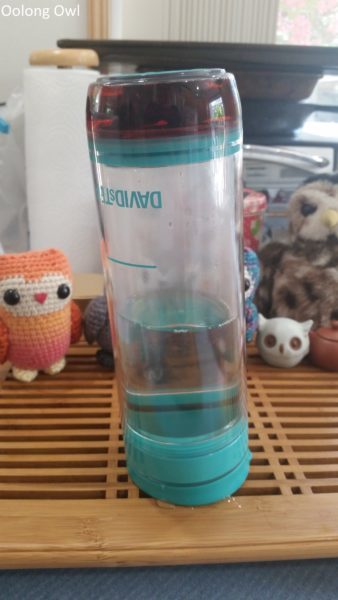 The outer chamber does leak into the drinking inner chamber when the unit is at an angle, each swig of tea might leak in. If you shake the whole thing, it will mix the oversteeped bits with the rest of the tea.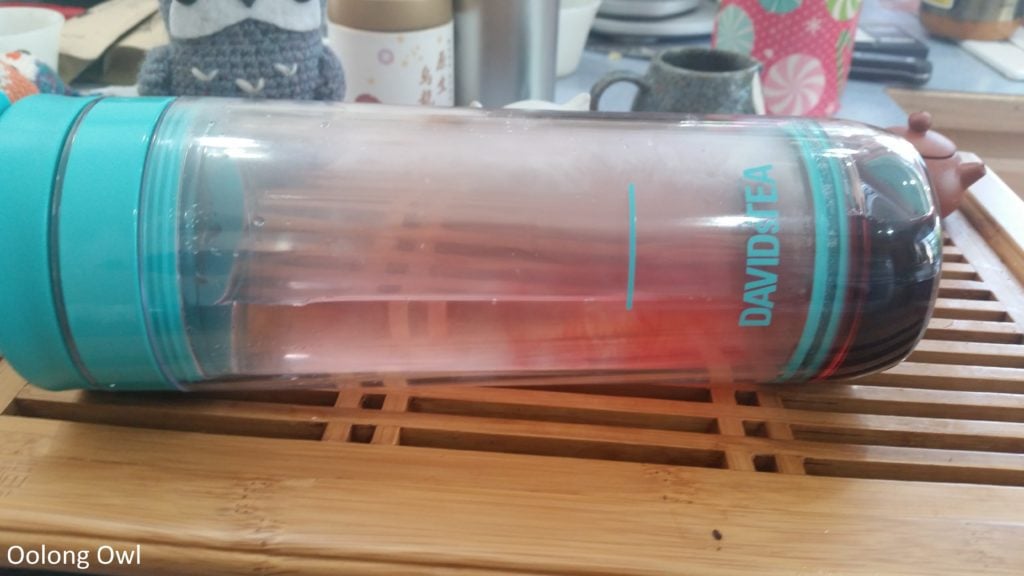 I did another test which I left the unit undisturbed with hibiscus on the bottom and water on the top. Few hours later, no change. However, a smart assumption is that you are not taking that long to drink a 16oz iced tea – you are likely to not have the tea oversteep on you due to the introduction to ice slowing the steeping. I can't say this quality is a pro as it didn't work 100%, but it's not horrible to be a con.
Longevity? I worry over time the internal grippy silicone press and seal will degrade with use. It'll maybe start pressing bad so you'll eat leaf. Or it'll leak out the chamber connection. Time will tell and I'll keep you all updated.
Truly on the Go? I think this tumbler is more of a "make at home" iced tea. It is certainly car friendly. You can premake the iced tea to take with you, but plastic design doesn't retain temperature that well. The only on-the-go use would be to add your tea, take it with you and hopefully your work/coffee shop has hot water AND ice.
Not For Cold Steeping – This tumbler is designed for iced tea. You can cold brew in it, but it is not optimal. What would be better is to make it just like you would for iced tea, but leave in the fridge. However there is no lid for the bottom chamber, so that could get knocked over in the fridge plus open air to your leftovers. If you plunge it, most of the flavor is trapped in the bottom, plus you are not getting great leaf expansion. But really, there are easier and more simple tea tumblers you can use to cold brew your tea – this tumbler is too complicated and is a mono-tasker for iced tea.
Plastic – yeah I know you "Teas should never touch plastic" people. Likely you already ran at the pictures as this thing is clearly all plastic, but I'm putting this here so it is one less comment complaining that this tumbler is plastic. The Iced Tea Press is BPA free though.
Comments
The DAVIDsTea Iced Tea Press is a pretty cool, inventive way to make iced tea. I quite like the device, I've been using it a lot without much issue. It makes great iced tea once you get the right leaf ratio. If you got lots of ice on hand, you can have a new flavor of iced tea cycling through all day! The Iced Tea Press tumbler has a few quirks, like hard to take apart and slight leaking, and future concerns of how long the seals last, but those quirks are workable.