Fleury Doux Champagne is an organic white peony and ceylon black tea blend with rose petals and muscatel grape flavor. This fancy tea blend is sold by Art of Tea, US tea seller.
This is one of those tea blends I couldn't pass up. Something about mixing teas, like white + black or green + black I find fun to try. The teas combined are on different levels, requiring different treatments, how do they make the blend work without it being over steeped? Why do they need to add the second tea? Ah, tea blender fun that I'm happy to sample!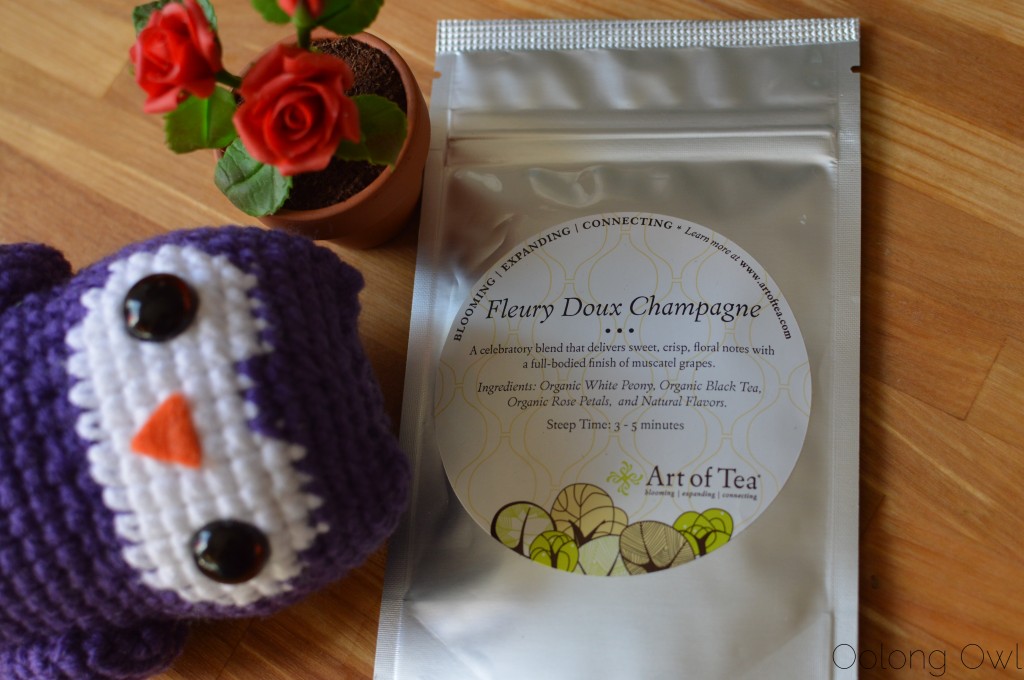 Dry Leaf
Fleury Doux Champagne tea has a candy grape scent. The dry leaf is a mix of twiggy leafy white tea leaves, dusting of black tea and a generous amount rose petals.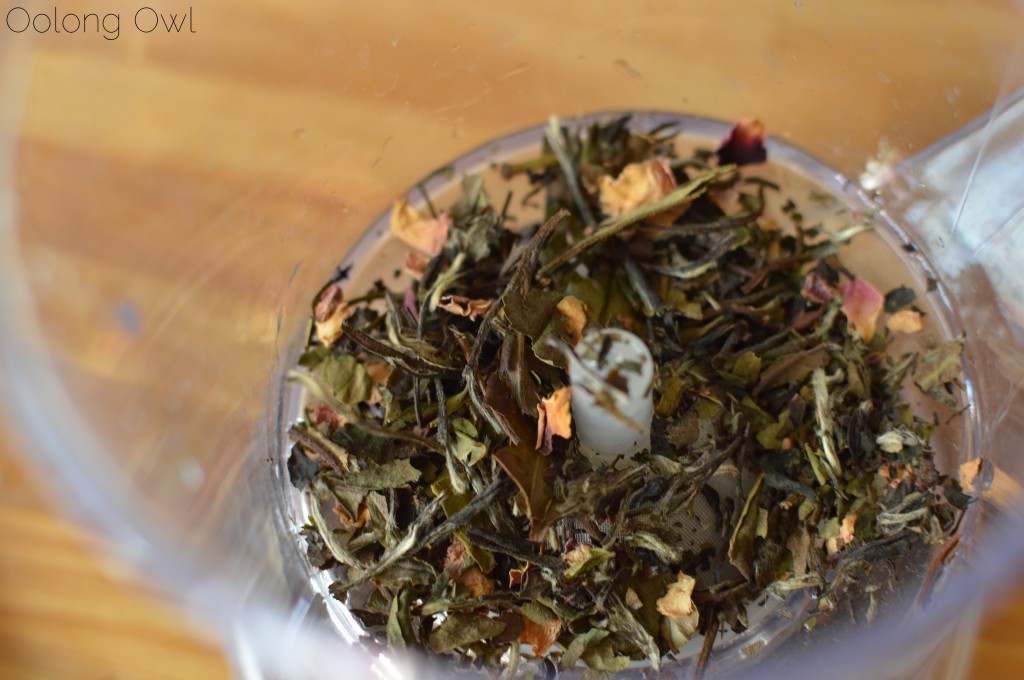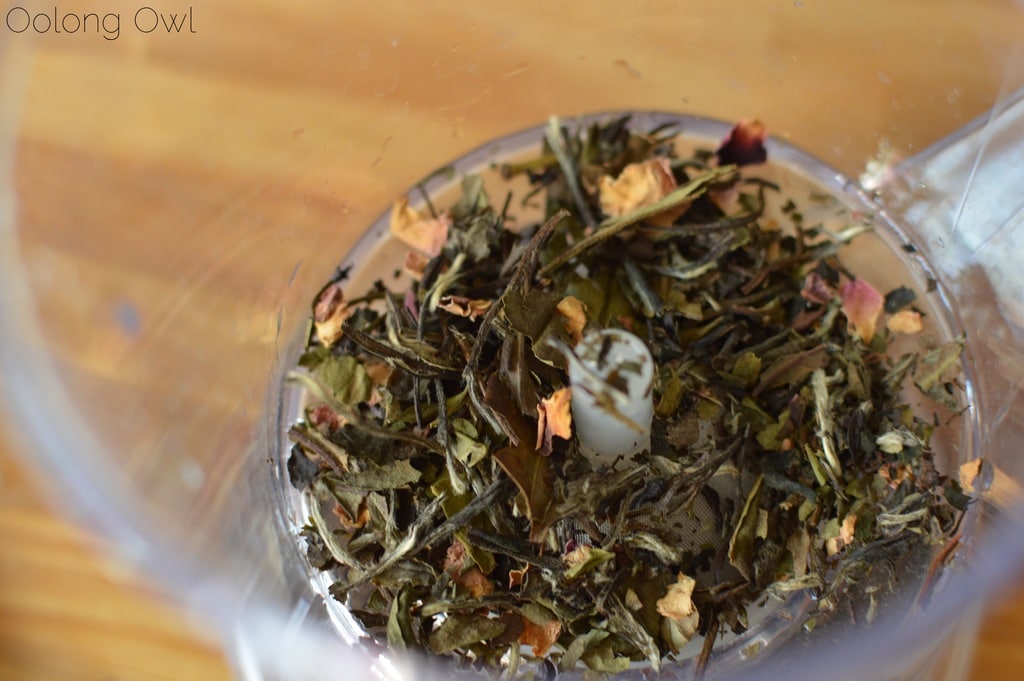 Steeping Instructions
Steeping instructions for Fleury Doux Champagne tea is fairly simple, 185F for 3 to 5 minutes. Since you have white tea in this tea party, I could see using a high temperature could make this blend go bitter.
After 4 minutes, I had a dry grape scented tea with a gorgeous deep amber gold colour!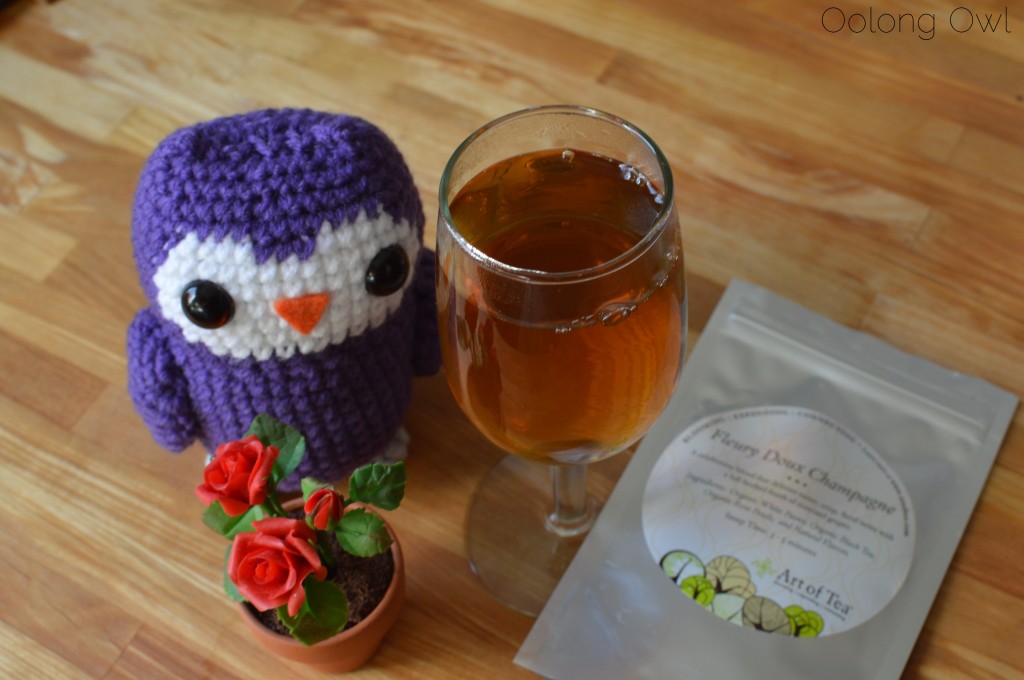 Tasting of  Fleury Doux Champagne Tea
Fleury Doux Champagne tea sips in full flavored. Right off the bat I got a little malty of a black which gets overtaken by the white tea flavor. The white tea here is juicy, crisp, mixed with rose floral (3/10 on the floral-o-meter) and sweet green grape taste. The sweetness in this blend is quite high, so I personally wouldn't add any sugar End of sip there is a dry grape taste that lingers, as if I'm drinking a slight dry wine.
As Fleury Doux Champagne tea cools, the dry grape flavor is more prominent, 3/10 on the astringe-o-meter. I find the grape flavor is on the artificial dusty side, but still tasty.
Comments
Fleury Doux Champagne tea is more heavy on the white tea flavor, however pretty loaded with other tasty flavors such as dry grape, rose and a bit of malty black tea. Other champagne tea blends I've had have the same dry grape sweet flavor, however the hint of black tea in Fleury Doux Champagne adds extra body and interest.
I personally find wine and champagne themed tea blends make great gifts as they are fun and a kind of tea blend most people don't see in store. Also, since I'm a tea drinker and not a wine drinker, at least I know I'm giving someone good tea rather than faking it with wine that I have no idea if it's decent.
Finally, here's a coupon code for you Tea Peeps – Follow this link to order off Art of Tea. Enter code LOVE20 and get 20% off your online order! Code is good until March 31, 2014.
(Tea provided for review + affiliate link)