Golden Fleece is a wild picked Dian Hong golden tips black tea sold by Verdant Tea, an US tea seller.
Oolong Owl Black Friday Week! Well, it's technically Cyber Monday, so close enough! I got all my black friday shopping done and with that, all my Christmas shopping complete. All that is left for me to do is finish crocheting Tea Owls. Now it is time for me to kick back and relax. How about some luxury black tea? Golden Fleece is on the pricey end of teas for me (at this time, $15.75 for 1oz) , but I heard all over Steepster that this black tea is amazing, so I felt it was worth the price to give it a try.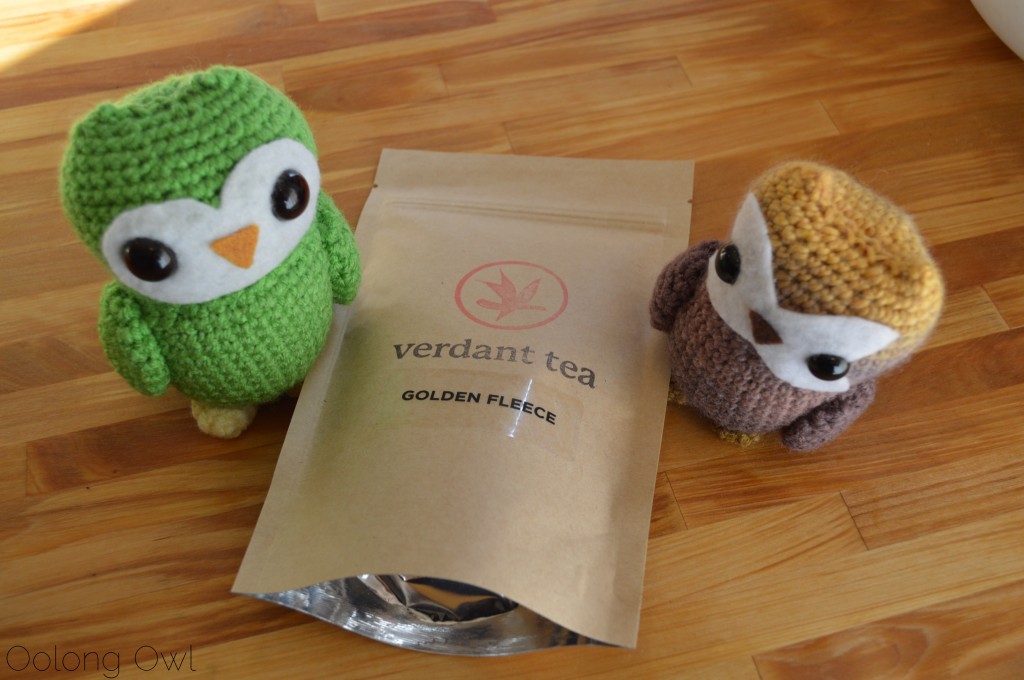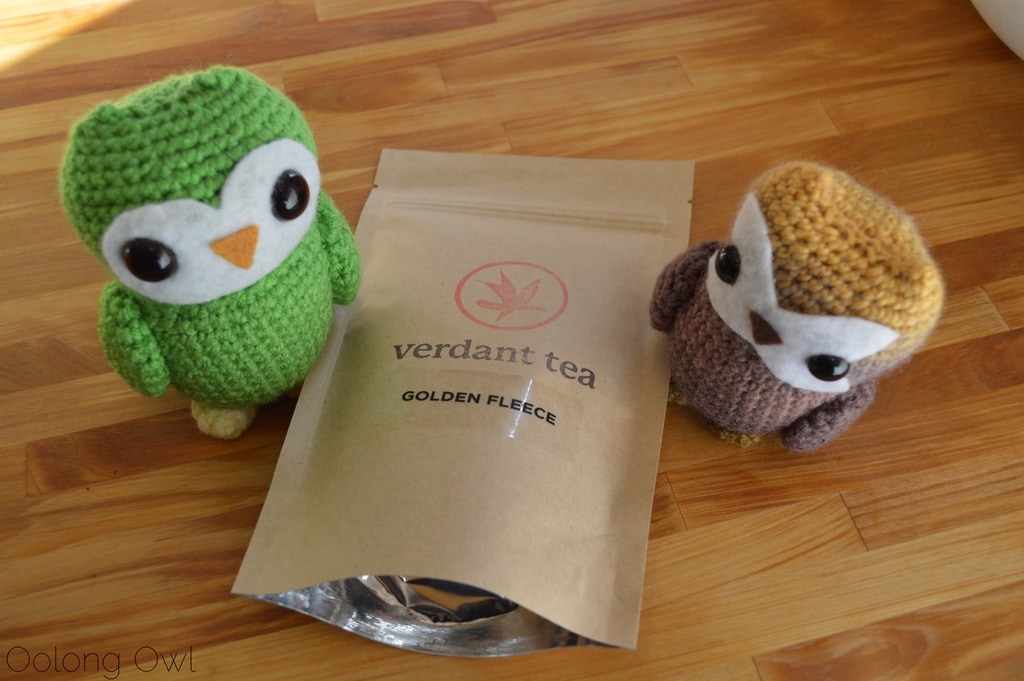 Dry Leaf
I've had a number of golden tip Dian Hong black teas. Golden Fleece  appears to be ALL tips! Golden Fleece is golden fuzzy leaves with the odd stripe of black.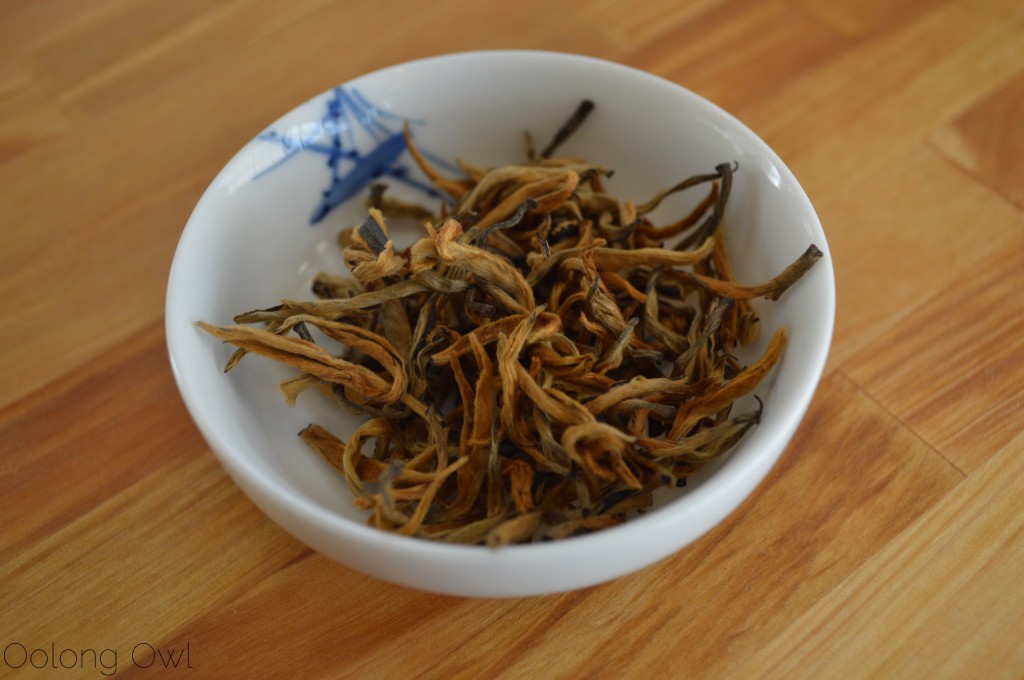 Tea Owl wants to know if he pulls off the golden tip look as good as Golden Fleece does.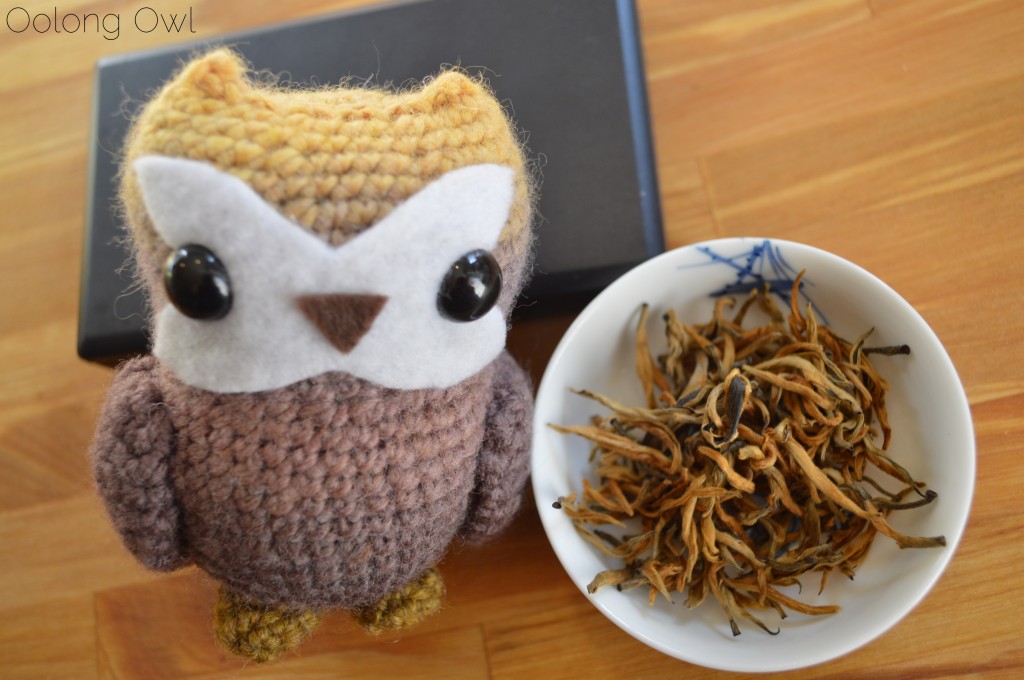 Steeping Instructions
Verdant Tea has a couple different steeping instructions for Golden Fleece. I went with the gongfu steeping 4 grams of tea, steeped in 212f/100c water in short steeps. Oh, there was also a quick rinse before starting the official infusions. Short steep times were instructed to be 2 to 3 seconds, adding 3 seconds after the first couple steepings. I began increasing the steep time by 5 to 10 seconds at infusion 7, 30 seconds at infusion 14 and 1 minute increases at infusion 14.
Golden Fleece  is quite light weight and spacious, so I recommend weighing out 4 grams.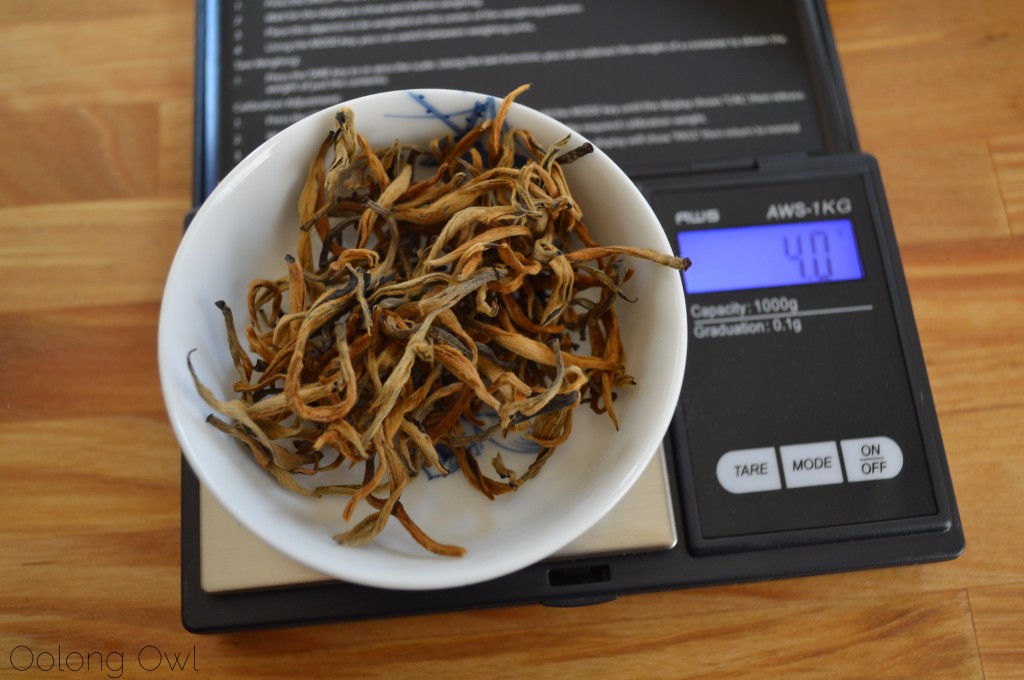 As a ballpark, 4 grams came out about 1.5 tablespoons without mashing the leaves, though I can see that varying depending how the leaves stack in the spoon.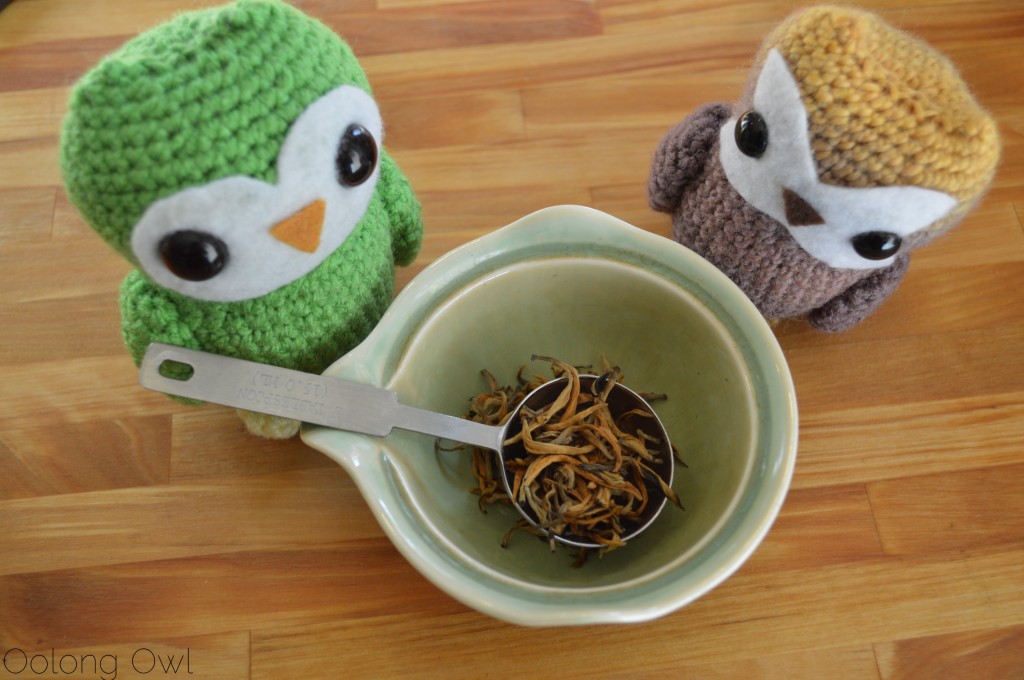 Steeped up, Golden Fleece  comes out a pale gold color. There is a slight grey brown quality to the colour making this seem like metallic gold.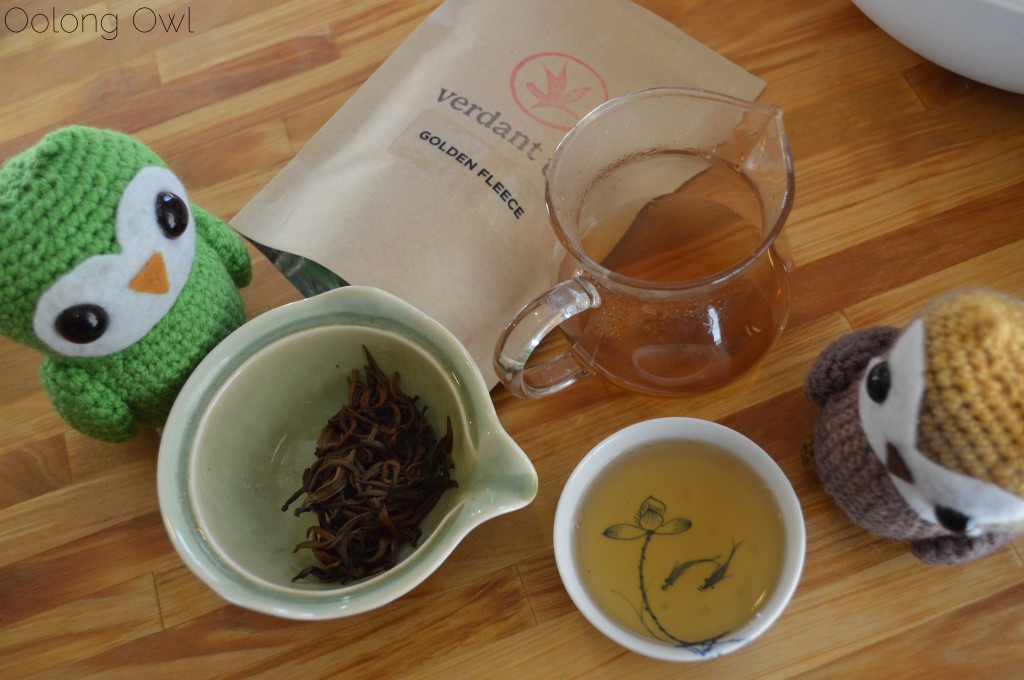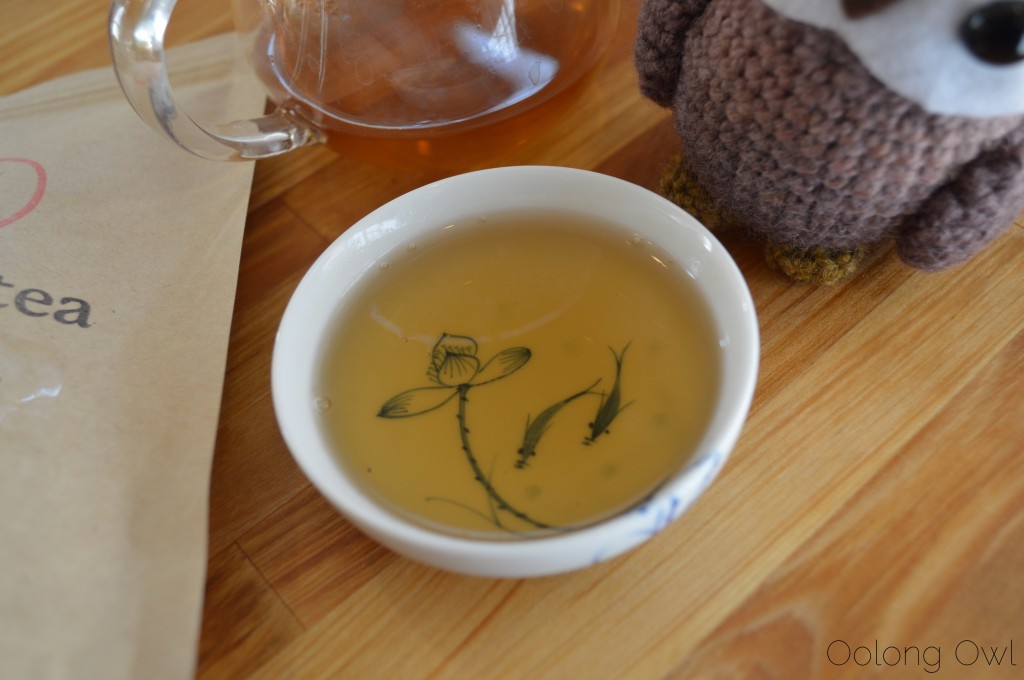 Tasting of Golden Fleece Black
First, Second, and Third Infusion: Golden Fleece  sips in silky with a slight nutty spice reminding me of roasted chestnut scent. The sip ends with a sweet vanilla finish. Throughout the sip, there is a creamy fluffy mouth feel that reminds me of marshmallow root tea. The texture of this tea is very interesting – I'm unsure if it's the creamy mouth feel, but Golden Fleece  has a thick feel to it. Also, despite the 3 second steepings, the tea is bursting with flavor!

Fourth, Fifth and Sixth Infusion: The flavor of Golden Fleece  is still the same, though each infusion the tea starts to sweeten more at the end. By the way, there is no bitter flavor in this tea.
The steeped Golden Fleece leaves are gently unfurling, washing their liquid gold into the tea!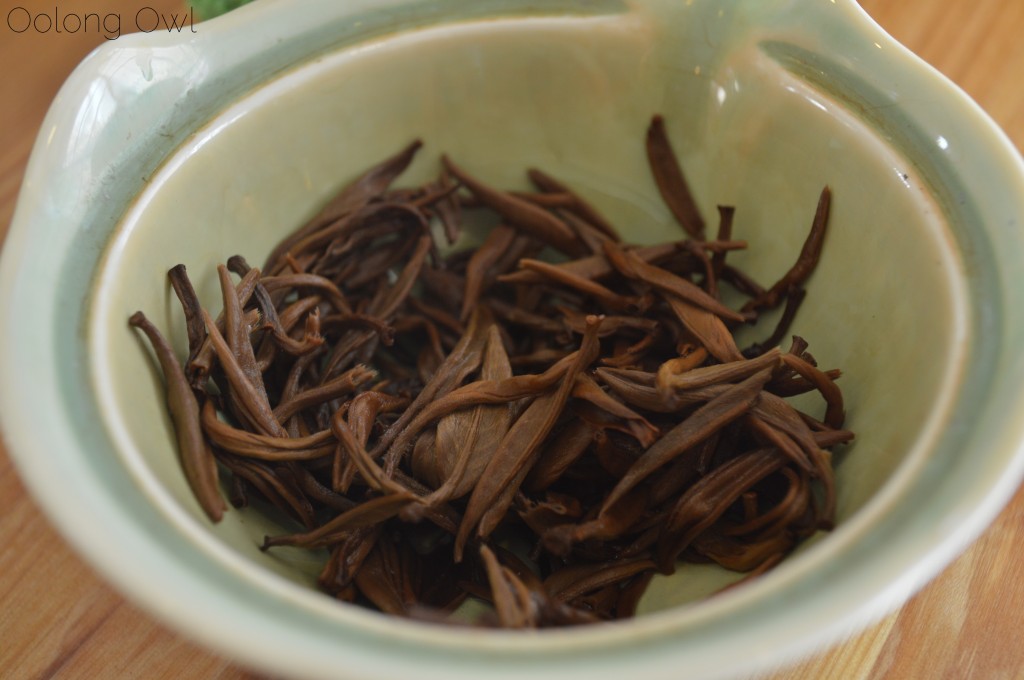 Seventh, Eighth, Ninth, and Tenth Infusion: Golden Fleece 's flavor is starting to change. From thinking back of the entire 17 resteep experience, the 7th to 10th infusion seemed like the awkward teenager phase. The flavor tips a little more spice and brisk, yet mellow silky cream marshmallow fluff finish.
I'm getting a little astringency, or at least what I'm going to call astringency. When I think of sheng pu'er I love, there is an astringency that is pleasant adding a texture that sticks the tea flavor to linger for a long time. It is like the slight astringency in Golden Fleece causes that creamy vanilla fluff taste to stick after each sip.
Eleventh, Twelfth, and Thirteenth Infusion: My favorite infusions! The colour of the tea shifts – it is as if the metallic like brown grey is washed out of the leaves, taking with it that nutty flavor. Golden Fleece is now steeped as a pale yellow gold.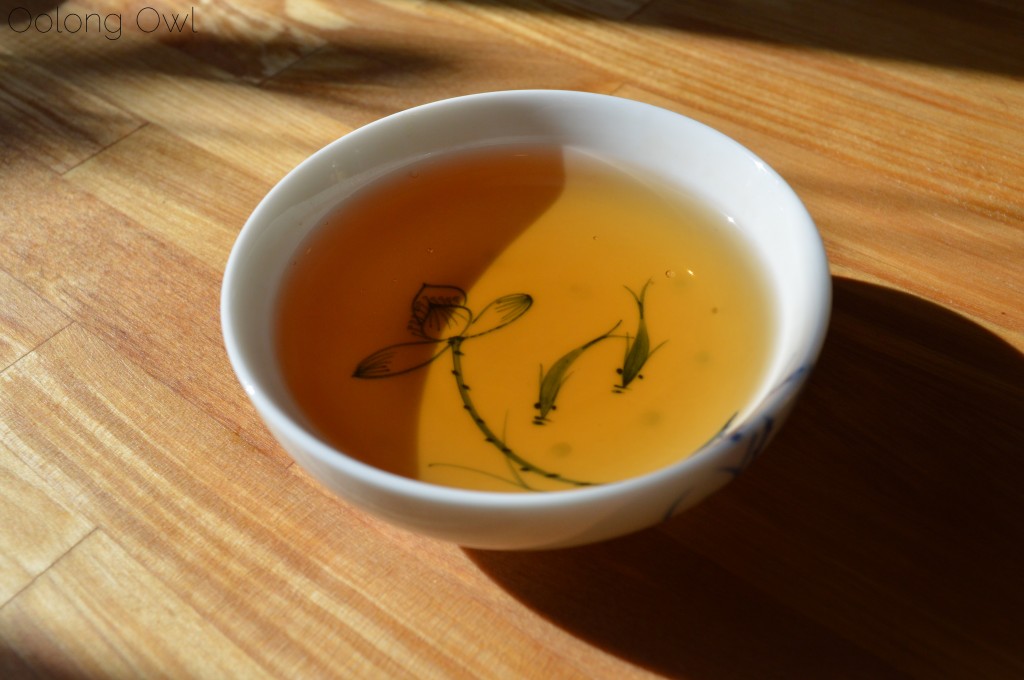 The tea is honey like and reminds me of that honey comb toffee filling of a Crunchie bar, but not ultra sweet like one. End of sip and aftertaste is still the same as previous infusions. Soooo good!
Fourteenth, Fifteenth Infusion: The flavor washes out a bit more, and I'm left with nectar notes but with the same finish as the last 13 steepings!
Sixteenth and Seventeenth Infusion: Despite the huge amount of infusions, the colour is still a pale gold. The flavor is really light but still with the same finish and aftertaste. I think I could get a couple more infusions, but I'll stop here.
Comments
Verdant Tea's Golden Fleece is an addictive liquid gold tea! The resteeping potential is amazingly high! With my early statement of Golden Fleece being on the pricey side, I think the cost evens out with resteeping the leaves over and over.
Who would love this tea? Tough call, as Golden Fleece is quite unlike standard Indian and African Blacks as it isn't super earthy and robust of a flavor. I think a raw/sheng pu'er lover would certainly love this tea, but I also think Golden Fleece would be a good tea for a blends-only tea drinker to branch into straight unflavored tea territory. As much as I love crazy tea blends, Golden Fleece shows off the power of how an unflavored tea can hold its own with zero bells and whistles.

 Bonus: Post Thanksgiving Breakfast at Oolong Owl. The pumpkin pie was a little overwhelming in flavor against Golden Fleece, but was still very delicious.